College Basketball Nation:

Roy Devyn Marble
February, 8, 2014
Feb 8
6:03
PM ET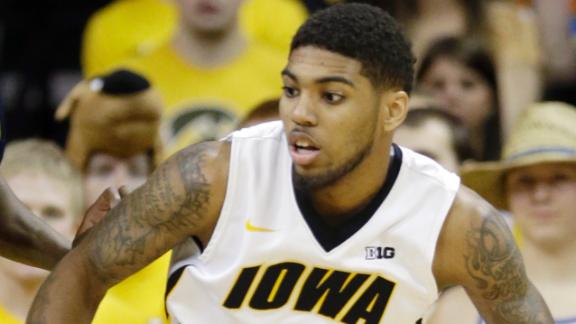 During
Roy Devyn Marble
's "He Got Game" moment Saturday, ESPN's cameras caught him yelling something as his teammates surrounded him following another 3-pointer -- he hit 50 of them, it seemed -- in the middle of No. 17
Iowa's 85-67 victory over No. 10 Michigan
in Iowa City.
It was something about Carver-Hawkeye Arena. There was a word that began with the letter 'F' and a mention of a house. The audio was off so viewers had to lip-read.
"This is my frigid house!" Maybe. It is cold this time of year in Iowa City. And four of Michigan's starters, not named
Caris LeVert
(6-for-12, 22 points), shot a combined 5 for 19 from the field. Maybe that's what he was referring to.
Or maybe Marble (22 of 26 points, six 3-pointers in the first half) said, "This is my fortified house!" That would make sense. Carver-Hawkeye has undergone some impressive renovations in recent years.
[+] Enlarge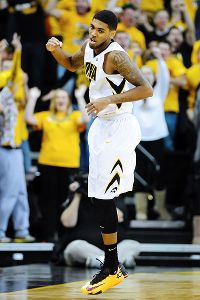 Steven Branscombe/USA TODAY SportsIowa guard Roy Devyn Marble scored 26 points on 17 shots in the win over Michigan.
Whatever he said, it was clear that Marble owned the place. Former Big Ten leader Michigan -- the Wolverines are now a half-game behind Michigan State, which will play at Wisconsin on Sunday -- entered halftime down 43-29. Had Saturday's contest been a UFC fight, Michigan would have tapped and ended the punishment.
The Hawkeyes should celebrate the win. They'd lost three of their last five prior to Saturday, including home losses to Michigan State and Ohio State. They were losing grip on their dreams of making a late run at the Big Ten title and earning a high seed in the Big Dance.
Iowa halted its slide with a fantastic effort. Marble was the catalyst. Everything flows well when he's in a rhythm.
Melsahn Basabe
gets dirty buckets and rebounds (eight points, 10 rebounds, two assists). The floor opens up for
Mike Gesell
(10 points, eight assists, one turnover, three steals).
Aaron White
can just be Aaron White (11 points, eight rebounds, two steals and one block). Iowa's bench (24 points total; nine points, four rebounds, three blocks for
Gabriel Olaseni
) blossoms, too.
The Hawkeyes benefited from their relaxed demeanor. That's always more prominent when you're up by double digits. But it was also the byproduct of Marble's early success.
Soon, however, coach Fran McCaffery will remind his team that this thing is not finished. Not even close.
Four of Iowa's final seven Big Ten games are road games. The Hawkeyes will see Wisconsin in Iowa City and Michigan State in East Lansing. They understand the stakes. They've had their hearts broken and broken those of their supporters many times under McCaffery.
But this season should be different. Right now, the NCAA tournament shouldn't be the only prize for the Hawkeyes. Sure, it would be a notable achievement for a program that hasn't participated in March Madness since 2006. Iowa hasn't won an NCAA tourney game since 2001. So a bid would be commendable, considering the history. That shouldn't be the only goal, though. The Hawkeyes can compete with the best teams in America and do more than just smile on Selection Sunday.
They can survive and advance -- if Marble is the assertive, efficient playmaker he was against Michigan.
On Tuesday, Iowa suffered a
76-69 home loss to Ohio State
, the same Ohio State team that had lost five of its last seven entering that matchup. Marble went 4-for-11 in that game. He missed his three 3-point attempts. He committed four turnovers and three fouls. On Jan. 22, Michigan secured a
75-67 victory over Iowa
in Ann Arbor. Marble recorded 13 points (3-for-9), four turnovers and four fouls.
The same Iowa team that registered just 1.02 points per possession in the first meeting with Michigan recorded 1.32 PPP in the second matchup with the Wolverines. The Hawkeyes made 52.2 percent of its shots outside the paint and outscored the Wolverines 22-8 in transition, according to ESPN Stats & Info. Michigan's
Nik Stauskas
, a Big Ten player of the year contender, and
Glenn Robinson III
scored 12 points combined.
So Marble can't take full credit for Iowa's win. He had help. A lot of it.
But he can accept the responsibility that the Hawkeyes need him to play with the confidence and aggression he displayed Saturday. That's the only way that they'll go as far as they're capable of going. That's the only way that they'll stay in the Big Ten race. That's the only way that they'll thrive in the NCAA tournament.
Yes, Carver-Hawkeye -- albeit, right now -- might be Marble's house. But Iowa is his team. And with that declaration comes the expectation that Saturday's effort will be closer to the norm than an anomaly throughout the rest of the season.
January, 28, 2014
Jan 28
11:52
PM ET
They just have something that's difficult to explain. These incomplete, oft-injured, Big Ten-contending, won't-go-away-even-on-the-road No. 7
Michigan State Spartans
.
Somehow, they knocked off No. 15 Iowa in Iowa City on Tuesday during a brutal Big Ten game that even the purists would call foul. There was nothing pretty about the 71-69 Michigan State overtime win.
There were mostly mistakes.
Officials made the bulk of them -- so many missed calls, confusing whistles and inconsistency.
Early in the second half,
Keith Appling
triple-jumped to the bucket and scored. It apparently wasn't a travel. Fran McCaffery drew a technical after he protested -- and that wasn't the worst call of the night.
The officials were joined in folly by the two teams competing against one another for a meaningful Big Ten win.
You could have watched "Titanic" twice during Iowa's lengthy stretch without a field goal (in reality, it a 14:50 period that started in the second half, bled into overtime and felt like forever). There were 63 combined free throws (43 attempts by Iowa, 20 by Michigan State).
Roy Devyn Marble
scored 21 points on a 7-for-15 night. Iowa's other starters? Just 6-for-19. Michigan State committed 29 fouls and made just 11 of 20 free throws.
[+] Enlarge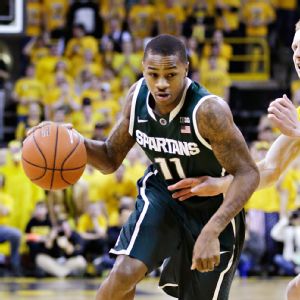 AP Photo/Charlie NeibergallKeith Appling led Michigan State with 16 points as the shorthanded Spartans pulled out an overtime win at No. 15 Iowa.
In the end, however, Michigan State snatched the win from an Iowa team that should watch this game film for the rest of the season until it captures the grit that the Spartans boast.
Matt Costello's late tip-in and Russell Byrd's crippling 3-pointer with 33 seconds remaining in the extra period that gave the Spartans a six-point edge were examples of that grit.
They held a bigger Iowa team to just 10 points in the paint during the final 25 minutes of the game, per ESPN Stats & Information.
The Spartans were missing two key starters --
Adreian Payne
(foot) and
Branden Dawson
(broken hand) -- on the road against an Iowa team that usually employs 10 guys with minimal drop-off and yet Michigan State still won.
It wasn't all offense. Appling,
Denzel Valentine
,
Gary Harris
, Byrd and Costello were all significant playmakers for Michigan State throughout the night. The team hit clutch shots down the stretch that the Hawkeyes couldn't match.
And it wasn't all defense. Michigan State was tough on Iowa but some of the shots were mysteriously awry for McCaffery's program. Nothing would fall.
The Spartans keep fighting, despite their limitations. They haven't been healthy all season, but they're still legitimate candidates for the Big Ten title. Payne and Dawson will eventually return. But they don't have any plans to accept mediocrity until they're available.
Every team abides by a similar motto when star players are lost for a chunk or all of the season. They all say the same thing.
We just have to go out there and focus on the guys we have on the floor.
It's always some variation of that. And it's nonsense.
In practice it's never easy to adjust to life without the guy or guys who do things that only they can do for a program. Costello is no Payne. The latter is a unique inside-outside threat who is a young man birthed from the athletic, Euro-hybrid breed.
Yes, they miss Dawson, too. Not just because of what he brings on paper, but because he embodies the brashness that Tom Izzo's programs have historically embraced.
And yet, there they were in Iowa City throwing punches, ignoring what they didn't have and focusing on the guys on the floor. They were deliberate, relentless and nasty.
You need that edginess to win conference titles and to survive in the postseason.
Iowa doesn't have that yet.
That was apparent right after the opening tipoff. The Hawkeyes were walking while Michigan State was running. The Spartans seized a 10-3 lead that set the tone for the night.
You should be worried, not us.
That was their message.
And that bravado, expressed by a team that probably shouldn't have it given its circumstances, can confuse teams.
The Hawkeyes were at home but looked like a frustrated road team for a portion of the evening. They eventually returned fire and even took a significant lead in the final minutes of regulation. But they couldn't hold onto it, and the near 15-minute stretch without a field goal didn't help.
But in a game like that, when everything seems to be going wrong for everyone and neither team is playing to its potential, a moment or two can dictate the outcome.
Melsahn Basabe's late misses. Zach McCabe's would-be layup that became a turnover when he got blocked a foot from the basket. Byrd's 3-pointer in the corner in the final seconds of overtime.
Last season, Iowa would have been given credit just for pushing the Spartans. But not this one. The Hawkeyes are too talented for passes and excuses. They have to win games against contenders if they want to be a serious factor in the NCAA tournament.
On Tuesday, they looked like a team that was waiting for something. Waiting for Marble to make something happen. Waiting for a lucky bounce. Waiting for Michigan State to miss.
And that was the difference in the end.
The Spartans just took it.
January, 12, 2014
Jan 12
6:00
PM ET
Last season's Iowa squad would not have
won Sunday's game
at Ohio State because it would not have finished.
The 2012-13 Hawkeyes were a frustrating bunch. Although clearly boasting a strong roster, they didn't know how to win big games, how to finish them.
The latter is all that matters in college basketball.
Wichita State was down by 19 points at Missouri State on Saturday. But the Shockers finished.
Michigan State was down by 10 points against Minnesota in East Lansing on Saturday, too. But the Spartans finished.
Wisconsin faced an 11-point deficit at halftime of a win over Iowa last weekend. The Badgers also finished. The Hawkeyes did not.
That's why No. 20 Iowa's 84-74 win at No. 3 Ohio State was such a meaningful victory for the program. Sure, it's the team's first true signature win of the season. And even though it's early in the conference season, the win puts the Hawkeyes in solid position for Big Ten contention.
[+] Enlarge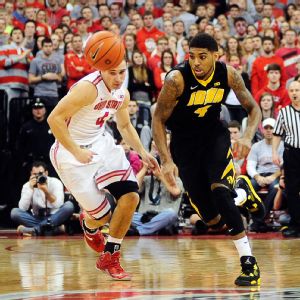 Ryan Young/Getty ImagesRoy Devyn Marble, right, scored 22 points and was aggressive down the stretch as Iowa secured an important road upset over Ohio State on Sunday.
Beyond that, however, Iowa proved it could finish a marquee game on the road. That's the most significant lesson of this moment for Iowa basketball.
The Hawkeyes lost so many tight Big Ten games last season -- a year that ended in the NIT when the NCAA tournament seemed possible.
There was the four-point home loss to a top-five Indiana team. That three-point loss to Michigan State in Iowa City. A three-point road loss to Minnesota. A double-overtime loss at Wisconsin.
During Big Ten play last season, the Hawkeyes showed signs of growth and progress. And the run to the NIT championship game provided more evidence of the project that Fran McCaffery has been building since he arrived in 2010.
But the Hawkeyes continued to struggle in the crucial matchups that separate the contenders from the rest. In Iowa's case, single-digit losses were the difference for a team still seeking its first NCAA tournament bid since 2006.
The "almost" routine had grown old entering 2013-14. It wouldn't suffice for this group. Nope. Anything short of an NCAA tournament bid would be and should be considered a failure.
The Hawkeyes were too talented and too deep to end this season outside the Big Dance.
But then they lost to Villanova in overtime during the Battle 4 Atlantis. And they dropped a three-point loss at Iowa State that should have been theirs.
Last Sunday, Iowa played Wisconsin as tough as any previous opponent -- for about 30 minutes. The Hawkeyes were right there with an undefeated Badgers team -- in Madison -- until McCaffery got tossed in the game's critical final chapter.
After the haze cleared from the aftermath of McCaffery's bad night, the same storyline reappeared. Iowa had lost another major matchup. On the road.
So close, but ...
And there it was again on Sunday. Another chance.
Iowa battling with a relentless Ohio State squad on the road, a team it hadn't defeated in Columbus since 2004. Zero wins in its previous seven trips.
But something refreshing happened Sunday.
Aaron White
(19 points) kept making tough shots.
Melsahn Basabe
(11 points, 10 rebounds) scored late simply because he knew he had to. And
Roy Devyn Marble
(22 points) was aggressive.
Ohio State had a three-point lead in the final six minutes. But the Buckeyes were outscored 22-9 in the final 5:57 of the game.
The Hawkeyes forced 17 Buckeyes turnovers. They controlled the game.
Iowa didn't just finish. It threw left hooks and uppercuts on its way to a knockout.
The Hawkeyes were not timid late. They were not waiting to catch a lucky break. They snatched the win.
Now the Hawkeyes can focus on that rally and use it as fuel for the (near) future.
When the grind gets tough again, and it will, they'll remember how hard they fought to leave Columbus with a rare victory.
And that's a new reality for a blossoming crew because last season there were mostly bad memories.
April, 5, 2013
4/05/13
1:52
AM ET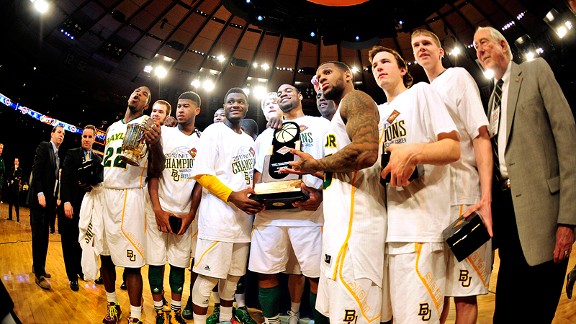 Joe Camporeale/USA TODAY SportsThe Baylor Bears celebrated the Big 12's first NIT championship win at Madison Square Garden.
Baylor made history in New York.
The Bears became the first Big 12 team to win the NIT, soundly defeating the
Iowa Hawkeyes
74-54
on Thursday night at Madison Square Garden.
"I'm proud of these guys," Baylor coach Scott Drew said. "Really proud of their heart and determination, and they'll always be remembered. Whenever you make history -- you don't get a lot of chances to do that."
Baylor led 27-22 at halftime, and Iowa cut the deficit to 28-27 early in the second half. But the game turned into a rout from there.
Pierre Jackson
, the Bears' leading scorer (19.9 PPG), heated up, scoring 13 of his 17 points after intermission. He also collected 10 assists, giving him a fourth consecutive double-double, and was named the tournament's most outstanding player.
"In the second half, they were getting some good screens for me to get to the paint," Jackson said, "and I got to the right spots and knocked down shots."
"They're a terrific offensive team," said Iowa coach Fran McCaffery. "They had us spread out. They were moving the ball, and they've got a lot of weapons, and Jackson is tremendous."
Iowa, on the other hand, had a nightmarish game on offense. The Hawkeyes shot just 18-for-69 (26.4 percent) from the field and 5-for-24 (20.8 percent) from beyond the arc. They missed open looks on the perimeter and several chippies around the rim, clearly bothered by the presence of 7-foot-1 center
Isaiah Austin
(15 points, 9 rebounds, 5 blocks) and 6-foot-9 forward
Cory Jefferson
(23 points, 7 rebounds).
[+] Enlarge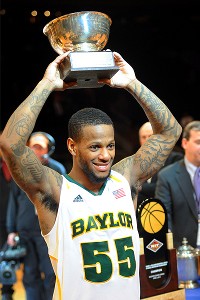 Joe Camporeale/USA TODAY SportsPierre Jackson was named NIT tournament MVP.
Roy Devyn Marble
, who had scored 21 or more points in each of Iowa's first four games in this tournament, finished with just six, shooting 3-for-12 from the field.
"[It] seemed like we just kept missing easy shots," McCaffery said. "The stat that jumps out at me is we had 20 offensive rebounds against this team. That's effort. That's special. That should have equated to more success offensively."
Baylor (23-14) was ranked No. 19 in the country in the preseason, so ending up in the NIT was a disappointment. But the Bears certainly finished the season strong.
"You look at most teams in the NIT, they probably lost a lot of close games, and with our team, we lost some close games," Drew said. "And the common denominator was when we shot over 70 percent from the free throw line, we won, and when we shot in the 50s and 60s, we lost. That's with a young front line."
Drew will lose his starting backcourt of Jackson and
A.J. Walton
, both seniors. But if the talented post players return, Baylor will be dangerous next season.
Iowa (25-13) had its NCAA tournament bubble burst Selection Sunday but gained valuable experience by playing five more games. Senior swingman
Eric May
departs, but everyone else should be back, and the Hawkeyes should go dancing next season, for the first time since 2006.
"There's just no substitute for experience," McCaffery said. "Come to Madison Square Garden, the greatest venue in sports, and play twice against two really good teams, win one, lose one, learn from that -- it can only make us better."
April, 4, 2013
4/04/13
11:32
PM ET
NEW YORK -- Quick thoughts on Baylor's
74-54 victory
over Baylor in Thursday's NIT title game at Madison Square Garden:


What it means:
Baylor is your 2013 NIT champion -- the first Big 12 team ever to win this tournament.
Baylor (23-14) had a disappointing regular season. The Bears were ranked No. 19 in the country in the preseason, coming off a berth in the NCAA tournament's Elite Eight a year ago. They didn't even make the Big Dance this time around but finished the season on a high note.
Iowa (25-13) was on the bubble on Selection Sunday and didn't make the NCAA cut, but collected four wins and some valuable experience the past couple of weeks.
The turning point:
After Iowa's
Roy Devyn Marble
scored the first bucket of the game, Baylor scored nine consecutive points and led the rest of the first half. It took the Bears' leading scorer,
Pierre Jackson
, almost 15 minutes to collect his first point. But Baylor still led 27-22 at intermission. The Hawkeyes shot just 7-for-28 (25 percent) in the first half and committed eight turnovers.
Iowa cut the deficit to one early in the second half, 28-27, thanks to five quick points by
Eric May
. But Baylor answered with seven points in a row to reassert control, and soon turned the game into a rout. The Bears pushed the lead past 20 for the first time on a
Cory Jefferson
two-hand slam with 7:04 remaining. The rest was garbage time.
Star watch:
Jackson scored just four points in the first half, shooting 1-for-6. The second half was a different story. The senior finished with 17 points and 10 assists, and was named the tournament's most outstanding player. Jefferson scored a game-high 23 points, and
Isaiah Austin
added 15.
Mike Gesell
scored a team-high 13 points off the bench for Iowa, while
Aaron White
chipped in 12. Marble finished with just six points.
Number crunch:
It just wasn't Iowa's night offensively. The Hawkeyes missed open shots from the perimeter, and several chippies around the rim -- they were clearly bothered by the presence of the 7-foot-1 Austin (five blocked shots) in the paint. For the game, Iowa shot 18-for-69 from the field (26.4 percent), including 5-for-24 from beyond the arc (20.8), while Baylor shot 26-for-48 (54.2 percent).
What's next:
That's the final college basketball game of the season at Madison Square Garden. Enjoy the Final Four, and we'll see you next year.
March, 15, 2013
3/15/13
11:01
PM ET
CHICAGO – A quick recap of Michigan State's
59-56 win
over Iowa in the quarterfinals of the Big Ten tournament at the United Center on Friday.


Overview
: The Hawkeyes entered the day with a suspect résumé for a team hoping to be included in the NCAA tournament field. But they were still on the bubble.
Kentucky, Tennessee and other squads trying to impress the selection committee this weekend had already exited their respective tournaments when Iowa took the floor. But the Hawkeyes had more to prove than most. Their lackluster nonconference accomplishments and 70-plus RPI weren't exactly solid footing for a convincing at-large argument.
But the Hawkeyes played with the heart and determination one would expect from a team in their position. They punched the Spartans in the mouth early and led 30-20 at halftime. They controlled the momentum and the pace.
Michigan State features multiple veterans. But the Spartans were unraveling. And coach Tom Izzo knew it.
In the second half, he called a timeout and blasted his players.
By then, they'd been down by as many as 12 (Iowa led 47-35 on
Zach McCabe
's layup with 10:26 to go). But something changed with the Spartans down the stretch.
Perhaps it was
Keith Appling
's "SportsCenter" top-10-worthy dunk a few minutes into the second half. Perhaps it was
Derrick Nix
settling down and leading again.
Adreian Payne
found his swagger. Maybe it was just shot selection.
But the Spartans bounced back and recovered with a 15-2 run that stunned the Hawkeyes and put the Spartans up by a point, 50-49, on a
Gary Harris
3-pointer with 4:11 to play.
Iowa, however, kept fighting.
Aaron White
's 3-pointer with 1:32 to go closed the gap to 57-54. Then Michigan State committed a costly turnover.
Melsahn Basabe
scored on a putback layup on his team's next possession. One-point game.
But White fouled Harris on the other end and Harris made both free throws to extend his team's lead back to three.
With nine seconds to play, after Basabe missed a 3-pointer and Appling couldn't corral the rebound, Iowa was down 59-56 in one of the most exciting games of the day.
Roy Devyn Marble
missed a turnaround 3-pointer in the final seconds and Payne retrieved it. Game over.
Turning point
: Michigan State (25-7) was playing really undisciplined basketball prior to its 15-2 run in the second half. It snatched the momentum in the United Center with that come-from-behind rally.
Key player
: Payne scored 18 points, grabbed 10 rebounds and blocked two shots.
Key stat
: How did Michigan State end up in that early hole? Well, its 13 turnovers didn't help. How did Iowa (21-12) squander that lead? Well, its 17 turnovers didn't help.
Next game
: Michigan State will face Ohio State in Saturday's semifinal. Iowa will wait to hear its fate on Selection Sunday. NIT is the likely destination.
Miscellaneous
: Appling's dunk three minutes into the second half might have been the greatest of 2012-13. That's all. Find the clip. Now.