College Basketball Nation:

Russell Byrd
January, 28, 2014
1/28/14
11:52
PM ET
They just have something that's difficult to explain. These incomplete, oft-injured, Big Ten-contending, won't-go-away-even-on-the-road No. 7
Michigan State Spartans
.
Somehow, they knocked off No. 15 Iowa in Iowa City on Tuesday during a brutal Big Ten game that even the purists would call foul. There was nothing pretty about the 71-69 Michigan State overtime win.
There were mostly mistakes.
Officials made the bulk of them -- so many missed calls, confusing whistles and inconsistency.
Early in the second half,
Keith Appling
triple-jumped to the bucket and scored. It apparently wasn't a travel. Fran McCaffery drew a technical after he protested -- and that wasn't the worst call of the night.
The officials were joined in folly by the two teams competing against one another for a meaningful Big Ten win.
You could have watched "Titanic" twice during Iowa's lengthy stretch without a field goal (in reality, it a 14:50 period that started in the second half, bled into overtime and felt like forever). There were 63 combined free throws (43 attempts by Iowa, 20 by Michigan State).
Roy Devyn Marble
scored 21 points on a 7-for-15 night. Iowa's other starters? Just 6-for-19. Michigan State committed 29 fouls and made just 11 of 20 free throws.
[+] Enlarge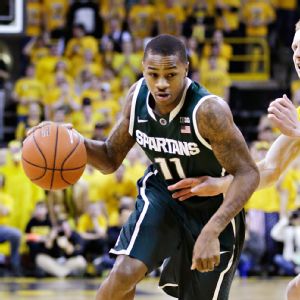 AP Photo/Charlie NeibergallKeith Appling led Michigan State with 16 points as the shorthanded Spartans pulled out an overtime win at No. 15 Iowa.
In the end, however, Michigan State snatched the win from an Iowa team that should watch this game film for the rest of the season until it captures the grit that the Spartans boast.
Matt Costello's late tip-in and Russell Byrd's crippling 3-pointer with 33 seconds remaining in the extra period that gave the Spartans a six-point edge were examples of that grit.
They held a bigger Iowa team to just 10 points in the paint during the final 25 minutes of the game, per ESPN Stats & Information.
The Spartans were missing two key starters --
Adreian Payne
(foot) and
Branden Dawson
(broken hand) -- on the road against an Iowa team that usually employs 10 guys with minimal drop-off and yet Michigan State still won.
It wasn't all offense. Appling,
Denzel Valentine
,
Gary Harris
, Byrd and Costello were all significant playmakers for Michigan State throughout the night. The team hit clutch shots down the stretch that the Hawkeyes couldn't match.
And it wasn't all defense. Michigan State was tough on Iowa but some of the shots were mysteriously awry for McCaffery's program. Nothing would fall.
The Spartans keep fighting, despite their limitations. They haven't been healthy all season, but they're still legitimate candidates for the Big Ten title. Payne and Dawson will eventually return. But they don't have any plans to accept mediocrity until they're available.
Every team abides by a similar motto when star players are lost for a chunk or all of the season. They all say the same thing.
We just have to go out there and focus on the guys we have on the floor.
It's always some variation of that. And it's nonsense.
In practice it's never easy to adjust to life without the guy or guys who do things that only they can do for a program. Costello is no Payne. The latter is a unique inside-outside threat who is a young man birthed from the athletic, Euro-hybrid breed.
Yes, they miss Dawson, too. Not just because of what he brings on paper, but because he embodies the brashness that Tom Izzo's programs have historically embraced.
And yet, there they were in Iowa City throwing punches, ignoring what they didn't have and focusing on the guys on the floor. They were deliberate, relentless and nasty.
You need that edginess to win conference titles and to survive in the postseason.
Iowa doesn't have that yet.
That was apparent right after the opening tipoff. The Hawkeyes were walking while Michigan State was running. The Spartans seized a 10-3 lead that set the tone for the night.
You should be worried, not us.
That was their message.
And that bravado, expressed by a team that probably shouldn't have it given its circumstances, can confuse teams.
The Hawkeyes were at home but looked like a frustrated road team for a portion of the evening. They eventually returned fire and even took a significant lead in the final minutes of regulation. But they couldn't hold onto it, and the near 15-minute stretch without a field goal didn't help.
But in a game like that, when everything seems to be going wrong for everyone and neither team is playing to its potential, a moment or two can dictate the outcome.
Melsahn Basabe's late misses. Zach McCabe's would-be layup that became a turnover when he got blocked a foot from the basket. Byrd's 3-pointer in the corner in the final seconds of overtime.
Last season, Iowa would have been given credit just for pushing the Spartans. But not this one. The Hawkeyes are too talented for passes and excuses. They have to win games against contenders if they want to be a serious factor in the NCAA tournament.
On Tuesday, they looked like a team that was waiting for something. Waiting for Marble to make something happen. Waiting for a lucky bounce. Waiting for Michigan State to miss.
And that was the difference in the end.
The Spartans just took it.
April, 16, 2013
4/16/13
9:30
AM ET
The Internet is amazing in many ways, but its glory often requires sacrifices. When a college athlete has a horrifying injury on national television, Twitter can provide a window to a world full of supportive, considerate people. But that directness can also expose college athletes to the worst side of the Internet, a stream of hatred and vitriol available in your pocket 24 hours a day. It makes it possible for grown adults who would take the time out of their day to write something hateful on the Internet to do so constantly with almost zero effort.
In other words, it can't be fun to be a struggling player at a school with an obsessed fan base. There were always news clippings and then talk radio and intense fans. But those annoyances have nothing on the ever-present pinging of venomous Twitter replies. People forget themselves. They troll. Things get ugly.
Russell Byrd
knows this. The Michigan State shooting guard was the No. 20-ranked player at his position and the No. 61-ranked overall prospect in the class of 2010. He turned down offers from Kentucky, Michigan, Louisville, Indiana and Ohio State. He was going to be a sweet-shooting star. It never happened. Instead, Byrd had one injury after the other. When he has played he's been, well,
rough
. He would probably admit it. He had a 78.0 offensive rating on 18.1 usage in limited run, a bloated assist-to-turnover ratio, and a 7-for-41 mark from the 3-point line. You can't look back on the redshirt sophomore year Byrd just had and not realize he's having a tough time.
Of course, even if Byrd was blissfully unaware, there are those in the Michigan State fan base always ready to remind him. Even reasonable supporters took to loud groans. Byrd even received death threats; this
is from an MLive.com story from January 30
:
"One guy said he wanted to bury me at the bottom of the Red Cedar River,'' Byrd said. "That's laughable, you can't get caught up in stuff like that.''
He handled that better than most of us would, I'd say.
Which may be among the reasons why, despite the struggles, Michigan State coach Tom Izzo refuses to give up on Byrd. In fact, on Monday he went so far as to openly appeal for Michigan State fans to leave the kid alone. All Izzo is saying is give Byrd a chance. (That sentence is better if you imagine Izzo singing it to the Plastic Ono Band tune. Just a tip.) From
MLive.com's Diamond Leung
:
"I guess it doesn't bother me if anybody believes in him, but give him a chance because this will be the first true summer where he is going to be 99 percent healthy," Izzo said. "There's no question that kid can still help us because we need a shooter.

"He lives, eats and sleeps the game, and then I have to listen to him talking to me about Twitter and how people are just ripping him on this and that -- people who have no clue and no understanding. Am I disappointed in Russell Byrd? Two hundred percent. I'm disappointed because I had a guy who was a gym rat, who loves the game, who is a good kid and was dealt a bad set of cards."
Maybe Byrd's injuries -- three foot surgeries already in his career -- have rendered him a shell of the player that made him a star on the prep circuit. Or maybe it's all mental, a loss of confidence in a sport (and at a position, specifically) that requires it to be unwavering at all times. Whatever the case, Izzo thinks it's still in there. If his endorsement can't chill the insane wing of the Michigan State fan base*, nothing will.
*Oh, and before anyone pipes in with a crack about Michigan State fans, let the first fan base that doesn't include insane grown men and women writing dumb things on Twitter throw the first digital stone. Thought so.
November, 8, 2012
11/08/12
5:00
AM ET
1. Don't ever underestimate how much fans follow recruiting -- even overseas. I was walking with Michigan State's Tom Izzo,
Derrick Nix
and
Russell Byrd
down a hallway at the Landstuhl Regional Medical Center after visiting with wounded warriors when 1st LT Aaron Christensen caught Izzo's attention. Christensen is from Safford, Ariz., but is BYU fan. He said his parents are both alumni. He told Izzo how much he admired him, but said do not take top 2013 player Jabari Parker away from his beloved Cougars. Of course, Izzo chuckled. How could he not here in Germany if Parker's recruitment is that closely watched. Parker is likely deciding among Michigan State, Duke, Florida, Stanford and BYU in no particular order.
2. ESPN and the Department of Defense remain committed to continuing the tradition of games on military facilities around Veterans Day. The game last year on the USS Carl Vinson was a one-time special event on 11-11-11. A new five-year cycle with each game at the site of a different branch of the military will begin with Friday's game here at Ramstein Air Base (Air Force) in Germany with Michigan State and Connecticut. Next year's game will be at an Army facility either in the United States or overseas. The Coast Guard, Marines and Navy will host in some capacity in the successive three years.
3. Izzo said Wednesday that he is strongly considering going to the Battle 4 Atlantis where Kansas is also a headline team in November of 2013. The Spartans need to get out of another tournament commitment to make this happen. Izzo said he wanted to take his team to a traditional three-day event, and liked the thought of one closer to home (or at least easier to get to) next year. The Spartans are going from Germany to East Lansing to Atlanta to East Lansing and to Miami (for the ACC-Big Ten Challenge) in the first three weeks of November.
September, 11, 2012
9/11/12
10:25
AM ET
Editor's Note: In the buildup to Midnight Madness, we are taking an in-depth look at Joe Lunardi's top five seeds in a series called Countdown To Madness. In addition to the Insider pieces, Eamonn Brennan will offer Three Big Things about each team and we'll have Five Questions with a player or coach from each squad.
What is back is enough to make Michigan State fans salivate: a bounty of talent and experience at virtually every position. In a loaded Big Ten, the Spartans, too, are loaded.
[+] Enlarge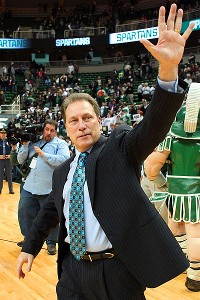 Mike Carter/US PresswireMichigan State coach Tom Izzo has his work cut out for him as he prepares for the new season.
But it's what's missing that is enough to make Tom Izzo panic. That would be
Draymond Green
, the relentless leader who steered the Spartans to the Sweet 16 last season.
With every obvious and tangible piece of the puzzle in place for another strong run, it is replacing the intangibles that is paramount on Izzo's mind as the season draws near.
So who replaces Green?
Tom Izzo:
That's kind of an unanswerable question. He was so important for us in ways that weren't visible. There are guys who are great point guards, great rebounders, great scorers. I'm not sure Day-Day was great at any of those, but he was excellent at all of the intangibles -- leading a team, being able to run a team through him. He was a safety net for me as a coach.
It was little things. We were talking the other day about whether we wanted the guys to lift on Thursday or Friday. I told my assistant to ask the guys what they wanted and find out. He came back and said, 'Well, I can't get a hold of all the guys.' We used to be able to call Day-Day and he'd handle it.
I think there are some guys I can count on, but, honestly, it's going to have to be by committee.
To that end, can you count on Derrick Nix after his offseason arrest for DUI?
Izzo:
The thing about Derrick, he has done everything we've asked him to do. He's been terrific academically. He needs 22 hours to graduate, so he'll do that easy in four years. He lost the weight when we asked him to and even more now.
He's a good kid, but do they ever learn?
I hope so.
What's the status of Branden Dawson [who tore his ACL in March]?
Izzo:
He's practicing at about 95 percent right now, but he hasn't been involved in full contact yet. We expect him to be ready by the start of the season, but just how ready he will be is the question.
You know people will look at him and say, 'Why isn't he the same player he was before if he's OK to play?' Well the thing of it is it's the conditioning. He's been working his butt off to get back, but when you're going through rehab like he is, you don't get to run and jump and play and shoot for basically six months. Riding a bike doesn't do it.
So the impossible thing to answer is the timetable. It was really lousy timing in a lot of ways. Usually players make the most progress in the summer between their freshmen and sophomore seasons. He didn't have that time. He'll be back for us, but it's still going to take time to get back to where he was.
What kind of lineups can you use with this team?
Izzo:
Adreian Payne
and Derrick Nix both improved a lot over the summer. With those guys and Branden Dawson, we could have a pretty big Big Ten lineup there, or we could go smaller with [Gary] Harris, Dawson,
Keith Appling
and
Russell Byrd
. He's a great shooter -- didn't miss the other day in practice -- which is something we didn't have at all last year.
I don't have the luxury of someone like Day-Day, but we have choices. We have more versatility, and those are the kinds of teams I've had success with in the past.
You start the season in Germany against Connecticut, then four days later you play Kansas in Georgia. How will that help your team?
Izzo:
I do like to be insane with my schedule, but this might be even insane for me. I hope the schedule will add toughness for our team and maybe some camaraderie, too. We don't take those trips like other teams do, so this is a chance for them to fly over there together, come back and see what we're made of.
I was talking to our football coach the other day. We opened up with Boise State. They're good, so there was decent hype. Michigan opened with Alabama and lost big, but that's all anyone is talking about. I think that will be good for Michigan in the long run. We opened last year on the aircraft carrier and for about two weeks, that's all anyone is talking about. You have to take a few risks like that once in a while, I think.
How good can freshman Gary Harris be?
Izzo:
The thing is he's a really young freshman. He's still just 17 years old, but he's a phenomenal player, a great student, tough as nails. I think he makes us a much more athletic team this year. Because of him, I think we can really run and go more this season than we did last year.
He can also defend. We were a great defensive team last year, so if we can match that and use our athleticism to push it, we could be really good.