College Basketball Nation:

Ryan Anderson
March, 1, 2013
3/01/13
7:30
AM ET
Duke coach Mike Krzyzewski often has said he doesn't believe in revenge games. But after losing at Miami by 27 points in January, and getting beaten at Virginia on Thursday night, is there much doubt there will be some extra, er, motivation for the Blue Devils when they host the Hurricanes on Saturday? In the meantime, here's an attempt at this week's ACC power rankings:

1. Miami:
The now-No.-5 Hurricanes bounced back from their first ACC loss of the season (by 15 points at Wake Forest) by beating up on Virginia Tech. Since then, they've been able to focus on the game everyone's been talking about: Saturday's rematch with Duke: "It's going to be a blast," guard
Trey McKinney Jones
said, according to The Associated Press. "We beat them here this year, and we beat them there last year, so they're going to be gunning for our heads."
2. Duke:
Plus, the No. 3 Blue Devils should be especially fired up after shooting worse than 40 percent and never leading during the 73-68 loss at Virginia on Thursday. Forward
Ryan Kelly
, sidelined since January with a foot injury, returned to practice this week, but isn't expected back until after Saturday's game.
3. Virginia:
Nothing like beating the No. 3 team in the nation to bolster your NCAA tournament hopes.
Joe Harris
scored a career-high 36 points and teammate
Akil Mitchell
added a double-double Thursday night as the Cavs toppled the Blue Devils and remained tied for third place in the ACC standings.
4. North Carolina:
The Tar Heels are now 4-1 since they went to a four-guard starting lineup, and as their momentum grows, so does their NCAA tournament résumé. UNC secured another 20-win season with Thursday night's victory at Clemson, and junior
Reggie Bullock
has averaged 17 points and 11 rebounds the past two games.
5. NC State:
The Wolfpack bounced back from their loss at UNC by blasting Boston College, securing back-to-back 20-win seasons for the first time since Herb Sendek was coach. Next up: a trip to Georgia Tech, with an eye on trying to work back into the top four of the conference standings. State now stands in fifth place, a game behind the Cavs and Tar Heels.
6. Maryland:
The Terps are 1-6 on the road in conference play after losing at Georgia Tech, with their only ACC road win coming at last-place Virginia Tech. They still travel to Wake Forest and Virginia, and play UNC at home, during the regular season, but Maryland's at-large NCAA tournament bid hopes are diminishing.
7. Florida State:
The Seminoles remain the worst rebounding team in the league (31.3 per game) but could get a boost when 6-foot-8
Terrance Shannon
-- who suffered a neck injury on Jan. 19 but has been cleared to play -- returns. FSU beat Wake Forest earlier this week, but has still lost four of its past six games.
8. Wake Forest:
After scoring 23 points en route to a court-storming win over then-No. 2 Miami, Demon Deacon
C.J. Harris
made only one field goal, and finished with nine points, in a loss at Florida State. So continue Wake Forest's road woes. As some consolation, two of its final three games are at home.
9. Georgia Tech:
Yellow Jackets coach Brian Gregory called his team's win over Maryland earlier this week the most consistent 40 minutes of basketball it has played this season. Freshman forward
Robert Carter Jr.
posted his fourth double-double; and at 15-12 with three games left, Tech is guaranteed at least a .500 regular-season finish.
10. Clemson:
Even with double-doubles from big men
Milton Jennings
and
Devin Booker
, the Tigers couldn't outmatch the Tar Heels' smaller starting lineup. Thursday's defeat marked Clemson's third consecutive loss and sixth in its last seven games, as the Tigers continue to struggle to score.
11. Boston College:
It was a tough week on Tobacco Road for the Eagles, who followed a 21-point loss at Duke with an 18-point loss at NC State.
Ryan Anderson
averaged 17.5 points in the two defeats.
12. Virginia Tech:
The Hokies snapped a nine-game losing streak by besting FSU, only to lose at Miami. The Canes held senior guard/nation's-leading-scorer
Erick Green
to 16 points, only the second time during the conference season that he's failed to score at least 22.
January, 5, 2013
1/05/13
8:01
PM ET
By
Jack McCluskey, ESPNBoston.com
| ESPN.com
NEWTON, Mass. -- When trying to upset a top-25 team on your home floor, there are certain things you just can't do:
You can't take bad shots, heaving up deep 3s like you're playing "NBA Jam" and a hot spot just appeared beneath your feet.
You can't miss free throws, giving up chances at unhindered points.
You can't commit bad fouls, such as running into the ballhandler 60-odd feet from the rim with your team in the penalty.
And you can't suddenly go cold from the floor, failing to score for minutes at a time.
History tells us you can't do those things and win. Yet the
Boston College Eagles
did all those things and still had a chance to upset No. 23 NC State in a nationally televised game late Saturday afternoon.
The Eagles didn't always take smart shots, shot 64.9 percent from the free-throw line, committed bad fouls and went long stretches without scoring, but still found themselves neck-and-neck with the Wolfpack late in the second half.
After
Joe Rahon
hit the first of two free throws to tie the game at 59, his second shot bounced long and
Ryan Anderson
tipped it to
Patrick Heckmann
to give BC another shot.
Lonnie Jackson
converted, nailing a 3 to put the Eagles up 62-59 with less than six minutes to play.
That was a glimpse of the good things the young Eagles did, and got the crowd fired up. But the next possession was a glimpse of the bad, as
Rodney Purvis
wound up wide open off an inbounds pass and hit a 3 to tie the game.
BC wouldn't lead again. With time running down late, trailing by three, Rahon had a good look at a game-tying 3 but the shot fell short, clanging off the front iron. NC State got the rebound and held on for a
78-73 victory
.
[+] Enlarge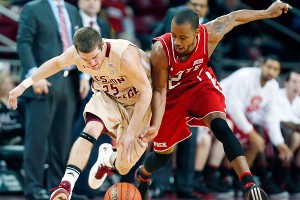 AP Photo/Michael DwyerBC's Joe Rahon (25) and NC State's Lorenzo Brown (2) battle for a loose ball in Saturday's first half.
"As I told the guys, I thought we did a lot of things really well in terms of things that you're gonna need to do to win the game," BC coach Steve Donahue said. "I thought we were tough and physical and competed and took care of the basketball, fought through adversity with foul trouble.
"But to win a game against as talented a team as that, we gotta do certain things that we typically do. One of them is shoot foul shots. We're a better foul-shooting team than that."
The Eagles came into the game shooting 74 percent from the line. Hitting that average might not have made the difference Saturday, but it would've helped.
"Hopefully it was just one of those fluke things," Anderson said. "We have great shooters on this team throughout the whole roster. Hopefully we just move on to the next game and I think they'll drop in the next one."
"When it comes to game time, we've gotta knock 'em in," Rahon said. "There's no excuse for missing 'em."
The game was entertaining, seesawing back and forth throughout.
BC ripped off a 10-1 run in the first, then NC State answered with a 12-2 run. NC State opened the second with an 8-2 run to take a seven-point lead before BC answered with a 9-2 run of its own to tie it at 39.
The Eagles (8-6, 0-1 ACC), winners of five straight entering the game, weren't surprised to be hanging with the Wolfpack (12-2, 1-0), winners of seven straight coming in and eight straight going out.
"We know we can play with anybody," Rahon said. "So staying close with NC State -- maybe should've beaten NC State -- we expect to be in that situation. … Just being in those kind of situations, in the future down the road it will prove to have helped us.
"But right now we're just disappointed we didn't come through."
March, 11, 2010
3/11/10
10:50
AM ET
KANSAS CITY, Mo. – A few quick hitters before the quarterfinals Thursday:


Texas Tech vs. Kansas, 12:30 p.m. (ET):
The Red Raiders had lost seven in a row before beating Colorado in the first round. Colorado had just put 101 points on the Red Raiders last Saturday in a win at Boulder. So clearly Pat Knight's defensive message got through as the Red Raiders held the Buffaloes to 67 points. But can the Red Raiders pull off the upset of the week by beating top-ranked Kansas? Well, the last time they met, KU stomped on Tech by 26 points. This will be an interesting test for the Jayhawks. This is a game they should win by double figures. If the focus is there, KU should walk to the semifinals. I'd like to see how
Sherron Collins
steps up his leadership role with the postseason now at hand. I don't see how the Red Raiders can keep the KU bigs, notably
Cole Aldrich
off the backboard.


Nebraska vs. Texas A&M, 3 p.m.:
The Huskers pulled the stunner of the first day with a crushing win over Missouri. The Huskers ran with Missouri and sprinted past the Tigers. But will Nebraska be able to get out against Texas A&M? Would they want to do such a thing? The Aggies probably were prepping to face Mizzou in a high-octane affair. That won't be the case now in what could be a grinder of a game. I'm not sure the Aggies would allow Nebraska to shoot over 50 percent the way it did against Missouri. I'm looking forward to seeing how
Brandon Richardson
and
Ryan Anderson
, who went off for the Huskers against Missouri get free against the Aggies.
Donald Sloan
and
B.J. Holmes
for the Aggies are two of the better guards in the conference and
Bryan Davis
' ability to board will prove vital.


Oklahoma State vs. Kansas State, 7 p.m.:
The Cowboys were able to easily beat Oklahoma with a mortal 11 points from
James Anderson
. OSU got quality production out of
Keiton Page
, who went for 24 points and
Obi Muonelo
's 15. The Cowboys also made 11 3s. Oklahoma State was one of three teams to win at Kansas State during the season. So the Cowboys go into this game with a lot of confidence. The more intriguing storyline will be how K-State handles its role as a favored player in the field.
Jacob Pullen
and
Denis Clemente
are coming off a disappointing home loss to Iowa State. There has to be some pride in play to get going on a high note heading into next week.


Texas vs. Baylor, 9:30 p.m.:
This may be the best game of the quarterfinals. It pits two teams that when they play to their potential could be playing in the championship game Saturday night, or, at the very least, the second weekend in the NCAA tournament.
Damion James
went back to being an all-American in the win over Iowa State in the first round with a 28-point, 16-rebound performance. The Longhorns got key play from
Gary Johnson
,
Avery Bradley
and
Jai Lucas
.
J'Covan Brown
only played three minutes as
Justin Mason
got the start at the point. The best news for Texas was the high percentage of shooting from
Dexter Pittman,
finishing 7-of-9 with five boards. Baylor crushed Texas last Saturday 92-77. The key will be whether
LaceDarius Dunn
and
Tweety Carter
can get free against the Longhorns, and who wins the tussles inside between Baylor's
Ekpe Udoh
and
Quincy Acy
and Texas' Pittman and Johnson. This should be an up-and-down affair at the Sprint Center.