College Basketball Nation:

Ryan Evans
March, 16, 2013
3/16/13
6:05
PM ET
CHICAGO --
Ryan Evans
' poor free throw shooting had become a semi-obsession. Wisconsin's senior leader began to think about free throws throughout the day. And then again at night.
It wasn't just his decline from a 73 percent clip his junior season to a 40 percent mark his senior year. It was the unpleasant feeling that seized his body every time he reached the charity stripe. It was the free throws that completely missed the rim. It was the embarrassment stemming from a problem he just couldn't fix.
As the slump persisted, Evans lost confidence.
So coach Bo Ryan decided to pitch a few unconventional ideas to the veteran after Wisconsin's loss at Minnesota on Valentine's Day.
"Well, it was A, B or C," Ryan said. "A was the jump shot, Hal Greer-style. Hal Greer [an NBA star in the 1960s] had a little jump [shot]. It wasn't quite as accentuated, for the older people in the room, as Ryan's is. Ryan's is his game jump shot. Hal had a little jumper, mini-jumper. B was Harlem Globetrotter, kick the ball in. Dropkick. You drop it down; you kick it up. And third was underhanded.
"So it was A, B or C. Ryan chose A. He's OK with it. His numbers are up."
[+] Enlarge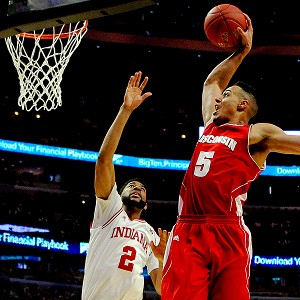 Dennis Wierzbicki/USA TODAY SportsRyan Evans had 16 points, 8 rebounds, 4 assists and 4 blocks against Indiana. He also made two of his four free throws.
Evans was initially reluctant but eventually accepted the change. It's certainly not a traditional approach, but it has helped. He's 6-for-10 from the free throw line in two Big Ten tournament games. And he's aggressive again.
"[Ryan] gave me the courage to go up here and try something new," Evans said. "I think it's been effective to this point. I'm no longer shooting 40 percent. So I mean, it's a good thing right now, and I'm going to stick with it for now."
On Saturday, he led the Badgers to their 12th consecutive win over the Hoosiers,
68-56
. Evans finished with 16 points, 8 rebounds, 4 assists, 4 blocks, 4 turnovers and a steal.
Jared Berggren
added 11 points and three blocks.
Ben Brust
scored 12 points, and
Sam Dekker
finished with 11 points.
Evans helped the Badgers corral
Victor Oladipo
(4-for-12, 10 points), and he helped Wisconsin maintain its edge, even as Indiana charged in the final minutes.
Wisconsin fans cheered whenever he made a free throw. Twice in four tries.
The switch is an extension of the principles that guide Wisconsin's program. The Badgers have a strong sense of their vulnerability. They're not the type of team that can give one guy the ball and expect him to make plays without help. Wisconsin needs everyone.
One missed defensive assignment, one poor pass or one botched free throw could change the outcome of a game and the entire season. And the Badgers know it. So Evans tweaked his free throws to boost his team's chances of overcoming its weaknesses.
Yet the Badgers are aware of their opponents' limits too.
On Saturday afternoon, they understood they were playing Indiana, not the Chicago Bulls who had won multiple NBA titles in this building. They weren't intimidated.
Not by Oladipo or
Cody Zeller
(Berggren's defensive effort against the future lottery pick changed the game) or the NBA scouts who traveled to Chicago to see them play.
"It's just the dynamics of our team. We can beat anybody, and we can be beaten by anybody," said
Traevon Jackson
. "But when we play together, I think that we're really tough to beat. And when we hit our shots and we do our defensive assignments and rebound, we're a tough team."
The Badgers closed the first half with an 18-9 run that allowed them to snatch the lead (34-31). The two teams were tight until Dekker recorded seven unanswered points (two layups and a 3-pointer) to give his team a 50-43 lead with 11:11 to play.
The Hoosiers responded with a 6-0 rally of their own. But Wisconsin's defense wouldn't budge.
Berggren blocked both Zeller and Oladipo in the final minutes of the game. Tom Crean's squad went nearly five minutes (10:02 to 5:04) without a field goal down the stretch.
"[It] just means we have a bunch of guys that want to play and play hard. Kind of how college basketball has gone this whole year," said
Mike Bruesewitz
. "I think we have had numerous times a change in No. 1, and I think it's going to make for a great NCAA tournament because I don't think a whole lot of 1-seeds are going to be making the Final Four. If they do, it's great, but it's a wide-open thing, and anybody can beat anybody on any night. We have to make sure we bring our A-game; otherwise we might be one of those teams."
Indiana's losing streak to Wisconsin was the least of Crean's concerns.
The only thing the Hoosiers wanted in Chicago -- other than a Big Ten tournament title, of course -- was a chance to prove to the NCAA tournament selection committee that they deserve a No. 1 seed and a slot in the Midwest Regional in Indianapolis.
It's no longer a guarantee after their third loss in six games. And the riddle that hails from Madison could be the culprit if they're disappointed on Selection Sunday.
"My mindset is you try to win every game and take the next one as it comes, and certainly we would have liked to have won it," Crean said. "But it doesn't undo what we have done to this point. It doesn't undo any of that. We have had an excellent season. There's room for growth; there's no doubt about that. But we would have liked to have played better today, no question."
The Badgers rarely discussed the postseason implications of their run to Sunday's Big Ten tournament title game. They were more focused on showering and preparing to watch game film.
As players rose from their seats and reporters gradually left the locker room, Evans continued to answer questions about his free throw shooting technique.
He said coaches have sent him text messages to thank him for a form that their teams have adopted. He even joked about the jump shot free throw becoming a "movement."
The awkwardness of it all? Evans isn't worried about it.
"I don't care what people are thinking too much," he said. "If I care what people are thinking too much, I wouldn't be out there shooting jump shots. But I don't. It's about knocking them down. It's about getting wins. And that's what we're doing at this point. So I feel great."
March, 16, 2013
3/16/13
3:50
PM ET
CHICAGO -- Quick thoughts from Wisconsin's
68-56
victory in the semifinals of the Big Ten tournament Saturday. It was Wisconsin's 12
th
consecutive win over Indiana.


Overview:
Wisconsin entered Saturday's game against Indiana with an 11-game winning streak against the Hoosiers. The Badgers were strong in the first half, connecting on 51.2 percent of their shots. They also forced six Indiana turnovers.
Ryan Evans
(10 points) and
Ben Brust
(seven points, 1-for-2 from the 3-point line) were catalysts for a Wisconsin team that was down 22-16 with 7:55 to go but ended the half on an 18-9 run to secure a 34-31 lead at the break.
Turning point:
After Indiana had drawn even at 43-all in the second half, Wisconsin's
Sam Dekker
scored seven straight points. He made a layup, missed a free throw, scored on another layup in transition, then hit a 3-pointer in a barrage that helped the Badgers regain the edge they had held most of the second half. But the Hoosiers answered with a 6-0 rally. The Badgers, however, returned fire with a 5-0 spurt, this one capped by
Jared Berggren
's 3-pointer with 5:45 to go. They led 55-49 then. And they continued to limit the Hoosiers down the stretch with critical defense, including Berggren's block of
Victor Oladipo
's layup in the final three minutes of the game.
Key player:
Evans finished with 16 points, 8 rebounds, 4 assists, 4 blocks, 1 steal and 4 turnovers.
Key stat:
Indiana went nearly five minutes in the second half without a field goal (10:02 to 5:04). That was a crippling stretch for a Hoosiers team that couldn't close the gap in the final minutes. Berggren's three blocks were critical, too.
Next:
On Sunday, Wisconsin will face the winner of the Michigan State-Ohio State semifinal matchup. Indiana will await its destination in the NCAA tournament on Selection Sunday. And it's a huge decision. The Hoosiers want the No. 1 overall seed and a chance to compete in Indianapolis in the Midwest Regional.
March, 15, 2013
3/15/13
7:57
PM ET
CHICAGO -- Bo Ryan's roster -- a Wisconsin squad that defeated Michigan
68-59
in the quarterfinals of the Big Ten tournament at the United Center on Friday -- lacks the star power some of its league and national peers employ.
His Badgers aren't anchored by NBA prospects and five-star recruits. Their layup lines rarely feature the acrobatic dunks that draw gasps from the crowd.
One of his best players,
Ryan Evans
, sports a high-top fade and takes jump shots at the free throw line because he's been so shaky from the charity stripe this season. Then there's the guy with the impossible name and the funny carrot-top haircut (
Mike Bruesewitz
).
Per RecruitingNation, point guard
Traevon Jackson
was a two-star recruit from Westerville, Ohio, when Ryan signed him.
Jared Berggren
is … big. Wisconsin's former starting point guard, Josh Gasser, tore an anterior cruciate ligament before the season.
And that didn't stop Ryan from winning 20 games for the 10th time at Wisconsin and earning Big Ten Coach of the Year honors.
"When the guys come in, I take those little stars you lick, and I take them and I put four or five stars on each locker. 'Hey, you're a five-star guy. You're a four-star guy,'" Ryan joked. "You know, it's what that star shines like when you're finished with your career. So I'm always looking for guys who are willing to come in, work hard, have talent, and it's about us, not individuals. But individuals can thrive. If you're good, you can get to do a lot of things. So I don't want to sell my players short. I've got good players who are much better as a result of playing together."
[+] Enlarge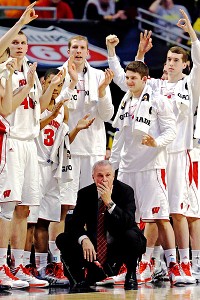 AP Photo/Nam Y. HuhBo Ryan watched his Badgers overcome a brutal first half to advance to the Big Ten semifinals.
The critics assess the Badgers within a college basketball culture that tends to value "SportsCenter" highlights over efficiency ratings. But they never worry Ryan.
He continues to defy every misperception, stereotype and false assumption about his program. That's because Ryan focuses on winning. And his players follow his example.
"We're not really concerned about what other people think. Clearly," Bruesewitz said. "If I did, I wouldn't have this ridiculous haircut. And I don't think he would recruit some of the guys. We've got some ugly dudes on this team, so if he cared what other people thought I don't think he'd recruit some of us."
Ryan and the Badgers proved -- again -- that they're among the country's top programs when they secured their second victory over the Wolverines in 2012-13.
They shot 17 percent from the field in the first half. Then the offense unclogged its drain and flowed. Wisconsin went 17-for-28 and scored 51 points after halftime.
Evans (12 points, 6 rebounds, 6 assists and a steal) attacked the rim. Wisconsin's shooters, including Bruesewitz (2-for-4 from the 3-point line, 8 points, 8 rebounds and 2 steals), found their range. Jackson (16 points and a steal) helped the Badgers frustrate
Trey Burke
(8-for-22, 19 points), a top candidate for national player of the year.
After the Badgers secured a 56-45 lead on a
Ben Brust
3-pointer with 6:03 to play, Michigan scored nine unanswered points to cut Wisconsin's lead to two on Burke's layup with 3:37 to go.
But the Badgers never deviated from their system. They maintained their gritty man-to-man defense. They remained aggressive on offense.
And they won after the Wolverines finished 2-for-7 from the field after that Burke layup.
Michigan has a minimum of three NBA prospects. Burke could be a lottery pick this summer.
Glenn Robinson III
was a five-star forward in the 2012 recruiting class, per ESPN.com.
Tim Hardaway Jr.
, son of a former NBA All-Star, could be a first-round pick, too. But Wisconsin's cohesiveness often trumps talent gaps in matchups.
"The old cliché: 'Defense wins championships,'" Evans said. "We understand that here, and anything we can do to slow those guys down and get our shots is what's going to move us forward."
Don't pity Wisconsin.
Its 2012-13 campaign has proved that the Badgers' skill, athleticism and potential are largely underrated. Evans is a physical forward with a solid post game. Bruesewitz can beat teams inside or outside. Berggren has a better block percentage (7.02) than
Trevor Mbakwe
,
Cody Zeller
and
Adreian Payne
, according to Ken Pomeroy. Jackson is fearless, so he's never afraid of big shots.
"I think we have as much talent as anybody," Evans said. "I can go between the legs.
Sam [Dekker]
can go between the legs."
In the postgame news conference, Ryan seemed more interested in the soda in his left hand than explaining his legacy of success.
He has utilized the same formula and offered the same responses to the same questions.
He rarely signs five-star recruits. He believes in molding players over time. They always defend or they don't play.
His swing offense is based on smart shots, not individual maneuvering.
With that philosophy, Ryan has never finished below fourth in the Big Ten. He has never missed the NCAA tournament since his tenure began with the 2001-02 season. He has won at least 19 games each season, too.
Albeit without the nation's
sexiest
style.
"It doesn't really matter what they say," Jackson said. "As long as we stay together, it's OK."
In Saturday's semifinals, the Badgers will face another team that NBA front offices love. The Hoosiers feature Zeller and
Victor Oladipo
, who could join Burke in the lottery in June.
If "talent" is the best barometer, then Indiana will win.
But the Badgers have won 11 in a row against the Hoosiers. So perhaps it's not.
"We got to get these guys down and get them some rest for tomorrow," Ryan said.
Indiana should probably get to bed early, too.
February, 27, 2013
2/27/13
3:40
PM ET
And in his case, "doing what it takes to win" means looking a little bit silly on national television.

See,
Ryan Evans
-- probably Wisconsin's best defensive player, and a key cog in their success this season and in recent years -- has found himself in a weird position this season: All of a sudden, he can't make free throws. Evans shot 74.4 percent as a sophomore and 72.6 percent as a junior, but this season he's shooting just 41.4 percent. That's not physical talent or innate skill or lack of practice or having hands too big for the ball, like Shaquille O'Neal. It's a weird mental hiccup Evans just can't seem to cure.
The set-shot free throw isn't working, so Evans is experimenting with alternatives. On Wednesday night, Evans debuted one of his alternatives: the jump-shot free throw. He went 2-for-2 from the line in the Badgers' home win over Nebraska -- both on one-and-ones --
and the Big Ten Network has the video
.
Evans and coach Bo Ryan had been hinting at this in recent days, and it appears to be working thus far. The only potential issue I can foresee is Evans accidentally jumping over the line. The jump has to be controlled. Otherwise, short of throwing up an underhanded Rick Barry-style free throw -- which Shaq was always too proud to try, probably to his detriment -- it's not illegal, it's similar to the rhythm in which Evans shoots his typical 15-foot jumpers, and this might actually have a future for more than a few similar struggling players. At least those whose issues are clearly a golfer's type of mental swing tick.
"It worked tonight, so I'm going to keep it going,"
Evans said after the game
. "It felt good. I feel a lot more confident out there."
Hey -- whatever works, right?
[Hat tip: The Dagger]
November, 24, 2012
11/24/12
1:50
AM ET
Overview
: Creighton's finish belied the back-and-forth action in the second half of the Bluejays'
84-74 victory
over Wisconsin in the semifinals of the Las Vegas Invitational at the Orleans Arena. They didn't seize a comfortable edge until the final minutes of the game. The Badgers took a lead with nearly eight minutes to go, but Creighton responded and put them away with an 18-4 run down the stretch.


Turning Point
:
Ethan Wragge
(17 points) hit a 3-pointer that put his team ahead 61-60 with 7 minutes, 46 seconds to play. That shot commenced a rally that turned a two-point deficit into a 12-point lead. Until then, Creighton (5-0) struggled to put away its Big Ten foe. Wragge's team had squandered an eight-point advantage a few minutes prior to that crucial late-game run.
Why Creighton won:
After a slow start (it started off 2-for-10 from the field), Creighton shot 25-for-48 the rest of the way.
Doug McDermott
had a lot to do with that offensive fruitfulness (his team hit 62 percent of its shots after halftime). The national player-of-the-year candidate scored 30 points on a 10-for-23 clip. He became aggressive in the paint as he struggled from the perimeter (1-for-5). That relentlessness inside opened up the arc for Wragge (4-for-7 from 3) and
Austin Chatman
(2-for-2 from deep). The Bluejays were also more aggressive on defense in the second half, especially on the perimeter. Wisconsin (3-2) missed 12 of its 15 3-point attempts in the second half.
Why Wisconsin lost:
The Badgers climbed back into the game as the Missouri Valley favorites nearly pulled away midway through the first half.
Jared Berggren
scored 10 points in a row during a three-minute stretch, tying the game at 55-55 with 10:03 to play. But Wisconsin couldn't maintain that productivity. Berggren's late cramps limited his availability and contributions; he scored two points in the last nine minutes of the game.
Mike Bruesewitz
struggled with foul trouble and eventually fouled out. Neither helped an ailing Wisconsin offense that went 6-for-20 after taking a 60-58 lead with 8:48 seconds on the game clock.
[+] Enlarge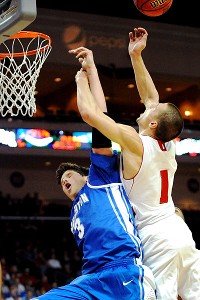 AP Photo/David BeckerCreighton's Doug McDermott (3) and Wisconsin's Ben Brust get tangled up under the basket.
Star(s) of the game:
McDermott looked like an NBA prospect as he showcased his post repertoire when his jump shot wasn't falling. His 30 points led all scorers. He also had eight rebounds and hit nine of 10 free throws. Berggren registered 27 points and seven rebounds.
What it means for Creighton:
The win means that Creighton passed a crucial test. The Bluejays had problems with Wisconsin's defense in the first half, but they eventually found their rhythm and overcame a squad that kept the game tight until the final minutes. Scoring 84 points against one of the top defensive units in the country will build confidence for the undefeated program.
What it means for Wisconsin:
If Bruesewitz, who'd helped his team frustrate McDermott early, had avoided foul trouble, the Badgers would have had a better chance to pull off the upset. But they were ultimately doomed by their offensive inefficiency. They couldn't keep up with the Bluejays in the last 10 minutes. But they played tough most of the game. Wisconsin looked like a top-25 squad in stretches; it just finished poorly. And the Badgers aren't talented enough to recover in that situation when they're facing elite opponents.
More observations:
Creighton wasn't sure about its point guard situation after Antoine Young graduated, but Chatman has played the role well this season. He was a vital contributor against the Badgers. … I don't remember McDermott being so forceful in the paint last season. He's still working on his interior game, but was far more aggressive against the Badgers than he'd been in the past. Huge plus for Creighton. … Wisconsin senior
Ryan Evans
is tough to stop when he penetrates. I wonder why he doesn't drive more often. … Wragge gives Creighton a pure shooter off the bench. With Wisconsin so preoccupied by McDermott, Wragge found space and hit big shots. … Point guard
George Marshall
scored 13 points for the Badgers. But zero assists won't cut it for any point guard in Coach Bo Ryan's system.
What's next:
Creighton will face Arizona State in the tournament championship Saturday. Wisconsin will play Arkansas in the consolation game.
October, 27, 2012
10/27/12
7:24
PM ET
The loss of All-American point guard Jordan Taylor affected early projections about Bo Ryan's ability to lead Wisconsin to the top of the Big Ten in 2012-13, a perennial status for the program throughout his tenure.

Ryan's offensive and defensive systems flow best when operated by dynamic point guards.
For the first time in years, however, the Badgers didn't appear to have that in the months that preceded the start of this season.
And now that the program has announced that
Josh Gasser
-- the player Ryan called his starter at the position during Thursday's Big Ten media day in Chicago -- will miss the 2012-13 season with a torn anterior cruciate ligament, there are even more questions about the Badgers.
According to a Saturday news release from the team, Gasser tore the ACL during practice Saturday morning at the Kohl Center and will undergo surgery after an upcoming re-evaluation by the team's medical staff. He will redshirt this season and preserve his two remaining seasons of eligibility, the school said.
Ryan will have to go with an inexperienced orchestrator regardless of whom he chooses to run the show in Madison.
He could turn to
George Marshall
, a redshirt freshman from Chicago.
Traevon Jackson
, a sophomore who averaged 5.4 minutes per game last season, will be in the mix, too.
But Gasser (7.6 points and 1.9 assists per game, 45.2 percent from the 3-point line 2011-12) offered Ryan's program the best option in its transition to life without Taylor.
"Based on the summer, based on what we've done so far, Josh Gasser is the point guard," Ryan said Thursday.
Saturday's news is another early challenge for the program. The Badgers will compete without forward
Mike Bruesewitz
for the first few weeks of the season as he recovers from a leg injury.
Now what?
Well, throughout the media session Thursday, Wisconsin players and coaches talked about playing faster and diversifying the offense with the addition of freshman
Sam Dekker
. The Badgers, ranked No. 23 in the Associated Press preseason poll released Friday, talked about Taylor's absence as an opportunity for more guys to get involved.
It was clear that they trusted Gasser and thought they'd succeed with him at point guard.
"He's fundamentally sound. He's someone who's tough. Great defender. [He] shoots a high percentage," said Badgers forward
Ryan Evans
during media day. "[He's] someone who's fun to play with. … A guy like Josh, he's going to give you his all."
The Badgers were a mystery in the months that followed Taylor's graduation based on his immense contributions during his tenure. Now, they're even more difficult to assess.
Ryan's legacy suggests that he'll find a way to win, especially with the early talk about Dekker's next-level talent and potential impact this season. But he has to identify a new point guard, a unique situation for a coach who's grown accustomed to utilizing elite prospects at the position.
March, 17, 2012
3/17/12
10:57
PM ET
ALBUQUERQUE, N.M. -- Forget the No. 4 seed. Toss out the top-20 preseason ranking.
Wisconsin again reaching the Sweet 16, after what the Badgers lost off last season's Sweet 16 edition and certainly following an unprecedented three home losses at the Kohl Center, is a surprise.
Don't let anyone say anything otherwise. You may have picked the Badgers in your bracket to reach the Sweet 16. I did not. President Barack Obama did and countless others did as well.
But step back and digest how far this team has come this season and you'll realize that the Badgers have fooled the field yet again.
"This team has done some things that if you're a real basketball person, you've got to go, wow,'' said Wisconsin coach Bo Ryan after the Badgers knocked off No. 5 Vanderbilt 60-57 Saturday afternoon at The Pit. "Everybody knows we have weaknesses.
Jordan Taylor
. Without Jordan Taylor, it's not the same.
"I'd like to say it's coaching but nobody would believe that,'' Ryan said. "It's guys working hard.''
The Badgers lost Jon Leuer and Keaton Nankevil off last season's team.
"We have three starters that played reserve minutes [on last season's team],'' Ryan said. "Some programs do that and put in McDonald's All-Americans. That didn't happen here.''
The Badgers were dreadful in a home loss to Iowa at the beginning of the Big Ten season. That led to a 1-3 conference start. Taylor was in a shooting slump and the Badgers looked like they were going to be an afterthought in the Big Ten behind upstart Indiana and Michigan and well behind Ohio State and Michigan State.
"I had to go to practice and be up,'' Ryan said. "It wasn't about a lack of trying. You can't yell at people for not making baskets.''
But then the Badgers won at Purdue and stunned Ohio State with a win in Columbus. Taylor shook his slump.
Ryan Evans
became the unsung player on this team and the contributions from
Mike Bruesewitz
,
Jared Berggren
,
Josh Gasser
,
Ben Brust
and even
Rob Wilson
became better with each game.
When asked if this team had improved more than any other he has coached at Wisconsin, Ryan's quick response was: "No question.''
[+] Enlarge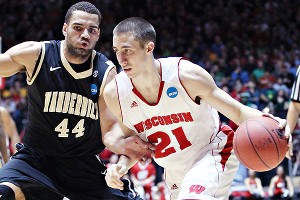 Nelson Chenault/US PresswireWisconsin star Jordan Taylor credited teammate Josh Gasser, who played ill during Saturday's win.
Saturday's win over Vanderbilt was another example of how much.
The Badgers blitzed the Commodores with a 10-2 start as Evans made shots in and out of the lane. Vandy was in step with Wisconsin, though, and took a lead to start the second half. But just when it appeared safe for the Commodores, the Badgers, especially Taylor, would hit buckets late in the shot clock.
"Coach kept telling me in the huddle that I had to step up as a senior and take the shot,'' Taylor said.
Gasser said, "If we get the ball to him late in the shot clock, he will make sure to always do good things. He's been doing it all year and all of last year. He is the leader of this team and we want the ball in his hands at the end of the game. He usually makes it happen. He didn't want this to be his last game and he definitely showed it.''
Taylor buried a 3-pointer with the shot clock winding down to one second to give the Badgers a 59-57 lead. The Badgers defended Vandy well on the next few possessions and Taylor had a shot to deliver the dagger to the Dores with 19 seconds left.
But he missed. And that's when Gasser hustled to get the loose ball rebound. Vandy's
Festus Ezeli
, who was benched for the first three-plus minutes of the game in a coach's decision, said it was a case of a long rebound that his team simply didn't run down in time.
Taylor said Gasser was up until 3 a.m. sick. "I can't say enough about him,'' Taylor said. "He did a great job just coming in. He dogged Jenkins as much as he could. That's why we're able to have success because we have teammates like Josh.''
Vandy had one more chance because Gasser missed a free throw.
John Jenkins
had a clean look at a 3-pointer to possibly win the game with four seconds left.
"It was a pretty good look,'' Jenkins said. "I felt like I got a good chance of having it going in, just like a lot of looks I had. It just didn't drop for me.''
"He was wide open,'' Vandy coach Kevin Stallings said. "He's a great shooter, period. He's really a great shooter going left and he was going left and he was wide open. We ran the play, ran it to perfection and got it right where we wanted him. He's made so many that have caused us to win games, and unfortunately that one didn't go in.''
Those close to the Badgers are in awe of their Sweet 16 appearance and that they have won 26 games, picked up a number of wins by shooting close to 40 percent and survived shooting slumps by Taylor and Bruesewitz this season.
The Badgers will play East Region top seed Syracuse on Thursday with a chance at an Elite Eight berth.
"They're long and we'll have to get inside-outside stuff going,'' Ryan said. "Hey, how close is Boston to Syracuse? Pretty close, isn't it?''
It is much closer than Madison. But distance and fan support shouldn't matter. The Badgers won't be picked to beat Syracuse. But doubting this particular Ryan edition has already proved to be foolish.
March, 17, 2012
3/17/12
8:41
PM ET
ALBUQUERQUE, N.M. – A quick look at fourth-seeded Wisconsin's
60-57 victory
Saturday over No. 5 Vanderbilt:


Overview:
The Badgers might have been a top-15 team and a high pick in the Big Ten. But if you saw this team early in the season against Marquette, then losing to Iowa in the Big Ten, there is no way you would think Wisconsin could be a Sweet 16 team. But Wisconsin muzzled Vandy early, made key 3s, and got crucial rebounds to limit Vandy to one shot to prevail in a highly entertaining second half. Wisconsin coach Bo Ryan knew this wasn't his most talented team, but it may have been his most improved. Vandy's senior class, which had accomplished so much, couldn't close out against a Wisconsin squad that simply made the late-game plays. This was as impressive a victory as you'll see in the weekend by a team that followed its own script perfectly.
Turning point:
Jordan Taylor
was getting defended quite well. The shot clock was winding down. With a second left he launched a 3-pointer from the top of the key and buried it for a 59-57 lead with 1:34 remaining. Vandy had just gotten a huge
Festus Ezeli
block and a scoring move inside to take a 1-point lead. Taylor's shot was a big swing.
Key player:
It's a tough call between Jordan Taylor and
Ryan Evans
. Evans was hot early. But Taylor once again showed that he makes plays when the shot clock is winding down. Taylor finished with 14 points, but his three 3s were all daggers and he ran a steady game for the Badgers.
Key stat:
The Badgers have to make 3s to win. They made 10. They also took 33. But that's OK. They have to do that to pull off a win like this over Vandy.
Miscellaneous:
Vandy coach Kevin Stallings benched Ezeli to start the game, opting to start
Steve Tchiengang
. The Commodores got down 10-2 to start the game. Hard to say if that had a direct effect. ... Old school here at the Pit as the wave made a cameo in the second half. ... Wisconsin's Jordan Taylor is deceptively quick. He broke down Vandy on multiple occasions with his fleet first step. He found openings to the hole when he needed them. Meanwhile,
Jeffery Taylor
might have had the broken-ankle move when he got
Rob Wilson
on the court with a crossover move. Taylor then buried the 3-pointer. ... More old-school stuff here in the Land of Enchantment as a beach ball made its way around the arena until a security guard popped it, much to the dismay of the fans.
What's next:
Wisconsin will take on Syracuse in Boston on Thursday. And to take this team lightly would be a major mistake. Wisconsin finds a way. Always does.
March, 9, 2012
3/09/12
4:25
PM ET
INDIANAPOLIS -- A look at Wisconsin's victory against a depleted Indiana team.
Overview:
During an opening-round victory against Penn State, Indiana lost senior point guard and leader Verdell Jones to an ACL injury. But the Hoosiers tried to press forward without the veteran in a tough game against the Badgers, who had beaten the Hoosiers in their only previous meeting of the season.


The Badgers led by 11 with 10:30 remaining in the first half of Friday's game. But after shooting 47 percent in the first half, the Hoosiers were only down 36-31 at halftime.
The Badgers led by as much as nine in the second half, but they couldn't bury the Hoosiers, who fed off a Bankers Life Insurance crowd that was anchored by Indiana fans.
Cody Zeller
hit a pair of free throws that cut Wisconsin's lead to three with 5:04 to play. The Hoosiers stayed close the rest of the game.
But Rob Wilson's late 3-pointer put Wisconsin ahead 72-65 with about 40 seconds to play.
Ryan Evans
blocked
Jordan Hulls
' 3-point attempt on the other end, and the Badgers sealed the game with late free throws.
Turning point:
Hulls hit a jump shot with 3:45 to play that cut Wisconsin's lead to one point (63-62). A pair of Wisconsin free throws followed after Zeller was called for the offensive foul on the play. The teams exchanged buckets before
Jared Berggren
extended a three-point lead (67-64) to five with 90 seconds left. It was a crucial sequence. The Hoosiers needed a play during that stretch. And they had chances.
Key player:
Wilson averages 3.1 ppg. He'd recorded double figures (11 during 67-66 loss at Iowa Feb. 23) once this season. Then, Friday happened. The senior guard scored 30, and went 7-for-10 from beyond the arc.
Key stat:
The Badgers were 13-for-26 from the 3-point line.
Miscellaneous:
Jones watched the game from behind the bench …
Christian Watford
recorded his second double-double in this year's tournament with 17 points and 10 rebounds. … Wisconsin fans chanted "Rob Wilson!
Rob Wilson
!" as the game clock expired.
What's next:
Michigan State will face Wisconsin on Saturday in the semifinals of the Big Ten tournament. Indiana will go home and prepare for the NCAA tournament.
February, 10, 2012
2/10/12
1:43
AM ET
MINNEAPOLIS -- All evening,
Jordan Taylor
just smirked.
When his four first-half 3s found the net. As an awkward reverse layup in the second half did more damage to the hometown team he rejected after high school. When his teammates swarmed him following the No. 22 Badgers'
68-61 overtime victory
against the Gophers on Thursday night.
On the postgame podium. Outside the visitors locker room. The grin never left the Minnesota native's face.
He'd waited four years to smile here.
"I love playing. I've struggled a little bit from the field this year so to have the ball go through like that was definitely fun, especially at home," Taylor said after he'd recorded 27 points (including 5-for-9 from beyond the arc) and three steals in the victory.
Taylor, a former Minnesota prep star, had never defeated the Gophers at Williams Arena.
Thursday night was his last opportunity to secure a victory over his hometown-turned-rival school.
He initially downplayed the stakes.
And then, he talked about the family members who'd come from Cleveland to watch him play. And the 16 tickets he'd personally distributed. And the 50-plus family members and friends who'd found their own.
"It means something to me. It definitely does, coming back," he said. "I've got a ton of family here, a ton of friends. To be able to win at the Barn, it's special to me."
Taylor didn't disappoint his fans.
He scored 14 points in the first half after going 4-for-4 from beyond the 3-point line. He hit a crucial 3-pointer with a little more than 17 minutes to play that gave the Badgers a 37-26 lead.
The Badgers, fueled by Taylor's strong start, maintained a double-digit lead for the bulk of the second half.
And then, the Gophers clamped down defensively and the Badgers failed to score for the last eight minutes of the second half (the Badgers made seven of 11 3-pointers in the first half but just two of 12 in the second).
Minnesota ended regulation with a 10-0 run that sent the game into overtime.
Taylor's teammates, however, came to Minneapolis bent on helping their senior star get his first victory at the Barn. They knew this was his last chance.
[+] Enlarge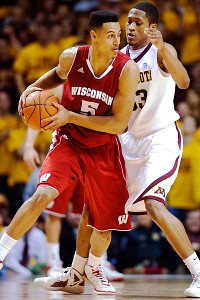 Marilyn Indahl/US PresswireRyan Evans scored 17 as Wisconsin beat back host Minnesota in OT.
"We wanted to get him a win here. I was hitting the glass hard, and he was making shots himself. That was a big factor," said
Ryan Evans
, who scored 17 points. "It's not anything we talked about, but we kind of all knew and understood what it meant for him."
The Badgers, who also start Minnesotans
Mike Bruesewitz
and
Jared Berggren
, scored the first six points in the extra period and made 15 of 17 shots from the charity stripe.
The Gophers looked tired. Digging out of the hole Taylor put them in drained the young team.
If only he'd stayed home.
But before Tubby Smith arrived prior to the start of the 2007-08 season, Taylor chose Bo Ryan.
His stellar high school career at nearby Benilde-St. Margaret's concluded in 2008 with a 3A state championship. Ryan, however, had latched onto Taylor long before his prep pinnacle.
The Gophers never had a chance or they just didn't push hard enough, depending on whose version of Taylor's recruitment you believe.
His success, however, still fuels the what-if tweets and message-board posts from Gophers fans who dreamed of a program that featured the state's best preps.
But in their eyes, Taylor and the team's other Minnesotans have joined the enemy.
"It's different. Air smells a little bit better here when you walk off the plane. Then you get in here, it's crazy," Bruesewitz said about facing the hostile crowd at the Barn. "I don't mind it. When they were making their run with about a minute and a half left, they were really getting after it, the Barn was loud. ... You can't do anything but smile."
It took Taylor four years to feel that way.
December, 28, 2011
12/28/11
11:05
AM ET
By
ESPN.com staff
| ESPN.com
The Morning After is our semi-daily recap of the night's best basketball action. It needs to start getting more sleep.
Illinois 81, Minnesota 72 (double overtime)
: This double-overtime thriller said more about Minnesota's heart than Illinois' talent. The Gophers were down 48-35 midway through the second half. And then, Tubby Smith applied the full-court press and an '80s Detroit Pistons defense in the halfcourt. That changed everything.
The Illini were rattled as their lead dwindled. Minnesota completed a 10-0 run after 7-footer
Elliott Eliason
forced a
Meyers Leonard
turnover that
Andre Hollins
converted on the other end to cut Illinois' lead to three.
With a chance to put their foot on Minnesota's throat, the Illini relented against the Gophers' attack. They're third in the Big Ten in turnovers per game (13.9) and they committed 21 Tuesday.
Julian Welch
had a chance to extend Minnesota's lead late in regulation but he missed the front-end of a one-and one and Leonard hit a pair of three throws after he was fouled. The first overtime was shaky for both teams. Both had a shot to avoid a second extra period, but Welch missed an easy layup and
Sam Maniscalco
took an ill-advised three-pointer with time on the clock.
But the Illini pulled away in the second overtime. So what? The bigger issue is that they nearly blew a 13-point lead in home conference game against a team that's playing without its best player (
Trevor Mbakwe
is out for the year with ACL injury).
I came away from this game impressed, again, by Minnesota's tenacity. The Gophers are young at most positions. They had no business putting up that kind of a fight in Champaign, Ill., the first Big Ten road game for a chunk of the players on that roster. If the Gophers can steal a few away from Minneapolis, they're going to be OK in the Big Ten.
But where's Illinois' edge? I think Leonard is a stud and he's surrounded by talent. The Illini, however, need to develop a little bravado so that they take advantage of teams when they have the opportunity. Didn't happen against the Gophers. They'll pay for similar lapses in the future.
Notre Dame 72, No. 22 Pitt 59
: The postgame buzz of this upset centered on one question: "What's wrong with Pitt?" The Panthers suffered their second consecutive loss, their third of the season, in the Big East opener for both squads.
Two of the losses came at home against a pair of midmajors -- Wagner (Friday) and Long Beach State (Nov. 16). The Panthers had won 58 consecutive home games entering the loss to the 49ers.
In Pitt's third loss Tuesday, Notre Dame took over in the second half. The Fighting Irish connected on 18 of 25 shots in the second half. They shot 50 percent from the field, including a 5-for-8 mark from the three-point line after halftime. Sophomore guard Alex Dragicevich (he scored 17 of his career-high 22 points in the second half) played as 1993 Dan Majerle.
So the Panthers fell to a hot Notre Dame squad that treated the bucket like … a big 'ol bucket. It rarely missed late. Plus, the Fighting Irish have won 28 consecutive home games.
But Pitt entered the season amid Final Four talk. They returned All-America candidate
Ashton Gibbs
and attracted a recruiting class anchored by Canadian standout Khem Birch. Right now, however, they're not even a Top-25 team. They were 1-for-14 from the three-point line Tuesday. They hit 2 of 15 threes in their 59-54 loss to Wagner Friday.
Tray Woodall's groin/abdominal injury was a major setback for a squad with limited backcourt depth. Woodall returned Tuesday, but he failed to score. Gibbs played a ton of minutes in Woodall's absence and that seemed to wear him down, something Dixon said he feared. Birch's decision to leave the program a few weeks ago didn't help, either.
But Pitt's problems are extensive. The Panthers possess the 159th-ranked defense in Pomeroy's adjusted efficiency ratings. They entered the week with the Big East's worst turnover margin.
If the Panthers don't correct their problems soon, they're going to end up in a battle just to make the Big Dance.
Everywhere else
: Wisconsin welcomed Nebraska to the Big Ten with a 64-40 whipping.
Ryan Evans
went 9 for 11 from the field and scored 22 points. The most promising stat line for the Badgers, however, was Jordan Taylor's 15 points and five assists. That's the kind of production they'll need from the preseason All-America going forward. … Georgia needed overtime to dismiss a 4-9 Winthrop squad 92-86...
Jordan Tolbert
recorded 27 points in Texas Tech's 74-58 win over CS-Bakersfield … BYU easily defeated CS San Marcos, which sounds like some party school on a Spanish island. The Cougars hit 50 percent of their shots in the 79-51 win. Bad day for the Cal State system, I guess.
December, 1, 2011
12/01/11
1:55
AM ET
CHAPEL HILL, N.C. – His team trailing by five points to seventh-ranked Wisconsin with 13 minutes left Wednesday night, North Carolina forward
Harrison Barnes
knew it was test time.
"Thinking back to the UNLV game, that's the area where you go down 12, or come back and tie the game,'' the preseason All-American said, referring to the Saturday night upset that knocked his team from atop the polls. "That's the area where you find out whether you learned something from that loss."
Apparently, UNC did.
Behind a 20-point effort from Barnes -- 10 of which came during the ensuing, decisive 18-5 run -- plus 17 rebounds from
John Henson
and a solid defensive effort by
Kendall Marshall
and
Dexter Strickland
(who combined to hold star Badgers guard
Jordan Taylor
to 6-for-20 shooting), the fifth-ranked Tar Heels ground out a
60-57 victory
. It marked the first loss of the season for Wisconsin (6-1).
UNC didn't play well for stretches, and the game wasn't particularly pretty. But Carolina's second-half surge was enough to restore confidence in a club that had been outrebounded for two consecutive games (but beat Wisconsin on the boards by 13), had allowed the Runnin' Rebels to hit too many outside shots (but held the Badgers to 8-for-28 from 3-point land) and had been worried about the status of Barnes after he sprained his right ankle Saturday.
"[It was] a little stiff before I got it going, '' Barnes said of his injury. "But once adrenaline set in, it was fine."
[+] Enlarge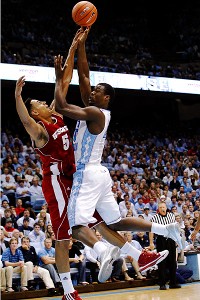 AP Photo/Julie JacobsonHarrison Barnes scored 10 points during the second-half run that put North Carolina up for good.
Indeed, UNC coach Roy Williams had predicted a big game from his leading scorer, even telling Barnes' mother earlier in the day, "Your son's going to have a big basketball game tonight."
And the sophomore's ankle looked fine about midway through the second half, after forward
Ryan Evans
' bucket gave the Badgers a 36-31 lead.
It had been a teeth-clenching game before that, with each team trying to force its style upon the other -- Wisconsin's deliberate, UNC's fast-paced -- with varying success. Carolina (6-1) had led by as many as nine points in the first half, allowed that to slip away and seemed to be slipping farther out onto a precipice that Barnes was referring to earlier.
"The momentum was going their way,'' Barnes said. "We had to get something going."
Sensing, too, that his team needed a jump-start, Williams ran a set play for Barnes called "Quick."
Swish.
"He made a 3, and that seemed to get him energized,'' Williams said.
So much so, Barnes followed that 3 with a 2. Then added a couple of free throws. Then another 3.
"At the end of games, it's like he gets better,'' Henson said. "That's just what he does."
In all, Barnes contributed 10 points to the 18-5 run that put the Tar Heels ahead 49-41. They wouldn't trail again, although the Badgers kept most UNC fans in their seats until the end, chipping a 10-point lead to three in the final minute.
"That was as hard a fought game as I have ever been in as a coach,'' said Wisconsin coach Bo Ryan, whose team was led by Taylor's 18 points but only shot 35.9 percent as a whole.
Said Williams: "Like I told Bo, 'I'm glad I don't play you anymore.' It was a difficult game for us."
But a good one. Several Tar Heels said the loss Saturday was a wake-up call, a realization that they had to make improvements -- or else. There's still plenty more to build upon, they say, but withstanding this game, even if it wasn't perfect, was a step (and victory) in the right direction.
"Thinking back to the UNLV game, we weren't tough enough to get that win,'' Barnes said. " ... That game was the education, and tonight was translating it from what you learned from that [game] into this one. So it was good to see that. This was a test, and we passed today."
Follow Robbi Pickeral on Twitter at @bylinerp.
November, 27, 2011
11/27/11
12:13
AM ET
HOFFMAN ESTATES, Ill. -- A few minutes after Wisconsin sealed its
73-56 win
over BYU in the Chicago Invitational Challenge on Saturday, guard
Jordan Taylor
emerged from the tunnel with the tournament trophy in tow. Immediately, Taylor was greeted by eager Wisconsin fans.
"We just love watching you play," one woman said.
"Can he have an autograph?" asked another, standing next to two young boys. She pointed to one of the little ones.
"His brother has one, but he doesn't. He loves you."
Taylor smiled, said hello, set the trophy on the ground and took the pen and paper from the young boy's hand. He signed autographs, the first of many.
It was just another night of college hoops stardom for Taylor, a preseason Associated Press All-American and the unquestioned charismatic leader and floor general of the 2011-12
Wisconsin Badgers
. But for once, the biggest star of Wisconsin's tourney title night was not Taylor but an unheralded sophomore playing just 15 minutes south of his suburban Chicago hometown.
Ben Brust
had just tied the Badgers' school record for most 3-pointers in a game -- he made seven Saturday night -- and his performance was the difference between the Badgers' 17-point final margin and the narrow 34-32 lead Bo Ryan's team held at the half.
[+] Enlarge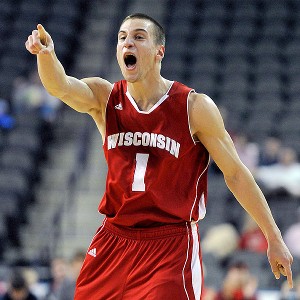 AP Photo/Jim PrischingBen Brust connected on 7 of 10 3-pointers and led Wisconsin in scoring with 21 points.
Even better? Brust -- a native of Hawthorn Woods, Ill., and former star at nearby Mundelein High School -- got to take his first collegiate star turn in front of a dozen family members and friends.
"I had my brother, my nephew, my sister-in-law, cousins, uncles all here," Brust said. "My other brother is in Pennsylvania for the holidays, so I wonder how he feels right now, having to watch that on TV. But it was great to see everyone around the holidays.
"My brothers have really distinctive voices," Brust said, laughing.
They -- not to mention Brust's coaches and teammates -- had much to cheer about. His shooting was the catalyst in a win that moved the Badgers to 6-0 overall for the first time in Ryan's consistently successful 10-year tenure at the program. It's the ideal start for a team that lost top forwards Jon Leuer and Keaton Nankivil this offseason yet appears, somehow, to have lost nary a step in the trade.
A glance at Saturday's box score tells the story: Forward Mike Bruesewitz, a role player in 2011, scored 13 points on 4-of-6 shooting from the field. Forward
Jared Berggren
added 13 points of his own on 6-of-9 from the field. Guard
Josh Gasser
went 1-for-4 from 3 Saturday and moved his 3-point field goal mark for the season to 15-of-21. Taylor, the primary ball handler and offensive director -- few moments in the game pass by in which Taylor isn't instructing his teammates in one fashion or another -- finished with 18 points and eight assists.
The naked eye revealed it, too: In the first half Saturday, BYU coach Dave Rose made a few brilliant defensive tweaks, switching his defense to a high-pressure elevated zone that kept Wisconsin out of the paint and forced the Badgers to commit rare turnovers. But other than that 10-minute stretch -- once Wisconsin had time to adjust -- BYU simply couldn't guard everyone.
On this night, Brust was the primary recipient of Taylor's incisive ball movement. But it just as easily could have been (and often was) Bruesewitz, Berggren, Gasser or even forward
Ryan Evans
.
"You just go where the guys aren't," Brust said. "It's all about reading the game."
There's a reason Wisconsin entered Saturday's title matchup
ranked No. 3 in adjusted efficiency
. The Badgers don't turn the ball over. They defend the perimeter better than any other team in the country, ranking No. 1 in opponents' effective field goal percentage. (On Saturday, as Wisconsin was racking up its 13 3-pointers, BYU was in the midst of a 1-for-10 night from beyond the arc.) Most importantly, at least in recent seasons, the Badgers' offense -- Ryan's patient swing-style motion -- is at its best a well-oiled, balanced machine.
"Ben's not the only guy on our team like that," Taylor said. "That's the beauty of playing with the guys we have in our locker room. Anyone can get hot at a certain time. It's all about making the right decisions and staying confident."
"He's definitely gotten hot before. Even last year as a freshman. Just now in the locker room we were talking about who had the most points in high school, and I think Ben has it far and away. He can score the ball. We know what he can do. It's really no surprise to us when he gets hot like that and kind of takes over the game."
For the record, Brust said, he scored 50 points twice in high school. Any locals from Hawthorn Woods or Mundelein or the rest of the northwest suburbs where Brust plied his prep trade would have recognized Saturday night's throwback performance. But for the rest of the college hoops world, which until this point knew
Brust only as a YouTube-link-worthy NASCAR impersonator
, it may be time to sit up and take notice. Wisconsin is a team with a star, yes, but even without Leuer and Nankivil, it is also so much more.
The Badgers' next game will be much more difficult than its last. It's the ACC-Big Ten Challenge. It's North Carolina. It's Chapel Hill.
One thing's for sure: If the 6-foot-2 guard from Hawthorn Woods shoots this well at the Dean Dome on Wednesday, Brust may a few have autograph seekers of his own. And this time, they won't be family.