College Basketball Nation:

Ryan Pearson
February, 14, 2012
2/14/12
12:15
PM ET
Six years ago, George Mason did the impossible, upsetting its way to the Final Four. In 2010 Butler made impossible happen again, getting within one half-court heave of a national title.
By the time last year's title game ended, we were all believers that impossible was easily doable after watching Butler and Virginia Commonwealth claim two of the coveted last four spots in college basketball.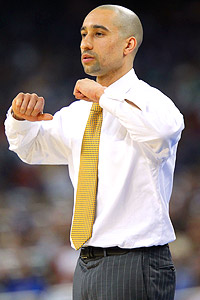 Andy Lyons/Getty ImagesVCU coach Shaka Smart has his team rolling at the right time.
Which leads to the simple question: who's got next?
This season, all mid-major eyes have been on Murray State, Creighton and Harvard.
Don't look now, but some familiar names are gaining steam. On Tuesday night, VCU and George Mason will meet in a Colonial Athletic Association clash. Both, along with Drexel, are 13-2 in conference. The Rams have 22 wins, the Patriots 21. VCU has won 11 in a row, 9 of its past 10.
Before the Final Four veterans tipped off, ESPN.com caught up with Shaka Smart, who nearly a year after he owned Houston is still talking about his team's storybook run.
How do you get over the hangover from last year's Final Four run?
Shaka Smart:
At our first team meeting of the year, I gave the guys pocket-sized cards, black and gold. On one side it had our motto for this year and [on] the other it said, 'It's over.' I told them that I wanted them to keep the cards in their wallets or somewhere they could reference them and see them every day. I told them people are going to want to bring up last year 100 times a day. I want them to be polite, to acknowledge what people are asking, to indulge them even, but in your mind say, 'It's over.'
It never goes away. It's still all anyone wants to talk about. I'll be doing an interview, or someone on the team will, and it's about something completely different, but inevitably it turns to last March. It comes with the territory.
So what's this year's motto then?
SS:
Well, I haven't told anyone that, but I'll tell you. It's 'Own today.' We talk a lot about taking ownership individually and as a team. The today part is about getting away from the past and not worrying about the future.
They've been pretty good about it. It's a work in progress every day for all of us when we wake up. I'll tell guys, 'Too much past and future right now. Get back to right now,' but for the most part, they've been very good.
With Butler's success, as well as your own and George Mason's, has the bar been raised for mid-majors?
SS:
What Butler did was on a whole different level than us and Mason -- back-to-back years of being 40 minutes away from winning the thing.
But I think it's less surprising now. I remember maybe seven years ago (Akron coach) Keith Dambrot told me, 'One of these years a mid-major is going to win the whole thing.' I thought he was out of his mind. Then right around then, Saint Joseph's went to the Elite Eight and Keith said, 'See? I told you.'
I think what's happened is, people realize this can happen. I still don't think anyone is out there predicting it, not even with Butler, but every year there's some mid-major -- this year it's Creighton or Murray -- that has a lot of experience, that isn't afraid of the big boys, and people start thinking.
Because of the culture of the game, it's such a small world with AAU and the non-conference schedule, there are more and more matchups against bigger teams, so there's less of a fear. You don't see that fear of the big boys anymore.
You've won 11 in a row after a slow start. What's changed?
SS:
Coming into the season, we had a completely new roster. We lost five players, four of our top scorers and some guys who played significant but minor roles last year were now playing significant but major roles.
Even
Bradford Burgess
, he's in a completely different position, because now he's Batman. He's used to being Robin. Even in high school, he played with Ed Davis, so he had never had to be the guy, the focal point of a scouting report, and it took some time to adjust to that.
I think we've really made progress each month of the season, but we're still a work in progress.
So what do you need to do in this big game against George Mason?
SS:
We have to rebound better than we did in our last game. We got pummeled on the glass against Old Dominion. We have to do a good job on
Ryan Pearson
, who I think is arguably the best player in our conference. He's the toughest matchup, I think, in our league because he can do so much. He's dangerous around the basket, and he's strong and savvy.
Our team, we're much better this year defensively than we were a year ago, but we're not as good offensively.
And unfortunately the scoreboard only moves one way.
March, 18, 2011
3/18/11
6:34
PM ET
CLEVELAND -- The current George Mason players have nothing but respect for the 2005-06 Patriots team that made it to the Final Four. Many of them are at the school now at least partly because that team raised the profile of the program.
But, honestly, talking about the past gets a little tiring sometimes.
"Every interview you do, every person you talk to wants to talk about the '06 team," sophomore guard
Luke Hancock
said. "We're definitely trying to make our own name."
While these current Patriots have a long way to go to match the 2006 legacy, they've finally made a new March memory.
Friday's
61-57 win
over Villanova wasn't an upset, since George Mason was the No. 8 seed to Villanova's No. 9. But it was the school's first NCAA tournament win since that 2006 run, and it came in pretty dramatic fashion.
[+] Enlarge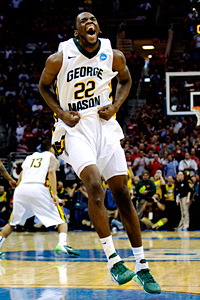 Rick Osentoski/US PRESSWIREAfter celebrating a victory over Villanova, Mike Morrison wore a shirt that read "We are this year's George Mason."
Down 10 late in the first half, the Patriots kept hanging around until
Mike Morrison
's rebound dunk with 55 seconds left gave them their first lead of the second half. After Villanova's
Corey Fisher
was fouled on a 3-pointer and made all three free throws, Hancock provided the play that can be added to the George Mason highlight library.
The play was designed as a double high ball screen. Hancock, though, refused the screen and jabbed to his right, intending to cut back left and then either look for teammate
Cam Long
in the corner or shoot. Villanova's
Corey Stokes
was determined not to let Hancock go right, however, and he overplayed that side. As Stokes went flying by toward the lane, Hancock calmly stepped back, paused and then drained the clinching 3 with 20 seconds to go.
"I wasn't the first option coming off the screens," he said. "I was definitely looking to penetrate and pitch, because we've got such good shooters on this team."
Neither team shot all that well or even took good shots most of the game. For a while, it looked like George Mason's season would get canceled by an episode of The Two Coreys. Villanova's Stokes and Fisher dominated the first half, combining for 22 of their team's first 23 points and 24 overall by halftime. Fisher was getting into the lane easily, opening up 3-point shots for Stokes, who made three in a row at one point.
The Patriots then concentrated on picking up the two guards closer to half court, giving into their chests defensively and fighting through ball screens more ferociously.
"When we got down early, we wanted to try and speed them up a little bit," forward
Ryan Pearson
said. "Their guys were taking their time, and we were letting them run their offense. We had to keep Fisher out of the lane and not give up second shots."
Stokes and Fisher went 0-for-8 combined to start the second half and would finish 11-of-32 from the floor. The ending had to seem like a recurring nightmare for the Wildcats, who closed their season with six straight losses and a 5-11 mark from Jan. 17 on. They blew leads and were unable to close out games in many of those defeats.
"In our program, we talk about each class's legacy, and this class has been to the Sweet 16, final eight, Final Four," Villanova coach Jay Wright said. "But they've endured a really tough season that would have crumbled a lot of guys personally."
The 2006 legacy has hung over every George Mason team since. Morrison wore a T-shirt that read, "We are this year's George Mason," to the postgame news conference, anticipating the inevitable questions about the school's most famous team.
"We've been forced into a lot of comparisons," he said. "And this is why it's my favorite shirt. I just like to ignore what everybody says and just worry about my own team."
It's not 2006 anymore. But 2011 is worth talking about.