College Basketball Nation:

Sabatino Chen
January, 11, 2013
1/11/13
2:12
AM ET
In Eugene, Ore., the future arrived early on Thursday night.
The
Oregon Ducks
were expected to rise in the coming years as Dana Altman's young, talented roster matured. But the team's
70-66 victory
over No. 4 Arizona, a squad that entered the game with an unblemished record, changed the discussion surrounding the Pac-12 title race.
And next (potentially) became
now.
A surging Oregon squad turned Matthew Knight Arena into the stage for an unlikely upset. The Ducks fell into an 11-0 hole in the first half and then, changed their fortunes -- changed the early Pac-12 championship picture -- with a 41-19 rally. They led by 11 (41-30) at halftime.
The Wildcats had toyed with defeat multiple times in previous outings against Colorado, San Diego State, Utah and Florida. And as they launched another comeback with minutes remaining in the game, it appeared as though Oregon would fall, too.
But the Ducks' resilience -- a stubbornness that forced 14 Wildcats turnovers and held the three big men (
Kaleb Tarczewski
,
Grant Jerrett
and
Brandon Ashley
) in Sean Miller's highly touted recruiting class to a combined 3-for-13 mark -- helped them resist that push.
Oregon led by 13 with 5 minutes to play. The Wildcats, however, pressured the Ducks and cut that deficit.
Nick Johnson
's 3-pointer with 53 seconds on the game clock squeezed that gap to 3.
Dominic Artis
missed a rushed 3-pointer on the other end of the floor and Johnson raced the other way.
Cue the déjà vu, right?
But Oregon's
Johnathan Loyd
chased, forced a turnover and drew a foul. He made 1 of 2 free throws to give Oregon a four-point lead.
No Arizona magic in Eugene. Not on Thursday night.
Oregon connected on 7 of 11 3-pointers and shot 48.1 percent from the field, accuracy that
Mark Lyons
' game-high 21 points couldn't overcome.
[+] Enlarge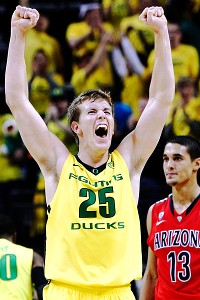 AP Photo/Chris PietschE.J. Singler, who had a team-high 14 points plus 7 rebounds and 7 assists, celebrates the Ducks' upset.
Altman had lost so much from his 2011-12 squad -- including star guard Devoe Joseph -- that he told one preseason publication, "You've got six freshmen. Any way to put that together quick is probably not going to happen. It's just going to take some time."
But Oregon freshmen Artis (3-for-4 from the 3-point line, 10 points, 3 rebounds, 3 assists and 2 steals) and
Damyean Dotson
(9 points, 4 rebounds, 2 assists and 1 block) were crucial participants in Thursday's win.
E.J. Singler
(14 points, 7 rebounds, 7 assists and 3 steals) led four Oregon scorers in double figures.
And now, the Pac-12's list of contenders demands another look.
After the Wildcats knocked off Florida, they were touted as eventual league champs. With each win, they seemed to expand the chasm between them and the rest of the conference.
But Arizona's victories masked some of its struggles, such as its challenges defending the 3-point line (289th in Ken Pomeroy's efficiency ratings).
As they rumbled through multiple tight finishes, the Wildcats' success also overshadowed the recent growth around the league.
It took
Shabazz Muhammad
about a month to get back into shape after missing early games due to an NCAA investigation, but the freshman has been one of the best players in America in recent weeks. He's averaging 19.6 points per game for a UCLA team that's won eight in a row.
Colorado is 1-2 in Pac-12 play but last week's effort at Arizona -- a game that should have ended in regulation on
Sabatino Chen
's 3-pointer -- proved that the Buffaloes can compete with the best in the Pac-12.
But no team had previously announced its place in the title conversation the way Oregon did Thursday night in its only regular-season matchup against the Wildcats.
The Ducks, who will also face UCLA once (Jan. 19 in Los Angeles) during the regular season, were dominant most of the evening. They play fast, they defend well (19th in Pomeroy's efficiency ratings) and they tussle for 40 minutes. They proved as much when they upset No. 24 UNLV in the Global Sports Classic in Las Vegas. But the excitement spawned by that win did not last long because the Ducks lost to No. 21 Cincinnati the next night.
They also endured a wacky 91-84 triple overtime loss to UTEP on Dec. 19.
The squad that showed up Thursday night, however, can clearly play with any team in the league.
It's "the" league now. Not just Arizona's.
January, 8, 2013
1/08/13
5:00
AM ET
1. Colorado coach Tad Boyle did follow up with Ed Rush, the Pac-12 coordinator of basketball officials, after last Thursday's controversial overtime victory for Arizona. Rush publicly defended the officials' call on overturning
Sabatino Chen
's 3-pointer at the buzzer. Rush did the same thing privately to Boyle. But Boyle said Rush admitted the officials didn't get a substitution call correct with under two minutes to go in the game. Arizona was allowed to sub in but Colorado wasn't, according to Boyle. That allowed a mismatch with
Josh Scott
on
Solomon Hill
, who ended up making a 3-pointer to cut CU's lead to five with 1 minute, 41 seconds remaining in regulation. Boyle said there was no hangover for the Buffs when they lost two days later at Arizona State. But he said this week's homestand should provide a great atmosphere, with USC and UCLA coming to Boulder. CU needs these wins to be a contender.
2. Lehigh coach Dr. Brett Reed said during our ESPNU podcast Monday morning that a decision still needs to be made about whether to surgically place a pin in
C.J. McCollum
's broken foot. He said every precaution is being taken since no one wants to mess with the senior guard's possible NBA career. I didn't get the sense that Reed is fully expecting McCollum to return anytime soon; to project that he might not come back this season wouldn't be a reach. Meanwhile, McCollum said the Mountain Hawks cannot panic. You can tell Reed is up for the challenge of trying to beat Bucknell in the Patriot League without McCollum.
3. Minnesota's Tubby Smith also joined us on the Monday podcast and said his team is ready for the gauntlet of at Illinois, at Indiana and home to Michigan. He said the squad finally being healthy is a major reason why the Gophers have turned around their program. Smith also has a scoring lead guard in
Andre Hollins
,
Trevor Mbakwe
is fully engaged in the team concept and
Rodney Williams
is playing his natural power-forward position.
January, 4, 2013
1/04/13
11:45
AM ET
By
ESPN.com staff
| ESPN.com
Andy Katz and Seth Greenberg
discuss the controversial call in the Colorado-Arizona game

. Plus, they talk to Kansas State coach Bruce Weber and Illinois coach John Groce.
Also, Colorado lost to Arizona in overtime on Thursday after a potential game-winning 3-pointer was reversed on replay. Did referees make the right call?
SportsNation wants your thoughts
.
January, 4, 2013
1/04/13
11:16
AM ET
By
Jeremy Lundblad, ESPN Stats & Info
| ESPN.com
Player of the Night
--
Earl Brown, St. Francis (PA)

Sometimes, it takes a monster performance to stop a losing streak. St. Francis (PA) beat Central Connecticut State, 67-60, to pick up its first win of the season (1-11). Brown scored 16 points and grabbed 25 rebounds, the second most in NEC history. It's the most rebounds in a game since Morgan State's Kevin Thompson had 25 in December 2009. That leaves just three winless teams: Grambling State, Maryland-Eastern Shore and Mississippi Valley State.
Freshman of the Night
--
Isaac Fotu, Hawaii

Fotu scored a season-high 29 points and added 9 rebounds, as Hawaii beat Cal State Fullerton, 90-88. Fotu's 29 fell one short of Chris Gaines' school freshman record set in 1987. Fotu scored the Warriors' first 10 points, and had 20 at the half.
Garrett Jefferson
's scored the game-winner at the buzzer, his only bucket of the game.
Stat Sheet Stuffer
--
Neil Watson, Southern Miss

Southern Miss beat Dillard, 135-41. In a 94-point win, there's bound to be some eye-popping numbers. For example, Southern Miss outscored Dillard 63-0 off of turnovers. Among many career highs, Watson's 17 assists are particularly notable. It set a school record and stands as the second-most in Conference USA history. The last player with more assists in under 30 minutes of action was Mateen Cleaves in 2000.
Scorer of the Night
--
Augustine Rubit, South Alabama

As the only Division I player averaging 20 and 10, Rubit's no stranger to big games. But Thursday may have been his finest. He finished with a career-high 32 points to go with 13 rebounds as the Jaguars beat Louisiana-Monroe, 77-72.
Bench Player of the Night
--
Sabatino Chen, Colorado

Coming off the bench for the first time this season, Chen's career-high 15 points almost propelled Colorado to an upset of Arizona. His potential game-winning 3-pointer was waved off at the end of regulation. Chen had scored in single digits in 46 straight games.
January, 4, 2013
1/04/13
5:00
AM ET
1. Conference play isn't even a week old and yet there have been two controversial official calls that affected outcomes. The Marquette-UConn game Wednesday was affected by a blown call in overtime when a goal tending was overruled because the officials didn't realize the teams were lined up the wrong way (didn't they see
Junior Cadougan
make the 3-pointer seconds earlier from the same basket?). And then Thursday in the Arizona-Colorado game, officials took away a
Sabatino Chen
game-winning 3-pointer for the Buffaloes when they decided the shot was not in time. This is a perfect example as to why the selection committee can't ever just look at the win-loss records and who they beat and where. There needs to be discussion about the teams and the games, as well. These results matter, but analyzing the team needs to be done.
2. Colorado and Arizona should become rivals after the Buffs won the Pac-12 tournament last season over the Wildcats, following a regular-season series split. And now there's Thursday's dramatic, controversial game. The Pac-12 needs new rivalries, much like the rest of these bloated conferences. Colorado was an afterthought in the addition. Utah was supposed to be the big hoop coup. But CU has proven to be a great add. The Buffs now have a real rival in Arizona and that's good news for the league.
3. SMU hosts Tulsa Sunday in a Conference USA opener for both teams. The game matches two new head coaches who are extremely familiar with each other: Larry Brown and Danny Manning. Brown coached Manning as the two led Kansas to the 1988 national title. I would have loved to see if anyone alive could have predicted in '88 the two would be coaching against each other at SMU and Tulsa 24 years later. Conversely, would anyone be shocked if the Brooklyn Nets didn't get their top coaching choices that they would look at Brown, who has a strong connection with GM Billy King? It's not likely or probable but nothing would surprise me and shouldn't anyone else.
January, 4, 2013
1/04/13
1:09
AM ET
It's fair to say Colorado coach Tad Boyle was frustrated by the officials' decision to use an inconclusive replay of a potential game-winning 3-pointer to reverse an on-court call at the end of Thursday's game against Arizona.
How frustrated?
Enough that he wants college basketball to take a dramatic step: Don't go to the monitor to decide a game on such a close call.
"Get rid of instant replay," Boyle told ESPN.com by phone from Tucson. "In basketball, football, human error is part of our game. If human error is part of the game, let the officials call the game. Players, coaches and officials will make mistakes. It's part of the game.
"We spend all this money on replays and we still can't get it right. Get rid of it."
Boyle hadn't seen the replay of
Sabatino Chen
's buzzer-beating 3-point bank shot until well after the game.
The shot, waved off by officials after a lengthy review, would have handed the Buffaloes a stunning 83-80 victory over No. 3 Arizona in the Pac-12 opener in Tucson.
Instead, Arizona completed a 17-point comeback to win
92-83
in overtime and remain undefeated.
"After the game, I was disappointed in myself and in the way we played down the stretch, but I hadn't seen the replay," Boyle said. "That was like a shot to the gut. We're going to move on and not cry about it and not complain about it, and we'll take it like men and hopefully get better."
But Boyle won't let it rest. He said his first call on Friday morning will be to Pac-12 coordinator of officials Ed Rush.
"I would like an explanation," Boyle said. "I think the University of Colorado deserves one and the players and administration and student body and everybody involved in Buff Nation deserves an explanation. It's not going to change the result. I've never been involved in something like this."
For Andy Katz's full story, click
here
.
January, 3, 2013
1/03/13
11:20
PM ET
By
ESPN.com staff
| ESPN.com
After host Arizona rallied to tie the game, Colorado's
Sabatino Chen
made what looked to be the game-winner at the end of regulation, but officials waved it off, saying time had expired. The No. 3 Wildcats went on to win the Pac-12 opener for both teams,
92-83
, and improved to 13-0.