College Basketball Nation:

Saints-Bulldogs 022010
February, 20, 2010
2/20/10
12:59
PM ET


INDIANAPOLIS -- More to come later, but a quick, postgame analysis from Butler 70, Siena 53:
It's official: The Saints must win the MAAC tournament title to play in the NCAA tournament.
Impressive job by Butler winning without injured double-digit scorer and jack-of-all-trades Willie Veasley, and with minimal contribution from No. 3 scorer Matt Howard due to fouls. Gordon Hayward's versatility is very impressive.
Siena point guard Ronald Moore came in leading the nation in assists but had a miserable day offensively. He scored just one point, whiffing from the field (0-for-9). Star Edwin Ubiles wasn't much better, going 2-of-11 for four points.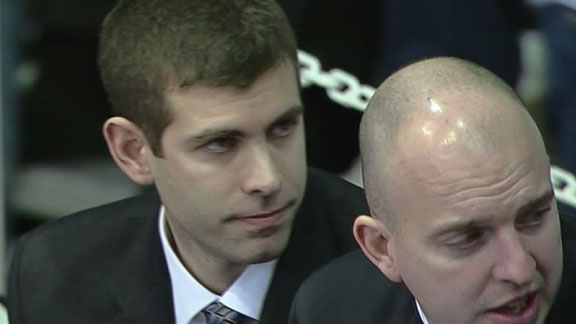 February, 20, 2010
2/20/10
12:08
PM ET
February, 20, 2010
2/20/10
10:52
AM ET
INDIANAPOLIS -- Greetings from my favorite building in basketball, a must-visit shrine for every hoops romantic. It's old, cavernous, almost completely lacking in modern amenities -- in a word, perfect. Close your eyes and you can see Bobby Plump hitting the winning shot for Milan in 1954.
An 11 a.m. tipoff isn't ideal for maximum student-section rowdiness, but the Butler students must have skipped breakfast to get here and get ready for their national TV opportunity. They are here, and they are ready -- including the guy in the banana bodysuit with a blue mustache painted on his face. Whatever it takes, young man.
As for the game: Talk about a clash of styles. The Butler Bulldogs are the sultans of the slowdown, with a Ken Pomeroy adjusted tempo that ranks 279th fastest nationally. The Siena Saints like to push it, with an adjusted tempo ranking of 38. Obviously, whichever team dictates tempo to its own comfort level stands a great chance of winning.
What the teams lack in style similarities, they make up for in balance. Siena has four starters averaging between 13.6 and 16.3 points. Butler has four between 10 and 15.9 per game.
Butler is always an accommodating host, but might not be too happy to see me here. Brad Stevens is 80-14 as coach of the Bulldogs, but 0-3 with me in the house.