College Basketball Nation:

Samardo Samuels
July, 6, 2011
7/06/11
7:29
PM ET
By
Diamond Leung
| ESPN.com
Louisville coach Rick Pitino has seen Samardo Samuels and
Terrence Jennings
unexpectedly depart the team and declare for the NBA draft in consecutive offseasons. Now Pitino is reportedly recruiting point guards in the event that
Peyton Siva
leaves for the draft after his junior year.
According to
The Courier-Journal
, several prospects have said Pitino talked about Siva's potential NBA future. Kris Dunn and Gabe York, two top-10 guards in the 2012 class,
told the paper
about Pitino mentioning the possibility of early entrants.
According to York
, "He's told me up front that he thinks the guards are leaving and that I would have a good chance to play."
Much of this is Pitino covering his base to make sure a potential departure doesn't leave him without having communicated with some of the nation's top recruits at guard.
At the same time, it also presents an opportunity to look at the NBA prospects for Siva, the 5-foot-11, 175-pounder who has emerged an important player for the Cardinals. He averaged 9.9 points and led the team in assists last season, but also made only 27 percent of his 3-point attempts. He led the team with 69 steals, yet also committed 101 turnovers.
Siva recently spoke with
Louisville Sports Buzz
about his thoughts on the NBA and sounded more interested in the upcoming season.
"Of course every kid has dreams and aspirations of playing in the NBA, but we have not even been able to get out of the first round the last two years so that is really what I am focused on. This year I am just focused on getting out of the first round and winning games throughout the year and I will worry about that stuff when it comes," said Siva. "When you have that mindset of I am leaving after the year you kind of get sidetracked. All I am focused on is this team and I want to win games because if you don't win game you are not going anywhere. I am just going to come out every day and work as hard as I can and the sky is the limit."
May, 5, 2010
5/05/10
2:25
PM ET
There's no question Louisville coach Rick Pitino would have liked for
Samardo Samuels
to
return for another year in 2010-11
. Samuels' decision is not a wise one; the big man will be lucky to get drafted in the bottom end of the second round, if at all. If he had stayed a year, you never know. Maybe he improves his draft stock considerably. Maybe not. But it couldn't have been much lower than it is right now.
[+] Enlarge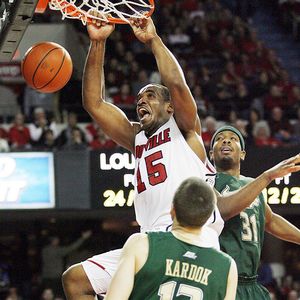 Mark Zerof/US PresswireSamardo Samuels averaged 15.3 points and seven rebounds a game during the 2009-2010 season.
Instead, Samuels decided to hire an agent and come out this year. Foolish? Yes. But in a Wednesday news conference on the decision,
Pitino provided some good perspective
second-guessers like myself should probably keep in mind from time to time:
"In Samardo's case, look, y'all have got to understand this is not a young man from the projects of New York or L.A. or Chicago," Pitino said. "This is a young man who's doing it for his family, who's trying to better his family. What we think is poor, you don't know poor. Whether he's making a right or wrong decision is irrelevant because he's doing it for the right reasons. That's why I support his decision."
That's a diplomatic way to handle it. It's always hard to question a player's decision to go to the NBA. It's like saying, "Hey, kid, you know your lifelong dream? Forget it. At least for now. Ain't gonna happen." No one wants to deliver that message. And in cases when a player is ready for the NBA, or he's a first-round pick, or whatever, it's best to just tip your cap and wish the guy luck. It's his life and his dream. Why argue against it?
In Samuels' case, though, leaving for the NBA this year might genuinely be the wrong thing to do for his family. Maybe Samardo ran a careful cost-benefit analysis to staying in school for another year, maybe he figures his stock won't get any higher and he won't be able to help his family any more in 365 days' time, so why wait? Maybe. Or maybe he's just getting really, really bad advice. Either way, hopefully it works out, both for Samardo and for his family back in Jamaica. But this is not a good start.
May, 5, 2010
5/05/10
10:00
AM ET
I'll be honest: When the news broke a few weeks ago that Louisville forward
Samardo Samuels
was going to test the NBA waters, I didn't think much of it. Samuels was not a highly regarded draft prospect. He would go talk to some scouts, feel his way around a workout or two, and realize what everyone else already seems to know: That he'll be lucky to be picked even in the second round of the 2010 NBA draft, that coming back to school for another year would be in his best interests.
Yeah, so, I was wrong. Big-time. In a decision even more shocking than his water-testing, Samuels is going to stay in the draft,
ESPN's Pat Forde reported last night
. Samuels will hire an agent, making him ineligible to return to school in 2010-11.
This is a baffling decision for pretty obvious reasons. Samuels currently sits in that
dreaded "second round to undrafted" category of Chad Ford's NBA draft prospects list
, and, according to Ford's April 20 update, "few NBA scouts see him as a legit NBA prospect ... he'll likely go undrafted if he stays in the draft." So one of two things is happening. Either somewhere along the line, Samardo is getting some vastly different information from what Ford is hearing or Samuels is hearing the same thing from scouts. If that's the case, he doesn't believe it and thinks he can win scouts over before June 15 -- or he wants to leave Louisville so much he just doesn't care.
Whatever the case, it's hard not to think Samuels is making a really bad decision here. Another year of school might not boost his draft prospects, but seeing as they can't fall much further, another year of high-visibility development in the KFC Yum! Center would have been worth a shot. Instead, Samuels will enter a draft few, if any, believe he'll end up being a part of. Baffling.
March, 19, 2010
3/19/10
9:30
AM ET
JACKSONVILLE, Fla. -- Previewing Friday's action at Jacksonville Memorial Arena:
Temple (5) vs. Cornell (12), 12:30 p.m.


This promises to be one of the more fascinating first-round matches of the tournament. Both teams appear criminally underseeded -- Cornell is one of the best Ivy League teams in years, while Temple won both the Atlantic 10 regular season and tournament title. The game features a contrast of styles: The Big Red led the country in 3-point shooting (43.4 percent), while the Owls have the fourth best 3-point percentage defense (27.8 percent). Hard as it is to believe, the Ivy Leaguers want to push the pace, but Temple prefers a more controlled tempo.
And then you have the side story on the coaches, as Cornell's Steve Donahue spent 10 years as an assistant to Temple's Fran Dunphy at Penn. "There are so many emotions that go on in this tournament, and I'd rather not have the extra layer of emotion of competing against a guy that you were hoping to root for," Dunphy said. No one will want to play the survivor of this confrontation.
Wisconsin (4) vs. Wofford (13), 2:50 p.m.


In its first-ever trip to the NCAA Tournament, Wofford had the misfortune of drawing the Badgers and their suffocating style of play. The Terriers know that they're facing a tall order -- or do they? "It would be a huge upset if we were to beat them; let's be honest" Wofford coach Mike Young said. "But I can tell you this: I know my team. They're a little crazy in a great way, in a wonderful way. They are convinced that they're going to come in here and play well and give themselves a chance to win."
The biggest obstacle will be dealing with Wisconsin's size. The Terriers like to go inside first, but they play a three-guard lineup with two 6-foot-6 forwards. The Badgers counter with 6-foot-10 center
Jon Leuer
and 6-8
Keaton Nankivil
fronting Bo Ryan's typically stingy defense, which allowed just 56.2 points per game this season. Wisconsin had one of the worst shooting days imaginable against Illinois in the Big Ten tournament and still almost found a way to win. A lot more will probably have to go wrong for Ryan's team if Wofford is to pull the upset.
Duke (1) vs. Arkansas-Pine Bluff (16), 7:25 p.m.


Arkansas Pine-Bluff has already won one game in the school's first-ever NCAA Tournament appearance -- beating Winthrop on Tuesday night in Dayton -- and that will almost certainly have to suffice for the Golden Lions. They don't shoot the ball well -- making just 36.8 from the field and 31.8 percent from the 3-point line on the season -- and they have only one player taller than 6-foot-7. That doesn't sound like the profile of a team that can topple Duke, which has both size and shooters. But guard
Terrance Calvin
is trying to stay optimistic. "They're a very big team and we're going to have a small lineup, so we're going to try to use our speed against them," he said. More realistically, the Blue Devils will have far too much firepower for this to be close.
California (8) vs. Louisville (9), 9:45 p.m.


Both teams are a bit of a mystery. Cal won the Pac-10 and had a great RPI but lacks any marquee wins. Louisville was good enough to beat Syracuse twice but bad enough to get hammered by Marquette, St. John's and Western Carolina. Each team boasts some very streaky shooters, especially the Golden Bears'
Jerome Randle
, who can score in bunches.
If Louisville wants to press and play up tempo, Cal says bring it on. "The faster the better," coach Mike Montgomery said. But Montgomery has to worry about the paint, especially with starting power forward
Omondi Amoke
not making the trip because of a suspension. The Cardinals say they want to feed big man
Samardo Samuels
early and often. "I feel like he's the key for us in this tournament," Louisville point guard
Edgar Sosa
said.
February, 23, 2010
2/23/10
8:10
PM ET
LOUISVILLE, Ky. -- Halftime thoughts from Louisville 35, Georgetown 29.
Louisville senior point guard played his best half of the season. Edgar Sosa drove to the basket, shot from the outside and passed deftly to teammates, producing 13 points, six assists -- and, a key stat for the mercurial senior, zero turnovers. Cut out a couple 25-foot 3s and he would have played an ideal half.
The primary recipient of Sosa's passes was forward Reggie Delk, who made three 3s and had 11 points. Delk had not been a big factor in Louisville's three-game winning streak, missing the big upset of Syracuse with an injury and then scoring just 10 total points in wins over Notre Dame and DePaul. But his perimeter shooting is a key element of Louisville's attack, and he had his stroke going in the first half here.
Georgetown has been all Greg Monroe, all the time. He had 12 points, six rebounds, an assist and a block, and got the best of his individual matchup in the paint with Samardo Samuels (five points, three rebounds).
If the Hoyas are going to come back and get this road victory they'll need more from guard Chris Wright. Georgetown is 16-1 when Wright scores in double figures, and at halftime he has zero.
Louisville coach Rick Pitino put a pregame premium on winning the turnover battle with Georgetown. At halftime, advantage Cards: They have committed four turnovers while forcing six. But Georgetown cannot feel too badly about being down six after shooting 37 percent from the field and 29 percent from 3-point range. The Hoyas have hit just 11 of their last 40 threes over the past 2 1/2 games.
February, 23, 2010
2/23/10
6:59
PM ET
LOUISVILLE, Ky. – Pregame thoughts from Freedom Hall:


There are 14 NBA scouts credentialed for
tonight's Georgetown-Louisville game
, most of them here to see the strongman contest between two very good big men:
Greg Monroe
of the Hoyas and
Samardo Samuels
of the Cardinals. Monroe is averaging 15.7 points, 9. 4 rebounds and also leads the team in assists and blocked shots. Samuels is averaging 16.1 points, 7.1 rebounds and has been wearing out a trail to the foul line in recent games. Whichever star sophomore plays best tonight could well lead his team to victory.
Louisville (9-5) is ahead of Georgetown (8-6) in the Big East standings but behind the Hoyas in every NCAA tournament seeding projection. Reason: the Hoyas have a significantly better body of non-conference work, with victories over Duke, Temple and Old Dominion. Louisville did precious little in non-conference games, but got a signature victory at Syracuse and has followed that up with victories over Notre Dame and DePaul. With the Cardinals still on the bubble and facing a difficult closing stretch (at UConn, at Marquette, Syracuse), this game is bigger for them.
Georgetown comes in on a two-game losing streak, a stunning loss at Rutgers followed by a comeback that fell short against Syracuse. In those two games the Hoyas made just 9 of 33 3-point shots while opponents hit 15 of 33. Georgetown needs to tighten up the perimeter defense against a Louisville team that can put four 3-point shooters on the floor and get hot on a moment's notice.
February, 23, 2010
2/23/10
4:26
PM ET
Saddle Up is our nightly preview of the hoops your TV wants you to watch. Here's Tuesday night's rundown, where we find ourselves officially in that "What does this mean for the NCAA tournament?" time of year.


No. 11 Georgetown at Louisville, 7 p.m. ET, ESPN2
: If you had to guess which of these two teams had the better Big East record, would you guess Georgetown? Probably not, actually, since by merely asking the question I've given away the answer. It is, in fact, Louisville. The Cardinals, 9-5 in the country's best league, aren't just playing for a spot in the NCAA tournament (after looking like an NIT team two weeks ago). They're also playing to hold off the Hoyas, who at 8-6 are trying to avoid their third straight loss, the first of which came in an ugly effort at Big East doormat Rutgers.
The Hoyas' task won't be easy: Louisville's offense is one of the best in the country, and its defense, though still porous, has gotten noticeably better down the stretch. (For anecdotal evidence, see:
holding Syracuse to 60 points in the Carrier Dome last Sunday
.) How will
Austin Freeman
and
Greg Monroe
match up with
Edgar Sosa
and
Samardo Samuels
? Can Georgetown prevent a late-season swoon and a slide onto the bracket's fourth line? Can Louisville keep proving itself? If the Big East regular season race isn't your thing, the answer to those questions should be.


No. 17 Tennessee at Florida, 9 p.m. ET, ESPN
: If the above game features tonight's two best teams, then Tennessee's trip to Gainesville is certainly the most tourney-dire. Florida needs a win. Is there a route for the Gators into the NCAA tournament without one? Sure. It's possible.
Much like being on a boat
, anything is possible. (This boat is real!)
Beating Tennessee tonight -- the Gators are 1-8 against UT since Bruce Pearl arrived -- would instantly change Florida's season trajectory from "mediocre and disappointing, so nah" to "mediocre but possibly peaking at the right time, so hey, let's keep an eye on them." The Gators have one of the more difficult closing stretches in college hoops: Tonight's matchup, a game at pesky Georgia, a home contest with Vanderbilt, and a trip to Lexington to face the mighty Wildcats. Win a couple of those -- preferably tonight and Vanderbilt, though some combination of the two with a win at Georgia wouldn't be the worst thing in the world -- and
Billy Donovan won't have to pine for tournament expansion quite so enthusiastically
.
Everywhere else
: Syracuse rebounded nicely from its loss to Louisville by beating Georgetown at the Verizon Center last week; the Cuse will look to continue its road-warrior-ness (totally not a word, until now)
with a visit to Providence
... Texas Tech's 4-8 conference record has all but doomed its tournament hopes,
but a win over Kansas State
might keep Pat Knight's tourney candle flickering for a few more days ... Illinois will try to rebound from its two losses to Ohio State and Purdue
at the ever-disappointing Michigan's Crisler Arena
... and
after tonight's game at 7-20 Evansville
, Northern Iowa will either improve to 25-3 or have doubts as to whether it's an NCAA tourney lock or not.
February, 18, 2010
2/18/10
11:24
AM ET
There is something about
Jimmer Fredette
that must like getting out of Utah -- either that or he feeds off of opposing crowds. Fredette scored 36 points in BYU's
92-70 win
at Colorado State. It was Fredette's third 35-plus point game this season, tied with Seton Hall's
Jeremy Hazell
for most in the nation. At 26.3 points per game in road games (compared to just 17.8 at home), Fredette is the nation's top scorer on the road.
To say that Xavier won the battle of the boards against St. Joe's would not do it justice. The Musketeers held a 53 to 17 rebounding edge over the Hawks. The plus-36 edge was the largest in school history. In 17 minutes,
Kenny Frease
came off the bench to grab nine rebounds, equaling the total of the entire opposing starting lineup. Xavier had more offensive rebounds (18) than St. Joe's had total rebounds. Perhaps most embarrassing of all, Xavier's 53 rebounds eclipsed St. Joe's point total of 52. Not surprisingly, the Hawks are tied (with 1-26 Alcorn State!) for the sixth-worst rebounding percentage in the nation.
Samardo Samuels
scored a career-high 36 points in
Louisville's double-OT win
over a
Luke Harangody
-less Notre Dame team. It's the most points for a Cardinal since Reece Gaines had 37 in 2002. Samuels is just the second player this season with 10-plus field goals and 15-plus free throws in a game, joining Nicholls State's
Anatoly Bose
. Perhaps the most overlooked improvement that Samuels has made this season is staying out of foul trouble. He logged 45 minutes Wednesday while committing only three fouls. Last season, Samuels had four or more fouls 14 times. This season, that is down to only four instances, despite logging almost four more minutes per game.
After
beating Holy Cross 83-30
, Navy has won four of its last five and sits in a tie for second in the Patriot League. A big reason has been the improved play of point guard
O.J. Avworo
, who finished with 14 points and 13 assists on Wednesday. Avworo, who started his college career at Idaho, has reached double-digit assists in each of the last four wins for the Midshipmen. In conference play, he is putting up 7.1 APG, second in the nation behind Illinois'
Demetri McCamey
.
On paper, Wednesday appeared to be a pretty good matchup for Iowa State's 6'10" center
Craig Brackins
. Oklahoma State features only one player over 6'7" and ranks 330th in the nation in average height according to KenPom.com. However, the Cowboys came out physical and Brackins connected on just three of 17 shots. Over the last three games, the Cyclones' leading scorer is shooting just 26.9 percent. On the season, Brackins is shooting just 37.9 percent in the Cyclones' 13 losses.
February, 18, 2010
2/18/10
9:27
AM ET
The Morning After is our semi-daily look at last night's best hoops action. Try not to make it awkward. Oh, and sorry about that headline. I couldn't help myself.
No. 4 Purdue 60, No. 12 Ohio State 57
: Any time you face a player as good as
Evan Turner
, the conventional strategy is simple: Make someone else beat you. It might not have been conscious, but Purdue's execution in last night's impressive road win at OSU was the exact opposite. It let Turner get his points (and his assists, and his rebounds, and pretty much anything else he wanted, because what are you going to do, triple-team him?) and the rest of the Buckeyes couldn't step up in time. By the time OSU started hitting the shots it usually makes to complement Turner's brilliance, it was too late: Purdue is simply too smart, too hard-nosed and too complete on defense to spot it 15 first-half points. OSU and Turner made a valiant comeback, but it was too late.
Purdue's defense didn't stop Turner -- he went for 29 points, seven rebounds, and five assists -- but what it did do was isolate Turner from the rest of his teammates. Purdue swarmed OSU with that patented man-to-man defense, and Ohio State's offense turned simple. There was no motion, no movement, none of the things that the Boilermakers kept wowing with on their own offensive end. Instead, Turner would bring the ball up the floor, receive a screen or an iso call, go to the hoop and oftentimes score. But even a player as good as Turner can't rebound all of his misses. Even Turner can't find himself on back cuts. Even Turner can't make every shot. Ohio State had six assists all game; Turner had five of them.
In the end, it's games like these that set Purdue apart from the Big Ten pack. The Boilermakers have elite talent --
JaJuan Johnson
is perpetually slept on; sooner or later we'll learn -- but they also have the depth and style, that hard-nosed, lockdown defense thing that you can feel when you watch them, to outlast mercurial teams like Ohio State. Matt Painter's boys are not perfect, and they're not Kansas, but they're the closest thing the Big Ten has to a Final Four favorite. That much is no longer in dispute.
Louisville 91, Notre Dame 89, 2OT
: Which team needed this one more? Louisville, coming off an upset of Syracuse and trying to fight its way back into safe bubble territory? Or Notre Dame, whose bubble hopes are almost entirely waned, but who could maybe take a win at Louisville to the committee as a résumé-builder? Hard to say. What I do know that is that a Louisville win -- in which
Samardo Samuels
scored a career-high 36 points, including 16-of-19 from the free throw line,
marking the only real difference between these teams in Four Factors land
-- moves Louisville into legitimate tourney consideration, and just might move Notre Dame off the bubble for good. Such is life in the middle of the Big East.
Missouri 82, No. 17 Texas 77
: Is Texas going to drop out of the Top 25? This is the Longhorns' sixth loss in nine games, and while there's nothing wrong with losing at Missouri -- Missouri is a tough out, to be sure -- a team as talented as Texas losing so many games in the stretch run of its season, just as the country's elite are hitting their stride and doing their best work, ought to be hugely discouraging to voters. Take a gander at those Big 12 standings: Texas is 6-5 in the conference, behind Kansas, Kansas State, Texas A&M, Baylor and, yes, Missouri, which moved to 7-4 with Wednesday night's win. Texas is one of the most-talented teams in the country.
How does that happen?
Anyone with a really good answer -- something besides "Rick Barnes plays too many players" -- wins a cookie. Not kidding. I will mail you a cookie of your choosing. Just please help me understand this, because I am so very confused.
Everywhere else
: Duke was over the ledge in the first half at Miami, trailing by 12 at halftime and apparently doing another of its incomprehensible road loss routines, but credit the Devils for the turnaround:
Duke won 81-74 in an impressive comeback victory
. Sure, it's just Miami, but a road ACC win is a road ACC win. Especially for Duke. ... It was a night of survival for highly ranked teams, and
Kansas State's near-loss at home to Nebraska was no exception
. ...
West Virginia withstood Providence's second-half rally
. ... St. Louis got a huge win for itself and for the prospect of six A-10 teams in the NCAA tournament
with its win over Rhode Island
. ... Tennessee got a challenge from Georgia, but
pulled away for the nine-point win
. ...
Florida State rolled at Virginia
, a doomer for the Cavaliers' faint NCAA hopes. ...
South Carolina did itself no favors by losing at Arkansas
; as fun as it would be to have Devan Downey in the NCAA tournament, it's not looking good.
February, 14, 2010
2/14/10
4:33
PM ET
SYRACUSE, N.Y. -- Since the New Year, the University of Louisville has played the part of Job with a Sisyphus complex.
The Cardinals dropped five of their eight games in January, including decisions made on questionable calls at both Seton Hall and West Virginia, to land themselves squarely on a very thin bubble.
Their response? A week into February they headed to New York with their coach, embattled in the summer after his indiscretion, now dodging rampant rumors that he would bolt the school for a job in the NBA at season's end -- and get promptly humiliated by Big East underling St. John's in what appeared to be a bubble-bursting loss.
[+] Enlarge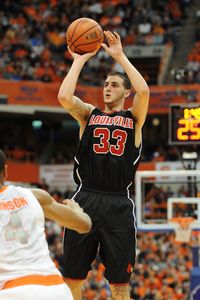 Don McPeak/US PresswireMike Marra came off the bench to score 12 points for the Cardinals.
But the thing about Job and Sisyphus: they never quit. Job took on his suffering and Sisyphus stubbornly kept pushing that boulder up the hill.
Louisville finally inched the boulder in the right direction when the
Cardinals stunned No. 3 Syracuse
and 31,053 of its orange-loving Valentine's Day fans, 66-60.
"We didn't play well at St. John's but they played great,'' UL coach Rick Pitino said. "We thought we were going to win one or two of these road games. After we lost to St. John's, I told the guys, 'Which one would you rather have: St. John's or Syracuse?' Here's your chance to beat a team that is top three in the nation and could win a national championship.''
Telling and doing, however, are two different things. Yet the same Louisville team that has been equal parts perplexing and vexing played an intelligent and steady game from the opening tip.
The Cardinals, who have had a season-long case of the yips, didn't blink when
Andy Rautins
nailed back-to-back 3-pointers to retake the lead late in the second half. They didn't wilt when
Jared Swopshire
and
Edgar Sosa
both missed the front end of one-and-ones in the final minute, and they didn't cave when, up just two,
Rakeem Buckles
turned the ball over under the Syracuse hoop, passing the ball out of bounds with 32 seconds left.
"We played a very intelligent game,'' Pitino said.
Louisville also handed Syracuse a dose of its own medicine, going zone much of the game. And a team that is so good in its own zone was completely stymied at how to attack one.
Unable or unwilling to penetrate, the Orange instead jacked 19 3-pointers and made just five of them.
Player of the year candidate
Wes Johnson
had 14 points, but shot only 5-of-20 from the floor; Rautins managed just three 3-pointers
"We weren't really aggressive until the end of the game,'' Syracuse coach Jim Boeheim said. "The last few games, it's been like that. We've managed to be tough and hang on to win the game, but you can't be in all of these situations at the end of the game and think you're going to win them all.''
In the grand scheme of things, this shouldn't affect Syracuse much at all. The Orange are 24-2 and would need a flat-out disaster to slide out of a No. 1 seed.
Still, around here there will be some serious hand-wringing, no doubt. Asked about the fretful fans, Pitino -- who has handled that sort of thing once or twice in his career -- chuckled.
"What is this, the Kentucky of the North?" he said. "We played a great team, and please remind your fans, the University of Louisville isn't exactly chopped liver. There's no reason to go jumping in the snow. Have a little vino and relax because Syracuse is a great, great team.''
What will be interesting is what this does for Louisville. Long term, what's most important is that the Cardinals' young players performed particularly well.
Mike Marra
, who Pitino said is the best pure shooter he's ever coached -- and that includes the likes of Travis Ford and Tony Delk -- nailed four 3-pointers off the bench, including a dagger trey with 1:28 left. Buckles chipped in a critical eight points and four rebounds, spelling
Samardo Samuels
when he got in foul trouble. And Samuels, inactive for much of the game, came on late with six critical points in the final three minutes.
But in the immediate future, what matters is Louisville's NCAA outlook. It still isn't entirely clear. The Cards are 16-9 and 7-5 in the Big East, maybe with a huge win like this putting a little separation between themselves and Cincinnati and Marquette.
They have exactly zero wiggle room, though. Louisville should not lose to Notre Dame, DePaul, Connecticut or Marquette, and would help its cause tremendously if it could steal a home victory against either Georgetown or Syracuse.
"We know we are a good team,'' Marra said. "We haven't really caught a break all season, but this is exactly what we needed. Hopefully it will get the ball rolling.''
Rolling uphill, that is.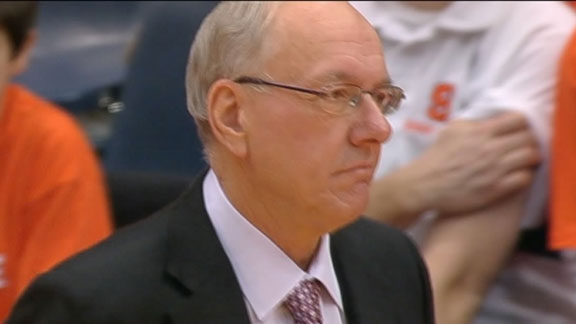 January, 1, 2010
1/01/10
7:38
PM ET
Saturday's game between Kentucky and Louisville has been circled since last April when UK announced John Calipari as Billy Gillispie's replacement.
[+] Enlarge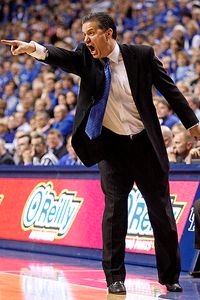 Andy Lyons/Getty Images Expect Rupp Arena to be rocking for Kentucky coach John Calipari's first game against Louisville.
Louisville coach Rick Pitino helped Calipari get his job at Pitino's alma mater UMass, but there is no sense of loyalty between the two high-profile coaches.
They had a brief rivalry in Conference USA with Pitino at Louisville and Calipari at Memphis. But that has nothing on this.
Pitino, the former Kentucky coach, is still a legendary figure in the Commonwealth. He's the one who helped get the Wildcats out of the abyss of NCAA sanctions, won a national title in 1996, took the program to another Final Four the following year, and whose assistant, Tubby Smith, won another title in 1998 with Pitino's players.
Kentucky's undefeated record, star power in players like
John Wall
,
Patrick Patterson
and
DeMarcus Cousins
, and the game being staged at Rupp Arena makes this even more of an event. Toss in Pitino's sordid offseason soap opera of being extorted for an affair from six years prior, and the atmosphere should be one of the more heated of any game this season.
No one wants to talk about how much the other wants to win, pound the other team, but the intensity is palpable.
"Let's be honest,'' Calipari said. "We've got a good team. They've got a good team. It's great for the Commonwealth and it's great for college basketball. Let's just enjoy it.''
I was at the first game when Pitino returned to Kentucky after taking the job at archrival Louisville. The signs were nasty. You can expect the same Saturday at Rupp Arena.
On the court, this should top the North Carolina atmosphere from last month, which was deafening at times as the Wildcats tore through the Tar Heels after a bumpy start.
Louisville has guards who shouldn't be rattled like
Edgar Sosa
and a big man in
Samardo Samuels
that can definitely move muscle with Cousins and Patterson. But not having Terrence Williams or Earl Clark means the Cardinals aren't as experienced for a game like this. Injuries and a lack of maturity have shown through for the Cards in losses at UNLV and at home to Charlotte and Western Carolina.
Kentucky has been pushed at times, by Sam Houston State, Stanford and Miami (Ohio), and of course by Connecticut in Madison Square Garden.
But this game means much more.
"It's like Duke and North Carolina,'' Calipari said. "Name about five rivalries that people wait for the game where they're marking the game, knowing what they're going to do that evening. It will be the hardest game we play by far.''
Calipari came to Kentucky to recruit, schedule and compete for national titles in much more of a mainstream manner. But he also came for the fanfare of coaching in games like Kentucky-North Carolina and especially Kentucky-Louisville. It only seems fitting that the first of the series between Pitino and Calipari is at home in Rupp.
"It's what you dream about in coaching,'' Calipari said. "It's what you want your program to be. It doesn't matter who we're playing, this place is going to be nuts.''
But in this instance it does matter. It's Louisville. It's Pitino. It's Kentucky as a Final Four candidate and Louisville as a team that may have to muddle its way through the rugged Big East, unlike last season when it won the regular season and conference tournament title on the way to a No. 1 seed and an Elite Eight finish.
Louisville has had its run. Kentucky was down the past few seasons. Now things have turned. A Louisville win would certainly stun the Big Blue Nation that is feasting on a Cardinal win before the thrust of the SEC schedule begins.
"Louisville will play better than they have all year,'' Calipari said. "They will make shots. We will get their best games. Our players know it's an important game but it's not life or death to them. They don't realize how hard Louisville is going to come out.''