College Basketball Nation:

Sammy Zeglinski
March, 16, 2012
3/16/12
12:15
AM ET
OMAHA, Neb. -- Here's a quick rundown of what to look for in Friday's afternoon games in Omaha.
No. 7 Florida (23-10) vs. No. 10 Virginia (22-9), 2:10 p.m. ET


Florida's Billy Donovan and Virginia's Tony Bennett may respect one another -- but when they run into each other during the offseason, it's pretty obvious the coaches don't compare notes.
While Bennett prefers a slower, muddier game with the score in the 60s, Donovan likes his teams to push the tempo and rack up as many points as possible. It's a scenario that makes Friday's Gators-Cavaliers clash one of the most intriguing matchups of the day.
"Our styles," Virginia forward
Mike Scott
said, "are going to clash."
That's not all that separates these teams.
Florida -- which won the national title in 2006 and 2007 -- is making its 11th NCAA tournament appearance in the past 13 years. Virginia is in the field for the first time since 2007 and for only the fourth time in the past 16 years.
"Their players have all been here and done this before," Bennett said. "Hopefully, [by] the first five minutes after the media timeout, we'll have enough experience to play well."
Even though Florida finished in a three-way tie for second in the SEC, the Gators' season has been a bit of a disappointment. Donovan's squad has defeated just four teams (Mississippi Valley State, Vanderbilt, Alabama and Florida State) in this year's NCAA tournament. It enters Friday's contest having dropped four of its past five games.
Still, with a lineup that features standout guards such as
Bradley Beal
,
Kenny Boynton
and
Erving Walker
-- as well as likely future NBA forward
Patric Young
-- Florida has enough talent to erupt at any time. But the Gators know that won't be easy against a Virginia squad that has held all but two opponents to fewer than 70 points.
"This year we have seen every type of defense you can," Boynton said. "With our offense, we can adjust to any type of defense."
Even though it has a gaudy record, it's not hard to understand why Virginia (22-9) received a No. 10 seed. Other than a Nov. 29 win against Michigan, the Cavaliers boast just one win against a team in this year's NCAA tournament. That came in a 61-60 victory against NC State on Jan. 28.
Bennett's squad is hoping to reverse that trend Friday.
"[Coach Bennett] just tells us it's a once-in-a-lifetime opportunity," guard
Sammy Zeglinski
said. "We've been at the school five years. We've been waiting for this our whole career."
Added Scott: "The celebrating is over. We're here to work and win games."
Players to watch:
Florida's Brad Beal
: One of the nation's top freshmen, the 6-foot-3, 207-pound Beal averages 14.6 points and 6.5 rebounds. But he's shooting just 32.9 percent from 3-point range.
Florida's Patric Young
: He's still raw, but the 6-9, 247-pound sophomore has made tremendous strides in his first year as a starter. Young, who said Thursday he plans to return for his junior season, averages 10.3 points and 6.4 rebounds.
Virginia's Mike Scott
: The first-team All-ACC selection is one of the most efficient offensive players in the country. The forward averages 18.1 points on 56.2 percent shooting. He makes 80.1 percent of his free throws and snares 8.4 boards per game.
No. 2 Missouri (30-4) vs. No. 15 Norfolk State (25-9), 4:40 p.m. ET


They were denied a No. 1 seed, but the
Missouri Tigers
may be the top team in the NCAA tournament in terms of confidence.
While schools such as North Carolina, Kentucky, Syracuse, Duke and Kansas all suffered losses last week, Frank Haith's squad demolished its competition at the Big 12 tournament and is a popular pick to reach the Final Four.
"This is a senior-laden team," Haith said. "We have had opportunities to lose focus throughout the year, but this team has been determined and resilient. I anticipate us having great focus Friday afternoon."
Missouri certainly can't afford to look past Norfolk State.
The Spartans defeated a Drexel team that many felt should've been in this year's NCAA tournament. And they lost to Marquette by only two points back on Nov. 21. Norfolk State will be hard-pressed to stop Missouri's four-guard offense, but its players didn't sound all that intimidated by it Thursday.
"Yes, we're going against better players from a different conference," senior
Kyle O'Quinn
said. "But it's not something we haven't seen before. We're comfortable going into the game."
Missouri has won its past four contests by an average of 17.5 points. The Tigers are making 50.4 percent of their field goals, a mark that ranks third in the nation. The figure is even more impressive considering Missouri uses a four-guard offense, which means more outside shots.
Five Missouri players are scoring in double figures, led by
Marcus Denmon
with 17.6 points per game.
"We are hoping that our length will pose problems for them," Norfolk State coach Anthony Evans said. "They have four great guards. We can post up a little bit, but we think that Kyle is our best chance of creating mismatches against them. Hopefully, he can kick it out to our shooters to make shots."
Players to watch:
Phil Pressey, Missouri
: The Tigers point guard is the key to Missouri's four-guard attack. He's one of the fastest players in the country with the ball in his hands. Although he's a pass-first guard, Pressey can score when he needs to. The defensive standout led the Big 12 in steals.
Ricardo Ratliffe, Missouri
: The 6-8 senior shoots an eye-popping 69.8 percent from the field. The Tigers' guards get most of the attention, but Ratliffe is averaging a respectable 13.9 points and 7.5 rebounds as the only big man in Missouri's starting lineup.
Kyle O'Quinn, Norfolk State
: The 6-10 senior averages 15.9 points and 10.4 rebounds. He's scored in double figures in all but one game this season. He also averages 2.7 blocks.
February, 25, 2012
2/25/12
9:03
PM ET
CHARLOTTESVILLE, Va. – With 13.3 seconds left, North Carolina forward
Tyler Zeller
was not supposed to be an option. Actually, he said, he was the only Tar Heel on the court who wasn't supposed to be an option.
The fact that he became
the
option – scoring on a driving, decisive, one-handed dunk to secure a bruising
54-51 victory
at Virginia on Saturday – showed again why he might also be
the
option for ACC Player of the Year.
"Z,'' UNC coach Roy Williams said after his team made only a third of its field goals, but prevailed at John Paul Jones Arena, "was huge for us."
Against a team with limited tall players in the post, the 7-footer was, frankly, supposed to be. After all, he was the only Carolina starter who shot better than (or even close to) 50 percent the last time these two teams met (a UNC win in Chapel Hill on Feb. 11.)
And after making only 3 of his 7 shots Tuesday night during a win at NC State, Zeller seemed primed for an outburst here – especially with
another ACC-Player-of-the-Year candidate
, Virginia's
Mike Scott
– on the court.
"This game, I think I was more aggressive [than Tuesday],'' Zeller said. "Just finding a way to score."
He used that attitude, and his size advantage, from the get-go, recording the seventh-ranked Tar Heels' first 10 points en route to an 18-10 lead.
But even with Scott in foul trouble, Virginia used its hard-nosed, top-five defense to grind back, taking a 30-26 lead at halftime and going up by as much as 6 – 37-31 – in the second half.
"I thought we played pretty well through the night,'' Cavaliers senior guard
Sammy Zeglinski
(11 points) said. "We played the game at our tempo. We battled, definitely."
Indeed, with the Cavs putting extra pressure on Zeller (and the passing lanes to him), the senior seemed to disappear for a while, as fellow tall guy
John Henson
took up the slack by scoring 11 of his 15 points in the second half.
But in the final minutes, Zeller made his presence felt, again.
[+] Enlarge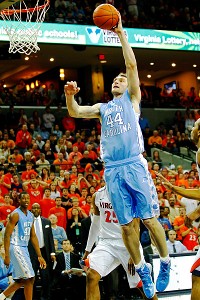 Geoff Burke/US PresswireTyler Zeller was the only Heel to make better than half of his shots against Virginia's tough defense.
With 4:10 left – and his team getting better spacing because of a new offensive set – Zeller's layup gave his team a 52-49 cushion.
After Virginia's
Jontel Evans
(13 points) scored on a steal-and-layup with 3:09 left, and both teams traded misses on their next two possessions, Zeller stepped – well, leaped – up again, with the shot clock winding down.
Even though he was supposed to serve as a screener, not a scorer.
Explained point guard
Kendall Marshall
, who assisted Zeller on the pivotal play: "I had a wing guarding me, and I beat him; I was pretty excited, I thought I was going to go get a layup. But of course, as great as a defensive team as they are, a big man stepped up. Z was on the wing, and I thought if I threw it to him, he'd get a shot off."
He did more than that. Zeller caught the ball near the right foul line elbow, shot-faked to get around Cavs forward
Akil Mitchell
, and drove to the basket.
"Mike Scott was there, so I just had to go up strong as possible in case he jumped with me,'' Zeller said.
Slam.
"He made a very tough move – to be able to pump-fake like that, take one dribble, and finish at the rim, with authority, as a 7-footer, that's pretty impressive,'' Marshall said.
And in a Williams-described "tough-ass game" where there weren't a whole lot of impressive numbers, Zeller stood out. He made 7 of his 11 shots for 20 points, while the rest of his team was 10-for-40. (UNC's 17 field goals were its fewest in a victory under Williams).
Scott finished 3-for-13 with a season-low 6 points. UNC's
Harrison Barnes
, another ACC Player-of-the-Year candidate, was 3-for-15 with 7 points and 9 rebounds, and Marshall finished with 1 point and 6 assists.
Zeller also recorded 6 rebounds in 31 minutes. Not a bad outing for a player who didn't even know he was in the league POY discussion until last weekend.
"He made tough shots and he's making really good plays,'' Virginia guard
Joe Harris
(12 points) said, "and that's what really good players do."
That's what ACC Players of the Year do.
Follow Robbi Pickeral on Twitter at @bylinerp.
February, 25, 2012
2/25/12
6:12
PM ET
CHARLOTTESVILLE, Va. — A quick look at seventh-ranked North Carolina's
54-51 win against
Virginia at John Paul Jones Arena on Saturday:
What it means:
That the Tar Heels survived to win their sixth straight road game since their 33-point loss at Florida State — and remain tied for first place in the ACC standings. Virginia has now dropped three of its last five games.


How it happened:
UNC looked pretty comfy early, leading 18-10 (on 12 points from senior
Tyler Zeller
) — especially when Cavaliers star forward
Mike Scott
picked up his second foul with 8:46 left in the first half. But perhaps the Tar Heels got too comfy.
With Scott watching from the bench, the Cavs picked up their defensive intensity, allowing the Tar Heels only two more field goals the rest of the half. Virginia went on a 20-8 run before the break, taking the lead on a
Sammy Zeglinski
3-pointer, then a 30-26 advantage into halftime when Zeglinski beat the buzzer from about three steps beyond the 3-point arc.
UNC finally took back the lead with 11:08 left during an 11-4 run during which Scott picked up his fourth foul (see below) and reserve
P.J. Hairston
scored five straight points.
A
Jontel Evans
steal and transition bucket cut Virginia's deficit to 52-51 with about three minutes left. But after each team missed 3s, a Zeller dunk gave the Tar Heels a 54-51 cushion with 13.3 seconds left.
Zeller led the Tar Heels with 20 points and forward
John Henson
added 15. Evans finished with 13 points for the Cavaliers, and Scott added six.
Hubbub:
With 12 minutes left — just after he drew a fourth foul from Virginia's
Akil Mitchell
— UNC's Henson made one of the most memorable plays of the game when he drew a fourth foul from Scott. And by "drew," I mean sold a lot more contact than was there (if there was any at all). Officials even went to the monitors to see if an elbow had snapped Henson's upper-body back so suddenly. UNC led by four at the time, and with the crowd in an uproar, scored five straight points to take back the lead. After the game, Henson said he was hit in the throat by Scott on Scott's fourth foul, but that he might have given a little extra ooph so the refs would notice.
What's next:
Seniors Zeller and
Justin Watts
will play their final game at the Smith Center when UNC hosts Maryland in its regular-season home finale on Wednesday night. Virginia will host Florida State on Thursday.
January, 30, 2012
1/30/12
8:00
AM ET
This week's attempt at ranking the surprisingly tight-at-the-top ACC:

1. North Carolina:
No
Dexter Strickland
? No problem. Not only did the Tar Heels give their best defensive effort of the season in a 74-55 win against NC State on Thursday that wasn't as close as its final 19-point margin, they finally started connecting from 3-point land against Georgia Tech -- something they had struggled with during ACC play -- for a 93-81 victory Sunday. That 33-point loss at Florida State on Jan. 14 still stings, but it's looking more and more like a much-needed slap in the face to a team that is the best in the conference when it competes with focus and passion.
2. Florida State:
The Seminoles remain the hottest team in the conference, beating Wake Forest 75-52 in their only game this past week to extend their winning streak to five. FSU has now scored at least 75 points in four straight games -- a good sign for a team that struggled to reach 50 a couple of times earlier in the season.
3. Duke:
When is a win not a win? When coach Mike Krzyzewski says it feels more like a loss. That was his sentiment after the Blue Devils' seven-point victory over St. John's on Saturday, during which Duke allowed a 22-point second-half lead to dwindle because of a lackadaisical defensive effort. In a surprisingly tight ACC race, that's enough to drop Duke from the top of these power rankings this week.
4. Virginia:
The Cavaliers continue to get it done with defense. After holding Boston College to 49 points (the ninth time this season they've held a foe to fewer than 50),
Jontel Evans
and
Sammy Zeglinski
cut off NC State guard
Lorenzo Brown
's penetration to the basket in the final seconds of Saturday's game, forcing a 3-pointer that missed -- and securing a 61-60 road victory.
5. NC State:
Although State did a solid job of rallying after its blowout loss at UNC, Brown's potential game-winning 3-pointer fell short against Virginia. The Tar Heels and Cavs did a good job of slowing down
Scott Wood
, as State's leading scorer was held to 7-for-23 shooting in the two losses.
6. Maryland:
The Terps broke a three-game losing streak -- including a 74-61 loss to Duke -- by beating Virginia Tech 73-69 at home over the weekend.
Terrell Stoglin
scored 21 of his 28 points in the second half to lead the effort, and he continues to lead the ACC in scoring with 21.3 points per game.
7. Miami:
The Canes followed a 64-49 win at Georgia Tech with a 76-54 victory at Boston College, pulling away from the Eagles with a 27-5 game-ending run. Junior forward
Kenny Kadji
continues to impress, averaging 17.5 points, 7.5 rebounds and 2.5 blocks during those two games.
8. Clemson:
When
Andre Young
shoots 40 percent or better, Clemson is 3-0 in ACC play. When Young shoots below 40 percent, Clemson is 0-3 in ACC play. He did the former against Wake Forest, scoring 19 points on 7-for-12 shooting during his team's win over the Demon Deacons.
9. Virginia Tech:
The Hokies lost by two points to BYU, before falling by four points in Maryland. The only Tech game this month that hasn't been decided by four or fewer points was its double-digit loss to UNC. The Hokies are now 1-6 during that stretch, and it's going to get more difficult to dig out of the ACC basement.
10. Wake Forest:
C.J. Harris
has now scored in double figures for 20 straight games -- the first Deacon to do so since Jeff Teague -- but it wasn't enough to contend with Florida State at home, or Clemson on the road, this past week. Wake has now lost five of its past six games.
11. Georgia Tech:
The Jackets managed to score a few more points in the first half against UNC on Sunday (32) than they had in their previous four losses (19.3, on average). But leading scorer
Glen Rice Jr.
's sore big toe, injured in practice this past week, isn't helping matters.
12. Boston College:
The young Eagles have now lost four straight since beating Clemson and Virginia Tech earlier this month. Those two victories are looking more and more like anomalies in an otherwise miserable season in Chestnut Hill.
Follow Robbi Pickeral on Twitter at @bylinerp.
January, 23, 2012
1/23/12
8:00
AM ET
Four teams now top the ACC standings with one league loss; thank Florida State's resurgence for making this conference race so all-of-a-sudden competitive. My attempt at this week's power rankings (up for debate, as always):
1. Duke:
After coming off the bench to score 20 points in a win over Wake Forest, freshman
Austin Rivers
was back in the starting lineup against FSU -- only to have his would-be overtime-inducing shot upstaged by
Michael Snaer
's game winner. The Devils allowed the Seminoles to make two-thirds of their shots in the second half; Duke's defense has got to continue to improve.

2. Florida State:
Is this really the same team that lost to two Ivys, and at Clemson by 20? The Seminoles said at the beginning of the season that the goal was to push their way into the top two of the ACC. By blowing out North Carolina, beating Maryland, then ending Duke's 45-game home winning streak (all in a matter of eight days), they've done just that. FSU is the hottest team in the league right now.
3. North Carolina:
The Tar Heels bounced back from the worst loss of the Roy Williams era, at FSU, by getting an intense win at Virginia Tech, fueled by 27 points from
Harrison Barnes
. But it still suffered another huge loss in that game, in the form of
Dexter Strickland
. The team's best perimeter defender/starting shooting guard/fastest player/backup point guard is out for the season with a torn ACL. How will the Tar Heels rally?
4. NC State:
After Sunday's win over Miami, the Wolfpack is 4-1 in the ACC. One of the positives of the game: Guard
C.J. Williams
, who injured his shoulder against Boston College last week, started and played 31 minutes. The Wolfpack aren't very deep, and the loss of any key player would be devastating.
5. Virginia:
First,
Assane Sene
suffered an ankle injury last week that will keep him out for about six weeks. Then, the Cavs lost to Virginia Tech on Sunday for their second league defeat. Virginia will need to adjust without its center, and one thing that would help: more production from guard
Sammy Zeglinski
, who has made only 4 of his 23 shots over his past three games.
6. Maryland:
After averaging 14 points and eight rebounds in his first three games, freshman center
Alex Len
has struggled -- averaging only 2.6 points and 4.3 rebounds in his next three, then exiting the Terps' loss at Temple early because of a twisted ankle. Maryland lost both of its games last week, and a healthy, rejuvenated Len would be key to getting back on track.
7. Miami:
The Hurricanes' latest loss, to NC State on Sunday, means they have dropped three of their past four. This isn't exactly what first-year coach Jim Larranaga was expecting out of this team, especially with its returning talent. "I was anticipating what our squad would be like before my staff and I arrived and I've found that we have a lot more work to do than we originally thought," he said Sunday, according to the Fort Lauderdale Sun-Sentinel.
8. Virginia Tech:
Dorenzo Hudson
's 3-pointer from the corner with 16.5 seconds left secured the Hokies' rivalry win over Virginia -- and their first ACC victory of the season. But after a slow conference start, they have a lot of work (and winning) to do in order to catch up to the top of the pack.
9. Clemson:
Andre Young
crushed his shooting slump by scoring a career-high 29 points (including seven 3-pointers) to hold off Georgia Tech and break a three-game losing streak. The Tigers need him to continue scoring.
10. Georgia Tech:
The Jackets managed only 38 points in their loss to Virginia, their worst output since 1982. Then they fell short in their rally at Clemson, losing by two. They've now dropped three straight, and seven of their past eight.
11. Wake Forest:
After losing three straight, coach Jeff Bzdelik called Saturday's game at Boston College a must-win. After beating freshman-laden BC by 15, he told the Winston-Salem Journal: "This game was our Super Bowl. Every win is huge, and they are hard to come by. This is another big step for us in our journey to be the type of team we want to be."
12. Boston College:
After winning two ACC games, the young Eagles have now lost two in a row. "Right now, we have a snowball effect -- in both directions,'' coach Steve Donahue told The Boston Globe. "When things go bad, we have a tendency to let them get to us and compound it on both sides of the ball. When we do positive things, it ends up snowballing in that direction." Not a great sign, with a trip to Virginia next up.
Robbi Pickeral can be reached at bylinerp@gmail.com. Twitter: bylinerp.
January, 13, 2012
1/13/12
1:50
AM ET
DURHAM, N.C. -- Amid all of his postgame questions about rotations and adjustments and tempo, Duke coach Mike Krzyewski might have summed up the importance of the sixth-ranked Blue Devils'
61-58 victory
over No. 17 Virginia on Thursday night with five little words:
"We can play defense, too."
Maybe not great defense, not yet. Probably not even as consistently good as the Cavaliers, who entered the game allowing foes to score a mere 50.5 points per game and make only 38 percent of their shots.
But good enough to hold Virginia linchpin
Mike Scott
, who looked like he was en route to career night in the first half, to 3-for-9 shooting after halftime. Good enough to stymie Virginia into 29.4 percent shooting in the second half. Good enough to survive two potential game-tying 3-pointers in the final 10 seconds (and prevail despite making only a quarter of its 3-pointers and 42.1 percent of its free throws).
Good enough to prove that the Blue Devils still know how to play tough.
"It was really a terrific win for our kids because they had to fight for 40 minutes against an outstanding team," said Krzyzewski, whose team snapped Virginia's 12-game winning streak, and has now won 44 in a row at Cameron Indoor Stadium.
There had been some budding questions about Duke's grit, particularly because of how it was – or wasn't – making stops.
The Blue Devils entered the game ranked an uncharacteristic second-to-last in the ACC in scoring defense, allowing foes 69.4 points per game; and dead last in field goal percentage defense, allowing opponents to shoot 44.3 percent.
Players had admitted those numbers smarted, especially in a program that has always prided itself on hard-nosed, floor-slapping, game-changing D.
"Part of our culture at Duke is great defense,'' forward
Miles Plumlee
said. "Looking at our team, we knew our defense wasn't where it needs to be."
Early on, it wasn't where it needed to be, either, as the Cavs shot 51.9 percent in the first half thanks to 16 points from Scott (who finished with 23, and who has to be a leading contender for ACC Player of the Year because of the impact he's had on his team).
But after halftime, Miles and
Mason Plumlee
(12 points) buckled down on the fifth-year senior forward, trying to push him out of his comfort zone by staying on his hip.
[+] Enlarge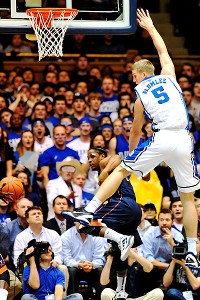 Grant Halverson/Getty ImagesMason Plumlee helped lead Duke's vigorous defense against Virginia.
"They were physical with him,'' Virginia coach Tony Bennett said. "… He actually got some good looks, he just missed some."
Meanwhile, Duke started making some.
With the score knotted 38-38 with 15:47 left, Blue Devils guard
Seth Curry
buried a 3-pointer. Then he blocked
Sammy Zeglinski
's 3-point attempt, which led to a
Tyler Thornton
layup – one of Duke's first transition buckets of the game. Scott's baseline jumper wiggled out, leading to a transition dunk by Miles Plumlee. An
Austin Rivers
3-pointer eventually stretched the breakaway to 10-2 and the Blue Devils' lead to 48-40.
"We got on a little run when we were making shots and playing good defense,'' Devils forward
Ryan Kelly
said. "And when we do that, we're really good."
Virginia scrapped back in the final minute, though, closing to within three points after Kelly – 14-for-14 from the line last weekend at Georgia Tech – missed two free throws, and Cavalier
Akil Mitchell
answered with a dunk.
But after Curry missed a jumper, Scott and teammate
Jontel Evans
missed two potential game-tying 3-pointers as time ran out.
"You can't complain about getting two clean looks at the rim to extend it to overtime,'' said Bennett, whose team allowed the Devils to shoot 60.9 percent in the second half.
Although Duke, which "broke down a little bit" on defense in those final seconds, Kelly said, will probably have something to say about it once they see it on tape. Which might be a good thing, because it reinforces the fact that the Blue Devils are not a great defense, not yet.
Although they're getting better. And tougher.
"I don't think that game came down to that last shot," Duke guard Rivers said. "I think that game came down to rebounds, and the big stops we made, and the defensive stops we made, and the emphasis we had on Scott in the second half."
Said Krzyzewski: "You can play defense a variety of ways. They played it well, and I thought we played it well tonight."
Robbi Pickeral can be reached at bylinerp@gmail.com. Twitter: @bylinerp.
January, 12, 2012
1/12/12
11:13
PM ET
DURHAM, N.C. -- A quick look at No. 6 Duke's
61-58 victory
over No. 17 Virginia at Cameron Indoor Stadium on Thursday night:


What it means:
Despite another superb effort by Virginia forward
Mike Scott
-- who followed his 23-point effort against Miami with a 23-point game against the Blue Devils -- Duke extended its home winning streak to 44 games (behind only Kentucky, nationally) while halting the Cavaliers' s run of victories at 12.
How it happened:
The score was knotted 38-38 early in the second half when Duke made its breakaway. First,
Seth Curry
buried a 3-pointer. Then he blocked
Sammy Zeglinski
's 3-point attempt, which led to a
Tyler Thornton
layup -- Duke's first true transition bucket of the game. Scott's baseline jumper wiggled out, leading to another Duke transition bucket. An
Austin Rivers
3-pointer eventually stretched the run to 10-2 and the Blue Devils' lead to 48-40.
Duke's defense -- ranked second-to-last in opponent scoring in the ACC entering the game, allowing 69.4 points per game, and dead last in the league field-goal percentage defense, allowing opponents to shoot 44.3 percent -- was more active in the second half.
But Virginia still had two shots to send it to overtime.
After Duke's
Ryan Kelly
missed two free throws in the final minute, Virginia's
Akil Mitchell
dunked back a miss to cut Duke's lead to 61-58. Curry missed on a well-defended drive with about 15 seconds left, but Scott and teammate
Jontel Evans
both missed 3-pointers for Virginia in the final 10 seconds as time ran out.
Mason Plumlee
led Duke, which shot 52.2 percent, with 12 points. Virginia shot only 39.3 percent, including 29.4 percent in the second half.
Numbers to know:
Duke has now beaten Virginia eight consecutive times in the series and 15 straight times in Durham. Over the past 10 seasons, the Blue Devils are 17-1 against the Cavs. ... Duke made only 8-of-19 free throws Thursday night. According to ESPN Stats & Information, it's just the second time since 1996 the Devils have shot less than 50 percent from the line in an ACC home game. The other time came in an 85-83 loss to North Carolina in 2001. Duke was also just 5-of-20 from long range, its worst 3-point shooting performance of the season. ... Mike Scott scored 23 points (10-19 FG) and grabbed nine rebounds. The rest of Virginia's starters combined for 20 points (7-27 FG) and 13 rebounds.
What's next:
The Blue Devils travel to Clemson for a Sunday meeting. The Cavaliers get the weekend off, and will play at Georgia Tech on Thursday.
Robbi Pickeral can be reached at bylinerp@gmail.com. Twtter: @bylinerp.
March, 11, 2010
3/11/10
1:13
PM ET
GREENSBORO, N.C. -- I hadn't seen Tony Bennett coach in person for a couple of years, since he had it rolling at Washington State. I forgot how much I like watching him work and his teams play. Bennett is involved without being insane. He's more of a supporter than a screamer. He'll correct, but then he'll let mistakes go and move on to the next possession. Just wait until he's got enough good players in Charlottesville; they'll compete for league titles.
The Cavaliers are competing over their heads today. Lacking leading scorer Sylven Landesberg, suspended for academic reasons for the remainder of the season, they are running poised offense and getting timely shots from several players -- most notably guard Sammy Zeglinski, who came in averaging 8.8 points per game and has 16 at intermission. Wow. Virginia has made 6 of 11 3-point shots.
Boston College, meanwhile, has 17 combined points from Reggie Jackson and Rakim Sanders, and 10 from everyone else. Leading scorer Joe Trapani was 0-for-6.
There are a lot of empty green seats here, but the atmosphere isn't as crypt-like as I've seen at some matinee quarterfinal games in other leagues. ACC fans are more willing to turn out to watch teams they're not affiliated with than a lot of other conferences. Good fans.
That said, there are plenty of word-of-mouth stories about this being a surprisingly soft ticket. When the tourney is in Greensboro, tickets are legendarily hot items -- but the balky economy and miserable status of North Carolina and North Carolina State are being blamed for the downturn in interest this year.
Duke assistants Chris Collins and Steve Wojciechowski are scouting this one from the baseline, since the Blue Devils will play the winner tomorrow. They don't look overly concerned.