College Basketball Nation:

Saul Phillips
March, 21, 2014
Mar 21
12:40
AM ET
SPOKANE, Wash. -- If someone is a
North Dakota State
fan, chances are they're a football fan. Even with the success of the basketball team this season, it seems as though it can't get through any interview without the inevitable "Do you feel like you're making NDSU relevant outside of football?" or "Have any of the football players talked with you about how to handle the success?" questions.
Thursday was no different in that regard. Senior
Taylor Braun
sat in the locker room after his team's
80-75 overtime upset over Oklahoma
and a reporter pitched him a similar question. He smiled, answered and got on. Even after the school's first NCAA tournament victory, people want to talk about football, but he didn't let it get to him.
Braun had just finished playing the biggest game of his career. In front of 10,000 people who got behind his team, the Bison battled, coming back from four down with 38 seconds to go and charging through an overtime victory.
When time expired, every player on the bench ran onto the floor, and the players on the floor ran to the baseline. Coach Saul Phillips opened his arms for someone to hug but ended up running in a circle before finding the handshake line.
"The whole experience was unbelievable," Braun said. "Just the atmosphere was 100 times greater than I expected. Just the intensity. Everything about the game was unbelievable."
The win was in just the second tournament appearance for the Bison, whose first was in 2009. But even on the stage, they seemed unfazed.
Before the game, they were relaxed. During the game, they were relaxed. After the game, they were elated (and exhausted) as they laughed and joked their way through a news conference.
[+] Enlarge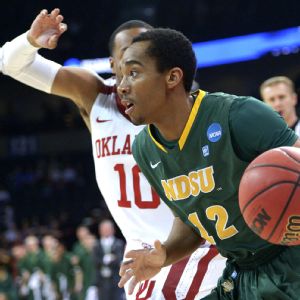 Kirby Lee/USA TODAY Sports Lawrence Alexander tries to get past Jordan Woodard during North Dakota State's upset of Oklahoma.
The Bison are happy to be here, and there's no reason to act like that's a bad thing. They enjoy playing basketball and playing together, and anyone who watched Thursday night's matchup saw that.
It's refreshing to see a team that makes basketball look like it's the best thing it has ever done, not like it's a 9-to-5 job that it's been forced into. It's refreshing to see a coach win a game and want to hug anyone within arm's reach. North Dakota State is refreshing and is one of the reasons March Madness is so enjoyable.
"I just want to keep coaching this team," Phillips said. "I don't want to say goodbye to this locker room. … I'm looking forward to the pregame meal on Saturday. I'm looking forward to the moments that maybe you guys don't see, because I have an appreciation for this group."
Phillips is happy to be back, happy to get a win. And he shouldn't be admonished for wanting to talk about that, because he crafted a team that is not only happy to be in the Big Dance, but one that
belongs
in the Big Dance.
They lead the nation in field goal percentage, and the main criticism this season was that they're in a league in which they don't face competition that's good enough to challenge that.
Against
Oklahoma
, they shot even better than their season average. North Dakota State knocked down 52.9 percent of its shots (50.9 percent on the season) and won this game the same way it won the other 25 this season -- excellent shooting, strong post play and guts.
Their 27 makes from the floor is the exact number of their season average, and their six 3-pointers was right at their season average of 5.4.
In the paint, the Bison snatched up 38 rebounds (season average is 32.9) and they dished out 12 assists (season average is 10), so it's not as though they threw anything against the Sooners that was a total surprise. They are what they are, and that's certainly the way they played.
But it was a new stage for the Bison. Playing on a stage that no current NDSU player had every played on could've been an overwhelming experience, and, as Oklahoma charged back in the final minutes of regulation, it looked as though the Bison would sink back to their mid-major status.
Based on the seedings, that would've been the expectation. The Bison knew it. Phillips knew it. He knows there's more pressure on the 5-seed in this situation, saying that if the Bison would've lost, "everybody would have been disappointed back home for a night, and then they would've talked about how great of a season we had."
But, instead, the Bison knocked down four field goals and were a perfect 6-of-6 from the free throw line. It was the second 5-12 upset of the day in Spokane, with 12th-seeded Harvard taking down fifth-seeded Cincinnati earlier in the day.
"Everybody on this team is extremely excited right now," Braun said. "We're just trying to soak in every moment of this. This doesn't come around to anybody every year or anything like that. We put a lot of hard work in to get here, and we're just trying to enjoy this and soak up every moment that we can."
February, 10, 2014
Feb 10
10:30
AM ET
North Dakota State head coach Saul Phillips, who signed a five-year extension last fall, is in the middle of his seventh season with the Bison, which currently lead the Summit League (7-2). Phillips guides the top-shooting team in America (51 percent). It helps that Taylor Braun, who leads the team with 18.1 PPG, is healthy again (kind of) after missing a chunk of last season with a foot injury.
Phillips, a former Wisconsin assistant, recently spoke with ESPN.com about this season's team.
Your team has the highest field-goal percentage in America right now [entering Monday]. What's the secret?
[+] Enlarge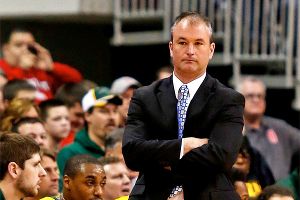 Kirk Irwin/Getty ImagesSaul Phillips's Bison are healthy and in first place in the Summit (18-6, 7-2).
Phillips:
[On Saturday], my wife was reading the newspaper. She says, 'You're No. 1 in what? What does field-goal percentage mean? … Wait, you're better than Big Ten teams?' 'Yeah.'
Marshall Bjorklund
(13.9 PPG, 63 percent from the field) for a long time was leading the league in field-goal percentage. We're not quite 'Dunk City,' but we dunk a lot. We're good at going to the rim. It's funny. When Taylor Braun went down last year for that 10- game stretch, we really struggled to score, I mean really struggled to score. It shows you how this group is a machine that's learned to play together. It's absolutely a group of unselfish players who know where they can score effectively.
How does it feel to finally have a healthy roster with Braun back in the mix?
Phillips:
He won Summit League player of the month last month. We were sitting there going, 'Taylor, you need to start playing better.' [laughs]. He's attracted the attention of some NBA scouts along the way. … We got him healthy, but he got sick last week. He lost 10 pounds with a bacterial infection. He played through it. He's getting food back in him. He's getting back to himself. Despite all that, he's made huge plays for us all year. He's an elite talent in this league. He's a kid who had no Division I offers. He's a special player.
There was a stretch from Nov. 20 through Dec. 14 where you all had six road games and just two home games? How do you handle that?
Phillips:
When you live in Fargo, it gets cold, so being on the road can be a blessing sometime. … [Last season], we had a normal-looking schedule and then two teams left our league. We lost four games. Then, Bracketbusters gets canceled. That's another home game. We lost six games after last year. Who wants to come to Fargo, North Dakota, to play a game against a team that has everybody back? The answer is nobody. … It got to the point when I woke up in my own bed for the first time in a long time, I didn't realize where I was right away. If I'm feeling like that, I know our guys are feeling it. The Summit gets overlooked a lot of ways, but there are some difficult road trips in this league.
How does it feel to have the new contract and the stability that comes with it?
Phillips:
Great. My athletic director [Gene Taylor], you need to understand that he and I have a very special relationship. I worked my first year of employment here on a letter of agreement. We didn't have a contract. It started like that, and it's been like that ever since. I don't know if there is a situation in America where a coach feels more comfortable with his athletic director. That's made it really easy for me to do it the right way. … I've got an AD [who] understands what we do and appreciates the results.
February, 6, 2013
2/06/13
5:00
AM ET
1. Duke coach Mike Krzyzewski said Tuesday night that forward
Josh Hairston
is doubtful to play against NC State on Thursday in Durham after he suffered an infection as a result of stitches put into his arm from a cut suffered in last week's victory at Wake Forest. Krzyzewski said Hairston will be wearing a sling Wednesday. "I'm not optimistic for this game and we'll see about Sunday against Boston College,'' said Krzyzewski. "That puts us down to eight guys.'' Hairston had eight points and five rebounds in a loss at NC State on Jan. 12. Meanwhile, Krzyzewski said there is still no timetable for the return of senior forward
Ryan Kelly
from a right-foot injury. Kelly hasn't played since Jan. 8. "It's almost been a month now and there is no new news,'' said Krzyzewski. "He's getting better but he still can't do anything weight-bearing yet.''
2. Saint Mary's coach Randy Bennett said during "Katz Korner" on Tuesday on ESPNU that he couldn't comment on the Gaels' appearance at a December hearing of the NCAA committee on infractions, but once the "issue is resolved,'' he would be willing to speak on the matter. The Gaels might not hear on the subject until after the season, so it's not likely to affect this season. In discussing the end of BracketBusters event after this season, Bennett said that playing in the non-conference game in February has helped the Gaels get into the NCAA tournament, even last season, when they lost at Murray State. Saint Mary's hosts Creighton on Feb. 23 in this season's premier matchup.
3. Akron coach Keith Dambrot said the school, not the Mid-American Conference, wasn't interested in switching the Zips from being a home team to a road team in BracketBusters to get a better matchup in the event (such as a game at Indiana State or Belmont). The Zips drew one of the Summit League front-runners in North Dakota State, which will hardly be a walk for Akron. NDSU coach Saul Phillips has put together another possible NCAA team and has the respect of Dambrot. After the Zips moved to 9-0 in the MAC with a victory over Central Michigan, Dambrot said that the Feb. 22 game against the Bison will turn out to be a quality one -- and a tough one for the Zips to win. Akron is 18-4, but Dambrot pointed out that its overtime loss to Oklahoma State in Puerto Rico in November came without two of its top five scorers in
Nick Harney
and
Demetrius Treadwell
, who both missed the first three games of the season due to an eligibility issue.