College Basketball Nation:

Savon Goodman
August, 28, 2013
8/28/13
5:00
AM ET
1. UNLV coach Dave Rice didn't hesitate to suspend sophomore
Savon Goodman
from the team for this season. But he hasn't given up on him. Rice had no choice but to boot Goodman after it was reported in Las Vegas that a warrant had been issued for his arrest on felony charges dealing with burglary and grand larceny. There was also a gross misdemeanor charge of conspiracy based on a burglary attempt on May 18. These are grounds for expulsion from the school and dismissal from the program. But Rice isn't going there yet. "I have confidence that Savon can overcome this adversity," Rice said Tuesday. "We will encourage him through the process." Rice said Goodman would have competed for the starting power forward position. Losing a player of his talent and experience "always hurts," Rice said. All true. But it will be interesting to see how Rice handles Goodman going forward. There is a legal process first, and then UNLV, not just Rice, has to determine if the program/university wants someone who has been charged with such crimes on campus. The Runnin' Rebels lost
Anthony Bennett
to the draft and
Mike Moser
to Oregon. Guard Kaitin Reinhardt transferred to USC. Goodman is the latest hit. The offseason couldn't have gone worse for UNLV.
Khem Birch
and newcomer
Christian Wood
will be counted on heavily inside now, with the roster thinning. New Mexico is the class of the MWC. Boise State is next, with San Diego State probably following the Broncos. UNLV can't be considered in the top three anymore after the attrition to hit the program this summer.
2. BYU and UMass are two teams that have a legitimate shot to surge toward the top of their respective conferences this season. So why not play each other? The WCC-A-10 matchup announced Tuesday for Dec. 7 in Springfield (neutral court but not site for UMass) could be one of those games that gets discussed in March. Gonzaga is the favorite in the WCC. VCU and then either La Salle or Saint Louis in the A-10. But no one should sleep on either BYU or UMass. "Both teams know this is good for their resume," said UMass coach Derek Kellogg, whose Minutemen likely will return the game Dec. 23, 2014, in Utah. "We're trying to schedule as tough an RPI games as we can for our fan base." UMass, which has a top-tier point guard in
Chaz Williams
, has another March-like game when it plays host to LSU on Nov. 12 for the tip-off Marathon. BYU, meanwhile, has a meaty schedule with plenty of power-rating games: at Stanford (Nov. 11), Iowa State in Provo (Nov. 20), a potential CBE final game against Wichita State in Kansas City on Nov. 26 (assuming both get past first-round games in Texas and DePaul, respectively), the rivalry game against Utah in Salt Lake (Dec. 14) and at Oregon (Dec. 21). "Our schedule goes from West to Midwest to East Coast early, so we will see what we've got," said BYU coach Dave Rose. Rose said the big three for this season's team:
Tyler Haws
, Kyle Collinsworth (home from a Mormon mission in Russia) and
Matt Carlino
all have excelled this summer. "I need them all to be good," said Rose.
3. The Big East confirmed that its conference schedule will be released next week. The old Big East was always one of the last conferences to release its schedule because of so may pro arenas in the conference. That hasn't changed with Providence, St. John's, Seton Hall, Marquette, DePaul, Villanova and Georgetown all dealing with other tenants. The three new schools -- Butler, Creighton and Xavier -- have the most control over dates in their arenas. The conference is hoping to build rivalries and will protect one rivalry for the final weekend of the regular season. But the conference wouldn't say which one until the schedule is finalized. The teams haven't been notified yet of which rivalry was protected for the final weekend of the regular season.
November, 21, 2012
11/21/12
10:30
AM ET
An intriguing doubleheader between four teams that aren't headline-grabbers yet but soon could be. Iowa State's reclamation project of transferring players continues to work well for Fred Hoiberg, though this will be the Cyclones' first real test. Cincinnati, a national sleeper team, has done nothing to discredit itself while Oregon has done plenty to turn heads, destroying Vanderbilt. And UNLV started the season with a scare, nearly losing an exhibition game to Dixie State, but has rebounded nicely.
The basics:
Nov. 23-24, Thomas and Mack Center, Las Vegas
The set matchups:
Iowa State vs. Cincinnati, 6:30 p.m.; Oregon vs. UNLV, 9 p.m.
[+] Enlarge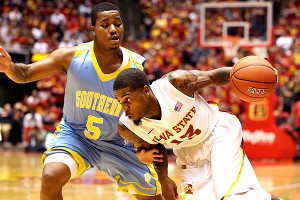 AP Photo/Charlie NeibergallIowa State needs Korie Lucious to get on track shooting the ball.
FIVE PLAYERS TO WATCH
Korie Lucious, Iowa State
The Michigan State transfer is playing well for Hoiberg, using his playmaking skills to dish out an impressive 6.7 assists per game. The catch: He giveth and taketh, coughing up 4.3 turnovers. His consistency is huge for the Cyclones this year.
Sean Kilpatrick, Cincinnati
The undeniable leader of Mick Cronin's tripe-threat backcourt, Kilpatrick has stormed out of the gate. He's averaging 21 points, but the sharpshooter has been especially sharp, blistering the nets on 55 percent of his 3-pointers.
Arsalan Kazemi, Oregon
Granted his hardship waiver just last week, the Rice transfer is a huge boost for the Ducks. He's got size and strength, both on display in his brief season debut where he picked up seven rebounds. They need them all. Oregon is averaging only 35 boards a game.
Mike Moser, UNLV
Thanks to a strong cast of very good freshmen around him, Moser doesn't have to do nearly as much for the Rebels. That doesn't mean he can't. He's still averaging a double-double 10.5 points and boards.
Anthony Bennett, UNLV
The freshman has been as good, if not better than advertised. He leads the Runnin' Rebels in scoring -- 17 points per game, with eight rebounds to boot.
FIVE BIG QUESTIONS
Will anyone play defense?
All four of these teams are scoring like gangbusters -- Oregon is the slacker, chipping in 79 points per game. But if a doubleheader track meet breaks out, who has the defensive stamina to seal the victory? It may not matter. It may be a who-has-the-ball-last-wins sort of tourney.
How good are UNLV's freshmen?
So far, so very good for
Anthony Bennett
,
Katin Reinhardt
and
Savon Goodman
, but the quality of competition jumps considerably here. There's no doubt this team is going to be something special, but this will be a critical two nights for the Rebels' learning curve.
Are the Ducks for real?
That's pretty much the crux of it. Oregon's 26-point win over Vanderbilt was a huge eye-opener to the potential of this team, but is there something there that can be sustained? Can Oregon really factor into the Pac-12 race? Against the caliber of teams here, the Ducks will at least get a better understanding if not an altogether solid answer.
How solid are the Cincinnati bigs?
We know how good the backcourt is; that was obvious a year ago and the trio of
Cashmere Wright
,
JaQuon Parker
and
Sean Kilpatrick
continues to lead the way for the Bearcats. But Cincinnati also is going to need some reliable production out of its new cast of big men at some point. A potential matchup against UNLV could give them ample opportunity.
What's up with Korie Lucious' shooting touch?
Lucious has been terrific as a playmaker for Iowa State, dishing out 6.7 assists per game much to the delight of Hoiberg. But if the Cyclones are going to be a factor in Vegas and especially in the Big 12, he needs to score. He started the season in a terrific slump, 7-of-29.
THE PICKS
Friday: Cincinnati over Iowa State; UNLV over Oregon
Saturday's title game: Cincinnati over UNLV
October, 10, 2012
10/10/12
5:00
AM ET
1. UNLV coach Dave Rice is optimistic that USC transfer
Bryce Dejean-Jones
will be able to play when the Runnin' Rebels open the season against Northern Arizona on Nov. 12. Jones is out with a broken left hand. "He's one of the toughest guys around,'' said Rice. If Jones can't go, the Rebels do have depth at the guard position with
Katin Reinhardt
,
Justin Hawkins
and
Savon Goodman
adding to a deep perimeter. UNLV is the favorite in the Mountain West, but will be in for quite a tussle from San Diego State, Colorado State, New Mexico and Nevada.
2. The hiring of Brad Bates as athletic director at Boston College should give Steve Donahue some more time to continue rebuilding the Eagles. Bates has to deal with the football situation and the future of coach Frank Spaziani. Donahue, entering his third season at the Heights, should have an improved squad, with more experience and players who fit his system. The problem is that the ACC is a bit deeper this season than it was a year ago and next season adds Pitt and Syracuse (and possibly Notre Dame if the Irish can get out of the Big East early). Bates, who arrives from Miami (Ohio), is well-respected in the industry and will likely be thorough in his evaluations over the next year-plus.
3. The Horizon League will lose national recognition with the departure of Butler to the Atlantic 10. But if this is a one-bid league in March, then the top schools vying for the bid can't complain. Valparaiso and Detroit would have had a legitimate shot to knock off Butler in the regular-season chase and in the conference tournament. Now, neither has to sweat it one bit. Valpo was picked to win the league, with Detroit on its tail. The Titans have the player of the year in
Ray McCallum Jr.
And the good news for the Horizon League is that the entire all-league first team returns from last season (which says a bit about Butler's problems in 2011-12). McCallum is joined by Valpo's
Ryan Broekhoff
and
Kevin Van Wijk
, Youngstown State's
Kendrick Perry
and Green Bay's
Alec Brown
.
June, 18, 2012
6/18/12
12:20
PM ET
When Dave Rice was installed as UNLV's newest head coach last spring, he spoke frequently about putting the running back in Runnin' Rebels.

In its glory days under Jerry Tarkanian, UNLV was a high-tempo, run-and-gun team. Former coach Lon Kruger was successful at the school, but (as his Kruger's wont) achieved as much by slowing the Rebels down, preferring to focus his team on grinding half-court defense. By contrast, Rice wanted to show fans, longtime supporters and the rest of the UNLV "family" that the glory days weren't the end of exciting UNLV hoops -- that the Rebels could not only still compete for national titles but could, in keeping with the Vegas ethos, look good doing so.
He's kept his word. But the most important part of installing high-powered, uptempo teams isn't the system itself. It's the recruiting. And in the 16 or so months since Rice took over, nowhere has he succeeded more than on the recruiting trail.
The latest point to this effect came this past weekend,
when UNLV landed
Savon Goodman
, a small forward ranked No. 100 on ESPNU's list of the top 100 players in the class of 2012, and one of just two top-100 players (the other being guard
Torian Graham
) still uncommitted at such a late recruiting-calendar date. Goodman is unlikely to be an impact player right away -- just
because he's top 100 doesn't mean he won't have a very steep learning curve, remember
-- but his signing is the cherry atop a stacked 2012 recruiting class.
That
class already includes
Anthony Bennett
, the top-ranked power forward in 2012, and
Katin Reinhardt
, the No. 8-ranked shooting guard. It also includes
Khem Birch
, the Pittsburgh transfer who entered the 2011 season as the nation's top incoming center, according to ESPN, who left the Panthers after a mere 10 games. The Rebels are also
awaiting news on the transfer availability of Connecticut forward
Roscoe Smith
, whose ability to leave UConn during its postseason-free APR punishment remains in doubt. Even if Smith is forced to sit out a year at UNLV, the Rebels will have Birch, Bennett and potential breakout forward
Mike Moser
likely to play starting roles.
We know Moser will be good; we're still waiting to see exactly what Bennett and Birch will bring to the table in what is essentially both players' freshman season. The Rebels will be tough in 2012, and Rice's recruiting looks likely to ensure a sustained level of excellence in the years to come. Playing fast is one thing. Playing fast with NBA talent -- that's the old-school UNLV way, and Rice is well on his way to connecting the two.