College Basketball Nation:

Scott Christopherson
April, 2, 2012
4/02/12
11:15
AM ET
NEW ORLEANS -- Iowa State and Baylor have played each of the participants in Monday night's NCAA championship game between Kentucky and Kansas. Here is a breakdown of each team by the head coach of each program as well as a player.
IOWA STATE HEAD COACH FRED HOIBERG

You've got the two elite shot-blockers in the country in
[Jeff] Withey
and
Anthony Davis
. The big thing for Kansas is their transition game. They're so good at getting out and running. Against Kentucky, if you're setting up in the half court every time down the floor, you're going to be grinding it out against that length and athleticism. It's going to be very difficult to score. From Kansas' standpoint, the more they attack, they better off they'll be. They've got players capable of doing that with
[Tyshawn] Taylor
and
[Elijah] Johnson
spacing the floor. I really think they need to attack before Kentucky gets a chance to set up in that half-court defense where they're so effective. For Kentucky, Anthony Davis can do so many things. He's expanded his game as the season has gone on. You have to be so selective on when you try to take it at him, because when he blocks a shot, it usually leads to a layup on the other end.
When Kentucky is in their transition game, you're not going to stop them, so the other thing Kansas has to do a good job of is taking care of the basketball. They've got to limit their turnovers and get up quality shots, and try to get Kentucky into a half-court game going back the other way, which is pretty tough to do. When Kentucky is hitting shots, they're almost unbeatable. It starts with
[Marquis] Teague
. If he can get that thing out there and beat everyone in transition, everyone collapses in. That's how they get all those lobs. If you can take away those highlight plays by Kentucky, that hurts their mojo a little bit. But they're so fast and explosive, that's very difficult to do.
With Kansas, Bill [Self] has done as good of a coaching job as anyone in the country this year. You look at what they lost, with the Morris twins and [Brady] Morningstar and [Tyrel] Reed ... Bill still found a way to build his new guys up and to get them to play with so much confidence. That's a testament to Bill and his staff. Bill is as good as there is in this business. It's fun to compete against him, and it's great to have him in our league. Tyshawn is the key to their team. He's what makes them go. He gets it up and down the floor so quickly. You've got to do your best to stay in front of him. They're using a lot of pick-and-roll in their offense. Tyshawn has handled that very well and shown he can make the right decisions. They're so precise in their offense. I think they've got a shot. Don't ever count out Bill Self. Every time they look like they're down and out, they find a way to come back. If Kentucky is hitting their shots, there just isn't much you can do. But if they're having an off night, and Kansas is hitting their shots, they have a very good chance to win.
IOWA STATE GUARD SCOTT CHRISTOPHERSON

[The Wildcats] have great length at pretty much every position. Even if they don't call out a screen quick enough, they can just switch everything because they [have] such a great help side on their defense. They can cover up minor mistakes. When we played them,
[Darius] Miller
played really well. Teague played really well. He hit some outside shots. When those two and
[Doron] Lamb
are hitting their outside shots -- combined with their inside game -- they're pretty much impossible to stop. On defense, they have guys that are good perimeter defenders, but more than anything, even if you are able to get by them, they have such good length, even on the help side. ... You're just not used to playing against guys like Anthony Davis and
[Michael Kidd-]Gilchrist
and Jones -- guys that can just come from the weak side out of nowhere and get your shots. We shot the ball very poorly from 3 because we had never seen length like that. At times you're actually able to get into the paint on them. I'm not saying they're not good perimeter defenders, because they are. But it's not like they're impossible to get by.
The problem is that you have to expend so much energy getting by them, and then you've got Anthony Davis waiting for you at the rim -- it poses a lot of problems. If you've got a guy on the low block that can really be physical, it will certainly help. Kansas will be able to utilize
Thomas Robinson,
because he's physical and very strong. I'm sure Kansas is hoping he'll be able to get some easy baskets inside and maybe draw some fouls on Kentucky's big guys. The biggest thing is just getting the ball moved from one side of the court to the other. If you come down and just have it sit on one side and try to break Kentucky down that way, with their length, you're not going to be very successful. I would try to drive the ball into the paint and kick it out as many times as I could. But I'd get as many paint touches as I could and get the defense distorted as much as possible. And if you can get out in transition and get some easy buckets, that will help your confidence, too. Kansas has always been very good in transition.
With Kansas, we were able to do a good job of mixing up our post defenses on Robinson. Defensively, we played about as well as anyone did against them in both of our games. You're going to have to rebound and be physical with them. Defensively they're always in position. They're very well-coached, very disciplined. You just have to be very sharp and solid. You can't try to be a hero against them. You have to make simple plays and play very hard. I think Kentucky's length makes them a little bit better defensively, just because they've got guys like Kidd-Gilchrist that can guard the 4-man or the point guard. But Kansas, year-in-and-year-out, is the best team in the Big 12 defensively. Withey has come a really long way. He does a good job of doing what he does. He blocks shots, runs the court, rebounds, finishes around the rim. To me, the difference in the game is going to be who wins between Doron Lamb and Darius Miller, and Elijah Johnson and
Travis Releford
. And Tyshawn Taylor has to outplay Teague. Johnson is a really good defender. And when he's able to stretch the defense with his perimeter shot, it does a lot of things for Kansas. When you have to close out long on him, it gives Robinson so much more room to work on the inside.
BAYLOR HEAD COACH SCOTT DREW

You have to score in transition if you want to have any shot of beating Kentucky. You can't just hope to score in the half court against them. They're so good defensively. You have to get easy ones when you can. When you can't, you really have to make them work on the defensive end. Kansas will do that. But you also have to get some easy ones, and Kansas has always done a great job of pushing it. If Kansas is scoring and not turning it over, that means Kentucky isn't getting out and running. And if Kentucky isn't getting out and running, Kansas has a chance. Sometimes people make the mistake of saying, 'OK, we want to slow it down and play a half-court game against Kentucky.' That means they never push it and get easy buckets. I don't know if you can score enough to beat them if you slow it down.
Juniors and seniors don't want to go home. Kansas is very good, but out of almost all of the good tournament teams, they've had the most experience. They start all juniors and seniors, and juniors like Releford and Withey are four-year guys. They're starting three fourth-year guys and two true juniors. That's a veteran group. The more experienced at something, the better you are at what you do. They've been there, done that. It may mean more to them because they've been there three or four years. So they have the experience, but they also have that mental toughness. Winning a national championship may mean more to them than it does a freshman.
When Withey is on, Kansas goes to another level. You know what you're going to get night in and night out from Tyshawn and Thomas. But if you had Withey knocking down shots and rebounding and scoring, they're on another level. In their two wins against us, he was the difference. Tyshawn Taylor is probably the main key, though. If you keep Tyshawn from getting it in the paint, and if you can keep him from creating for others ... you can guard Thomas Robinson if you don't give him angles and just play solidly behind him. And Withey, if he doesn't catch it deep, I don't know how bad he's going to hurt you. But the reason Robinson is able to get angles, and the reason Withey is able to catch it deep is because of Tyshawn's ability to get into the paint. He's as good with his first step and at blowing by defenders as any point guard in the country.
BAYLOR GUARD BRADY HESLIP

[Kentucky's] athleticism can be overwhelming, even to us. They've got five guys that can handle the ball. Their outlet passes are so impressive. One second after they rebound, the ball is at half court. They get out in transition so quick. They can all handle it. It makes things easy for them. Defensively, Anthony Davis gets a lot of attention for blocking shots, but the guys on the perimeter really pressure the ball. I was watching yesterday, and Louisville would dribble around for 15 or 20 seconds because they were having so much trouble getting it into the paint and getting Kentucky in foul trouble.
Teague can guard. He's fast. Tyshawn Taylor is probably a little stronger than him. Lamb is strong. Kidd-Gilchrist can defend 1 through 4. Jones is so physical, and then Davis has that great length. You've got to do a good job of answering their runs and hope to get some easy baskets. When you try to slow it down, on defense they can really stop you. They forced us into taking bad shots, and they forced us into turnovers. Those result in the first pass of their transition offense. They run the floor and convert it, and get to the free throw line.
Kansas is an amazing team with all of their pieces. They've got strong guys that are athletic and physical. They play well and they defend. Kentucky, statistically, is the best defensive team. But Kansas on defense is ridiculous. They rotate like a machine. They've got Withey blocking shots. Releford is a great defender, and so are Taylor and Johnson. Those guys are relentless on defense, and they can get out and run, too. It should be an up-and-down game. Taylor is the key for them. At this time of year, you've got to have a great point guard to still be playing. He does a great job of scoring and making things happen, because he's so athletic. Once he gets going, that's a tough freight train to stop. He does a great job of getting into the paint. If he gets into the paint against Kentucky and guys help out, he can throw lobs to Robinson and Withey. I think it could be a good game. Kansas is too good of a team and Bill Self is too good of a coach to let it get out of hand. It'll be a close game.
March, 17, 2012
3/17/12
12:25
AM ET
LOUISVILLE, Ky. -- Thursday's slate of second-round games at the KFC Yum! Center didn't offer a lot of intrigue. All four higher seeds won by an average of 16 points.
Maybe they were just setting the stage for a dramatic doubleheader Saturday. On paper, at least, we have the possibility of two great games. The opener features teams with similar, fast-paced styles, while the nightcap pits the tournament's No. 1 overall seed against an upstart that might have the right ingredients for an upset.
Here's a closer look at Saturday's two third-round games in Louisville:


No. 3 seed Marquette (26-7) vs. No. 6 Murray State (31-1), 5:15 p.m. ET

What to watch:
Each team must feel like it's looking into a mirror when scouting the other. Both like to crowd passing lanes and push the pace, and though neither is particularly big, their frontcourt players are active around the rim. So the question is, which one does it better? Marquette has more ability to switch up styles and pound the ball inside, especially when 6-foot-8, 290-pound forward
Davante Gardner
comes off the bench. He is averaging 17 points and six rebounds in three games since returning from a knee injury. But Murray State should have a significant crowd advantage from its fans who made the short trip here, and from Kentucky backers who likely will pick up their fellow state school's cause.
Who to watch:
Both teams have terrific lead guards who could match up against one another. Murray State will almost assuredly need a big game from star
Isaiah Canaan
to have a chance to advance. The Racers' backcourt will have to slow down
Darius Johnson-Odom
, who can fill it up from outside or stutter-step and drive the lane. But the Golden Eagles'
Jae Crowder
presents the toughest matchup problem with his versatility. The 6-6 slasher had 25 points and 16 rebounds in the win against BYU. It's not height but bulk that might bother Murray State, as players like Johnson-Odom and Crowder look like they've spent as much time on their bench press as their jump shot. "They look like they should all be in spring practice at Alabama and LSU playing defensive back and linebacker," Racers coach Steve Prohm said.
Why to watch:
This has all the makings of an entertaining, up-and-down game that shouldn't tax the shot clock operator. Canaan and Crowder are among the best players in the country. The winner of this game has a very real chance at making it to the West Region final and beyond.
What they're saying:
"For people to look at us as a Cinderella story, it's an honor. But we try to stay level and remember the things that got us to this point, and try to remember to do those things. Because we know if we do that, everything else will take care of itself." -- Murray State guard Isaiah Canaan.
"You just visualize what the moment will be like when you see your 14 guys celebrating going to the Sweet 16. And that's how you're preparing right now, so those guys can have that moment." -- Murray State coach Steve Prohm.
"It's like watching Syracuse. You watch six or seven games, and by the time you're watching the eighth game, you're like, 'Yeah, they just do the same stuff over and over and over. Not to be over-simplistic, but maybe that's why they win." -- Marquette coach Buzz Williams, on scouting Murray State.
"They've got good guards, their bigs run in transition. We've got to get back in transition and keep the ball out of the paint. They look like they come to play and fight every night, and that's how we play." -- Marquette guard
Junior Cadougan
.
Of note:
Donte Poole
took an elbow to the nose on Thursday against Colorado State. The Murray State guard said his nose was sore and congested, but he plans on playing Saturday without a protective face mask. ... Marquette is looking to make its second straight Sweet 16 appearance and 15th overall. Murray State has never advanced that far. ... This is just the second meeting between the schools. The first came in the 1969 NCAA tournament, with Marquette winning 82-62.


No. 1 seed Kentucky (33-2) vs. No. 8 Iowa State (23-10), approximately 7:45 p.m. ET

What to watch:
Kentucky should get its first real challenge of the tournament against an Iowa State team that took out defending champion Connecticut with ease Thursday night. The Cyclones can bury you from 3-point land by putting four shooters outside the arc on most possessions, but they also can get physical inside, as they showed against UConn. Of course, Kentucky still has
Anthony Davis
,
Terrence Jones
and all that other NBA talent, and it will be playing in the friendliest Big Blue confines outside of Rupp Arena. So Iowa State will be a heavy underdog, but that's a role this team has wholeheartedly embraced.
Who to watch:
Iowa State's
Royce White
nearly transferred to Kentucky from Minnesota two years ago. John Calipari visited him in Minneapolis and said "it
was done." But when it came time for White to enroll in summer school, he balked. White, who has an anxiety disorder, said he felt uncomfortable getting on a plane, and the mother of his first son had just found out she was pregnant again. Could White come back to haunt the Wildcats? He's one of the most unorthodox players in the country, a 6-8, 270-pounder who serves as the team's primary ball-handler and distributor. If he can throw his weight around inside and find open shooters, look out. But Kentucky also has big men who can play on the perimeter. "He's not LeBron James,"
Michael Kidd-Gilchrist
said. "Can we pressure him? Yeah. He's not special."
Why to watch:
The tournament favorite against a very game underdog? That's appointment television.
What they're saying:
"We've got to do a great job of trying to keep their guards in front
of us and try to make them shoot contested jump shots over us. Because if you do give up guard penetration to the middle, they have incredible athleticism and length, and they can just kind of flip it up there on the rim." -- Iowa State guard
Scott Christopherson
.
"I think I read somewhere that we were only picked in 32 percent of the brackets on the ESPN challenge. We have played that underdog role, and we have played it well. Our guys have gone out there and taken it personally. And hopefully, we'll do that again [Saturday] night." -- Iowa State coach Fred Hoiberg.
"It's not nerves that I'm worried about. Iowa State is a really good team. I watched some tapes where I had to stop watching because I started getting worried that we can't beat this team. So I'm trying to watch a tape or two where they've lost. ... This is going to be one of the toughest games we've played in a while." -- Kentucky coach John Calipari.
Of note:
Hoiberg played against Kentucky in the second round of the 1992 NCAA tournament when he was a Cyclones freshman. Hoiberg scored two points and fouled out of a 106-98 loss. "It was the only game in my college career that I fouled out," Hoiberg said. ... Looking ahead? Kentucky guard
Marquis Teague
said he hopes to see No. 4 seed Indiana -- which handed the Wildcats their only regular-season loss -- in next week's Sweet 16. "We want to play them because of the way they beat us," he said. "We're upset about that." ... White is Iowa State's only starter taller than 6-6, but the Cyclones have outrebounded their past 10 opponents. ... Kentucky's Jones is on a roll in March, averaging 20.8 points and 11 rebounds in his past four games.
March, 16, 2012
3/16/12
2:05
AM ET
LOUISVILLE, Ky. --
Chris Allen
played his first three years at Michigan State, experiencing two Final Fours and a Sweet 16 with the Spartans.
His old team expected to do great things in March. Back in the NCAA tournament as a senior with Iowa State, Allen senses an entirely different feeling.
"People see us and say, 'That's Iowa State. Who are they?'" Allen said. "But you can't worry about the name on the front of the jersey. You just have to worry about the players."
Plenty of folks saw the name Connecticut and automatically assumed the Huskies would brush past Iowa State in the second round of the NCAA tournament. UConn was the defending national champion, after all, while the Cyclones were a collection of castoffs at a program that hadn't gone dancing in seven years. Forget that Iowa State was seeded one spot higher, at No. 8, than Connecticut. Everybody was already looking forward to a third-round matchup between UConn and top seed Kentucky.
Except that Iowa State's players were better than Connecticut's. A lot better, and they showed it during Thursday's
77-64
dethroning at the KFC Yum! Center.
The Cyclones felt disrespected leading into the game and believed they would win. In the waning seconds, big man
Royce White
barked at the Iowa State radio crew, "I told you!"
"Nobody picked us to win," White said. "That bothered me a lot. Personally, I was as tuned-in as I've been all year to this game as far as my effort."
White showed it on the first possession of the game, throwing down a dunk off a rebound to set an early tone. Twelve minutes later, Iowa State led 36-14 after what coach Fred Hoiberg called his team's best stretch of the season.
[+] Enlarge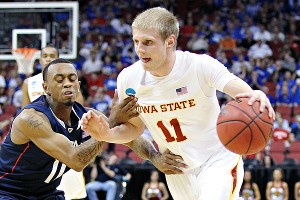 Andy Lyons/Getty ImagesScott Christopherson (15 points against UConn) transferred to Iowa State from Marquette in 2008.
The Cyclones hit eight of their first 11 shots and drilled six 3-pointers in the first half. But this wasn't simply the story of a team getting hot from outside and pulling off an upset. Iowa State didn't make a 3-pointer in the second half and instead took it to the Huskies physically, outrebounding them 41-24 and just wanting it more. After UConn cut the lead to six points at the under-eight-minutes timeout, Iowa State responded by scoring seven consecutive points and grabbing four offensive rebounds during that stretch.
"That's just hunger," White said. "That's us being the underdog."
UConn suffered from the same disinterested, disjointed vibe that plagued the team all year. At one point after a Cyclones run, Jim Calhoun called timeout and just stared at his team from the court for several moments, unsure of what to say. He later said the Huskies got caught "being nothing more than a street sign as [Iowa State] went by us by a thousand miles." With a 2013 tournament ban looming plus Calhoun's uncertain future, who knows what path Connecticut takes the next couple of years?
Truth is, Iowa State presents a tougher matchup for Kentucky than UConn ever did. This is a team that beat Kansas, Kansas State and Baylor this season and plays an odd style that is not easy to prepare for in one day.
"We have a lot of stuff that's abnormal to the college game," guard
Chris Babb
said.
That starts with White, a 6-foot-8, 270-pounder who often brings the ball up the court and initiates the offense. Hoiberg puts four shooters on the court with him most of the time. Teams that can spread Kentucky out and shoot -- think Vanderbilt and Indiana -- can beat the Wildcats, though it will still take a monumental effort.
There's very little that's conventional about Iowa State. Hoiberg had never coached at any level before he was hired two years ago. Looking for a quick fix, he brought in six transfers, four of whom are playing for the Cyclones in this tournament. Some of them had checkered pasts.
"It's kind of weird, because we have so many different people coming from so many different places," said guard
Scott Christopherson
, who transferred in from Marquette in 2008. "But we have all bonded together."
They used that togetherness to knock off the defending champions. Up next is the No. 1 team in this year's tournament. Win that one, and people will know all about Iowa State.
"There's nothing better you could have as far as a plot line for an underdog that wants to achieve something great," White said. "We've got to embrace the spot we're in now."
March, 14, 2012
3/14/12
11:30
PM ET
LOUISVILLE, Ky. -- Looking for something interesting in the Thursday night session at the KFC Yum! Center? Well, we've got the NCAA Tournament's No. 1 overall seed and the defending national champions each playing and possibly charting a collision course toward one another. Is that something you might be interested in?
Here's a closer look at the two late games here in Louisville:
No. 1 seed Kentucky (32-2) vs. No. 16 Western Kentucky (16-18), 6:50 p.m. ET


What to watch:
Western Kentucky was 9-18 on Feb. 18. Now the Hilltoppers have an NCAA tournament win under their belts and will face the No. 1 overall seed in what also happens to be an in-state rivalry. So they're playing with house money and can give Kentucky their best shot with no pressure on their backs. The Wildcats will open up in front of an extremely friendly crowd, but they need to shake off the disappointing loss to Vanderbilt in the SEC tournament final.
Who to watch:
Player of the year candidate
Anthony Davis
begins his first and only NCAA tournament, and the Wildcats will likely go as far as he can carry them. Western Kentucky's
Teeng Akol
, a rail-thin 6-foot-11 junior, has the unenviable task of trying to contain Davis. Don't be surprised to see the Hilltoppers play a lot of zone, as Vanderbilt did with great success. Do be surprised if they come close to approaching the 53-30 rebounding edge they held over Mississippi Valley State in Round 1.
Why to watch:
Kentucky is the commanding favorite in this tournament, but don't forget this team starts three freshmen who have never experienced March Madness as players. They'll need to work out the butterflies early. Western Kentucky has manufactured two ridiculous comebacks, first just to get to the NCAA tournament and then in erasing a late 16-point deficit in Tuesday night's win. If the Hilltoppers find a way to upset the Wildcats and become the first No. 16 seed to oust a No. 1, the city of Bowling Green may never stop partying.
What they're saying:
"It was a very intense practice. We don't like losing. Coach Cal doesn't like losing, so we tried to pick it up a little bit. We tried to get focused on what we need to do going into this tournament. That has been our main goal all year." -- Kentucky guard
Darius Miller
on the mood of the team after the Vanderbilt loss.
"You don't want to start out the game bad against a team like this because ... it's kind of like horse racing. When you're racing a really big horse, you don't want to get behind too much because the race is only so long." -- Western Kentucky forward
Vinny Zollo
.
Of note:
Kentucky's
Michael Kidd-Gilchrist
and Western Kentucky leading scorer
Derrick Gordon
were high school teammates and close friends at St. Patrick in New Jersey. "It's like a dream come true for both of us," Kidd-Gilchrist said. "I can't wait to play them." Kidd-Gilchrist will likely be assigned to defend Gordon. ... Zollo committed to Kentucky as a high school freshman but dropped his pledge after Billy Gillispie was fired in 2009. ... The two schools haven't played since Western Kentucky upset then-No. 4 Kentucky 64-52 in November 2001.
No. 8 seed Iowa State (22-10) vs. No. 9 seed UConn (20-13), approximately 9:20 p.m.


What to watch:
UConn is the defending national champion, but Iowa State is actually the higher seed. And don't discount the Cyclones, who were good enough to beat Kansas, Baylor and Kansas State this season. The Huskies, who needed to win two games in the Big East tournament last week to feel secure about getting here, have looked indifferent at times this season, especially in their perimeter defense. That could spell trouble against an Iowa State team that was one of the most prolific 3-point shooting clubs in the country while making nearly nine treys per game.
Who to watch:
Iowa State forward
Royce White
is the only player in the country to lead his team in scoring, rebounds, assists,
steals and blocks. So, yeah, he can do it all. But can the 6-foot-8 Royce do it all effectively inside against UConn shotblocker
Andre Drummond
?
Why to watch:
The Huskies begin their title defense, and with Jim Calhoun back on the bench they have to be taken seriously. This is still a talented team with two future pros in Drummond and
Jeremy Lamb
, though the chemistry has seemed off most of the season. Iowa State is better than many think. Whoever wins this game has a chance to cause No. 1 Kentucky some problems in the next round.
What they're saying:
"I mean, Kemba Walker's not coming back, is he? Obviously, we know Connecticut is one of the most storied programs in all of college basketball. We know they're the defending national champs. [But] we feel like we earned our way to be here, too. We respect them, but I don't think there's like a fear factor with them at all." -- Iowa State guard
Scott Christopherson
.
"You definitely hear it from the fans. They definitely want to see the UConn-Kentucky matchup. We're just trying to beat Iowa State and then play Saturday." -- Connecticut forward
Alex Oriakhi
.
Of note:
Calhoun is 16-1 all time in the first round, with a 2008 loss to San Diego his only blemish. ... The Huskies haven't been seeded this low since they were ninth in the 1992 tournament. ... Iowa State scores 36.4 percent of its points from 3-point range, the fifth-highest among power six conference teams. Connecticut is allowing its opponents to score 33.9 percent of their points from 3-point range, the second-highest rate among power six conference teams.
March, 9, 2012
3/09/12
1:43
AM ET
KANSAS CITY, Mo. -- Moments before a final half of basketball that may have decided the fate of Texas' season, coach Rick Barnes stood before a dry-erase board in the Longhorns' locker room.
On one side, Barnes scribbled three letters: "N-I-T."
Then he took a step to his right and jotted down four more: "N-C-A-A."
Barnes put down the marker and looked at his team.
"Who are we?" he asked the Longhorns. "Which one would you put your name under?"
By the time Texas left the Sprint Center, the question had been answered.
In a game that so many predicted they would lose, the Longhorns fought back from an 11-point deficit and defeated Iowa State
71-65
in the quarterfinals of the Big 12 tournament. Along with propelling them into Friday's semifinal against Missouri, the victory significantly enhanced the résumé of a Texas team that entered the contest on the NCAA tournament bubble.
Now 20-12, the Horns feel much better about their chances of earning a 14th consecutive bid under Barnes, who isn't the type to politick to the selection committee.
He shouldn't have to.
Texas finished 9-9 in what is generally regarded as the second-best league in the country behind the Big Ten. The Longhorns' strength of schedule is No. 20 in the country according to
ESPN's InsideRPI
, and they have only one defeat (at Oklahoma State) that can be viewed as a "bad loss."
Thursday's victory over Iowa State also should turn some heads considering the Cyclones -- who tied for third in the Big 12 standings -- entered the game touting wins in four of their previous five contests. Texas' win Thursday came before 18,792 people, most of whom were in support of Iowa State.
"You love to walk into other gyms and quiet their fans," UT guard
J'Covan Brown
said.
Texas led 65-59 with 2 minutes, 55 seconds left before Iowa State scored six consecutive points to force a tie. But rather than flounder in the face of adversity, the Longhorns flourished.
[+] Enlarge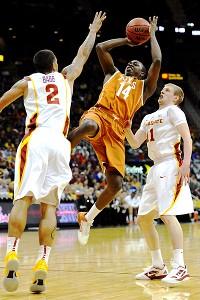 Peter G. Aiken/US PresswireJ'Covan Brown's late-game cool helped Texas hold off Iowa State -- and strengthen its NCAA case.
With 36 seconds left, Brown spun into the lane and swished a floater as he was fouled. He sank the ensuing free throw to convert the 3-point play to give Texas a 68-65 lead. It was yet another huge shot for a player whose career has been defined by gut-check moments.
Brown scored seven of his game-high 23 points in the second half.
"A few seconds before I hit that shot, Coach was like, 'Are you feeling it?'" said Brown, a junior. "I told him I was, and he let me go out and do my thing. It gives you a lot of confidence when your coach has your back like that."
Brown's performance this season -- he averages a Big 12-best 20.1 points -- is even more impressive considering he's on a team that features five freshmen among its top seven players. Opposing defenses are geared to stop Brown, yet he still finds ways to score. His game winner Thursday came against Iowa State's
Chris Babb
, who is regarded as one of the top defenders in the Big 12.
"[Brown] is a gifted offensive player," Barnes said. "He has such great vision. On that last play he had three or four different options, and he picked the right one to get the ball where it needed to be."
The Cyclones still had a chance after Brown's clutch basket, but standout
Royce White
lost control of the ball on the perimeter, and it ended up in the hands of Texas forward
Jonathan Holmes
. Iowa State immediately fouled Holmes, and the freshman made both free throws to make it 70-65 with 22 seconds left.
Ballgame.
As proud as he was of Brown, Barnes was also ecstatic about the play of freshman point guard
Myck Kabongo
, who has been on a steady incline all season. Kabongo finished with 11 points, five assists and no turnovers -- Texas had only six turnovers as a team -- and he played excellent defense on Iowa State 3-point ace
Scott Christopherson
.
A senior, Christopherson entered Thursday's game averaging 21.8 points in his previous five contests and had made 19 of 36 3-point attempts during that span. Pestered by Kabongo, he scored just 10 points on 4-of-13 shooting and missed four of his six attempts from beyond the arc.
As a team, the Cyclones made just five 3-pointers Thursday. They came in averaging nine per game.
Texas now advances to play another strong shooting team in Missouri. The Tigers are shooting 49.9 percent from the field, a mark that ranks third in the nation. Mizzou defeated Texas 84-73 in Columbia on Jan. 14 and 67-66 in Austin on Jan. 30.
"We feel good about this win," Brown said. "But we can't let our young guys celebrate too much. We've got another big one tomorrow."
February, 20, 2012
2/20/12
9:30
AM ET
Saturday's game between Kansas and Missouri will go a long way toward deciding this year's Big 12 regular-season champion. Both teams have identical 12-2 conference records, but Missouri gets the nod in this week's Conference Power Rankings because of its victory over the Jayhawks on Feb. 4 in Columbia.

1. Missouri:
Frank Haith's squad eked out another hard-fought road victory Saturday when it defeated Texas A&M 71-62 in College Station. The win was the seventh straight for the Tigers, who will try to avenge a Jan. 7 loss to Kansas State on Tuesday.
2. Kansas:
The Jayhawks had an easy time with last-place Texas Tech in Saturday's 33-point win. Forward
Thomas Robinson
continues to make a case for national player of the year honors. The junior is averaging 17.7 points and 11.8 rebounds.
3. Kansas State:
Angel Rodriguez
scored 15 points to lead the Wildcats to their best win of the season against Baylor on Saturday. The 57-56 victory upped Kansas State's Big 12 record to 7-7 and will greatly enhance its resume on Selection Sunday. Two more tough tests await this week. The Wildcats visit Missouri on Tuesday and host Iowa State on Sunday.
4. Baylor:
The Bears are in a downward spiral with losses in three of their past four games. Scott Drew's team failed to score in the final two minutes of Saturday's home defeat against Kansas State and looked completely disorganized and lost on its final two possessions. Getting healthy at Texas on Monday won't be easy.
5. Iowa State:
Scott Christopherson
scored 25 points and
Chris Allen
added 16 in Saturday's 80-69 victory over Oklahoma. At 9-5, the Cyclones are now tied with Baylor for third place in the Big 12 standings. Standout
Royce White
has had three single-digit scoring outputs in his past five games.
6. Texas:
Saturday's 90-78 loss to Oklahoma State in Stillwater snapped the Longhorns' four-game winning streak. Texas was outscored from the free throw line 43-14. At 7-7 in league play, Rick Barnes' team desperately needs a home win against Baylor on Monday to enhance its NCAA tournament hopes. Texas lost to the Bears 76-71 on Jan. 28 in Waco.
7. Oklahoma State:
The Cowboys are the Big 12's most improved team; especially when they play at home. Oklahoma State has now defeated Missouri, Texas, Iowa State, Texas Tech and Oklahoma in Stillwater. They still have home games remaining against Texas A&M and Kansas.
Keiton Page
had 40 points in Saturday's win over Texas, when he was 20-for-20 from the foul stripe.
8. Texas A&M:
The Aggies have lost five of their past six games, and with Kansas coming to town Wednesday, things may get worse before they get better. Point guard
Dash Harris
hasn't played since Jan. 23 because of a foot injury.
Elston Turner
averages a team-high 14 points.
9. Texas Tech:
The Red Raiders didn't do much to capitalize on their Feb. 11 victory over Oklahoma. They turned in a dismal offensive performance in a 47-38 setback against Texas A&M on Tuesday before getting stomped by 33 points at Kansas on Saturday.
10. Oklahoma:
The Sooners have lost six games in a row and eight of past last nine. Wednesday's home game against Oklahoma State looks like a possible victory, as the Cowboys have been terrible on the road. Still, it's been quite a collapse for a team that opened the season with wins in nine of its first 10 games.
January, 12, 2012
1/12/12
2:09
AM ET
AMES, Iowa –
Matt Pressey
wanted to speak his mind.
The chatter that followed his team's 16-point loss at Kansas State on Saturday — which snapped its 14-game winning streak — became fodder for the critics who thought the Tigers' lofty ranking belied their true standing.
Had Pressey heard the jeers from the naysayers in recent days?
His response began with a shoulder shrug.
But before he could open his mouth to answer the question after his team's
76-69 victory at Iowa State
on Wednesday, Missouri coach Frank Haith interjected.
"We didn't hear that criticism. So we don't listen. Things we can't control, OK?" Haith said.
He sounded like a man who just wanted to forget.
Everything about Missouri's loss in Manhattan, Kan., seemed to justify its doubters.
They're not big enough. They're not deep enough. They're not tough enough. They'll struggle outside of Columbia.
But everything about the Tigers' gritty victory over Iowa State suggested otherwise.
They're extremely fast on the perimeter. They're crafty enough to guard bigger squads. They scored 40 points in the paint even though they're one of the smallest teams in the league. And on a night when their leading scorer struggled, six other players recorded double figures.
The Tigers never used the word "need" in describing Wednesday's victory, but it was an essential win for the program.
Some squads still haven't recovered from stinging losses suffered weeks ago. Losing became a trend for Pitt and UCLA, two teams that suffered tough defeats in the early stages of the 2011-12 season.
To stop one loss from affecting their future, the Tigers would have to show more moxie on the road than they appeared to have Saturday.
"To win on the road, you've got to have that kind of mental toughness," Haith said. "You've gotta be able to withstand runs because teams are going to go on runs because of the crowd."
[+] Enlarge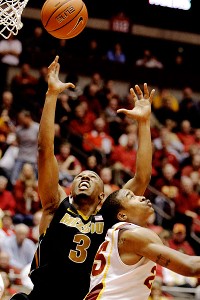 AP Photo/Charlie NeibergallSenior Matt Pressey, left, said he and his Missouri teammates worked on mental toughness after suffering their first loss.
So Haith set aside some time to talk about all of the problems that affected his Tigers in the Kansas State loss. There were many.
They were outscored 44-25 in the first half. They were crushed on the boards. And they hit just 29 percent of their 3-pointers.
Once those issues were discussed, Haith told his team to forget about the loss and move forward.
"We spent a lot of time on that Sunday talking about K-State and then, there was no more to talk about," Haith said. "We were on to the next game. We were on to preparing ourselves. Once we got done with it, it was talking about the toughness thing. We physically got whipped. … They understood we cannot let that happen again."
Déjà vu, however, lurked at Hilton Coliseum.
An Iowa State squad that connected on 8 of its 12 first-half 3s -- including
Scott Christopherson
's halfcourt shot just before halftime -- and followed the lead of a 6-foot-8 point guard/power forward
Royce White
(16 points) looked like the better team early.
But Missouri's premier qualities emerged in the second half. The Tigers hit 59 percent of their shots after halftime. And although
Marcus Denmon
(1-for-5 for just 6 points) struggled, six of the seven Mizzou players who saw time for Haith scored in double figures.
"If we do a good job of being aggressive … They're going to have to pick their poison," Pressey said about his squad's versatility.
The Tigers met every Cyclones charge in the second half with their own surge. After
Chris Allen
nailed a 3-pointer with 22 seconds on the clock to cut Missouri's lead to 3, Denmon knocked down four free throws to seal the win. That was with both Kim English and Steve Moore on the bench with five fouls.
Chest-thumping and fist-pumping spread through Missouri's bench as the Tigers fought off the Cyclones with five players. The team's intensity rose with every ISU threat.
They wanted the test and another chance to prove themselves in a hostile environment. And they elevated their collective game against the challenge.
"The whole week we focused on being mentally tough," Pressey said. "Not so much physically, but being mentally tough on both ends, defense and offense."
Missouri's deficiencies could continue to cause problems, especially as it prepares to play some of the league's bigger teams. But the Tigers say they don't care about their weaknesses or the critics who emphasize them.
They're comfortable with who they are. They also realize that they're going to pose matchup problems for opponents, too.
"We've got a lot of guys who can score it," Haith said. "It's no secret. We're not going to get any taller between now and the end of the year. We're not going to add any more dudes. This is what we got."
January, 11, 2012
1/11/12
10:09
PM ET
AMES, Iowa – Here are my quick thoughts on Wednesday's
Iowa State-Missouri matchup
.


How it happened
: Iowa State lost its leading scorer, rebounder and passer five minutes into the first half when
Royce White
went to the bench with two fouls. But
Ricardo Ratliffe
went out for Missouri soon after with the same problem.
The undersized squads played small ball for most of the first half. But Iowa State had the momentum.
The Cyclones missed two key opportunities, however, to extend a lead against a top-10 opponent. The No. 9 Tigers went scoreless for a five-minute stretch midway through the first half, but a turnover, a misguided alley-oop and bad shots prevented the Cyclones from seizing the opportunity.
And after
Scott Christopherson
, who led all scorers with 19 points, nailed a 50-foot 3-pointer at the halftime buzzer – Iowa State was then 8-for-12 from behind the 3-point line and shooting 48 percent from the field – the Cyclones came out of the locker room with mojo. But they started the second half with four missed free throws and a turnover, squandering another chance to build a lead against Missouri.
The Tigers, seeking a victory after a 16-point loss to Kansas State over the weekend, turned it up a notch in the second half. Their perimeter speed was clearly a problem for the Cyclones. After taking a two-point lead two minutes into the second half, ISU never led again.
Mizzou was led by
Matt Pressey
(14 points), Ratliffe (12 points) and
Phil Pressey
(12 points). The Tigers shot 59 percent from the field in the second half.
After
Chris Allen
(17 points) hit a 3-pointer with 22 seconds on the clock, however, Iowa State was down just 72-69. But Mizzou sank four free throws in the final seconds to seal the victory.
Iowa State's greatest challenge came at the free throw line. White scored 16 points, but he was also 2-for-8 from the charity stripe. His team was 13-for-25.
Star of the game
: Matt Pressey led six Tigers in double figures. He was 5-for-8 from the field and made all four of his free throws.
Most awkward moment
: Iowa State fans yelled "Sit down!" as
Steve Moore
went to the bench with his fifth foul late in the second half. One problem … White was at the line shooting a free throw. He missed it.
Turning point
: Allen threw an ill-advised alley-oop to White near the seven-minute mark with Iowa State down 57-55. Missouri scored off the turnover, kicking off a crucial 9-3 run that gave the Tigers breathing room late with a 66-58 edge.
What the win means for Missouri:
The victory will help the Tigers forget about the disaster at Kansas State and quickly rebuild their confidence.
What the loss means for Iowa State:
It means that the Cyclones aren't good enough to squander key opportunities to pull away from talented squads. But they lost this game due to some fixable flaws. The Cyclones should still be a factor in the Big 12.
Up next:
Missouri will host Texas on Saturday; Iowa State will travel to Kansas the same day.
December, 13, 2010
12/13/10
8:30
AM ET
Five observations from this past week:
1. Ohio State's
Jared Sullinger
has had the most impressive freshman performance. Sullinger scored 40 points and grabbed 13 boards in a win over IUPUI. He made 12 field goals and converted 16 free throws in the game. In the two road wins in the state of Florida -- over the Gators and Seminoles -- Sullinger was a force with double-doubles in both games. If Ohio State is to get to the Final Four, it will be because they have one of the top frontcourt scorers.
2. The Mountain West is going to be a sensational four-team race. San Diego State has the look of a potential second weekend NCAA tournament team. The Aztecs are off to a sensational start, regardless of venue. BYU dismantled Arizona and remains undefeated as well. UNLV did lose at Louisville over the weekend, but the Runnin' Rebels had been impressive up to that point with wins over Wisconsin and Virginia Tech. And New Mexico has only one loss (at Cal).
3. St. John's has the look of an NIT team. Steve Lavin is recruiting at a national level and the buzz is real with the Red Storm in Queens and in the city. But losses to St. Bonaventure at home and at Fordham don't bode well for an NCAA bid. Former coach Norm Roberts had St. John's as a gritty bunch but they were still an unskilled crew that played hard to stay in games. The skills haven't dramatically changed and it's going to be hard for this group to win enough games to be in contention for a berth.
4. Two hidden gems that must be recognized are South Carolina freshman point
Bruce Ellington
and Iowa State junior
Scott Christopherson
. South Carolina coach Darrin Horn said at SEC media day that he had a worthy replacement for Devan Downey. He raved about Ellington's ability to be a scorer and a lead guard. Ellington was just that in two huge wins for the Gamecocks. He scored 14 points in a victory over rival Clemson and then 18 in a win over nearby Wofford. He did have six turnovers in each game, but still led the one-loss Gamecocks to two key wins. Christopherson led Fred Hoiberg's
Iowa State Cyclones
to a huge win over rival Iowa with 30 points in Iowa City. Christopherson played all 40 minutes and made seven 3s Friday night. He had already scored 29 in a win over Drake. The Cyclones are a surprising 8-2 so far under Hoiberg.
5. The Pac-10 is once again going to have trouble getting multiple bids. Washington went to Texas A&M and lost on David Loubeau's block of an
Isaiah Thomas
shot. This was UW's first true road game. Arizona has had two chances away from home and missed so far, losing to Kansas in Las Vegas and BYU in Salt Lake City. USC did have the home win over Texas, but has already lost to Rider, TCU and Bradley. UCLA doesn't have anything to show yet. Washington State has the look of a possible NCAA team after beating Gonzaga at home, but the Cougars will need to do something on the road. Expect the Huskies to grab one of the bids and after that it's wide open to see who can land the second and third bids, assuming the Pac-10 goes that deep in March. But for the second straight season, don't be surprised if the Mountain West has more bids than the Pac-10.
January, 6, 2010
1/06/10
8:10
PM ET
I'm back at the United Center tonight. The occasion? Duke is playing Iowa State and -- wait. What? What did I just write? Yes, you read correctly. Duke is playing Iowa State at the United Center in Chicago in, oh, an hour or so. If this seems like a random match up -- or at the very least a random place for these two teams to play -- you're right. It is.
But it makes a certain kind of sense. For one, Duke coach Mike Krzyzewski is famously a Chicago native, and Krzyzewski's program has a tradition in which the coach tries to schedule at least one game in a departing senior's hometown.
Jon Scheyer
, who attended Glenbrook North High School in the North Shore suburbs here, is that departing senior. (Scheyer's high school exploits are legend in these parts; ask any Chicago-based "23-year-old about Scheyer's
21 points-in-75 seconds explosion
as a senior in 2006 and you'll get at least a whiff of recognition. Never fails.) Iowa State also has a player -- freshman guard and former Whitney Young state champion
Chris Colvin
-- making a homecoming as well.
If there's one thing I know, it's this: When life gives you random college basketball match ups in your hometown, don't ask why. Just enjoy.
That's the plan, anyway, and much of that enjoyment -- in so far as you equate "enjoyable basketball" with a close game -- will hinge on how well Iowa State plays. Because, quite simply, Duke is beginning to look like a juggernaut.
The Devils have earned this reputation rather quietly. Their one loss -- at Wisconsin -- now looks forgiveable. The rest of Coach K's games have been handily won; Duke has the most efficient offense in the country
according to Ken Pomeroy
, and at No. 5 in the country, its defense isn't too shabby, either. You might also be interested to know that Duke is ranked No. 2 overall, ahead of Texas, in Pomeroy's overall rankings. See? Quiet juggernaut.
How has Duke done it? Scheyer and forward
Kyle Singler
are obvious reasons why, but Duke has received a big boost from the play of putative point guard
Nolan Smith
, who is averaging 18-plus points per game in 2009-10. It doesn't hurt that freshman
Andre Dawkins
is a lights-out three-point shooter. Nor is it bad that Duke's defensive toughness -- which took major strides in 2008-9, despite a few couple of rough run-ins with a vintage North Carolina squad -- has largely carried over (and maybe even improved) in 2009-10.
All of which means that Iowa State is likely to have a very tough time Wednesday night. The Cyclones are not untalented. Junior
Craig Brackins
ought to make an all-Big 12 team; senior
Marquis Gilstrap
has provided much needed balance in the post; and sophomore guard
Scott Christopherson
is posting a 66 percent effective field goal percentage in 2009-10. But if the Cyclones expect to compete with a deep, balanced, even-more-talented-than-themselves Blue Devils squad they'll need to go above and beyond. They'll need to be perfect, or some approximation therein.
Here's my question: Can you approximate perfection? Is it still perfection if it's merely approximate? Hmm. I think we just ventured into dangerous philosophic territory, and remember what we decided at the beginning of this post? Don't ask questions. Just enjoy. It works just as well for college hoops as it did for Plato.
Oh, and as always, I'll be around Twitter for much of the game.
Follow me, dudes!
Cowabunga! (This is what the kids say, yes?)