College Basketball Nation:

Sean Armand
November, 23, 2013
11/23/13
10:35
PM ET
On a slow Saturday for college basketball, there just weren't many gems. North Carolina struggled with Richmond but eventually pulled away to win 82-72. Louisville dismissed Fairfield 71-57, which set up a marquee Sunday matchup against the Tar Heels.
Winless Tulsa gave Creighton a scare. But overall, it certainly wasn't the game's sexiest Saturday. But there were a variety of under-the-radar and mid-major programs that offered some impressive individual efforts.
These are some of the players who usually go unnoticed for the majority of the year until March approaches and we're all scrambling to find the next Butler or VCU. Well, remember these names. These athletes might be more relevant in the coming months.
[+] Enlarge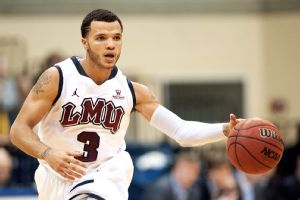 Orlando Ramirez/Icon SMILoyola Marymount G Anthony Ireland turned in a huge effort on Saturday.
1.
Keon Lewis (UTSA)
-- The UTSA junior guard had a monster game in his team's 87-76 win over Texas A&M-Corpus Christi. He recorded 30 points, 4 assists, 2 rebounds and 2 steals. He also went 13-for-13 from the charity stripe and 3-for-5 from the 3-point line.
2.
Anthony Ireland (Loyola Marymount)
-- The 2012-13 All-WCC first-teamer scored 25 points in a 76-70 win over Marist in the Paradise Jam. The senior also recorded 6 assists and 3 steals. And he made 10 of 11 free throws.
3.
Jameel Warney (Stony Brook)
-- The 6-foot-8 sophomore forward was in Beast Mode during Stony Brook's 67-61 win over Florida Atlantic. He finished with 23 points and 19 rebounds in that game. He was crucial for the Seawolves, who were locked in a tied game early in the second half.
4.
Langston Hall (Mercer)
-- The 6-4 senior led Mercer to an 81-54 win over Yale. He connected on four of his seven 3-point attempts. He also registered 18 points, 10 assists, 2 rebounds and 1 steal.
5.
Anthony Stitt (Charleston)
-- The junior finished the Cougars' lopsided 89-55 win over Furman with 4 steals. He also made 4 of 8 3-point attempts on his way to 21 points.
6.
Chris Horton (Austin Peay)
-- The sophomore big man is averaging 3.8 BPG. And he maintained that pace when he finished with four blocks in a 78-72 victory over Montana State. He also finished with 23 points and 9 rebounds.
7.
Sean Armand (Iona)
-- The 6-5 guard powered the Gaels in their 89-73 victory over Paul Hewitt's program. Armand was 10-for-16 from the field in a 30-point performance. It was his season high in George Mason's first blemish of the season.
8.
Ray Lee (Eastern Michigan)
-- What a performance by the freshman in his team's fifth consecutive win. He scored 38 points, went 12-for-15 from the field and made all five 3-point attempts in Eastern Michigan's 74-69 victory over Texas-Arlington. Another interesting note? His real name is Raven.
9.
Shawn Long (Louisiana-Lafayette)
-- Check out this stat line by the 6-9, 245-pounder: He finished with 24 points, 17 rebounds and 5 blocks in the Ragin' Cajuns' 84-75 victory over Oakland. He also hit a 3-pointer.
10.
Mark Henniger (Kent State)
-- The 6-9 senior led the Golden Flashes to a 102-97 win over Niagara. He was perfect. He went 6-for-6 from the field (20 points) and 8-for-8 from the free throw line. Kent State should bronze his shoes.
October, 7, 2013
10/07/13
9:00
AM ET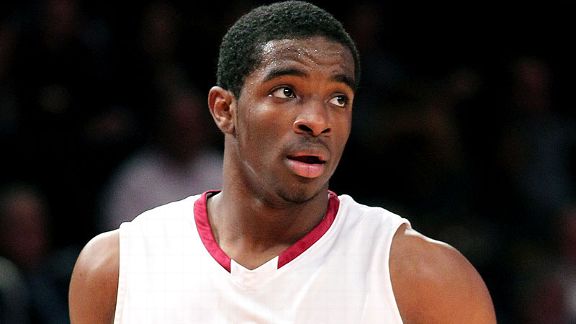 Anthony Gruppuso/USA TODAY SportsSean Armand and another group of talented high-major transfers have Iona at the top of the MAAC again, gunning for a third consecutive NCAA tournament appearance.
It's college basketball preview season, and you know what that means: tons of preseason info to get you primed for 2013-14. But what do you really need to know? Each day for the next month, we'll highlight the most important, interesting or just plain amusing thing each conference has to offer this season -- from great teams to thrilling players to wild fans and anything in between. Up next: Iona's transfers keep moving forward.
The 2011-12 preseason was one of the most exciting in Iona basketball history. Star point guard Scott Machado and NBA-prospect forward Mike Glover were both back, and sophomore Sean Armand would provide perimeter shooting from the wing. By any mid-major's standards, that would have been exciting enough. But there was more.

Just a few months after leading Arizona over No. 1-seeded Duke in the 2011 Sweet 16, Lamont "MoMo" Jones transferred out of Tucson and home to Iona, where he could, because of an ill grandmother, play right away. One of the best point guards in the nation, a bouncy forward, lights-out shooting and a volume-scoring backcourt star fresh off an Elite Eight? What more could a MAAC team ask for?
That Iona team was disappointing. The Gaels still won the MAAC, but lost to Purdue, Hofstra and Marshall in the nonconference, and fell to Fairfield in the MAAC tournament. They ended up needing a somewhat surprising nod from the selection committee to sneak in to the First Four in Dayton, where they lost to BYU. In 2012-13, with Machado and Glover gone, Jones and Armand ran Iona's combination of efficient offense and soft defense. It was good enough for a MAAC title and a No. 15 seed, but not enough to keep things close in the tournament against Ohio State. The Gaels finished 20-15.
In that context, the transition to 2013-14 could carry the stench of missed opportunity. Machado, who was the NCAA assists leader in his senior season, was a once-in-a-decade player in the MAAC. Glover was unnaturally athletic. Jones was a rare "down-transfer" in a world of players moving the opposite direction, and he was around for two years. When is Iona going to have talent like that again?
Not so long, it turns out. Iona coach Tim Cluess has done as well as any mid-major coach in the country at finding transfers -- specifically those from high-major schools -- in time to keep his program near the top of the MAAC, and this season will be no exception. Rutgers transfer Mike Poole will start immediately and should be an impact player, and former Iowa State point guard Tavon Sledge -- who received offers from St. John's, West Virginia and UTEP as a prep prospect -- will push the pace.
Will that be enough? The MAAC always offers solid basketball made more attractive by its entertainment value, and that's what the Gaels have done best in recent seasons. If they guard even marginally better than last season, and Armand and former juco transfer David Laury repeat last season's output, Iona is a favorite to attend three straight NCAA tournaments for the first time in school history. Who could be disappointed in that?
February, 3, 2012
2/03/12
8:01
AM ET
By
ESPN Stats & Information
| ESPN.com
A scan of the college basketball box scores each night guarantees all kinds of statistical oddities and standout performances. Here are some we found from Thursday.

Iona 105, Canisius 86
and
Weber State 92, Portland State 79
Iona's
Lamont Jones
poured in 43 points and Weber State's
Damian Lillard
scored 40 in the their teams' victories. Lillard became the first player this season to record two 40+ point games, and Thursday marked the first time this season two players eclipsed the 40-point plateau on the same day.
Western Carolina 82, Chattanooga 76
Western Carolina's
Keaton Cole
attempted 19 3-pointers in the win, tying him with Iona's
Sean Armand
for the most in a regulation game this season. Cole is the only player to have three games with at least 15 3-pointers attempted; he scored 18 points in all three games. Maryland's
Terrell Stoglin
attempted 20 3-pointers in the Terrapins' 90-86 double-overtime loss to Miami (FL) on Wednesday.
Pacific 60, UC Riverside 52
Pacific's
Ross Rivera
made 15 free throws in 21 minutes off the bench, the most made free throws by a substitute this season.
Trillion of the Night:
Eric Strangis
of Southern Cal played 10 minutes without accumulating a stat in the Trojans'
60-53 loss
at Washington State.
January, 4, 2012
1/04/12
1:31
PM ET
By
ESPN.com staff
| ESPN.com
Oklahoma's embarrassing loss


Missouri
walked all over
Oklahoma
in an
87-49 win
. The 38-point margin of victory is the Tigers' largest over Oklahoma since a 66-22 win back in 1922. It stands as Oklahoma's worst Big 12 loss ever, and the Sooners largest margin of defeat since a 45-point loss to UCLA in January 1975.
Ohio State with another Big Ten blowout


In their first meeting as conference foes,
Ohio State
dominated
Nebraska
,
71-40
. Together with a 33-point win over Northwestern, both of Ohio State's conference wins have been by 30 or more points. Those make up two of Ohio State's four largest margins of victory in Big Ten games over the past 15 years. The last time the Buckeyes had 30-point Big Ten wins in the same season was 1960-61.
Armand on fire off the bench

Iona's
Sean Armand
came off the bench to score 32 points on 10-19 shooting from three-point range. That set a school record for threes in a game, as well as a MAAC record for threes in a conference game. He's the first player with double-digit threes off the bench against a D-I opponent since Portland's Jared Stohl had 10 in December 2009. Armand's 32 points are the third most off the bench this season. Coming off an eight-game road trip, the
Gaels beat Siena, 95-59
.
Oral Roberts can't miss

Oral Roberts
shot 66.7 percent (including 68.8 percent from three-point range) in an
89-80 win
over
Oakland
. In the second half, the Golden Eagles couldn't miss, shooting 77.8 percent and hitting eight of nine three-pointers. Oakland's loss snapped a 31-game conference home win streak.
January, 4, 2012
1/04/12
5:00
AM ET
1. UConn has been waiting for the committee on infractions to give it a ruling on whether it should count the two wins and one loss during Jim Calhoun's three-game suspension his record. NCAA stat guru Gary Johnson said this is the first time the suspension came from the COI, not the school or conference. In the past, any temporary absence by a coach has gone on his or her record. Johnson said as soon as the COI rules then he will pass it on to UConn. Johnson said the reason Mike Krzyzewski of Duke didn't get the 4-15 record applied to his career numbers during the 1995 season when Pete Gaudet replaced him due to a back injury was because Duke told the NCAA Coach K was not going to return that season.
2. The home loss to Iowa on Dec. 31 may go down as the most significant result for Wisconsin during the regular season. The Badgers were stunned Tuesday night when an overtime, game-tying 3-pointer wasn't counted. Now the 1-2 Badgers have to go to Michigan and Purdue. A 1-4 start may be too hard to overcome to stay in the hunt for the Big Ten title. A 2-2 mark would have been more palatable. But the Iowa loss and the 3-for-28 mark on 3s will haunt the Badgers in the Big Ten.
3. Tim who? That might have been the initial reaction when Tim Cluess was hired from C.W. Post to take over at Iona. But there has been a complete flip in the MAAC. Once-dominant Siena got smacked 95-59 by Cluess' Gaels Tuesday night at MSG as yet another player not named
Scott Machado
stepped up with a star performance:
Sean Armand
scored a career-high 32 points.