College Basketball Nation:

Sean May
November, 15, 2013
11/15/13
11:00
AM ET
CHAPEL HILL, N.C. -- The pickup games at Ronnie and Janet McAdoo's house were a neighborhood fixture. Kids flocked to the court knowing they'd get the best competition, and they might even get a message from Ronnie, who works full time in ministry.
Ronnie McAdoo didn't tolerate any fighting or cursing, and he didn't play favorites, either. His son,
James Michael McAdoo
, had to win like every other kid from the block if he wanted to keep playing. That's why the son's consistent choice of a teammate no one else would ever pick initially surprised his father.
"I would say, 'Jay, if you pick him, chances are you're going to lose. And if you lose, you've got to sit out because you've got 15 other kids waiting to play,' " Ronnie McAdoo said. "He said, 'Dad, I don't care. If I don't pick him, no one else will.' He would always pick this kid every time he showed up to play basketball. That's James Michael."
[+] Enlarge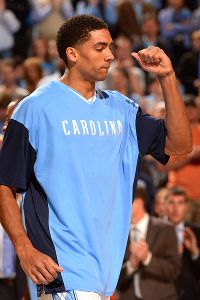 Bob Donnan/USA TODAY SportsJames Michael Ray McAdoo is named after three of his father's friends who died at a young age.
A greater sense of purpose seems behind even the smallest gestures of North Carolina's James Michael McAdoo. That includes the reason why he goes by his full first name.
Recruiting services and coaches originally knew the 6-foot-9 junior forward from Norfolk, Va., as
James McAdoo
. Before arriving at Carolina, he requested that Michael be added. It was far from a decision shaped by reasons of vanity.
Ronnie McAdoo considered James McPherson his best friend. Along with James' older brother, Michael, they grew up together in Mebane, N.C. James McPherson attended Old Dominion with McAdoo. The brothers were making a trip back home from ODU when they were killed in a car accident.
Ray Broxton, who also played at Old Dominion, was another close friend who met a tragic end. Ronnie McAdoo said Broxton had gone to play professionally in South America, where he died in an accident.
"I told my wife my first son would be named after my three best friends -- James McPherson, Michael McPherson and Ray Broxton," Ronnie McAdoo said. "So his name is James Michael Ray McAdoo."
The McAdoos have pictures of all three around their house. When James Michael was a toddler, he'd often point to those frames just as his parents had, knowing there was more to the story but not knowing why.
"It probably wasn't until I got to high school that I could really understand the magnitude of being named after them," he said. " . . . I was, like, I should probably really take on that first name and really honor both of them and I knew it'd be really huge to my father."
It was a huge name, all right, and not just to his parents. By his senior season at Norfolk Christian High School, he was a big deal in the world of college basketball recruiting.
McAdoo won USA Basketball's 2009 Male Athlete of the Year award, adding him to an elite list that includes Carolina recipients Michael Jordan, Sam Perkins and Sean May. McAdoo accumulated more honors and accolades than he cared to receive, admitting many of his trophies are "collecting dust somewhere."
Dust doesn't settle on expectations, though. And those piled up before McAdoo ever put on a Tar Heels uniform. There were not-so-silent whispers that he'd be a one-and-done talent. He was projected as a NBA lottery pick.
"It doesn't really affect me when I hear or see what other people might be thinking just because I know what I'm capable of doing and I expect what I expect out of myself," McAdoo said. "When I know I don't get the results I want, I beat myself up, but I don't lose sleep at night. It just adds to the fire, adds to the motivation."
There's a crazy kind of peer pressure among elite college basketball players, that somehow if you stay in school for more than a year, it indicates some type of flaw. McAdoo has twice returned to Chapel Hill to play.
"Last year that might have gotten in his head a little bit as people where hyping him up at the beginning of the season," sophomore guard
Marcus Paige
said. "He's ready to come in and play his game. I think that's a different mindset he has coming into the year."
McAdoo found it silly that he even had to have a formal announcement that he was returning for his junior year. If it were up to him, he would have slipped back on campus without having to say a word.
The decision mirrored one he made before completing his junior year of high school. McAdoo could have reclassified and enrolled at Carolina for the 2010-11 season. He opted against it, partly because "it just didn't feel right."
He received confirmation that he did the right thing when he joined his classmates on a mission trip to Nicaragua, where no one looked at him as a basketball player, even though he towered over everyone.
"You go down on trips like that and you ... think you might be the one giving back to the people," McAdoo said. "But in the end, after like two weeks, I was definitely one that changed. It's an experience that I will never forget."
McAdoo said the school chosen to receive help was located next to a wasteland. People lived in shanties among heaps of trash. He helped hoist plastic tarps to shield them from the rain, handed out food, and "just tried to help where we could."
[+] Enlarge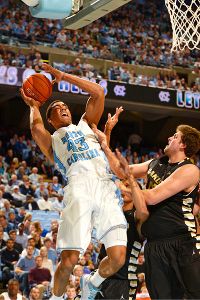 Bob Donnan/USA TODAY SportsJames Michael McAdoo scored 21 points in his 2013-14 debut against Oakland.
It's why McAdoo keeps his seasons at Carolina in perspective.
McAdoo admits that in his freshman year, he relied a little too much on his talent and didn't spend enough time cultivating it.
"Coming to college just as a regular student, there's already enough distractions," McAdoo said. "Being known by everybody and knowing that you're on the basketball team, you can lose sight of what got you here."
That led to McAdoo putting too much pressure on himself as a sophomore. It didn't help matters when he had to play center in a four-guard lineup. As a junior, he finally feels as if he's found his comfort zone.
UNC coach Roy Williams said McAdoo was a more "focused player than I've ever seen" during the offseason. It showed in the season opener against Oakland, when he led the team with 21 points and nine rebounds.
McAdoo still wants to fulfill that NBA dream, but he doesn't believe he's completed his purpose yet in Chapel Hill.
"I would have loved for our team to have won the national championship my freshman year, me to have balled out and be in the NBA right now making millions, but God had a different plan," McAdoo said. "So with that, I'm having a great time. Great teammates. I love my family. I've got nothing to complain about."
May, 30, 2012
5/30/12
10:00
AM ET
Nonconference scheduling is becoming more of a puzzle, what with the
increase in league games
and
some foes pushing for neutral sites
.
But one piece North Carolina coach Roy Williams is determined not to give up: hometown games for the Tar Heel basketball players who want them.
[+] Enlarge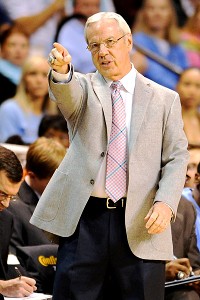 Ethan Miller/Getty ImagesRoy Williams says he still tries to make hometown games a priority when scheduling nonconference matchups.
"It's something we look forward to doing,'' Williams said earlier this week. "Different kids, it means more to. Sean May was really looking forward to going back to Indiana … but he was very disappointed in the reception he got there. And then you've got Tyler Hansbrough, we took him up to St. Louis, and he was really excited about it. And the reception he got was just off the charts.
"... People they grew up with, people in their families, friends, you can't always get tickets for everybody that you want, not even for home games. So I think playing it on the road and taking it into their area, there are people that are close to them from when they were younger that have a much better chance of getting to the game. It's always been important to me."
The UNC tradition of taking players back home began with coach Dean Smith, and Williams, an assistant on Smith's staff, continued it when he became head coach at Kansas.
Another complication in scheduling such games, however, has been the rise in players leaving early for the pros.
"I remember [when I was at Kansas] scheduling and playing in Oakland against Oregon," Williams said. "Looking around, that game was for Drew Gooden to take him back home, and all of a sudden, you couldn't find Gooden, because he was already in the NBA. So that's a little bit of the problem, too."
To try to get around that, Williams and UNC senior associate athletic director Larry Gallo have tried to schedule more "go home" games earlier in Tar Heels' careers. (The St. Louis trip took place during Hansbrough's sophomore season in 2006-07, for example; and the Tar Heels played at Evansville when Tyler Zeller was a junior in 2010-11.)
Players who grew up near ACC schools don't have special games scheduled because they're competing near home during conference play anyway. (Forward John Henson fit into this category, Williams said, since he moved to Tampa in high school, and the Tar Heels played at two Florida schools, Miami and Florida State, in league competition.)
And for some players, like Iowa native Harrison Barnes, a road trip back home isn't a priority. So hometown games aren't scheduled.
"There was no one that Harrison -- because we talked about it a few times -- there was no one that jumped out at him that he wanted to play,'' Williams said of Barnes, who left after his sophomore season and is expected to be one of four UNC first-round draft picks in June.
Added Gallo: "Coach Williams always talks to the individual player, asks what he wants, because he doesn't want to put undue pressure on him. He makes sure it's something the player wants to do."
Currently, there are no hometown games
scheduled for next season
. Williams said he has talked to redshirt junior Leslie McDonald about taking him back home to Memphis, and Williams has had some discussions with the Tigers, "but nothing is set in concrete."
Other possible future destinations, judging by the incoming freshman class, include Iowa (Marcus Paige) and Wisconsin (J.P. Tokoto). But keep in mind:
balancing the difficulty of the schedule
also factors into which teams UNC might try to play in those areas, and when.
"It is harder with more conference games and more national rivalries,'' Williams said. "... So you have less freedom than you've ever had on your schedule, and less flexibility than you've ever had. So it is getting harder, but I still do want to do it, there's no question.
"During the course of the recruiting process, we talk to our youngsters and see if that's something they would be interested in. ... And we will continue to do that. It's something I like to do."
Follow Robbi Pickeral on Twitter at @bylinerp.
December, 22, 2009
12/22/09
3:00
PM ET
Apparently it's "Former ACC Person You Hadn't Heard From In A While" day. First we had
Bobby Hurley and his equestrian liquidity issues
. Now it's Matt Doherty, the former North Carolina coach whose abject failure at UNC from 2001 to 2003 gave way to Roy Williams' tenure, which has been anything but.
Doherty is the subject of
a big reconciliation-type feature in the Charlotte News & Observer today
. And hey, it seems like he's doing OK.
His tiptoe back into the Carolina basketball family, he said, stems from a long-overdue heart-to-heart last September with Roy Williams - an assistant coach when Doherty was a player in from 1980-84, a mentor when Doherty served as his assistant coach at Kansas from 1992-99, and the man who ultimately replaced him in Chapel Hill when Doherty was given the boot with three years left on his contract.

Williams said Doherty has always been a talented coach and Tar Heel in his eyes.

[...] "There needed to be a conversation ... why did this person do this? Why did they say that? What was the timing of this, or did this conversation take place?" Doherty said last week. "We all need to learn how to forgive, and I was struggling with that. I wanted to forgive, but I think in order to forgive, there had to be a conversation first, so I could let go of that."
If there's anyone who can get UNC types to stop hating Matt Doherty -- and Matt Doherty to stop hating UNC types -- it's Roy Williams. He's like a big cuddly wool suit-wearing grandpa. And in the UNC "family" (which is what North Carolina people insist on calling their former players and coaches), when grandpa speaks, the family listens.
That said, it would have sucked to be Matt Doherty. He was somewhat rudely pushed out the door with hardly any of his original salary, and then two years later his insanely talented players (Sean May, Rashard McCants, Raymond Felton et. al.) went on to beat Illinois' one-loss team in the national championship game. That Doherty has seemingly let this go is a major emotional accomplishment. I would still be bitter. Wouldn't you?