College Basketball Nation:

Sean Woods
September, 4, 2013
9/04/13
10:45
AM ET
Editor's Note: Three legendary college basketball coaches -- Jerry Tarkanian, Rick Pitino and Guy Lewis -- take center stage this weekend as the trio is inducted into the Basketball Hall of Fame in Springfield, Mass. We'll be devoting a day to each as we examine what made them HOF-worthy. Here is Tuesday's tribute to Tarkanian.
Rick Pitino's march through college basketball history has been unusual in more ways than one.
[+] Enlarge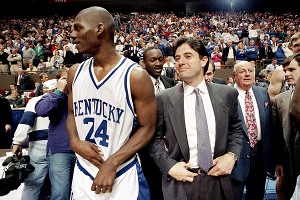 AP Photo/Ed ReinkeJamal Mashburn was not only one of Rick Pitino's best players, he anchored one of the most important teams in Kentucky basketball.
Unlike many of his Hall of Fame peers, who find their Valhalla and stay there until they retire, Pitino has been atypically restless. In 1983, he left Boston University, his first head-coaching gig, to be an assistant with the New York Knicks. In 1987, after just two years at Providence, he went back to Madison Square Garden as the head coach. In 1997, after a massively successful tenure at Kentucky -- a last-stop summit most coaches spend their entire lives fighting to scale -- Pitino left for the NBA again, this time to take over the Boston Celtics. His constant search for the next challenge has in some ways obscured the accomplishment; imagine how many career wins the guy would have if he'd been coaching college games uninterrupted since 1978. Imagine if he'd never left Kentucky. Yeah. Yikes.
The other unusual aspect to Pitino's legacy is that his best teams have always been ensemble casts. This is not to say Pitino hasn't coached some great players. He certainly has. But unlike, say, Jerry Tarkanian, whose best players
we ranked Tuesday
-- or Dean Smith, or Mike Krzyzewski, or John Wooden, or even Bob Knight, who had at least one individual talent (Isiah Thomas) as good as any in college hoops history -- Pitino's brightest stars have always existed less as centerpieces to be built around than cogs in variously terrifying machines.
This is impressive in and of itself, but how do you parse guys whose careers feel interdependent and inseparable? How do you distinguish between the best of those dominant mid-90s groups? Does anyone from the 2012-13 title team belong? Are Kentucky and Louisville fans going to argue about this list?
After no small amount of statistical research and mental haggling, I know the answer to exactly one of those questions. But hey, let's give this thing a shot anyway, shall we? My colleague Myron Medcalf
took a stab at it as well
. How did we do?
1. Jamal Mashburn, Kentucky
: On Tuesday, I wrote that Tarkanian's No. 1 player, Larry Johnson, was a lock at the top before my fingers even hit the keyboard. Pitino's No. 1 is not nearly as certain. Still, while Mashburn didn't win a national title like his successors on this list, he was as gifted and productive an individual talent as Pitino ever coached at the college level -- averaging 18.8 points, 7.8 rebounds, 2.2 assists and 1.6 steals while shooting 37.6 percent from 3 and 51.6 percent from the field in his three seasons at Kentucky. In 1992-93 -- one year after Kentucky's destined-to-be-replayed-forever loss to Christian Laettner and the Duke Blue Devils -- Mashburn averaged 21 points on 15.5 shots (and 8.4 rebounds) per game, and was rewarded with a First-Team All-American honor and the fourth overall pick in the NBA draft. He might not have been the world-devouring monster that Johnson was, at least relative to the rest of Pitino's talent, but I think he deserves the top nod.
2. Tony Delk, Kentucky
: And, having said all that, I would have absolutely no problem if you chose to rank Delk No. 1 instead, as Myron did. Delk's statistics (14.2 points, 3.5 rebounds, 1.6 assists, 1.6 steals) during his four-year UK career don't look as impressive as Mashburn's three-year run, but that's less a product of Delk's ability than the immensely balanced group of future pros he led to the national title in 1996. He might well have been the best player on that 1996 team; he was certainly its most important, an undisputed team leader that got a large group of future pros to coalesce around Pitino's desire to unleash all that talent in a concerted, balanced, full-court-pressing behemoth. Delk's defense (also something that doesn't show up much in old box scores) was truly fearsome, and his best performances came at the best times.
In that memorable 1995-96 season, he was the SEC Player of the Year, First Team All-American
and
the NCAA tournament's Most Outstanding Player, and his seven 3s in UK's 76-67 national title win over Syracuse ranks near the top of any of list of best all-time individual performances by a Wildcat. Given the program we're talking about, the team he played for and, frankly, the other 1996 first team All-Americans (which, get this: Allen Iverson, Kerry Kittles, Marcus Camby, Ray Allen), Delk's legacy in Lexington is deservedly sealed.
3. Antoine Walker, Kentucky
: Given Walker's future as a swaggering, shimmying, well-paid 3-point chuck, it's hard to grasp the fact that he shot just .188 percent from 3 in 1995-96 -- and attempted a mere 48 3-pointers in the first place. Even crazier? Despite that lowly figure, Walker finished the 1995-96 season with averages of 15.2 points and 8.4 rebounds per. Even crazier? Delk averaged 17.8, Walter McCarty averaged 11.3, Derek Anderson averaged 9.4, Ron Mercer averaged 8.0, Mark Pope averaged 7.6, Anthony Epps averaged 6.7 … I mean, has there ever been a deeper, more balanced national title team? The mind boggles, and now we're digressing again, and anyway: If Delk was the stoic senior leader, Walker (then a sophomore) was the young hotshot. Both were equally important to Pitino's first national title run.
4. Ron Mercer, Kentucky
: This is where things start to get a little bit hilarious with the mid-90s Wildcats: Ron Mercer a guy who would put up 18.1/5.3/2.4/1.7 averages as a First Team All-American in 1996-97 and go on to have a totally respectable, lengthy and profitable NBA career, was UK's fifth banana as a freshman in 1995-96. That's, like, borderline unfair. Mercer's excellence after the national title season helps elevate him in this list, and frankly only adds to the mystique involved with that 34-2 national title run.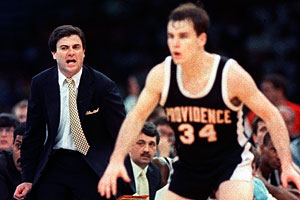 AP Photo/Susan RaganBilly Donovan averaged 15.1 points as a junior and 20.6 as a senior, when he led Providence to Rick Pitino's first Final Four.
5. Billy Donovan, Providence
: Before Madison Square Garden and the "Untouchables" and Larry Bird-is-not-walking-through-that-door, Rick Pitino was a rising, upstart young coach at Providence, where he inherited a program that went 11-20 one year before his arrival. Two years later, Pitino had them in the Final Four. How did
that
happen?
Donovan, who, like Providence's program in general, went from a non-entity before Pitino to a star under him. Some good timing helped: Donovan's senior year, 1986-87, was college basketball's first year with a 3-point line, which he exploited to the tune of 40.9 percent. The once-pudgy benchwarmer finished his magical senior season with crazy numbers -- 20.6 points, 7.1 assists, 3.0 rebounds, and 2.4 steals per game -- as well as an unlikely run to the Final Four, a fantastic nickname ("Billy the Kid") and a rest-is-history future in basketball waiting for him. Not bad for a couple years' work, eh?
6. Derek Anderson, Kentucky
: The 6-foot-5 guard's supporting role in 1995-96 might have been enough to get him on this list in the first place, but his breakout follow-up was cut short when an injury ending his season after just 19 games. And even so, Anderson made his mark, shooting 40.4 from 3 and 81.1 percent from the free throw line and averaging 17.7 points, 4.1 rebounds, 3.5 assists, and 1.9 steals. His overall Kentucky legacy could have been something even greater, but maybe it's even more impressive that he was able to accomplish so much in just a season and a half.
7. Sean Woods, Kentucky
: Younger fans might know Woods best from his unfortunate handling of one of his Morehead State players last November, or maybe for the criticism he took for his (prophetic-in-retrospect) blasting of the 2012-13 Wildcats' "sense of entitlement." But before all that, Woods was (and is) a Kentucky legend, part of the "Unforgettables" group that played through three years of Eddie Sutton-era sanctions, resurrected UK basketball in the process. His retired No. 11 hangs from the Rupp Arena rafters for good reason: In just 91 games, Woods handed out 482 assists -- fifth all-time at Kentucky, and the highest per-game average (5.3) of any Wildcat ever. Woods was nearly a March Madness legend, too. His 10-foot floater with 2.1 seconds left in overtime against Duke in the 1992 Elite Eight should have sealed the Unforgettables' Final Four bid. Instead, Laettner made The Shot, and Woods' magnificent performance became a historical footnote. Even so, it's impossible to understate just how important Woods' career was.
8. Russ Smith, Louisville
: What if I told you that the best and most important offensive player on a national title team -- one who posted a 108.9 offensive rating on 32.0 usage (11th-highest in the country), assisted on 21.1 percent of his possessions and drew 6.7 fouls per 40 minutes -- was also arguably the best defender in the country? What if I told you that this two-sided excellence caused a
reliable advanced statistical formula to rank him as the best player in the country
by a significant margin? What if I then told you that same player -- again, arguably the best offensive and defensive player for the team that won its last 16 games, the Big East regular-season and tournament titles, and the national championship -- wasn't even a second-team All-American?
The point is, understanding Smith's career is all about perspective. If the only time you saw Smith was
his disastrous five-OT performance at Notre Dame
and/or his not-much-better Final Four, you probably agreed with the voters who left him off their final All-American tallies. If you have watched Smith more intently, though, you've seen an occasionally frustrating but often brilliant player blossom into one of the nation's best. By the way: In the past two seasons, Smith has helped Louisville win two Big East tournament titles, gone to two Final Fours, and won the aforementioned national title -- and he still has one more season to add to his legacy. No joke: By the time 2013-14 is over, he could crack the top five of this list. Maybe higher. Frankly, I'm not sure he shouldn't be higher already.
9. Wayne Turner, Kentucky
: Another of those relatively unsung 1990s UK guys that were nonetheless really,
really
good (word to Anthony Epps, Jamaal Magloire and Travis Ford), Turner played in a then-record 151 total collegiate games for the Wildcats and finished his career with 494 career assists (fourth-most in school history) and 238 steals (No. 1 at UK all-time). Turner only played two seasons for Pitino before the Celtics came a'calling, but he was a major reason Pitino's then-revolutionary all-hands-on-deck full court pressure worked in the first place.
10. Francisco Garcia, Louisville
: Another classic Pitino player rounds out this list, and while I like that symbolic consistency, Garcia wouldn't be here were he not a very good collegiate player in his own right. As a sophomore at Louisville in 2003-04, Garcia averaged 16.4 points, 4.5 rebounds, 4.7 assists, 1.9 steals and 1.4 blocks; as a junior (his final season), he posted 15.7, 4.2, 3.9, 1.7, and 1.5, leading the Cardinals to their first Final Four in 17 years, which made Pitino the first coach to take three different programs to the Final Four. Like most of the players above, Garcia wasn't an obvious can't-miss pro prospect (though he has carved out a perfectly respectable NBA career), but rather a versatile, rangy, defensive-minded wing who did just about everything his coach asked of him when he took the floor.
If there's a unifying theme to this list -- beyond "the 1995-96 Kentucky Wildcats were awesome at basketball," that is -- it's that. Pitino's best players didn't always have elite pro pedigree. They didn't always wow you with one unstoppable skill. But they were almost always perfect for their coach and his system -- a testament to his ability to build cohesive, dominant basketball teams from a wide swath of unlikely parts.
In sum: Rick Pitino is really good at coaching basketball. You know, in case that wasn't already clear.
November, 22, 2012
11/22/12
5:00
AM ET
1. Sean Woods took Mississippi Valley State to the NCAA tournament. He chased a few different jobs before landing Morehead State when Donnie Tyndall left for Southern Miss. Woods had no problems working from the ground up to climb higher in coaching. And that's exactly why he can't afford to take a step back.
Woods' emotional challenge
to his own player,
Devon Atkinson
, during Wednesday night's loss at his alma mater, Kentucky, could go viral. He pushed Atkinson back toward the huddle then continued to get in Atkinson's grill, even after an assistant appeared to send Atkinson to the bench. Woods defended his actions in a text message late Wednesday night, saying, "Don't want to get into that. Just coaching my guys.'' He is trying to make a statement by getting his players to play harder and smarter. But Woods, like countless others, has to realize he's on a stage where the world can see every move. Woods is still representing a university. He's coaching a college student. And there are standards of decorum that must be adhered to. Woods doesn't need to reduce his intensity or his passion. He just needs to dial it down a notch when he is frustrated in a public forum.
2. Kansas State's current coaching staff has nothing but positive things to say about the previous staff, notably what Frank Martin did to take the Wildcats to the level of a consistent NCAA tournament contender. But the coaches did notice a different demeanor when they took over in the spring. Assistant coach Chris Lowery said players would drop their chins down when talking instead of looking at you in the eye. There was a sense of fear. But that apparently is gone. New head coach Bruce Weber is trying to instill a different approach. So far the players are buying.
Rodney McGruder
said, "Coach Weber is intense, but he just has a different way of delivering the message.'' Ultimately, the Wildcats will be judged on whether or not they can continue to be a Big 12 contender as they were under Martin. But there is a looser atmosphere around this crew.
3. The College of Charleston is in the final stages of agreeing to move to the Colonial Athletic Assocation from the Southern Conference, according to a CAA official. Charleston is being very deliberate in its process and will apparently deviate for nothing. The CAA is hoping Charleston can get to the league for the 2013-14 season, especially with the departures of Old Dominion and Georgia State next season.
November, 22, 2012
11/22/12
1:58
AM ET
By
ESPN.com staff
| ESPN.com
Andy Katz weighs in on the confrontation between Morehead State coach Sean Woods and senior point guard
Devon Atkinson
during Wednesday's loss to Kentucky.
November, 19, 2012
11/19/12
2:45
PM ET
Morehead State coach Sean Woods is a Kentucky basketball legend. Woods was a member of the "Unforgettables," a Wildcats squad that endured the aftermath of a major scandal that hit the program with a postseason ban until the 1991-92 season. That year, Woods and Co. reached the Elite Eight, where they were defeated by Duke via Christian Laettner's famous buzzer-beater.

Woods' jersey hangs from the rafters at Rupp Arena.
So how will Kentucky fans react to his criticism of the current Wildcats squad, a team his Eagles will face Wednesday?
Woods told the
Louisville Courier-Journal Monday
that the Wildcats had "a sense of entitlement" when he encountered some of the squad's players during a fundraiser for victims of Hurricane Sandy:
Morehead State University basketball coach Sean Woods said he will always be a University of Kentucky Wildcat at heart. But the former UK star was critical of the current crop of Wildcats.

Two days before Morehead will travel to Rupp Arena, Woods had some somewhat harsh words about UK's players. He said he encountered some of the Wildcats while participating in the UK telethon at WKYT in Lexington earlier this month to raise funds to benefit the victims of Superstorm Sandy.

Woods said he didn't like "the vibe" and sensed a feeling of entitlement.

"These kids don't know anything," the Indianapolis native said. "I'll bet you any type of money that besides the kids from Kentucky that are on UK's team, they couldn't tell you anything about one player in the history of Kentucky basketball. When I walked in the door (as a UK freshman) I knew about every player."
Less than an hour after the story was published, however, Woods backpedaled via Twitter (@SeanWoodsMSU) with the following tweets:
"In no way were my comments meant to offend or insult the current players at UK. Simply an observation of today's youth everywhere."

"I greatly admire Coach Cal and what he has done for the University of Kentucky and college basketball."

"I will always be proud to have worn a Kentucky Wildcat uniform and to be the head coach at Morehead State University."
Perhaps Woods will get a pass based on his standing with the program and subsequent comments about his alma mater in the Twittersphere.
But the pregame dialogue intensified the buildup, if any previously existed, to Wednesday's game.
It doesn't appear, however, that Woods was speaking as an opposing coach as much as he was offering his perspective as a former Kentucky star. One of those uncle-nephew moments. It seems as if his greatest concern was with the current players' sense of history.
Based on freshman
Willie Cauley-Stein's thoughts on Laettner
and his game-winning shot in 1992, he might have a point.
November, 10, 2012
11/10/12
12:58
AM ET
Finally, college basketball is here. The 2012-13 season kicked off Friday with some great finishes, high drama and even a pair of cancellations. More on those later.
Here's a snapshot of the action from Friday night:


Connecticut 66, No. 14 Michigan State 62:
The pageantry surrounding college basketball's opening-day matchup in Europe elevated the first high-profile game of the 2012-13 season. MSU and UConn played at Ramstein Air Base in Germany, home to more than 17,000 servicemen. A year after kicking off the season by playing basketball on a ship, college basketball's creative minds raised the bar by sending a pair of perennial powerhouse programs overseas. (You know we're about five years away from a "Let's play on the moon" conversation.)
The Spartans and Huskies entered this game under different circumstances. Michigan State lost former All-American Draymond Green but regrouped with a talented recruiting class and returning standouts such as
Keith Appling
and
Derrick Nix
. Connecticut was banned from postseason play due to subpar Academic Progress Rate scores during the offseason. Then, Jim Calhoun retired and left the program to Kevin Ollie, who has essentially been given seven months to prove that he's worthy of a long-term contract. They can't compete for the national title, so what's their motivation?
And yet, the Huskies played like a determined squad and the Spartans looked flat, going 13-for-33 from the field in the first half. They committed eight turnovers. The Huskies exploited the opening and took a 34-18 lead with 7:46 remaining in the first half after making 11 of their first 12 shots. Michigan State chipped at the deficit and eventually took a lead in the closing minutes.
But the Spartans couldn't overcome their 15 turnovers or the production of
Ryan Boatright
and
Shabazz Napier
(14-for-28 and 38 points combined). That backcourt duo will challenge any defense. It's not doomsday for the Spartans, who lost their first two matchups in 2011-12 but finished the year with 29 wins. They clearly need more time to develop chemistry. The game means much more for UConn. The Huskies competed like a team that's still focused, despite its situation. Ollie's "10 toes in" philosophy worked Friday. The Huskies came to play in Germany.


No. 3 Kentucky 72, Maryland 69:
Earlier this week, former Xavier standout
Dez Wells
was cleared to play after the NCAA reversed its decision on his initial eligibility. Wells was expelled from Xavier following sexual assault allegations and transferred to Maryland. He lost his first waiver request but won an appeal. That decision enhanced the buzz leading up to Maryland's matchup against the defending national champions at the Barclays Center in Brooklyn, N.Y.
Here's the thing. Wildcats coach John Calipari has found success year-after-after with the same formula. He convinces multiple high-level prospects to compete together. They play good defense and score at will. That's why he's achieved so much during his time at Kentucky. The group he's assembled for 2012-13 is very similar to past teams he's assembled at Kentucky. They're young but dangerous and deep. Former walk-on
Jarrod Polson
scored 10 points and came up with a crucial steal and big free throws down the stretch. The Wildcats seem to have it all. Again.
With
Nerlens Noel
's shot-blocking (three swats),
Kyle Wiltjer
's 3-pointers and
Archie Goodwin
's penetration (16 points), the Wildcats amassed a 53-38 lead midway through the second half (Maryland started the game 2-for-11). Game. Set. Match. Nope.
Maryland bounced back with a 15-0 run that suggested it's not going to be a pushover in the ACC.
Alex Len
looked like a lottery pick (23 points, 12 rebounds). Wells (2-for-12), however, struggled. But the Terrapins were tougher than Kentucky (23-12 edge in offensive rebounds). And there multiple moments when the Wildcats looked like a young, inexperienced team. But they were mature enough to hold on for the win. Kentucky led 70-69 with 7.7 seconds to play before Polson hit two free throws. Maryland's
Pe'Shon Howard
missed a 3-pointer at the buzzer. Nice game. Jay-Z should be proud.
Here's what we learned: Len and Wiltjer are stars. Their respective teams will count on their continued production all year. And if they produce at a level comparable to their efforts on Friday, then both programs will thrive. Len takes a lot of pressure off his teammates with his effectiveness inside. Wiltjer is 6-foot-10 with range (4-for-6 from 3-point-line line). How do you guard that?
The aircraft-carrier cancellations:
Games on boats make a lot of sense. Until they don't. This year's Carrier Classic between Ohio State and Marquette seemed like a great idea. Michigan State and North Carolina started the 2011-12 season on a ship. Why not do it again? And why stop at one ship? The Marquette-Ohio State matchup on the USS Yorktown in Charleston, S.C., was one of a handful of scheduled games on watercrafts.
[+] Enlarge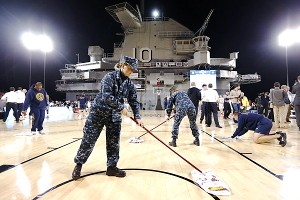 AP Photo/Mic SmithCondensation on the court aboard the USS Yorktown made things unsafe for Ohio State and Marquette.
But a condensation problem turned the court into an ice rink. The chaotic scene played out on NBC Sports Network as players, coaches and servicemen used towels to dry the floor. But they couldn't stop the moisture from resurfacing. Citing the potential safety risk, game officials ultimately canceled the game. It will not be rescheduled.
It was an important matchup for both squads. There are major questions for each team. Marquette lost so much talent from last season and earlier this week,
Todd Mayo
was deemed academically ineligible. Ohio State was set to compete for the first time with a new nucleus sans Jared Sullinger and William Buford. But now they'll both wait to play their first games of the year on Sunday, when Marquette plays Colgate and Ohio State faces Albany.
And that was just the first game of the night that was canceled due to condensation. Georgetown's matchup against No. 10 Florida was called after halftime (the Gators led 27-23) because game officials had similar issues with a slippery floor aboard the USS Bataan in Jacksonville, Fla.
We might have just witnessed the end of the game-on-a-ship era. So if you like outdoor basketball, make sure to savor Syracuse-San Diego State on Sunday.
A few more observations from games that actually did happen on Friday ...
September, 28, 2012
9/28/12
12:10
PM ET
Although he wasn't born in the state of Kentucky, Sean Woods feels like he's at home.
The new Morehead State coach is just a short drive from Lexington, where he starred at Kentucky as a member of a crew coined "The Unforgettables." His jersey hangs from the rafters in Rupp Arena, recognition for Woods' efforts in the program's improbable run to the Elite Eight in 1992.
His mother's family lives in Lexington. His wife is a Kentucky native.
"Well, it helps tremendously because now you have a familiarity. When we were in Mississippi, we didn't know anyone," Woods, who led Mississippi Valley State to the NCAA tournament last season, told ESPN.com. "Here, we have familiarity. We're 40 minutes from Lexington. My wife is from Lexington. The whole side of my Mom's family is from Lexington. So it's somewhat home for the most part."
But that alone didn't appeal to Woods.
Beyond a pay raise, Woods wanted support and resources.
That's not an unreasonable request for any coach entering a new position but few rivaled the destitution he endured at Mississippi Valley State.
He once practiced at a middle school, as MVSU officials tried to gather the funds to fix a leak in the roof above their home floor. It was a 20-minute drive from the school and sometimes, the team had to wait for the preteens to clear the gym before they were allowed to use it.
His former program didn't play its first home game last year until Jan. 3 because the school needed the team to travel and collect checks -- those road matchups accounted for nearly 20 percent of the school's athletic budget -- from BCS schools.
"You know, because you've got to raise so much money, you're going to lose 10, 11 straight basketball games before your conference season starts," he said. "That's tough."
And kids struggled in the classroom, Woods said, due to the school's limited academic assistance for athletes. Mississippi Valley State is banned from the 2012-13 postseason due to low APR scores.
"I only did the best I could. When there's no money for academic resources, how can you be successful as far APR is concerned?" he said. "We didn't have any study halls, we had no tutorial services. We had no academic advisers. We had nothing. And there was no sense of urgency with that. And that was another reason I wanted to leave. I loved the place, some of the people who were there, but [the] priorities as far as academics [were] concerned, especially with athletics, were not there."
Woods said Morehead State athletic director Brian Hutchinson's commitment and support sold him on the opportunity. Former Morehead State coach Donnie Tyndall, who left for Southern Miss after last season, led the Eagles to the NCAA tournament in 2009 and 2011. He also groomed a young Kenneth Faried, now a standout with the Denver Nuggets, during his time at Morehead State.
Woods said he's focused on adding another chapter to what Tyndall started.
"I have an athletic director and administration that wants to win, winning is important and they're going to do whatever they can in their power to help me be successful," Woods said.
Belmont is in the Ohio Valley Conference now. Powerhouse Murray State is led by All-America guard
Isaiah Canaan
. Tennessee State returns the core of a roster that won 20 games last season.
Morehead State returns forward
Drew Kelly
(10.2 ppg). But Woods will also have to rely on some new faces. Last month, he added
Bakari Turner
, a junior college All-American last season.
That addition should help. But Woods recognizes the broad challenges he'll face in a tough conference. And he's not intimidated by them because he's encountered more dire obstacles in the past.
"I had success at Mississippi Valley," Woods said. "I went to a place that was at the bottom of the echelon as far as resources and money and [Morehead State] saw that I'm a go-getter and I create excitement wherever I go. And I'm a winner."
April, 23, 2012
4/23/12
5:00
AM ET
1. Mississippi Valley State coach Sean Woods is one of a handful of coaches vying for the Southern Miss job, beginning with an in-person interview Monday. The others reportedly in the mix are Larry Eustachy's Southern Miss assistant Steve Barnes, Middle Tennessee's Kermit Davis, former Nebraska coach Doc Sadler, Wichita State assistant Greg Heiar, and UTEP coach Tim Floyd. If USM, which is also hiring an athletic director doesn't bump up Barnes to replace Eustachy (who left for Colorado State) then Woods should be given a serious look as the choice. Woods did a remarkable job at one of the toughest places to win. He steadily increased his win total from seven to nine to 13 to 21 this past season, going 17-1 in the SWAC. Woods and Sadler are both interviewing Monday.

2. Illinois State coach Tim Jankovich was recruiting with a host of other coaches in Minnesota over the weekend. He still hadn't been told if he's the coach-in-waiting at SMU. It has reached a point where something better happen soon or Jankovich is going to stay put and continue to coach a Redbirds team that has a chance to win the Missouri Valley next season.

3. The Atlantic 10 still may add VCU and George Mason, along with Butler, to get to 16 schools now that Temple is off to the Big East in 2013. But no one from any of the schools or conferences are indicating an imminent departure. VCU athletic director Norwood Teague, fresh off a trip to Europe, said Sunday that there is movement going on and that everyone is simply in evaluation mode. A-10 commissioner Bernadette McGlade and CAA commissioner Tom Yeager both said Friday there was no truth about a done deal for VCU and Mason to leave. Yeager better hope that's true. The CAA can't afford to lose these two Final Four programs. The A-10 would have a chance to elevate itself to being considered a power basketball conference if it pulled off this move.