College Basketball Nation:

Season of Change
November, 8, 2013
11/08/13
9:30
AM ET
Now that you know what you need to watch in every conference in the country in 2013-14, we've turned our attention to the theme of change -- from coaching swaps to player development to good old-fashioned rules, and anywhere in between. Today: What the Big Ten learned from 50 years of Final Fours.
When Big Ten commissioner Jim Delany sat down for his customary media day news conference Oct. 31, it was fair to expect the usual discussion: conference realignment, NCAA restructuring, the state of college sports on television and so on. Those are the issues Delany is usually asked about, and rightfully so. With the Big Ten Network and his push for cost-of-attendance scholarships, Delany has done more to change college athletics than anyone in the past decade. Usually, reporters want to talk about these things.
[+] Enlarge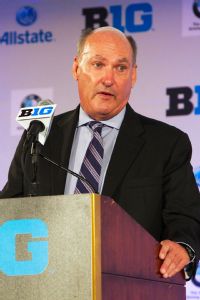 AP Photo/Ting Shen/Triple Play New MediaBig Ten commissioner Jim Delany has a team studying patterns of past Final Fours.
Thursday's presser wasn't nearly as boring as that.
It wasn't that Delany didn't talk about the latest in NCAA existential crisis theater. He fairly candidly spoke about the Big Ten's (and other large conferences') role in intercollegiate restructuring and about the challenge of getting hundreds of non-high-major schools to agree to lay down arms for the ostensible benefit of many.
But far more interesting -- at least to those of us who are more interested in actual basketball than palace intrigue -- was the discussion about what happens on the floor and what Delany and his team learned from 50 years of Final Fours.
As the commissioner explained, while the NCAA may have a rules committee, it doesn't really have a competition committee -- a body not only to devise rules but also to step back and observe the way they affect the product. Naturally, the Big Ten is interested in providing an entertaining product, and just as interested in scaling that product throughout Division I.
So five years ago, Delany helped form a group of college basketball analysts, coaches and administrators and tasked them with that exact mission. The group has no legislative authority, but it does have a deep database and, as Delany said, "a lot of interaction with the rules committee."
Most recently, the group commissioned a comprehensive study of every Final Four game dating back to 1950. The goal? To understand long-term trends in the game, plot them alongside rules changes and draw some reasonable inference about the way the game has evolved and what the people in charge of it can do to make it better.
Besides being a hoops nerd's fever dream (I must have these tapes), one of the group's findings was immediately relevant to the 2013-14 season and its new NCAA-approved contact rules. As media members and coaches collectively fret about the contact crackdown and the free throw wackiness that may ensue, Delany presented findings that were simultaneously comforting and concerning.
"There are a lot of things that have changed over time, but there was one data point that over 60 years hasn't changed that much," Delany said. "That was the average number of fouls per team per game. It's vacillated between 18.5 and 19.5. And whenever you start getting up to 25 or 30 fouls a game, media turns off, fans turn off, coaches get upset.
"The game must have something in it rhythmically that allows for a certain amount of stoppage," Delany added. "Beyond that, you start getting funny reactions."
Therein lies the proverbial rub. This season, NCAA officials will be making a concerted, coordinated effort to enforce rules designed to make the game more open and more entertaining long-term -- more frequently decided by skill than by sheer physical strength. This is undeniably a good thing.
The problem? To get there, it is entirely possible officials will have to call a lot of fouls, particularly early in the season. This isn't guaranteed -- for every preseason horror story, there is one of players adjusting to the new rules with no problems -- but it could happen. Many coaches, even those in favor of the push, are openly dreading that possibility.
Such is the quandary at hand. For college basketball to get more entertaining in years to come, it may have to be less entertaining in the weeks ahead. Too many "funny reactions" to too many November fouls could doom a worthy effort before it has a chance to do its work. Change is never easy.
November, 7, 2013
11/07/13
9:30
AM ET
Now that you know what you need to watch in every conference in the country in 2013-14, we turn our attention to the theme of change -- from coaching swaps to player development to good old-fashioned rules, and anywhere in between. Today: The regular season matters more than ever before.
Next Tuesday night, arguably the best November event in at least a decade -- best four teams, highest-profile matchups, most lasting intrigue, however you want to define "best," really -- will unfold at the United Center in Chicago. The Champions Classic, a rotating four-game series between Duke, Kansas, Michigan State and Kentucky, is part of the ESPN Tip-Off Marathon. Both were conjured for one reason: To alleviate college basketball's Regular Season Problem.
[+] Enlarge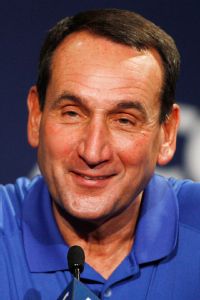 AP Photo/Nell RedmondMike Krzyzewski and Duke are part of The Champions Classic, an event that is big on so many levels.
The Regular Season Problem was, for years, college basketball's biggest. The downside of producing one of the world's most culturally dominant, and inclusive, postseasons is that people can tend to ignore what comes before it. The tournament selection committee didn't help: For years, it codified and prioritized a team's performance in its last 12 games over all others.
The result was the Regular Season Problem. Sure, games started in November. But who cared? Why would they? Jump in in February, the committee said, and you'll be caught up.
The committee did away with that rule a few years back, and the rest of the sport got the memo. Our mother network helped lead the way, and the Champions Classic put up a marquee event, but it was the removal of the last 12 games as a determinative (as opposed to secondary) selection consideration that truly brought change.
Perhaps the most misunderstood thing about college basketball is that the size of the NCAA tournament field nullifies the regular season. Every game from November to mid-March now matters not only to the teams directly involved but to their opponents, and their opponents' opponents. The effect of every win or loss bounces outward dozens, or even hundreds, of times.
These effects are hard to notice. But they add up, one tile beside another, until each season's mosaic comes into greater focus. And then it's March, and everyone's sweating out their seeds or their selections or both, and those two ugly losses in November that weren't supposed to "matter" loom very large indeed.
Thank goodness. November used to be so boring.
November, 6, 2013
11/06/13
9:30
AM ET
Now that you know what you need to watch in every conference in the country in 2013-14, we've turned our attention to the theme of change -- from coaching swaps to player development to good old-fashioned rules, and anywhere in between. Today: Bill Self's sudden youth movement.
For starters, let's get this out of the way: Bill Self's success at Kansas is remarkable -- period, that's it, sentence over, the end. Self's Jayhawks have now won or shared nine consecutive Big 12 regular-season titles, a streak that would be crazy in a top-heavy mid-major league but is utterly jaw-dropping in a league like the Big 12. He has won more back-to-back regular-season Big 12 titles than he has lost home games at Allen Fieldhouse. And no, I have no problem doubling down on that stat. It's completely insane.
[+] Enlarge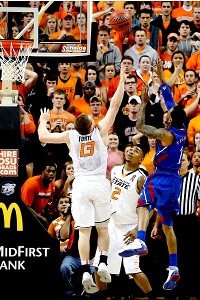 AP Photo/Sue OgrockiJunior point guard Naadir Tharpe is one of the few veterans on a Kansas team dominated by freshmen.
Just as impressive is how Self has gone about this unparalleled run of conference success: By building a program even the most old-school, anti-one-and-done hard-liners could love.
To dig into the past decade of Kansas rosters is to gaze upon the glories of personnel development. Every season, Self's teams have been a combination of talented youngsters, promising stars and reliable, program-sculpted veterans; every season, players from one group slowly move into the other.
In 2008, when Kansas won a national title, Sherron Collins played 50.2 percent of the Jayhawks' available minutes; in 2009, he was the team's leading scorer. That season, sophomore Cole Aldrich anchored the low block; Marcus and Markieff Morris served as understudies. In 2010, Marcus Morris earned a starting role at power forward alongside Collins, Aldrich, and rare one-and-done freshman Xavier Henry. In 2011, all three players left, and the Morris twins were backed up by an intriguing sophomore named Thomas Robinson. In 2012, after the Morris twins departed, Robinson morphed into a national player of the year candidate, and little-used three-year center Jeff Withey assumed the other frontcourt role. Last season, Withey was the stalwart on the low block, senior forward Kevin Young jumped from playing 27.6 percent of his team's available minutes to starting and seniors Travis Releford and Elijah Johnson joined lottery pick freshman Ben McLemore in the backcourt.
And so on. This is the single defining characteristic of Self's tenure: He has built lineups in the classical style -- developing players from clueless freshmen into All-American-level veterans while adding a dash of raw talent along the way. Every season, his teams are extremely good because every season there's another guy finally ready to make the most of his shot.
Every season, that is, except this one.
It is entirely possible Self has assembled his most purely talented group this season. There's some kid named Andrew Wiggins, and maybe you've heard of him, but there's also Wayne Selden, Joel Embiid, Perry Ellis, Conner Frankamp and Jamari Traylor. Are all of these players good? Yes. Are any of them seniors? No. Well, OK, but are any of them juniors? Also no!
Self has three upperclassmen on his team. They are point guard Naadir Tharpe (who earned his first major, and often shaky, run last season), forward Tarik Black (a graduate-exception transfer from Memphis who arrived in Lawrence just a few months ago) and Justin Wesley (a barely-used redshirt senior). That's it.
Which is what makes this such a completely fascinating season for Kansas beyond the Wigginsanity. For the first team since 2007, Self is coaching a team whose best players are freshmen, whose most reliable returning player (Ellis) is a sophomore, whose lone key senior spent the last three years 500 miles to the east, whose junior point guard remains an open question.
It's a good thing Wiggins and Selden and everyone else are so talented. They better be quick studies. Self Basketball 101 is usually a multiyear course. The advanced seminar is a matter of weeks.
November, 5, 2013
11/05/13
9:30
AM ET
Now that you know what you need to watch in every conference in the country in 2013-14, we turn our attention to the theme of change -- from coaching swaps to player development to good old-fashioned rules and anywhere in between. Today: Can John Beilein change again? Does he need to?
Before last season, John Beilein was not a man accustomed to playing with superior talent.
Beilein built his career like he builds his offenses: methodically, intelligently and, most of all, uniquely. He has never been an assistant coach; his coaching career has included stops in high school (Newfane), community college (Erie CC), NAIA (Nazareth), Division II (LeMoyne) and the mid-major ranks (Canisius, Richmond); and he got to West Virginia and then Michigan because he found a way to consistently exploit inefficiencies in the talent market. Beilein didn't coach national players of the year and the progeny of household-name NBA veterans. He coached Mike Gansey and Kevin Pittsnogle.
[+] Enlarge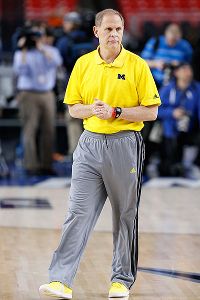 Kevin C. Cox/Getty ImagesJohn Beilein might change things up a little , but don't expect him to deviate too far from a playbook that got Michigan to the Final Four.
Last October, though, Beilein was confronted with a startling fact. With
Trey Burke
,
Glenn Robinson III
,
Tim Hardaway Jr.
and
Mitch McGary
, he had as much pure talent as any coach in the country. His trademark two-guard front offense and 1-3-1 zone -- both designed to minimize athletic disadvantages early in his career -- weren't as necessary with Burke running the show. So he adapted. He ran clear-outs for Burke and let him create his own shot. He ran conventional pick-and-roll. He encouraged his teams to run. The
Wolverines even practiced lobs
.
Now Burke and Hardaway are in the NBA. McGary, named a preseason AP All-American Monday, and Robinson, a multitalented wing hungry for more than a purely athletic role, are set to take a lead role. And so the question is whether Beilein can tweak his formula for maximum offensive output again … or whether he even needs to in the first place.
He isn't convinced by the premise.
"I don't think there was ever a drastic change," Beilein said. "There was a general migration of subtle changes over time. We're going to do something 30 percent of the time X number of years ago, then it was 40 and 50 percent of the time.
"And then last year, we have a player of the year, so we're going to try to get the ball in his hands as much as possible. I don't think there's a drastic change back [this year] as well, but those things could drop 20 to 30 percent in either direction."
It's true Beilein never made a total overhaul. He still played the two-guard last year. Burke and Hardaway's perimeter playmaking and the lights-out stroke of freshman guard Nik Stauskas suited those two-guard sets just fine; the Wolverines still got plenty of corner 3s out of those pesky baseline drives. (Freshman point guard Spike Albrecht, a classic unheralded and largely unrecruited Beilein find, was born to play "pure" two-guard, if there is such a thing. The kid throws a wicked baseline bounce pass.)
But it's also true that Beilein wasn't running the same stuff he ran at West Virginia nearly as often. On offense, he cleared out for Burke far more than ever before, and he had viable post options in McGary, Jordan Morgan, and Jon Horford -- a weakness of previous teams, even at Michigan. (With all due respect to Zak Novak, naturally.)
Still, without Burke, some change will have to be in order. So what will it be? More pure post-ups for McGary? Clear-outs for Robinson? Iso offense?! Say it ain't so!
"The biggest question is, what do you do at shot-clock time?" Beilein said. "Do you have shot-clock plays that could go anywhere? [With] 12 seconds, [do you have] five different looks? Or trusting one person? I think that will work itself out as the year goes on."
In other words: It ain't so. Michigan might tweak, and Beilein might tinker, but the things that got him from Newfane to the national title game are still firmly in the playbook. And why not?
November, 1, 2013
11/01/13
8:10
PM ET
Now that you know what you need to watch in every conference in the country in 2013-14, we turn our attention to the theme of change -- from coaching swaps to player development to good old-fashioned rules, and anywhere in between. We call it "Season of Change." Today: John Calipari's dormant dribble-drive motion is ready to re-take the stage.
Before, when John Calipari was still turning Memphis into an annual national title contender, he earned a weird, paradoxical reputation: To casual fans (or "haters"), Calipari was just some clever salesman who recruited talented players and rolled the balls out. In reality, the offensive system that reinforced this reputation -- the freedom-based, talent-reliant, dribble-drive motion offense adapted in the mid-aughts from then-obscure junior college coach Vance Walberg -- was totally, radically innovative. Calipari, as usual, was years ahead of his time.
And now it's back.
Calipari brought the dribble-drive to Kentucky, of course, but he never has leaned on it the way he did at Memphis. (Calipari's adaption of Walberg's system was less radical than Walberg's itself in the first place; Calipari added the "motion" himself.) The John Wall-Eric Bledsoe-Demarcus Cousins-Patric Patterson group had the right two-guard perimeter to pull it off (and often did) but was just as often better served simply banging the ball down low. The next season, with Brandon Knight at the helm, Calipari worked in even more of his traditional (both for him and for his profession) motion offense. In 2011-12, the national champs blended some of the spacing and penetration principles of the dribble-drive (as did last year's less successful edition), but just as often relied on more conventional pin-downs and high screens.
This season, though, Calipari has steadfastly promised more dribble-drive, for two very good reasons:
He has the best talent in the country.

He has the most dribble-drive-ready talent he's ever had at UK.
You can read more about the actual system all over the Internet, naturally; wonky primers are available
here
and
here
. In sum, the system relies on spacing two point guards or combo guards at the top, with two athletic shooters/wings in the corners, and a dominating, skilled presence on the low block.
[+] Enlarge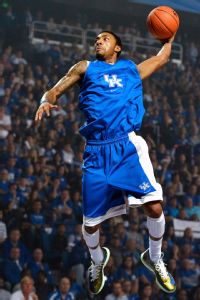 AP Photo/Timothy D. EasleyWith Kentucky playing more dribble-drive, James Young should thrive on baseline cuts to the rim.
Calipari's backcourt,
Aaron
and
Andrew Harrison
, were practically born to play dribble-drive; both are strong, physical guards who excel at getting to the front of the rim. Wing
James Young
-- an athletic, 6-foot-7 forward with a sweet left-handed shot -- will be an absolute terror out of the corner; I can already picture him blowing by late closeouts.
Alex Poythress
can do similar things out of the opposite corner.
That group alone is frightening to conceive. The interesting part is the frontcourt, and how Calipari ends up balancing minutes for Poythress,
Willie Cauley-Stein
, freshman center
Dakari Johnson
, and preseason SEC POY
Julius Randle
. Calipari has been putting Randle at the free-throw line for many of his possessions in practice, which provides an interesting wrinkle; Calipari probably will play Cauley-Stein and Randle together pretty frequently.
The more conventional motion wrinkles Calipari has run in recent seasons still will be present, dependent on the personnel on the floor at any given time. But with all of that skill and all of that length and all of those options, Calipari can open things up, spread his lineups out and give his players freedom to simply be
better
than their opponents -- which is exactly what the dribble-drive is designed to do.
It won't be Walberg's system in toto; it won't even be Walberg's system distilled. But what UK does in 2013-14 will be more dribble-drive-oriented than at any time in Calipari's years in Lexington. For opponents, this should be terrifying. For the rest of us, it sounds like a
lot
of fun to watch.
October, 31, 2013
10/31/13
10:00
AM ET
Now that you know what you need to watch in every conference in the country in 2013-14, we turn our attention to the theme of change -- from coaching swaps to player development to good old-fashioned rules, and anywhere in between. Today: How does Marcus Smart get better?
It's hard to remember now, and for good reason: His freshman season lifted Oklahoma State out of its NIT doldrums, his return to college basketball was universally celebrated, USA Basketball made him the lone non-NBA player to receive an invite to team USA minicamp in July, and his own coach, Travis Ford, is running short on new ways to praise.
[+] Enlarge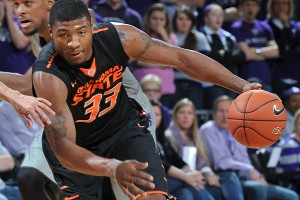 Peter G. Aiken/Getty ImagesIf Oklahoma State's Marcus Smart added the ability to knock down 3s to his already impressive ability to drive the lane, well, that's a scary thought for defenders across the nation.
But as removed as it may seem, it wasn't so long ago that
Marcus Smart
's supremacy was a matter of some debate.
It was January, to be more precise. Smart, despite making Oklahoma State demonstrably better (particularly on the defensive end), was struggling from the field just as demonstrably. As of Dec. 6, he'd made just 45 percent of his 2s and 23 percent of his 3s. ESPN Insider's John Gasaway, in his first edition of his 2012-13 freshman rankings, listed Smart 14th. Sporting News Hall of Famer Mike DeCourcy (among many others) found said ranking to be laughable, and said so; DeCourcy had Smart as the best player in the country freshman or otherwise to that point because of all the things the statistics didn't say. The debate had all the makings of a knock-down, drag-out analytics v. eyeballs slobberknocker. The Court of Ken Tremendous nearly called an unprecedented emergency session.
That conflict was ultimately avoided. Smart's shooting crept into far more respectable territory, Oklahoma State kept winning, and everyone could officially agree to something they had already agreed upon in the first place -- that Marcus Smart was good at basketball.
That example isn't just a fond trip down memory lane. It's actually a helpful reference point. Because while everyone is rightly singing Smart's praises in advance of what promises to be a monster sophomore season, it's worth nothing that Smart has a chance to be not just a devastating defender and lauded leader of men, but a legitimately frightening offensive player too, provided he can do the one thing that held his individual play back last season: shoot.
Smart didn't shoot 23 percent from 3 for the whole season, for example, but his final tally -- 29 percent, or 38 of his 131 3s, which somehow looks worse when you spell it out -- wasn't particularly flattering. Nor was Smart's 46.5 percent mark from inside the arc. Smart drew enough fouls last season, and dished enough assists, to post a 102.2 offensive rating by the end of the year, but his 21.1 percent turnover rate combined with the poor shooting to keep what was otherwise a peerless freshman year from being an exquisite one.
I'm not as worried about the turnovers, and anyway, ballhandling (as a discrete skill) is much more difficult to improve on a year-over-year basis than shooting. Slightly tweaked mechanics and sheer workout repetition -- or even the former without the latter -- can produce better, smoother, more confident perimeter shooting. In July, Ford told the Oklahoman that was his biggest emphasis to his star point guard this offseason, that Smart had "really worked on it." Given the already legendary stories about Smart's work ethic, it is safe to assume he has shot somewhere in the neighborhood of 10 million 3s this summer.
Which presents the Big 12 with a frightening prospect: A Marcus Smart who is not only a big, physical point guard, an immensely smart player who stomps through the lane and draws contact and rebounds and forces a ton of steals and makes his teammates better in every regard … but one who can do all of those things and then force you to worry he's going to step back and hit a 3. What do you even do against that? Is there anything to do?
I hope Marcus Smart doesn't change a thing, save the one, because I would very much like to find out the answer.
October, 30, 2013
10/30/13
5:45
PM ET
Now that you know what you need to watch in every conference in the country in 2013-14, we turn our attention to the theme of change -- from coaching swaps to player development to good old-fashioned rules, and anywhere in between -- in a series we're calling Season of Change. Today: Why would Wichita State change now?
CHICAGO -- A school's first trip to the Final Four in nearly 50 years is supposed to change things, and
not just enrollment
. It's supposed to make a coach a household name, a well-compensated new hire or both. It's supposed to vault players to NBA stardom. It's supposed to make preseason stars of key returners. It's supposed to "legitimize" a program, make it a national "brand" and flood this great nation's mall kiosks with officially licensed colorways.
[+] Enlarge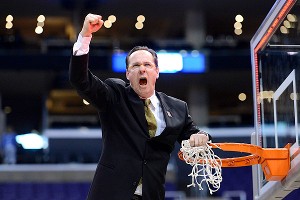 Harry How/Getty ImagesWichita State coach Gregg Marshall says his team won't change the way it plays despite the success of reaching the Final Four.
"Supposed to" doesn't apply to Wichita State. It certainly doesn't apply to coach Gregg Marshall, who has turned down a wide array of elite high-major jobs in the past two seasons (including UCLA last spring) in favor of enjoying what he has explained to anyone who will listen is a "good life" in Wichita.
Here's the spoiler alert of Missouri Valley Conference media day 2013: "Supposed to" won't apply to the Shockers on the court any time soon either.
"I've been doing this for 15 years; this is my 16th year as a head coach," Marshall said. "We've won a lot of games, and we're not going to change."
A wandering eye could find reasons for at least some evolution. Along with Malcolm Armstead, Demetric Williams and 7-foot reserve center Ehimen Orukpe, Wichita State lost forward Carl Hall -- a dominating offensive rebounder and physical force crucial to the Shockers' identity on both ends of the floor last season -- to graduation. Marshall has three forwards arriving (one freshman,
Shaquille Morris
, and two junior college transfers,
Earl Watson
and
Darius Carter
) to help pick up the slack. But his best ostensible frontcourt player, star 6-8 wing
Cleanthony Early
, is good enough to tempt any coach to spread the floor, play smaller and faster, and stretch defenses to the breaking point. Early is good enough, in other words, to make a coach feel experimental.
Not Marshall. There are plenty of things Early has been tasked with improving this offseason -- such as maintaining his emotions, better outside shooting and avoiding silly fouls -- but they are all iterations on an already successful formula.
Instead, Marshall plans to hew things that made last season's Shockers such a tough March out and made his previous group, a No. 5-seeded 2011-12 team that won 29 games and graduated five senior starters
prior
to last season's success, every bit as consistent.
The rule changes, though, might force Marshall's hand. A program "defined by our defense and rebounding," as guard
Ron Baker
put it Wednesday, could struggle with the NCAA's offseason changes to rules governing contact -- designed to increase freedom of movement and make the college game less overtly physical.
But even that aspect, and whatever change it might require of the Shockers, is as yet unknown. How strict will officials be in November? Will their calls evolve as the season progresses? How long will it take everyone -- players, coaches and officials -- to understand where the new boundaries lie? How many free throws will be shot in the meantime?
"We've just got to be smart, and I've got to adapt and our players have got to adapt," Marshall said. "But the other teams have to adapt as well. And if we get called for a foul and the other team shoots free throws, then we have a chance to go down on the other end and do the same thing.
"You just hope you don't lose games early [and hurt your NCAA tournament chances] because of it. That's the biggest thing. We've just got to find a way to win those games early and be good in the preconference."
On Wednesday, Marshall was asked whether the Final Four had changed his program, whether there was a different "feel."
"I've never had this many reporters standing around when I've had to give interviews, so that's a change," Marshall said.
Other than that?
"I don't see much difference," Marshall said. "We're going to try to adjust to the officials, but the way we play? That's not going to change a whole lot. I don't know why you would change at this point."
October, 29, 2013
10/29/13
9:30
AM ET
Now that you know what you need to watch in every conference in the country in 2013-14, we've turned our attention to the theme of change -- from coaching swaps to player development to good old-fashioned rules, and anywhere in between. Today: Is Creighton's defense good enough?
Last October, in the heart of the 2012-13 preview window, the Creighton Bluejays made for an easy diagnosis. The previous season's breakout star, All-American forward Doug McDermott, was set to return for another year, as was point guard Grant Gibbs and a host of other key contributors. The Bluejays, already one of the five or six best offenses in the country, were sure to drench opponents in points in 2012-13. The only question was their defense.
[+] Enlarge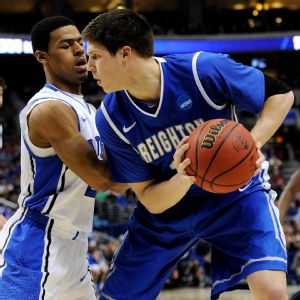 Eileen Blass/USA TODAY SportsDoug McDermott is back at Creighton to lead a loaded roster.
Thirteen months later, the story remains the same.
McDermott eschewed the draft in favor of his senior 2013-14 season, in which he has a chance to become the first three-time All-American since Patrick Ewing and Wayman Tisdale. Gibbs was granted a slightly miraculous sixth year of eligibility, so he returns as well.
The Bluejays still have a host of veteran supporting pieces positioned to execute with maximum offensive efficiency, which they of course already did last season. But still, there is that nagging question: Can Creighton get stops?
It is less of a question than it was last October. Indeed, the Bluejays markedly improved on the defensive end last season, turning a defense that allowed over a point per trip to opponents in 2011-12 into one that held offenses to just .96. The Bluejays kept their key characteristics intact -- they still protected their own glass and eschewed steals in exchange for fewer fouls -- but improved on each.
And still, in the end, it got them exactly as far as they went in 2011-12: the second round of the NCAA tournament. No further.
To be fair, compared to the 1.2 points per possession yielded to North Carolina in March of 2012, the Bluejays' second-round tournament loss in 2013 wasn't a product of bad defense (Creighton held Duke to just 66 points on 64 possessions) so much as bad offense (they scored just 50 of their own). And besides, the NCAA tournament is a crazy place; there is only so much analytical value in those individual results. But the point remains: Creighton will be a very good offensive team this season; so good it will be hard to find much room to improve. (Maybe if McDermott and Ethan Wragge shoot 55 percent from 3 or something, which actually doesn't sound that ridiculous.) But it could still defend better. Not only is leading shot-blocker Gregory Echenique gone, but the Bluejays are moving to the new Big East and facing a much tougher night-to-night conference slate therein.
There is good news: Even if the Bluejays don't change a lick this season, they're going to be good. Gibbs and McDermott are old hands now; they can post, kick, re-post and score in REM sleep. This offense is still going to be excellent, and excellent to watch. But whether Creighton can get to that proverbial next level -- whether it can present itself as a legitimate national title contender befitting of the peerless work of its star -- will still have to come on the defensive end.
October, 28, 2013
10/28/13
10:00
AM ET
Now that you know what you need to watch in every conference in the country, we turn our attention to the theme of change -- from coaching changes to player development to good old-fashioned rules. First up: How quickly can USC get quick?
Ground was broken for the Galen Center, USC's first on-campus basketball arena, in October 2004. A month later, USC hired former Utah coach Rick Majerus. The implication then was clear: After 100 years spent as an afterthought, and half a century in an old municipal gym, a new day had come.
Nine years later, the venue is the only thing about USC basketball that has changed.
[+] Enlarge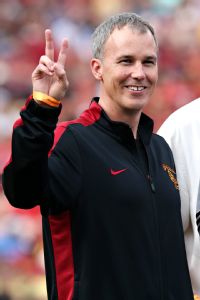 Stephen Dunn/Getty ImagesCan Andy Enfield turn around USC?
Whether former Florida Gulf Coast coach and human meme Andy Enfield can finally change this trajectory is an open question that won't be answered in one season. (For more on Enfield's long-term task, see Dana O'Neil's piece today.) More pressing for our purposes, though, is what Enfield will change right now -- whether he can shape his current players in the image of the thrilling run-and-dunk FGCU team that got him to L.A. this spring.
This looks, at first glance, like an immensely difficult thing to do. In 2009-10, 2010-11 and 2011-12, Kevin O'Neill's USC teams were among the slowest and most risk-averse in the country. They ranked outside the top 300 in adjusted tempo each season. They played truly tough, physical defense and truly putrid, inept offense. The end result was unwatchable.
Enfield won't want his teams to be unwatachable even if said unwatchability was effective. In Year 1 of a rebuild, it's the nightmare scenario. But here's the good news: These Trojans might not be -- or need not be -- as speed-challenged as you think.
Even before O'Neill was fired in mid-January of last season, he was letting USC get up and down the floor in totally uncharacteristic ways; when associate head coach Bob Cantu took over, the Trojans didn't slow. The end result was an adjusted tempo of 67.5 possessions per game -- a drastic increase from 2011-12 (61.4). Meanwhile, FGCU wasn't always blitzing people at breakneck speed: The Eagles averaged 69.1 possessions per game, 42nd most in the country. The easy storyline -- a run-and-gun coach taking over a roster of players used to 55-trip grinders -- isn't as drastic as you might think.
What's more, USC's best returning players, guards J.T. Terrell and Byron Wesley, are comfortable at pace. Per Synergy scouting data, the Trojans ended 15.3 percent of their offensive possessions in transition -- second most of any play type. Of those 365 plays, Terrell and Wesley combined to run on 186 of them. As a duo, they averaged around a point per trip.
This is easily Enfield's best hope of getting the Trojans to at least be entertaining in Year 1. Neither Terrell nor Wesley set the world ablaze on the break last season, but they were better in that context than any other, and this season they will be running not as a matter of disorganization but with an entire philosophy at their backs.
Enfield has plenty of changes to make at the Galen Center. Some are overhauls. Others are tweaks. Believe it or not, the Trojans' transition might be closer to the latter than the former.