College Basketball Nation:

Seattle
March, 1, 2012
3/01/12
3:05
AM ET
By
ESPN Stats & Info
| ESPN.com
A scan of the college basketball box scores each night guarantees all kinds of statistical oddities and standout performances. Here are some we found from Wednesday.

Portland 74, Santa Clara 70
Santa Clara committed just one turnover, the fewest by any team in a loss this season. The Broncos committed the lone turnover down two points with seven seconds left in the game. The previous team to commit no more than one turnover in a loss was Fairfield on Feb. 12, 2009 against Marist.
Cincinnati 72, Marquette 61
Cincinnati's
Justin Jackson
blocked seven shots in 13 minutes off the Bearcats' bench. That's tied for the second-most blocks by a substitute this season, but Jackson did it in the fewest minutes played. The last player to block seven shots in 13 minutes played was Rutgers' Hamady N'Diaye on Feb. 10, 2007 against Cincinnati.

UNC 88, Maryland 64
UNC's
Tyler Zeller
made 20 of 23 free throw attempts in the victory, tying him with Oregon State's
Jared Cunningham
and Oklahoma State's
Keiton Page
for the most made free throws in a game this season. Zeller broke Tyler Hansbrough's Smith Center record with the 20 makes, which was also one shy of both UNC's and the ACC's all-time record.
Seattle 111, Longwood 74
Seattle's
Sterling Carter
scored 28 points in only 16 minutes of action. The last player to score that many points in that few minutes played was North Dakota State's Ben Woodside on Nov. 18, 2008 (also 28 points in 16 minutes).
Mercer 61, Lipscomb 53
Lipscomb's
Deonte Alexander
shot 4-for-22 from the field (18.2 percent) in the loss. That's the worst shooting performance this season for a player with at least 20 attempts.
Lehigh 70, Colgate 57
Lehigh's
C.J. McCollum
recorded seven steals in the win, tied for the third-most takeaways by a player this season.
February, 12, 2012
2/12/12
8:34
AM ET
By
Stats & Information
| ESPN.com
A scan of the college basketball box scores each night guarantees all kinds of statistical oddities and standout performances. Here are some we found from Saturday.
Indiana State 78, Southern Illinois 68
Indiana State made all 12 of its 3-point attempts Saturday, the most 3-pointers without a miss in a single game in NCAA history. The previous record for most 3s without a miss was nine, done by Minnesota against Penn State on Jan. 11, 2009.
Lipscomb 99, Stetson 91 (OT)
Lipscomb scored 25 points in the extra session, one shy of the NCAA Division I record for points in an overtime period. The record of 26 was done by Vermont on Jan. 24, 1998, against Hartford.

Duke 73, Maryland 55
Duke's
Miles Plumlee
had 22 rebounds in 28 minutes off the bench, the most rebounds by a bench player since Sean May had 24 against Duke on March 6, 2005 (May did not start that game because it was North Carolina's Senior Day). Plumlee is the first player this season with at least 20 rebounds in fewer than 30 minutes of playing time.
Michigan State 58, Ohio State 48
Ohio State's
Jared Sullinger
had 17 points, 16 rebounds and 10 turnovers in the Buckeyes' loss Saturday. It's the first "triple-double" using points, rebounds and turnovers in Division I this season. Jerrell Williams of La Salle had the last one on Jan. 19, 2011, against Duquesne.
Kansas 81, Oklahoma State 66
The Jayhawks'
Jeff Withey
had 18 points, 20 rebounds and seven blocks in the win. He's the first player to reach all three of those levels in the same game since VCU's Larry Sanders put up the exact same line on March 9, 2009, in the CAA championship game against George Mason.

Texas 75, Kansas State 64
Texas attempted 48 free throws to Kansas State's 12. That free throw differential of 36 is the largest in a game involving a Big Six team this season and the third-largest overall. Texas' 48 free throw attempts are the second most by a Big Six team on the season (Washington attempted 59 on Jan. 10 against Seattle).
Texas Tech 65, Oklahoma 47
Oklahoma scored just six points in the paint, the fewest points in the paint in a game by a Big Six team this season.
St. Bonaventure 69, Duquesne 48
Florida Atlantic 86, North Texas 81 (2OT)
St. Bonaventure's
Andrew Nicholson
scored 21 points and grabbed 23 rebounds in the Bonnies' win, and North Texas'
Tony Mitchell
scored 22 points and grabbed 20 rebounds in the Mean Green's double-overtime loss. They became just the sixth and seventh players this season to record a 20-20 game. Nicholson's 23 rebounds are the second most in a game this season, trailing only UAB's
Cameron Moore
, who had 24 on Dec. 28.
Seattle 100, Longwood 99 (OT)
Seattle's
Chad Rasmussen
was 6-for-17 from the field in the Redhawks' win, with all of his attempts coming from 3-point range. That is the most 3-pointers attempted in a game without attempting a 2-point field goal.
Arkansas-Pine Bluff 64, Southern 58
Trillion of the Night:
Jamar Harris
of Arkansas-Pine Bluff played 12 minutes without accumulating a single stat in his team's 64-58 win over Southern.
January, 29, 2010
1/29/10
11:45
AM ET
Wednesday, much was made over
Seattle's decision to foul frequently in the second half
of its blowout to Washington, a strategy that caused six Redhawks to foul out, leaving four eligible players on the floor for the final 1:27. Turns out, that's not even remotely the weirdest foul-out-related anomaly in the past 20 years.
On Feb. 24, 1989,
Indiana State played Wichita State
. A brawl broke out in the first half. Indiana State's bench involved itself, and when the dust cleared, eight ISU players had been ejected, leaving the Sycamores to play the entire second half with just four players. Then,
as Kevin Pelton explains, Wichita State adjusted its strategy
:
Wichita State coach Eddie Fogler told his team to take it inside instead of settling for jumpers, and while that allowed the Sycamores to hang around–in fact, they got as close as four points–ultimately two players fouled out, leaving two on the floor to try to defend five. (That's a "2- zone", or a "line" defense.) The Shockers won the game 84-69.
There you have it, a result even more singular in its unusual nature than finishing a game with four players. That result? Finishing with two. Though I suppose the question begs to be asked: Which is more unlikely? Eight players being ejected for fighting, thereby forcing a team to play with a limited roster? Or a coach actively deciding he wants his players to foul for an entire half, thereby chipping away at his roster by choice? The weirdness gap here is not as wide as it seems.
January, 27, 2010
1/27/10
3:30
PM ET
You may or may not have noticed last night's Washington-Seattle score. (When a No. 1 goes down in its first game, neglect is an understandable side effect.) That score?
123-76.
This is weird for a variety of reasons -- one of which is that
Seattle beat Oregon State by 50 earlier this season
-- but the weirdest bit didn't happen in the scoreline. It happened at the foul line.
After his team fell way behind in the first half, trailing 61-20 at the midway point,
Seattle coach Cameron Dollar decided to get creative
. In so many words, he told his players to foul. The Redhawks went for steals but played for contact when possible. The payoff of this strategy, which Dollar said was designed to "get them in the bonus quick and slow the game down," was Seattle fouling 29 times in 20 minutes of basketball, fouling out six players, and leaving the Redhawks with four guys on the floor for the final 1:27.
This is certifiably insane. Dollar could have finished with five, but it would have meant throwing away redshirt freshman
Adam Eakles
' eligibility on 90 seconds of basketball, which, duh. Of course not. So the Redhawks did the same thing you do when your intramural team's fifth player is still nursing his hangover in his dorm room: they played four guys.
All things considered, though, I suppose the strategy is understandable. It's even sort of interesting in a Gladwellian-alternative sort of way. What's most confusing is how Washington can so utterly destroy Seattle after Seattle so utterly destroyed Oregon State. Was Seattle playing six men against OSU? And as my editor said last night: When Washington plays the Beavers in March, do the Huskies win by 100?
January, 26, 2010
1/26/10
4:39
PM ET
Saddle Up is our nightly preview of the hoops your TV wants you to watch. Here's Tuesday night's rundown.
No. 1 Kentucky at South Carolina, 9 p.m. ET, ESPN
: Only
four players in the country use more of their team's possessions than South Carolina star Devan Downey
. DeMarcus Cousins is one of them. But where Cousins probably takes a few too many shots in Kentucky's offense -- John Wall and Eric Bledsoe are standing right there, DeMarcus -- the Gamecocks rely on Downey's production much the same way as Ohio State relies on Evan Turner. Perhaps even more. The question is whether Downey's gaudy offensive production is enough to stand up to a Kentucky team that is better than South Carolina in literally every way. The Gamecocks are especially vulnerable when the ball hits their own rim;
they rank 339th in the country at preventing opposing offensive rebounds
. Here's where it gets worse: Thanks to Cousins' prodigious rebounding ability, Kentucky ranks
No. 1 in the country in grabbing their own misses
. This smells like disaster. If the Gamecocks can keep Kentucky off the glass even occasionally, and thus give Downey a chance to go at Kentucky's defense on the other end, maybe South Carolina can hang with a Kentucky team that has had trouble putting away inferior opponents in the past. But if not -- if Cousins works as freely on the glass as the numbers suggest -- South Carolina has no shot. No matter how good Downey is.
In any case, tonight is Kentucky's first game as the No. 1 team in the country. Will that affect the Cats' play? Will it matter at all? This is not a team unused to hype, so I'm betting no ... but it's worth some attention all the same.
No. 5 Michigan State at Michigan, 7 p.m. ET, ESPN
: Can Michigan get a reschedule? This is really not a good time. Manny Harris is coming off a suspension. The Wolverines are still desperately looking for leadership. And John Beilein is saying things like this: "It's almost like the old-time days in the mid-majors. You got to go on a big string at the end of the year or you have to peak at tournament time and win the tournament. Those are our two options right now." Meanwhile, Michigan State is playing its best basketball of the season, or at least coming off its most emotional win, a come-from-behind last-second win at Minnesota on Saturday, the kind of win Tom Izzo teams always seem to get right before they figure things out and tear through the second half of their season. There are a lot of ancillary factors for Michigan at work here, and none of them look particularly positive.
No. 12 Kansas State at Baylor, 8 p.m. ET, ESPN360
: Fire up the laptops; this is tonight's best game. Baylor nearly beat Kansas at the Phog last week. Kansas State toppled Texas before dropping a home game to Oklahoma State on Saturday. So K-State is vulnerable, and Baylor is at home. This has the makings of a close one. Baylor's key? Keep the Wildcats off the free throw line, which they go to more than any other team in the country. K-State's key? Get to the free throw line (naturally), and also keep Baylor's perimeter shooting (the Bears make 40 percent of their threes and 53.3 percent of their twos) under wraps.
Everywhere else
:
West Virginia visits a DePaul team
that's playing slightly better since interim coach Tracey Webster took over ...
Clemson will take on Boston College in Boston on ESPN2
... Maryland will attempt to preserve their hot ACC start (
Gary Williams
' team is playing the best offense in the conference thus far)
against a cupcake-bloated Miami (FL) team in College Park
... North Carolina State has been better than expected and North Carolina has been far worse; which wins out
when the Heels head to Raleigh?
...
Seattle will visit Washington
with its secret weapon, former Washington juco recruit Charles Garcia in tow; check out Diamond's post about Garcia, who uses more of his team's possessions than any other player in the country,
here
.
January, 7, 2010
1/07/10
11:45
AM ET
I mentioned it briefly at the end of
today's Morning After
, but it deserves a fuller treatment: Oregon State lost to Seattle last night, and that is kind of blowing my mind.
It's not just that the Beavers lost. Under Craig Robinson, Oregon State is better than in years' past, but is still very much a rebuilding effort that will be prone to the occasional surprising loss. No, it's not just the loss. It's the margin of victory --
99-48
! -- in that loss that is so very mind-blowing. 99-48? To the
Seattle Redhawks
? Whaaa?
Turns out it's not all that difficult to explain.
B-Pro's Kevin Pelton watched the game closely
Wednesday night and has this explanation:
But wait, there's more! Knowing that the Redhawks played so well, you might guess they were led by their NBA-bound star, Charles Garcia. Instead, Garcia spent virtually the entire evening in foul trouble and played just 15 minutes, most of them inconsequential to the outcome. There was something of a Ewing Theory effect at play. Without Garcia, Seattle U was forced to go small and become more balanced on offense. The result was passing that stretched out Oregon State's zones and created open looks on the perimeter. Heretofore a mediocre shooting team, the Redhawks got hot and made 12 three-pointers in 20 attempts, more than making up for the loss of Garcia's production. The undersized group was also quick to long rebounds, grabbing half of their available misses.
At the other end of the floor, the Beavers were as cold as their opponents were hot, shooting just 4-of-22 from downtown. Seattle U's pressure also forced 20 turnovers, and the Redhawks drew at least five charges by reading Oregon State's desire to drive the basketball.
The game was still within reach for the Beavers at halftime -- the score was 41-27, and any sort of natural statistical correction would have gotten OSU back in the game -- but Seattle got hot after halftime and OSU scored a mere 21 points in the second half as things quickly got out of hand.
It's hard to see this game meaning much about each team's performance as the season goes on. After all, this is a freaky occurrence; Seattle is not this good, and Oregon State is not this bad. (Just
look at that box score
! OSU didn't have a single scorer in double figures. How does that happen?) Oregon State is not a good team, but it's better than this. In the Pac-10, that doesn't mean much, but it should save Beavers fans the embarrassment of Wednesday night's result in the future. I suppose Beavers fans might settle for that much.
January, 7, 2010
1/07/10
11:00
AM ET
The Morning After is our semi-daily morning recap post. Try not to make it awkward.
[+] Enlarge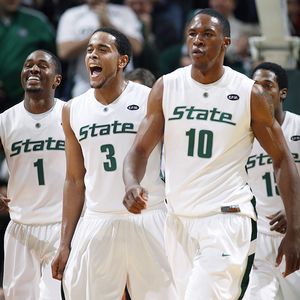 AP Photo/Al GoldisMichigan State outlasted Wisconsin in a "defensive struggle."
Michigan State 54, Wisconsin 47
: Now
this
is a Big Ten basketball game. After their uptempo, runaway win over Northwestern Saturday, it was reasonable to assume the Spartans would want to push the pace against the slow, plodding, methodically effective
Wisconsin Badgers
. That did not happen: These teams shared 59 possessions (the national average is about 70), and they weren't particularly effective with even those limited opportunities. The AP report is characterizing this game as a "defensive struggle" -- Bo Ryan said much the same -- and that's partially true. Each team prevented the other from getting anywhere near their current averages for points or efficiency. But neither team shot well, and that has plenty to do with it, too.
The good news for the Spartans is that they took care of business at home against what appears to be the second most likely challenger for their Big Ten throne. Everywhere else (with the possible exception of an
Evan Turner
-fielding Ohio State team) looks a little bit worse than expected; Purdue, Michigan State, and Wisconsin are your three Big Ten teams worth their national salt.
Kansas 71, Cornell 66
: Three cheers for Cornell, huh? This is a team that went into Allen Fieldhouse, one of the most historic and intimidating basketball arenas in the world, and not only hung with Kansas but very nearly beat them. Cornell took a one-point lead into the final minute, and you know the rest:
Sherron Collins
took over the game, scoring nine straight points at the end and singlehandedly refusing to cede the lead back to Big Red. What does the win mean? Well,
Kansas got its first legitimate test
. It had a poor shooting night and still survived. Bill Self will be pleased. But more than anything it means that Sherron Collins is still the de facto leader and go-to guy of the
Kansas Jayhawks
, no matter how good
Xavier Henry
has been. Henry might be the more talented scorer, but when the game and season are on the line, Collins will have the ball in his hands. As it should be, eh?
Connecticut 71, Seton Hall 63
: Seton Hall could have used this one, but what should you expect? Connecticut isn't vintage Connecticut, but they're still a good, athletic team, and they're still going to win the games they should win at home. So maybe hoping for a Hall win would have been too optimistic. The point is that Bobby Gonzalez's team, after starting 9-1, has now lost four straight. Granted, three of those losses were understandable (to West Virginia in OT, to Syracuse, and to UConn) but one was an indictment of the Pirates altogether (the 102-94 OT loss to Virginia Tech without
Malcolm Delaney
on Saturday). Seton Hall entered Big East play with a legitimate shot at reaching the NCAA tournament. Those hopes are fading fast.
Tennessee 88, Charlotte 71
: On Dec. 5,
Charlotte played an injury-bit Louisville team and beat them by 22 points
. Last night's game had the potential for similarity: Tennessee is reeling after the suspension of four players, one of whom was star forward
Tyler Smith
, for gun-related arrests. If any team looks ready to fold in the season, it's Tennessee. But that didn't happen. Rather, the exact opposite did: Tennessee put a whoopin' (as they say in Tennessee) on Charlotte from the opening tip.
Wayne Chism
led the way with 18 points as all five Tennessee starters scored in double digits. Hey, maybe Bruce Pearl was right.
The Vols do still have weapons
.
Everywhere else
: Syracuse got a minor challenge from Memphis
before pulling away late
... One of two things is happening here: Either Marquette is surprisingly good again, or Georgetown has another disappointing team. Or maybe both. Either way,
the Golden Eagles upset the No. 12 Hoyas in Milwaukee last night
...
No. 23 BYU survived its first conference test of the season
, winning by four over UNLV ...
Indiana received the blunt end of an Evan Turner welcoming party at Value City Arena
... Craig Robinson's Oregon State rebuilding project suffered its worst loss to date,
dropping a lifeless 99-48 game to, get this, Seattle
... and the Pac-10 suffered yet another indictment, this one directed at the team most people still have national hopes for, Cal;
a bad UCLA team beat the Golden Bears 76-75 in Berkeley Wednesday night
, and I think it's official: The Pac-10 is beyond redemption. Let's just ignore it from now on, OK? (I'm kidding! I love all conferences equally, even when they're really bad.)