College Basketball Nation:

Shane Southwell
February, 10, 2014
2/10/14
10:00
AM ET
Saturday turned insane late, and for reasons only tangentially related to basketball. But before that, it was a pretty standard day of basketball. Boring, even. There weren't many great games, and there weren't many big surprises, and thus
Kansas State's 74-57 win over Texas
was one of two or maybe three notable exceptions.
Whatever the context, Kansas State's thorough demolition of the Longhorns changes the stakes for Monday night's home game against in-state rival Kansas (9 p.m. ET on ESPN/WatchESPN). Actually, that's not quite accurate: This is Kansas State hosting Kansas in The Octagon of Doom, so the stakes are a constant. But K-State's win over Texas does change the outlook. After a few weeks of mostly mediocre output, the Wildcats suddenly look more than capable of downing the Jayhawks.
[+] Enlarge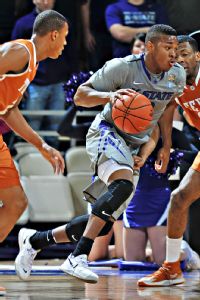 Peter G. Aiken/Getty ImagesKansas State freshman Marcus Foster scored an efficient 34 points vs. the Longhorns but Kansas' athleticism will test him on Monday.
This has a lot to do -- first things first -- with Kansas State freshman
Marcus Foster
. Foster was almost perfect Saturday: He shot 8-of-8 from 2 and 5-of-8 from 3 for 34 points against one of the 15 or 20 best defensive teams in the country. It was a breakout game for perhaps the nation's most under-the-radar freshman, and just in time for
Andrew Wiggins
and
Joel Embiid
to come to town.
Foster is unlikely to have quite as easy a time against the Jayhawks, and not just because it's impossible to replicate a 34-points-on-16-shots tour de force like the one he just submitted. Kansas is, probably even as you read this, spending a great deal of its time focusing on how to play Foster with one and sometimes two defenders, to deny the ball on Bruce Weber's motion screens, and to force the action into the hands of Kansas State's supporting players. It's likewise safe to assume Wiggins will draw the Foster assignment for whole swaths of the game, and Wiggins -- who is as quick as any guard but is 6-foot-7 and scary-athletic -- is a nightmare matchup for an undersized perimeter.
So that's an interesting thing to watch. But more likely, the game will turn in the paint, where both teams truly excel.
When you score 1.17 points per trip in conference play, as Kansas has, you're usually doing a lot of things right. The Jayhawks are. They lead the league in 2-point field goal percentage (55.6) and, somewhat surprisingly, in 3-point accuracy (41.8). But that latter figure is mostly a product of shot selection. The Jayhawks don't shoot many 3s -- just 27.9 percent of their field goals come from beyond the arc -- so the shots they do take come with a special level of consideration. The only thing Kansas doesn't do particularly well is handle the ball: The Jayhawks are still turning it over on 20.2 percent of their possessions in league play. But when Kansas doesn't turn it over, and especially when it gets the ball near the rim, it typically scores.
The lone exception?
An 81-69 loss at Texas on Feb. 1
, when the Jayhawks scored just a point per trip and had 12 of their shots blocked by the Longhorns.
Kansas State's defense, meanwhile, is the best in the Big 12 to date. It is holding opponents to the lowest combined field-goal percentage, and the lowest 2-point field-goal percentage. In half-court sets,
according to Hoop-Math.com
, Kansas State opponents attempt just 30.7 percent of their shots at the rim. More frequently -- nearly 40 percent of the time -- K-State opponents have to settle for shots in the sub-optimal midrange, where they shoot just 30.3 percent. Good perimeter defense starts the process, while rotations by
Shane Southwell
and
Thomas Gipson
help seal off the paint. Good shots rarely result.
The Foster-Wiggins-Embiid freshman wow factor might dominate discussion of this game, and that's fine: Foster deserves that attention. But the Jayhawks' trip to Bramlage Monday night is most likely to be won or lost based on if and how Kansas gets the ball to the front of the rim. Kansas State's defense may just have a surprise in store.
February, 16, 2013
2/16/13
9:36
PM ET
By
ESPN.com staff
| ESPN.com
November, 22, 2012
11/22/12
1:27
AM ET
NEW YORK -- Michigan threw a couple of sloppy inbounds passes at the end, giving Pittsburgh hope. Kansas State couldn't find a stop, keeping Delaware hanging around.
Early-season tournaments are always a juggling act for teams: the chance to receive a good gauge on where a team is early -- but a chance that comes with the potential for late-game issues that will be less likely to show up as the season progresses.
Neither No. 4 Michigan nor Kansas State played close to its best Wednesday night. In the Wolverines' case, a week-plus layoff and an elevation in competition led to sloppy play. But for both teams, it was good enough -- barely -- to win.
Michigan beat Pitt
67-62
, and Kansas State knocked off Delaware
66-63
, a pair of games that were similar in their closeness and their final-minute questions.
"We did just enough to win the game," Michigan coach John Beilein said.
Just enough was the key at Madison Square Garden. Just enough to advance. Just enough in November could equate to just enough in March, when just enough could separate the continuation of a season from the end of one.
[+] Enlarge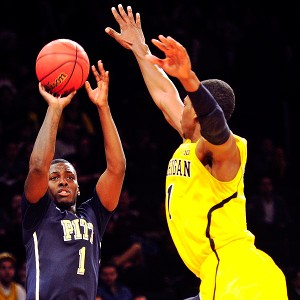 Joe Camporeale/US PresswireThe length of players like Glenn Robinson III, right, helped Michigan overtake Pitt in the second half.
Michigan reached its just-enough moment by making a switch, going from the mixing of man-to-man defense with a couple of different zones to an old reliable for the Wolverines, the 1-3-1 zone. This 1-3-1, though, looks different from versions played by Beilein's prior teams.
He has more length up top, with 6-foot-6
Nik Stauskas
, and then 6-6
Tim Hardaway Jr.
and 6-6
Glenn Robinson III
on the wings. The three can form a suffocating trio, which they did to force Pittsburgh into turnovers and to turn a seven-point deficit into a one-point deficit, allowing the Wolverines to climb back into the game.
"Absolutely," Beilein said. "We began practicing it a little bit ago and we just keep working at it. It has a lot of things to it. It has some merit to look at it in the future, especially the way they played it.
"That length, with our wings at the 3, the 2 and the 4 spot, it has a chance to work."
It was enough to overcome a 3-of-17 3-point shooting night for the Wolverines, a night that would have doomed them last season. Enough to overcome a night when Michigan turned the ball over more times (nine) than it had assists (eight), with a coaching staff that places high value on ball security.
Like everything else with Kansas State and Michigan, it is definitely a work in progress.
K-State shot less than 40 percent for the second consecutive game, and while it had good presence in the post, only three players --
Shane Southwell
,
Adrian Diaz
and
Thomas Gipson
-- shot 50 percent or better from the field. The Wildcats struggled with Delaware's
Jamelle Hagins
, who had 12 points and 15 rebounds in 27 minutes.
"We did not play pretty," KSU coach Bruce Weber said. "I mean, that was pretty obvious. It had been so good for us at home and we had defended so well, made shots and the game came easy.
"Now, it didn't come quite as easy. We missed a lot of shots, made some mistakes defensively."
But both teams received the same lesson. For the first time this season, after beating all their previous opponents by at least 19 points, they saw teams of at least somewhat similar caliber. Both teams were pushed -- almost to the brink of their first losses of the season.
Instead, Kansas State and Michigan did just enough to play for a championship Friday.