College Basketball Nation:

Shaq Goodwin
January, 1, 2015
Jan 1
9:30
AM ET
The College Football Playoff begins today.
So let's play the "What if?" game.
What if these players had picked football? Would they be playing on ESPN today? The following is a list of college basketball players who could be -- should be? -- playing football. They chose basketball, but it doesn't take a genius to recognize that they have the athleticism and makeup to transition to the gridiron.
Agree? Disagree? Tell us on Twitter by using
#Top10Thursday
.
1.
Willie Cauley-Stein, Kentucky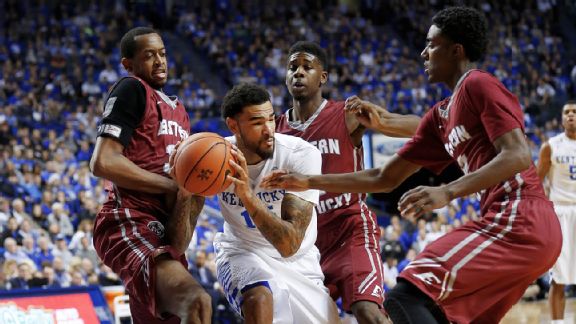 Mark Zerof/USA TODAY Sports
Hey, Nick Saban. Any interest in a 7-foot wide receiver who caught 57 passes for 1,140 yards as a senior in high school? Oh, Cauley-Stein also scored 14 touchdowns (in the first nine games) of his 2011 campaign at Northwest High School in Olathe, Kansas. Would you like a guy like that at Bama, Coach?
2.
Ryan Spangler, Oklahoma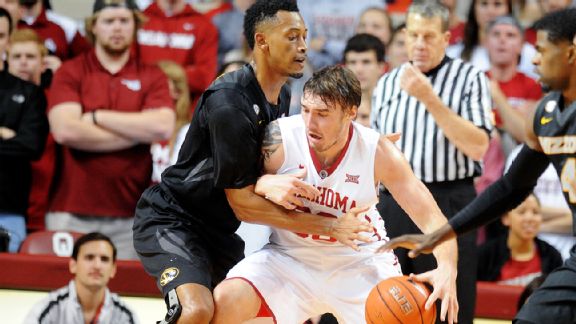 Mark D. Smith/USA TODAY Sports
He's a key piece for an Oklahoma team that could win the Big 12. But the 6-foot-8, 231-pound forward used to be a stud quarterback in Oklahoma, where prep stats don't come easy. He led Bridge Creek High School (Bridge Creek, Oklahoma) to the playoffs and threw for nearly 7,000 yards and 71 touchdowns over three seasons.
3.
Shaq Goodwin, Memphis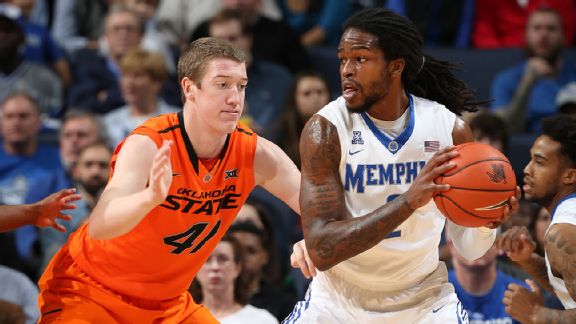 Joe Murphy/Getty Images
Goodwin thought about playing two sports in college. The 6-foot-9, 228-pound former wide receiver drew interest from powerhouse programs, such as Florida and Georgia, that were willing to let him play football and basketball. Goodwin, who reportedly ran a 4.6 40-yard dash in high school, might one day star in his other sport.
4.
JayVaughn Pinkston, Villanova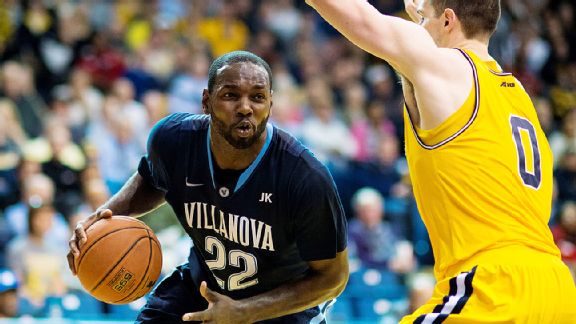 AP Images/Icon Sportswire
Multiple college basketball players have made the transition to professional football. The 6-foot-7, 235-pound Pinkston is built for that switch, if he wants to pursue it. He's a rugged athlete with the strength and agility to excel on the football field.
5.
Marvin Singleton, Northern Iowa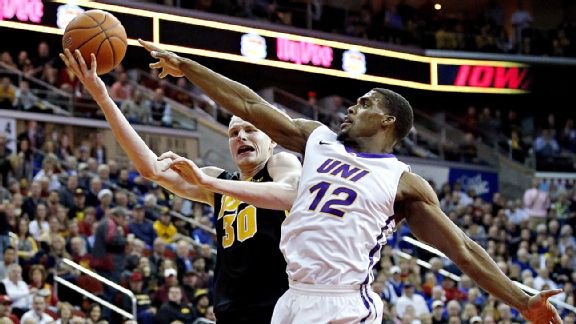 David Purdy/Getty Images
Throughout a stellar prep career in Minnesota, folks asked Singleton one question: Why are you here and not over there on the football field? But Singleton remained loyal to the hardwood. Today, the 6-foot-6, 237-pound senior is a solid forward on a ranked Northern Iowa team ... instead of a tight end with the Chicago Bears.
6.
Cliff Alexander, Kansas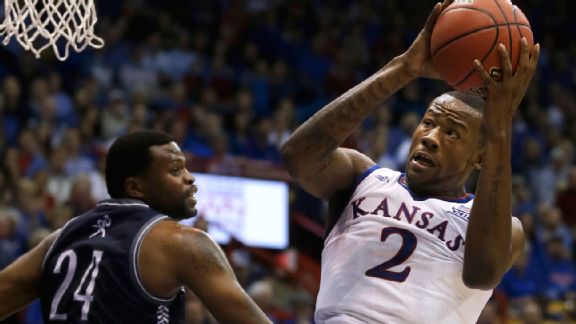 AP Photo/Orlin Wagner
Alexander grew up in Chicago. Someone in that city allowed Alexander, now 6-foot-8, 240 pounds, to play football with the other kids. He didn't play organized basketball until eighth grade. What did he do before that? Hurt anyone and everyone who tried to stop him on the football field, I'm sure. You know what you do if a kid like Alexander shows up to your Pee Wee League? You pull your kid off the team. That's what you do. Ain't worth it.
7.
Mo Alie-Cox, VCU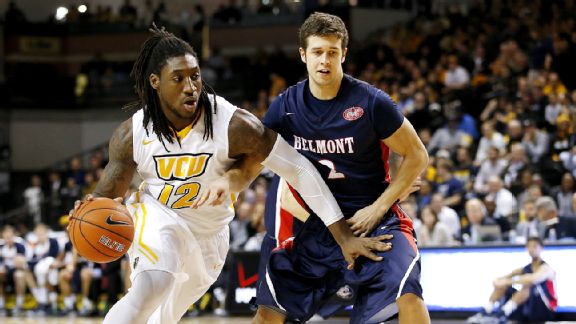 Geoff Burke/USA TODAY Sports
Alie-Cox chose basketball. It was a good choice. He's a critical piece in Shaka Smart's rotation. But imagine if the 6-foot-6, 250-pound forward had picked football. Where would he be today? He's a force in the paint. He's tough to defend because he's so strong. And he looks like a guy who could do damage for the Rams. In St. Louis.
8.
Nigel Hayes, Wisconsin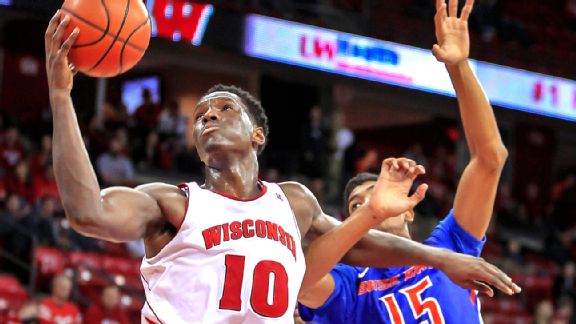 AP Photo/Andy Manis
Last season, Hayes' father was asked about his son's football future. He joked about the idea. But not with a "no way, never" tone. It was more like "you have no idea." Hayes' brother, Kenny, was the No. 9 prospect in the state of Ohio (2011) per RecruitingNation, and he signed with Ohio State. So it wouldn't be crazy for new Badgers football coach Paul Chryst to approach his buddy, Bo Ryan, and ask to borrow Wisconsin's 6-foot-7, 250-pound forward next fall. "Just for a few months, Bo. ... I mean, where's your school pride?"
9.
Stanley Johnson, Arizona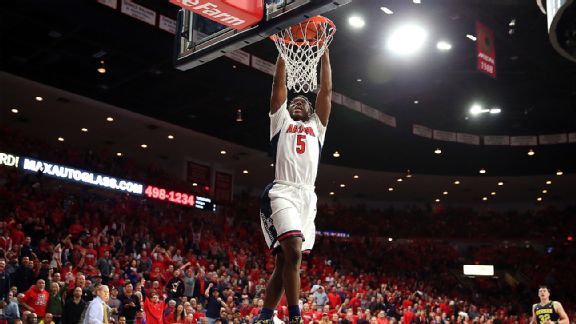 Icon Sportswire/AP Images
Johnson played football, but he grew tired of the sport as a freshman in high school. But football never left him.
"When I was younger, it was weird because I'd play football games," Johnson told ESPN.com, "and then go play basketball and run everybody over." Oh.
10.
Joshua Smith, Georgetown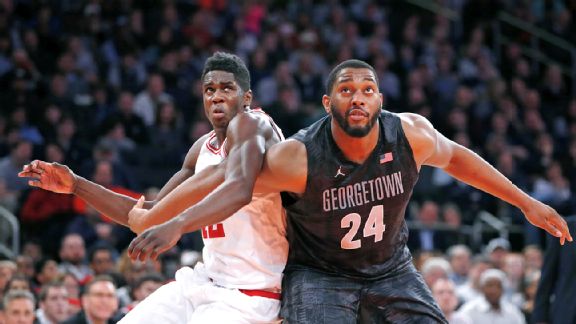 AP Photo/Kathy Willens
His brother played for Washington. And he's 6-foot-10, 350 pounds. What else do you need to know?
July, 8, 2014
7/08/14
11:00
AM ET
By
ESPN.com staff
| ESPN.com

In today's 3-point shot, Andy Katz reports on Memphis' young backcourt and the challenges it faces, experimenting with a 30-second shot clock and Washington State's rebuilding under new coach Ernie Kent.
February, 14, 2014
2/14/14
12:00
PM ET
About last weekend.
Well,
Wichita State
stayed undefeated after securing a win over
Northern Iowa
, but most predicted that.
Larry Brown is in the national coach of the year conversation nearly 30 years after winning the national title with
Kansas
. That
SMU
win over
Cincinnati
was a major step for Brown's program.
I was surprised by
Iowa
's stand against
Michigan
.
Memphis
came from behind and then stayed strong late against a
Gonzaga
team that stopped playing defense in the last five minutes.
Traevon Jackson
hit a game winner for
Wisconsin
against
Michigan State
.
Just the typical mid-February chaos.
This weekend, however, is a bit more difficult to assess.
But I'll do my best.
Last week: 4-1
Overall: 35-15
Saturday


VCU at No. 12 Saint Louis, 2 p.m. ET, ESPN2
: Remember VCU? Well, the Rams got lost on the national scene for a few reasons. They didn't get off to the dazzling start many had anticipated with the talent that Shaka Smart brought back, including leading scorer
Treveon Graham
. The Rams still wreak havoc on defense (no team in America forces more turnovers per possession than VCU, according to Ken Pomeroy). But this is one of America's most mysterious offensive groups. Smart's squad has shot 41.3 percent from the field in conference play (11th in the league). The Rams have the Atlantic 10's top scoring offense (77.3 PPG), but they're 101st in adjusted offensive efficiency (according to Pomeroy). Saint Louis is much easier to figure out. Jim Crews' squad has been flawless since a Dec. 1 home loss to 26-0 Wichita State. The Billikens are third in adjusted defensive efficiency.
Dwayne Evans
and
Jordair Jett
are a potent pair on both ends of the floor, but they haven't faced an offense like this.
Prediction: VCU 60, SLU 56


No. 3 Florida at No. 14 Kentucky, 9 p.m. ET, ESPN
: For weeks, Florida has looked like a bored team just itching to play an opponent that can truly give it a fight for 40 minutes. The Gators have won 16 in a row and are 7-2 against the BPI's top 50. Since a December stretch that included a loss to
Connecticut
and wins over Memphis and Kansas, however, they've played only two teams in the BPI's top 50 (
Missouri
and
Tennessee
) and zero in the top 25. Florida is playing as well as anyone in the country right now, but Billy Donovan's program hasn't been tested in a month. Literally. That's not its fault. The SEC is bad. The Gators can't control that, but this is a sharp turn from what it has dealt with in league play. Fighting on the road against a Kentucky team that has that next-level ability when it's focused -- and I assume John Calipari's team will be focused for a huge matchup -- will not be an easy affair. Plus, the Wildcats have the edge in offensive rebounding rate (43.2 percent to 37.5 percent) and free throw rate (54.8 percent to 45.5 percent), per ESPN Stats & Info. Turnover rate, however, will be more important. The last time Florida (24th in defensive turnover rate) played a young, athletic team with ballhandling challenges (Kentucky is 113th nationally in offensive turnover rate), Kansas left Gainesville. Fla., with a loss. Expect the same result in Lexington, Ky., on Saturday.
Prediction: Florida 87, Kentucky 84


No. 20 Memphis at No. 24 UConn, 12 p.m. ET, ESPN
: In the first meeting,
DeAndre Daniels
was a monster. He finished with 23 points, 11 rebounds and three blocks in UConn's 83-73 win in Memphis.
Shaq Goodwin
scored 10 points (4-for-9) in that game. The rematch will once again focus on the two big men inside. Both programs field comparable backcourts.
Shabazz Napier
,
Ryan Boatright
and
Lasan Kromah
can play with any backcourt in the country, but
Joe Jackson
,
Geron Johnson
,
Chris Crawford
and
Michael Dixon Jr
. can, too. Any of the aforementioned guards could go big and carry his respective squad to the win, but Daniels and Goodwin could be the difference-makers. Will be the difference-makers. If Goodwin doesn't match Daniels and contain him with stingy defense, then the veteran big man will have another huge night for UConn. But Goodwin learned from that game. He's been fearless in recent weeks, the sign of a young player who recognizes his significance to Josh Pastner's plans.
Prediction: Memphis 75, UConn 70
Sunday


No. 6 Villanova at No. 18 Creighton, 5 p.m. ET, Fox Sports 1:
On Thursday night, the wonderful minds at ESPN Stats & Info distributed an email titled "A Complete Breakdown of
Doug McDermott
's Scoring (Through Feb. 13)" shortly after the national player of the year frontrunner -- and it's not close right now -- scored 26 points (11-for-19) and hit a late 3-pointer in Creighton's 68-63 win at
Butler
. That memo included stats like this one: "Doug McDermott has 2,824 career points, 15th all time in Division I history. He is averaging a career-high 25.3 points per game this season." By the end of this season, McDermott should be one of the 10 greatest scorers in Division I history. Think about that. But he wasn't the guy who torched Villanova in the first game.
Ethan Wragge
was 9-for-14 from the 3-point line in a 96-68 win over Villanova last month. He's a 49 percent shooter from beyond the arc, but he's made eight of 22 since that breathtaking display, so maybe Creighton's 21 conference record-setting 3s against Villanova last month were an anomaly. The problem is that Creighton (39 percent from the 3-point line) gets hot often and Villanova just hasn't done a great job of defending against the Bluejays' best weapon (Big East teams shooting 38 percent from the 3-point line against Villanova). Another loss for Jay Wright's crew in Omaha, Neb.
Prediction: Creighton 77, Villanova 72


No. 21 Wisconsin at No. 15 Michigan, 1 p.m. ET, CBS
: This is an interesting game for so many reasons. It's a battle between a Michigan team that's tied with Michigan State atop the Big Ten and a Wisconsin team that has to build momentum for a strong finish to keep Bo Ryan's streak of top-four finishes in the league alive. In recent weeks, both teams have shown some of their flaws. Michigan is an offensive turbo-engine (No. 3 in adjusted defensive efficiency, per Pomeroy) that's 18-2 when it registers a 105.0 offensive rating, according to ESPN Stats & Info. But, Big Ten player of the year candidate
Nik Stauskas
struggled during a recent 1-2 stretch for Michigan. Wisconsin has always been a stubborn defensive team, and the Badgers have gone from the 90s to the 40s in recent weeks in adjusted defensive efficiency, per Pomeroy. But they were No. 1 last season. Both teams are regaining their stride entering this game. Wisconsin, however, will stumble on the road.
Prediction: Michigan 64, Wisconsin 60
January, 9, 2014
1/09/14
11:12
PM ET
LOUISVILLE, Ky. -- Memphis and Louisville are old rivals, dating back to their days as league partners in the Missouri Valley, Metro and Conference USA.
For one more year, they're playing together in the same conference. And on Thursday night, Memphis showed that the Cardinals aren't simply going to roll through the American Athletic without some company.
The defending national champions were the overwhelming choice to run away with the American title this year before moving on to the ACC. But the No. 24 Tigers beat No. 12 Louisville
73-67
at the Cardinals' own game and on their own court while proving there's more than one contender in this league.
If you needed any proof that this was an important win for the Tigers, you only had to look at head coach Josh Pastner after the buzzer sounded. Pastner pumped his fist and shot back at some Louisville fans in the KFC Yum! Center crowd who he said had been ripping his team's academic prowess. Pastner said later that's all part of the rivalry, one in which the Cardinals had won four straight dating back to 2005.
[+] Enlarge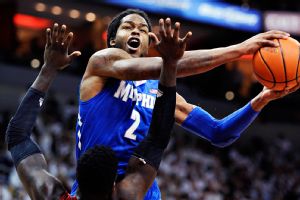 Jamie Rhodes/USA TODAY SportsShaq Goodwin and Memphis were determined to attack the rim against Louisville and it paid off as the Tigers upset the Cardinals.
"It's a big win for the University of Memphis, because since I've been here, we haven't beaten 'em," senior guard
Joe Jackson
said. "We always had a chance, but we let it slip away."
Not on this night, even after Louisville went up 64-59 after a
Montrezl Harrell
dunk with 3 minutes, 50 seconds left. Memphis needed only 37 seconds to tie the game back up, and it would score the final seven points of the game.
Rather than hoist up quick 3-pointers after falling behind, Pastner's team stuck to the game plan, which was to attack the rim and pierce Louisville's soft interior. It was a lesson learned painfully last Saturday against Cincinnati, when the Tigers lost 69-53 -- their worst conference defeat in 15 years -- while settling for jumpers and going 2-for-17 from the 3-point line.
Their final 19 points on Thursday night all came on layups, dunks and free throws.
"That's all we talk about -- going downhill, driving the ball and attacking the rim," said Jackson, who scored 15 points. "That's basically the best part of the game. You don't win by taking jump shots; you win from attacking the basket and finishing and making a free throw."
The Tigers said they developed poise and toughness earlier this season in the Old Spice Classic in Orlando, Fla., where they fought back from a deficit to beat LSU and then defeated Oklahoma State in a rematch from a loss 12 days earlier. They also took Florida to the wire before falling by two last month in the Jimmy V Classic.
"That shows how this team can face adversity," forward
Shaq Goodwin
said. "We had a couple of battle-tested games, and we ended up coming out with wins."
If only Louisville could say the same thing. The Cardinals' lofty ranking was once again exposed as fool's gold based on their feasting on inferior competition; they entered the night with the No. 269 schedule by strength in the country, according to Ken Pomeroy. In their only tests this season against ranked opponents -- versus North Carolina and at Kentucky -- they lost each decisively. Since Memphis is the only other American Athletic team currently ranked, Thursday night offered Rick Pitino's team one of its few remaining chances for a quality win.
Yet even with 2013 Final Four MVP
Luke Hancock
finally getting untracked -- he scored 20 points for the first time since the title-game win over Michigan last April -- the Cardinals suffered the same problems that have plagued them in big games this season.
Other than a solid performance from Harrell, who scored 12 of his 14 points in the second half, the Louisville frontcourt contributed almost nothing. Memphis held a 42-34 advantage in the paint, and its guards made better decisions and more plays down the stretch than the Cardinals' backcourt of
Russ Smith
and
Chris Jones
, the latter of whom bricked through a 1-of-9 shooting night against his hometown team.
Most tellingly, the Tigers shot 50.9 percent from the field against a team that has long prided itself on defense under Pitino.
"We got confused a couple of times with the game on the line with what defense we were in," Pitino said. "We didn't get confused one time last year. I don't know what's so difficult about it. We only played two."
Pitino, whose team fell to 2-1 early on in American Athletic play, later added that "this is a much tougher league than all of us anticipated." Memphis, which will host Louisville on March 1, aims to make sure that is true.
"We made a statement tonight," senior guard
Geron Johnson
said, "but we're going to see those guys who knows how many more times. A guaranteed one more time, and then maybe in the conference tournament. So, it's not over."
These two old rivals still have one heated more conference race between them.
July, 16, 2013
7/16/13
10:40
AM ET
Editor's Note: Over two days, we're releasing the brackets/matchups for 11 of the top early-season events. Starting Wednesday at 10 a.m. ET, we'll unveil the final six: Charleston, 2K Sports, Diamond Head, CBE, Wooden and Maui. A thread of previews and info for all 11 tourneys can be found here.
Tournament bracket
for the Old Spice Classic
When and where:
Nov. 28-Dec. 1 at the HP Field House at ESPN Wide World of Sports Complex, Orlando, Fla.
Initial thoughts:
The Old Spice Classic field has rarely, if ever, approached the density or strength of the Maui Invitational (historically) or the Battle 4 Atlantis (more recently). It typically, though, has plenty by which to recommend it, and in 2013 more than most. Oklahoma State star
Marcus Smart
will lead a Cowboys team determined to unseat Kansas at the top of the Big 12 into the Wide World of Sports Complex as the undeniable favorite, but Memphis won't be that far away.
Meanwhile, we'll get a very early look at whether new Butler coach Brandon Miller will be able to field a tournament-ready team just a few months after Brad Stevens' departure to the NBA's
Boston Celtics
. We'll see if Purdue can bounce back from an ugly (but in many ways promising) 2012-13 season. Will Saint Joseph's' band of returning seniors be ready to make the leap everyone anticipated and gave up on a season ago? LSU has an intriguing rebuilding group that might push the top half of the SEC. We'll also see if Washington State, after losing seniors
Brock Motum
and
Mike Ladd
, is going to be so bad as to put coach Ken Bone on the proverbial hot seat. There are a variety of things worth watching in this bracket, and that includes the hoop.
[+] Enlarge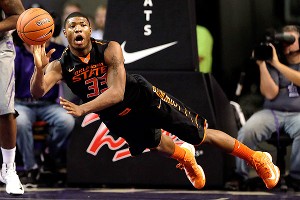 AP Photo/Charlie RiedelMarcus Smart returns for his sophomore season after Oklahoma State made an early exit from the NCAA tournament last season.
Matchup I can't wait to see:
St. Joe's versus LSU.
This isn't the best game of the first round. That honor goes to Oklahoma State-Purdue, and, really, it isn't close. But St. Joe's and LSU are intriguing for slightly similar reasons.
The Hawks were everyone's vogue pick to win the Atlantic 10 last season, based primarily on the assumption that 2011-12's cadre of sophomores -- the Hawks returned all five starters -- would improve and coalesce as juniors. Instead, the Hawks became merely the latest example of why the muddy mix of "returning players" and "experience" and "chemistry" doesn't always translate into improvement. But Phil Martelli still has a good chunk of those players back for another go at this, and if he can coax better defense from everyone, then Saint Joseph's might transform its narrative yet again.
Meanwhile, LSU probably wasn't as bad as you think in 2012-13. The Tigers weren't great, of course, but they finished in the top 100, and they bring in a surprisingly talented recruiting class. Johnny Jones got "yes" answers from three ESPN 100 players, including No. 3-ranked power forward
Jarrell Martin
-- the program's best recruit since
Glen Davis
.
Potential matchup I'd like to see:
Oklahoma State versus Memphis
. When it comes to early-season tournaments, there is very little reason to root for anything but the best basketball. Every now and then there's a backstory baked into the proceedings, like an old rivalry given a random renewal in November. But, for the most part, our desires can be expressed in the simplest of terms: good basketball. That's the case here. This early before the start of the season, Memphis appears to be the second-best team in this bracket, and its backcourt (
Joe Jackson
and
Chris Crawford
, both excellent offensive players) should be a fascinating matchup for Smart and running mate
Markel Brown
. Recently, Memphis has often stumbled out of the gate before otherwise-solid seasons, which has cost the Tigers valuable lines on their NCAA tournament seed in March. Reversing that trend isn't as important in their first season in the American Athletic Conference, but quality nonconference wins are still utterly crucial, and it's going to be hard to find better chances than this.
Five players to watch:
Marcus Smart, Oklahoma State:
NBA scouts really like Smart's game, but they're in love with the intangibles -- his work ethic, his drive and his desire to succeed. Those qualities have earned raves from coaches as long as Smart has played basketball, and they helped transformed Oklahoma State from the defensively soft 2011-12 group into one of the nation's best defenses last season. Smart turned down a shot at being a top-five pick to return to Stillwater. If he has developed the skills to go from "really good" to "frighteningly dominant" -- slightly better ballhandling and much better shooting -- they'll be on display at the Old Spice Classic.
Shaq Goodwin, Memphis:
Goodwin's freshman season wasn't quite as good as his recruiting hype foretold, but there were tantalizing bits littered throughout. Now with Memorial Never-Got-There Club member
Tarik Black
having transferred and
Adonis Thomas
having left for the NBA draft, the keys to the Memphis frontcourt are decidedly in Goodwin's hands.
A.J. Hammons, Purdue:
The Boilermakers weren't the easiest team in the country to watch last season. When they were good, it was usually because they were guarding, not because they were setting the scoreboard alight. But Matt Painter has one thing most coaches don't: a legitimate 7-foot NBA prospect. Hammons is that guy, and it's not just because he's big. He's also athletic for his size, with good ball skills and footwork. If he returns from the summer with a bit less big-man baby fat and a bit more low-post polish, well, look out.
Jarrell Martin, LSU:
As mentioned above, Martin is the No. 3-ranked power forward prospect in the class of 2013. What wasn't mentioned is he is also the No. 11 overall talent. In many incoming classes, this would be worth noting, but little more. With the 2013 class regarded as the deepest and most talented in a decade, if not longer, it is something more. In fact, Martin is the highest-ranked 2013 prospect to
not
choose Kentucky, Duke, Arizona or Kansas. His situation at LSU will be different and arguably more interesting for it. Can the long-dormant Tigers rise again?
Kellen Dunham, Butler:
Former coach Brad Stevens earned the reputation for not needing talent -- that he almost
had
to find unsung players and mold them for his system to work. That's probably true in general, but there were already signs before his departure to the Celtics that Butler's recruiting had gone up a notch or two since the back-to-back title-game runs in 2010 and 2011. For one, Indiana forward
Cody Zeller
listed the Bulldogs as among his final three recruiting options (North Carolina being the third). For another, he landed Dunham. Sure, Dunham wasn't Zeller, but he was an ESPN Top 100 player, and he was solid and efficient in big minutes as a freshman. Dunham will have to be even more efficient in even bigger minutes as a sophomore, particularly from 3-point range from which he ended up shooting just 34.5 percent, but he's capable.
Title-game prediction
: Oklahoma State over Memphis.
As I wrote above, you just root for good basketball in these things, and Memphis' backcourt (especially if Michael Dixon is able to play) by far looks like the most interesting challenge to Smart and Co. in the Old Spice. But I don't think it would be much of a challenge. Jackson can really put the ball on the floor, and Crawford is a lights-out shooter (even off the dribble), but Smart and Brown look like they're going to lock down pretty much everyone in the sport this season. The Tigers included. Cowboys win.
Who others are picking:
Andy Katz:
Oklahoma State over Memphis
Jeff Goodman:
Memphis over Purdue
Seth Greenberg:
Oklahoma State over LSU
Jason King:
Oklahoma State over Memphis
Myron Medcalf:
Oklahoma State over Memphis
Dana O'Neil:
Oklahoma State over Memphis
June, 6, 2013
6/06/13
10:30
AM ET
In the weeks leading up to the June 27 NBA draft, we'll be taking a look at the 20 schools that have produced the best pros in the modern draft era (since 1989, when the draft went from seven to two rounds). Click here to read Eamonn Brennan's explanation of the series, which will be featured in the Nation blog each morning as we count down the programs from 20 to 1.
Top Five NBA Draftees Since 1989
Sixth man:
Will Barton
(2012)
The rest:
Elliot Williams
, Robert Dozier,
Joey Dorsey
, Chris Douglas-Roberts, Rodney Carney,
Shawne Williams
,
Antonio Burks
,
Dajuan Wagner
, Cedric Henderson,
David Vaughn
Why they're ranked where they are:
Star power. Guard power. Stard power? Whatever weird phrase you'd like to try to coin to describe it -- and hopefully you can do better than "stard power," yeesh -- Memphis has it, plain and simple. No other team ranked below them in this top 20 can say the same.
Rose was the MVP of the National Basketball Association at the ripe old age of 22, and you surely don't need me to tell you why his inclusion dramatically boosts Memphis' pro pedigree. Rose suffered a major setback with his anterior cruciate ligament tear in the 2012 playoffs, and his standing among Bulls fans was hurt by his inability (or unwillingness, or any of the other motives the city of Chicago ascribed to a dude taking the long view of his sure-to-be-brilliant career, as though this was a bad thing) to come back in time to face the
Miami Heat
in the 2013 stretch run. But Rose is one of the game's brightest young stars and, barring injury, will be an MVP-level player at the point guard spot for the next decade.
The key phrase, of course, is "barring injury." Just ask the top player on the list.
[+] Enlarge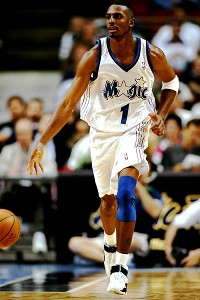 Andy Lyons/AllsportPenny Hardaway was on a Hall of Fame trajectory before a 1997 knee injury; still, he played 14 NBA seasons.
If you're my age, and grew up with Lil' Penny, you probably don't need me to outline why Anfernee Hardaway is on this list, or even why he's No. 1 above Rose. But in case you're too young to remember, Penny Hardaway was the capital-T Truth. A 6-foot-7 point guard who could score and dish and do pretty much anything else, Hardaway blitzed the NBA in his first four seasons, averaging 20.9 points, 7.2 assists, 4.4 rebounds and 1.7 steals per game in his second season, when the
Orlando Magic
won 57 games and knocked the
Michael Jordan
-less Bulls out in the second round of the NBA playoffs. As a young Bulls fan, I remember being horrified by this new world order.
Balance was soon restored to the force
but not before Nike could sell a gazillion pairs of Hardaway's
Air Pennys
, enough to make me the most consistently jealous 10-year-old basketball camp attendee of all time.
Despite the injuries -- chief among them a 1997 knee injury -- that eventually derailed what would have been a surefire Hall of Fame career, Hardaway went on to play 14 seasons in the league. Even if he hadn't, his early brilliance would have been enough. I know what I saw.
The rest of this list, as you might expect, is just sort of blah. Evans gets the nod at No. 3 because he has been a very productive player in his first four seasons, even if he's done so for one of the NBA's worst franchises (Sacramento) and earned a huge heaping of scorn for his seeming unwillingness to get teammates involved. Wright is a name you might best recall thanks to
his mysterious 2010 disappearance and death
, but, before that, the beloved Tiger had a nice 13-season NBA career. Perry did pile together 10 years in the league, but is listed fifth mostly because of that grotesque list of the rest, almost none of which has made any impact in the NBA. (To be fair, one-time uber-prospect Dejuan Wagner would've almost certainly cracked this top 5 had he not been beset by a series of scary medical ailments.)
Why they could be ranked higher:
Because Hardaway was the aforementioned truth? Because Rose is currently the truth? Because you believe Evans is misunderstood or in a bad situation and could be a brilliant player in a system that knew how to use him (or in any system at all, which isn't possible when you fire coaches as frequently as the Kings)? Any of these arguments is permissible, but none is particularly convincing. On the other other hand …
Why they could be ranked lower:
As much as it pains me to say this, we have no idea if Rose is ever going to be Rose again. With the possible exception of
Russell Westbrook
, no player in the NBA -- certainly no star -- relies as much on sheer athletic genius as Rose. He cuts, he bumps, he flies, he finishes, and when he's hitting jumpers, he's basically unguardable. What if all those cuts are a little less crisp? What if he can't do the same things he used to do physically? What does that mean for his career?
We could also argue that Hardaway, for as good as he was, was essentially a six-year player -- from 1993 to 1999 there were few guards in the game not named Michael Jordan as good as Penny. But after Hardaway's body betrayed him, he was a shell of his former self, doomed to wander the NBA wilderness until limping home with a 3.8-points-per-game season in his final year with the Heat. Don't get it twisted: I love me some Penny Hardaway. But he wasn't exactly a pillar of longevity.
Likewise, Evans is arguably trending downward. As a rookie, he averaged 20.1 points per game; he's declined in each subsequent season, from 17.8 to 16.5 to 15.2. These are not the best numbers by which to judge a young player's career, and Evans did shoot his highest field goal percentage (albeit on fewer attempts) in 2012-13. But after four seasons, Evans still lacks a consistent outside jumper, doesn't find teammates as often as he should and has too many character-related questions to project much added upside.
What's ahead?
Barton's career will be interesting to watch. A two-year player under Josh Pastner at Memphis, Barton was criminally underrated (much like the Tigers) in 2011-2012, his final season at the school, in which he finished with a 115.7 offensive rating on 25.6 percent usage. Despite putting up these All-America-level efficiency numbers, the 6-foot-6 guard was passed over until the
Portland Trail Blazers
selected him in the second round. Barton, who had an OK rookie season, has to improve his perimeter skills if he wants to stick as a conventional 3 in the league, but there's no reason he can't be a
Kawhi Leonard
type for the right team one day.
In the meantime, Pastner's program continues to recruit as well as any program in the country.
Adonis Thomas
killed his draft stock with an awful sophomore season, but he has the size and talent to stick in the league.
D.J. Stephens
is a
freak of nature
. Down the line, keep an eye on rising sophomore
Shaq Goodwin
and top freshman small forward
Nick King
.
Final thoughts:
For a program that spent the entire aughts coached by John Calipari, Memphis suffers from a distinct lack of depth when it comes to its pro pedigree since 1989. (Where have you gone, Dajuan Wagner? A nation turns its lonely eyes to you.) But at the top end, the players the Tigers
have
produced are undeniably stellar. Hardaway was a 6-foot-7 to whom God gifted the keys to Magic Johnson's tall-triple-double-machine legacy; only the whims of fate could slow him down. Rose, meanwhile, is still at the dawn of his career and already has one MVP -- in a
LeBron James
-owned league, and during a season in which
Dwight Howard
was insanely good -- under his belt. Even with the ACL tear, the long-term prognosis is pointing toward the Hall of Fame. Evans is divisive even within his own locker room, and his stock has taken a drastic hit, but there's no escaping the fact that he was the first player since James, Jordan and Oscar Robertson to average 20, 5 and 5 in his rookie season. That's still in there, somewhere.
Where Memphis' shot at the top 10 in this list falls apart is in the huge drop between that top three and the rest of its products since 1989. Look for Pastner to change that in the coming years. Until then, No. 15 feels right.
June, 18, 2012
6/18/12
5:00
AM ET
1. The inaugural Carrier Classic last November was one of the coolest events I've covered the past 22 years. Everything about it was unique: an outdoor game, on the deck of an active carrier, the historical significance as being the ship that dealt with the remains of Osama Bin Laden, the presence and official way in which the Navy hosts a U.S. president and the game involving a top-ranked team (North Carolina) and another elite program (Michigan State). Having three games on ships or bases does dilute the product in 2012 (Syracuse-San Diego State in San Diego; Marquette-Ohio State in Charleston; Georgetown-Florida in Jacksonville). But one thing I learned last year was how much these games help with the morale of those in uniform. These games are for them and for the players to truly appreciate their service. And that alone makes the plethora of games more than palatable.
2. Georgetown coach John Thompson III said his team will be ready for a challenging slate of games (Florida in Jacksonville, Texas in New York, Tennessee in DC, UCLA and or Indiana in Brooklyn). Thompson said he feels very comfortable his underclassmen will excel, led by
Otto Porter
. "This group can handle it," Thompson III said. The Hoyas did lose
Henry Sims
and
Hollis Thompson
but JT3 isn't worried about a major dip of any sort. He sound like this team will be a major factor in the Big East.
3. Incoming Memphis freshman forward
Shaq Goodwin
had quite a U18 USA debut with 30 points in a blowout win over the Virgin Islands Saturday in Brazil. Memphis coach Josh Pastner doesn't expect that kind of production, but said Goodwin can score in a variety of ways off offensive rebounds, in the paint and trail 3s. Pastner is mostly looking forward to coaching a player who he said has a high motor that doesn't need a jump start. Goodwin should infuse even more life into practice.
June, 13, 2012
6/13/12
12:04
PM ET
Josh Pastner's
Memphis Tigers
exited last season's NCAA tournament after a second-round loss to St. Louis in Columbus. But the Tigers will bring back most of their firepower next year, although they'll miss versatile wing
Will Barton
. Still, they're stacked and ready for another run to the Conference USA title in their last season as a member of the league. They will be headed to the Big East in 2013-14.
Pastner recently spoke with ESPN.com about all things Tigers basketball.
What are your expectations for William 'Shaq' Goodwin (ESPN Recruiting's No. 31 prospect in the 2012 class)?
[+] Enlarge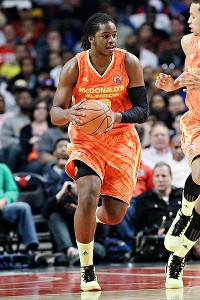 AP Photo/Nam Y. HuhThe Tigers are counting on contributions from freshman Shaq Goodwin next season.
Josh Pastner
: I think Shaq's going to have an opportunity to make an impact. I was really impressed that he made the USA 18-and-under team. I think that says a lot about his motor and his drive because he was the guy that wasn't in basketball shape right away and here he is going to a higher altitude [tryouts were held in Colorado Springs, Colo.] and played his way to making the team. That's a great credit to him. We're counting on him and expecting him to help us. Regardless if he's a freshman, we're going to count on him to produce for us.
Will Barton (18.1 ppg, 8.1 rpg, 2.9 apg, 1.4 spg, 0.7 bpg) did so much for your squad last season. How do you replace him?
JP
: It's not about the points that we'll miss. The main thing is the rebounds. He was getting eight, nine rebounds per game. We've got to replace those. We'll be able to replace scoring but we've got to replace the rebounding. And that's a big thing. The other thing with Will is he shot [51 percent] from the field. He was very, very efficient, so anything we try to replace that we lost with him, we've got to continue to be very efficient. But the most important thing is on the glass.
How have you handled the realignment talks and maneuvering this offseason with Memphis preparing for its move to the Big East in 2013-14?
JP
: You know, I just kind of go with the flow. I don't even feel the effects right now because our focus is only for this upcoming season, which we're in Conference USA. Not until this season is finished do I really start shifting my focus because I've got to focus on Conference USA for this season. Now, we're making sure we prepare for the future. … But any of the changes don't really take place for us until 2013-14.
How did injuries, especially Adonis Thomas' ankle problem, impact your program last season?
JP
: We had two of our starters out with injuries in
Adonis Thomas
, who's a pro prospect, and
Charles Carmouche
. Those guys we missed for the second half of the season. That's why I was very proud of our team. We were able to win 20 of 23 games, still won 26 games, win the conference regular-season championship with two of our starters down. That's a credit to our guys really stepping up and picking up slack where slack needed to be picked up.
What's the ceiling for a healthy Adonis Thomas?
JP
: I think Adonis can be very, very good. He's a high level player. And he's a high-level character guy. You put those two together ... that's a great package and so I'm really excited for this upcoming year with Adonis.
June, 8, 2012
6/08/12
5:00
AM ET
1. The USA men's U18 national team that will play in the FIBA Americas championship in Brazil later this month cut its roster down from 23 to 14 Thursday and there are a few names that fans will come to know next season. The incoming freshmen who will be instant hits on this roster -- so far -- are:
Rodney Purvis
(NC State),
Sam Dekker
(Wisconsin),
Shaq Goodwin
(Memphis),
Jerami Grant
(Syracuse),
James Robinson
(Pitt),
Marcus Smart
(Oklahoma State),
Rasheed Sulaimon
(Duke),
Montrezl Harrell
(Louisville),
Jake Layman
(Maryland) and
Joel James
(North Carolina). The coaching staff was most wowed by Smart, but the most memorable name when this tournament ends could be Tennessee's
Jarnell Stokes
. Stokes should star for this team -- and for the Vols next season. He's the only player
on the squad
who is currently in college.
2. The early departure of Butler to the Atlantic 10 has forced teams in the Horizon League to scramble in non-conference scheduling. Illinois-Chicago coach Howard Moore said Thursday that the Flames and other teams are searching for two more games at this late date. The Flames actually need four more games. One of the games the Flames had already secured is the opener against UC Riverside. Why is this significant? The Flames have
Joey Miller
-- who transferred from Eastern Illinois after his father, Mike Miller, was fired as head coach -- eligible immediately. Well, Mike Miller has now joined the Riverside staff and will be in Chicago for the opener, coaching against his son.
3. Former UConn wing
Jeremy Lamb
said he has been in touch with
Ryan Boatright
since his departure and that he has no doubt the perimeter of Boatright,
Shabazz Napier
and
Omar Calhoun
, with whom Lamb said he has played, will shine next season. Lamb also said he anticipates that
Tyler Olander
will be the anchor inside and can handle the chore of being the focal point in the post. No one should expect Lamb to trash his former team, but he was overly confident about the Huskies surviving the attrition that has hit the team since it was handed a postseason ban.