College Basketball Nation:

Sheldon McClellan
August, 21, 2013
8/21/13
5:00
AM ET
1. The easy thing to do is pile on Texas and coach Rick Barnes for
Ioannis Papapetrou
's decision to
sign with Olympiacos BC
, a professional team in his native Greece. This departure is completely different than the decisions made by
Jaylen Bond
,
Julien Lewis
and
Sheldon McClellan
. Papapetrou got a multi-year, multi-million-dollar deal. He was already in Greece, ripe to be convinced to stay. From all accounts, Papapetrou was happy with his situation in Austin -- and the Longhorns loved having him. This was not a planned departure, nor one that was pushed by the Texas staff. And that's why it stings more than the traditional transfers or
Myck Kabongo
's decision to leave early for the NBA draft. Texas needed a player who could produce, was experienced and wanted to be there. Losing someone like Papapetrou -- the top returning scorer once those players above bolted -- in late August is a crushing blow because he cannot be replaced. This puts even more pressure on returnees
Javan Felix
,
Jonathan Holmes
and
Demarcus Holland
to not only lead, but also to score and defend at a higher clip to avoid a second consecutive losing season.
2. Baylor senior guard
Brady Heslip
made the 14-man Canadian national team that will compete in the Continental Cup in Puerto Rico as a precursor to the FIBA Americas tournament in Venezuela. Heslip was the only collegian who made the team. Contacted late Tuesday, Heslip was obviously thrilled. So, too, was Baylor coach Scott Drew. If Heslip returns from these tournaments as a stronger shooter, defender and all-around player, the Bears will benefit greatly. Baylor is/should be a top-three team in the Big 12, behind Kansas and Oklahoma State. The Bears have the bigs with
Isaiah Austin
and
Cory Jefferson
but are green at the point. If Heslip can produce and create an inside-outside threat again, Baylor will be a real contender.
3. The NCAA can't have it both ways on preseason scrimmages. If the NCAA wants these scrimmages to be played, but not seen or heard from by the media or the public, then they can't be deemed some sort of official competition. Yet Old Dominion's
Donte Hill
has been ruled ineligible for what would have been his final season because he played in a scrimmage before transferring from Clemson to ODU. He played as a freshman at Clemson and then the past two years at ODU, redshirting the season in between. Hill's appeal was denied. He should try again and again. And if he's rejected, then these scrimmages -- especially the ones between two schools that travel to a neutral site to play -- need to be viewed as real exhibition games with countable stats, media and an opportunity for fans to watch.
June, 19, 2013
6/19/13
9:12
AM ET
1. Miami had to go the transfer route to catch up in the ACC and continue the momentum. Adding Kansas State's
Angel Rodriguez
and now Texas'
Sheldon McClellan
does give the the Hurricanes two experienced players coming into the program. McClellan was hardly the picture of consistency for the Longhorns, but he's given himself new life with the 'Canes. Miami had a historical season, but ran the risk of dropping significantly without beefing up and balancing the classes. This is not a band-aid fix, but more of a necessity to ensure they remain competitive without being too young.
2. The more NBA decision makers lament about the frustrations of this draft and the indecisions of what lies ahead next week, the more it proves what a unique decision Oklahoma State's
Marcus Smart
made in staying in school. Smart would have been the No. 1 draft pick had he decided to come out this season. I don't think it's a reach to say he would be a lock based on how hard it has been for teams to fall for someone in the top four. Smart showed yet again how much loyalty he has by returning to play for another gold with the FIBA U-19 USA team off to Prague next week. Now, Smart won't be the No. 1 pick next season, assuming Andrew Wiggins of Kansas declares. And Smart had to know this, making his move even more of a rare treat.
3. Expect the four players cut Monday by USA basketball to use that as a motivational factor next season. Pitt's
James Robinson
was probably the most curious of the players trimmed, because he was on the team a year ago that won gold in Brazil. Oregon's
Damyean Dotson
was kept initially for his shooting. But the squad has gone for more defensive quickness and pressure. Villanova's
Ryan Arcidiacono
and Georgia Tech's
Marcus Georges-Hunt
were also left off the final 12-man roster. But you'll hear from these four quite a bit next season, with Pitt, Oregon and Villanova all expected to be tournament-type teams.
May, 15, 2013
5/15/13
5:00
AM ET
1. Texas lost 18 games last season. The Longhorns won seven in the Big 12 and were shut out of the NCAA tournament for the first time since head coach Rick Barnes arrived in 1998.
Sheldon McClellan
and
Julien Lewis
were third and fourth, respectively, on the team last season in turnovers with a combined 112 and are both transferring. Jaylen Bond, who battled a foot problem for most of the season, also left. According to a source, the decisions weren't solely the players'. Should Texas be worried that these three, as well as NBA-draft-bound guard
Myck Kabongo
(23-game amateurism suspension), are out of the program? If last season's freshmen class is on board with the way Barnes wants to play, the answer is no.
Ioannis Papapetrou
,
Javan Felix
,
Connor Lammert
,
Demarcus Holland
,
Prince Ibeh
and
Jonathan Holmes
will be the core of next season's team. Holland clearly likes the idea of what remains in Austin. He
tweeted
after a workout on April 30: "Honestly never loved a team like I do now. Feels great when you can get it in, say family on three, and really feel like brothers. #Horns.'' At the time, Bond, McClellan and Kabongo were all gone. Barnes told his staff that he wants to get back to the teams he has had in the past, with players who will play with toughness and display the passion for winning. According to someone close to the program, despite the defections, the staff has looked at this spring as one of its best in terms of player development. The Longhorns also brought in four newcomers for next season. Texas will be picked in the lower half of the league, below Kansas, Oklahoma State, Baylor, Iowa State and Kansas State. The onus is on this crew, led by someone like Holland, to propel Texas back to its rightful place in the Big 12, in competition behind Kansas. If these departures are addition by subtraction, Barnes will know early on. If not, next season could seem like a dog year.
2. Michigan State athletic director Mark Hollis said there were logistical issues that could not be worked out for the proposed Dec. 7 game against Gonzaga in Spokane, Wash., to honor former Spartans coach and Spokane resident Jud Heathcote. So the game is off -- along with the proposed undercard of Washington State versus Montana. Wazzu coach Ken Bone said Idaho had been willing to move a date for the Cougars, but now that is unnecessary. Meanwhile, an SEC official said the league didn't have criteria for not including Georgia, LSU, Arkansas and Tennessee in the inaugural SEC/Big 12 Challenge. Scheduling conflicts and the need to balance the series were why those four schools were omitted in a challenge between a 14-team SEC and a 10-team Big 12. Still, organizers probably could have tried to get star-laden Oklahoma State a higher-profile game than hosting rebuilding South Carolina.
3. Gonzaga coach Mark Few said being away from his family was the reason he is stepping aside from coaching the U.S. under-19 team with Florida's Billy Donovan and Virginia Commonwealth's Shaka Smart in the world championships June 27-July 7 in Prague. Along with the practice sessions, it becomes nearly a month's commitment. The three coaches won gold a year ago in Brazil with the under-18 squad. Virginia coach Tony Bennett will take Few's spot on the staff. In an event taking place July 6-17 in Kazan, Russia, Davidson's Bob McKillop, Michigan's John Beilein and South Carolina's Frank Martin will coach the U.S. team at the World University Games. Meanwhile, Iowa State's
Melvin Ejim
is diversifying his international basketball career. Cyclones coach Fred Hoiberg said Ejim will play for Canada this summer after playing for Nigeria a year ago. Hoiberg said Ejim has dual citizenship from the two nations.
January, 19, 2013
1/19/13
8:55
PM ET
1. Florida is that good.
Yes, Missouri was missing leading scorer
Laurence Bowers
, and yes, the game was in Gainesville. Even so, what Florida did to Missouri on Saturday -- an
83-52 stomping
that began in the first minute and never relented -- was an explosive statement of purpose from a team that should be regarded as one of the best in the country.

It's not just the demolition of Mizzou, though that was a nice data point to add to the rest. It's how Florida has played all season. Entering Saturday, the Gators ranked No. 1 overall in Ken Pomeroy's adjusted efficiency rankings, with the No. 2 offense and the No. 2 defense.
After four games, the Gators are outscoring their SEC opponents to the tune of 0.42 points per trip. The 2012
Kentucky Wildcats
, which went 16-0 in SEC regular-season play, finished the season with a 0.26 efficiency margin, the most dominant performance any conference champion posted in any league last season. Playing this well in a down SEC, it's not ridiculous to think UF could do the same.
2. Michael Carter-Williams is a quick study.
Carter-Williams arrived at Syracuse last season as a highly touted shooting guard -- a lanky 6-foot-6 wing player who would, as soon as he was able to break into a loaded backcourt, add to SU's heavily stocked arsenal of scorers. But Jim Boeheim needed a point guard, so that's what Carter-Williams has been -- one of the best point guards in the country.

On Saturday, MCW had to learn on the job again. Against a relentless Louisville defense, one that forces the second-most turnovers per possession of any defense in the country, Carter-Williams initially struggled.
Russ Smith
and
Peyton Siva
forced him into turnover after turnover, and at several points, particularly early in the second half, it appeared as if the Cardinals were going to force enough giveaways to pull away from a more-than-game Syracuse opposition.
But Carter-Williams, who woke up Saturday with the nation's third-highest assist rate, quickly tidied things up. Per ESPN Stats & Information, Carter-Williams had eight turnovers in the first 32:30, but none in the final 7:30. He also accounted for Syracuse's final 13 points, scoring 11 of them and assisting on the other two.
In the closing moments, MCW's most underrated ability -- forcing steals -- got him a run-out, which he finished with a fast-break dunk that, but for a wild series of late possessions, gave the No. 6 Orange the slim but decisive edge they needed to topple No. 1 Louisville on the road. It was an impressive performance by Boeheim's team in many regards, but no one was more impressive in the biggest moments of the game than Syracuse's infinitely adept sophomore.
3. Wichita State can really guard.
The
Creighton Bluejays
are one of the nation's best offensive basketball teams. This season they've averaged 1.20 points per possession on offense, fourth-best in the country. They entered Saturday with the nation's highest 2-point (56.9 percent)
and
3-point (45.4) field goal marks. They have a host of efficient role players who can beat you inside and out, and in
Doug McDermott
, they feature not only college basketball's most dynamic scorer but also one of its most efficient and versatile.

And on Saturday, the Shockers made them look utterly average.
Granted, a road trip to a good Wichita State was always a tall order for Creighton; one doubts Greg McDermott and his staff will come away from this hard-fought loss -- wherein 46 percent 3-point specialist
Ethan Wragge
missed two good looks to tie the game on the final two possessions -- all that angry or upset. In some regard, Creighton deserves credit for hanging in and nearly forcing overtime in a brutal road environment. But it was impossible to watch Gregg Marshall's team guard for 40 minutes and not be thoroughly impressed. The Shockers fought through every screen, bumped every cutter, pressured McDermott early without giving up too many open looks to his cohorts and grabbed 70 percent of the available defensive rebounds. Creighton, usually so ruthlessly clinical, never really found its rhythm.
[+] Enlarge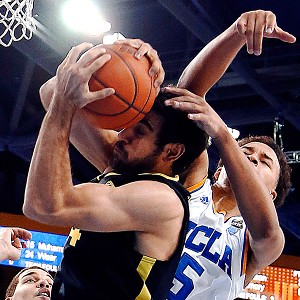 AP Photo/Reed SaxonArsalan Kazemi was again in the thick of it for Oregon, here pulling down one of his 11 boards.
4. Oregon is Arizona's true Pac-12 challenger.
Since last spring, when UCLA coach Ben Howland locked down the nation's best recruiting class, the 2013 Pac-12 was prospectively seen as a duel between the conference's great old powers, Arizona and UCLA. Though the Bruins stumbled early in the season, they have played much better since. Led by the intuitive offensive brilliance of hyper-hyped guard
Shabazz Muhammad
, they entered Saturday having won 10 in a row. In other words, don't get me wrong: UCLA is not to be taken lightly.
It's just that, well, it's now officially time to anoint Arizona's true competition for the 2013 Pac-12. That team is the
Oregon Ducks
.
Oregon's win at Pauley Pavilion on Saturday afternoon was made all the more impressive by how well UCLA has been scoring lately. This is a team that had averaged 1.14 points per possession in its 10-game winning streak. The Ducks shut that whole thing down, holding UCLA to just 0.93 points per trip and cinching the defense ever tighter as the minutes counted off in the second half.
It's hard to say too much about the job Dana Altman has done in just his third season in Eugene, and it's impossible to say enough about what Rice transfer
Arsalan Kazemi
gives Oregon on the defensive end. Before Saturday, Kazemi ranked second in the country in defensive rebounding rate (31.2 percent) and 17th in steals percentage (5.1), the
only player in college basketball remotely so adept at rebounding and forcing steals
. The Iranian national's insertion into a tough, veteran UO lineup has made all the difference, and now the Ducks -- already a winner over Arizona -- are chasing a Pac-12 title.
5. Arizona State is not there yet.

Over the past few weeks, a soft but steady murmur has broken out among the college-hoops cognoscenti:
Watch out for Arizona State.
And rightfully so. After the disaster that was 2011-12 -- when ASU finished 10-21 and No. 223 in the KenPom rankings -- through Friday the Sun Devils were 14-3, No. 83 in the efficiency rankings and, at the risk of being obvious, just way way way better at basketball in every possible regard. It was a reality we all slowly woke up to, the idea that Arizona State, so bad a season ago, was not only improved but might actually find its way into the NCAA tournament. All it really needed was a quality win, and what better opportunity than in-state rival and basketball big brother Arizona -- in Tempe, no less?
Not so much. The Sun Devils fought valiantly for much of the game before Arizona recognized a weakness -- point guard
Jahii Carson
, the real engineer of the ASU turnaround, was playing with three fouls. Arizona started penetrating at Carson constantly, forcing the talented redshirt freshman into matador defense. When he picked up his fourth, the Sun Devils fell flat. As Wildcats senior
Solomon Hill
told the AP: "He's the heart of the team. They've only got six or seven guys, and it's a big drop-off when Jahii's out of the game."
It's a disappointing result for the Sun Devils fans, many of whom are just coming in from the (totally figurative) cold and getting excited about the program again. But it was a reminder of how important Carson is to Arizona State and how, if this team plans to get to the postseason, it needs to keep him on the floor at all costs.
Extras
:
I'm having a difficult time wrapping my head around Temple. The Owls beat Syracuse in Madison Square Garden and pushed Kansas to the limit in Lawrence. They also lost at home to Canisius and, today, fell in Philly to St. Bonaventure 81-78. According to ESPN Stats & Info, that was the Bonnies' first-ever victory at Temple. They were 0-30 all-time in the Owls' building, and the last time they beat them anywhere was Jan. 16, 2002. I admit it: The Owls flummoxes me. I am flummoxed.
Ole Miss improved to 4-0 in the SEC with a 76-64 win over Arkansas on Saturday. Here's a crazy stat for you: This is Rebels' best SEC start since -- get this -- 1937.
How bad is West Virginia? That was a promising team on preseason paper, but the Mountaineers struggled out of the gate and haven't improved since. On Saturday, they fell to 8-9 overall with a 79-52 loss at Purdue, where they had as many turnovers (17) as made field goals. Yikes.
Kansas State handled a really solid Oklahoma team at home to stay unbeaten in Big 12 play. There is absolutely nothing remotely flashy about the Wildcats or the Sooners, but K-State might be the second-best team in the conference and Oklahoma looks like a top-half Big 12 outfit.
Georgetown's offensive woes -- the Hoyas are one of the better defensive teams in the country but just … can't … score -- continued today. They lost 61-58 at South Florida.
Speaking of offensive woes, Texas might be getting better on the offensive end -- Sheldon McClellan has developed into a real threat even without suspended point guard Myck Kabongo -- but the Longhorns are still very much a work in offensive progress. That said, they really guard people. It is natural to assume that a team that is 8-9 overall and 0-4 in the Big 12 is going to be an easy win for most of the league. Not at all. Kansas had to battle late to get out of Austin with a win, and plenty of Big 12 teams won't be so lucky.
If someone wants to start a Kickstarter to buy me a second or third television, feel free. If college basketball insists on having great games simultaneously every Saturday, this may be the only way. What an afternoon, huh?
January, 18, 2013
1/18/13
9:00
AM ET
Kansas State has moved up a spot in this week's Big 12 power rankings -- and the Wildcats could be even higher by this time next week if they capitalize on two huge opportunities in the coming days. K-State's next two games are against Oklahoma and Kansas -- both at home. The Sooners and Jayhawks are the only schools in the Big 12 besides K-State that have yet to lose a league game. Should be a fun week. Here are the latest rankings.

1. Kansas.
The Jayhawks' offense has sputtered a bit lately, but defensively Bill Self's squad has been stout. The Jayhawks held Baylor to 44 points on 23.2 percent shooting Monday. Leading scorer
Ben McLemore
injured his ankle but is expected to play against Texas on Saturday in Austin.
2. Iowa State.
After nearly upsetting KU in Lawrence nine days ago, Iowa State has defeated Texas by 20 points and staved off a late rally by West Virginia. The Cyclones' next two games are road tilts against the league's worst two teams: TCU and Texas Tech.
3. Kansas State.
No other player in the Big 12 has been as good as
Rodney McGruder
since the beginning of conference play. The senior is averaging 22 points per game against Big 12 opponents and is shooting 54 percent from the field. Center
Jordan Henriquez
has given his team a nice boost off the bench in recent weeks.
4. Baylor.
The Bears can't be as bad as they looked against Kansas on Monday, can they? Baylor is in for a long Big 12 season if it doesn't show more discipline and start taking better shots. Baylor plays a nonconference game against Hardin-Simmons on Saturday before hosting Oklahoma State in a crucial contest Monday night.
5. Oklahoma.
The Sooners hit the jackpot by hiring Lon Kruger. Oklahoma is one of the league's three remaining undefeated teams along with Kansas and K-State.
Romero Osby
leads the team in points (13.7) and rebounds (6.3). Saturday's game at K-State is huge for both teams. Four of OU's next six games are on the road.
6. Oklahoma State.
By the time they take the court for Saturday's game against Texas Tech, the Cowboys will have had a week to think about last weekend's 77-68 loss to rival Oklahoma in Norman.
Marcus Smart
has shown great leadership, but he's shooting just 41.3 percent from the field and 29.7 percent from 3-point range.
7. West Virginia.
The Mountaineers haven't lived up to their expectations, but they certainly appear to be getting better, especially in the toughness department. Bob Huggins' squad erased an 18-point second-half deficit against Iowa State but lost when Cyclones forward
Georges Niang
hit a layup with 2.5 seconds remaining. WVU is a threat to beat anyone in the conference.
8. Texas.
The Longhorns have lost four of their past five games, including two in overtime. With Kansas visiting this weekend, things probably won't get better soon.
Sheldon McClellan
played just one minute in last weekend's 20-point loss to Iowa State as coach Rick Barnes, displeased with McClellan's effort, sent the team's leading scorer a message.
9. Texas Tech.
Chris Walker's squad has lost its past three Big 12 games by an average of 22 points.
Jaye Crockett
leads the team in points (13.8) and rebounds (8.3). Texas Tech's next two games (at Oklahoma State on Saturday and at home against Iowa State on Wednesday) will be tough. But a Jan. 26 tilt at Texas could be interesting.
10. TCU.
The Horned Frogs led Baylor at halftime Saturday before losing 51-40. Trent Johnson's squad simply doesn't have the personnel to compete with major college schools. No one would be surprised if TCU finished 0-18 in league play.
December, 21, 2012
12/21/12
9:00
AM ET
A Big 12 team other than Kansas finally picked up a quality nonconference victory when Texas upset North Carolina in Austin on Wednesday. Don't get too excited, though. This league still has a long way to go. Here are this week's power rankings.
1. Kansas.
Saturday's tilt with No. 7 Ohio State in Columbus will be the first true road game for Bill Self's squad. The Jayhawks' three most recent victories -- against Colorado, Belmont and Richmond -- came by an average of 31 points.
Jeff Withey
leads the nation with 5.4 blocks per game.

2. Oklahoma State.
Kudos to the Cowboys, who have won four straight since losing at Virginia Tech on Dec. 1. Travis Ford's squad, which gets a combined 30.2 points per game from
Le'Bryan Nash
and
Markel Brown
, hosts Tennessee Tech on Saturday and then has eight days off before a New Year's Eve date with Gonzaga in Stillwater.
3. Iowa State.
Christmas has come early for the Cyclones, who don't play again until Jan. 1. Guard
Tyrus McGee
has been playing extremely well for Fred Hoiberg's squad. He's averaging 13.3 points and shooting 48 percent from 3-point range. Iowa State is 9-3 with losses to Cincinnati, UNLV and Iowa.
4. Baylor.
The Bears host Brigham Young on Friday. They. Have. To. Win. Seriously, a team that's already toting home losses to College of Charleston and Northwestern can't afford to drop another non-league game against an inferior opponent. Baylor has zero chemistry on offense.
5. Kansas State.
The Wildcats' two losses are to Michigan (in New York) and to Gonzaga (in Seattle. That's nothing to be ashamed of. Still, even against mediocre teams at home, Kansas State has struggled to score. That's not a good thing for a team that takes on Florida on Saturday in Kansas City.
6. Texas.
Myck Kabongo
won't play for the Longhorns this season, but Texas didn't even need him during Wednesday's 85-67 whacking of an alarmingly sloppy, uninspired North Carolina club. Texas, which is getting 15.5 points from
Sheldon McClellan
, could pick up some additional momentum with a victory at Michigan State on Saturday.
7. Oklahoma.
Wouldn't you know it? The minute I start complimenting the Sooners for the strides they've made under Lon Kruger, Oklahoma goes out and drops a game to Stephen F. Austin. That's inexcusable, boys. The Sooners' next game, a Dec. 29 visit from Ohio University, won't be a cakewalk.
8. West Virginia.
The Mountaineers ended a two-game losing streak by squeaking past Oakland on Wednesday. Still, Bob Huggins' squad may be the Big 12's biggest disappointment thus far. Transfers
Aaric Murray
and
Juwan Staten
are averaging a collective 20.5 points.
9. Texas Tech.
Chris Walker is going to have a tough time earning the permanent head-coaching position if his team can't beat McNeese State at home. The Red Raiders showed some fight against Alabama three nights later but still lost 66-62. Arizona State, Saturday's opponent, is pesky.
10. TCU.
The Horned Frogs haven't caught any breaks in Trent Johnson's first season. Aaron Durley and Amric Fields were both lost to ACL injuries, and now
Jarvis Ray
is out six to eight weeks with a broken foot.
December, 19, 2012
12/19/12
11:31
PM ET
AUSTIN, Texas -- A few quick thoughts from Texas'
85-67 victory
over 23rd-ranked North Carolina at the Frank Erwin Center ...


Overview:
When last Texas found itself on the national stage, it was blowing an eight-point lead with 3 minutes, 43 seconds left against UCLA. Clearly this young Longhorns team -- without point guard
Myck Kabongo
due to NCAA suspension -- learned a little something in that Dec. 8 loss as it held off the Tar Heels on Wednesday night.
The victory comes as Texas is dealing with issues both on and off the floor. Coming into the game, the Horns were an uncustomary 6-4 in the nonconference. And on the day of the game, university officials had learned that Kabongo's ordeal with the NCAA would extend throughout the season barring an appeal, according to sources within the Texas athletic department and first reported by Yahoo! Sports.
The Tar Heels (8-3), meanwhile, are not in that great of shape either. Against Texas, the talent and playmaking was there, but the first-half hole they dug was just too deep. Texas led by as many as 19 in the first half. North Carolina cut it to four with under 8 minutes left in the game, but never managed to get any closer as UT quickly pushed the lead back to a comfortable 10 with less than 2 minutes left.
Turning point:
With North Carolina slowly crawling back into the game and momentarily whittling the Texas lead to four, the Longhorns went inside with a pass from
Sheldon McClellan
to center
Cameron Ridley
, who turned and threw down UT's first dunk of the game. That pushed the Texas lead back to seven, 63-56, with 6:25 left. It also gave the Horns the lift to ward off a UNC comeback.
Key player:
Texas forward
Jonathan Holmes
wasn't flashy in the second half, but his steady play in the first helped give his team a huge lead. The sophomore scored eight consecutive points during one stretch to put Texas up 15, 33-18. Six of those eight points were from behind the arc, a place from which Holmes is not accustomed to making shots. He finished with 15 points and 8 rebounds.
Key stat:
Texas is without its top point guard and best defender in Kabongo, but that did not stop the Longhorn defense from creating 18 North Carolina turnovers, including 12 in the first half. Texas converted those turnovers into 14 points.
Miscellaneous:
Texas is 3-1 against North Carolina over the past four seasons. ... North Carolina shot 31.3 percent. ...
Reggie Bullock
scored 18 points (tying him with Texas' McClellan for game-high honors). He also led in rebounds with 13. ... Texas had 18 second-chance points.
Next up:
After two seesaw games with non-ranked opponents, the Tar Heels should have a relatively easy time with McNeese State at home Saturday before playing host to a resurgent UNLV program Dec. 29. Texas heads on the road for another top-25 opponent as it goes to No. 20 Michigan State for a game Saturday afternoon.
November, 21, 2012
11/21/12
1:27
AM ET
LAHAINA, Hawaii -- Here are some observations from the second day of the EA Sports Maui Invitational.
After dominating Mississippi State on Monday, the North Carolina Tar Heels got a rude wake-up call versus Butler on Tuesday. On Monday evening I wrote: "North Carolina has much more talent, but the Bulldogs are scrappy and well-coached. The Tar Heels are more of a finesse team. The physicality of Butler could give the Heels problems." That's exactly what happened. North Carolina was outrebounded 36-27 and Butler beat them to just about every loose ball.

After the game, North Carolina head coach Roy Williams admitted that he had the better players, but Butler and coach Brad Stevens had the better, tougher team. "They were more physical, more assertive and more aggressive," Williams said. "They're really good. Brad's clubs are really intelligent. I like their toughness and their intelligence more than their talent, and I'm not trying to put down their talent. But I love their toughness and their intelligence."

UNC clearly has the talent, but does anyone on this team have the toughness the Heels needs to go deep?

Sixth man P.J. Hairston was, for the second night in a row, the best and toughest Tar Heel on the floor. It might be just a matter of time before Williams puts him in the starting lineup.

Most disappointing was forward James Michael McAdoo. In the tourney-opening blowout against Mississippi State, McAdoo was solid on offense, but had four mind-boggling turnovers, prompting Williams to comment after the game that "we can't throw the basketball around."

On Tuesday night, McAdoo had seven turnovers to go with his 10 points and five rebounds. Williams isn't the only one miffed by the performance of his big man.

Most of the NBA scouts and general managers in the audience savaged McAdoo for his performance the past two games. "He looks good in a basketball uniform," one GM told me. "But after that, I'm not sure what I'm supposed to like. He's a pretty good athlete, but he isn't very skilled and he doesn't go hard all the time. There's not one thing he does that really stands out about his game. He certainly hasn't played like a top-five pick."



[+] Enlarge

AP Photo/Eugene TannerUNC's James Michael McAdoo, here getting blocked by Butler's Andrew Smith, hasn't impressed NBA observers in Maui.

McAdoo is currently ranked No. 6 on our Big Board -- but could be in for a drop if he doesn't start picking it up.

Illinois continued its impressive run in the tournament with an 84-61 win over local underdogs Chaminade on Tuesday. The Illini got balanced scoring -- Brandon Paul scored 13 points, D.J. Richardson had 11 and Joseph Bertrand 14. The Illini are off to a 5-0 start, but they haven't really been tested yet. Butler should give them everything they can handle and will be the favorites to win it all after dominating North Carolina. But don't count out Illinois. The team is playing with a lot more aggressiveness and discipline under new head coach John Groce. It has a terrific backcourt in Richardson, Paul and Abrams and size up front.

A win in the tournament will be a huge boon to the Illini's confidence. They aren't in the same class as Big Ten elite teams such as Indiana, Ohio State, Michigan or Michigan State, but they, along with Wisconsin, Minnesota and Iowa, may be a very tough outs in the league. I won't be surprised if the Big Ten gets eight teams into the NCAA tournament this season.

A number of my tweeps laughed at me Monday when I said that NBA scouts were intrigued by Butler freshman Kellen Dunham. I don't think they are laughing anymore. Dunham bounced back from an awful game versus Marquette and really put the dagger in the Tar Heels in the second half. He ended the game with 17 points and was 5-for-9 from beyond the arc. He's still a little tentative and passed up a few open shots in the game, but his stroke is flat-out pure. Dunham isn't your average mid-major guard. He was ranked as a top-100 player by ESPN and was an NBA camp invitee. Dunham isn't a one-and-done prospect, but as he continues to get stronger and more confident, he could have a future in the pros after his junior or senior years of college.

The Texas debacle continued Tuesday with a 59-53 overtime loss to USC. The good news? The Longhorns didn't get blown out this time and played with more urgency. The bad news? Offensively this team is just a mess. When (or is it if?) the Longhorns get Myck Kabongo back, they'll be better. But I don't think he has the talent alone to turn things around. There just isn't a lot of talent around Kabongo. Sophomore Sheldon McClellan has struggled in Maui, going just 8-for-25 from the field and 1-for-11 from 3. Freshman big man Cameron Ridley was ranked as the eighth-best prospect in the country by ESPN, but he's looked out of shape and overwhelmed in the early going.It could be a long year, Texas fans.

Marquette fans, meanwhile, are hoping they have found a go-to scorer in junior Vander Blue. For the second consecutive game, Blue led the team in scoring with 18 points and three assists versus Mississippi State. Blue has always had the talent, but he has struggled with consistency and aggressiveness in the past. What's different this year? "I'm just playing with a free mind and just playing off my teammates," Blue said. "Junior [Cadougan] is a great guy, and everybody's going to double Davante [Gardner], so that pretty much leaves me open for shots. So I feel like if I'm making those shots, our team is a much better team. I'm not trying to do nothing that we don't do every day in practice." Blue's versatility, toughness athleticism and defense all intrigue NBA scouts. If he can show some offensive prowess as well, he could be a second-round pick.

There was a moment in time when USC big man Dewayne Dedmon was considered a potential NBA prospect. That time has probably passed. Dedmon has the size and athletic ability to be a pro. But he has no feel for the game. That's always a problem, but it's an even bigger problem when you're already 23 years old. Dedmon had 8 points, 8 rebounds and 3 blocks against Texas but was just 3-for-11 from the field.

Butler will face Illinois in the EA Sports Maui Invitational Final on Wednesday at 10 p.m. ET on ESPN. North Carolina will play Chaminade in the consolation game at 7:30 p.m ET on ESPN2.
October, 11, 2012
10/11/12
12:13
PM ET
AUSTIN, Texas -- All of this could have been avoided.
Myck Kabongo
could be taking part in his first NBA training camp right now and not be the subject of an
NCAA investigation into his relationship with a professional agent
, which Yahoo! Sports first reported late Wednesday night.
But the Longhorns sophomore point guard didn't want his last game in a Texas uniform to be a 65-59 loss to Cincinnati in the first round of the NCAA tournament. He wanted his legacy in Austin to be much more memorable than that and figured he could make that happen with at least one more season as a Longhorn.
[+] Enlarge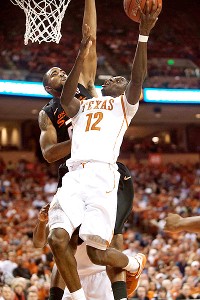 Brendan Maloney/US PresswireAs a freshman, Myck Kabongo averaged 9.6 points per game last season for the Longhorns.
"Personally for me I didn't want to go out without winning," Kabongo said recently. "This program deserves to win. They've done everything possible from a Sweet 16, Elite 8, Final Four. They just haven't gotten to that big stage yet. I just think with the big pieces that we have coming back we could do that."
The Big 12's head coaches reminded everyone last week of the expectations he brings with him into the season by naming him to the Preseason All-Big 12 Team. But if the findings in the NCAA investigation cause him to miss time this season, those expectations could be tempered a bit.
Kabongo, a 2011-12 All-Big 12 honorable mention, started all 34 games last season as a true freshman. A pass-first point guard, he finished fourth in the league in assists per game (5.2), second on the team in steals (38) and third on the team in scoring (9.8 ppg).
He was expected to be the face of a program whose roster features just two seniors (both walk-ons) and no juniors. He is up to 180 pounds after adding 10 pounds of muscle this summer, and said he felt much better about being able to handle the rigors of an NCAA season.
"I thought I could use another year of college to get stronger," he said. "Talent-wise I think I was ready to go. But physically and mentally it was a good thing for me to come back, get bigger and stronger, and build a bond with my teammates."
January, 23, 2012
1/23/12
9:30
AM ET
Here are this week's Big 12 power rankings:
1.
Kansas
: Bill Self said Saturday's 69-66 victory at Texas was his team's best win of the season. Not because the Jayhawks played particularly well against the struggling Longhorns, but because they found a way to grind out a victory in a tough road environment. Kansas is 36-7 in Big 12 road games in the past five-plus seasons.

2.
Missouri
:
Ricardo Ratliffe
scored 27 points in Saturday's 89-88 win at Baylor, but many of those came on easy baskets against the Bears' soft interior defense. The bigger story was the performance of point guard
Phil Pressey
, who had 18 points, seven assists and six steals in the Tigers' most impressive victory of the season.
3.
Baylor
: Saturday's 89-88 loss to Missouri was more lopsided than the final score indicates. The Bears were outscored 14-0 on second-chance points in the first half, when they were out-toughed and out-hustled in the paint by the undersized Tigers. The Bears trailed by as many as 12 points in the second half.
Perry Jones III
has a nagging ankle injury that has limited his performance the past two games.
4.
Iowa State
: Success in its next three games (at Texas and at home against Kansas and K-State) would go a long way toward improving the NCAA tournament hopes of a Cyclones team that is 14-5 overall and 4-2 in league play. Juco transfer
Tyrus McGee
had six 3-pointers in a 20-point effort in Saturday's win at Texas Tech.
5.
Kansas State
: The Wildcats have won their last two games (against Texas and Oklahoma State), but their free-throw shooting has been abysmal. Frank Martin's squad has made just 44 of its last 79 attempts from the foul stripe (55.7 percent). Center
Jordan Henriquez
has been suspended indefinitely.
6.
Texas
: The Longhorns are improving, but it hasn't shown up in the win column. Texas' last two losses (to K-State and Kansas) have come by a combined seven points. Freshman guard
Sheldon McClellan
is averaging 15 points in his last two games.
7.
Texas A&M
: Billy Kennedy's team got a huge confidence boost when it defeated Oklahoma in overtime Saturday in College Station. It may be short-lived. Three of the Aggies' next four games are against Kansas, Baylor and Kansas State.
Khris Middleton
, who is regarded as Texas A&M's top player, missed most of Saturday's game after bumping knees with a teammate and is questionable for Monday's game at Kansas.
8.
Oklahoma
: The Sooners have a huge chance to regain some momentum when they host Baylor on Tuesday. Forward
Romero Osby
is averaging 17.3 points in his last three games, but he may have trouble against the Bears' size and length. Upcoming road games at Kansas State (Saturday) and Kansas (Feb. 1) won't be easy.
9.
Oklahoma State
: The undermanned Cowboys turned in an impressive performance before losing at Iowa State on a buzzer-beater last week. Saturday they fell at home to Kansas State for their third straight loss. Missouri visits Stillwater on Wednesday. The Cowboys are 9-10 overall.
10.
Texas Tech
: The Red Raiders are 0-6 in Big 12 play, and their losses have come by an average of 17 points. Billy Gillispie's squad averages just 63.1 points per game. The biggest question the rest of the way will be whether Texas Tech can get a conference win. Its best chance may be at home against Oklahoma State on Jan. 31.