College Basketball Nation:

Sherwood Brown
March, 30, 2013
3/30/13
3:10
AM ET
ARLINGTON, Texas -- At 11:46 p.m. CT on Friday at Cowboys Stadium, a group of Florida fans rose from their seats and began a rather sobering chant.
"Al-most mid-night!," they yelled. "Al-most mid-night!"
Standing on the nearby court, Florida Gulf Coast's players could only hang their heads. The clock was about to strike 12 on one of the better Cinderella stories in NCAA tournament history. The first No. 15 seed ever to advance to the Sweet 16 finally came off its cloud in a
62-50 loss
to Florida.
"We made history," guard
Brett Comer
said. "We did something that nobody in the nation thought we would do. I just hate that it has to end."
The rest of America -- other than Florida fans, of course -- likely feels the same way.
The Eagles might have lost, but they hardly looked out of place or outclassed against third-seeded Florida, which advanced to the Elite Eight for the third consecutive season. The Gators (29-7) play Michigan at 2:20 p.m. ET Sunday for a chance to go to the Final Four.
FGCU came out on fire and led 15-4 at the 13:38 mark of the first half. And it was 24-14 after
Christophe Varidel
made three straight foul shots with 5:23 remaining. Florida, though, ended the first half on a 16-2 run and controlled the game after intermission.
[+] Enlarge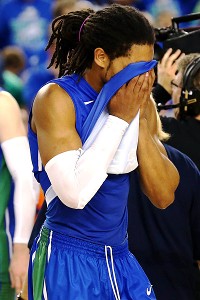 Matthew Emmons/USA TODAY SportsSherwood Brown, the lone senior among FGCU's starters, buries his head after the Eagles' loss.
"When they started their run, we didn't have the energy we did in the other two games," Eagles forward
Chase Fieler
said. "It got us down. We weren't playing with the same energy, the same fire we showed before.
"They're a great team and they did a great job of slowing us down and making us run our plays from five feet deeper than we wanted to. They got us out of our game."
Indeed, Florida's overall defense and physicality in the paint ended up being too much for the Eagles, who had 20 turnovers and were outrebounded on the offensive glass 13-5.
"I thought we did a great job of putting pressure on those guys and making them feel uncomfortable," Florida guard
Mike Rosario
said.
Rosario scored 15 points while backcourt mate
Scottie Wilbekin
added 13. Three FGCU players (
Sherwood Brown
, Fieler and Varidel) all scored in double figures for a team that shot 45.5 percent from the field.
"I think that, for whatever reason, they felt like the two teams they played before us (No. 2 seed Georgetown and No. 7 San Diego State) disrespected them," Florida coach Billy Donovan said. "I don't know if that's true or not. But we certainly went into the game with a lot of respect for them."
Brown is the only senior in the Eagles' starting lineup, so there's a good chance we haven't heard the last of Florida Gulf Coast (26-11), which might have been under-seeded at No. 15. Coach Andy Enfield's squad beat eventual ACC champion Miami during nonconference play.
"We learned that we can play with anyone in the nation," Comer said. "We learned that we can literally do anything that we put our minds to if we play with the right energy.
"We did some things here that will never be forgotten."
March, 30, 2013
3/30/13
12:59
AM ET
ARLINGTON, Texas -- A quick look at Florida's
62-50 victory
over Florida Gulf Coast in a South Regional semifinal Friday at Cowboys Stadium:


Overview:
FGCU's moment in the national spotlight is over. At least for this season. The first No. 15 seed in history to advance to the Sweet 16 saw its magical NCAA tournament run end at the hands of the third-seeded Gators.
The Eagles (26-11) committed 20 turnovers against Florida's menacing defense and never could respond after the Gators closed the first half on a 16-2 run.
Michael Frazier II
made back-to-back 3-pointers to ignite Florida's march, which turned a 24-14 deficit into a 30-26 lead.
Florida (29-7) surged ahead by as many as 13 points in the second half, but Andy Enfield's FGCU team kept the score respectable and never completely went away.
The Gators advanced to play Michigan in the South Regional final at 2:20 p.m. ET Sunday at Cowboys Stadium. This will mark the third consecutive season Billy Donovan's squad has appeared in the Elite Eight. Florida has not advanced to the Final Four since 2007.
Key player:
Mike Rosario
scored 15 points for Florida and
Scottie Wilbekin
added 13.
Sherwood Brown
(14 points),
Chase Fieler
(12) and
Christophe Varidel
(10) tallied double figures for Florida Gulf Coast.
Key stat(s):
Florida forced 20 turnovers and won the battle of the offensive boards, 13-5.
March, 29, 2013
3/29/13
12:20
AM ET
ARLINGTON, Texas -- Leading scorer
Sherwood Brown
was a walk-on. Guard
Bernard Thompson
's awkward shot scared most schools away. Dunking phenom
Eddie Murray
scored 11 points in an entire season two years ago.
Point guard
Brett Comer
led the Atlantic Sun Conference in assists this season. Not bad for a guy who had no idea how to play the position when he arrived in college.
These are the
Florida Gulf Coast Eagles
, the first No. 15 seed to advance to the Sweet 16 -- and the team you'll be rooting for Friday evening.
Unless you're a Florida fan, of course.
The third-seeded Gators (28-7) will try to avoid becoming FGCU's latest upset victim when the teams square off in the South Regional semifinals at Cowboys Stadium. Andy Enfield's squad opened NCAA tournament play by defeating 2-seed Georgetown and 7-seed San Diego State.
"We know the nation is behind us," Murray said. "Everybody loves a Cinderella."
Especially this Cinderella, with its motley crew of a roster filled with basketball vagabonds and unlikely success stories. The Eagles' personalities make them easy to root for -- and their loose, high-flying, slam-dunking style of play has made them the must-watch team of the tournament.
[+] Enlarge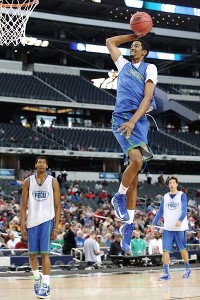 Kevin Jairaj/USA TODAY SportsLeonard Livingston and FGCU are enjoying the ride to the Sweet 16, where No. 3 Florida is next.
"Our main goal is to have fun," Comer said. "You'll see Sherwood Brown with some kiss-blowing, some flexing. You'll see
Christophe Varidel
do a heel click after a 3. It's just the way we are."
And that's fine with Enfield.
"It's the personality of our players and our team and our culture," he said. "What you're seeing is genuine. They enjoy being here. They enjoy playing the game of basketball."
The Eagles (26-10) have certainly earned the respect of their opponent.
"It's tremendous what they've done," Florida coach Billy Donovan said. "It's been a great ride for them. NCAA tournament-history-wise, this has never happened. It's a state-of-the-art, new thing."
And the Florida Gulf Coast campus is relishing it.
When forward
Chase Fieler
walked into the bookstore on the school's Fort Myers campus this week, he said the place was so packed he could hardly move.
"You can't really describe the atmosphere on campus," he said. "It's just been a busy week, with the attention and the media being around. It's exciting.
"At the first news conferences [last week], people weren't really sure what questions to ask us. They looked at us with blank stares. Now they're asking us how we're preparing for a No. 3 team, or they have questions for us personally. No matter what happens from here on out, this is something we'll never forget."
WHOM TO WATCH
Florida's
Erik Murphy
,
Patric Young
,
Kenny Boynton
and
Mike Rosario
each average between 10.3 and 12.8 points per game. Guard
Scottie Wilbekin
is the Gators' defensive specialist. Florida Gulf Coast's Eddie Murray and Chase Fieler have produced some of the NCAA tournament's best dunks thus far.
WHAT TO WATCH
Florida Gulf Coast is the first 15-seed to advance to the Sweet 16, so it'd obviously be a huge feat if the Eagles ended up in the Elite Eight. Florida has lost in the Elite Eight each of the past two seasons.
STAT TO WATCH
Billy Donovan's Gators have been brutal in close contests this season. Florida is 0-6 in games decided by single digits.
March, 17, 2013
3/17/13
10:25
PM ET
We've had a few hours to analyze the bracket. So many tough calls to make. No need to waste time, though. Here are a few bold predictions for the 2013 installment of the NCAA tournament.
Kansas will not reach Atlanta -- The Jayhawks are certainly a No. 1 seed. I'm not sure they're the second overall No. 1 after Louisville, but they've earned that slot. Their path to Atlanta is not that imposing. But I have bad news for Kansas fans: Don't book those trips for the Final Four because the Jayhawks will not be there. I have the Jayhawks losing to a Georgetown team that will wear them down in the Elite Eight. But they could fall earlier to either VCU or Michigan. Florida might be the most complete team in the South Region, and they could give Kansas a fight, too. KU is hot right now. But at some point in the Big Dance, the Jayhawks will need their star, Ben McLemore, to shine in a big moment. And I'm not sure the redshirt freshman is ready for that. The bottom line is that KU's NCAA tourney experience will end prior to the festivities in the Peach State.

Big Ten national title drought will continue -- To date, the Big Ten has won the "best conference in America" argument. That league was a gauntlet in the regular season. Proof? Indiana, Ohio State, Wisconsin, Michigan, Illinois, Minnesota and Michigan State are all in the field. That's seven of 12 teams. The volume, however, puts more pressure on the league's participants to win their first national title since 2000. Won't happen. I think three or four Big Ten squads in the field could make a run to the Final Four. Indiana will probably be listed as the national champion in many brackets. The Hoosiers are certainly capable of that, but Louisville is so strong right now. Georgetown, Miami, Duke and Kansas are, too. The Atlantic 10's best are also tough. The Big Ten's physicality will prove beneficial when its members face squads from leagues that don't play that rugged style. But they're also going to encounter teams with more athleticism, speed and star power, too. The drought will continue.

[+] Enlarge

Don McPeak/USA TODAY SportsOle Miss' Marshall Henderson is a charismatic guard who isn't afraid to show his emotions.

Marshall Henderson's performance won't match his mouth -- In the days leading up to Ole Miss' opening-round matchup against Wisconsin, Rebels star Henderson will be the subject of TV packages, front-page stories and web columns. He's going to be who he is, and that's great for the media. I can't wait for the quotes and sound bites. Wisconsin will say little because that's just not the Badgers' style. Their "style" involves quieting critics and silencing playmakers. They're not only equipped to beat Ole Miss, they'll pressure Henderson (20.0 PPG) into one of the worst performances of his career. Henderson's theatrics will be the story as the matchup approaches, but don't believe the hype. That talk won't lead to much action against the Badgers.

Middle Tennessee will prove that it's the best team in Tennessee, reach Sweet 16 -- The Blue Raiders remind me of the VCU team that made a run to the Final Four in 2011. Their inclusion in the field of 68 has been questioned by some, mostly because of their conference (Sun Belt) and lack of big wins. But they'll be prepared for March Madness because they played one of the toughest nonconference slates in America (sixth in nonconference SOS, per Daily RPI on ESPN.com). The Blue Raiders are a veteran group that crashes the glass (30th in offensive rebounding rate, per Ken Pomeroy) and defends for 40 minutes (21st in adjusted defensive efficiency). I think MTSU will beat Saint Mary's in the First Four to set up a meeting with Memphis in the next round. Vandy and Tennessee missed the tournament and I think Belmont has a tough draw in Salt Lake City. So bragging rights will be on the line when the Tigers and Blue Raiders meet. And with wins over Saint Mary's, Memphis and the Michigan State/Valpo winner in the round of 32, the Blue Raiders will not only prove that they belong, they'll also earn "best in the state of Tennessee" honors and a trip to the Sweet 16.

Bill Self versus Roy Williams won't happen -- The second-round matchup possibility between North Carolina and Kansas is intriguing. Williams against his former team. Again. I'm sure TV execs are salivating over the possibility. But I think Villanova will spoil those blue-blood plans with a round of 64 win over the Tar Heels. The Wildcats have defeated better teams within the past month (Georgetown, Marquette). Plus, they have a 6-foot-7, 260-pound bruiser named JayVaughn Pinkston who could be a problem for North Carolina's small (quick) lineup. It's a great storyline, Williams versus Self, given the history. Too bad we won't see it.

The Pac-12 will go 0-5 in the first (second) round -- Immediately after the 68 teams were announced, the Twitterverse was filled with chatter about the Pac-12's seeding. Oregon's slot as a 12-seed, despite its second-place finish in the Pac-12 and a tourney title, was the most puzzling placement. The league can prove its worth with a strong showing in the NCAA tournament. But I think it'll do the opposite and struggle throughout its brief stay in March Madness. I could see the Pac-12 losing its five first-round matchups. Yep. Sounds crazy, I know. But Minnesota has the athleticism and strength inside to upset UCLA. I don't think Oregon is better than Oklahoma State. I think Anthony Bennett will lead UNLV to a win over Cal, even though the game will be played in San Jose. Illinois will get hot and torch Colorado. And Belmont is a tough mid-major that won't be intimidated in its upset over Arizona. That's an 0-5 tally for that league.

[+] Enlarge

Jerry Lai/USA TODAY SportsJohn Beilein, guard Trey Burke and the rest of the Wolverines will have their hands full in the South.

Michigan won't reach the Sweet 16 -- What a daunting path for the Wolverines. They open the NCAA tournament with a matchup against a dangerous South Dakota State squad that's led by NBA prospect Nate Wolters. And then they have to go against a VCU team (assuming the Rams beat Akron) that forces turnovers on 28.7 percent of its opponents' possessions (first in the nation, per Pomeroy). That's a rough path for the Wolverines. Trey Burke is a very talented athlete. And he's surrounded by young standouts. But that Michigan defense has been a concern all season. It's going to be magnified as the Wolverines struggle in the opening weekend.

Florida Gulf Coast will push Georgetown to the brink of an upset -- I'm not saying the Eagles will win the game. Save the emails. But they'll come close. I think the Eagles have the talent, including guard Sherwood Brown, to contend with the Hoyas in the first round. They've played some of the top teams in the country, so they won't be concerned with Georgetown's seeding or the NBA scouts tracking Otto Porter Jr. They have a win over Miami, too. Again, the Eagles won't win. Georgetown, however, should be very concerned about this game.

Indiana will win every game, prior to the Final Four, by double digits -- I think the Hoosiers are a Final Four team. I also think they deserved the second No. 1 seed. But they were rewarded with a favorable path, in my opinion, to the national championship. Miami, Syracuse and Marquette could be their toughest tests in the East Region. But I think the Hoosiers will have few problems with their opposition. They're talented enough to beat every team in the East Region by double digits. The Final Four will not be as easy, but I think Indiana will breeze through its region on its way to Atlanta.

We'll see multiple 40-point performances in the opening rounds -- We have so many players who are capable of just "going off" in the first two rounds. Doug McDermott, Wolters, James Southerland, Porter, Shane Larkin, Ryan Kelly, McLemore and more. Usually, the game slows down in the NCAA tournament because possessions are so precious. So teams are more cautious. But there's so much parity that star power could be the separator in the early matchups. Get your popcorn ready. I think we'll see multiple 40-point individual performances in the first weekend.
January, 25, 2012
1/25/12
6:59
AM ET
By
ESPN Stats & Information
| ESPN.com

Florida Gulf Coast 101, Longwood 58
Florida Gulf Coast's
Sherwood Brown
became the first person this season to record 20 points and 10 rebounds in fewer than 20 minutes of play. Brown played 18 minutes.
Miami (Fla.) 64, Georgia Tech 49
Miami only attempted three free throws against Georgia Tech and won. The Hurricanes are the fifth team to win a game attempting three or fewer free throws.
UC Irvine 78, Seattle 67
Will Davis II
of UC Irvine became the first player off the bench this season to score at least 20 points, grab at least 10 rebounds and block at least five shots.

Buffalo 65, Eastern Michigan 47
Jarod Oldham
of Buffalo recorded more assists (10) than the entire Eastern Michigan team (8).
Akron 70, Ball State 58
Ball State's bench players went 0-10 from the floor, becoming the seventh team this season whose bench did not convert a field goal (minimum 10 attempts).