College Basketball Nation:

Sidney Lowe
July, 31, 2013
Jul 31
5:00
AM ET
1. The NCAA men's basketball selection committee will make a formal announcement Thursday about the tweaking it did to the bracketing principles for the 2014 tournament during its meeting earlier this month in Park City, Utah. The committee is expected to produce a document that protects the "true seed" -- where a team stands according to the committee's 1-through-68 ranking -- and that doesn't jeopardize that seeding in order to avoid conference or non-conference repeat matchups. Seeding the tournament is probably more important than the final few bids that get the most attention on Selection Sunday, and the committee doesn't want to mess with the true seed. Meanwhile, there were a few other issues addressed. The new number of at-large berths is down to 36 with the split of the Big East and the American Athletic Conference, meaning that there are now 32 automatic qualifiers. But the committee was informed that, technically, the Big East's automatic bid went with the Big East, and the American must get its AQ bid formally approved by the Division I sports-management cabinet, according to a source. But that shouldn't be an issue. The committee also looked at maintaining the same standard for the Final Four of a minimum of 60,000 fans, due to the current demand for tickets (meaning only domes for the Final Four). But it continues to remain highly likely that regional final sites from 2016 and beyond will be basketball arenas only, save the one dome site that will host the Final Four the ensuing year. The committee also had an informal discussion on what it would look like if basketball were a one-semester sport. The calendar was so compressed that to make the season work and to finish in early April was impossible. The change would have been too dramatic. So the committee at least looked at the possibility. There was no movement to change March Madness or the pre-Masters dates of the Final Four.
2. Oregon is waiting for Houston transfer
Joseph Young
to file a waiver to play immediately for the Ducks. Oregon is somewhat confident Young would be approved -- which could give the Ducks a top-tier top seven, with UNLV transfer
Mike Moser
, returning guards
Dominic Artis
,
Johnathan Loyd
,
Damyean Dotson
, forward
Ben Carter
and junior college transfer
Elgin Cook
. Young averaged 18 points a game for Houston. So Oregon could have a much different look if Young can play immediately.
3. NC State continues to respect its past as much as any other program. The Wolfpack went with alum Sidney Lowe after Herb Sendek, but Lowe wasn't able to a build a consistent winner, despite recruiting well. Third-year coach Mark Gottfried isn't afraid to reach back into NC State's past to help forge a future by bringing Wolfpack legend Dereck Whittenburg onto the staff. Whittenburg had been head coach at Fordham and Wagner and, most recently, an ESPN analyst and producer of a documentary, "Survive and Advance," in ESPN's "30 For 30" series. Whittenburg, who has the most famous shot/pass in NC State history, will bring energy to the Wolfpack staff as well as a direct link to the past that current players should and likely will appreciate.
April, 11, 2012
4/11/12
9:20
PM ET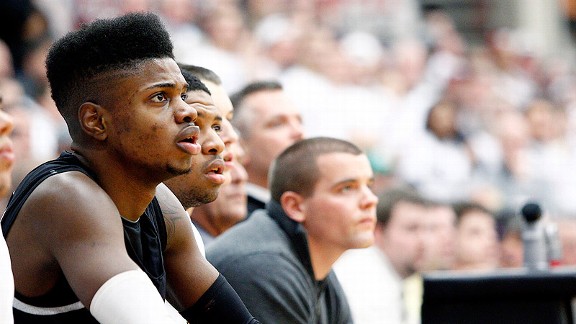 Mark L. Baer/US PresswireNerlens Noel gives Kentucky the top-five recruit that marks a typical John Calipari class.
Kentucky is Kentucky, and UCLA is back.
Those are the two immediate takeaways from Wednesday night's big college hoops recruiting announcements, when the No. 1 and No. 2 players in the Class of 2012 -- center
Nerlens Noel
and small forward
Shabazz Muhammad
-- announced their decisions within an hour of each other live on ESPNU.
The final result? Muhammad chose UCLA. Noel chose Kentucky. Life in Westwood immediately got brighter. Life in Lexington remained almost unfairly good. And despite all the anticipation and hype, in the end, neither of these decisions was particularly surprising.
UCLA coach Ben Howland was long the favorite to land Muhammad. The Las Vegas native never revealed his intentions, but the recruiting rumor mill --
I'm hearing UCLA, it's definitely UCLA
, that sort of thing -- always seemed to peg Muhammad as a future Bruin. Even after Howland endured the most embarrassing moment of his career this spring, thanks to
Sports Illustrated writer George Dohrmann's evisceration
, Muhammad's family didn't discount the program or wave it off. Indeed, the Bruins' recent downward spiral was apparently an attraction.
"Knowing how bad they were the last two years, it's a challenge to get them back up to the top," Muhammad said.
That's good news for UCLA, because he is right: The Bruins and their head coach are indeed desperately in need of a massive, wholesale turnaround in production
and
perception in the years to come. After disappointing, disjointed seasons in two of the past three years, fans openly revolted against the program in 2012.
Now, with Muhammad and fellow top-five recruit
Kyle Anderson
on board, as well as the
Wear
twins
and still-promising, still-frustrating forward
Joshua Smith
, the Bruins have a legitimate chance to make a run at the Pac–12 title in 2012–13. In the meantime, athletics director Dan Guerrero will unveil a newly renovated Pauley Pavilion, hoping this influx of talent can revitalize a fan base that tuned its beloved Bruins out for much of the past three seasons.
"Hopefully we can sell out Pauley Pavilion," Muhammad said.
The kid gets it. The stink of recent Westwood frustration won't dissipate overnight. But with his talents on board, Howland can still change his program's dire narrative while he still has time.
John Calipari has no such problem. You saw the Wildcats in March:
Anthony Davis
,
Michael Kidd-Gilchrist
and
Marquis Teague
were each the top players at their respective positions in the Class of 2011, and as they mixed and congealed with sophomores
Doron Lamb
and
Terrence Jones
(and senior
Darius Miller
), Calipari morphed them into one of the most dominant national title teams of the past 20 years -- and
easily
the most dominant in the one-and-done era.
That was a special talent haul, one that can't easily be duplicated. But Calipari remains on a roll: He landed the No. 1 class in the country in 2011, the No. 1 class in the country in 2010, and the No. 1 class in the country in 2009, when John Wall, DeMarcus Cousins and Eric Bledsoe paved the way.
[+] Enlarge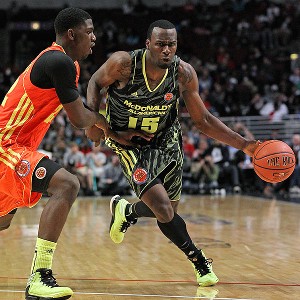 Jonathan Daniel/Getty ImagesShabazz Muhammad appears eager to help with UCLA's desperately needed image repair.
At this point, you can write it in ink each and every spring: Calipari will have the No. 1 recruiting class in the country, or something very close to it. As such, it wasn't even remotely surprising to see the top player in the country, Noel, commit to the Wildcats on Wednesday night. By the time Noel revealed his choice on the ESPNU set -- with the added flair of the UK logo shaved into the back of his now-famous high-top fade -- much of the social media world and those who follow such things were convinced the choice was Georgetown.
Silly people. Did you really think Coach Cal was going to go 0-for-2 tonight? Come on now.
Calipari was already off to a great start on the recruiting trail this year --
top–20 players
Archie Goodwin
and
Alex Poythress
signed on last fall -- but he was still missing the elite, top-five talent that has become a regular fixture in his classes since his days at Memphis. The search is over.
Noel's commitment is not only crucial in a vacuum -- he is a massive and athletic center who specializes in dominant interior shot-blocking -- but it rounds out UK's on-court balance, too. Noel will anchor the post. Goodwin and Poythress will star on the wings. Sophomore forward
Kyle Wiltjer
, a top–20 recruit who barely cracked the rotation in 2012 (as good an indication of the Wildcats' talent as any), will take on a much larger role. And NC State transfer Ryan Harrow, the No. 10-ranked point guard in the Class of 2010
who left the Wolfpack after Sidney Lowe's firing last season
, will take over the all-important on-ball role.
Noel's proclivity for swats will immediately invite comparison to the departing Davis, and Noel may well be a better shot-blocker than the Unibrowed One. But beyond that, the comparisons may be a little too eager. Davis was a physical freak who gained his physicality late in his high school career, when he sprouted 8 inches but somehow maintained his guard skills and agility. He was transcendent on both ends of the court, almost from Day 1.
By contrast, Noel is a lifelong big man, one whose offensive game remains very raw. (Though he shares at least this much with Davis: In a world full of 6-foot–10 prospects determined to play small forward, Noel is more than content to play as close to the rim as possible.) Likewise, for as promising as Poythress and Goodwin are, it's clear there is no Kidd-Gilchrist -- whose combination of NBA talent and selflessness set the tone for UK's special 2012 season -- to be found here, at least as far as we can tell right now.
Not that Kentucky fans will complain. Just a week after the program's eighth national title, UK fans just watched live as the top recruit in the country committed to Big Blue Nation. A repeat of 2012's dominance is too much to ask. But with another batch of talent arriving in Lexington this summer, Calipari's unique ability to transform disparate freshmen into coherent, disciplined teams and a wide-open 2012–13 landscape, a repeat national title run is hardly out of the question.
At least one thing is clear: With Noel on board, the state of Big Blue Nation remains strong. And very,
very
talented.
It's true: Life is good in Lexington.
In fact, it only seems to get better.
November, 12, 2010
11/12/10
11:25
AM ET
It's always interesting to hear coaches discuss their own job situations. Few are willing to be candid about the dreaded hot seat, often to the point of outright denial and obfuscation; rare is the coach,
like Pat Knight at last month's Big 12 Media Day
, who is OK with admitting that their job is on the line. (Knight's admission in October -- that this is either a "get an extension or get fired kind of season" for him -- didn't exactly come from the college coach's media relations handbook.)
Where does Sidney Lowe fall on this spectrum? Facing his own get-an-extension-or-get-fired kind of year, with a handful of talented recruits and returning stars that should give Lowe the first NCAA tournament of his four-year tenure at NC State, the coach is not exactly talking turkey, even if his players are.
From the AP
:
In an interview with The Associated Press, Lowe didn't dwell on uncertainty about his long-term future at the school he led to a national championship as a player. Instead, he said he was in a good place when it comes to his outlook.
"I am because I see the light, as they say," Lowe said. "I see (the program) as I envisioned it before, as moving and getting to a certain point. ... It's going in the right direction and that's why I feel good. And these guys make me feel good in terms of their work. And I don't know what that means this year, OK? But I just know it's in a better place. We're moving forward. I know we're moving forward."

[...] [Senior forward Tracy] Smith said Lowe has been more relaxed so far this year, a sign he really isn't letting job talk get to him. But Smith also said the players want to win to "keep him around."

"There's been different rumors that his job may be on the line, but I try not to think about that," Smith said. "It's basically up to us to go out and play hard, play smart and play together."
Fair enough all around, I suppose, but despite Lowe's vague discussion of the topic, his All-ACC forward is correct: There
are
rumors about the safety of Lowe's job. Among any coach in the ACC, and perhaps among any in the country, Lowe desperately needs a good season in 2010-11. The Wolfpack are 20-44 in the ACC (and 71-61 overall) in Lowe's four years at the school. None of his teams has finished higher than a ninth-place tie in the conference. A handful of talented freshmen -- the
No. 7-ranked class in the country, according to ESPN
-- might have already saved Lowe's job once. Now he has to turn his talent into wins, and he has to do so immediately.
Nor is NC State a school willing to be patient with coaches that don't live up to its lofty expectations. After all, Lowe's predecessor, Herb Sendek, led the Wolfpack to four 20-win seasons and five straight NCAA tournament appearances in his final five years at the school, but came under fire from NC State fans for his 17-54 record against Duke, North Carolina, and Wake Forest. Since then, Sendek has been back to the NCAA tournament with Arizona State; NC State has not.
Lots can change during a college basketball season, but this is not a week-by-week thing. Lowe has one season, and only one season, to prove to NC State fans that his diagnosis -- "we're moving forward" -- is correct. More than any coach in the country, Sidney Lowe needs to add an NCAA tournament to his resumé. And he needs to do so now.
July, 7, 2010
7/07/10
3:30
PM ET
Plenty of college hoopsters choose to play in local leagues during the summer. Such leagues -- like the S.J.G. Greater NC Pro Am summer league, which comprises college players, NBA stars and local recruits from the Durham and Raleigh area in North Carolina -- give players a chance to play semi-organized ball with fellow teammates and other talented players in a game setting. It's not exactly a structured setting, but it is a type of practice, and you know how you get to Carnegie Hall, don't you?
NC State coach Sidney Lowe isn't quite so convinced. Several of his players are playing in the aforementioned S.J.G. league, including senior forward Tracy Smith and highly touted incoming freshman C.J. Leslie. Those players seem to be enjoying themselves. But
Lowe is worried the lack of structure in summer leagues leads to bad habits
:
Wolfpack coach Sidney Lowe remains a bit wary, though, of the benefits to be gained from playing in a casual summer-league setting where players are cheered for dunks and circus-style shots, not a well-set pick. When Lowe was a point guard at NC State, he said, he played in a total of four summer league games in two years. He thought it was a better use of his time, Lowe said, to "work on his game."

He lets his players participate, however, with one caveat. "Don't go pick up bad habits," Lowe said. "You pretty much play the same way. I know it's going to be a little looser than normal, but don't go out there and pick up bad habits."
As someone who displays horrendously lazy pickup basketball habits on a near-daily basis --
phew, I'm gassed, no way I'm hedging out on that screen
-- I can kind of attest to what Lowe's concerns. (Not that my laziness and college basketball-level laziness are anywhere near one another in the Laziness Galaxy, obviously.) There is a major gap between casual summer league hoops and the way college coaches want their teams to play. The work rate is entirely lower; team defense can become nonexistent. The little things that make basketball teams successful can get lost in the fray, while the bigger, flashier plays -- not to mention prodigious scoring -- are celebrated above all.
At the same time, basketball is basketball, and Lowe (or any college coach) has plenty of time to iron out the bad habits his players pick up over the summer in intense practice sessions come October. They don't run sprints in summer league, either, but they're a remarkably effective motivational tool.
(Hat tip:
Mike Miller
)
May, 10, 2010
5/10/10
1:31
PM ET
While Kentucky coach John Calipari was anticipating for the past month that he might lose his fence-sitters in the draft, he also knew he could still withstand the blow by recruiting at an elite level.
North Carolina State and Richmond are two programs that couldn't afford a setback.
[+] Enlarge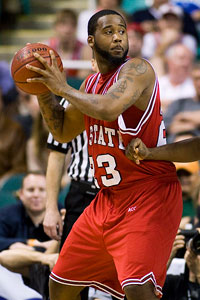 Chris Keane/Icon SMIRetaining Tracy Smith, NC State's leading scorer and rebounder last season, was vital for maintaining the program's momentum.
On the surface, there is no reason to believe NC State's
Tracy Smith
or Richmond's
Kevin Anderson
would stay in the draft. Neither had much buzz about them, but this is an era where just having someone mention you might be a first-round pick, or even a second-rounder, can entice a player to say goodbye to school.
NC State is a program that should be on the rise. With the return of Smith, the team's leading scorer (16.5) and rebounder (7.3) last season, the Wolfpack may finally turn the corner under Sidney Lowe after four subpar years. The Pack haven't won more than six ACC games under Lowe and won five last season. But NC State won six of its last nine games overall and the recruiting has finally reached a national level.
"We've definitely got momentum," Lowe said. "We finished strong and with quality players coming back and the young talent coming in we're going in the right direction.''
The Wolfpack signed up one of the top perimeters in the fall with guards
Ryan Harrow
and
Lorenzo Brown
. Then in late April, they snagged the highly coveted hometown forward
C.J. Leslie
of Raleigh. If Smith had departed early, the momentum would have been stunted.
"That would have been a tremendous blow to our team,'' Lowe said. "I wasn't worried, but someone got in his ear and told him that it won't hurt to throw your name in. It was all of a sudden. He did tell me that he would come back."
Lowe signed Leslie amid rumors that he was going to be fired (not true) and the athletic director who hired him was going to be out (which turned out to be correct when Lee Fowler resigned last week, effective June 30).
"We got C.J. during a tough time of change," Lowe said. "Lee was good to me. A good man. It was a tough deal."
Now the Wolfpack have the veteran presence in Smith and the high-level talent coming in with Harrow, Brown and Leslie.
"That's what we've been waiting for," Lowe said. "When you look at the top programs that's what they do, year in and year out. This is the group that we've been able to recruit when they were young. We've got guys coming back with some five-star, high-quality players to mix it in."
Programs trying to move upward can't afford to lose talent early to the draft if there isn't a backfill immediately behind them.
Richmond made the NCAAs for the first time under Chris Mooney this past season. The Spiders won nine games in the A-10 in each of the previous two seasons and then last season won 13 and 26 overall before losing to Saint Mary's in the first round of the NCAA tournament. The backcourt of A-10 player of the year Anderson and
David Gonzalvez
wasn't going to be reunited with Gonzalvez a senior. But had the Spiders also lost Anderson, keeping up with Temple, Xavier and Dayton would have been a chore.
Like Smith, Anderson just wanted to see if he could get a bite. With the short window of opportunity, he did not and returned.
Gonzalvez ate up a lot of minutes last season and
Darien Brothers
, who played sparingly,
Kevin Smith
and
Greg Robbins
-- the latter two more wings than traditional guards -- will share minutes in place of Gonzalvez. Take Anderson out of the equation and there goes Richmond's marquee player, its go-to guy and a veteran presence to ease in these players.
"That would have been difficult to overcome," Mooney said. "We've finished in the top five three straight years in the A-10 and we're on line to finish high again. That would have been a setback. We're building the program to where we want it to be.''
April, 29, 2010
4/29/10
9:20
AM ET
For a minute there, Sidney Lowe's job was hanging in the balance. NC State athletic director Lee Fowler was faced with an unfortunate decision. Folwer could either fire Sidney Lowe based on Lowe's first four years, in which the Wolfpack experienced almost no success, or Fowler could keep Lowe around long enough for the coach to welcome
his first impressive recruiting class
and the sudden promise of immediate success.
In the end, hardly wavering,
Fowler stuck with Lowe
. It paid off.
Yesterday,
Lowe got an all-important commitment
from the second-best remaining unsigned recruit in the class of 2010, C.J. Leslie. Leslie is an uber-athletic 6-foot-9 power forward who plays "way above the rim,"
according to his ESPNU and Scouts Inc. evaluation notes
. The recruit is the
No. 11-ranked player in the class of 2010
; his recruiting decision had been narrowed to Kentucky, Connecticut and NC State. In the end, Leslie, who hails from Word of God Academy in Raleigh, N.C. (the same school as former Kentucky star
John Wall
), chose his home state Wolfpack and delivered a major boost to Lowe's program in the process.
Leslie is the
athlète de resistance
in Lowe's out-of-nowhere 2010 class. The coach will also welcome Ryan Harrow, the No. 8-ranked point guard in this class, as well as Lorenzo Brown, a 6-foot-4 shooting guard from Hargrave Military Academy. The class is small but balanced and talent-rich.
What's more, despite Lowe's lack of success in 2009-10, that talent won't join a completely hapless squad. Led by one of the ACC's best big men in junior
Tracy Smith
, NC State made sincere strides at the beginning of the ACC season. Smith will return for his senior year, providing both scoring and senior leadership to what should be an atypically freshman-heavy squad. With Smith back and this class on the way, the Wolfpack have a chance to not only finish in the top half of the ACC but compete with Virginia Tech for the conference's second tier. (Unless something goes horribly wrong, Duke isn't losing the ACC next year. Sorry.)
But the larger story here is that with his time running short and Wolfpack patience running thin, Sidney Lowe needed to pull a rabbit out of his hat. He did, and it couldn't have come at a better time.
April, 9, 2010
4/09/10
1:09
PM ET
The phone calls came and then the text messages.
All of them were wrong. NC State coach Sidney Lowe is not getting fired Friday. There is no truth to the rumor among college coaches being spread over the last 24 hours.
[+] Enlarge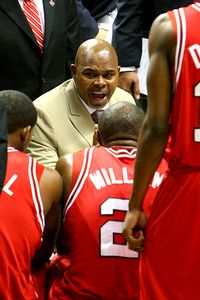 Ron Metz/Icon SMICoach Sidney Lowe has had two 20-win seasons with the Wolfpack.
And if it was getting to the media, you can only imagine how much it was hitting at NC State.
"It started in the coaching circles," NC State athletic director Lee Fowler said. "I've had to tell [signee] Ryan Harrow's mother three times this year that there is nothing to worry about."
If you don't think this kind of negative recruiting goes on every day in college basketball then you're being naive. Lowe has had to deal with this for the past two years and he's hardly alone. And yet credible head coaches believed it to be true Thursday and Friday and were calling each other and media members on the subject.
"They've had me fired about seven times, too," Fowler said. "I put my house on the market because our house is 4200 square feet and our kids are out of the house. That created a firestorm and yet we have a new chancellor here on Monday and there's been no discussion about me. There was no discussion ever about Sidney not being the coach.''
Fowler said he has three years left on his contract, which runs through 2013 just like Lowe.
Harrow is one of the top point guards in the country out of George Walton Comprehensive High School in Marietta, Ga. He signed with the Wolfpack in November, choosing NC State over Auburn, Florida and Wake Forest, according to ESPN's Scouts Inc.
Harrow and fellow Georgia-based guard Lorenzo Brown out of Hargrave Military Academy (Va.) give NC State a coveted incoming backcourt.
NC State will have leading scorer
Tracy Smith
and sharp-shooter
Scott Wood
back. The Wolfpack won six of their last nine games to finish 5-11 in the ACC, 20-16 overall. NC State beat NCAA tournament-bound Clemson and Florida State and knocked off South Florida in the first round of the NIT in Tampa before losing at UAB.
Lowe won 20 games in his first season after replacing Herb Sendek to get to the NIT quarterfinals and then faded with 15 and 16 wins the next two seasons before winning 20 this past season.
"All of the trustees have said he deserves another year with the kids he has coming in," Fowler said.
"I don't know where they get this stuff from," Lowe said. "Maybe it's posturing or recruiting ploys. I don't what it is but it's messed up. There hasn't been any discussion about it and the board members all say we're headed in the right direction."
Lowe and top assistant Monte Towe said they've been deflecting the rumors for days.
"I'm feeling good and feeling as well as I've felt in a while and to hear this stuff is just disappointing," Lowe said. "Credible coaches are saying it's out there. We're returning a lot, have won 20 games for the second time here and finished strong. We're looking pretty good.''
The timing for NC State is good too with the situations at Wake Forest, Clemson and Boston College in flux after all three had coaching changes.
"We feel like we have a chance to move up," Lowe said. "We're feeling really good about our situation."
March, 11, 2010
3/11/10
11:53
PM ET
GREENSBORO, N.C. -- Postgame thoughts from
North Carolina State 59, Clemson 57
.
[+] Enlarge

Andrew Synowiez/US PresswireNC State's Tracy Smith scored 19 points against Clemson on Thursday.

The Redcoat Revival is back on. For another day, at least. Wolfpack coach Sidney Lowe and his bright-red suit coach will live to coach in the ACC quarterfinals for the first time since he originally broke it out in his first year, 2007. That year, Lowe wore the coat four straight days as NC State made an improbable run to the final before losing to North Carolina.
This time, Wolfpack fans can revel in the fact that they've advanced farther than the rival Tar Heels in this tournament for the first time since 2004. Carolina was bounced Thursday night by Georgia Tech.
The main force driving NC State into the quarterfinals was junior strongman Tracy Smith, who had 19 points and eight rebounds and was the team's only scorer in double figures.
Clemson star Trevor Booker got frustrated in the late going with his lack of touches offensively. Given the inability of his teammates to make shots, it's hard to blame him. Booker should have gotten more than 11 shots, though that still was a team high and he scored a team-high 17 points.
It was a good night for coaches on the hot seat. Paul Hewitt got a win over North Carolina in the first of two night games, and then Lowe followed up with the upset in the nightcap.
And it was a good day in Greesnboro for underdogs. Seeds No. 12 (Miami), 11 (N.C. State) and 9 (Virginia) all will play in the quarterfinals Friday. Then again, that's nothing new. In the last five ACC tournaments, the 11 and 12 seeds are a combined 7-3 in the opening round.
Horn-blower warning: In my witheringly insightful pre-tournament primer, I tabbed NC State as the most dangerous low seed and Wake Forest as the most vulnerable high seed. That's two calls correct in March with plenty of errant predictions so far.
February, 17, 2010
2/17/10
10:40
AM ET
From 2002-2006, Herb Sendek and NC State didn't miss an NCAA tournament. After the 2006 season, Sendek resigned and was replaced with Sidney Lowe, who in three years has yet to take NC State to an NCAA tournament, who has one NIT appearance, and whose team has never finished higher than No. 10 in the ACC.
Those marks are unlikely to change this year, and Lowe's job status has been in doubt all season. Lowe has already received his athletic director's vote of confidence, so it's unlikely he'll be fired this year ...
and if NC State officials lend any weight to the published opinion of its prized recruits
, Lowe's job just got even safer.
Why? Because high schooler Ryan Harrow -- one of the recruits supposed to revitalize Lowe's program in 2010-2011 --
wrote a letter to NC State fans posted on PackandPride.com
, the Wolfpack-affiliated Scout forum, in which he respectfully asked fans to go easy on their criticism of Lowe. A sample:
Myself and Lorenzo are on NC State's blogs and forums everyday and we look to see all the support you give us, but now a days we see so much negative and it has become really discomforting to my godbrother and I. The things that are said about the fans giving up and not wanting to show the support like I know ya'll can. I was at the Duke game. Our fans can get crazy lol. Those statements matter to me. I came to the school at first solely for Coach Lowe but when I come to see games and people are greeting me, saying " thank you so much for joining us", it made me realize I love the atmosphere to. These fans can get better. I hate going on the forums reading those things.

Also Lorenzo and I see the statements about coach Lowe and it really makes me think, " what am I getting myself into". Coach Lowe works hard and is very passionate about the game. He just needs people and players around him like Lorenzo, Luke, C.J., and me to transpire that fire onto the court. Every bad game we cannot criticize coach Lowe. It comes down to the players performing on the court. I know Coach Lowe is going to help my game and make me the best point guard I can be. But it will come in time.
Pretty strong stuff, and as you can tell from the responses to the letter, it worked.
For his part,
Lowe was shocked by the letter
, saying it was "incredible" and that he'd "never heard of any young player going out and doing that." It's a major win for Lowe, really; taming that wildest segment of your fan base -- the message board denizens -- isn't easy even when you're winning. To have them fall in line at the behest of an 18-year-old is exactly the sort of thing Lowe needed.
Now all he has to do is go out and win. Easy, right?
February, 10, 2010
2/10/10
12:58
PM ET