College Basketball Nation:

Simeon High School
October, 8, 2012
10/08/12
12:05
PM ET
In July,
Jabari Parker
-- top recruit in the class of 2013, Sports Illustrated cover boy, and a prospect talented and academically capable enough that he could pick just about any school in the country -- didn't seem all that eager to narrow his decision down. He included a whopping 10 schools on his list, which is a big number even by modern recruiting standards.
But on Friday, Parker made the first significant cut to his potential collegiate destinations of his recruitment. And I have to admit -- I was somewhat surprised.
From ESPN Chicago's Scott Powers
:
Simeon Career Academy (Chicago) forward Jabari Parker, the nation's No. 1-ranked senior, cut his list to five schools Friday: BYU, Duke, Florida, Michigan State and Stanford.

Parker in July had revealed a list of 10 schools he was considering, which included DePaul, Georgetown, Kansas, Kentucky and North Carolina.

[...] "He thought about it and looked at the programs. That's the five he had," Simeon coach Robert Smith said Friday. "It took him a long time to find. Everyone was really good, but he had to make a decision. He really respected everyone recruiting him and wanted to thank them for their time. He knew he couldn't make everyone happy."
You may notice, among the dispatched schools, are three of the country's top recruiting outfits over the past five years: Kentucky, Kansas, and North Carolina. Leaving any one of these schools off the final list would have been somewhat surprising; to see all three of them bite the dust is downright shocking. That goes double for Kentucky. Parker is the best player in his class, and John Calipari has signed the past two players (
Anthony Davis
and
Nerlens Noel
) that shared that distinction.
Moreover, on Thursday he landed commitments from the Harrison twins,
which caused me to remind everyone just how dominant the dude is on the recruiting trail
, and how his post-national-title pitch is even more difficult to resist. Combine that with Parker's roots -- Calipari has recruited Chicago very well, and has connections to Parker's Simeon High School through Derrick Rose, and so on and so forth -- and I think it counts as a general shock to not see Kentucky involved here. Maybe I'm behind the curve on that; maybe Kentucky fans are long since over Parker. But it does feel unusual.
In any case, Parker has five very good choices still in front of him -- this is the benefit of being very, very good at basketball -- and he can't really go wrong whatever he chooses, because chances are he'll be in the NBA after his first season no matter what. According to Powers, Parker will start official visits soon and plans to commit in November. And so five very nervous fan bases, having just celebrated their inclusion in a final cut, begin fretting anew. Ah, recruiting.
July, 17, 2012
7/17/12
1:55
PM ET
One of the more fascinating things about the rise of recruiting rankings -- rankings which are hugely informative and helpful for fans and writers like yours truly -- is the seriousness with which the rankees take them.
George Dohrmann's
"Play Their Hearts Out"
offers a dialed-in portrait of the intensity with which AAU coaches and many parents approach their sons' recruiting rankings, beginning in sixth grade, if not earlier. It describes in great detail the obsession AAU coach Joe Keller had with Demetrius Walker's status as the best player in his class, even when Walker had another four years before he could step on a college campus. There was no loss greater to Keller than the loss of Walker's top ranking, and his coaching, such as it was, revolved around the advancement of that single, borderline arbitrary goal.
It doesn't take a behavioral scientist to understand why this could be destructive. It emphasizes the individual over the team, it presents a warped system of self-esteem, and it foists an impossibly high standard on young teenagers who may or may not be equipped to handle it.
But the benefits for coaches are obvious: The higher their player's ranking, the better their standing in the recruiting world, the more likely they are to receive sponsorships from Nike and adidas, and the more likely they are to lure future top prospects into their AAU programs. The process is cyclical, and all you need is that one breakthrough player, the one kid who changes everything.
Which is why the approach from
Jabari Parker
and his family is so refreshing. (If it feels like we write that word a lot about Parker, well, it's not a coincidence.) Per ESPN Chicago's Scott Powers, Parker, the top player in the class of 2013 (who was somewhat questionably dubbed the "best high school player since LeBron James" on the cover of Sports Illustrated this summer),
will have an MRI on his right heel and could miss the rest of the crucial July evaluation period, according to Parker's father
.
What does this mean? Not all that much, really. But there have been recent rumblings that Parker could lose his top spot in the class to a handful of contenders (Texas natives
Julius Randle
and
Andrew Harrison
being the chief competition) if he sits out the July evaluation period.
To many recruits, losing the No. 1 overall spot in the final summer before senior year would be seen as a disaster. The Parkers, to their immense credit, couldn't care less:
"He doesn't have anything to prove," Sonny said. "He's the hunted; he's not the hunter. His school season and health are more important.

"Right now, he's not caught up in the rankings. He's so concerned about winning that state championship for a fourth year. That's more important than the ranking stuff. People are putting it out there because they want something to talk about."
There's nothing wrong with being competitive, and to some degree, the individual recruiting rankings are a matter of competitive pride. But there's also something to be said for prioritizing competition, for realizing what really matters, for separating the signal from the noise. If the No. 1 ranking goes to Randle or Harrison because Parker was resting and recovering from an injury -- and why would you risk an injury in summer hoops anyway? -- well, who cares? There isn't a college coach in the country that would sour on Parker because he isn't playing this summer. Everyone knows how good he is. What's the difference if he's No. 1 or No. 2 or No. 5? He's still Jabari Parker.
It can't be easy to ignore this stuff all the time. So many kids are ranked and re-ranked before they ever turn 16. The impulse to top those rankings -- to prove you're the best in the country, over and over -- must be incredibly high. But there comes a point when you have to take a deep breath and a step back.
Parker's family has rarely put a foot wrong in the recruitment of their son. Such is the case here. Still, the simple fact that this latest common-sense decision even counts as praiseworthy says all you need to know about the culture of grassroots basketball in the first place. No. 1 vs. No. 2 vs. No. 3. At the end of the day, who cares?
May, 16, 2012
5/16/12
1:15
PM ET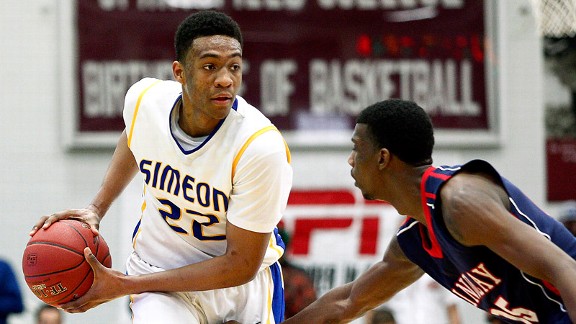 Mark L. Baer/US PresswireJabari Parker (left) will hit newsstands soon, as he graces the cover of Sports Illustrated.
Most every college hoops fan already knows about
Jabari Parker
, the No. 1-ranked player in the class of 2013.
We are not strangers to his story: He is nearing the end of his junior year at Simeon High School in Chicago, Ill., the alma mater of Derrick Rose and plenty of other sought-after prep talents. He is 6-foot-9 (and possibly still growing) with nearly unlimited skills -- passing, ballhandling, mid-range shooting, interior strength -- and he comes across as more well-grounded and unselfish than your average highly ranked recruit. His father, Sonny, played for Texas A&M and the Golden State Warriors; his mother, Lola, was born a Mormon in her native country of Tonga. Parker shares his mother's faith;
as Seth Davis wrote last summer
, Mormonism is a bedrock of the recruit's worldview.
But college basketball fans are more familiar than most with players like Parker. Fans of his potential college choices -- which run the gamut from DePaul and Northwestern to Kansas and Kentucky -- have tracked his prep career and analyzed his every utterance for hints of his future choice.
Parker is about to gain a whole new audience. Why? Because this week, he graces the cover of Sports Illustrated, just the latest prep phenom in the post-LeBron James era to do so. But Parker's cover,
as you can see here
(hat tip:
NBC
) comes with a twist: A subhead that reads "The Best High School Basketball Player Since LeBron James Is ... Jabari Parker."
Now that's pressure. It is also arguable, given the talent that has come through the ranks -- Kevin Durant, Derrick Rose, and on down the line -- since James became a national sports celebrity at St. Vincent's-St. Mary's back in 2002. Having seen Parker play a few times, it's safe to say he lacks the dominant aura James had then, and maintains to this day. When you watched LeBron, you knew you were watching a transcendant player. When you watch Parker, you are sure you're watching a very, very good one. But the visceral feeling stops there.
In any case, that comparison is a
lot
of pressure for a high school kid. How will Parker handle it? We'll see. But if the first three years of his burst onto the recruiting scene -- where he has been the second coming since he was 14, and maybe earlier -- are any indication, he will handle it with grace borne of belief that basketball is only one item on a long list of personal priorities.
Parker is about to make The Leap. If I had to take a guess, the kid will be just fine.