College Basketball Nation:

Siyani Chambers
March, 20, 2014
Mar 20
6:48
PM ET
SPOKANE, Wash. -- Even after a
61-57 win
in the second round of the 2014 NCAA tournament -- and wins in consecutive tournaments --
Harvard
is still one of the easier teams to poke fun at in the Big Dance. They're the smart kids playing a rough game, the school from the Ivy League that is allowed into the tournament.
[+] Enlarge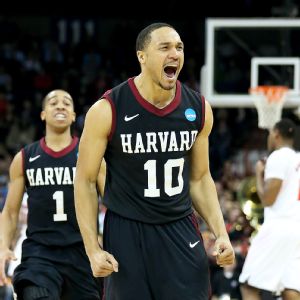 Stephen Dunn/Getty ImagesWith its win over Cincinnati, Harvard now has NCAA tournament wins in back-to-back seasons.
But in his seven seasons with the Crimson, coach Tommy Amaker has put to rest a few of those jabs. And, for the third consecutive season, Harvard has made an appearance in the Big Dance. Before Amaker arrived, the Crimson's last NCAA tournament appearance was in 1946.
In 2012, the Crimson lost in the first round. Last season as a No. 14 seed,
Harvard upset No. 3 seed New Mexico
-- its first-ever NCAA tournament win.
And on Thursday in Spokane, the 12th-seeded Crimson took care of business against fifth-seeded
Cincinnati
. Though the 5-12 matchup is one of the most common upsets in the NCAA tournament, Cincinnati coach Mick Cronin was reluctant to call it an upset.
"In my mind, today's game was anything but an upset," Cronin said. "They've got a great team. Tough draw for us. In my opinion, they're one of the best teams we played all year. … They did not catch us by surprise by any stretch of the imagination."
The Crimson took advantage of a slow start by the Bearcats, who opened the game by missing 14 of their first 17 shots, jumping out to a 36-29 halftime lead, which Harvard wouldn't relinquish in the second half. Cincinnati broke out a full-court press, helping to cut the lead to one with just three minutes remaining, but solid play from sophomore guard
Siyani Chambers
kept the Crimson on top.
Harvard's win adds to the argument that this is one of the deeper tournaments in recent history. With
Louisville
and
Michigan State
both playing as 4-seeds, several teams having a solid shot at the title and star players starring on some under-the-radar team, this season's March Madness is sure to hold more games like Harvard-Cincinnati, upset or not.
[+] Enlarge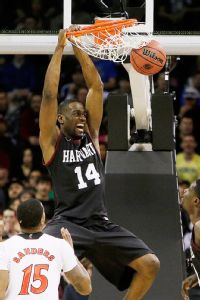 AP Photo/Young KwakHarvard's Steve Moundou-Missi scored nine points in the victory over the Bearcats.
"In college basketball, you look around, and I've heard this before where there really aren't upsets anymore," Amaker said. "There may be some surprises, but I just think when you're looking at seeds and if you're playing this time of year, you're probably a pretty good basketball team. And I think you have to be lucky and fortunate to advance in this great tournament. And we were good, and we also were somewhat fortunate and lucky, as well."
There might have been some luck in the Crimson's win, but it was mostly sticking to a solid game plan and playing fundamental basketball. The game as a whole was sloppy -- 23 total turnovers and more than 60 missed shots between the two teams -- but the Crimson looked like the team that better executed its game plan.
Despite Cincinnati being more athletic, Harvard kept the Bearcats out of the paint and stuck with them on the boards, losing the rebounding battle by just one, 34-33.
Defensively, the Crimson held the Bearcats to 37 percent shooting (six percent less than their average) and just five assists (eight less than their average) while keeping star guard
Sean Kilpatrick
in check most of the game.
"I think that we have become a program that has become relevant in the world of college basketball," Amaker said. "I just think our kids have worked hard, have represented our school in an incredible fashion, and we're proud to be able to say that we've become a program representing our conference that can go on a national stage in a national tournament and be competitive and be a contender, and certainly to win a game or two."
October, 15, 2013
10/15/13
11:30
AM ET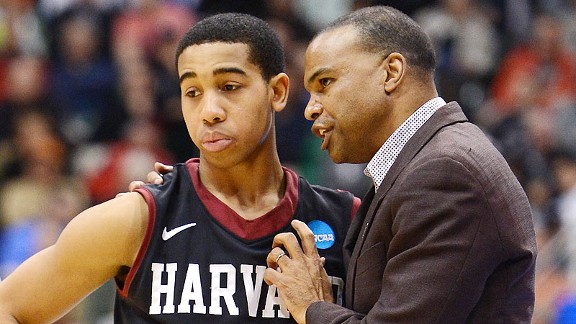 Harry How/Getty ImagesHarvard coach Tommy Amaker has a team that's built on depth, experience and talent.
It's college basketball preview season, and you know what that means: tons of preseason info to get you primed for 2013-14. But what do you really need to know? Each day for the next month, we'll highlight the most important, interesting or just plain amusing thing each conference has to offer this season -- from great teams to thrilling players to wild fans and anything in between. Up next: Harvard's back. That's more intimidating than it used to be.
Let's take a moment to consider the past two seasons of
Harvard Crimson
men's basketball. In 2011-12, after a couple of seasons spent knocking on the door and a few more than that spent getting the Crimson to ever-so-slightly nudge their still-brutal academic restrictions in the direction of player accessibility, Tommy Amaker's work in Boston paid off. Harvard won the Ivy League and visited its first NCAA tournament since 1946.
Not a bad starting point, but arguably not even as crazy as what came next: In late August 2012, Harvard revealed one of the largest academic scandals in school history, which, considering Harvard was founded in 1636, is saying something.
Over 100 students were accused of academic dishonesty
, and dozens of them were forced to
endure a year's suspension before they could return to their degrees
.
Unfortunately for Amaker, not only did two of his players end up involved, it was his two senior captains for 2012-13: guard
Brandyn Curry
and forward
Kyle Casey
. They, too, were forced to serve a one-year academic suspension. It is a testament to the depth Amaker has built that most people accurately assumed Harvard would win the Ivy League last season (despite a 20-10 overall record). No one expected what happened in March, when the Crimson toppled No. 3 seed New Mexico, their first modern-format NCAA tournament win. "Bonus" doesn't really begin to describe it.
Now Curry and Casey are back. They'll join a team that worked hard in their absence last season: Rising junior
Wesley Saunders
and sophomore guard
Siyani Chambers
both played more than 92 percent of their team's available minutes last season and were in the top 10 in that category nationally. Senior wingman
Laurent Rivard
shot 40.2 percent from 3 in 2012-13 (and played 87.4 percent of his available minutes).
Steve Moundou-Missi
was a beast on the glass. And while it's still in a different galaxy from the Kentuckys and North Carolinas of the world, Amaker is nonetheless a lock to add to his team every summer in a way Harvard never has before.
The end result is a team that is deep, young, talented and now, strangely enough, experienced -- a team that has every reason to be just as good as the Crimson were in 2012, when they broke that 60-year-old Ivy League streak for the first time. Frankly, they should be
better
. Now Harvard has a different sort of streak going. Not bad for a couple years work, eh?
May, 28, 2013
5/28/13
10:00
AM ET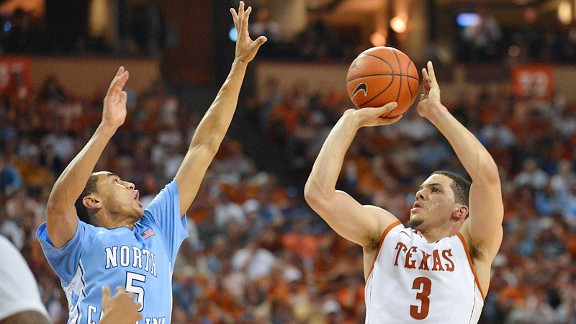 Brendan Maloney/USA TODAY SportsThrust into a leadership role as a freshman, Javan Felix will carry a bigger load for Texas next season.
In five months, the 2013-14 college basketball season will begin.
It's always tough to make projections in the weeks following any season. But the dust has settled.
The following list highlights sophomores who will be asked to carry more weight next season. Some of these young men might have to carry an entire team.
March, 23, 2013
3/23/13
9:00
AM ET
By
Jack McCluskey
| ESPN.com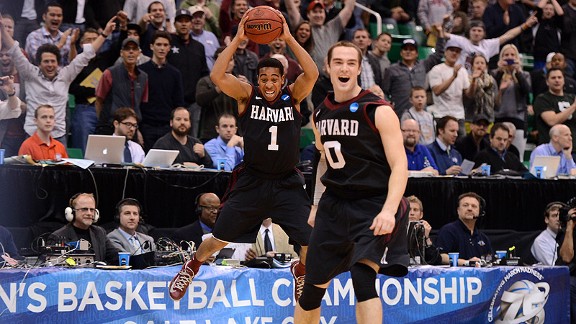 Harry How/Getty ImagesSiyani Chambers and Laurent Rivard celebrate Harvard's 68-62 win over New Mexico on Friday.
Though it may seem like it happens in an instant, history is made slowly.
So when the buzzer sounded in Salt Lake City and the Harvard Crimson flooded onto the court to celebrate the school's first NCAA tournament victory, they had indeed made history. But they didn't just magically appear on that stage at the Big Dance, didn't just magically turn into Ivy League contenders and then champions.
Harvard has traveled a long road to this point, a years-long journey that isn't over yet.
The journey started six years ago, when the school decided to make a fresh commitment to the program, on and off the court, and chose Tommy Amaker as its next coach.
Building toward history
It's hard to overstate just what a historic achievement No. 14 seed Harvard's 68-62 victory over No. 3 seed New Mexico really is.
Amaker is the 17th coach in Harvard's long basketball history, which stretches all the way back to 1900 (though Harvard didn't field teams from 1909 to 1920). Entering the 2012-13 season, the Crimson had played 2,268 games (winning 1,015 and losing 1,253) but had never won a postseason game of any kind (0-2 in the NCAA tournament, 0-1 in both the NIT and the CollegeInsider.com tournament).
Of course, before Amaker took the 2009-10 team to the CollegeInsider.com tourney following a buzzer-beating loss to Princeton for the Ivy League's automatic NCAA bid, only one Harvard team had even
played
in a postseason tournament.
And that was in 1945-46.
[+] Enlarge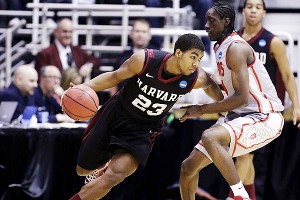 AP Photo/Rick BowmerSophomore Wesley Saunders was a unanimous All-Ivy selection after leading the Ancient Eight in scoring at 16.5 points per game.
Amaker took over in Cambridge before the 2007-08 season, having been fired by Michigan following the 2006-07 season. Amaker's Wolverines finished that season at 22-13 overall, including an 8-8 record in the Big Ten, with a second-round loss in the NIT.
What Amaker found by the Charles was a program that needed major upgrades both on and off the court. It needed better locker rooms, it needed better facilities and it needed more on-court talent.
But asked Friday about his "vision" for the Harvard program, Amaker said he didn't have to do anything special to make it a reality.
"I love the word 'vision,' first of all, and we use that a lot because that was real and truthful from day one of what I felt in my heart about Harvard. It's an incredible brand. It's a magical name, and that's not a knock to any other wonderful place or institution or university," Amaker told reporters in Salt Lake City. "I just think that it speaks for itself in so many ways of being considered the very best.
"I didn't have to overcome, or we didn't have to try and feel like we were overcoming anything. What we tried to do is present a vision and present Harvard as an option, as an opportunity. I never used the word 'sell.'"
Amaker did inherit some talent, including a point guard named Jeremy Lin, but otherwise the cupboard was close to bare early. (Lin, of course, went on to star in the Ivy League and then bounced around the NBA before bursting onto the scene with the Knicks last season. Lin now plays for the Houston Rockets.)
With Lin and a first recruiting class that included players like Oliver McNally and Keith Wright, who would become stalwarts and two-year co-captains as juniors and seniors, Amaker set about building a winning culture in Cambridge.
That was a big deal, because while the Crimson have had success in other sports, before Amaker arrived the men's basketball program never had.
[+] Enlarge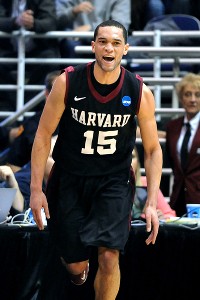 Steve Dykes/USA TODAY SportsChristian Webster is the lone graduating senior among Harvard's rotation players.
Keeping the momentum going
The success the Crimson have had this season is surprising for a number of reasons, the most obvious being all the talent they lost after last season. McNally and Wright graduated, and their would-be senior co-captain replacements also left before the 2012-13 season began.
Kyle Casey, the do-it-all forward and former Ivy Rookie of the Year, and Brandyn Curry, the steady, speedy point guard, both chose to withdraw from school after being implicated in an academic cheating scandal that involved more than 100 students.
Their abrupt departure could have submarined the season. Where there should have been two experienced, knowledgeable and talented hands at the helm, suddenly there were none.
But that was only true briefly.
"The facts are what they are, and it wasn't anything that any of us would prefer to have happen at our school across the board with so many kids and families and folks involved in something like that, which is somewhat from what I've seen," Amaker said Friday.
"But I think our guys have been able to adjust just like I would expect most young kids to be able to do. They've done it exceptionally well. I've been very impressed with how they have been able to do that."
After losing Casey and Curry, Amaker turned to senior
Christian Webster
and junior
Laurent Rivard
. The duo would have to lead, and hope youngsters like
Wesley Saunders
,
Steve Moundou-Missi
and
Kenyatta Smith
(all sophomores) and
Siyani Chambers
(a freshman) would follow.
At first, the sudden added responsibility was jarring.
"Of course [the loss of Casey and Curry] was a big blow to our team," Rivard said during a conference call with reporters Monday, "but the coaching staff was quick to tell us that it was an incredible opportunity for the team and for each of us individually.
"We embraced that role and we did what we could to get the team to where it's at now."
Webster, who had 11 points against New Mexico to cross the 1,000-point mark for his career, said they've grown into their roles as the season's gone on.
"If you look at us from earlier in the season to now, it's like a change in worlds," Webster said. "It's gotten so much better."
Rivard, a native of Saint-Bruno, Quebec, played a big role in the upset of the Lobos. The sharpshooting guard was 5-for-9 from behind the arc, including three big 3s in the first half, to help the Crimson build a lead first and later come back after the Lobos had rallied to take the lead.
His 17 points was only one off the team lead (Saunders had 18), and without his consistent ability to slip free of his defender, mostly New Mexico forward
Cameron Bairstow
, and hit open shots Harvard almost certainly would have lost.
And while Rivard was only a two-star recruit coming out of Northfield Mount Hermon -- the prep school in Gill, Mass., that he transferred to in order to increase his recruiting profile -- that doesn't mean the shooter wasn't coveted.
After Rivard helped Harvard beat Boston College during his freshman season, Steve Donahue was asked if the marksman had taken the Eagles by surprise.
"I know Laurent very well," Donahue said that day in January 2011, after Rivard scored a game-high 23 points in a 78-69 Harvard win in Conte Forum, "we recruited him very hard at Cornell. Terrific basketball player."
But as is becoming more and more common, the recruit chose to go to Harvard instead. And that's made all the difference.
"I think the back-to-back games in the Ivy League is going to help us a lot," Rivard said Friday of Harvard's preparation for Arizona. "It's a little different here now. I guess we have a day off in between.
"But during the Ivy League season, we would win or lose on Friday night and we had to turn the page whether we felt good about how we played or not, but we had to turn the page and focus on the next opponent. That's what we're doing today. We have practice right now. We're going to start focusing on Arizona, and I think it's going to help us."
Since 2010, the Crimson have added more three-star recruits (five) than the rest of the Ivy League combined (three, two for Yale and one for Penn), according to ESPN Recruiting Nation. And that total doesn't even include the 2012-13 Ivy Rookie of the Year, the first freshman to be voted first team All-Ivy, Chambers (a two-star recruit).
Next season, the Crimson lose only the senior Webster and should not only add another solid recruiting class -- including coveted prospect Zena Edosomwan, who turned down the likes of California, USC, Wake Forest, Washington, UCLA and Texas to commit to Harvard -- but also welcome back Casey and Curry (assuming the cheating scandal is settled).
So after winning a third straight Ivy League title, making a second straight NCAA appearance and capturing the first postseason victory in school history, all in a season in which it was supposed to be weakened, Harvard will likely be even better in 2013-14.
Just imagine the history
that
Crimson team could make.
Jack McCluskey is an editor for ESPN.com and a frequent contributor to ESPNBoston.com. Follow him on Twitter @jack_mccluskey.
March, 22, 2013
3/22/13
9:20
PM ET
SALT LAKE CITY -- When
Siyani Chambers
chose Harvard, he hoped to be the Crimson's starting point guard ... someday.
He dreamed of leading his team on an NCAA tournament run ... someday.
The fact that someday is today?
"Amazing," the 6-foot Ivy League rookie of the year said Friday, less than 24 hours after 14th-seeded Harvard knocked off No. 3 New Mexico for the program's first NCAA tournament victory.
That word could describe his development, too.
[+] Enlarge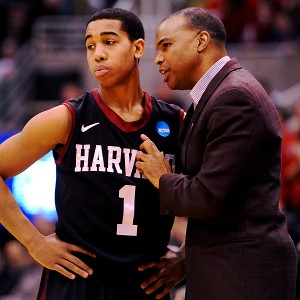 Steve Dykes/USA TODAY SportsThrown into Harvard coach Tommy Amaker's starting lineup as a freshman, Siyani Chambers has thrived.
"He's the leader on our team," said senior guard
Christian Webster
, whose team will face sixth-seeded Arizona on Saturday for the right to advance to the Sweet 16. "
Laurent [Rivard]
and I are the captains, but he's the leader. He drove this team."
It's a role the 19-year-old ball handler never expected, at least not this soon, when he arrived on Harvard's campus less than a year ago. First recruited by Crimson coach Tommy Amaker when he was in the eighth grade, Chambers decided pretty quickly that he wanted to play for the former Duke guard because of what he could learn.
But Chambers also thought he would have some time to be a pupil, while playing behind Brandyn Curry, a Cousy award candidate last season. That is, until September, when Curry and fellow senior Kyle Casey withdrew from Harvard following an academic scandal.
When the freshman heard the news, his head spun. "I was definitely nervous -- very, very nervous," Chambers said. "All of a sudden, it's your first year, you're coming in trying to learn the whole process about everything: playing, dealing with school and basketball."
To persevere, he said, he leaned on his teammates -- and they leaned back, looking for the vocal freshman to glue together a team whose chances of winning the Ivy League all of a sudden seemed precarious, at best.
But Minnesota's Mr. Basketball exceeded expectations probably because he had no other choice, gaining confidence (and his team's confidence in him) by becoming a steady assist man and scorer early; he even hit the game-winning basket with four seconds left against Boston University on Dec. 11.
"He's a special kid, and certainly he plays basketball in a special way, and I think you get excited when you watch him play," Amaker said. "I know when we recruited him, we wanted him to play in that manner; sometimes I thought he held himself back a little bit, and I told him if you ever come to play for us ... we want you to be dazzling because you're capable of it."
His season stats -- 12.6 points and 5.8 assists per game -- were dazzling enough to make him the first freshman named first-team All-Ivy League.
But the way he melded his team dazzled, too. Sophomore
Wesley Saunders
emerged as a go-to scorer (16.5 PPG). Rivard became a scary outside threat (five 3s against the Lobos on Thursday).
Kenyatta Smith
and
Steve Moundou-Missi
improved in the post. Harvard finished the regular season 19-9, winning the Ivy League.
So maybe it was fitting that as the seconds ticked down on Harvard's historic upset Thursday, Chambers was the one with the ball in his hands, grinning and carefully watching the clock. That moment is a feat the Crimson hope to repeat against another bigger, more heralded team Saturday.
And one Chambers never imagined when he thought about his goals a year ago.
"I just wanted to come in and learn as much as possible, so when it was my time I could step in and be able to contribute to the game," he said, remembering. "... When I first decided to come here, I did not think this is what I would be stepping into.
"But I'm glad I came here, and I'm glad this happened."
Now.
SALT LAKE CITY NEWS AND NOTES
SAFETY FIRST:
One teammate compared Wichita State sophomore
Tekele Cotton
to a strong safety. Shockers coach Gregg Marshall? He thinks the guard is more like a free safety.
Whatever the football analogy, you get the picture: The 6-2, 202-pound athlete is hard-nosed, hard-bodied and hard-focused on making stops. And if he can stymie a certain Gonzaga player like he did Pittsburgh guard
Tray Woodall
on Thursday (the senior was brought to tears after his 1-for-12, two-point performance), Cotton knows his team has a better chance to upset the No. 1 team in the country.
"I look forward to being that guy, to chase around their player like I did yesterday," said Cotton, who is also averaging 6.3 points and 3.9 rebounds per game this season. "So I look forward to chasing around
Kevin Pangos
. I have no problem with it; I enjoy it."
Pangos, the Zags' standout sophomore guard, is averaging 11.6 points per game this season and scored the final five points in top-seeded Gonzaga's six-point survival against 16th-seeded Southern on Thursday. He said the key to competing with a physical team such as the ninth-seeded Shockers is to be physical right back.
"We don't shy away from that; our team is tough," Pangos said. "We don't back down from that at all."
This should be an interesting matchup. The Shockers held Pitt to 35.2 percent shooting from the field -- and just 5.9 percent on 3-pointers. The Zags are third in the nation in field-goal percentage, making 50.4 percent of their shots.
NO ALARM HERE
: Zags coach Mark Few wasn't particularly rattled that the game against Southern went down to the wire; a win is a win is a win right now.
"At this point of the year, I don't think we need to worry about aesthetics or, you know, differences," he said. "I know it's cliché, 'survive and advance,' but there really is no other alternative. We're not getting style points and we're not getting graded -- you know, you either win or your season is over."
QUOTE-WORTHY:
"We know we're in for a fight, especially the confidence that they have. When you win a game like that, it doesn't just all of a sudden leave you; many times it carries through for the rest of the weekend. For us, it's not about being consumed with Harvard, as much as it is about being consumed with ourselves, making sure we're ready to go." -- Arizona coach Sean Miller
March, 22, 2013
3/22/13
2:35
AM ET
SALT LAKE CITY -- A year ago, Harvard guard
Laurent Rivard
was in awe just seeing the midcourt NCAA logo; after all, the Crimson hadn't made the tournament in six decades.
So helping the program to its first tournament victory -- a
68-62 win
over No. 3 New Mexico that marked the biggest seed upset of all time by an Ivy League team?
That, he said, was indescribable. Although he tried: "You imagine it … it's something everyone dreams about," Rivard said after scoring 17 points and going 5-for-9 from 3-point range, "but it's a different feeling when it actually becomes real."
The win seemed improbable for a plethora of reasons: The Lobos (29-6) were bigger (7-footer
Alex Kirk
finished with 22 points and 12 rebounds), and more seasoned by playing in a conference many considered one of the nation's toughest. Heck, some even thought UNM was robbed by the tournament committee when it didn't earn higher than a No. 3 seed.
But Harvard countered with a four-guard lineup that was sharpshooting (52.4 percent overall, including 8-for-18 from 3-point land) and that frustrated Lobos leading scorer
Kendall Williams
into a forgettable, 1-for-6 night. Led by their tallest starter, 6-foot-8
Kenyatta Smith
, the Crimson also aggressively banged with Kirk and 6-9
Cameron Bairstow
(15 points, nine rebounds).
[+] Enlarge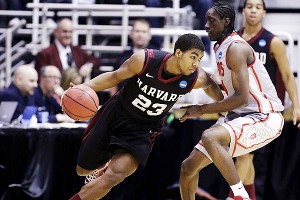 AP Photo/Rick BowmerHarvard's Wesley Saunders drives past New Mexico's Tony Snell on his way to 18 points.
"We knew they were going to be tough," Smith said. "We just had to be confident."
And they were, particularly down the stretch.
New Mexico, trailing for most of the game, took a 53-52 lead with 6:26 left on yet another Kirk inside move. But Harvard, even with its three bigger guys in foul trouble, countered with a 7-0 run -- beginning with another 3 from Rivard and including a jumper from guard
Wesley Saunders
(18 points) -- to rebuild its cushion. The Lobos never got closer than four after that.
"For me to see the composure that we had is meaningful to me as a coach," Harvard's Tommy Amaker said. "We had the lead. We lost the lead. We had to make plays and to have an answer each time when things got really tight there. We had to make pressure free throws. … But we didn't wilt or cave in."
Somehow, the Crimson (20-9) didn't seem to feel the pressure of being a No. 14 seed on the brink of making history.
"I was just playing in the moment, enjoying the moment," freshman point guard
Siyani Chambers
said. "… It felt like, just getting here, was our night."
Indeed, not long ago it seemed like a long shot that the Crimson would make the tournament at all -- much less advance to the round of 32.
First there were the offseason academic problems that led the team's co-captains -- Kyle Casey and Brandyn Curry -- to withdraw from school.
And although those departures gave Chambers (5 points, 7 assists in 40 minutes Thursday) the opportunity to develop more quickly, the team wasn't quite the runaway favorite it might have been to dominate the Ivy League -- as evidenced by back-to-back road losses at Princeton and Penn in early March.
Yet the Crimson endured. And prevailed.
And forget about last year's awe-inspiring NCAA logo. Now, there's a new daydream: the Sweet Sixteen.
"Before this, we wanted to be the Cinderella story," Smith said. "And I guess now, we kind of are."
March, 19, 2013
3/19/13
11:00
AM ET
I know the feeling. You're nervous. You know the big names --
Ben McLemore
,
Victor Oladipo
,
Trey Burke
-- but who's this Nate kid I keep hearing about? Let me help you. Here are 10 mid-major stars who could really mess up your bracket in the coming days.
Mike Muscala (Bucknell)
-- The Muscala Monster is a dangerous creature. The Bison are capable of upsetting Butler in the second round Thursday in Lexington because they're led by one of America's most underrated stars. He scored 25 points and grabbed 14 rebounds in a two-point loss to Missouri in January. Muscala (19.0 PPG, 11.2 RPG) dropped 18 points in a win against NCAA tourney participant La Salle in December. He's finished with 25 points or more in 10 games. He also has the strength of 10 men. Not really, but he's legit and more than prepared to help Bucknell ruin brackets worldwide.
[+] Enlarge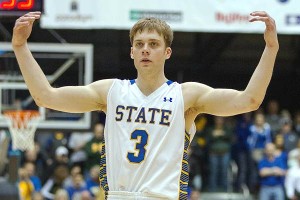 Brace Hemmelgarn/USA TODAY SportsCan Nate Wolters and South Dakota State upset Michigan in the NCAA tournament's second round?
Nate Wolters (South Dakota State)
-- He plays with a chip on his shoulder. Few Division I schools sought his services when he was a high school standout in St. Cloud, Minn. Every season since, however, Wolters has proven he was clearly overlooked. He led the Jackrabbits to their second consecutive NCAA tournament appearance via a silky game that's caught the attention of NBA scouts. He's one of the nation's most explosive offensive performers. Wolters (22.7 PPG, 39 percent from the 3-point line) recorded a Division I-high 53 points in a Feb. 7 win against IPFW. He'll make Thursday's matchup against Michigan in Auburn Hills interesting.
Will Cherry (Montana)
-- Damian Lillard is arguably the top player in the NBA's rookie class. When he was a Big Sky star at Weber State, Cherry was his top adversary. The senior is known for his defensive prowess (1.9 SPG), but he's a talented offensive player, too. Cherry is averaging 13.9 PPG for a Montana team that will face Syracuse in San Jose on Friday. The Grizzlies don't have top scorer
Mathias Ward
, who is out for the season with a foot injury. But Cherry is a proven leader. He's tough, too. He missed a few games in early March after aggravating a foot injury that cost him the first few months of the season. But he hasn't shown any signs of regression since his return.
Siyani Chambers (Harvard)
-- The West Region is probably the easiest region. With Gonzaga as the 1-seed, it just seems more wide open than the other three. So expect the unexpected. Harvard could spur some madness in its second-round matchup against New Mexico in Salt Lake City on Thursday. The Lobos are the better team. But the Crimson have overcome adversity to reach this point. Stars Kyle Casey and Brandyn Curry left the team prior to the season because of an academic scandal. Chambers (12.9 PPG, 5.8 APG, 44 percent from the 3-point line), just a freshman, helped Tommy Amaker's squad recover from those losses and earn another automatic berth with its second straight outright Ivy title.
Matthew Dellavedova (Saint Mary's)
-- The senior was a member of the Australian national team in the London Olympics. He's struggled in his past two games, but Dellavedova will be ready for the NCAA tourney. The Gaels will face Middle Tennessee in Dayton in the First Four on Tuesday night. If they get past the Blue Raiders, they'll see Memphis in the next round. Dellavedova (15.8 PPG, 6.4 APG, 38 percent from the 3-point line) is not just recognized as a mid-major star. He's one of the best point guards in America, regardless of level. He's talented and experienced. And he might help the Gaels nullify your bracket.
Jamal Olasewere (LIU Brooklyn)
-- I don't think we'll see the first 16-over-1 upset. But if it is to happen, I pick the Blackbirds to pull off the feat. Why? Because Olasewere (18.9 PPG, 8.5 RPG) is a tough matchup for any team in the country. The 6-foot-7 forward is active inside, and he's efficient in transition. The Blackbirds must get through James Madison in the First Four in Dayton on Wednesday. If they do, they'll see Indiana on Friday in Dayton. If something crazy happens, Olasewere will certainly be involved.
[+] Enlarge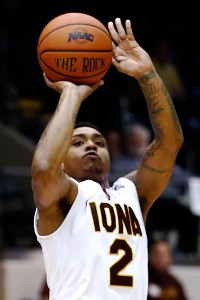 Mark L. Baer/USA TODAY SportsSenior guard Lamont Jones, who is averaging 23.0 PPG, will have Iona prepared to face Ohio State.
Lamont "Momo" Jones (Iona)
-- Iona is second in America with an average of 80.7 PPG. Jones, who started his career at Arizona, is the catalyst for the Gaels' offense. He's averaging 23.0 PPG, third in the nation. He's recorded 30 points or more in six different games. He's certainly a potent performer who guides a Gaels squad that can score in bunches. Iona, however, is facing one of the hottest teams in America right now. Ohio State has won eight games in a row, a streak that the Buckeyes capped with a Big Ten tournament title in Chicago on Sunday. But the Gaels play fast (17th in adjusted tempo per Ken Pomeroy). And their defense is porous. Still, Iona can overwhelm teams with its high-powered offense. That's what makes its second-round matchup against Ohio State in Dayton on Friday so intriguing.
Ryan Broekhoff (Valparaiso)
-- The 6-7 forward from Australia cracked ESPN's "SportsCenter" recently when his buzzer-beating 3-pointer knocked UW-Green Bay out of the Horizon League tournament. He's one of the top mid-major players in the country. Broekhoff is averaging 15.9 PPG and 7.3 RPG for a Crusaders squad that will face Michigan State on Thursday in Auburn Hills. The atmosphere will favor the Spartans, but Valpo will be tough. The Crusaders are a versatile team with an offense that's ranked 44th in adjusted offensive efficiency per Ken Pomeroy. And Broekhoff is the key to that success.
Doug McDermott (Creighton)
-- The Bluejays might be the most dangerous 7-seed in the field. They certainly hit a few bumps during Missouri Valley Conference play. Overall, however, they've been one of the top mid-major programs in the country. They have wins against Wisconsin, Arizona State, Akron and Cal. They lead the nation with a 50.8 percent clip from the field. Their defense is suspect (78th in adjusted defensive efficiency per Ken Pomeroy). But McDermott, their leader, is a legit star. He's averaging 23.1 PPG and 7.5 RPG. He could really go off in the Big Dance. First, he has to lead his team through a tough opening-round matchup against Cincinnati in Philly on Friday. Creighton is definitely a sleeper in the Midwest Region.
Ian Clark (Belmont)
-- On paper, there's a lot to like about Belmont. The Bruins are a strong squad that's faced some of the best teams in the country in nonconference matchups. Belmont can beat Arizona in the second round Thursday in Salt Lake City. And a Sweet 16 run isn't a crazy concept for this veteran squad. Clark (18.1 PPG, 46.3 percent from beyond the arc) is just one of the weapons that the Wildcats will have to neutralize when the two teams meet. He's a stud who could really disrupt brackets throughout the country.
December, 10, 2012
12/10/12
5:00
AM ET
1. UNLV received good news late Sunday night after X-rays showed that forward
Mike Moser
didn't fracture his dislocated shoulder. But there is no timetable for Moser's return. The injury occurred a few minutes into the late-possession win at Cal Sunday night. UNLV coach Dave Rice said they will know more of a timetable in the coming days. Meanwhile, the Rebels will go with
Anthony Bennett
(who has become a star early for the Rebels) and
Quintrell Thomas
as well as
Carlos Lopez-Sosa
in Moser's absence. But the Rebels due get an infusion of a big-time talent when Pitt transfer Khem Birch is eligible for next Monday's game at UTEP.
2. The Xavier staff that took the team to the Elite Eight and lost to Duke in 2004 has had quite a rise in the coaching profession this season. The head coach was Thad Matta. The top three assistants are all undefeated as head coaches so far: Sean Miller at Arizona, John Groce at Illinois and Alan Major at Charlotte. The latter two are by far the most surprising. Groce has been dubbed a rising star after the way in which he took Ohio to the Sweet 16. He pulled off one of the most impressive wins in the non-conference with a road win at Gonzaga Saturday night. Major is off to a surprising undefeated start in the 49ers last season in the A-10. Charlotte still has tough games to come but did win the Great Alaska Shootout and knocked off rival Davidson. Miller has the best team in the Pac-12. It won't be a reach at all to see at least three of the four coaches on that staff -- Matta, Miller and Groce -- in the NCAA tournament. Major probably has the most work to do but it's not out of the question.
3. Harvard's staff firmly believes the Crimson will be back to being a potential top 25 team in 2014. The Crimson return their team essentially intact with a rising star in
Siyani Chambers
. And, if as expected, Kyle Casey and Brandyn Curry return from their forced year off (two of 175 students involved in an academic scandal) then this team will be a tough out for everyone on the schedule. The Crimson still have a chance to squeeze into the NCAAs during this bridge season with rest of the Ivy muted at best. Columbia, Princeton and Cornell are all viable contenders but Harvard still may be the team to beat. Casey is working for a non-profit counseling kids during his year off while Curry is working in insurance in Charlotte. They remain in contact with the staff but can't be in school during the forced suspension. Crimson coach Tommy Amaker said he wouldn't have scheduled so tough this season (still to come at Cal, at Saint Mary's and at Memphis after playing at UMass, at UConn) with such a limited roster, but he had no clue the suspensions would occur. Harvard is in the Great Alaska Shootout next season. Amaker is looking for more quality games and said he wants to renew the series with BC and UConn.