College Basketball Nation:

Skylar McBee
November, 30, 2012
11/30/12
9:55
PM ET


Overview
: No. 20 Georgetown's
37-36 victory
over visiting Tennessee was one of the sloppiest games of the season to date. At one point in the first half, Tennessee was shooting below 19 percent from the field against Georgetown's frustrating 2-3 zone. But the Vols climbed back into the low-scoring matchup because their opponent failed to register a field goal in the last 10 minutes of the first half.
Trae Golden
's floater beat the buzzer to give Tennessee a -- wait for it -- 18-16 lead at halftime. It was the worst half for the Vols in nearly a decade. The offensive production was mediocre in the second half, too. But Georgetown started with a 13-5 run. Tennessee answered with a 13-6 run. There were six lead changes in the final 8 minutes, 19 seconds of the game. But neither team scored in the final 4:08 of regulation as the Hoyas preserved the one-point lead. According to ESPN Stats & Information, it was the first time that Georgetown had won by scoring 37 points or fewer since beating Catholic during the 1945-46 season. Wow.
Turning point
: Tennessee made two crucial surges. It responded to Georgetown's early eight-point lead in the first half, then it fired back when it rallied early in the second. But the game was ultimately decided in the final seconds. With his team up 37-36,
Greg Whittington
fumbled a pass, resulting in a turnover that gave the Vols possession with 22 seconds left. But the home team pressured the 3-point line all night, which was evident when
Skylar McBee
and
Jordan McRae
missed contested 3-pointers in the final seconds.
[+] Enlarge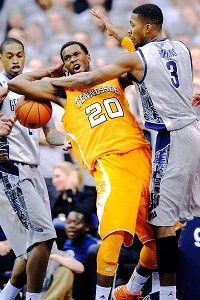 AP Photo/Nick WassGeorgetown's Mikeal Hopkins (3) and Greg Whittington, who combined for 16 points, surround Tennessee's Kenny Hall.
Why Georgetown won
: Well,
Markel Starks
scored the winning basket with 4:08 to play. But the Hoyas really won because of their defensive pressure. No player on either team scored in double figures. It was one of those gritty November matchups. Defense really was the difference because shots weren't falling. John Thompson III's squad forced 12 turnovers and held Tennessee to a 3-for-16 clip from the 3-point line.
Why Tennessee lost
: The Vols spent the night digging out of ditches. They were down in the first half but bounced back. They were down in the second but bounced back. Those early holes, however, affected them down the stretch. They missed so many easy shots, shots that have fallen in other games this season. And they expended a lot of energy trying to make up for it. Credit Georgetown's defense for its role in creating that offensive chaos. But Tennessee did have a chance in the waning seconds. Not sure why the best plays were a couple of 3-pointers -- shots that hadn't gone in most of the evening -- when the Vols were down by a point. Paging
Jeronne Maymon
(12.7 points, 8.1 rebounds per game in 2011-12). He's still recovering from knee surgery. Tennessee could have used him Friday night.
Star(s) of the game
: Hard to identify a star in a game that featured so many droughts, right?
Otto Porter
had eight points, seven rebounds and three steals. Whittington had the same stat line. They were both 4-for-11. JTIII is obviously cloning 6-foot-8 forwards.
What it means for Georgetown
: It means the Hoyas need to become a better offensive team to beat top-tier squads in the Big East. They certainly have the defense to do it. And it seems Porter and Whittington are stars. But the offensive gaps will crush them against tougher teams.
What it means for Tennessee
: The Vols need Maymon. Yes, they have to take smarter shots, but they also need Maymon. I think he changes the program's prospects. And they're just not tough enough defensively to afford the offensive lapses that plagued them against the Hoyas.
What's next
: Tennessee will face Virginia on the road Wednesday. Georgetown will take on Texas on Tuesday at Madison Square Garden in the Jimmy V Classic.
March, 9, 2012
3/09/12
10:13
PM ET
NEW ORLEANS -- Some quick musings from Ole Miss' thrilling
77-72 overtime win against Tennessee
.
Overview:
Truth be told, this was probably the least-hyped of the four quarterfinals. But it turned out to be a lot of fun. It was a game both teams needed to have to keep their iffy bubble hopes alive. Both the Vols and the Rebels entered the night riding four-game winning streaks, and dodging No. 1 Kentucky in the semifinals would give the winner a decent shot at making the tournament championship game.


With all of that riding on the line, the pair played each other to a standstill. They went into the locker room tied at 28, and the lead never got larger than six in either squad's favor during regulation.
After trailing for most of the second half, Tennessee found themselves down, 61-58, with 26 seconds remaining.
Trae Golden
took Tennessee down the floor and dished off to
Skylar McBee
at the left side of the arc, and McBee banked in from distance to send the game to overtime.
The trey was only Tennessee's 15th field goal. The Volunteers had a horrendously bad shooting night (28 percent)
Turning point:
The Rebels weren't discouraged by McBee's heroics. They took control right off the bat in the extra period, showing an offensive consistency that eluded both teams for most of the night. Tennessee scored the first points of overtime, but Ole Miss responded by scoring on five straight trips down the floor to take a seven point lead.
McBee did his best to keep Tennessee in it with two more 3s in overtime. Thanks to a pair of missed free throws by
Ladarius White
, the Volunteers were able to cut it as close as 74-72 in the final minute.
Terrance Henry
saved the day for the Rebels by going 3-of-4 from the stripe in the final 14 seconds.
Key player:
Henry did more than just sink clutch free throws. He led the Rebs in scoring (19 points) and added seven boards in a healthy 38 of 45 minutes. He made 1o of his 12 free throws to lead Ole Miss from the line. And he managed all of that despite playing a big chunk of the game in foul trouble.
Key stat:
Much like Florida in the Gators' earlier quarterfinal, the Volunteers used the deep ball to offset their awful shooting. Tennessee went 11-of-34 from the 3-point line, highlighted obviously by McBee's last gasp bank shot. Ole Miss only managed 2-of-4 from long range. The Volunteers also took a ridiculous 33 free throws and hit on 25 of them.
Miscellaneous:
Nick Williams
couldn't follow up on his monstrous 22-point performance against Auburn. If his barrage of 3-pointers against the Tigers was a feast, Friday night was a famine. Williams shot 2-of-11 and scored just five points.
What's next:
Ole Miss goes back to its hotel and waits to see who it will face between Georgia and Vanderbilt. Tennessee goes back to Knoxville and waits to learn of its postseason fate.
December, 11, 2010
12/11/10
7:56
PM ET
PITTSBURGH -- For those who can't understand the fierce loyalty both the Tennessee fan base and administration have shown Bruce Pearl, let this game serve as your explanation.
Tennessee 83, Pittsburgh 76
.
Before Pearl, irrelevant would be an adequate word to describe the Tennessee basketball team.
Save a handful of years under Jerry Green a decade ago and with Bernard King and Ernie Grunfeld in the mid-70s, the Volunteers have never been part of the conversation. They were living in their proper place in the school's sports hierarchy, a distant third to football and Pat Summitt.
With Pearl, you get this: a team that went to its school's first Elite Eight last season, lost three of its core players, fell under the shadow of an NCAA investigation and swirling rumors about its coach, and before January 1, has pummeled the two presumed best teams in the Big East.
[+] Enlarge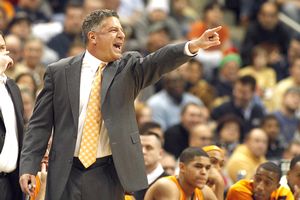 Justin K. Aller/Getty ImagesBruce Pearl and his Tennessee Volunteers are now 5-2 in their past seven games against top 5 teams.
And the Vols pummeled them in their own backyard, beating Villanova and its Big Apple-laden roster in New York City, and Pittsburgh at Pittsburgh.
Which just about never happens, by the way.
The Panthers hadn't lost to a nonconference foe in this city in nearly six years and were 141-11 here from 2003 until Saturday afternoon, their fan base so accustomed to winning that the stunned denizens of the Oakland Zoo were left with nothing but anemic taunts about the Volunteers' hairdos (Justin Bieber for
Skylar McBee
and 'Nice fade,' for
Scotty Hopson
) as the lead stretched as wide as 21.
Picked to finish fourth in the SEC East, Tennessee instead is the lone undefeated team in the league, standing at 7-0. The Vols are now a remarkable 5-2 in their past seven games against top-5 teams.
Winning offers a blanket defense for just about anything.
And Pearl has the Volunteers winning like they've never done before, winning at such a rate it's helped to ease the pain of the Lane Kiffin debacle, and turned Knoxville into a (men's) hoops town for now.
"When you win and when you do it consistently, you're more part of the equation,'' Pearl said. "We have a chance to make the NCAA tournament for the sixth straight year and that's never been done before here.''
Pearl has played the underdog since his banishment from the game, coaxing big wins out of his Vols by reminding them they are underdogs. Against Pitt, in fact, Tennessee was a nine-point 'dog.
But the dog days are gone now.
Tennessee will catapult up the rankings on Monday after this annihilation, and deservedly so.
Jamie Dixon's record of never getting blown out will stand -- he's lost by more than 10 points only 15 times in his career -- but only by an endgame effort that did little more than pad the final score.
Make no mistake: the Volunteers owned the Panthers, their offense all but mopping the floor over Pitt's vaunted defense and their defense making the Panthers look scared. Scared is not a word used about Pittsburgh terribly often.
"They landed the first punch and we didn't respond well,''
Brad Wanamaker
said. "They were prepared for us. They came out aggressive from the start and we didn't. We tried to make a run, but they kept making smart plays.''
Unlike Vols teams of yore, whose athletic ability masked an AAU-like mentality, this team took smart shots. Tennessee shot 56 percent from the floor for the game, drilling 7 of 11 3-pointers. It was the most points (83) scored in regulation by a Pitt opponent since 2006.
And Hopson, the player everyone has been waiting to "arrive" since he came to the Knoxville campus, may have just met his delivery date. The junior couldn't miss, hitting 10 of 13 from the floor and all three from behind the arc.
[+] Enlarge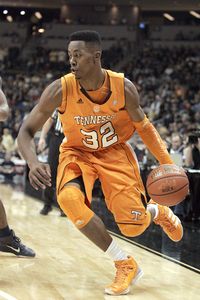 Justin K. Aller/Getty ImagesScotty Hopson made 10 of his 13 shots from the floor for 27 points against Pittsburgh.
When the Panthers threatened to make it even a little bit of a game, closing to eight late in the second half and igniting the crowd, Pearl called timeout.
The Vols came back on the court, put the ball back in Hopson's hands and he went straight to the hoop for the easy bucket.
The former high school All-American, who has teased with his talent, has been a model of consistency this season, averaging 16.3 ppg and hitting double figures in each of the Vols' games.
Maybe it's the hair, a reverse Samson thing. The junior cropped his hair into a 1980s fade this summer when he and his team owned Tennessee's summer-league competition.
He hasn't seen fit to cut it yet.
"We're winning, so I'm keeping it,'' he said.
But the Vols aren't just winning with their offense. This team, once known for leading the SEC in scoring has finally put a premium on stopping people. When Pearl first came to Tennessee, he didn't think he had a choice but to play a pressing style. His status not yet affirmed as a head coach, he couldn't land the players -- especially the big men -- to change.
As success has come, so too have the players, and Pearl is evolving his style of coaching along with it.
With its length and strength, Tennessee can defend, and with the players Pearl has, it's not just a 10-second, pat on the back to defense. It's legit full bore.
Tobias Harris
,
Brian Williams
and company clogged the lane, making it almost impossible for the Panthers to penetrate. When Pitt players did get near the hoop, they looked tentative, their shots altered by the defensive logjam.
"We wanted to see where were at defensively and as a team,''
Cameron Tatum
said. "If we can stop a tough offensive team like Pitt and then come down and score against a tough defensive team, that goes a long way in saying where we might be.''
Where the Vols might be is right alongside the likes of Connecticut as the biggest surprise team of the early season. Remember the Huskies' big eye-openers came at a neutral court in Maui.
Tennessee has gone straight into the lion's den and emerged victorious.
Pearl has done this before, of course. His team has built a reputation as a giant killer, establishing the identity in his first year when the Volunteers improbably beat Texas in Austin.
It is what initially endeared him to the masses in Tennessee and what continues to make him beloved there. Last year it was against No. 1 Kansas when the Vols, racked by suspension, were as ragtag as a team could get. Then it was against Kentucky, then No. 2 in the country.
Pearl realizes his team might have more of a bull's-eye on its back, but insisted the Volunteers remain the beggars at the feast. They have never been to a Final Four, his own demarcation for officially arriving, and they're still coached by a man with a different kind of bull's-eye on his back.
"I'm nobody from nowhere,'' Pearl said. "C'mon. I'm nobody from nowhere.''
Except in Tennessee. There he's definitely a somebody.
November, 26, 2010
11/26/10
10:45
PM ET
NEW YORK -- The NCAA mess that Bruce Pearl and his staff got the Tennessee program into will rear its ugly head again when the NCAA releases its official document of allegations, most likely within the next month.
But for one night at least, the Volunteer basketball team shifted the focus to actual basketball -- in this case an improbable NIT Season Tip-Off trophy after an impressive
78-68 win
over seventh-ranked Villanova in the championship game at Madison Square Garden.
It's become clear now that the more Tennessee wins, the less likely an NCAA investigation will have a major effect on this particular team.
The reason is the Vols have a basketball team that is again worthy of attention, and a freshman in
Tobias Harris
that should at least be in the same conversation with
Jared Sullinger
of Ohio State,
Harrison Barnes
of North Carolina,
Terrence Jones
and
Brandon Knight
of Kentucky and in a few weeks,
Josh Selby
of Kansas.
[+] Enlarge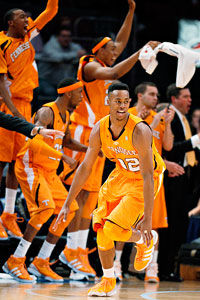 AP Photos/Henny Ray AbramsTourney MVP Scotty Hopson and his Tennessee teammates were all smiles on Friday night.
"We showed toughness, in a tough environment and we had an edge coming in,'' said Pearl. "Nobody picked Tennessee to win.''
No one on ESPN.com, that's for sure
.
"I wouldn't blame you,'' Pearl said. "I would have picked Villanova against the field, too.''
After this 10-point victory, in which they led for the final 12 minutes and for most of the game, the 24th-ranked Vols will certainly move up in the rankings. But just as importantly, perhaps, they'll strike a bit of fear in the minds of every team in the SEC East, after Tennessee was picked to finish fourth in the division despite several pieces of the Elite Eight team returning and Harris' arrival.
"We wanted the focus of our basketball program to be on the basketball,'' said Tennessee senior wing
Steven Pearl
, whose scrappy 15 minutes didn't go unnoticed. "I think [my dad] has handled it great. You can't tell any difference with his coaching this team. He has acted normal. Off the court we talk about it, but he's handling it very well. He's done a good job of keeping it away, from it being a distraction.''
The University of Tennessee and the Southeastern Conference had made it difficult to ignore. The school self-imposed penalties on Pearl and his staff, from docking salary to taking them off the recruiting road after Pearl misled NCAA investigators about high school recruits at a Pearl-housed barbeque. And then SEC commissioner Mike Slive put the focus back on Pearl with his unique eight-gamedays suspension to start league play, which doesn't prevent Pearl from traveling with the team, coaching them in practice or -- in the middle of the suspension -- coaching the Vols at Connecticut on Jan. 22.
With that as a backdrop, the Vols arrived in New York perceived as sort of a team turmoil.
Well, they hardly fit the part. The only disruption Tennessee had here was backup point guard
Trae Golden
's 102-degree fever that kept him out of the game against Villanova. Pearl said it was going to be a problem prior to tipoff because of Villanova's guards.
But point guard
Melvin Goins
, a backup last season and now a starter, and
Skylar McBee
among others (including Hopson), handled the Nova guards quite well as
Corey Fisher
went 1-for-10 for three points (after scoring 26 in the semis) and
Maalik Wayns
went 3-for-11 for 11 points. The trio of Fisher, Wayne and
Corey Stokes
-- the same group that combined for 61 points against UCLA -- tallied just 25 against the Vols.
Villanova coach Jay Wright warned his guards about driving against Tennessee's bigs and said they might have to make an extra pass. He foresaw that the Cats wouldn't be able to get to the rim -- and they didn't.
"What impressed me the most was how physical they all were, from Melvin Goins to Skylar McBee to Tobias Harris, their physicality,'' Wright said.
The Vols had great balance against Nova, shutting down the Wildcats on 3s (4-of-21) and then hitting 3s at a more efficient manner on their end (6-of-16). Harris' ability to be a point forward -- to take the ball and drive on his own to the hoop -- makes him a tough mismatch. Wright noticed.
"I want to win and I'm trying to do everything I can to help this team win,'' said Harris, the freshman from Long Island.
[+] Enlarge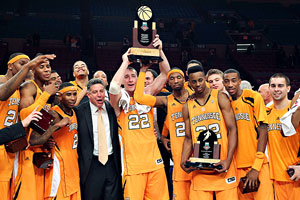 Nick Laham/Getty ImagesA team many expected to lose its first game in New York instead won two en route to the NIT title.
"I think you saw what he was capable of, making tough plays,'' said Pearl of Harris, who finished with 15 points and nine boards. "We put the ball in his hands a lot. He was recruited to play that point forward. He can be a good passer too. We need him to score. He's an inside-out player and those are tough matchups.''
The NIT was also the official arrival of
Scotty Hopson
as a go-to scorer. Hopson was a celebrated recruit as a McDonald's All-American, but admittedly took a backseat the past two seasons. At SEC media day last month, he said he needed to be much more assertive.
Mission accomplished in New York. He was named the NIT's MVP after scoring a team-high 18 (to go along with 19 against VCU).
Cameron Tatum
's 17 showed how balanced offensively this team can be throughout the season. And the gritty play of another New Yorker, forward
Brian Williams
(12 points and seven boards), only adds to the Vols' toughness.
"We were an Elite Eight team last year, but this is a new team with a lot of new guys,'' Pearl said. "Our depth will always be a factor, but we played hard and were unselfish. We can rebound and we can defend.''
On Dec. 11 at the SEC-Big East Invitational, Tennessee plays Pittsburgh at the CONSOL Energy Center, home of the Pittsburgh Penguins. Then the Vols have yet another Big East date Jan. 22 at UConn. And in between, Tennessee hosts USC and Memphis as well as a sneaky good College of Charleston. So there are plenty of potential potholes on the nonconference schedule.
As for league play, picking Florida, Kentucky or Vanderbilt ahead of Tennessee in the SEC East is still not a reach, based on the rosters and the flashes each of shown at times already this season. Georgia has been a bit of disappointment so far, but the Bulldogs haven't had SEC preseason player of the year
Trey Thompkins
at full strength yet. Still, all those other teams have lost. The Vols have not. And they have the best win of that group so far.
"We understand that we're not a great basketball team and we can't get carried away and say we're the best team in the country,'' Steven Pearl said. "We beat a good Villanova team. We've got to stay grounded. Playing Pitt could be a different animal. But we're excited for the test.''
The players were certainly euphoric after the game, jumping on the back of Bruce Pearl at center court. Pearl kept saying the right things -- that this wasn't about him, but rather about the team. And on this night at least, he was right. The shift from off the court to on the court was real.
"We had to get the issues focused on the court,'' Williams said. "That's what we wanted.''
And that's what they got.
February, 27, 2010
2/27/10
2:38
PM ET


KNOXVILLE, Tenn. -- Quick postgame thoughts from
Tennessee 74, Kentucky 65
:
Tennessee won't be a No. 1 seed in the NCAA tournament, but it has now beaten half the probable field of No. 1s. First it was Kansas, now it's Kentucky. Both in Thompson-Boling Arena, both holding on late, both with the help of huge three-pointers from near the same spot on the court. Skylar McBee did the honors in the last minute against Kansas, Hopkinsville, Ky., native Scotty Hopson did it to the Wildcats.
Kentucky made 2-of-22 3-point shots. Every team in March will pack the paint against the Cats and make them prove they can hit jump shots. Kentucky had a nine-point edge at the foul line but was outscored 18-6 from 3-point range.
J.P. Prince played a tremendous game for the Volunteers, scoring a game-high 20 points. He made the go-ahead basket after Kentucky rallied from 19 points down to tie the score, then made the final four free throws to clinch it.
John Wall had 19 points and six assists, but also five turnovers and was 0-for-4 from 3-point range. He was great much of the game, but flawed for key stretches as well.