College Basketball Nation:

South Carolina
March, 3, 2010
3/03/10
1:26
PM ET
February, 25, 2010
2/25/10
4:27
PM ET
Saddle Up is our nightly preview of the hoops your TV wants you to watch. Here's Thursday's rundown.
Tulsa at No. 5 Duke, 7 p.m. ET, ESPN2
: Hey, Dad, I can't see real good. Is that --
waves glasses up and down face --
is that a
nonconference game
I see over there? Why, yes, Matt Foley, it is: Those of you who thought we were done with any and all nonconference fun until the NCAA tournament were wrong. Instead, Tulsa will head to Cameron Indoor Stadium tonight to play Duke. Why does this game exist? Two reasons: 1) Because Coach K wanted a late-season nonconference game to help prepare his team for the NCAA tournament, and 2) because Tulsa coach Doug Wojcik wants his team to experience playing an elite team in a hostile road environment.
Both missions will be accomplished. The slightly disappointing Golden Hurricane will get their experience and a long-shot chance to do what no team has done this year (beat Duke at home) or in 77 tries (beat Duke at home in a nonconference game). Duke will put Tulsa through the meat grinder in the name of tournament preparation. Both parties will go home happy. The only way to change this status quo -- and maybe the only way for Tulsa to get in the tournament, with a big emphasis on the maybe (and barring the C-USA tournament, of course) -- is for it to pull off an shocker-of-the-season-level upset. But don't hold your breath.
South Carolina at No. 2 Kentucky, 9 p.m. ET, ESPN2
: The only reason Kentucky isn't, as of Feb. 25, sitting at 27-0 and dealing with writers like me trying to put into perspective how impressive that run is, and how likely the Cats are to finish a perfect season, and so on and so forth, is South Carolina. More specifically,
Devan Downey
. The diminutive guard and his cohorts dealt Kentucky its only loss of the season on Jan. 26. Of course, that game was in Columbia, where the Gamecocks are game. Away from home, South Carolina is an ugly 1-8, and tonight's match up requires Downey and company to play in front of 24,000 screaming Kentucky fans, a far cry from the last time these two faced off. That alone would lend to a blowout tonight; add in Kentucky's reborn focus in recent weeks and its likely desire to punish South Carolina for dealing
John Wall
and company that lone loss and, well, yeah. Things could get ugly.
Everywhere else
:
Mike Montgomery will hope Cal fans show up
to
tonight's game with Arizona
, as the Bears can inch closer to their first conference title in 50 years. ...
Santa Clara will go to Gonzaga for tonight's late West Coast showdown
. ...
Wisconsin travels to all-but-dead Indiana
; for seeding purposes, the Badgers can't afford another letdown. ...
Iowa-Northwestern is your early ESPN game
, and don't try to hide your excitement, either. ...
Georgia will look to climb back to .500 at Vanderbilt
; good luck. ... and, this being Thursday night,
there are a host of Pac-10 games
that (other than Cal-Zona, I guess) don't mean a whole lot more than which team gets which seed in the Pac-10 tournament, when the real anarchic fun ought to begin.
February, 18, 2010
2/18/10
9:27
AM ET
The Morning After is our semi-daily look at last night's best hoops action. Try not to make it awkward. Oh, and sorry about that headline. I couldn't help myself.
No. 4 Purdue 60, No. 12 Ohio State 57
: Any time you face a player as good as
Evan Turner
, the conventional strategy is simple: Make someone else beat you. It might not have been conscious, but Purdue's execution in last night's impressive road win at OSU was the exact opposite. It let Turner get his points (and his assists, and his rebounds, and pretty much anything else he wanted, because what are you going to do, triple-team him?) and the rest of the Buckeyes couldn't step up in time. By the time OSU started hitting the shots it usually makes to complement Turner's brilliance, it was too late: Purdue is simply too smart, too hard-nosed and too complete on defense to spot it 15 first-half points. OSU and Turner made a valiant comeback, but it was too late.
Purdue's defense didn't stop Turner -- he went for 29 points, seven rebounds, and five assists -- but what it did do was isolate Turner from the rest of his teammates. Purdue swarmed OSU with that patented man-to-man defense, and Ohio State's offense turned simple. There was no motion, no movement, none of the things that the Boilermakers kept wowing with on their own offensive end. Instead, Turner would bring the ball up the floor, receive a screen or an iso call, go to the hoop and oftentimes score. But even a player as good as Turner can't rebound all of his misses. Even Turner can't find himself on back cuts. Even Turner can't make every shot. Ohio State had six assists all game; Turner had five of them.
In the end, it's games like these that set Purdue apart from the Big Ten pack. The Boilermakers have elite talent --
JaJuan Johnson
is perpetually slept on; sooner or later we'll learn -- but they also have the depth and style, that hard-nosed, lockdown defense thing that you can feel when you watch them, to outlast mercurial teams like Ohio State. Matt Painter's boys are not perfect, and they're not Kansas, but they're the closest thing the Big Ten has to a Final Four favorite. That much is no longer in dispute.
Louisville 91, Notre Dame 89, 2OT
: Which team needed this one more? Louisville, coming off an upset of Syracuse and trying to fight its way back into safe bubble territory? Or Notre Dame, whose bubble hopes are almost entirely waned, but who could maybe take a win at Louisville to the committee as a résumé-builder? Hard to say. What I do know that is that a Louisville win -- in which
Samardo Samuels
scored a career-high 36 points, including 16-of-19 from the free throw line,
marking the only real difference between these teams in Four Factors land
-- moves Louisville into legitimate tourney consideration, and just might move Notre Dame off the bubble for good. Such is life in the middle of the Big East.
Missouri 82, No. 17 Texas 77
: Is Texas going to drop out of the Top 25? This is the Longhorns' sixth loss in nine games, and while there's nothing wrong with losing at Missouri -- Missouri is a tough out, to be sure -- a team as talented as Texas losing so many games in the stretch run of its season, just as the country's elite are hitting their stride and doing their best work, ought to be hugely discouraging to voters. Take a gander at those Big 12 standings: Texas is 6-5 in the conference, behind Kansas, Kansas State, Texas A&M, Baylor and, yes, Missouri, which moved to 7-4 with Wednesday night's win. Texas is one of the most-talented teams in the country.
How does that happen?
Anyone with a really good answer -- something besides "Rick Barnes plays too many players" -- wins a cookie. Not kidding. I will mail you a cookie of your choosing. Just please help me understand this, because I am so very confused.
Everywhere else
: Duke was over the ledge in the first half at Miami, trailing by 12 at halftime and apparently doing another of its incomprehensible road loss routines, but credit the Devils for the turnaround:
Duke won 81-74 in an impressive comeback victory
. Sure, it's just Miami, but a road ACC win is a road ACC win. Especially for Duke. ... It was a night of survival for highly ranked teams, and
Kansas State's near-loss at home to Nebraska was no exception
. ...
West Virginia withstood Providence's second-half rally
. ... St. Louis got a huge win for itself and for the prospect of six A-10 teams in the NCAA tournament
with its win over Rhode Island
. ... Tennessee got a challenge from Georgia, but
pulled away for the nine-point win
. ...
Florida State rolled at Virginia
, a doomer for the Cavaliers' faint NCAA hopes. ...
South Carolina did itself no favors by losing at Arkansas
; as fun as it would be to have Devan Downey in the NCAA tournament, it's not looking good.
February, 10, 2010
2/10/10
3:45
PM ET
Saddle Up is our daily look at the hoops your TV wants you to watch tonight. Here's Wednesday night's rundown. Special programming note: I'll be flying to Indianapolis tomorrow to participate in the NCAA's mock selection committee, so my blogging may be a little light these next couple of days. I'm sure you'll find a way to persevere.


No. 7 Duke at North Carolina, 9 p.m. ET, ESPN
: Given the average college basketball fan's general fatigue with Duke-North Carolina -- everyone likes to complain about the attention these two teams always receive, and not without reason -- you might be struggling to find a reason to care about tonight's game. After all, if North Carolina (13-10, 2-6 in the ACC) is this bad, what's the point? Won't Duke just roll?
Maybe. Maybe not. Duke is certainly a more complete and more polished team than the Tar Heels. Veterans
Jon Scheyer
and
Kyle Singler
and the rest of Duke's formidable lineup constitute a major advantage over UNC's talented but inexperienced bunch. But it's not that cut and dry. Duke has major flaws, and one of them is that it's just not very good on the road. Let's not forget the
Devils' trouncing at Georgetown two weeks ago
. Nor should we ignore
Duke's loss at NC State
two weeks before that. Duke played very few nonconference road games, and it's been punished for it since, going 2-4 on the road in six tries overall. For a team with national title aspirations, Coach K's bunch has a way of looking decidedly average away from Cameron Indoor.
Meanwhile, North Carolina is in a horrific tailspin. What better way to turn the season around after losing six of your last seven than by getting a win at home over your hated rival? What better way to build confidence in your young players than by them proving to themselves they can play with an elite group like Duke? Or maybe the inverse happens: Duke dominates UNC at home in front of a disgusted crowd, and Roy Williams has to figure out how to get his team to recover from its latest disaster -- and how to talk to the media without
sounding depressed and apoplectic after the game
. The outcome will be high drama, in its own marginal way.
This might not be vintage UNC-Duke. You won't confuse tonight's lineups with anything you'll see on ESPN Classic. But sleep on it at your own peril. For reasons different than the past, this rivalry might surprise you yet.


Connecticut at No. 3 Syracuse, 7 p.m. ET, ESPN
: Speaking of intrigue, or a lack thereof ... ladies and gentlemen, allow me to present UConn-Cuse 2010! These two teams have taken opposite trajectories to end up where they are today. Syracuse was seen as a marginal Top 25 team at the beginning of the season; the Orange has morphed into one of the few viable challengers to Kansas' putative crown. UConn was a top 15 team to begin the year, and has morphed into a Jim Calhoun-less shell of its former self -- dominant shot-blockers on the defensive end (where the Huskies are No. 1 in the country for the ninth year in a row)
and barely average at almost everything else
. Jim Calhoun is being mentioned for coach of the year awards. Jim Calhoun is still on a leave of absence with no return date imminent.
It's hard to spin those conditions into something positive, even for me, and I'm positive (to a fault, admittedly) about any and all college basketball on my television. It's college hoops! It's awesome in and of itself! We get to watch basketball! Hooray for basketball! But it's hard not to feel the same sinking feeling many will have about Duke-UNC, and that many had about Kansas-Texas --
this game should be so much better
. It's up to UConn to prove us wrong. (In the Carrier Dome. Against a dominant 2-3 zone. With a team that can't shoot. Um, good luck, I guess?)


No. 19 New Mexico at No. 25 UNLV, 11 p.m. ET
: It would be criminal to focus on the above games and not give what could be tonight's best, most important matchup some love. New Mexico at UNLV is tonight's only game featuring two top 25 teams, and that's not the only reason to watch. Whoever wins tonight takes over first place in the Mountain West, where three teams (these two, plus BYU) are vying for NCAA tournament bids. Plus it features a matchup between the conference's two best wing players, New Mexico's
Darington Hobson
and UNLV's
Tre'Von Willis
. New Mexico rarely turns the ball over; UNLV thrives on forcing steals. New Mexico loves to get to the free throw line; UNLV never allows its opponents that luxury. Stay up past your bedtime, East Coasters. You don't want to miss the game of the night.
Everywhere else
:
Ohio State will visit Bloomington
, where the Hoosiers have been a tough out all year. But tough enough to keep
Evan Turner
Line Watch from showing up in the morning? Doubtful. ...
Northern Iowa will go on the road to play a pesky Drake squad
, which wants this win forever, man (sorry). ... Georgia Tech has lost its last two games on the road and
will try to avoid a third at Miami
. ...
Florida goes to Columbia
, where a banged-up
Devan Downey
should be in the lineup. ...
Northwestern's game at Iowa is a must-win for the Wildcats' tournament chances
. ... and a pair of important A-10 battles --
Charlotte at Dayton
;
Richmond at Rhode Island
... will go down.
February, 10, 2010
2/10/10
12:58
PM ET
January, 29, 2010
1/29/10
10:40
AM ET
The other day,
college hoops blog Storming The Floor came up with an idea
: Since South Carolina was stuck paying a $25,000 fine to the SEC for storming the court after their thrilling, totally storm-worthy win over No. 1 Kentucky Tuesday night, why not put that money to a good cause? Why not donate it to the Haiti relief efforts? Haiti sure needs it more than the SEC, and it's the perfect opportunity for conference president Mike Silve to turn a little harsh discipline into a positive story.
Turns out we bloggers aren't the only ones who like the idea:
USC trustee Chuck Allen, a former Gamecocks football player, had the same thought
. Allen's plan is to speak with South Carolina president Harris Pastides and then take it to the SEC itself for approval.
"That's unexpected revenue that, but for some exuberance from our fans, our conference wouldn't be receiving anyway," Allen said Thursday. "It seems like it'd be a nice, goodwill gesture."
Allen's right. It would be a nice gesture, the SEC probably doesn't need $25,000 (every little bit helps the bottom line, I guess, but $25,000 pales in comparison with the SEC's $2.25 billion broadcast rights deal), and the SEC can even net some positive press on the exchange. There's is no reason why this shouldn't happen.
January, 28, 2010
1/28/10
12:29
PM ET
Want to sneak something in the Afternoon Links? Follow me on Twitter and send me your stuff. Off we go:
January, 27, 2010
1/27/10
10:01
AM ET
The Morning After is our semi-daily recap post. Try not to make it awkward.
[+] Enlarge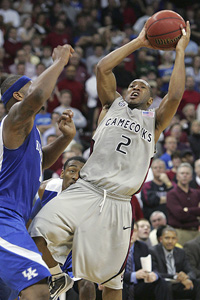 AP Photo/Mary Ann ChastainDevan Downey did most of his damage off the dribble, which led to 23 of his 30 points.
South Carolina 68, No. 1 Kentucky 62
: There's nothing quite like your roommate coming home from work, glancing at the game you're watching, and asking who South Carolina's best player is and you telling him it's 31-points-per-game scorer
Devan Downey
... and then watching as Downey hits a series of clutch down-the-stretch baskets one more unfathomable than the next. The fallaway three-point play? The extra-tight crossover on the left block? That probably-a-little-lucky-but-who-cares spin move through a sagging, slapping defense, ending with a teardrop high off the glass? Downey finished with 30 points on 9-for-29 shooting, but who cares? He got to the line all the time, and he made so many key buckets in crunch time that a few (OK, a ton of) early misses can be excused. If the average college basketball fan wanted to get to know this 5-foot-9 guy from South Carolina they'd been hearing about, well, there he is. He's pretty awesome, huh?
In the meantime, there are sure to be a flood of stories about why this is a good loss for Kentucky. That makes sense. It will disappoint Kentucky fans that their ascent to college basketball's upper crust has been derailed so quickly, but the more reasonable among them would have had to assume it would happen eventually. Upsets happen. All Kentucky can do is take the lessons from Tuesday night --
John Wall
and
Eric Bledsoe
must protect the ball better; when
DeMarcus Cousins
has position, he needs the rock; help defense means stopping penetration
and
recovering to your man -- and apply them as they go on their quest for a national title. I'm not sure I buy the good loss theory. There are no such things as good losses. But there are plenty of good lessons to come from losses, and those are what Kentucky needs right now.
(Oh, and for plenty more on last night's game, be sure to scroll below for
Pat Forde's instant postgame observations
and
Dana O'Neil's wrap
.)
No. 5 Michigan State 57, Michigan 56
: I have no allegiance to Michigan, other than my affection for a friend who went there, and that has nothing to do with Michigan basketball. (Plus, that friend broke our fantasy league's traveling trophy yesterday, so I couldn't care less about him right now. Such disrespect!) I attended a rival Big Ten school. But I have to admit I'm starting to feel a little bit sorry for Michigan fans. First their team is ranked in the top 15 at the beginning of the season. Then they have to suffer through 19 games of mediocre, lifeless basketball, nine of which the Wolverines lost. Then their best player is suspended for a date at Purdue. Then they welcome No. 5 Michigan State, play the Spartans tough for 40 minutes, lose a one-point lead on a
Kalin Lucas
jumper with 3.5 seconds left, and then rim out an inbound play that nearly got them a two-foot game-winner with less than a second left. I mean,
yikes
. Whether Michigan should be better than this or not is up for debate; whether their fans expected more and are now forced to face a 10-10 team is not.
But there is a silver lining here, however bleak it may be: Even if Michigan had won last night, it's not like they'd be in the tournament for sure. Heck, even if they'd won, converted the win into momentum, and finished the Big Ten regular season strong, there's no guarantee the committee will find the Wolverines worthy. Michigan will probably need to win the Big Ten tournament to get in the NCAA. Look on the bright side, Michigan fans: This loss, painful though it may be, doesn't really matter.
No. 13 Kansas State 76, Baylor 74
: Smart money was on this being a close game, an eminently winnable one for Baylor if the Bears kept K-State off the free throw line. At the most crucial time, that didn't happen:
LaceDarius Dunn
fouled
Jacob Pullen
with eight seconds left to put the Wildcats guard on the free throw line, where Pullen knocked down the two game-winning shots to give K-State a steal of a win on the road. Baylor actually shot more free throws than Kansas State; the Bears also managed to keep turnovers low and rebound a decent portion of their offensive misses. The difference
was in the shooting
. Kansas State shot a 58.8 eFG percentage, while Baylor shot 43.2 eFG, and the Bears' solidity in other facets of the game wasn't enough to overcome a cold night in Waco.
Everywhere else
: On a day when
Clemson fans were talking
about becoming an elite hoops program, this has to be
a disappointing road loss at Boston College
...
Maryland cruised over Miami
, continuing the Terps' streak of efficient, impressive basketball in the ACC thus far ...
West Virginia had few issues at DePaul
... UAB defended its place in the top 25 by
topping Tulsa and taking full ownership of a wide-open C-USA
... This was probably NC State's best shot at toppling the hated Tar Heels in, what, five years? Unfortunately for the state's red-clad fans, it didn't happen,
as UNC cruised to a 14-point win
... and Northwestern, despite its ugly efficiency profile,
played Minnesota tough at Minnesota
. The Wildcats are still, despite all odds, looking tourney-worthy.
January, 26, 2010
1/26/10
4:39
PM ET
Saddle Up is our nightly preview of the hoops your TV wants you to watch. Here's Tuesday night's rundown.
No. 1 Kentucky at South Carolina, 9 p.m. ET, ESPN
: Only
four players in the country use more of their team's possessions than South Carolina star Devan Downey
. DeMarcus Cousins is one of them. But where Cousins probably takes a few too many shots in Kentucky's offense -- John Wall and Eric Bledsoe are standing right there, DeMarcus -- the Gamecocks rely on Downey's production much the same way as Ohio State relies on Evan Turner. Perhaps even more. The question is whether Downey's gaudy offensive production is enough to stand up to a Kentucky team that is better than South Carolina in literally every way. The Gamecocks are especially vulnerable when the ball hits their own rim;
they rank 339th in the country at preventing opposing offensive rebounds
. Here's where it gets worse: Thanks to Cousins' prodigious rebounding ability, Kentucky ranks
No. 1 in the country in grabbing their own misses
. This smells like disaster. If the Gamecocks can keep Kentucky off the glass even occasionally, and thus give Downey a chance to go at Kentucky's defense on the other end, maybe South Carolina can hang with a Kentucky team that has had trouble putting away inferior opponents in the past. But if not -- if Cousins works as freely on the glass as the numbers suggest -- South Carolina has no shot. No matter how good Downey is.
In any case, tonight is Kentucky's first game as the No. 1 team in the country. Will that affect the Cats' play? Will it matter at all? This is not a team unused to hype, so I'm betting no ... but it's worth some attention all the same.
No. 5 Michigan State at Michigan, 7 p.m. ET, ESPN
: Can Michigan get a reschedule? This is really not a good time. Manny Harris is coming off a suspension. The Wolverines are still desperately looking for leadership. And John Beilein is saying things like this: "It's almost like the old-time days in the mid-majors. You got to go on a big string at the end of the year or you have to peak at tournament time and win the tournament. Those are our two options right now." Meanwhile, Michigan State is playing its best basketball of the season, or at least coming off its most emotional win, a come-from-behind last-second win at Minnesota on Saturday, the kind of win Tom Izzo teams always seem to get right before they figure things out and tear through the second half of their season. There are a lot of ancillary factors for Michigan at work here, and none of them look particularly positive.
No. 12 Kansas State at Baylor, 8 p.m. ET, ESPN360
: Fire up the laptops; this is tonight's best game. Baylor nearly beat Kansas at the Phog last week. Kansas State toppled Texas before dropping a home game to Oklahoma State on Saturday. So K-State is vulnerable, and Baylor is at home. This has the makings of a close one. Baylor's key? Keep the Wildcats off the free throw line, which they go to more than any other team in the country. K-State's key? Get to the free throw line (naturally), and also keep Baylor's perimeter shooting (the Bears make 40 percent of their threes and 53.3 percent of their twos) under wraps.
Everywhere else
:
West Virginia visits a DePaul team
that's playing slightly better since interim coach Tracey Webster took over ...
Clemson will take on Boston College in Boston on ESPN2
... Maryland will attempt to preserve their hot ACC start (
Gary Williams
' team is playing the best offense in the conference thus far)
against a cupcake-bloated Miami (FL) team in College Park
... North Carolina State has been better than expected and North Carolina has been far worse; which wins out
when the Heels head to Raleigh?
...
Seattle will visit Washington
with its secret weapon, former Washington juco recruit Charles Garcia in tow; check out Diamond's post about Garcia, who uses more of his team's possessions than any other player in the country,
here
.