College Basketball Nation:

South Florida
March, 10, 2010
3/10/10
2:11
PM ET
NEW YORK --
Game 1 is in the books
, and while St. John's and Marquette take the floor for warm-ups for the second half of the afternoon doubleheader here at the Big East tournament, here are a few quick thoughts on South Florida and Georgetown.
[+] Enlarge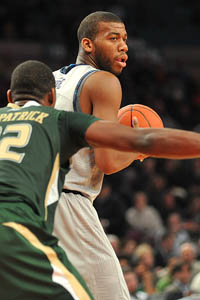 Tony Spinelli/ESPN.comGreg Monroe looks to make a move against South Florida in the second half of Wednesday's win.
South Florida's very thin bubble almost assuredly has burst now. The Bulls had a sort of up-and-down, even quirky season. They turned heads with a mid-season four-game win streak and then sort of disappeared. The late push to get into the tournament was exactly that -- too late. South Florida needed a fairly deep run and some help from other teams -- no upsets, a Seton Hall loss -- to even make a case. Now the case is closed. Still, South Florida had what could be a program-defining season, going from nine wins to 20. The Bulls almost assuredly will be in the running for an NIT bid, and the extra games will be good for the continued development of a fairly young team. "We know we're going to have more games to play,'' senior Chris Howard said. "Regardless of what happens, I'm proud of my teammates and my coaches. This year has been good to me.''

To be competitive in the Big East, however, South Florida is going to have to develop an outside game. Or at least the threat of one. The Bulls went 1-for-10 from behind the arc against the Hoyas. Add that with the 0-for-8 against DePaul and it's easy to see why the Bulls shot just 29 percent from 3-point range all year. "I saw several times I thought we had 15, 17-footers and even threes that we should have taken,'' Stan Heath said. "We passed those things up to try and get a little closer.''

Georgetown's reward for the victory -- a date with No. 1 seed Syracuse. The Hoyas nearly dug themselves out of a gigantic 23-point hole when the two teams squared off last month but couldn't close the deal. With the way Syracuse has been playing lately, the Hoyas can ill afford another sluggish start this time around. "They can hurt you in many different ways,'' John Thompson III said of Syracuse. "They put a lot of pressure on you because they don't allow you to get good shots. And so you cannot be careless against them because they make you pay.''

Against Syracuse in the regular season, Georgetown got itself back into the game by forcing the ball inside to Greg Monroe. He not only scored, he got the Orange's big men, Rick Jackson and Arinze Onuaku in foul trouble. That will again be critical this time around.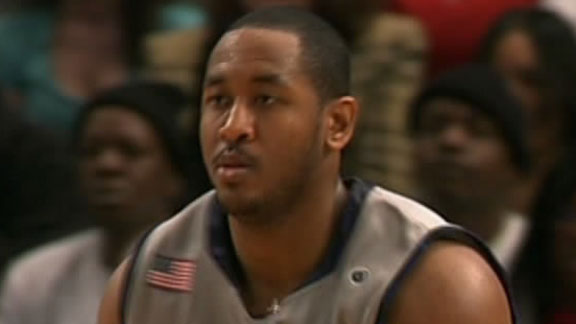 March, 10, 2010
3/10/10
12:56
PM ET
NEW YORK -- For those who forgot their morning cup of java, this isn't the game to jump-start the adrenaline. Georgetown has eased to its halftime lead and in most circumstances, I'd say the Hoyas should roll to the quarterfinals. The caveat: On Feb. 3, Georgetown led by nine at the half and South Florida erupted for a 46-point second half to win the game. So tune in to see what the second half brings.
Here's a few quick observations:
The Bulls don't have anyone who can keep up with Chris Wright's motor. The Georgetown guard has been lethal in the open floor and is really pushing the tempo for the Hoyas. He's got 10 at the break, plus three assists.
The Hoyas this season have had a tendency to play one good half and one bad or so-so. Anxious to see if Georgetown can put together a complete 40 minutes here. It can't be fooled or lulled by South Florida's crummy shooting -- just 27 percent from the floor. Certainly Georgetown's defense has something to do with USF's problems, but the Bulls are getting decent looks. They just aren't going in.
Someone other than Dominique Jones has to score for USF. The junior has 12 of the Bulls' paltry 19 points. Without him, South Florida's anemic shooting drops to a horrific 3-of-18 (16 percent).
March, 10, 2010
3/10/10
11:45
AM ET
Saddle Up is our daily preview of the day's best basketball action. We're officially into that oh-so-awesome part of the season when a healthy portion of your daily hoops regimen will be happening during the day, necessitating Saddle Up's move to the morning. So let's do this.
Because trying to Saddle Up for every specific game on today's raucous conference tournament slate seems somewhat foolish (if not downright impossible) let's instead highlight five numbers, concepts or jargon you should watch out for in the next, oh, 16 hours or so. We'll cover every single game tomorrow, when the task is especially Sisyphean. More fun that way, right?
Special note:
I'll be chatting the entire day starting at 12 p.m.
, alongside Brett, Diamond, and a whole batch of the college hoops faces you know and love. Join us, won't you?
OK, onto the things:
1. Big East bubble madness!
The best conference in all the land features at least three teams sitting soundly on the bubble entering today's games -- Seton Hall (probably out), South Florida (probably out) and Notre Dame (probably in). South Florida has the best chance of all three to make an impression on the committee with its second-round game against No. 22 Georgetown. The Hoyas are still a ranked, talented team, but one that's very susceptible to upset, and the Bulls have the confidence of knowing they can beat John Thompson III's team anywhere in the country. (Thanks to
Dominique Jones
' 29 points and eight rebounds, the Bulls beat Georgetown at the Verizon Center on Feb. 3.)
South Florida's bubble standing will have a lot to do with how Seton Hall -- first-round
survivors of one of the craziest games you'll ever see
-- fares against Notre Dame. The Pirates have played themselves back into the tournament conversation in recent weeks; beating a hot Notre Dame team in the midst of its own late-season tournament run would be a nice little boost. One of the worst in the conference on the defensive end, Seton Hall will have to either find a way to stop Notre Dame's league-leading points-per-possession numbers ... or do its best to keep pace. Either way, both games should be entertaining. (And
South Florida-Georgetown
tips in a few minutes. Get that ESPN360 loaded!) Oh, and don't forget about Cincinnati,
which could use a win over Louisville
and then some to get back into bubbleland.
2. Big 12 bubble sadness!
The Big East is full of bubble and seeding implications. The Big 12? Not so much. Joe Lunardi currently lists the Big 12's top seven seeds -- Kansas, Kansas State, Baylor, Texas A&M, Missouri, Texas and Oklahoma State -- as locks for the tournament. The remaining five teams -- Colorado, Texas Tech, Oklahoma, Iowa State and Nebraska -- aren't at all on the bubble. It would take a momentous run by any of those five to mean something for bubble purposes. Do any of them have what it takes? Eh. Doubtful. But funny things happen in tournaments, and if any of the bottom five have a chance at a run, we'll seed the seeds of that run in
today's first four games
.
3. It ain't easy being Northeast
. Without getting too fatalist, a word of advice for the Northeast conference tournament winner,
which will be either Robert Morris or Quinnipiac:
Live it up. The Northeast champion would do well to enjoy tonight's celebration, because being in the NCAA tournament and being from the NEC has for 28 years meant one thing: a first-round tournament loss. Yes, the NEC has been in the tourney for almost three decades now, but the entrant has never won a first-round tournament game, according to the uber-helpful folks from ESPN research. If No. 1 seed Quinnipiac finishes the job, the Bobcats will have won the NEC and made the NCAA tournament for the first time ever.
And
it'll be the first school to start with the letter Q to ever play in the Big Dance. Triple the party! Could a first NCAA tournament win be all that far behind?
4. The Pac-1? Or 2?
Consensus on the Pac-10 has remained relatively stable since, oh, November: This is a one-bid league. Arizona State and Washington have both crept closer and closer to the tournament in the last few weeks, but both are still on the outside looking in;
Mike Montgomery's Cal team is the lone at-large inclusion
. That said, if either team can force its way through the first few rounds of the Pac-10 tournament -- or, obviously, win it -- they could potentially turn the Pac-10 into a two-big league with an option for three. Bad news for bubble teams. Good news for the west coast's most prominent, and most disappointing, conference.
Which is all a long way of saying that the Pac-10 tournament starts today, officially, with one totally forgettable game: Washington State-Oregon. There is a slight bit of drama here, though, regarding Oregon coach Ernie Kent's job. Yesterday,
Kent told his players he'll be out as coach after the season is over
. Will the Ducks win one (or, preferably for Ernie, three) for the Gipper? Or will they, like so many other teams faced with obvious coaching turmoil, fold in and end the season on a dour note?
5. The big country.
Clean air and kitchens full of food
aren't the only reason to turn your attentions westward today. No, there's a rather intriguing conference tournament match up on hand --
Weber State vs. Montana
-- the winner of which will represent the Big Sky conference in the NCAA tournament. Both are familiar names; the Wildcats and the Grizzlies share the most conference tournament titles in league history, and today's game will mark the fifth time the two have met to decide the title. Look out for Weber State sophomore guard
Damian Lillard
, the purest scorer you've never heard of.
February, 25, 2010
2/25/10
10:16
AM ET
The Morning After is our semi-daily recap of last night's hoops. Try not to make it awkward.
No. 3 Purdue 59, Minnesota 58
: We'll get to the implications of Robbie Hummel's injury -- the extent of which is still unknown -- and the effect it will have on the Boilermakers' tournament hopes, later. For now, there is one main consequence of last night's one-point Purdue win in Minneapolis: the Gophers, as an at-large team, are effectively done. This is unfortunate for Minnesota fans, of course. It's also kind of a bummer for anyone convinced that Minnesota has played better than their record in 2009-10 --
they have
.
Roster issues
have crippled
Tubby Smith's lineup for much of the year and turned what could have been a Big Ten contender into what is now a near-lock for the NIT. Robbie Hummel will be the thing we remember from last night's thriller; the death of Minnesota's season, however, is its most immediate consequence.
Notre Dame 68, No. 16 Pittsburgh 53; No. 8 Villanova 74, South Florida 49
: Last night was a night for fringe bubble teams to make their respective cases in simultaneous fashion, and perhaps no two teams were more similar than Notre Dame and South Florida. How'd that end up? Notre Dame blew out Pittsburgh on in South Bend without Luke Harangody. With Dominique Jones, the Bulls went to Philadelphia and were handed a 25-point beatdown. Perhaps most ignominious is South Florida's offensive output against Villanova's usually soft defense -- the Bulls scored .74 points per possession and committed a turnover on 35 percent of their trips; this is not a tournament-worthy output. Meanwhile, Notre Dame still has work to do to get back on the bubble, but a convincing win over Pittsburgh is an awfully good place to start.
No. 18 Temple 49, Dayton 41
: Speaking of not scoring any points and thus dooming your ever-dwindling tournament hopes -- ladies and gentlemen, Dayton! The Flyers didn't just fail to score last night. They must have put some sort of plastic top over the rim, like the ones at big sporting goods stores that take all the fun out of shooting the basketball in aisle 42. Dayton scored 13 points in the first half -- 13! -- which might not seem so bad except that Temple was likewise afflicted with shooting woes and scored only 19 points in the first half. Dayton merely needed to play mediocre offense to take what would likely have been a blowout victory over conference a conference rival and a top 25 team. Instead, the Flyers' 28-point second half explosion wasn't enough, and Dayton is looking more and more like one of the few teams in the top half of the A-10 that's not going to be making the NCAA tournament. I mean, really. 13 points?
Everywhere else
: A
20-point loss at Boston College
is not the best thing in the world for a Virginia Tech team still trying to overcome that horrific nonconference schedule ... North Carolina's silver jerseys didn't add much, as the
Tar Heels fell to Florida State in Chapel Hill last night
...
Maryland came back from an early deficit to Clemson
, exploding for 88 points in the win ... At least for a night, Texas figured things out,
topping Oklahoma State by 10 in Austin
...
Jimmer Fredette led with 26 as BYU beat up on tourney hopeful San Diego State
...
LaceDarius Dunn keyed Baylor to a tough win over Texas A&M
... and a typically brilliant Evan Turner (25 points, seven rebounds, seven assists, three steals, two blocks; try to control your saliva, fantasy basketball players) helped
Ohio State avoid an ugly collapse in Happy Valley
.
February, 24, 2010
2/24/10
3:40
PM ET
Saddle Up is our daily preview of the hoops your TV wants you to watch. Here's Wednesday night's rundown.
Don't let anyone tell you the college basketball regular season doesn't matter. It does. Wednesday night doesn't boast a single match up between top 25 teams, but it does have at least four games featuring bubble (or barely bubble) teams with a chance to immediately boost their at-large chances. A quick gander:
No. 3 Purdue at Minnesota, 7:30 p.m. ET, Big Ten Network
: Don't look now, but Minnesota has a chance to make the NCAA tournament. I know, I know -- it's a distant chance. But it's a chance. After
a 16-point win over Wisconsin on Feb. 18
and a subsequent blowout at Indiana, Tubby Smith's team is at 16-10 and 7-7 in the Big Ten with four games to play. A win tonight would be the Gophers' third in a row, and would give them a much-needed quality win for the résumé. Then, with a win over the No. 3 team in the country in their pocket, the Gophers would have three winnable games -- at Illinois, at Michigan, and at Iowa -- to play. Win out, and that gets Minnesota to 20 wins, an 11-7 conference mark, and serious at-large consideration. Easy, right?
OK, not so much: Purdue is playing its best basketball of the season right now, and the Boilermakers are in the thick of a Big Ten title race with Ohio State and Michigan State. There will be no letdowns. If Minnesota wants to sneak into the tournament, it will be earned.
South Florida at Villanova, 9 p.m. ET, ESPN360
: South Florida, much like Minnesota,
is nowhere to be found in Joe Lunardi's latest bracket
. At 16-10, the Bulls share much the same burden as the Gophers, which is not how the animal kingdom works at all, but that's OK, because we're actually talking about college basketball. Anyway, stay focused: South Florida very much needs a win at Villanova -- not an impossible feat, given Nova's prodigious fouling habit and overall defensive vulnerability -- to stay in the bubble picture. At the very least, fire up your laptop to watch Dominique Jones take on the porous Wildcats. Bubble talk or no, that ought to be a treat.
San Diego State at BYU, 9 p.m. ET, CBS College Sports
: San Diego State has had two prior chances to prove itself worthy of an at-large bid. The first was Jan. 23's 71-69 loss to BYU at home. The second was an 88-86 loss at New Mexico. Swap either one of those incredibly close and no doubt disappointing results, and
SDSU isn't sitting there wallowing among the first four out
. So here you go, Aztecs. Last chance. You get BYU and Jimmer Fredette in Provo with a tournament at-large on the line. You've proven you can play with the best teams in your league. Now you must, thanks to the selection committee's totally unfair and not cool at all focus on "wins," win.
No. 21 Pittsburgh at Notre Dame, 7 p.m. ET, ESPN2
: You already know the story here: Right now, Notre Dame shares two things with the aforementioned South Florida Bulls: a 6-8 Big East record and a fringe chance of making the NCAA tournament. How to remedy that? The Bulls have the better of the opportunities tonight, but Notre Dame has the more winnable. The only problem? Luke Harangody is expected to sit out again for the Irish, a knee injury that's come at the worst possible time for the perennially bubble-bound team.
Everywhere else
: Both of these teams are already in the tournament, so they get shoved all the way down here to the flotsam, but
tonight's best game is no doubt Oklahoma State at Texas
, where Texas will experience life without Dogus Balbay for the first time ... There's
also Texas A&M at Baylor
, a match up of two very capable and tourney-ready Big 12 teams ... Dayton didn't fit up top, but it too needs
a bubble win over Temple
to make a late case for tournament inclusion ...
UTEP will try to continue its conference dominance at Southern Miss
...
Virginia Tech can't afford to lose to Boston College
...
Florida State at North Carolina
will be on your television whether you like it or not ...
Xavier will go to St. Louis in tonight's other big A-10 match up
... And
Clemson will play at Maryland
as the Terps try to keep edging toward that elusive bracketology respect.
February, 17, 2010
2/17/10
9:00
AM ET
The Morning After is our semi-daily look at last night's best basketball action. Try not to make it awkward.
No. 2 Kentucky 81, Mississippi State 75
: The most obviously intriguing part of Tuesday night's Kentucky-Mississippi State match up -- at least before the game began -- was the interior battle between two of the country's best big men,
Jarvis Varnado
and
DeMarcus Cousins
. By the end of regulation, that was no longer the case. Varnado was on the bench, thanks to five fouls. Cousins was on the floor, grabbing rebounds and dominating in the paint. And the game had become so much more.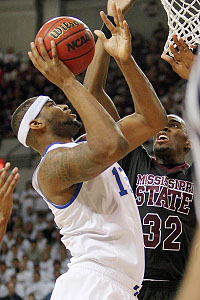 AP Photo/Rogelio V. SolisKentucky's DeMarcus Cousins, left, finished with 19 points and 14 rebounds against Jarvis Varnado and Mississippi State.
It's always tough playing Kentucky (duh, Eamonn, thanks for the brilliant analysis); it's even tougher when your all-world defensive player and team-leading rebounder gets his fifth foul with plenty of time left in the second half (hey, you're welcome). Really, Mississippi State deserves credit just for pushing the game to overtime, because it was unlikely they'd make it that far after Varnado's foul-out. They did, though, and they gave us a thrilling game in the meantime, pushing Cousins and
John Wall
and
Patrick Patterson
to their best in a hard-fought SEC road win.
A few other notes:
1. Mississippi State fans celebrated their team's loss by
throwing water bottles and other junk onto the floor
. Combined with
their racist and God-knows-what-else text messages to DeMarcus Cousins before the game
, this was not a particularly strong national showing for the denizens of Starkville. Seriously, guys? Water bottles?
2. Kentucky fans will be happy to see Patrick Patterson playing well again. After drawing criticism earlier this season, Patterson looked like a dominant big man at times on Tuesday night; his contributions made the whole Varnado-Cousins faceoff a moot point.
3. John Calipari used all three of his remaining timeouts in the last six seconds of regulation, which resulted in a double-teamed
DeAndre Liggins
hoisting a prayer (which, to his credit, almost fell) from the baseline corner as time expired. I'm guessing this is not the shot Calipari wanted, but you'd think with all those timeouts, the Cats would have been able to get something better.
In any case, great game. Kentucky rolls on. State completes a valiant effort in a near-loss to an uber-talented, highly-ranked team. And Mississippi State fans get to spend some much-needed time in the corner. Everybody wins. (Well, you know, except Mississippi State. They actually, like, literally lost. But you know what I mean.)
Virginia Tech 87, No. 25 Wake Forest 83
: Virginia Tech couldn't get no respect. This is the Hokies' fault -- building a 20-4 record against one of the worst schedules in recent memory (No. 340 in strength of schedule, to be exact) has a lot to do with scheduling; you almost have to try to play a non-conference slate as bad as Va. Tech's. I mean,
just look at it
. It's ... it's breathtaking. And not in a good way.
Nevermind that, now. The Hokies may have started their season with dreck, but they're ending with their most difficult and important games, and so far, so good.
It wasn't just that Virginia Tech
won
; it's how. Trailing by 11 with 16 minutes to play,
Malcolm Delaney
led his Hokies on a comeback, scoring 10 of his 31 points (he finished with nine rebounds, too), making big bucket after big bucket to get his team its all-important second win over a top 50 RPI team. As big as this game was for the Hokies' national respect, it should do just as much for Delaney's -- the guard just so happens to be leading the ACC in scoring at 21.2 points per game. I bet you didn't know that. What I didn't know was whether to believe in Virginia Tech. Another win or two like Tuesday night's, and we won't have a choice.
Everywhere else
: Weirdly enough, Indiana was out-everything'd (not an actual word, but let's roll with it) by Michigan State last night but managed to hang tough until the second half,
when the light-years-more-talented Spartans eventually pulled away
... Without suspended
Jordan Eglseder
,
UNI rolled Creighton to clinch the MVC regular-season crown
... Baylor might have sealed its own tourney fate (in) as well as Texas Tech's (out; hey, this is turning into an episode of Project Runway),
as the Bears gave the Raiders their seventh conference loss
... Meanwhile, two teams moving in relatively opposite directions in the Big East did exactly that Tuesday night,
as South Florida edged Cincinnati
... and, not to rub any more salt in UNC fans' wounds, but you know it's bad when ESPN anchors stop during your highlight to talk about how much they're not used to seeing
this sort of scoreline
. Ouch. (Also:
"Ed Davis, 0 points."
Double ouch!)
February, 4, 2010
2/04/10
12:46
PM ET
February, 4, 2010
2/04/10
10:47
AM ET
The Morning After is our semi-daily recap of the night's best basketball action. Try not to make it awkward.
No. 6 West Virginia 70, No. 21 Pittsburgh 51
: Who wants to go play in Morgantown? Not me. Granted, I am not a college basketball team, so I don't have to worry about that. If I was an opposing team, though, I would officially see the angry fans -- the people who threw spare change onto the court (make it rain!) as Pitt rebounded and closed the deficit last night,
prompting Bob Huggins to grab the microphone and tell fans "that's stupid"
-- and I would get a little nervous. But the real cause for concern is the Mountaineers themselves. West Virginia is officially finding its stride. Huggins' group has won five straight over Big East foes in consistent and overpowering ways, especially on the offensive glass -- WVU grabbed 57.6 percent of its misses on offense last night, leading to a variety of second-chance buckets and putbacks, and that's the key right there. That's how West Virginia wins. They don't have to shoot the ball all that well. They just have to rebound. If you can stop them, you can win, but good luck: No one's figured it out yet.
Pittsburgh shouldn't be too discouraged by this result, which started OK and then got ugly after the half. (Speaking of ugly and true to its name, the Backyard Brawl included some mild brawl-like occurrences late in the game.) Why? Because the Panthers never really found their shot, and despite a high number of free throws and plenty of offensive rebounds of their own, the lack of shooting wasn't enough. It should correct itself in time. That might not make Jamie Dixon, whose team has now lost four of its last five, feel any better. But it's true.
No. 1 Kansas 72, Colorado 66
: I barely previewed this game
in Saddle Up
, and that tiny mention was merely this: "New No. 1 Kansas will try to avoid the fate of last week's No. 1 when it hits the road for a meeting with a marginal conference opponent." Lesson learned: Don't sleep on marginal conference opponents at home. Of course I knew this already, but sometimes it takes a little reminder, and last night's thrilling back-and-forth in Boulder (my third favorite college town of all-time, and I've only been there for like three hours) was all that and more.
Part of me wants to say I knew Colorado had this in them -- the Buffs were
pesky against Gonzaga
and
Arizona
in Maui in November, after all. But I didn't. Rather, I expected Kansas to take control of the No. 1 seed and avoid the road pitfalls that have so frequently plagued other No. 1s this year. Oh well. The Jayhawks weren't at their finest, and Colorado deserves credit for finding a way to hang in
despite not really beating Kansas in any particular phase of the game
, but after Colorado missed its last-second opportunity in regulation, you had to figure Kansas would overpower the Buffaloes in overtime. So it did, and so it stays. But at least it was interesting on the way down.
South Florida 72, No. 8 Georgetown 64
: "Y'all come watch
Dominique Jones
play!"
That was the sentence
screamed from Georgetown's court by -- who else? --Dominique Jones Wednesday night, just after Jones scored 22 of his 29 points in the second half to give South Florida its biggest win in program history. Um, you guys? Maybe we should listen to him. If you caught any glimpse of the game last night, or if you've seen Jones in the past, you know: Jones is an occasionally dominating college basketball player, a guy with skills to isolate the ball at the top of the key but the size outrebound and physically dominate smaller defenders. Check out
the move he makes at the -0:15 mark in these highlights
. Strength, size, speed and skill, all melded into one. Watch him play. He wasn't joking.
Everywhere else
: Running out of words in a hurry, so let's go to the lightning round: UAB will have to wait to take full control of Conference USA,
as Memphis topped the Blazers by 10
and pulled itself into a tie for the conference lead. ...
Vanderbilt got a major late challenge from Mississippi State
;
Jarvis Varnado
had
another ho-hum nine-block effort
. ...
Northern Iowa hung on at home over Wichita State
, avenging its earlier loss in Wichita and moving to 11-1 in the Missouri Valley. ...
Evan Turner
line watch: 27 points, 10 rebounds, six assists, and three steals (!!). ...
Baylor cruised over Iowa State at home
. ...
Georgia State handed George Mason its second conference loss
, moving Jim Larranaga's squad to 10-2 in the CAA and making a conference tournament win a must.
February, 3, 2010
2/03/10
3:45
PM ET
Saddle Up is our daily preview of the hoops your TV wants you to watch. Here's Wednesday night's rundown.


No. 21 Pittsburgh at No. 6 West Virginia, 7 p.m. ET, ESPN360
: Aw, you guys.
Stats LCC has a case of the bummers
: "Two weeks ago, the matchup between West Virginia and Pittsburgh was shaping up to be one of the most highly anticipated meetings in this storied rivalry. A sudden string of losses by the Panthers dashed that prospect, but it likely won't diminish the atmosphere in Morgantown." Never fear, nameless Stats LLC writer. Sure, the Backyard Brawl won't be quite as brawl-y as it might have been for the Pittsburgh team that jumped to a 5-0 record in the Big East. (The difference in brawl escalation probably lies somewhere between brass knuckles and a trident.) Sure, Pittsburgh's 1-3 record in its last four games ruined the prospect of having two top-10 teams in a hated rivalry facing each other in ever-hostile Morgantown.
But Stats LCC, don't you see? This is still an awesome college basketball game. Pittsburgh is reeling, so what better time to get hot and steal a huge Big East road win than now? And West Virginia? The Mountaineers are coming off a controversial last-second win over Louisville, have lost two Big East games by a combined three -- yes, three -- points, and are developing the sort of edgy home atmosphere that should simultaneously outrage fans and scare opponents. (When your own student newspaper
thinks you've gone too far
, you've probably gone too far.) And, lest we forget, a win for Pitt means the Panthers leapfrog the Mountaineers and get right behind Syracuse and Villanova in the Big East race. (A panther leapfrogging a human? I am thoroughly enjoying this mental image.)
So don't fret, Stats LLC. This game might not be as cool as it would have been two weeks ago, but it's still an awesome Big East rivalry with plenty on the line. There's no reason to frown.
(OK, maybe one reason: The game's not actually on TV, but rather on ESPN360. Get your laptops ready. It's 2010, people. The power of the Internet compels you.)


UAB at Memphis, 8 p.m. ET, CBS College Sports
: This might be the first game we've featured that's been on CBS College Sports, but that's because few CBS CS games have had this sort of import. Sure, Memphis is in the midst of what appears to be a very short rebuilding, but the Tigers are still a solid Conference USA team and tonight they face the biggest threat to their longstanding C-USA crown: UAB. Mike Davis has the Blazers playing better than at any time in his tenure.
Elijah Millsap
& Co. are 18-3 and 6-1 in the conference so far, but if they want to seize the title, even for one year, they'll have to go through the house that competitively priced shipping costs built. (Um, the FedEx Forum. No one?)


Mississippi State at No. 20 Vanderbilt, 8 p.m. ET, ESPN360
: If Kentucky continues to play how it did Tuesday night, the Cats are going to roll to an easy SEC title. But they're not without challengers. Kevin Stallings' ever-improving Vanderbilt team is one such challenger. The Commodores are a mere half-game back of Kentucky and, if they manage to survive their upcoming slate, could welcome UK to Nashville on Feb. 20 with the division title on the line. Meanwhile, Mississippi State still doesn't have
Renardo Sidney
, and it's not looking good. But the Bulldogs are worth watching merely for the defensive brilliance of
Jarvis Varnado
, a once-in-a-generation shot-blocking machine.
Everywhere else
: New No. 1 Kansas will try to avoid the fate of last week's No. 1 when it hits the road for
a meeting with a marginal conference opponent
... Georgetown
gets a courtesy date with South Florida
ahead of Saturday's big matchup with Villanova ... The
surprising Temple Owls host Duquesne
, a similarly surprising team but for different reasons ... and
Penn State goes to Columbus
, so make sure to have your
Evan Turner
scoresheet watch in full effect. It could get awesome.
January, 29, 2010
1/29/10
9:55
AM ET
The Morning After is our semi-daily recap of the night's best action. Try not to make it awkward.
No. 12 Purdue 60, No. 15 Wisconsin 57
: Michigan State is still in charge of the Big Ten, but Purdue and Wisconsin aren't far behind. That's the conclusion from Thursday night's thrilling 58-possession game (not an oxymoron!) in West Lafayette, where Purdue and Wisconsin battled for 40 minutes, neither team able to totally solve the other, until
Trevon Hughes
' last-second floater rimmed out and the Boilermakers finished the game with a three-point margin. Purdue made just two threes all game but made up for it by shooting 73.3 percent on its twos, while Wisconsin made up for a lackluster two-point percentage by making 47.4 percent of its threes. This made for an even matchup. The difference, however slight, could possibly be found in offensive rebounding; Purdue rebounded 37.9 percent of its misses while Wisconsin only grabbed 21.2. In any case, the margin is almost too slim to call, and this is your second tier in the Big Ten. Michigan State still reigns, but both Purdue and Wisconsin are right there, and both deserve your respect. That was Thursday night's lesson.
No. 22 Georgia Tech 79, Wake Forest 58
: Anatomy of a thorough beatdown: Make a lot of shots (59.3 percent eFG). Stop the other team from doing the same (35.2 percent eFG). All else equal, um, yeah: You're going to win that game. Such was the case in Atlanta last night, as Georgia Tech laid the aforementioned thorough beatdown on Wake Forest, 79-58. Paul Hewitt said it best: "I'm not sure we can play much better than that." I'm not sure any team can. At least not any team in the ACC. Now it's up to Georgia Tech to replicate that performance. If they can, even sporadically, the Yellow Jackets ought to treat their fans to an awfully interesting couple of months.
Everywhere else
: Ole Miss shot well on the way to a
10-point road win over Auburn
... Pitt rebounded from a slow start -- the Panthers trailed by four at the half --
to take a 63-53 win over St. John's in Pittsburgh
; this was not a game Pittsburgh was allowed to lose ... Seton Hall and South Florida played into overtime, and
that's when Dominique Jones
took over, giving South Florida the two-point win ... Santa Clara pushed Gonzaga to the limit,
causing even Ken Pomeroy to worry
, but
the Bulldogs rallied from a 14-point deficit to take the win
...
Virginia Tech got an impressive win at Virginia
in overtime; Tony Bennett has had the Cavaliers playing solid basketball, so a loss at home is something of a surprise ...
Siena fought off another test from upstart St. Peter's
... and
Cal took another step
toward Pac-10 supremacy with a win over Arizona State in Tempe.
January, 26, 2010
1/26/10
3:10
PM ET
Marquette's record doesn't look pretty. The Golden Eagles are 11-8 and 2-5 in the Big East, which puts them just above conference punching bags Rutgers and St. John's in the conference standings. If you merely glanced at Marquette's profile, you'd assume the Eagles were having the sort of down year you'd expect after the losses of seniors Dominic James, Jerel McNeal, and Wesley Matthews.
But it isn't true. Marquette isn't having a great year, to be sure, but they're not nearly as bad as their record would allow. In terms of efficiency margin,
Marquette is actually outplaying opponents by a half a point per game
, which puts them even with Connecticut and a tenth of a point behind Pittsburgh, one of the surprise teams of the season. The Eagles
are ranked No. 20 in Ken Pomeroy's ratings
, ahead of a host of probably NCAA tourney teams. So why is Marquette's record so bleh? John Gasaway helpfully explains:
The numbers here suggest that the Golden Eagles are a solid NCAA team, but at just 2-5 in the Big East Buzz Williams' group is tied with the likes of South Florida and St. John's in the eyes of the committee. Marquette lost by one at West Virginia, by two to Villanova, by two at Villanova, by one at (brace yourself) DePaul, and by five at Syracuse.
None of these are particularly bad losses, but viewed in sequence, you get a team with a mediocre record and a bad at-a-glance NCAA resumé. It also doesn't help
that Marquette's nonconference schedule
was filled with RPI downers like Centenary, North Florida and Presbyterian. To be fair, Buzz Williams' team didn't get any help from Michigan's collapse (the Wolverines were No. 15 in the country when Marquette handily beat them) and Xavier's rebuilding year, but still, that's not a tough schedule, and Marquette didn't do itself any tournament favors before Big East play began.
Had Marquette won a few of their close games, the story would be much different, and the nonconference foes wouldn't really matter much. But the slimmest of margins has Marquette looking like a tournament long-shot already, even though they're playing some pretty darn good basketball.
And people say the college hoops regular season doesn't matter. Right. Tell that to Marquette fans.
January, 13, 2010
1/13/10
4:02
PM ET
Saddle Up is a quick preview of the basketball your TV wants you to watch tonight. Here's Wednesday night's rundown.
No. 13 North Carolina at No. 19 Clemson, 9 p.m. ET, ESPN
: Oh, road wins. How fleeting you are. If there's been a theme on the blog today, that's been it. Some schools can get them (
Ohio State's win at Purdue Tuesday night
, for example) and some schools can't (that would be
everyone in the Big 12
, naturally). North Carolina gets a chance to bring this debate into the ACC, where the young Tar Heels will visit Littlejohn Coliseum in Clemson, S.C., Wednesday night. At stake for the Heels is a chance to prove their brutal nonconference stretch was a growing experience, that road wins in the ACC will not only be achievable but expected, even for a young team. At stake for Clemson? The Tigers have an opportunity to not only beat a talented team and get an ACC win (duh), but to make their name nationally as a program worth watching. This has been the case for two years now, but Oliver Purnell has yet to receive the requisite recognition. Maybe that starts tonight. Maybe the Tigers can be the random car in the Tar Heels' bus side. Weirder things have happened. (Like, for example,
a car hitting the North Carolina bus today
. That was definitely weirder.)
No. 20 Pittsburgh at No. 15 Connecticut, 7 p.m. ET, ESPN2
: Now here's a confusing conference. The Pac-10 is wide-open because it's bad. The Big 12 is closed -- either Texas or Kansas is taking that thing, obviously -- but its middle portion, the teams that are neither good nor bad, is chock full. The Big Ten is the Big Ten; four teams can win, and the others have no shot. But the Big East? The Big East is wide open because it's
good
. There are at least seven teams that have been playing quality basketball and can challenge for supremacy before the year is out. Pittsburgh and Connecticut are two of those teams. From a
pure efficiency margin standpoint
, Pitt has recovered from its slow start and been the better team for a few weeks now, while UConn has had trouble figuring out how to make the most out of its possessions in an uptempo setting. Let's see if either team can win a measure of separation from the pack on Wednesday night.
Boston College at No. 7 Duke, 7 p.m. ET, ESPN
: This note is to merely let you know that this game is on. Boston College is barely hanging on to
its place in the Pomeroy top 70
; Duke is an efficient, balanced team coming off a conference-opening loss to Georgia Tech in Atlanta Saturday. Duke is playing at Cameron Indoor Stadium. You get the idea: It could be a long night for Al Skinner's squad.
No. 1 Texas at Iowa State, 8 p.m. ET, ESPN360
: In a way, this is timed perfectly. Duke and BC will be in the second half just as the newly-crowned Longhorns will be taking on Iowa State in Ames, Iowa -- you can fire up your laptop and check out ESPN360 right at 8 p.m. (I'm getting really good at this whole corporate synergy thing, aren't I?) In a rational world, Iowa State wouldn't have the horses to dream of competing against the Longhorns;
Craig Brackins
is a beast, but he's no match for
Damion James
and
Dexter Pittman
and
Avery Bradley
and
Justin Mason
and insert other awesome Texas player here, because there are like 10 of them. But we do not live in a rational world. We live in a world in which only one Big 12 team has lost at home all season long. 112 other games have gone the other way -- to the home team. Factor in tonight's
Kansas-at-Nebraska matchup
, and we'll get a true test of just how much home court really means in the Big 12. I have a feeling that crazy 112-1 home win stat is
like the entire O'Doyle family
: It's going down. If not, something seriously weird is going on here.
Everywhere else
: Syracuse will face a struggling (which is a nice way of saying they're bad and
getting worse
)
Rutgers team in northern New Jersey tonight
...
Michigan State will host Minnesota
, yet another previously ranked Big Ten team looking to stay in the conference hunt ...
West Virginia gets a relative breather with South Florida tonight
after WVU's upset loss to Notre Dame Saturday ... If you like incessant motion offense,
be sure to tune into Wisconsin at Northwestern
... After an upset of Georgia Tech and a close loss at Kentucky, Mark Fox
will try to keep Georgia rolling as Ole Miss comes to town
... In a game that will almost certainly be high-scoring (much to Bob Knight's chagrin),
Texas Tech will take on tempo-nuts Missouri in Lubbock
... and, last but not least, your ostensible mid-major game of the night:
Charlotte at Xavier
.
Get your couch's butt-grove ready. It's going to be an awesome night.
January, 6, 2010
1/06/10
10:39
AM ET
The Morning After is our quasi-daily morning recap post. Try not to make it awkward.
San Diego State 74, No. 14 New Mexico 64:
You may exit the New Mexico bandwagon; the door is to your left
.
It was just this time last week that New Mexico, having soared into the Top 25, hosted a surprising Texas Tech team at home. The Lobos* took home a 90-75 win in Albuquerque and looked for all the world to be a legitimate tournament contender. But that win came after a loss to Oral Roberts. I don't remember really considering the Oral Roberts loss when discussing the Lobos -- it happens, right? -- but put together with last night's loss to a just-OK San Diego State team, and the New Mexico train is starting to look less and less like a ride I want to be a part of. After all, this is still Steve Alford, and Alford, for as well as he's done at three mid-major schools in his career (Manchester College and Southwest Missouri State before Iowa) his failures at Iowa are still pretty fresh.
(*I can never see the word "Lobo" and not immediately think of
former college and WNBA great Rebecca Lobo
. And now you know.)
It's not that New Mexico isn't still a good team. It's just that, after two soft wins in four games, they're not the dominant mid-major their nonconference success seemed to suggest. Adjust accordingly.
Georgia 73, No. 17 Georgia Tech 66
: This is the stuff rivalries are made of. Georgia Tech came into Tuesday night's game with a national ranking, a blue-chip recruit in Derrick Favors, an impressive 11-2 record, and every reason to think it could keep a far inferior Georgia team at bay. It also had its football team
triple-optioning itself into the ground in the Orange Bowl
. Instead, it was a very bad night for Tech: Georgia's Trey Thompkins scored 20 points as the Bulldogs defense held Georgia Tech to less than a point per possession in Athens, Ga.
This is a legitimate upset:
Pomeroy ranks Georgia Tech No. 31 in the country
based on adjusted efficiency, while Georgia, even after this win,
floats all the way down to No. 112
. This is why college basketball is awesome: Even when your team is bad -- and make no mistake, Georgia is still looking pretty bad -- for one night, it need not matter. Forty minutes of basketball at a time is too small of a sample size to be beholden to anything as reasonable as logic. That's why we love it.
No. 4 Purdue 79, Minnesota 60
: Purdue just keeps rolling. Tuesday night's handy win over Minnesota pushed Purdue to 14-0, tying the best start in school history. Matt Painter is somehow convinced his team can win by 19 points, hold the opposing team to .84 points per possession, score 1.1 points per possession itself, and still play "not great." But if you think about it, his point makes sense. The Boilermakers turned the ball over 17 times last night; their turnover percentage wasn't super high (23.9 percent), but a national championship contender like Purdue will want to iron that sort of thing out before it gets too deep into conference play. Knowing Painter, it will. And then Purdue will be really scary.
Everywhere else:
No. 2 Texas got a scare from Arkansas before pulling away late
...
No. 18 Ole Miss easily handled UCF
... Luke Harangody almost singlehandedly kept Notre Dame from dropping a Big East road game to South Florida,
scoring 36 points and making a free throw with 1.9 seconds
left to give ND the one-point win ... and
Oklahoma State got a little breather with Coppin State
, which it beat handily.