College Basketball Nation:

Spartans-Illini 020610
February, 7, 2010
2/07/10
1:00
AM ET
CHAMPAIGN, Ill. -- Sure, Bruce Weber and
Demetri McCamey
were happy. But what of Michigan State? Unsurprisingly, Tom Izzo was feeling less rosy about his team's performance -- though he wasn't as upset as his sideline demeanor might have suggested.

Izzo
"It was a 50-50 night," said Izzo of his team's
78-73 loss at Illinois
. "Fifty percent is upset we lost, but 50 percent is damn proud of my team. ... I'm disappointed in one breath and proud in the other."
Far be it from me to gauge a Tom Izzo reaction ... but Izzo's reaction is probably fair, if even a little harsh. The Spartans were thrown into a buzzsaw on Saturday night. Illinois' crowd was buzzed from an entire day's worth of game-related activity, and the Illini rose to the occasion, hitting big shot after big shot. Michigan State could have wilted, much as it did when Wisconsin punched it in the mouth (metaphorically, mostly) on Tuesday night.
It didn't. Instead, the Spartans hung with Illinois for the entire game, giving themselves chances to retake the lead and even win all the way up until the final seconds. And they did it all without injured guard
Kalin Lucas
. (Obligatory Lucas update: Izzo wouldn't reveal much, refusing to say when he'd be ready to play and maintaining that Lucas will probably have to play at less than 100 percent, but that didn't mean the Spartans would rush Lucas back on the court. In other words: Who knows?)
Izzo gave much of the credit to forward
Draymond Green
, who is rapidly developing into one of the better forwards in the country. Green did it all for the Spartans on Saturday night. He scored (17 points). He rebounded (16 boards). He even dropped a few dimes, showcasing touch you wouldn't expect from a man of Green's considerable size. Much as Illinois took on McCamey's personality Saturday night, Michigan State took on Green's. Don't think Izzo didn't notice.
"He's a warrior," Izzo said. "He's the perfect Spartan. He's a blue-collar workhorse, and I'm going to ride him like a jackass."
Um, right. In any case, Izzo can rest easy -- even in a loss to an unranked team, his squad showed something.
February, 7, 2010
2/07/10
12:33
AM ET
CHAMPAIGN, Ill. -- There are downsides to having one of the best crowds in the country. Just ask
Demetri McCamey
.
"It gets real loud, and I try to block some of that out because I'm trying to hear [Illinois coach] Bruce [Weber] on the sidelines," McCamey said. "And you know he's always yelling."
[+] Enlarge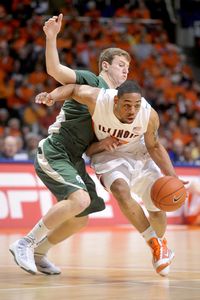 AP Photo/Heather CoitIllinois guard Demetri McCamey had 22 points and 11 assists against Michigan State.
It's hard to hear yourself think in Assembly Hall -- especially when the Illini fans smell an upset win over a top-five opponent -- let alone hear your coach screaming from the sidelines at crucial moments. Fortunately for Weber, he didn't have much reason to yell at his star point guard on Saturday night. McCamey was just that good.
McCamey went for 22 points on 8-for-12 shooting Saturday night, leading
Illinois to its thrilling 78-73 win over No. 5-ranked Michigan State
. McCamey was most deadly behind the 3-point line, hitting 6-of-9 from beyond the arc, including the most important shot of the night -- a high-arcing 3 that gave the Illini an eventually insurmountable 73-68 lead with 39 seconds remaining.
This time, it was Demetri's turn to talk over the crowd.
"I turned and told them that this was my house," McCamey said.
It was McCamey's best, most important performance of the year, and it came on Illinois' biggest, most important night. With ESPN's College Gameday in town and a national primetime audience tuning in, McCamey put on a show -- dominating the ball for the Illini at the point guard position and showcasing versatility and maturity in the way he used cuts, found spots and made plays in Weber's motion offense. It was the kind of performance that gets you asked about your "national profile" in postgame press conferences. On a night when everyone saw Demetri McCamey, where does McCamey see himself?
"I'm not trying to prove that I'm one of the best players in the country," McCamey said. "I just want Illinois to go to the tournament and do big things."
One is surely connected to the other. With McCamey in control, the Illini looked as good as they have all year. They were fast-paced and efficient on offense, running out to an early 14-6 lead. When Michigan State came charging back -- and charging back and charging back -- they were resilient and tough on defense. When the game was on the line, they, just like the guard with the ball in his hands, delivered.
It was a marquee tournament win in front of a major audience, and if Illinois is going to make McCamey's tournament wish come true, tonight was a pretty good start.
"We took a step," Weber said. "But it's not like we've made it or anything. You enjoy tonight, enjoy the crowd, because you've got to celebrate sometime. And then we go to Wisconsin on Tuesday. It's going to be tough.
"But we improved," Weber said. "You want to be playing your best basketball at the end of the year. We're starting to do that."
And as for his guard? Yeah, maybe Bruce didn't need to yell after all.
"I get on Demetri a lot," Weber said, smiling. "But he was pretty good tonight."
February, 6, 2010
2/06/10
11:14
PM ET
CHAMPAIGN, Ill. -- What happens when you mix a tough, highly-ranked road team, an injured star, a potentially explosive offensive home squad and a spaceship-shaped bowl full of insane fans?


You get Saturday night's
thrilling 78-73 Illinois win
over Michigan State. That's what you get.
As sports fans, we place a big premium on the ability of those to predict what will happen ahead of game time, so maybe I'm revealing too much when I admit the following: I had no idea what would happen Saturday night. Was Illinois talented enough to keep up with a more athletic Michigan State team? Or would
Kalin Lucas
' injury cripple the Spartans? And just how much would the Assembly Hall home crowd -- pumped up from a full day of College GameDay festivities -- affect the outcome?
Consider those questions answered. Here's what we now know:
Demetri McCamey can fill it up. The Illini point guard went on a tear in the early part of the second half, helping the Illini build a six-point lead. Later, with 37 seconds remaining, McCamey's dead eye gave Illinois a commanding 73-68 lead. McCamey dominates the ball for the Illini, and when he's feeling it -- when he's breaking down defenders, getting to the rim, and catching the ball on curl cuts out by the 3-point line -- he's very tough to defend.
Michigan State is balanced enough to survive without Lucas, but it's doubtful it can thrive with him in street clothes as he was Saturday. It's a good thing Lucas' injury seems minor -- he was day-to-day before tonight's game and could be back for MSU's game with Purdue on Tuesday -- because without him, the Spartans lack a clear leader on the floor at crucial moments.
Still, Michigan State is tough on the road. This team built a 9-0 record in the Big Ten (before its ugly loss to Wisconsin last week) for a reason: They're really tough. In a jam-packed, loud-as-it-gets environment facing a hot, adrenaline-fueled Illinois team -- and, as mentioned, playing without their leading scorer -- the Spartans gave themselves plenty of opportunities to win. Perfect example: Durrell Summers' 3 to pull it within one with 17 seconds remaining. The Spartans have plenty of people who can make shots, and Saturday night, they were ready. The difference between this game and the Wisconsin loss was startling. (Sure, that has a lot to do with the relative talent of their opponents, but still.)
The Big Ten has a deserved reputation for being slow, but both of these teams seem to do their best work on the break. This is especially true of Michigan State, but Illinois had its fair share of open jumpers in transition -- shots after one or two passes on the secondary break -- and the Illini made them count.
Brandon Paul can rise. The 2009 Illinois Mr. Basketball's soaring one-handed dunk in transition at the 9-minute mark was huge in every sense of the word. Emotionally, it lifted the Illini fans into a defeaning frenzy; visually, it was breathtaking.
Speaking of which, UI's freshman are growing up. I saw them play Gonzaga early in the year, and they were full of little freshman mistakes -- bad shots, confused cuts, the occasional awkward turnover. Those mistakes are all but gone. Instead, for example, freshman D.J. Richardson iced two free throws in the final seconds to give Illinois a three-point lead. Richardson finished with 14 points; Paul with eight.
Students like to rush courts. Fans wasted no time spilling onto the hardwood after Illinois finished off the Spartans tonight, a questionable court-rush at best. Then again, Illinois is unranked, and it just beat the No 5 team in the land. Then again again, Kalin Lucas was injured, and Illinois went to the title game five years ago. So ... yeah. Questionable. At best. Then again again again, we should probably all stop complaining about bad court rushes now. They happen. Oh well, right? There are worse things in the world, probably.
February, 6, 2010
2/06/10
9:59
PM ET
CHAMPAIGN, Ill. -- Maybe we should have seen this coming.


After all, neither the Spartans nor the Illini are particularly tough defensive teams. The Spartans aren't their typically vintage selves on the defensive end, and Bruce Weber has struggled to get his young Illinois team to defend like Bruce Weber teams typically defend. The result: Two hot-shooting teams are on display at Assembly Hall Saturday night, and Illinois leads 35-34 at the half.
Both squads cooled down considerably in the last few minutes, giving us our decidedly sane halftime score. The first 11 minutes, however, were anything but. Illinois had 28 points with nine minutes to go in the first half, which would have put them with 56 at the break and 112 for the game. Michigan State wasn't far behind -- the Spartans shot 53 percent from the field, and were at 75 percent from the field at the 10 minute mark.
Why the hot hands? Two different teams and two different reasons: Michigan State was able to find easy buckets on the interior and better looks from mid-range jumpers in transition. (The Spartans were characteristically unwilling to launch the ball from behind the arc -- they had a mere six attempts.) Illinois, on the other hand, wasn't shy from distance, using Weber's typical motion screening style to get open catch-and-shoot looks all over the court.
As for the atmosphere? It's electric, but give the Spartans credit -- each time the Illini faithful have had something to really freak out about, Michigan State has found a way to answer immediately and quiet the crowd. Given the absence of injured star
Kalin Lucas
, who is sitting on the bench in a black fleece warm-up, MSU has been impressively resilient. That goes for Michigan State's substitutes, too. Tom Izzo has already played 11 men, including little-used reserves
Austin Thornton
(5.5 minutes per game) and
Mike Kebler
(2.0 minutes per game). Both have made contributions: Thorton's buzzer beater cut the Illini halftime lead to one and Kebler's spot defense shut down
Demetri McCamey
on three straight possessions.
Taken as a whole, it's been a great half. The game is up and down, the pace is speedy, the shots are falling, and the crowd is on fire. It's exactly what you'd hope for from Saturday night's College Gameday feature. Let's see if the second half will live up.
February, 6, 2010
2/06/10
8:36
PM ET
CHAMPAIGN, Ill. -- True story: Putting the word "the" in front of "Assembly Hall" makes the place sound at least 40 percent cooler, whether it's in Champaign, Bloomington, or your average high school campus. "The Assembly Hall." It sounds old school, like the place you'd meet for spirit rallies if you attended college in, like, the 1940s. Halcyon days.
Listening to sports radio on the drive down from Chicago, I heard "The Assembly Hall" more often than "Assembly Hall," and this excited me. Why? I don't know. Maybe it's the power of the word. Or maybe the game itself is just that exciting. Illinois fans are certainly treating it as such.
Few home crowds are as diehard as Illinois basketball fans, and it doesn't take much for the Illini faithful to get up. But that passion, to use something of a cliché, really shows on nights like this. College Gameday was here. Michigan State is in town. It's primetime on a Saturday night. The Orange Krush and the countless rows of alumni behind them are ready for this. It will be wild.
Whether the game will live up to the hype is another matter.
Kalin Lucas
is likely to start the game on Michigan State's bench -- he's officially classified as a gametime decision -- and it'll be interesting to see how the Spartans adapt. (Update: Lucas is
out for tonight's game
.) And what of Michigan State's recovery? Can the Spartans rebound from their last game, a disastrous road loss to a Wisconsin team that handled them in every facet? Will someone --
Durrell Summers
,
Raymar Morgan
,
Chris Allen
-- step up in Lucas' place?
There are several questions to be asked about Illinois, too, an atypical Bruce Weber team if ever there were one. There are two things the Illini have almost always done in Weber's tenure. They've 1) played ferocious defense, despite their offensive woes and 2) protected home court as well as anywhere in the country. This year, the Illini haven't done the first and have been shaky at the second. (Illinois is 11-2 at home, but would have lost to Indiana last week were it not for a
Demetri McCamey
buzzer-beater).
More important is the defense -- Illinois is ranked No. 60 in Pomeroy's defensive ratings, and that's unusual for a Weber-coached team. Even when the Illini have been mediocre in past years, they've defended every possession like its their last. Now that Weber has a host of good recruits -- easing the anxiety among Illinois fans that Weber was a tactical genius who'd never land a marquee player -- the Illini seem less able to defend than ever. It's weird.
Those are the main questions coming into tonight's game: How will Michigan State handle the road crowd and the possibility that star Kalin Lucas won't be with with them? And will Illinois defend? Will home court matter? Where these questions intersect is where you'll find tonight's result. In the meantime, sit back and enjoy. Plenty of orange-clad maniacs -- and I mean maniac as a compliment -- will be joining you.