College Basketball Nation:

Spike Albrecht
December, 11, 2014
12/11/14
9:00
AM ET
It wasn't easy to track down the best hair in college basketball. Sure, there were some obvious contenders (Utah State snatched two slots) and a few sleepers (one guy's hair has a Twitter profile). The rest, however, were difficult to identify. So much good hair in the game.
So yes, you're probably right to be upset if you don't see your favorite hair on this list. There are 351 Division I teams and more than 4,000 players at this level.
Agree? Disagree? Tell us on Twitter by using
#Top10Thursday
.
1.
Jordan Goodman, New Mexico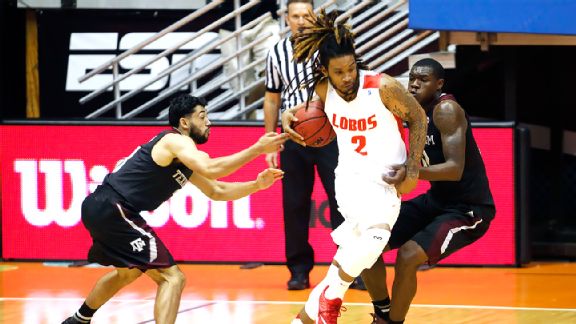 AP Photo/Ricardo Arduengo
I know, I know. What about the Utah State duo (see below)? Who could top that crew? Well, Goodman can. You can't just call that stuff on his head hair. It's more of a braided mane. It's like Bob Marley-meets-Mufasa. This is quality stuff.
2.
Sean Harris, Utah State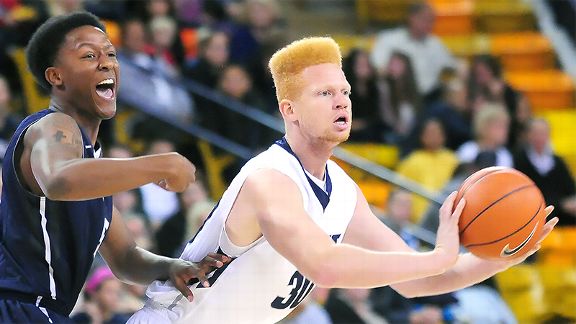 AP Photo/Herald Journal, John Zsiray
You've seen
the photo
. Harris and
Jalen Moore
clearly possess the greatest hair tandem in college basketball. The typical high-top fade alone would have earned Harris a high ranking. But a redhead with a high-top fade is hard to beat.
3.
Jalen Moore, Utah State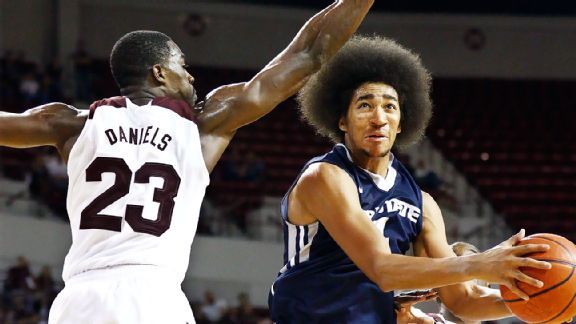 AP Photo/Rogelio V. Solis
They should put a picture of Moore's Afro in the dictionary under the definition of "freedom." Because that's what his 'fro represents. It's straight from the ABA or an Isley Brothers music video from the 1970s. It's wonderful.
4.
Willie Cauley-Stein, Kentucky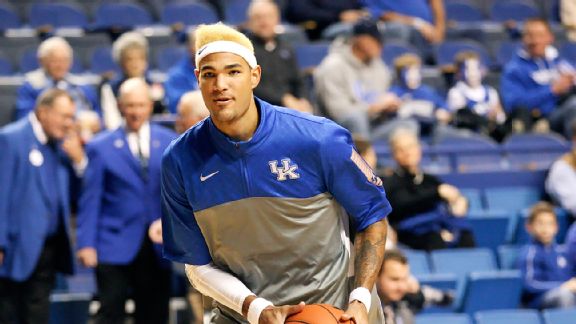 Mark Zerof/USA TODAY Sports
Sure, Cauley-Stein has gone with a traditional look this season. Nothing special about it. But we all know that it's just a matter of time before Cauley-Stein gets bored. And we all know the blond -- or blue? -- look will return at some point. It has to. Please?
5.
Jake Layman, Maryland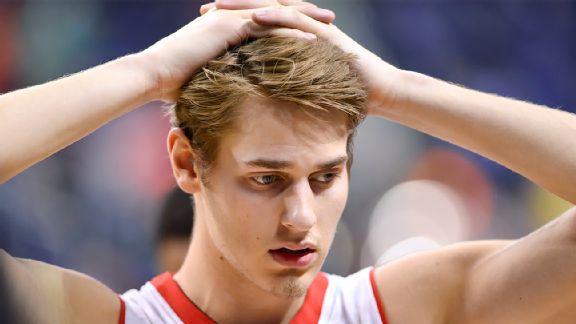 Bob Donnan/USA TODAY Sports
The 6-foot-8 Maryland forward's hair has its own
Twitter profile
. And why wouldn't it? It's quite majestic and regal. And even on fast breaks, it flops but somehow finds a way to reset itself back to its preferred flawless state.
6.
Montrezl Harrell, Louisville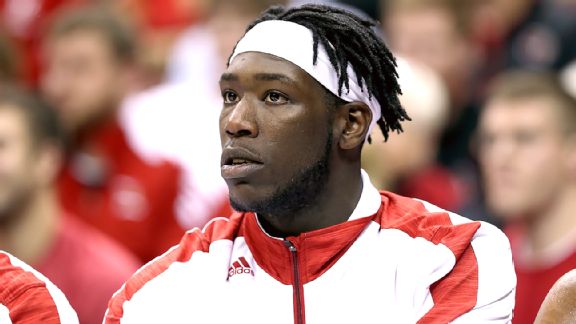 Andy Lyons/Getty Images
The short-dreads look is cool by itself. Walk into a party with short dreads and you become the party. It's a fact. When you're a 6-foot-8 future NBA lottery pick who likes to dunk on grown men and shatter backboards, it really stands out.
7.
Spike Albrecht, Michigan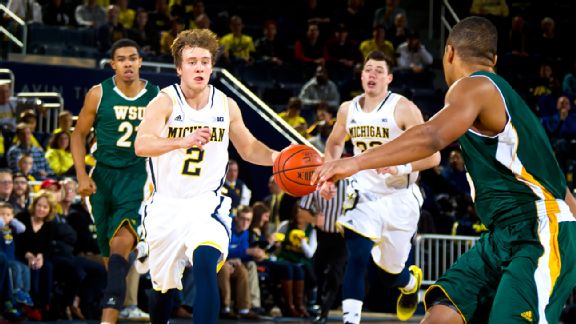 AP Photo/Tony Ding
Remember when Albrecht sent a tweet to Kate Upton during the 2013 Final Four? See, when you have that hair, it gives you confidence so you're not shy about reaching out to supermodels. It hasn't been a great week for Michigan, but Albrecht has never had a bad hair day.
8.
Justise Winslow, Duke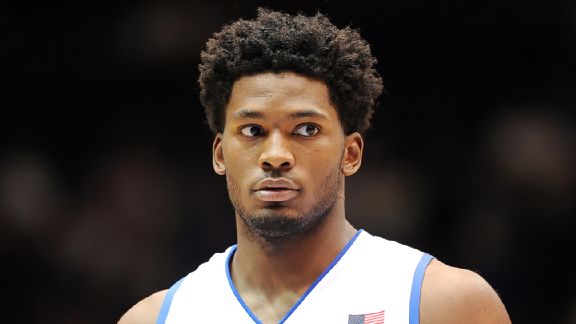 Lance King/Getty Images
The freshman has this Dr. Cornel West-Mr. Glass (Samuel L. Jackson in "Unbreakable") thing going right now. And I dig it. It's like Afro 2.0. It's both retro and modern.
9.
Mo Alie-Cox, VCU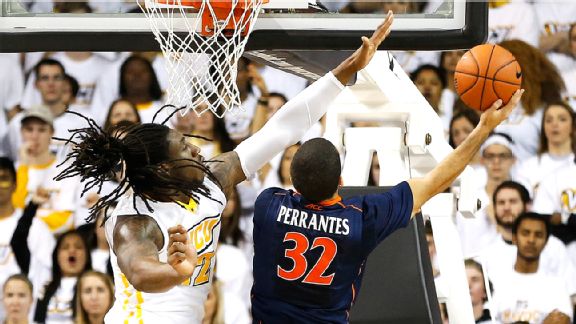 Geoff Burke/USA TODAY Sports
Don't worry 'bout a ting, mon
. That's the vibe you get from Alie-Cox. Yeah, he's 6-6 and 250 pounds. But the long dreads make him seem harmless. You just know everything gonna be all right when you see him.
10.
Ron Baker, Wichita State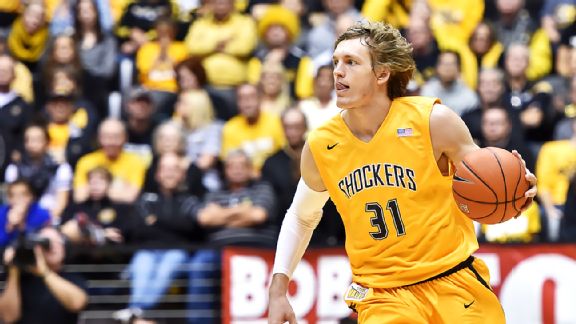 Peter G. Aiken/Getty Images
The future pro guard put Wichita State's hair on the map. Some might see an unkempt hairdo that requires minimal maintenance. Others might see art. The shaggy blond cut works for Baker. Is that Ron Baker or the lead singer of a boy band? Exactly. Sometimes, it's hard to tell.
January, 22, 2014
1/22/14
11:24
PM ET
ANN ARBOR, Mich. -- Already this season Michigan has been overrated and overlooked, ranked, unranked and rebuilding.
But right now the Wolverines seem to be coming into their own as a team.
In the span of five days John Beilein's crew took down then-No. 3 Wisconsin 77-70 on the road and No. 10 Iowa at home on Wednesday night, 75-67. On Saturday, the Wolverines will travel to East Lansing, Mich., for a shot at No. 3 Michigan State and a hat trick of sorts.
Even a few weeks ago, this eight-day stretch of Bo Ryan, Fran McCaffrey and Tom Izzo seemed like a death trap for the Wolverines, who were struggling to play well on the road, find their roles and find their confidence.
But all of those factors have come together for a Michigan group that had a lot of offense and defense to replace after losing Wooden Award winner Trey Burke and NBA draft pick Tim Hardaway Jr. Those losses were tough to stomach, but on top of that,
Mitch McGary's
loss to injury earlier this season seemed like the nail in the coffin for a team that had already dropped a few games and was out of the rankings.
"We had some tough losses and people were starting to get nervous," sophomore point guard
Spike Albrecht
said. "But that's what you learn from and that's how you grow."
[+] Enlarge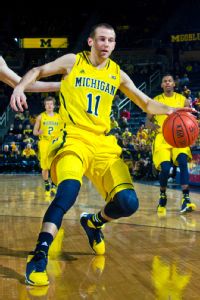 AP Photo/Tony DingNik Stauskas had a career-high 26 points for Michigan.
And that has become the identity of this team -- a group that has actually examined itself, individually and as a team, learned from its mistakes and corrected those.
Beilein pointed to the Arizona loss and mentioned how he had been worried that Michigan could be outrebounded by Iowa just as Arizona outrebounded Michigan 37-24. But the Wolverines learned from their mistake and against a Hawkeyes team that posts a plus-9 rebounding margin, Michigan held its own and narrowly lost the battle 33-32.
And then there's the fact that the Wolverines have been a team that hasn't closed out games well. In their loss to Iowa State, they led until the 6:39 mark, then never again. Against Arizona, they held a three-point lead with three minutes to go and a one-point lead with 25 seconds remaining.
They didn't -- or couldn't -- close out.
But history didn't repeat itself on Wednesday.
Iowa's
Aaron White
attempted a one-man comeback, cutting Michigan's lead to just four with a minute remaining. But the Wolverines made smart, well-timed fouls, got out in transition and converted from the free throw line.
"People are definitely settling into their roles and we're playing a lot better down the stretch," Albrecht said. "That's kind of what was getting us in the early-on games. Some of those tough losses we had earlier were kind of heartbreakers, but they help you down the stretch and that's what's happening right now for us."
And after having lost at Duke and Iowa State, having heard opposing fans scream obscenities, the Wolverines blocked that out on Saturday to pick up a win at the Kohl Center, and then at home, when they needed to keep their composure and play like they do in open gym, that's what a very loud, very packed Crisler Center felt like to them.
And with the way each Wolverine played, it was hard to imagine they felt like they were playing anywhere other than their driveway or an empty gym.
Sophomore guard
Nik Stauskas
exploded for a career-high 26 points, hitting four 3-pointers. Albrecht, who started in place of freshman
Derrick Walton Jr
., who missed Tuesday's practice with the flu, finished with seven assists and no turnovers.
Glenn Robinson III
finished with 14 points -- including some hustle plays and alley oops that reinvigorated the Wolverines -- and a team-high nine rebounds. Center
Jordan Morgan
finished with 12 points, 7 rebounds and 1 block. He has been a more than viable option for the Wolverines both offensively and defensively and has been one of the bigger surprises to emerge after the loss of McGary.
"Everybody's embracing [their roles] and it's kind of like everyone is fitting into place," Morgan said. "As we're getting more comfortable on offense knowing our roles and excelling in our roles we can focus more on that defensive end."
And defensively, they held Iowa to a season-low 67 points even though the Hawkeyes shot 47 percent from the floor. They didn't allow any Iowa player to get into an offensive flow for too long --
Melsahn Basabe
had 15 first-half points, but just two second-half points; White might've had his 13-point run at the end of the game, but he had scored only four points prior to that.
No team in the Big Ten will ever truly get a night off, but there are tests and at this point in the season -- this three-game stretch -- the Wolverines are passing. And they're passing because they've failed before.
Next exam? Saturday at 7 p.m. The subject? Sparta.
April, 26, 2013
4/26/13
9:53
AM ET
Nik Stauskas
isn't just a hyperaccurate Michigan shooting guard coming off an impressive freshman season. He's also a budding YouTube showman. Last December,
the Ontario native posted a Happy Holidays video of him getting buckets
in his backyard, which were almost as impressive as Stauskas' backyard basketball setup. (I want it. I want to go back in time and build it for the child self. It would be like the plot of "Looper," except all we'd do is listen to music and shoot hoops. This is my dream.)
In any case, Stauskas was back at it again this week, celebrating his return to Ontario with another backyard 3-point video. This one's pretty nice, too, a cut-free roll of Stauskas making 70 of 76 3s in the rain:
But cool as it is -- and no offense here, Nik, but I'm afraid your setup is still the star of the show -- Stauskas's video made its way all the way to the Twitter feed of none other than former Davidson and current NBA star Stephen Curry. Curry took time out from the Warriors' thoroughly entertaining series against the Denver Nuggets (and joking about his rolled ankle with Twitter followers) to link the video and offer an ultimate sign of shooter's respect:
3pt contest sometime @nstauskas11 ????? this is Impressive youtube.com/watch?v=yuH5mq…

— Stephen Curry (@StephenCurry30) April 25, 2013
Needless to say, this made Stauskas's day:
@stephencurry30Thanks for the s/o bro! Im always down fot a 3pt contest, wouldn't mind going up against the best shooter in the world!!

— Nik Stauskas (@NStauskas11) April 25, 2013
I love waking up to a challenge by the best 3 point shooter in the world!!! Today might be a good day HA!

— Nik Stauskas (@NStauskas11) April 25, 2013
I'd still give the early "best Michigan tweet or Twitter interaction of the year" thus far to
Spike Albrecht
's Kate Upton heat check. But now we have a challenger in the field.
April, 9, 2013
4/09/13
4:05
AM ET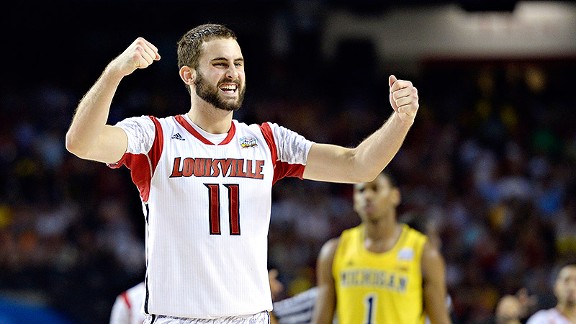 Robert Deutsch/USA TODAY SportsLuke Hancock is the first bench player to be the Final Four's most outstanding player.
ATLANTA -- Beginning exactly one year ago today, we've known, or thought we've known, what Louisville was. Louisville was the best defensive team in the country.
That's usually as far as it went. The Cardinals dominated defensively in 2012, and after their hyper-stingy, brick-compensating defense carried them to an ugly-but-effective Final Four run and nearly every player of note returned for 2012-13, it was pretty easy to peg Rick Pitino's team.
Louisville would struggle to score. It would guard like crazy. Its fans would hope that was enough.
But a funny thing happened on the way to Atlanta: The Cardinals started scoring. And scoring. And scoring. By the time the confetti covered the Georgia Dome floor Monday night, by the time
Peyton Siva
and
Russ Smith
and the rest of the national champions finished their thrilling
82-76 victory
over Michigan
and their One Shining Moment
, it was time to be real about a couple of things.
The first: That was a
great
basketball game.
The second: Louisville was a great offensive team, too.
"You know, a lot of times when you get to the Final Four, you get to a championship, the game's not always great, not always pretty," Pitino said Monday night. "This was a great college basketball game.
"They are a tremendous offensive team. Fortunately for us, when we started this tournament, and
Luke [Hancock]
started playing a lot more minutes, we became a great half-court offensive basketball team. And tonight was as good as it gets."
The man speaks the truth. In defiance of trends, easy characterizations and well-entrenched narrative, Louisville won the 2012-13 national title because its offense was good enough to best the best offensive team in the country.
Here's how.
Two words: Luke Hancock.
You don't have to dig too deep into the scouting reports to figure out why Hancock was named the 2013 NCAA tournament most outstanding player or why he was so crucial to Louisville's offense in its two Georgia Dome wins. In two Final Four games, Hancock shot 8-of-10 from 3-point range. On Monday night, he went a perfect 5-of-5, and if that wasn't already good enough, each shot carried with it the maximum possible impact. The first four came during the final minutes of the first half against Michigan, after
Spike Albrecht
had replaced unanimous national player of the year
Trey Burke
, who was saddled with his second foul at the 11-minute mark.
Instead of scraping by without its star, Michigan surged, because Albrecht had one of the most insane -- or at least one of the most unlikely -- halves in tournament history. He poured in 17 points in 16 minutes on 6-of-7 shooting, including 4-of-4 from 3. Albrecht's final bucket of the half, a layup with 3:55 remaining, gave the Wolverines a 33-21 lead. Michigan looked like it could get to the half with a double-digit lead despite having Burke for just six total minutes. Pitino took a timeout.
What happened in the next three minutes would define the rest of the game. At 3:33, Hancock made two free throws. At 2:59, he made a 3-pointer from the right wing. At 2:38, he made another, same spot. At 1:53, he made another. At 0:59, another. He had cut Michigan's Albrecht-infused lead to just 36-35. It was like Albrecht never happened.
Hancock's play in the second half was just as important. He made three assists in the middle of the half, he sank his fifth 3 to put Louisville up 10 with 3:27 left to play and his two free throws at the 29-second mark pushed the Cardinals' threatened lead back to six points, a deficit insurmountable even for Burke and the Wolverines.
Hancock was the hero in the final minutes of Saturday's shaky win over Wichita State, too, and so his final line for the Final Four weekend looked like this: 42 points in 62 minutes on 11-of-15 from the field, 12-of-17 from the free throw line, 8-of-10 from beyond the arc. You can empty the thesaurus of adjectives and not come close to describing how good, or how important, he was. And all off the bench.
Best of all, Hancock was able to post that performance for the ages in front of his ailing father, an emotional angle to the George Mason transfer's already remarkable story.
"It's been a long road," Hancock said. "There's really no way to describe how I feel that my dad was here."
On Monday night, after the Louisville players finished addressing the media, the NCAA moderator read off a remarkable stat: Hancock had become the first bench player in the history of the tournament to win most outstanding player. When he heard his name, he paused. As the moderator finished reading the stat, Hancock nodded nonchalantly -- as if to say: Yep, that sounds about right. It couldn't have been more fitting.
[+] Enlarge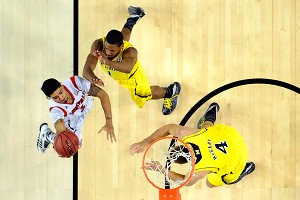 Bob Donnan/USA TODAY SportsPeyton Siva carved up Michigan's defense on his way to 18 points and five assists.
Thing is? Louisville's offense was already really good.
Hancock's description-defying Final Four performance would boost any offense regardless of the context, but it also could serve to obscure the fact that the Cardinals had been great on the offensive end of the floor for much of the season and certainly throughout the NCAA tournament.
To wit: In their first three tournament games against North Carolina A&T, Colorado State and Oregon, the Cardinals posted 1.18 points per possession. Hancock scored just 17 of them, in 18, 19 and 22 minutes, respectively. And, as
ESPN Insider John Gasaway wrote in advance of the title game

, those points came despite opponents turning it over on just 18 percent of their possessions. Those games weren't of the narrative-friendly, Louisville-forces-turnovers-and-that's-how-it-scores variety. They were just great offensive performances, pure and simple.
That said, that doesn't mean Louisville wasn't happy to force turnovers whenever possible; on Saturday night, after a near-flawless first 34 minutes, Wichita State's seven turnovers in the final six minutes were a huge factor in the Cards' eventual comeback win.
But Monday was a different story: Michigan, the least turnover-prone team in the country, turned it over at that pre-Final Four rate (18.5 percent) and scored 1.17 points per trip. Louisville scored 1.26. And there you have it.
Oh, and before we forget: Russ Smith was awesome.
No doubt about it, Smith had one of his worst games of the season Monday night. He finished 3-of-16 from the field, including 1-of-6 from 3. He committed the usual handful of questionable and/or poorly timed fouls, and his turnovers, particularly one in crunch time, gave the impression that Bad Russ, the dark side of Russdiculous, was once more rearing his ugly head.
That would have been sad. Smith has had an immense individual season on both ends of the floor -- the rare star as good defensively as he was scoring. Smith averaged 18.9 points, 3.4 rebounds, 2.9 assists and 2.1 steals per game this season, and managed to post an offensive rating of 110.0 despite high usage (32.1) and shot (32.6) rates (which typically hurt players' efficiency). There were few sights in the game as fun as Smith tearing the ball away from an opponent, deciding in a split-second -- no matter what the defense -- that he was getting it to the rim and then doing exactly that, usually in mind-blowing fashion.
But Smith's Russ-iest moments came when the lights were brightest, none more so in the regular season than in South Bend, Ind., where the Cardinals lost in five overtimes. Smith's silly-play-to-crucial-moment ratio (which is a real stat I just made up) achieved previously unseen levels that night, when everyone tuned in to the featured prime-time game and learned all they thought they needed to know about Smith.
The Final Four was like that, too. Russdiculous didn't play well Saturday and was even worse Monday, and many casual fans might remember his season for that. But for most of the past five months, his breakneck genius was the main reason Louisville's offense worked so well. It would be a shame to forget that.
The Cardinals didn't win with defense. They didn't need to.
There were many impressive things about this Louisville team: the way it rallied around injured guard
Kevin Ware
and won the national title without him, how quickly
Gorgui Dieng
turned from a raw shot-blocker into an all-around player, Siva's screen-exploiting ability to slice defenses in half,
Chane Behanan
's strongman work on the offensive boards, how rapidly it turned defense into offense, how casually it erased daunting deficits, how Pitino often seemed to move his matchup zone around like telekinetic putty, unleashing traps and shifts like a wild-eyed conductor.
But perhaps the most impressive thing of all is this: In 2012, Louisville finished the season ranked No. 1 in efficiency defense and No. 105 on offense. In 2013, it again wielded the nation's No. 1 defense.
This time, over 35 wins and five losses, the Cardinals' offense scored 1.18 points per trip -- good for fifth-best in the country. And on Monday night, good enough to beat the best at its own game.
Afterward, Pitino called his team's exhilarating victory the product of "two great offensive teams doing battle."
He was right. Lo and behold, for everything else Louisville was this season, it was that too -- a great offensive team. And now it's the national champion.
What a mighty difference 12 months can make.
April, 9, 2013
4/09/13
3:49
AM ET
ATLANTA --
Luke Hancock
wouldn't let go of the national championship trophy.
He had it in his arms at the podium. He carried it with him down to do more interviews. He walked back to the locker room, clutching it close to him.
The national title belongs to all of Louisville, to the Cardinals, to coach Rick Pitino, to everyone on the team, including the iconic
Kevin Ware
.
But this trophy, the culmination of 27 years since their last title, doesn't get back to the Cardinal nation without Hancock.
Seriously, who had him in their most-outstanding-player bracket? Nobody. Hancock, the onetime George Mason cast-off, was the catalyst for Louisville and the deserved most outstanding player. He had the honor of being the first non-starter to win the award -- not bad to get a first in the 75th year of the event.
"It's unbelievable," said Hancock, who had a Stanley Cup playoffs-like beard working in this NCAA tournament. "All the credit goes to my teammates. I just tried to play off
Russ [Smith]
and
Peyton [Siva]
as much as I can. They require so much attention sometimes. It's kind of unbelievable. I don't know. This is crazy."
[+] Enlarge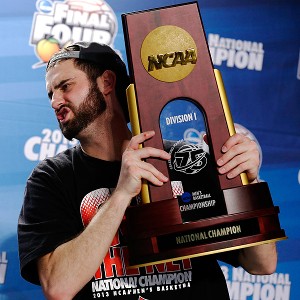 AP Photo/Charlie NeibergallLuke Hancock scored 42 points in the Final Four, including 22 in Louisville's win over Michigan.
Hancock scored 22 points off the bench in Louisville's
82-76 victory
over Michigan on Monday night in one of the best national title games in the past two decades. Hancock didn't miss a 3-pointer, making all five attempts. He was money at the foul line, making 7 of 10. He didn't turn the ball over.
He also scored 20 points in Saturday's semifinal victory over Wichita State, making three 3s.
Hancock did all this while riding an emotional wave that few his age are built to handle.
He was a rock when he comforted Ware after the gruesome compound fracture in the first half of Louisville's Elite Eight win over Duke on March 31. He was here this week, dealing with angst during his greatest athletic moments as his ailing father, Bill, battled an undisclosed illness. Bill and his wife, Van, witnessed Hancock's quick shooting here in the Final Four.
"I couldn't have thought of anything better for him," Louisville teammate
Tim Henderson
said. "To be able to do that and have his dad witness it. It's incredible. It was like it was meant to be.
"Stuff like this happens all the time. You always have that player that goes under the radar and they just need that one big stage to shine. Luke got on the stage and he showed his stuff. I'm going to tell my grandkids I played with him. He's a Louisville legend right now."
That's some heady stuff. But it's deserved. This is a player who never dreamed he would be in this position when he signed with George Mason.
"I wasn't recruited real high out of high school," Hancock said. "I went to prep school and picked up several offers. George Mason recruited me; coach [Jim] Larranaga made me feel like I was home at George Mason. So I went there. Then I ended up needing to transfer when he left.
"[The Louisville staff] made me feel like this was a home, that we'd have a chance to win a national title. I'm so excited for this team to be in this situation. It's been a long road. There's really no way to describe how I feel that my dad was here. It's hard to put into words. I'm so excited that he was here; it just means a lot."
Hancock was the catalyst for the Cardinals in their Big East tournament victory. He was the shooter who had to make shots here at the Final Four. Michigan's
Spike Albrecht
was the talk of the first half with 17 points, but he didn't score in the second.
Hancock had stamina, was consistent and made more plays that mattered in each of the two games.
"It was their four shooters against Luke," Pitino said. "Luke more than held his own."
Hancock grabbed the moment, a once-in-a-lifetime experience. The points, the trophy and the title won't solve his father's illness. But Bill Hancock was there to witness his son's greatest athletic achievement. The memories Luke Hancock has, he owns them forever. And in a week in which he showed his maturity and compassion for the sports world to see, he was more than the most outstanding player of a two-game event; he was a true mensch -- a person with integrity and honor when it mattered most.
April, 9, 2013
4/09/13
3:14
AM ET
By
ESPN.com staff
| ESPN.com
ATLANTA -- In the emotional locker-room moments Monday after his team lost 82-76 to Louisville in the national championship game, Michigan coach John Beilein had one message for his team: Do not hang your heads.
So the Wolverines held their chins up as they discussed their defeat -- only to show off red-rimmed eyes.
"We're so proud of what we accomplished,'' junior guard
Tim Hardaway Jr.
said. "But it hurts to come so close."
This young, fourth-seeded team -- whose players now admit they even doubted themselves at times when they finished 5-5 over the last 10 games of the regular season -- performed even better than when it held the No. 1 ranking earlier this season. Thanks to an inspired (and inspiring) effort by freshman reserve point guard
Spike Albrecht
(a career-high 17 points), the Wolverines held as much as a 12-point lead in the first half.
And even after Louisville rallied, Wooden Award-winning ballhandler
Trey Burke
, back in the game in the second half after early foul trouble, kept trying to push them into position to prevail.
To read the rest of this story from Robbi Pickeral,
click here
.
April, 9, 2013
4/09/13
1:20
AM ET
By
ESPN Stats & Information
| ESPN.com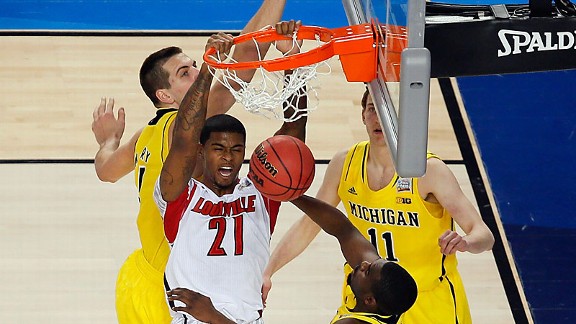 Kevin C. Cox/Getty ImagesLouisville's ability to finish at the rim made a big difference at game's end.
Perfection was the story for a
Louisville
team that lived up to its No. 1 overall seeding in the NCAA tournament.
The Cardinals won their third national title (against no defeats), keyed by a perfect shooting performance from long range by an unlikely source.
Let's run through some of the statistical highlights of the Cardinals' first NCAA tournament championship since 1986.
The history
Louisville ended the season on a 16-game winning streak. The Cardinals became the eighth school to win at least three national championships and the third overall No. 1 seed to win a national championship.
The Cardinals went 27 years between title victories, the second-longest drought by a team that has won multiple championships (
Kansas
went 36 seasons).
Rick Pitino became the first coach to win a Division I title with two schools (he won with
Kentucky
in 1996). This was Pitino's 664th career win, tying legendary coach John Wooden for 25th all time.
Key to the game: Points in the paint
Louisville attempted 23 of its 35 second-half field goals in the paint, making 11 of those shots.
Peyton Siva
and
Chane Behanan
combined to score 24 of Louisville's 34 paint points, 18 of which came in the second half.
Siva's 12 points in the paint were his second-most in any game in the last four NCAA tournaments (scored 14 in 2012 versus Davidson).
Also key: Louisville held
Michigan
to two second-chance points in the second half Monday after allowing 13 to the Wolverines in the first half.
Hancock's perfection
Final Four Most Outstanding Player
Luke Hancock
finished with 22 points and was 5-for-5 from 3-point range.
That's the most makes without a miss on 3-pointers in a Division I title game. The previous mark of three was shared by Taurean Green (2007
Florida
) and Wayne Ellington (2009
North Carolina
), each of whom won a national title that year.
Siva a difference-maker
Siva starred for Louisville, particularly in the second half.
His box score line put him in impressive championship company.
Siva finished with 18 points, 6 rebounds, 5 assists and 4 steals, the first player to hit all of those benchmarks in a national championship game since steals became an official stat in 1986.
He's the first player with an 18-6-5 combo in a title game since Derrick Rose in 2008.
Burke, Michigan elite in defeat
Trey Burke
became the third Wooden Award winner to lose in the national championship game. The other two players were Larry Bird and Elton Brand.
Michigan shot 52.1 percent from the field, the highest field goal percentage by a losing team in the national championship since
Georgetown
in 1985 (54.7 percent).
Early on, that was keyed by
Spike Albrecht
, who scored a career-high 17 points and went 4-for-5 from 3-point range. Albrecht went 9-for-10 from 3-point range in the tournament, just shy of matching Sam Cassell's mark for most 3-pointers in a tournament without a miss (nine for
Florida State
in 1993).
Michigan fell to 1-5 all-time in national title games. The Wolverines' .167 winning percentage is the worst of any team with at least five championship game appearances. The five losses are third-most all time.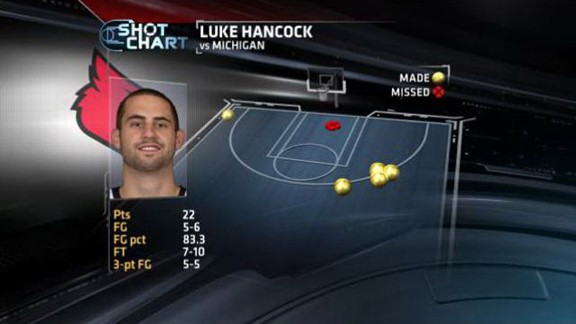 Luke Hancock's hot shooting night won him Most Outstanding Player honors.
April, 8, 2013
4/08/13
11:53
PM ET
ATLANTA -- The
Louisville Cardinals
are your 2013 national champions after beating Michigan
82-76
.
Overview:
It was everything a national title game should be. Great offense, great pace, great performances, great stories and, having withstood all of it, a great national champion: Louisville.


An amazing and surprising first half was followed by a more conventional, but no less entertaining, second. It was one that kept the intrigue bubbling right up to the final minute.
Luke Hancock
finished with 22 points on 5-of-6 shooting,
Peyton Siva
added 18,
Chane Behanan
pushed in 15, and the Cardinals won their third national title, their first since 1986, and made coach Rick Pitino the only man in Division I NCAA hoops history to win a title at two schools.
The key sequence began with five minutes to play.
Trey Burke
's block on a Siva fast break at the 5:09 mark -- a clean play, and an incredible one -- was whistled a foul. Siva made both free throws, and then
Gorgui Dieng
finished a secondary post move on the next possession as the Cardinals pushed their lead to 71-64. Dieng hit another old-school hook shot at 4:13, and then Hancock made another 3-pointer -- his fifth of the game -- to make it 76-66 with 3:05 left to play.
But Michigan didn't go away. A bad
Russ Smith
shot and a turnover, coupled with some quick Wolverines free throws, brought the lead back down to 78-74 with 1:11 on the clock.
Michigan eventually fouled Hancock with 29.8 seconds left to play. He made two -- the biggest shots of the game were all Hancock's, these included -- and the Cardinals closed out the win in the final seconds.
The finish followed a first half that will last in college hoops lore. Burke, the unanimous national player of the year, picked up his second foul with 11:09 left in the half. He was replaced by
Spike Albrecht
, a 5-foot-11, largely unrecruited backup. Michigan coach John Beilein had to fight even his own staff members to get them to agree to take on Albrecht. He entered the game averaging 1.8 points in 7.6 minutes per game. In Burke's stead, Albrecht proceeded to have an absolutely legendary half: 17 points, 6-of-7 from the field (including 4-of-4 from 3-point territory) in 16 minutes. He had a mix of confident shooting and never-before-seen drives to the rim, all with the player of the year on the bench. Michigan shot 14-of-28 in the half and, with just 3:33 left, led 33-21.
That was roughly as mind-bending as what came next: four Hancock 3s on four straight possessions, all from the same spot at the right wing. Hancock was the hero of Louisville's national semifinal win over Wichita State on Saturday night, and he was here, too, bringing the staggered Cardinals back from the Albrecht-induced abyss.
Turning point:
Albrecht's arrival in the game would be a good place to start, and Hancock's four straight 3s turned the game and saved Louisville from having to fight back from a devastating deficit with Burke itching to get off the bench. But the game was essentially level for most of the second half; it would need to be decided late.
After a back-and-forth sequence in the final minutes, Hancock's free throws truly sealed the game.
Key player:
Hancock. Most of Hancock's production came during the first half, but you can't possibly overlook the importance of those four 3s. Without them, Louisville would have been facing a drastic deficit with Burke re-entering the game in the second 20. And Hancock's second-half additions -- a fifth 3 and those free throws -- were the most important shots of the second half.
Key stat:
Louisville shot 8-of-16 from 3 and 18-of-23 from the free throw line. The former helped the Cards recover from an early deficit; the latter allowed them to finish the win late.
April, 7, 2013
4/07/13
3:31
AM ET
ATLANTA -- The possibility that became reality following Michigan's
61-56
win over Syracuse in the Final Four on Saturday night began to materialize weeks ago.
As the Wolverines stomped Jackrabbits (South Dakota State), corralled Rams (Virginia Commonwealth), caged Jayhawks (Kansas) and wrestled Gators (Florida) to pave their path toward the national semifinals, they awakened the way contenders must in March.
But every scenario that involved Michigan competing in its first national championship game in 20 years would demand another phenomenal effort by
Trey Burke
-- America's best player -- conventional wisdom suggested.
Those ideas did not include
Mitch McGary
(10 points, 12 rebounds, 6 assists) playing like a lottery pick. Again. Or
Caris LeVert
logging 21 minutes and going 3-for-4 in Atlanta.
Spike Albrecht
(2-for-2 from beyond the arc) wasn't even mentioned.
Jon Horford
making the most important free throw of the game, while Burke struggled in a Michigan victory? Unimaginable … to everyone else.
"It's not a one-man team," said
Tim Hardaway Jr.
"Everybody in the media has been talking about it. That's why it's a team. It's a team win. That's what we focus on. We know Trey is our leader. He's not going to have a game like he's [usually had] the whole season. That's when our team steps up, just tries to picks him up. He really doesn't need it, but we try to pick it up anyway, try to go out there and do a great job of competing."
Prior to Saturday's win, the concept of Michigan reaching its first national championship matchup since the Fab Five wore maize and blue was nullified by one thought: What if Burke goes cold?
To read Myron Medcalf's full story, click
here
.
April, 6, 2013
4/06/13
11:44
PM ET
ATLANTA -- Michigan hasn't been to the NCAA title game in two decades. And Saturday, it didn't allow a 2-3 zone -- no matter how lengthy or athletic or frustrating -- to keep it from returning.


Led by
Tim Hardaway Jr.
,
Mitch McGary
and
Glenn Robinson III
-- and helped by the fact that Syracuse's
James Southerland
and
Michael Carter-Williams
, who average double digits, combined for only seven points -- the Wolverines survived a last-minute push from their fellow fourth seed to win
61-56
in the national semifinals of the NCAA tournament and advance.
A quick look at the game:
Turning point:
Trailing 17-15 with 10:14 left in the first half, Michigan outscored Syracuse 21-8 before halftime, shooting over Syracuse's defense (including two 3-pointers from freshman
Spike Albrecht
and a loooong one from
Trey Burke
) when it wasn't beating it down the floor. The Wolverines led 36-25 at halftime -- and 43-32 with 15:08 left, before the Orange painstakingly patched together a 13-5 comeback that cut their deficit to 48-45 with 7:41 left.
But it didn't get interesting again until the final minutes, when Southerland -- scoreless to that point -- dunked with 1:58 remaining to cut his team's deficit to four and then hit a 3-pointer with 48 seconds left to cut it to 57-56.
Michigan's Burke and
Jon Horford
bookended a
Brandon Triche
offensive foul with a free throw apiece. And after
Trevor Cooney
missed for Syracuse (30-10),
Jordan Morgan
sealed it with a breakaway dunk for Michigan.
Key player:
McGary finished with 10 points, 12 rebounds and a career-high six assists.
Key stat:
Southerland and Carter-Williams -- who had been averaging 10 and 13 points, respectively, during the NCAA tournament -- were a combined 3-for-15 from the field.
Up next:
Michigan (31-7) advances to play top-seeded Louisville in Monday night's championship game. The Wolverines last reached the title game in 1993 (although that season record was vacated because of NCAA sanctions).