College Basketball Nation:

SportVU
February, 6, 2014
Feb 6
3:45
PM ET
In October, Duke made a watershed announcement:
It would become the first college basketball program
to install STATS LLC's SportVU cameras in its arena.
For years, NBA franchises have been recording, compiling and analyzing the data that SportVU's all-seeing wide-angle lenses provide. This summer, the league announced that every NBA arena would install the technology. College basketball has lagged behind for obvious financial and logistical reasons, but Duke's news made the presumed SportVU trickle-down a matter of if, not when. Sooner or later, big data was coming to college hoops.
[+] Enlarge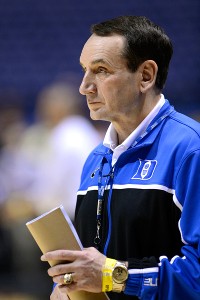 Jamie Rhodes/USA TODAY SportsMike Krzyzewski's Duke team is the first to use the STATS LLC's SportVU cameras.
Thursday,
Grantland's Kirk Goldsberry showed just how far ahead the NBA really is
. But even more important is what Goldsberry's piece implies about how much anyone who watches and loves the game of basketball -- at any level -- stands to gain.
Goldsberry, a Harvard visiting scholar and geography Ph.D., has been making spatial NBA maps for years. These charts are always insightful,
even when they merely reinforce how insanely good LeBron James is
. But Goldsberry's piece Thursday dives much deeper. It begins as anecdotal demonstration -- so here's why the Spurs are really good -- and ends as a full-fledged state of affairs, with the story of how two Harvard statistics whiz kids managed to divine some wisdom out of the trove of data the SportVU cameras laid at Goldsberry's lap:
"Early in the spring semester of 2013, Cervone and D'Amour proposed a new project to measure performance value in the NBA. The nature of their idea was relatively simple, but the computation required to pull it off was not. Their core premise was this: Every 'state' of a basketball possession has a value ...
It was their belief that, using the troves of SportVU data, we could -- for the first time -- estimate these values for every split second of an entire NBA season. They proposed that if we could build a model that accounts for a few key factors -- like the locations of the players, their individual scoring abilities, who possesses the ball, his on-ball tendencies, and his position on the court -- we could start to quantify performance value in the NBA in a new way. ... Cervone and D'Amour's central thesis is that no matter where you pause the game, that you could scientifically estimate the 'expected possession value,' or EPV, of that possession at that time."
What does "expected possession value" promise, exactly?
If we can estimate the EPV of any moment of any given game, we can start to quantify performance in a more sophisticated way. We can derive the "value" of things like entry passes, dribble drives, and double-teams. We can more accurately quantify which pick-and-roll defenses work best against certain teams and players. By extracting and analyzing the game's elementary acts, we can isolate which little pieces of basketball strategy are more or less effective, and which players are best at executing them.
General statistical understanding of college basketball is already at its highest level ever. Per-possession data like
Ken Pomeroy's
is a key insight, which is why you see us use it so often: Among other things, it grants us the fundamental ability to understand each individual trip down the floor.
Dean Oliver's Four Factors
led the way, and helped us color in those lines.
Hoop-Math.com
highlights stylistic underpinnings; Synergy scouting data creates order from visual madness;
the BPI posits
a tournament selection middle way.
Tempo-free statistics are the combustion engine to the box score's horse-drawn carriage. EPV is like discovering a
mass relay
. We still have glaring holes in our knowledge, places stats don't see -- how players set screens, whether they block out on the weak side, whether they're a step slow or a step late on defensive rotations. We know these things share relationships with winning basketball games, but how much? And who does them well? And how can one pair of eyeballs process all of that information? SportVU's big data will clear these hurdles for us.
And that's still not the
really
exciting part.
After all, the vast majority of college basketball arenas aren't going to be outfitted with SportVU cameras. Most Division I basketball teams have more crucial expenses to worry about. Even the well-heeled portions of the NCAA membership take forever to standardize these types of things, and even
then
it won't behoove the schools who
do
pay for this data to share it publicly. You and I won't be sifting through SportVU spreadsheet models any time soon.
The exciting part is not the data itself, however. It's the way the general contextual understanding of that data's mere existence will change the way we view the game. Smart NBA people will put the information to work; smart college folks will keep up. The knowledge that each slice of a possession has a specific value, and that value fluctuates based on a number of intricately entwined factors, isn't about XML routines in Excel files. It's about knowing that all of the little things that go into each and every possession -- and each and every half, and each and every game -- have an impact on that game's outcome.
It's about grading the process vs. the result. About knowing which one is more important. The specific numbers are almost beside the point. It's the idea that matters.
Much like tempo-free information, which Dean Smith recognized 50 years ago, this is a thrilling new spin on an old idea. Good coaches know this stuff already. (
Nick Saban has turned it into gospel
.) But as more and more fans come to view the game through this lens, the potency of dumb old arguments about one team being better than the other because of one bounce or two, one shot made or missed -- all of those "he's a winner" tropes carried over from decades of purple sportswriting -- will erode. Smart fans will know better. We'll be watching the game differently, and more intelligently, because of it. Even if we don't know why.
That's the real trickle-down effect SportVU promises. And it begins: now.
October, 11, 2013
10/11/13
3:45
PM ET
If you're an NBA fan — and especially if you're the type of person fascinated by the development and use of advanced analytics in the professional game — you already know all about SportVU.
If you're not this kind of person, you might be in the dark. Let's catch you up. Essentially, SportVU is a camera system developed by STATS LLC that uses high-speed, wide-angle camera lenses to track everything that happens on a basketball court several times a second. The data possibilities are endless; for the first time ever, teams can track, record and analyze everything a player does while he's on the court.
[+] Enlarge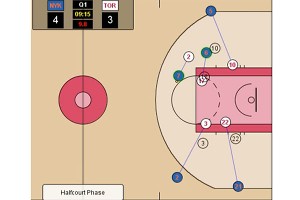 Courtesy of SportVUSportVU is installed in every NBA arena. And at least two college programs are buying in as well.
It didn't take long for NBA teams to catch on. Soon after STATS debuted the system, a handful of progressive NBA front offices shelled out to have it installed. In the years since, the MIT Sloan Sports Conference has runneth over with really smart using spatial data to come to new, interesting conclusions about the most efficient way to play the game; ESPN.com sister site
Grantland frequently features SportVU-driven spatial analysis by Harvard visiting scholar and geography Ph.D. Kirk Goldsberry
. By last season, 15 teams were on board, and in early September, the NBA announced that it would partner with STATS to furnish
every
NBA arena with cameras. By the time the NBA season opens in a few weeks,
every NBA front office will have access to SportVU
.
Watching all of this happen from a college perspective has been somewhat disorienting. College hoops has its fair share of wonks, a bustling advanced analytics community powered by the work of ESPN's Dean Oliver, Ken Pomeroy, John Gasaway, and Synergy Sports scouting data, which you see in this space frequently. The smartest coaches in the game absorb this data and impart it on their players. But college basketball is not the NBA. The games are different and so are the market imperatives. So it wasn't unfair to ask whether college basketball would ever totally get on board. SportVU isn't cheap, and college basketball is almost impossible to standardize. The NBA has no such issue. What if the revolution ended at a price point?
Now it seems inevitable.
According to Ben Cohen of the Wall Street Journal
, the Duke Blue Devils will become the first team to employ SportVU in their arena, Cameron Indoor Stadium, this season. The Blue Devils will also put the cameras to work in practices, adding a large sample of player motion and movement data to track and analyze. That is not a minor decision: Stats senior vice president Brian Kopp told the WSJ that no NBA team had done the same. But it makes sense for a college team whose data windows are limited to just 17 home games. Sample size is everything.
The Blue Devils might be the first independent purveyor of the Stats tech, and certainly the most high-profile. But they aren't the only one. Because Marquette shares the Bradley Center with the Milwaukee Bucks, the Golden Eagles will share the SportVU system for their 16 home games this season, too.
"Knowing our coach, two minutes into [Stats'] presentation, we knew it was something he'd want to pursue," said Marquette deputy athletic director Mike Broeker.
No surprise there. Few coaches in the country have so openly embraced advanced analytics as Marquette coach Buzz Williams; only Butler's Brad Stevens scouted and prepared his teams with more impressive game-to-game precision over the past five years. Now Williams will get a chance to look over the next data horizon. Who cares if it's just 16 games? If I was one of Marquette's new conference members, I would be slightly afraid.
Which is where we get back to the sport at large. Opposing coaches don't like disadvantages. They don't like having substandard facilities. They don't like when they can't charter a plane to see four recruiting targets in 10 hours. They don't like it when they can't budget for top assistants. We can go ahead and posit, then, that these coaches are not going to like it when just one or two schools in their conference are outfitted with uber-precise cameras and an operations staffer plunging into vast amounts of data that they in turn don't have access to. Even if Mike Krzyzewski never once looks at SportVU (you know Williams already has his Howard Hughes-esque screening room set up), other coaches in his conference will hate the idea that he has access to a piece of information they can't obtain. I mean, they will
hate
it. These are desperately competitive men. It will keep them up nights.
That's precisely the same force that got us all these glimmering, booster-funded practice facilities in the first place. You can't fall behind. You have to keep pace. Now, keeping pace means adding expensive cameras and hiring quants to analyze the number of potential hockey assists your power forward could have had were he more aware that the defense was only doubling him after his first half-pivot. And the NBA would love nothing more than for its would-be lottery picks to arrive with eight months' worth of spatial data attached. That's the other force at work here:
the desire to record and measure everything
. Basketball is hardly immune.
SportVU might not achieve widespread collegiate adoption right away. But is there any doubt it one day will? Already, we know eons more about what makes basketball work than at any time in the sport's history. In reality, we're just getting started. How exciting is that?