College Basketball Nation:

St. Louis
March, 3, 2010
3/03/10
4:15
PM ET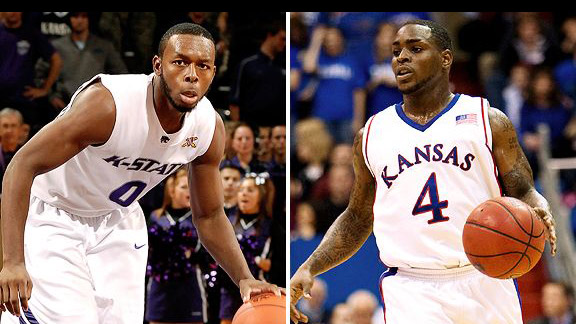 Icon SMIJacob Pullen and Sherron Collins figure to play prominent roles in Wednesday night's showdown.
Saddle Up is our daily preview of the hoops your TV wants you to watch. The big nights are coming faster and more furious than at any point during the season -- I've barely recovered from Saturday -- and Wednesday night is no exception. Here's the rundown.
No. 5 Kansas State at No. 2 Kansas, 8 p.m. ET, ESPN360
: This one doesn't need much by way of explanation. The in-state rivalry. The Big 12 title implications. The seeding possibilities. The two-point Kansas win at Bramlage on Jan. 30. A freaky Frank Martin.
Sherron Collins
' senior night. The packed Allen Fieldhouse crowd.
Yeah, It's safe to say this is going to be a big game. A very, very big game.
Martin's team can secure a shot -- an outside shot, but a shot -- at a share of the Big 12 title if it wins tonight, but that's probably less of a concern for K-State than A) Beating its hated, abusive basketball big brother on the brother's own floor in Collins' last home game and B) Making a case for a No. 1 NCAA tournament seed. A win would without question put Martin's team on the selection committee's top line. First, though, the Wildcats have to figure out a way to do what they do best -- get to the free throw line -- while preventing the Jayhawks from doing the same. Kansas State is one of the best teams in the country at getting to the line. This is the sort of offensive attribute (alongside great outside shooting from
Jacob Pullen
) that gives the Wildcats hope against anyone, including a Kansas defense designed to keep opponents out of the lane. In the first meeting, Kansas won the battle of the freebies. The Wildcats can't let that happen again.
Oh, and as you've probably noticed, no, tonight's game isn't being televised. It stinks, I know. But look at the bright side: You get to test out ESPN360. It's actually pretty awesome, so don't knock it until you try it. And no, I'm not just saying that because I work here. Promise. Though I would totally say that anyway. I'm completely shameless. Which brings me to my next point: If you can't watch the game,
come here for our live chat from 7 p.m. to 11 p.m.
I'll be here, as will a bunch of your favorite college hoops heads, answering questions and live-blogging throughout the evening. Don't miss it.
No. 4 Duke at No. 23 Maryland, 9 p.m. ET, ESPN
: Speaking of big games, well, ahem. This qualifies. It would mean as much in College Park even if the Terrapins didn't have so much riding on the game, for there is little hatred in the country -- in college basketball or elsewhere -- quite like the purely distilled brand Maryland fans brew for all things Duke. And anytime
Greivis Vasquez
gets this sort of spotlight, you can expect sparks to fly. It's going to be rowdy.
There are more than taunts on the line here, though. With a win, Gary Williams' team could pull even with Duke at 12-3 in the ACC with one game each left to play. It won't be easy. After occasional stumbles, most of them on the road,
Duke has quietly morphed into the most efficient offense in the country
, and the Devils are finally starting to play the sort of defense that anchored them in last year's campaign. After a 1-4 start on the road, Duke has won its last four away from Cameron. Maryland's is no easy task. But
the Terps have been underrated all year
, though, and tonight is the perfect opportunity to showcase -- to the tournament committee, especially -- just how far perception lags behind reality.
Everywhere else
: While you're futzing around with your laptop -- and totally chatting with us, remember! --
Connecticut and Notre Dame will be slugging it out on ESPN for a spot in the NCAA tournament
. Neither team is guaranteed a berth, but both teams can nary afford a loss, and both teams would surely benefit from the win. ...
Kentucky will face a test at Georgia
, where the pesky Bulldogs have taken down Vanderbilt, Florida, Georgia Tech and Illinois this season. ...
Indiana travels to No. 6 Purdue
, which should be a nice break from the post-
Robbie Hummel
meat-grinder Purdue is facing these days. ...
Memphis and UAB will duel for bubble considerations
. ...
Oklahoma State at Texas A&M
is an interesting battle between two tourney-worthy Big 12 squads. ...
A-10 leader Temple will visit a St. Louis team
that has streaked into the tourney-sphere in the last half of the season. ...
The fading Demon Deacons have another battle on their hands at Florida State tonight
. ... and lowly Fordham, the last team in Division I without a conference win to its name,
will try to get that first win over Xavier tonight
.
February, 24, 2010
2/24/10
3:40
PM ET
Saddle Up is our daily preview of the hoops your TV wants you to watch. Here's Wednesday night's rundown.
Don't let anyone tell you the college basketball regular season doesn't matter. It does. Wednesday night doesn't boast a single match up between top 25 teams, but it does have at least four games featuring bubble (or barely bubble) teams with a chance to immediately boost their at-large chances. A quick gander:
No. 3 Purdue at Minnesota, 7:30 p.m. ET, Big Ten Network
: Don't look now, but Minnesota has a chance to make the NCAA tournament. I know, I know -- it's a distant chance. But it's a chance. After
a 16-point win over Wisconsin on Feb. 18
and a subsequent blowout at Indiana, Tubby Smith's team is at 16-10 and 7-7 in the Big Ten with four games to play. A win tonight would be the Gophers' third in a row, and would give them a much-needed quality win for the résumé. Then, with a win over the No. 3 team in the country in their pocket, the Gophers would have three winnable games -- at Illinois, at Michigan, and at Iowa -- to play. Win out, and that gets Minnesota to 20 wins, an 11-7 conference mark, and serious at-large consideration. Easy, right?
OK, not so much: Purdue is playing its best basketball of the season right now, and the Boilermakers are in the thick of a Big Ten title race with Ohio State and Michigan State. There will be no letdowns. If Minnesota wants to sneak into the tournament, it will be earned.
South Florida at Villanova, 9 p.m. ET, ESPN360
: South Florida, much like Minnesota,
is nowhere to be found in Joe Lunardi's latest bracket
. At 16-10, the Bulls share much the same burden as the Gophers, which is not how the animal kingdom works at all, but that's OK, because we're actually talking about college basketball. Anyway, stay focused: South Florida very much needs a win at Villanova -- not an impossible feat, given Nova's prodigious fouling habit and overall defensive vulnerability -- to stay in the bubble picture. At the very least, fire up your laptop to watch Dominique Jones take on the porous Wildcats. Bubble talk or no, that ought to be a treat.
San Diego State at BYU, 9 p.m. ET, CBS College Sports
: San Diego State has had two prior chances to prove itself worthy of an at-large bid. The first was Jan. 23's 71-69 loss to BYU at home. The second was an 88-86 loss at New Mexico. Swap either one of those incredibly close and no doubt disappointing results, and
SDSU isn't sitting there wallowing among the first four out
. So here you go, Aztecs. Last chance. You get BYU and Jimmer Fredette in Provo with a tournament at-large on the line. You've proven you can play with the best teams in your league. Now you must, thanks to the selection committee's totally unfair and not cool at all focus on "wins," win.
No. 21 Pittsburgh at Notre Dame, 7 p.m. ET, ESPN2
: You already know the story here: Right now, Notre Dame shares two things with the aforementioned South Florida Bulls: a 6-8 Big East record and a fringe chance of making the NCAA tournament. How to remedy that? The Bulls have the better of the opportunities tonight, but Notre Dame has the more winnable. The only problem? Luke Harangody is expected to sit out again for the Irish, a knee injury that's come at the worst possible time for the perennially bubble-bound team.
Everywhere else
: Both of these teams are already in the tournament, so they get shoved all the way down here to the flotsam, but
tonight's best game is no doubt Oklahoma State at Texas
, where Texas will experience life without Dogus Balbay for the first time ... There's
also Texas A&M at Baylor
, a match up of two very capable and tourney-ready Big 12 teams ... Dayton didn't fit up top, but it too needs
a bubble win over Temple
to make a late case for tournament inclusion ...
UTEP will try to continue its conference dominance at Southern Miss
...
Virginia Tech can't afford to lose to Boston College
...
Florida State at North Carolina
will be on your television whether you like it or not ...
Xavier will go to St. Louis in tonight's other big A-10 match up
... And
Clemson will play at Maryland
as the Terps try to keep edging toward that elusive bracketology respect.
February, 18, 2010
2/18/10
9:27
AM ET
The Morning After is our semi-daily look at last night's best hoops action. Try not to make it awkward. Oh, and sorry about that headline. I couldn't help myself.
No. 4 Purdue 60, No. 12 Ohio State 57
: Any time you face a player as good as
Evan Turner
, the conventional strategy is simple: Make someone else beat you. It might not have been conscious, but Purdue's execution in last night's impressive road win at OSU was the exact opposite. It let Turner get his points (and his assists, and his rebounds, and pretty much anything else he wanted, because what are you going to do, triple-team him?) and the rest of the Buckeyes couldn't step up in time. By the time OSU started hitting the shots it usually makes to complement Turner's brilliance, it was too late: Purdue is simply too smart, too hard-nosed and too complete on defense to spot it 15 first-half points. OSU and Turner made a valiant comeback, but it was too late.
Purdue's defense didn't stop Turner -- he went for 29 points, seven rebounds, and five assists -- but what it did do was isolate Turner from the rest of his teammates. Purdue swarmed OSU with that patented man-to-man defense, and Ohio State's offense turned simple. There was no motion, no movement, none of the things that the Boilermakers kept wowing with on their own offensive end. Instead, Turner would bring the ball up the floor, receive a screen or an iso call, go to the hoop and oftentimes score. But even a player as good as Turner can't rebound all of his misses. Even Turner can't find himself on back cuts. Even Turner can't make every shot. Ohio State had six assists all game; Turner had five of them.
In the end, it's games like these that set Purdue apart from the Big Ten pack. The Boilermakers have elite talent --
JaJuan Johnson
is perpetually slept on; sooner or later we'll learn -- but they also have the depth and style, that hard-nosed, lockdown defense thing that you can feel when you watch them, to outlast mercurial teams like Ohio State. Matt Painter's boys are not perfect, and they're not Kansas, but they're the closest thing the Big Ten has to a Final Four favorite. That much is no longer in dispute.
Louisville 91, Notre Dame 89, 2OT
: Which team needed this one more? Louisville, coming off an upset of Syracuse and trying to fight its way back into safe bubble territory? Or Notre Dame, whose bubble hopes are almost entirely waned, but who could maybe take a win at Louisville to the committee as a résumé-builder? Hard to say. What I do know that is that a Louisville win -- in which
Samardo Samuels
scored a career-high 36 points, including 16-of-19 from the free throw line,
marking the only real difference between these teams in Four Factors land
-- moves Louisville into legitimate tourney consideration, and just might move Notre Dame off the bubble for good. Such is life in the middle of the Big East.
Missouri 82, No. 17 Texas 77
: Is Texas going to drop out of the Top 25? This is the Longhorns' sixth loss in nine games, and while there's nothing wrong with losing at Missouri -- Missouri is a tough out, to be sure -- a team as talented as Texas losing so many games in the stretch run of its season, just as the country's elite are hitting their stride and doing their best work, ought to be hugely discouraging to voters. Take a gander at those Big 12 standings: Texas is 6-5 in the conference, behind Kansas, Kansas State, Texas A&M, Baylor and, yes, Missouri, which moved to 7-4 with Wednesday night's win. Texas is one of the most-talented teams in the country.
How does that happen?
Anyone with a really good answer -- something besides "Rick Barnes plays too many players" -- wins a cookie. Not kidding. I will mail you a cookie of your choosing. Just please help me understand this, because I am so very confused.
Everywhere else
: Duke was over the ledge in the first half at Miami, trailing by 12 at halftime and apparently doing another of its incomprehensible road loss routines, but credit the Devils for the turnaround:
Duke won 81-74 in an impressive comeback victory
. Sure, it's just Miami, but a road ACC win is a road ACC win. Especially for Duke. ... It was a night of survival for highly ranked teams, and
Kansas State's near-loss at home to Nebraska was no exception
. ...
West Virginia withstood Providence's second-half rally
. ... St. Louis got a huge win for itself and for the prospect of six A-10 teams in the NCAA tournament
with its win over Rhode Island
. ... Tennessee got a challenge from Georgia, but
pulled away for the nine-point win
. ...
Florida State rolled at Virginia
, a doomer for the Cavaliers' faint NCAA hopes. ...
South Carolina did itself no favors by losing at Arkansas
; as fun as it would be to have Devan Downey in the NCAA tournament, it's not looking good.
February, 17, 2010
2/17/10
4:02
PM ET
Saddle Up is our daily look at the hoops your TV wants you to watch. Here's Wednesday night's rundown.
No. 4 Purdue at No. 12 Ohio State, 6:30 p.m. ET, Big Ten Network
: If you're one of the college basketball fans
who doesn't live in a market that carries the Big Ten Network, or that doesn't have DirecTV
, well, man. I'm sorry. That's no good. Because tonight is one of the biggest games the Big Ten has had in years, and you're going to have to follow along on the Internet. You're also going to have to rush home from work; a 6:30 p.m. ET start time is mighty unfriendly to those Big Ten fans who live in the central time zone, which is most of them.
[+] Enlarge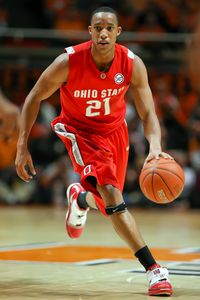 Robin Alam/Icon SMIExpect Purdue to try to smother Ohio State star Evan Turner.
Sneak out early. Duck your boss on your way out. Put up an out-of-office notification email. ("I'm not in the office, because I'm watching an awesome basketball game. Please direct all urgent issues to Person X, and don't bother me for the next few hours, nerds.") Do what you need to do, because the battle between the fighting Evan Turners and Matt Painter's steadfast and solid Boilermakers team is full of implications. If Purdue wins, they make a very strong case to displace Villanova as the fourth No. 1 seed and might cruise to the Big Ten title. If Ohio State wins, it boosts its own tourney resume and gets the added bonus of a foot forward in the Big Ten title race. The Big Ten is loaded at the top; tonight's result should provide some measure of separation.
The most notable match up on hand is, obviously,
Evan Turner
versus, well, anyone Matt Painter decides to send Turner's way. The Boilermakers are great at harassing opposing guards, and the one chink in Turner's armor is his tendency to turn the ball over. Expect Painter to try and smother Turner with multiple defenders as soon as he crosses the half-court line, and maybe before.
E'Twaun Moore
and
Chris Kramer
will play a prominent role, and it wouldn't be shocking to see
Robbie Hummel
try to keep Turner from dominating inside.
That's a solid strategy, but it leaves Purdue open to Ohio State's biggest non-Turner strength: shooting. The Buckeyes hit their outside shots. That efficiency means Turner doesn't need to dominate the scoreline for OSU to stay productive on offense; he merely needs to be enough of a distraction to dominate the other team's gameplan. If Purdue can find a balance between keeping Turner away from the areas he usually owns, as well as keeping OSU's shooters from getting too many kickouts and easy, Turner-delivered looks, Purdue has a great chance to win. But that, as with anything Villian-related, is easier said than done.
Whatever both teams decide to do, the numbers would point toward a close game:
Ohio State is the country's eighth-best offense
;
Purdue is its seventh-best defense
. Ohio State has the No. 24 defense in the country; Purdue has the No. 24 offense. Both teams have their eyes on deep tournament runs, and both teams are hitting their late-season strides. Like I said, rush home from work. Screw your personal file. This one is worth it.
But that's not all! Bonus previews, notes, and errata
: Be sure to check out
Hammer And Rails' lengthy preview of tonight's game
; same goes for Boiled Sports,
who says the anticipation "almost feels like a football game,"
which, were I a Purdue basketball player, would offend me. For the OSU-interested, you can find excellent fan-centric previews at
Eleven Warriors
and
Buckeye Battle Cry
. The
Big Ten Network seems rather excited about tonight's game
, too. And
don't forget the implications
. So many implications! (I like writing the word "implications." Implications. OK, sheesh, I'll stop.)
Everywhere else
:
Duke gets a chance to prove itself on the road against a decidedly mediocre Miami (FL) team
, which should be no problem, except this is Duke on the road, and, well, you know ...
West Virginia goes to Providence
, where Bob Huggins' men will attempt to sidestep the recent plague of Big East upsets ...
Nebraska plays Kansas State in Manhattan
; have fun, Huskers ... Your sneaky-good game of the night?
Texas at Missouri
... Georgia has played well on the road in the SEC;
their next challenge is at Tennessee
... Notre Dame, barely hanging on to a bubble spot,
will face fellow bubblers Louisville at Freedom Hall
... In a stacked A-10 with six possible NCAA tournament teams,
Rhode Island at St. Louis means a lot
... and two fringe ACC bubble teams will try to sort themselves out
when Florida State goes to Virginia
.
February, 10, 2010
2/10/10
5:55
PM ET
Rick Majerus
has made it clear he's not very happy with St. Louis' decision to join the Atlantic 10
. He thinks the travel requirements -- SLU has to fly to the east coast for most of its away games -- are costing his players valuable academic time. It might also have something to do with Majerus not liking to travel, or at least disliking the idea of traveling commercial.
Still, though, the man has a point, and he's not backing down. Quite the contrary. Majerus is going for broke:
"The answer is, first, get the hell out of the league," a calm but clearly annoyed Majerus said afterward. "Most successful people in life make mistakes and say, 'You know what, I made a mistake and I'm not going to let that happen again.' So, the school is afraid to say they made a mistake, that's all."

Majerus' contention isn't with the A-10, which he called a "good league, with great venues and really great players," rather with SLU's place in it. His beef is that the Billikens (15-8, 6-3 A-10), in their fifth season in the A-10, are missing too much class time. And, with the second major snowstorm in four days hitting Philadelphia on Tuesday night, SLU's long trip probably will continue. St. Louis didn't expect to depart this morning for home as scheduled and might not leave until Friday.

"I would rather have lost both games," said Majerus, who earlier this season said the Missouri Valley Conference would be a better fit for SLU. "Nothing means more to me than the academic success of our players. We have compromised our players' academic success and we have put them behind a big 8-ball. Even if it was the best of weather, we're missing an entire week of school."
So, yeah, in case you were wondering, Majerus isn't budging. He'd like to be out of the A-10 and in the Missouri Valley, and he's not afraid to tell the SLU powers that be. Again. And again. And again. Whether they're listening -- and whether they'll actually consider the move a viable option -- is another matter entirely.
February, 2, 2010
2/02/10
1:45
PM ET
Rick Majerus is mad as -- well, you know -- and he's not going to take it anymore.
Apparently, Majerus does a weekly radio show every Monday night for St. Louis radio station WXOS, the same station that airs the Billikens' games. Only Monday night, Majerus didn't show up, citing game preparation and charity work as reasons why he couldn't make the broadcast. The only problem with that excuse? Majerus called in and did a 45-minute interview on WGN in Chicago.
This has St. Louis fans and media, um, intrigued
:
The flap caused by St. Louis University men's basketball coach Rick Majerus abandoning his local radio show has led to wild speculation in the local media and among fans as to the reason. Theories range from the thought he might be campaigning for the DePaul coaching job to the belief that he's protesting the SLU administration's recent decision to drop charter flights for the team in favor of commercial travel. [...] The peculiar transpirings have led to a bevy of talk in the media and online.
This is a week
after Majerus announced he wanted to stop doing the radio show
, proposing a name change to "The Billikens Show."
Most are pegging
the cause of Majerus' behavior to SLU's decision to cut charter flights for Majerus, instead forcing the coach to fly commercial. That sounds about right:
"My greatest concern is for my own players academically,'' he told Ramsey. "Now with this travel schedule, there's just absolutely no way. You've got to get to the airport two (or) 2 1/2 hours early. You've got to take early flights. A lot of these places, there's only one nonstop flight.''
Waiting for a plane? No non-stop flights? Sitting with ... strangers? Gasp! Positively barbaric! (Barbaric.
BARBARIC!
)
This isn't the first time Majerus has openly complained about his life at SLU. A few weeks ago,
Majerus told media
he thought St. Louis' conference affiliation was bad for his team's academics; the long flights to the East Coast to play fellow A-10 teams kept his kids out of the classroom for too long. Majerus was pretty open: He wants to be in the Missouri Valley.
Whatever the fringe concerns, Majerus is getting slightly restless at St. Louis, and all this travel seems to be the reason why. Let's hope Rick's at least flying first-class. Coach can drive sane men to do terrible things, and Majerus is already plenty agitated.
January, 22, 2010
1/22/10
1:05
PM ET
Have a link you want, um, linked? A new college hoops blog you'd like to share? An interest in sending me recipes so I can stop eating Hot Pockets for dinner?
Follow me on Twitter
, send me your stuff, and accomplish all three. Now, links: