College Basketball Nation:

Stan Simpson
November, 23, 2011
11/23/11
8:43
PM ET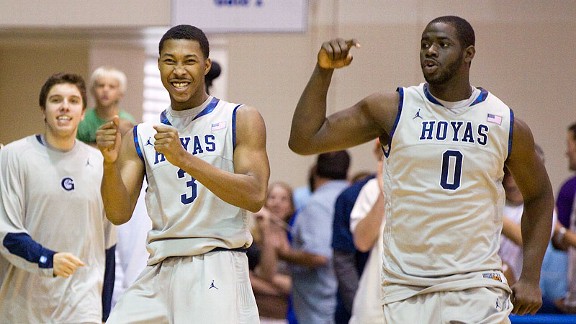 AP Photo/Eugene TannerGeorgetown's Mikael Hopkins (3) and Tyler Adams (0) celebrate the overtime victory over Memphis.
Overview
: One day after a double-overtime victory against Tennessee, the eighth-ranked
Memphis Tigers
were forced into an extra period once again in Wednesday's fifth-place game against Georgetown. This time the results weren't as favorable for Josh Pastner's squad, which fell
91-88
to the Hoyas.


While Memphis, which was thumped by Michigan in Monday's opener, leaves Hawaii as the Maui Invitational's biggest disappointment, Georgetown was arguably the event's most pleasant surprise. The Hoyas' roster features 10 freshmen and sophomores, but they hardly played to their age Wednesday. Georgetown kept its poise while Memphis crumbled under pressure.
Jason Clark
scored 26 points and
Henry Sims
added 24 for the Hoyas, who improved to 4-1.
Will Barton
had 22 points to lead the Tigers.
Turning point
: With his team trailing 86-85 in overtime, Clark buried a 3-pointer with 52 seconds remaining that gave Georgetown an 88-86 lead and momentum it would never relinquish. Clark made four of his seven 3-point attempts and was 9-of-17 from the field overall. Memphis had one last shot trailing 91-88, but
Antonio Barton
's guarded 3 at the buzzer barely nicked the rim.
Why Georgetown won
: The Hoyas' size and overall length was certainly a factor, as Memphis had trouble establishing any sort of presence in the paint. Georgetown also pestered the Tigers into 17 turnovers. But the biggest difference was the Hoyas' patience on offense and overall shot selection late in the game. Both teams made about 49 percent of their field-goal attempts, but Georgetown was more disciplined during crunch time than the Tigers, who forced things and pressed when it mattered most.
Why Memphis lost
: Early on, Pastner's squad was terrible defensively. There's no way such a young Georgetown squad should have 47 points at intermission. The other problem was that Memphis made a ton of bone-headed mistakes down the stretch that likely cost it the game. One of the most crucial errors came in final seconds of regulation with Memphis leading 78-76. Instead of letting some time run off the clock, point guard
Joe Jackson
penetrated into traffic just a few seconds into the shot clock and tried to force a pass to
Wesley Witherspoon
. Georgetown came up with an easy steal with 35 seconds remaining, and the Hoyas capitalized when freshman
Greg Whittington
got an easy put-back off Sims' missed jumper to force a 78-78 tie with 18 seconds left.
More sloppiness ensued moments later, when Memphis couldn't come up with anything close to a quality shot as time expired. Instead,
Adonis Thomas
was forced to throw up a 27-foot 3-pointer that didn't even hit the rim. Also, despite calling a timeout, Memphis failed to get a good look on its final shot in overtime. With none of his teammates open, Antonio Barton had no other choice but to pump fake and shoot an off-balance 3-pointer that would've tied the game. The attempt was way off.
Other observations
: The Hoyas signed a true gem out of Missouri in freshman
Otto Porter
, who had 9 points, 8 rebounds, 4 steals, 3 assists and 2 blocks off the bench Wednesday. ... Speaking of freshmen, Memphis' Thomas (5 points, 1 rebound, 4 turnovers) isn't progressing nearly as quickly, despite being more highly touted ... Memphis forward
Stan Simpson
, a juco transfer, came off the bench and hit some huge free throws late in Wednesday's game. ... The slew of NBA scouts that made the trip to Maui this week surely developed a positive opinion of Georgetown's
Hollis Thompson
, whose versatility was on full display Wednesday. ... Take away
Nate Lubick
's 0-for-6 performance from the field, and Georgetown went 34-of-64 Wednesday. Pretty impressive ... I've been saying this for two years, but Hoyas guard Clark is one of the country's most underrated players. ... Same goes for John Thompson III in the coaching category.
What it means
: There's no way Georgetown is the 10th-best team in the Big East. The Hoyas are big, versatile, athletic and well-coached. Their biggest flaws are a lack of an experienced, high-level point guard and their overall youth. But anyone who witnessed Georgetown's games against Kansas and Memphis could see that their younger players are seasoned beyond their years. At this point Georgetown looks like a fringe top-25 team that could break into the rankings with a few more quality wins.
No one doubts Memphis' talent, and the Tigers have certainly come a long way from last year in terms of maturity. Still, Pastner's team doesn't look crisp on offense and the intensity often seems to be lacking on the defensive end. But the bottom line Wednesday was that Memphis just didn't play smart basketball when it mattered the most.
Up next
: Georgetown hosts IUPUI on Monday before traveling to Tuscaloosa for a Dec. 1 tilt with Alabama. We'll know a lot more about the Hoyas after that game, as the Crimson Tide will provide Georgetown's toughest test of the season to date. As for Memphis, it hosts Jackson State (Monday) and Austin Peay (Saturday) next week before traveling to Miami for a tough road game Dec. 6.
November, 22, 2011
11/22/11
6:18
PM ET
LAHAINA, Hawaii -- It was a double-overtime street fight between two in-state rivals, but the
Memphis Tigers
pulled out the win 99-97 on Tuesday at the EA Sports Maui Invitational.
Here are some notes from Tuesday's opening game.
1. The win was an important one for the Tigers.
While they are loaded with terrific athletes, they were out-executed by Michigan on Monday and almost out-hustled by the Volunteers on Tuesday. The talent is there for Memphis ... but can it jell into a team?
There still are serious questions about who will emerge as the leader on the team.
Will Barton
led the Tigers with 25 points but made a number of questionable decisions when the game got tight. Still, coach Josh Pastner was pleased that Barton took only two 3s and instead concentrated on getting to the basket. Barton also added 11 rebounds Tuesday.
The Tigers' two other top scorers,
Antonio Barton
(21 points) and freshman
Adonis Thomas
(19 points), came off the bench.
Point guard
Joe Jackson
recorded just one assist. Big man
Tarik Black
was plagued by foul trouble again, and, despite a lot of preseason hype, had just six points and three rebounds.
Wesley Witherspoon
, the team's most veteran player, also had just six points and continued to play soft.
If Memphis is going to live up to its lofty early ranking, it is going to have to get much more out of all three.
2. It's pretty clear the Tigers' best player on the floor is Thomas.
He played very well Monday but did so without any plays really being run for him. Thomas was much more active Tuesday, and when he touched the ball, good things happened.
"Adonis was in attack mode," Pastner said. "He's a hard matchup. Whether a 2-man is guarding him, a 3-man guarding him or a 4-man, he's a tough matchup because he's a multidimensional guy."
Thomas looks frustrated at times when his teammates ignore him on the floor. But on Tuesday, he made a more concerted effort to get things done when he got the opportunity. After the game, he said he's willing to be patient coming off the bench.
"Basically I just wanted to come in and make an impact whether I started or got off the bench," Thomas said after the game. "Coach recruited me as a freshman to get things done. Whether I start or come off the bench, what's important is that I just come in and play hard. "
3. Jeronne Maymon is a beast.
The Tigers brought a bevy of elite athletes to the fight. The Vols? The lightly regarded squad was carried by big man Maymon, who did the bulk of the damage with 32 points, 20 rebounds and the shot that sent the game into its first OT. Maymon took the last shot of the game for Tennessee, but it fell short and the Volunteers walked away with yet another heartbreaking loss.
Maymon, a 6-foot-7, 260-pound transfer from Marquette, was a beast in the paint. He pounded the Memphis big men inside all game, getting both Black and
Stan Simpson
into early foul trouble. Maymon's 20 rebounds were a record at the Maui Invitational.
Even more impressive? According to Jeremy Lundblad of ESPN Stats & Info, his 30-point, 20-rebound performance puts him in rarified air. The past three players from the "power six" conferences to do it? Blake Griffin, Michael Beasley and Kevin Durant. Maymon won't get the same love those three did from NBA scouts, but he's a big reason the Volunteers should be much better than predicted this season.