College Basketball Nation:

Stephan Van Treese
April, 7, 2013
4/07/13
9:47
PM ET
ATLANTA -- When Louisville made its late second-half run to survive Wichita State, and Michigan held on against Syracuse down the stretch, the two teams set up one of the great between-the-lines national title matchups in recent memory.
Michigan wields the nation's best offense. Lousiville destroys opponents with the nation's best defense. The Cardinals force the second-highest turnover rate in college basketball; Michigan turns the ball over less frequently than any team in the country. You do the math.
But as obviously fascinating as that dynamic is -- and we'll spend time discussing it below -- there is far more to this game than a mere strength-on-strength matchup. If that was all there was to it, Rick Pitino and John Beilein wouldn't be spending so much time watching tape with their staffs and players even as you read this paragraph. In fact, at least one of them is having fun.
"A lot of teams when you watch them, you get nervous a little bit because they do so many things well," Pitino said Sunday. "You have fun watching Michigan play basketball. The way they pass, cut, shoot, it's a John Beilein team. They're fun to watch. As a coach going to play them, I really enjoy watching them on film."
"I started at 5:45 this morning," Beilein said Sunday, when asked whether he was having as much fun breaking down Louisville in advance of the national title game. "I didn't think they were fun, because they give you so many looks. With a one-day prep, it's almost impossible to get ready for all of those things."
If Beilein can't cover all the bases, we can't either. But we can try to hit the major points. Informed by last week's in-depth, coach-assisted scouts, let's break down the things each team will need to execute on both sides of the ball in Monday's national title finale.
WHEN LOUISVILLE HAS THE BALL
Michigan's key: Stop dribble penetration.
Wichita State couldn't finish the job Saturday night, thanks to a late
Luke Hancock
-led Louisville run, some sudden turnovers and a couple of questionable late calls (one a double-foul on
Ron Baker
and
Stephan Van Treese
, the other a way-too-quick held ball that robbed Wichita State of at least one final possession). So I'm sure it will be no consolation to the Shockers to know that they made at least one incredibly impressive strategic contribution to this Final Four. No Cardinals opponent since February had really figured it out, and it's something you can bet Beilein will be poring over: The Shockers showed everyone how to guard Louisville.
[+] Enlarge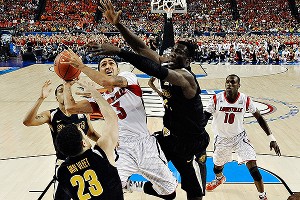 AP Photo/Chris SteppigMichigan will attempt to replicate Wichita State Shockers' strategy of trying to keep Peyton Siva out of the lanes.
Of course, it isn't exactly a revelation that Louisville isn't a great perimeter shooting team. It's right there in their numbers. The Cardinals have shot just 32.9 percent from 3-point range this season, compared to 51.0 percent from inside the arc. The more challenging thing is to figure out how to keep the Cardinals, who spread the floor and run adjusted-angle ball screens with two of the fastest guards in the country (
Peyton Siva
and
Russ Smith
), out of the lane in the first place.
Wichita State cracked the code. They played under every screen. They over-sank into the lane, building a defensive stronghold from the inside out. They rebounded well, preventing second chances and tip-returns to the perimeter, where they'd be stuck scrambling to close out in odd-man situations. And they basically begged Louisville to shoot. For most of the game, particularly in the first half, this worked perfectly: Siva and Smith probed and probed and couldn't crack the Shockers' shell, and so the Cardinals were forced to settle for one bad shot after another.
On Saturday night, Pitino said Wichita State was the best lane-defending team they'd played all season, which would seem to suggest he doesn't think Michigan can replicate Gregg Marshall's strategy. But what if they can?
Louisville's key: Get into the lane; the earlier the better.
The first half of this directive is explained above. The second half is a bit less obvious, but probably just as important. The Cardinals might want to attack in transition.
For one thing, that's where Ohio State assistant coach Jeff Boals said he thought Michigan was most concerned about its defense, even if it was just as likely to benefit their own attempts to get on the break. But it's also generally a good idea for Louisville, because the Cardinals are clearly better when they're flying at you when Smith is hurtling down the court and Eurostepping and making defenders feel vulnerable and alone.
That was one of the surprising things about Louisville's performance Saturday. They didn't really look to push. Had they done so slightly more often, they might have been able to shake Wichita State's stranglehold on the game. And we can't know if Michigan is set on employing Marshall's strategy or if Beilein is cooking up something entirely different; it's not like he's going to tell us this could be the obvious counterpunch.
WHEN MICHIGAN HAS THE BALL
Louisville's key: Control Mitch McGary. Make Michigan shoot 2s.
Before the NCAA tournament, McGary was a promising freshman who had not quite put it all together this season. Now he's verging on a top-10 lottery pick. What changed? McGary was always a good offensive rebounder, and he's transferred that skill seamlessly into greater minutes. But it's what he does with the ball after those rebounds -- his passing on kickouts, his finishes at the rim -- that has added a whole new dimension to Michigan's attack.
Louisville can't have that. If Michigan avoids breakneck speed and leaves it up to
Trey Burke
to break the Cardinals' matchup zone in the half court, then things get really simple: Louisville has to run shooters off the 3-point line and clear the defensive glass.
[+] Enlarge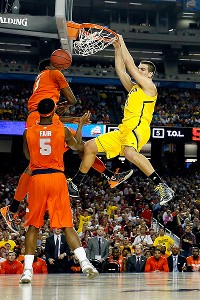 Streeter Lecka/Getty ImagesLouisville will have to limit Mitch McGary by forcing shots inside the arc and grabbing rebounds.
This serves two purposes. For one, though Michigan is an excellent outside shooting team, any team's long 2s are preferable (to the defense) than 3s. The Wolverines are typically happy to take long 2s. Meanwhile, Louisville would probably prefer long jumpers of
any
sort to McGary bruising his way inside for putbacks and dunks. You can't get a long rebound on four-footers, but you can when a 3 careens errantly off the rim, and Louisville can get Smith out in the open court much more easily that way.
In the end, though, it has often been difficult to untie Louisville's defense from its offense this year. Turnovers turn into points, which turn into leads, faster for Louisville than almost any team in the country. The fact of the matter is, the Cardinals are more than capable of guarding in the half court, too. How they choose to go about the task of guarding the nation's No. 1 offense will be fascinating, to say the least.
Michigan's key: Don't turn it over. Attack. And then go play.
This is almost blindingly obvious, but that doesn't make it any less true. Michigan simply cannot turn the ball over against the Cardinals and hope to win Monday night.
The Wolverines' offense is good for a wide variety of reasons, particularly its accuracy from beyond the arc (37.7 percent) and especially inside it (53.3 percent). But you can't get those usually-accurate shots up if you give possessions away. The main reason Michigan is the most efficient offense in the country is the Wolverines turn it over less than any team (just 14.5 percent of their possessions). Despite its status as the second-best turnover-enabling squad in the country (which is a nice way to put it, I think), Louisville can score without forcing turnovers, and Michigan is as die-hard in its devotion to preventing transition defense as anyone. There are some caveats here, in other words. But it's almost impossible to imagine Michigan
not
taking care of the ball and still finding enough in other areas to compensate. Once the Cardinals put you in that blender, it is very difficult to get out.
Of course, the difference between Louisville and VCU -- the nation's chief practitioners of the turnover arts -- is the Cardinals can guard on possessions even when it doesn't force the opponent to cough up the ball. After the press has exhausted itself, the Cards switch back into their matchup zone defense. It is as tough as any half-court formation Michigan will have seen all season, Syracuse included.
This is why when Villanova coach Billy Lange discussed the Cardinals with me last week, he stressed the importance of attacking Louisville after you break the press. You'd rather face one defense than two on the same possession, and if you can inbound the ball running, and get across half court with a 5-on-4 or 4-on-3 advantage, you have to attack and try to get an easy shot.
That is especially the case for Michigan, which is perfectly suited to get good looks in the fast and secondary break. Burke is the best decision-maker in the country.
Tim Hardaway Jr.
and
Nik Stauskas
are deadly spot-up shooters.
Glenn Robinson III
and McGary are constantly rim-running, ready to finish from any which angle. If this gets into an up-and-down game and Michigan routinely breaks the press, look out.
And if the game doesn't get into breakneck speed? If the Wolverines are stuck grinding it out in the half court? Fine. Then it's time to just go -- to play conceptually, as Lange termed Villanova's anti-Louisville-zone philosophy last week.
Not for nothing, Beilein agrees.
"What you're hoping is that you've been getting ready for that since October 15th," Beilein said. "You don't know whether you are, but just you got to dribble it strong, you got to pivot well, pass well, play with your eyes up. Those are things these guys have been working on all year long."
All the X's and O's scouting in the world -- or less scouting than either coach would prefer, in this case -- doesn't change that simple fact that the end of the day, it's just players making plays.
Enjoy the title game, everyone.
March, 11, 2012
3/11/12
1:28
AM ET
NEW YORK – Rick Pitino grew up on the East Side -- 26
th
Street, to be exact -- and like all boys who grew up with basketball visions dancing in their heads, Madison Square Garden was the Holy Land, the hallowed hardwoods for the gods.
He watched games there as a boy, even signed his scholarship papers to the University of Massachusetts on the Garden court.
When he coached there for the first time, as head coach at Providence, Pitino cried, overcome with emotion at what he had achieved.
And when he became the court's primary caretaker as the head coach of the New York Knicks, those were pinch-yourself days.
Pitino is 59 now. He's logged more of his professional career in the Commonwealth of Kentucky than the streets of Manhattan, but in his gut he remains the little kid who stared adoringly at the Garden.
This place still means something to him, and in an age of fraying conference loyalties and the death of collegiality, somehow it seemed fitting that at the last Big East tournament as we know it, the Garden King stood victorious.
Pitino and Louisville, a team even the hometown crowd had written off after a 33-point loss to Providence in January, topped Cincinnati
50-44
to win the Big East tournament title.
"I've had a lot of good memories in this place,'' Pitino said amid the celebration on the court, "and this is one of them.''
In recent years, plenty of people have argued the merits of conference tournaments. Outside of the one-bid-league fray, some say they are little more than annoying stopgaps to survive en route to the NCAA tournament.
After Syracuse was ousted by Cincinnati in the semifinals, the Orange said as much.
"As much as we want to win this tournament, the only one that matters is the one that starts next week,'' coach Jim Boeheim said.
"Everyone says that,'' Cincinnati coach Mick Cronin countered, "after they lose.''
No one will question whether it matters to Pitino. Through a tumultuous year in the Big East, Pitino has emerged as the league's primary politician and loudest cheerleader. He stumped for Memphis and Temple, practically begging his longtime friend and league commissioner John Marinatto to extend an invitation to the basketball-friendly schools.
And when Marinatto did, no one crowed more about what a fantastic job Marinatto had done, insisting that though the Big East will be different it will remain every bit as good, than Pitino.
Cynics might say he's merely protecting his own brand. Louisville is here and no one left in the Big East wants anyone to think the conference is anything less than the power it always has been.
But to Pitino, it's more than that. He holds the conference close to his heart, and while he accepts the changes he remains a traditionalist at heart, one who deeply believes in honoring the vision of league founder Dave Gavitt.
So to take home the crown, his second since Louisville joined in 2005, and the last in the league's most powerful alignment, matters.
"This is the last time the Big East will be together like it was,'' Cardinals guard
Chris Smith
said. "To win it, it means a lot to us. I know it means a lot to Coach P.''
Pitino won the 10th conference title in his career (five SEC, two Big East, two Conference USA, and one North Atlantic) in vintage fashion, rebuilding another Humpty Dumpty of a team.
Along with massaging
Gorgui Dieng
into productivity, educating the enigmatic
Russ Smith
on the fine line of shot selection and riding the roller-coaster tendencies of point guard
Peyton Siva
, only three players have participated in all of the Cardinals' games this year. The rest have helped construct an injury report that would make an NFL team blush:
[+] Enlarge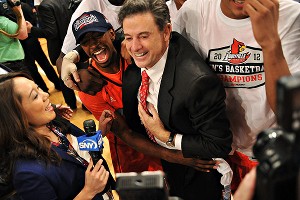 Tony Spinelli/ESPN.comWinning another Big East title at Madison Square Garden after a tough season for Louisville was all the sweeter for New Yorker Rick Pitino.
Mike Marra, torn ACL, out all year; Rakeem Buckles, torn ACL, out since January;
Stephan Van Treese
, patellar injury, out all year;
Wayne Blackshear
, shoulder surgery, out 25 games; Siva, sprained ankle and concussion, missed three games;
Kyle Kuric
, sprained ankle, missed three games;
Jared Swopshire
, recovering from groin injury, missed two games.
It forced Pitino completely out of his comfort zone. He had to put the brakes on the fast-tempo style he's always loved and felt this team was best suited for, and turned the Cardinals into a wildly unpredictable outfit.
"It was really hard,'' Pitino's son and assistant coach Richard said. "In a lot of ways, this team overachieved, but then again he's done that his whole career.''
There is no secret to Pitino's methods other than consistency.
Cronin spent two seasons working under Pitino at Louisville, taking a lifetime of learning in that short span.
"The most important thing he taught me is that you have to coach like you coach,'' Cronin said. "You can't let outside people define who you are. You can't let the kids splinter. You have to make sure they keep in mind who they are as people and who they are as a team.''
It was a valuable lesson for Cronin this year as he shepherded Cincinnati from the black eye of the December brawl with Xavier to the brink of its first Big East crown -- and an equally crucial tool for the Cardinals.
The ante has been upped in Kentucky these days. Down the road in Lexington, John Calipari is busy collecting talent like a hoarder. His Wildcats will be announced as the overall No. 1 seed on Sunday evening and will head into the NCAA tournament as the favorite to win the title.
Louisville, in the meantime, has swung and missed on some recruits and entered the season on the heels of an NCAA tournament upset at the hands of Morehead State in the same year that Kentucky went to the Final Four.
"I know a lot of people back home doubted us,'' Chris Smith said. "That's OK. They'll love us now.''
Louisville did not win style points in this victory against Cincinnati. It was hard to watch, a slugfest where points were at a premium and the scoreboard had trouble nudging itself forward.
The Cards won because of their defense. Pitino challenged them to guard the arc like soldiers against the league's leader in 3-pointers made per game -- "I told them I don't care if they go by you; you have to guard them from the NBA line,'' Pitino said.
It made all the difference. The same Cincinnati team that had 10 3-pointers by the half against Syracuse's zone finished the game 3-of-14 against the Cardinals.
When the buzzer sounded, the players erupted, a mosh pit of infra-red jerseys celebrating in front of the court. Pitino, all business, walked to shake Cronin's hand before finally breaking in to a wide grin as he hugged his assistants, wife and son, celebrating once more time on his own personal home court.
When he was walking in to work on Saturday night, a construction worker spied Pitino and yelled out, "Hey coach, you shoulda never left the Knicks!''
"I looked up. He couldn't have been more than 26 or 27,'' Pitino said. "I yelled back, 'You were in diapers.'''
Perhaps, but New Yorkers never forget. Not when it comes to the Garden.
March, 10, 2012
3/10/12
1:15
AM ET
NEW YORK – When
Gorgui Dieng
first enrolled at the University of Louisville, he was more exclamation point than Big East post player.
With 187 pounds stretched to its limits over a nearly 7-foot frame, guys like
Fab Melo
,
Yancy Gates
,
Henry Sims
and
Jack Cooley
could have him used as a toothpick.
And post moves?
Let's just say Dieng had the moves like Jagger.
"I didn't have any,'' the sophomore said.
But after some dedicated weight training and personal tutelage from Cardinals coach Rick Pitino, daily 45-minute private sessions that were about as fun as they sound – "Oh no, it wasn't fun at all,'' Dieng laughed – Dieng now is playing like an exclamation point instead of looking like one.
The Louisville big man scored 16 points and yanked down 6 rebounds, shooting a perfect 8-for-8 from the floor to help the Cards beat Notre Dame
64-50
and head to the Big East tournament championship game for the third time in four years.
Louisville will face Cincinnati in a title game that is perfectly emblematic of the shifting sands of conference realignment. This marks the first championship in which none of the league's founding members are playing.
"Conference USA comes to the Big Apple,'' Pitino joked, alluding to the two teams' former league.
It is certainly not the final anyone predicted in November, or maybe January or February for that matter.
Cincinnati looked awful early, took part in an awful brawl against Xavier in December and lost to Rutgers in January.
Louisville, meantime, lost at Providence by 31 in January and spent the entire season blowing the budget on athletic training supplies. It got so bad Pitino worried about having enough players to practice.
Only three –
Chris Smith
,
Chane Behanan
and Dieng – have played in all 34 of the Cardinals' games. Almost as many (Mike Marra and Rakeem Buckles) have missed the entire season with injury;
Stephan Van Treese
played in just three.
[+] Enlarge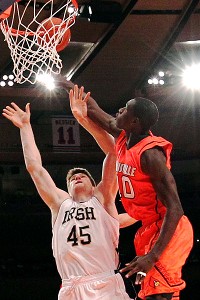 Anthony Gruppuso/US PresswireGorgui Dieng credits coach Rick Pitino for helping him build the game to take on the likes of Notre Dame's Jack Cooley, left.
Fortunately for Louisville, Dieng was one of the mainstays.
He has not been spectacular but he has been steady, a reliable presence inside defensively and becoming a more deft scorer with every game.
The same player who averaged 5.7 points and 4.4 rebounds a year ago posted 11 double-doubles this season.
He even has moves, plenty of which were on display against the Irish.
"We wanted to go inside to Gorgui because they don't tap the post and he did a very good job tonight of going to a variety of different moves, especially the jump hook,'' Pitino said. "He's becoming a terrific player. He plays real hard and the sky's the limit to how good he can become down the road when he gets stronger.''
Ah, the stronger part.
Dieng ballooned from 187 to 244 in a year, taking his charge to gain weight a little too far.
He checks in at a more muscular 235 now, but he's still giving up plenty in the league. Cooley weighs in at 248 and stands just 6-9, Sims is 245 and 6-10, and Gates, who will Dieng will try to muscle around in the title game, is 260 pounds despite being only 6-9.
"I can tell I was kind of, I don't want to say soft, but I wasn't physical at all,'' Dieng said. "I just got on the court and played. But (Pitino) changed my whole game. He made me like being physical.''
Charming and friendly, the fish out of water – a Senegalese by birth now dropped in Kentucky horse country – has become a favorite in Louisville.
Fans love him and his teammates love to tease him for his malapropisms and still-balky English.
"He doesn't get sarcasm at all,''
Peyton Siva
said.
Dieng, though, is getting this basketball thing down.
With an exclamation point.
December, 3, 2011
12/03/11
2:23
AM ET
LOUISVILLE --
Kyle Kuric
swished two huge shots to force overtime and
Peyton Siva
made the game-winning layup in Louisville's
62-60 victory
over Vanderbilt at the KFC Yum! Center on Friday.
But the real life-saver in the Cardinals' win never left the bench.
Rick Pitino has an NCAA title ring in his jewelry box and is the only coach to lead three different schools to the Final Four. Still, in a roundabout way, what Pitino has done at Louisville the past few seasons is as impressive as any feat on the future Hall of Famer's résumé.
[+] Enlarge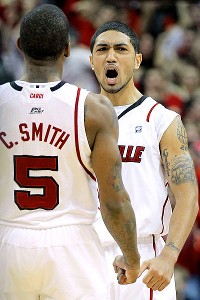 Andy Lyons/Getty ImagesPeyton Siva came through with the game winner as the seconds ticked away in overtime on Friday.
One year after leading a team with a glaring talent deficiency to a 25-win season and a third-place finish in the Big East, Pitino has the Cardinals off to a 7-0 start despite a list of injuries that would cause most programs to wilt.
McDonald's All-American
Wayne Blackshear
has yet to play because of a shoulder injury.
Mike Marra
is done for the season with a torn ACL.
Rakeem Buckles
is working his way back from knee surgery, while
Elisha Justice
(broken nose) and
Stephan Van Treese
(knee) are out indefinitely.
Yet here are the Cardinals, undefeated and ranked sixth in the country.
"Never have I had as much fun coaching as I have the last two years," Pitino said. "This team epitomizes everything you want in a team in terms of rooting for each other and not giving up."
The reason for Louisville's resolve is simple.
"We're a reflection of our coach," Siva said.
Indeed, it was a only a few years ago when some college basketball fans were calling for Pitino to resign following a messy off-court situation in which he was accused of impregnating a woman and then paying for her to have an abortion.
Still, rather than walking away from the game in shame, Pitino surged forward. Instead of floundering in the face of adversity, he flourished.
"We're never going to give up," Siva said. "Whether we're out there with broken legs or broken noses or hands or whatever, we're going to go out there and play for our coach. He puts so much hard work into practice and hard work into us. This is our time to show that we're going to battle for him."
The Cardinals' talent level hasn't been as high lately as it's been in the past. Terrence Williams and Earl Clark were both NBA draft lottery picks in 2009, but since that time Louisville hasn't had many NBA-caliber players on its roster.
While the situation might not speak all that well for Pitino's recent accomplishments on the recruiting trail, it's magnified his prowess on the sideline. No team in the country has made so much out of so little the past few seasons.
Louisville is counting on its fortunes changing as players such as Buckles and freshman Kevin Ware -- who becomes eligible Dec. 14 -- work their way into the rotation. Blackshear could be back by late January.
In the meantime, Louisville is achieving success thanks to a menacing defense and an aggressive mindset that allows it to fight back just as victories seem to be slipping away. Last season, the Cardinals won six games by five points or fewer. Three of its victories were in overtime.
[+] Enlarge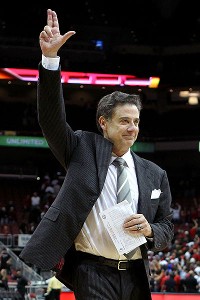 Andy Lyons/Getty ImagesUL keeps piling up injuries and just keeps winning under Rick Pitino.
"We've been winning close games the past two years," Pitino said. "So I don't think we have to learn, because we learned last year. It's a treat to coach this team because you see so many great comebacks. There are times when you think they are dead, and then you just look up and we win the game."
Friday was one of those occasions.
The Cardinals trailed by nine with less than eight minutes remaining and by six with less than four minutes remaining before battling back to force overtime against the 19th-ranked Commodores. Vanderbilt appeared to have the momentum after jumping out to a 55-50 lead early in the extra period, but Louisville fought right back and took a 58-57 lead on Kuric's 3-pointer from the left corner with one minute left.
A pair of free throws by Vanderbilt's
John Jenkins
made it 60-60 with 12 seconds left. That's when Siva took the inbounds pass, jogged up the court and blew by two defenders on his way to the game-winning layup with 1.2 seconds remaining on the clock.
"I just wanted to go jump in the crowd or something," Siva said. "I was saying, 'God, thank you for letting me make that shot -- but please don't let them hit a buzzer-beater from half court.' "
Instead, the Commodores never got off a shot, and a wild celebration ensued as the final horn sounded. Beaming from ear to ear near the sideline was Louisville's 59-year-old head coach.
More than 600 wins and three decades since beginning his career, Pitino has never looked better.
December, 30, 2010
12/30/10
7:34
PM ET
By
Diamond Leung
| ESPN.com
Louisville forward
Rakeem Buckles
suffered a spiral fracture in his finger this morning and is expected to miss "a couple weeks" after undergoing surgery,
coach Rick Pitino told reporters
.
Buckles, who was averaging 8.2 points and a team-leading 7.5 rebounds, will miss the rivalry game with Kentucky tomorrow at the KFC Yum! Center, where he was to be the guy to have defended Wildcats freshman sensation
Terrence Jones
.
"It affects [the rotation] signifcantly," Pitino said, adding that
Stephan Van Treese
would have to step up.
"It doesn't affect us mentally because we're used to all these injuries we've been having."
The Cardinals are also missing guard
Mike Marra
(ankle) and
Elisha Justice
(concussion), and Pitino said forward
Jared Swopshire
would "probably" miss the entire season with a groin injury.
Not that Kentucky will feel sorry for Louisville, but coach John Calipari feels his counterpart has been doing "a great job" with the personnel he has.
"Typically what (Coach Pitino) does is he gets his team, he figures them out, they play to their strengths, and that's what they are doing," he said. "They are playing to their strengths. They do it very well, and they are doing it as well as anybody in the country."