College Basketball Nation:

Stephen F. Austin Lumberjacks
May, 1, 2014
May 1
10:00
AM ET
It doesn't seem right to call this group Others, because in college basketball, the Others are what make the game so special.
This is the crew that puts the madness in March, the slipper on Cinderella's foot and really just all of the clichés into the sport.
Without them, what would we have? Oh right, college football.
Another year gone by and we are still searching for the ultimate Others moment -- when a 16-seed will beat a 1-seed -- but that doesn't mean this crew didn't have its share of moments this season. They did.
As the gap between college basketball's haves and have-nots continues to shrink (at least until autonomy for the Powerball 5 comes into play), these teams are pulling off upsets that are upsets only on paper and mostly because we don't know what else to call them.
Kind of like others.
[+] Enlarge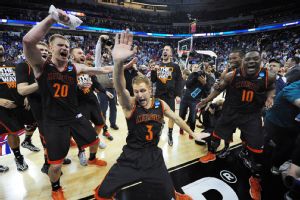 Bob Donnan/USA TODAY SportsMercer celebrated its NCAA tournament win over Duke -- which was an upset in seed only -- in style. Odds are it won't be the last time an Atlantic Sun team celebrates either.
What we saw this season:
Beware the Atlantic Sun. That was the resounding message delivered this season. A year after Florida Gulf Coast dunked its way to the Sweet 16, Mercer danced its way all over Duke. The Bears were an upset in seed only. Anyone who watched the game knows Mercer was in control from start to finish.
But other than the Bears, North Dakota State and Stephen F. Austin, this NCAA tournament was not terribly kind to Cinderella. Those three, along with Harvard and Dayton, were really the only true ball crashers, and only Dayton made it out of the first weekend.
That was sort of surprising, considering the gaudy records some mid- and low-major teams put together, not to mention the less than steady performance from the big boys.
In-conference upsets didn't help. Heavy favorite Toledo lost to Western Michigan in the MAC tournament final. Green Bay, a 24-game winner, fell to Milwaukee, in the Horizon semifinals. Robert Morris, which upset Kentucky in last year's NIT, was the victim this time around, beaten by Mount St. Mary's in the NEC tourney final, and Belmont never made it out of the Ohio Valley Conference tourney.
The common denominator, though, among those that did succeed was the same as it's always been: experience. As the top team's rosters get younger and younger thanks to early NBA entrants, they become more and more vulnerable to savvy veteran squads that aren't intimidated by the big stage.
Mercer counted five seniors among its top six scorers, a mismatch for the inexperienced Blue Devils; Stephen F. Austin's starting five included three seniors and a junior, a reason for the Lumberjacks' perfect 18-0 league record; and for North Dakota State, three seniors and one junior carried most of the weight.
What we expect to see next season:
Oh heck, why not. Beware the Atlantic Sun.
Chase Fieler
helped put the dunk in Dunk City. The end of his run will hurt Florida Gulf Coast, but the Eagles return their other four starters, including a tantalizing backcourt in the form of
Brett Comer
and
Bernard Thompson
. Those two were part of FGCU's Sweet 16 run two years ago. Don't think they won't be a little hungry to return.
Ditto Toledo. Knocked out of the MAC tourney and unable to crack the NCAA tourney at-large code, the Rockets, 27-game winners this season, will be a team to reckon with. Tod Kowalczyk's team loses two starters but returns a talented core led by
Julius Brown
.
And don't think the Lumberjacks are done either. Stephen F. Austin won 32 games this season and could be as good next season.
Jacob Parker
, the Southland's player of the year, is back, as is
Thomas Walkup
. Brad Underwood also has a nice recruiting class to add to the mix.
Aside from the players, though, the big news for the future is that, for the most part, these schools were able to retain their coaches. This is where big schools go to find their futures, offering bigger, better-paying gigs.
The carrots were waved, but the moves, mostly, didn't happen. North Dakota State lost Saul Phillips to Ohio University, but Joe Dooley stayed with Florida Gulf Coast and Bob Hoffman, red hot thanks to Mercer's upset, came back to the Bears.
Continuity on the bench is as crucial as continuity on the rosters for these schools to stay competitive and keep the big boys off balance.
March, 24, 2014
Mar 24
1:00
PM ET
By
ESPN Stats & Information
| ESPN.com
March Madness certainly lived up to its name during this first weekend of the NCAA Tournament, with exciting finishes and surprising winners. We rank the 10 biggest upsets according BPI pre-game win probability, starting with number 10...

10. Harvard (41.0% chance to win) over Cincinnati
Harvard picked up an NCAA tournament win for the second straight season with its win over the fifth-seed Bearcats. The Crimson are the first Ivy League team to win an NCAA Tournament game in back-to-back seasons since Princeton in 1983-84.
9. Kentucky (40.5%) over Wichita State
Kentucky ended Wichita State's perfect season, handing the Shockers their first loss in 36 games. Did you know: the previous two teams that were unbeaten entering NCAA Tournament were eliminated by the eventual national champion (1979 Indiana State by Michigan State; 1991 UNLV by Duke).
8. Baylor (34.6%) over Creighton
Baylor routed Creighton by 30 points, the third-largest margin of victory by a 6 seed in NCAA Tournament history. The Bluejays, who got just 15 points from
Doug McDermott
in his final collegiate game, fell to 0-8 all-time in Round of 32 games, the worst record by any team.

7. Connecticut (33.6%) over Villanova
Connecticut advanced to its first Sweet 16 since 2011, which is also the last time the Huskies won the National Championship. After early foul trouble,
Shabazz Napier
led the Huskies down the stretch, scoring 21 of his game-high 25 points in the second half.
6. Dayton (30.6%) over Ohio State
Dayton started the Madness with the upset win over Ohio State on Thursday afternoon, in a game that featured eight ties and 15 lead changes. The Flyers scored 20 transition points against an Ohio State team that had allowed a Big Ten-best 10.1 transition points per game this season.
5. North Dakota State (30.4%) over Oklahoma
North Dakota State earned its first-ever NCAA Tournament win, shooting 52.9 percent from the field. North Dakota State outscored Oklahoma by 22 points in the paint, including 6-0 in overtime.

4. Dayton (28.1%) over Syracuse
Dayton advanced to its first Sweet 16 since 1984 with an upset of the third-seeded Orange. Syracuse made 1 of 19 shots from outside the paint, while Dayton made nearly half its shots from outside the paint.
3. Stanford (24.8%) over Kansas
Stanford reached its first Sweet 16 since 2008, holding Kansas to just 28 percent shooting against its zone defense. The Jayhawks entered the game shooting a Big 12-best 47.8 percent against zone defenses.
2. Stephen F. Austin (21.7%) over VCU
Stephen F. Austin extended its win streak to 29 games in the win, notching its first-ever NCAA Tournament victory in its second appearance. The Lumberjacks turned the ball over just once in overtime against VCU's "Havoc" defense.

1. Mercer (12.6%) over Duke
Mercer outscored Duke by 16 points in the paint, holding the Blue Devils to a season-low 10 paint points. Duke became the first team in NCAA Tournament history to have five losses to double-digit seeds as a top-3 seed.
March, 23, 2014
Mar 23
11:45
PM ET
SAN DIEGO -- In the final minutes of
UCLA's 77-60 win over Stephen F. Austin
in the third round of the NCAA tournament, a woman in Viejas Arena began to chant
Aubrey Williams'
name. Then, other Bruins fans joined her.
Steve Alford inserted Williams and four other reserves into the game with 44.1 seconds to go Sunday.
As
Tony Parker
walked off the floor and approached his seat, the 6-foot-9, 255-pound big man grabbed UCLA director of operations Tyus Edney, who became a Bruins legend after his miracle shot against Missouri in the 1995 NCAA tournament, lifted him off the ground and held him as though he were a child.
"You know, Tyus Edney is a lightweight, so it was kind of easy," Parker joked. "Just little Tyus. I'm from Missouri, so I always mess with him. My whole family is from Missouri, so he hit the lucky layup. My grandpop makes sure I mess with Tyus every day. … That layup was the lottery for Tyus. I love him, he's a great guy."
For the first time in six years, the Bruins had a reason to smile at this stage of the NCAA tournament, an accomplishment that arrived in Alford's first season. They'll face Florida, the tourney's No. 1 overall seed, on Thursday in Memphis during their first trip to the Sweet 16 since 2008.
"It's a great feeling,"
Kyle Anderson
said. "This is what guys come to UCLA for. A storied program, you know, this is what you want here. … This is what I know
Jordan [Adams]
and myself came to UCLA for."
[+] Enlarge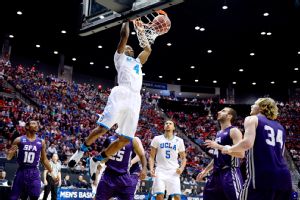 Christopher Hanewinckel/USA TODAY SportsNorman Powell was part of UCLA's explosive offense against Stephen F. Austin.
The last time UCLA reached the Sweet 16,
Kevin Love
and
Russell Westbrook
were a couple of underclassmen. That year, the young duo helped the Bruins reach their third consecutive Final Four.
And all seemed well in Westwood.
But UCLA's most recent years lacked the same pizzazz and failed to meet the mark that an incomparable history established decades ago. The Bruins are John Wooden, Pauley Pavilion, Bill Walton, Lew Alcindor and 11 national championships.
They're not three NCAA tourney appearances in the previous five seasons and zero trips to the Sweet 16. But they were that in the lukewarm years that followed the remarkable Final Four streak under Ben Howland, who was fired following last season's loss to Minnesota in the Big Dance.
It wasn't just the losing and relative postseason futility that contributed to Howland's exit. It was also the stream of Cali prospects who left the state -- see
Aaron Gordon
and Brandon Ashley. Both signed with Arizona prior to Alford's arrival.
Alford wasn't charged with rebuilding when he was hired last year. He was asked to reignite a program that had every resource necessary to regain its edge. This year's Sweet 16 run and Pac-12 tourney championship prove that the former New Mexico coach has already lit the match on that vision.
"Obviously, it's great steps in the right direction," said Alford, who will participate in his first Sweet 16 as a head coach since 1999.
It didn't take much time for UCLA's advantages against Stephen F. Austin to be revealed and exploited. Brad Underwood tried to use 5-foot-9 point guard
Trey Pinkney
against Anderson, a 6-foot-9 combo guard. He eventually put 6-foot-6 forward
Thomas Walkup
on him. Neither option worked.
Meanwhile, Adams (game-high 19 points), Parker,
David Wear
,
Travis Wear
and
Norman Powell
pushed the Lumberjacks around in the lane, where they outscored them 42-22.
Even though Stephen F. Austin had entered the game on a 29-game winning streak that it extended with a win over VCU, it's no comparison to the Florida squad that UCLA will see next.
Those Gators haven't lost since Dec. 2. They're big at every position, too. And they don't crumble in the final moments.
They've had the upper hand on UCLA in recent years, too. Billy Donovan's program has kicked the Bruins out of the NCAA tournament three times since 2006, when Florida beat UCLA in the national title game.
"That's some good history," Parker said. "But we got 11 national championships. So that's good history, too. We just continue to play. And have fun."
After the game, Alford had no interest in discussing the Sweet 16 as the pinnacle for a program that's accustomed to much more. He admits that it's a significant stride. But -- since this is UCLA -- it's still not enough. Only a start.
"I've known Coach Wooden a long time, since elementary school, and we're going to wrap around this as a school and we're going to tackle it and do everything we can to build champions," Alford said. "We shouldn't be here if that's not what we want to do."
March, 22, 2014
Mar 22
11:10
PM ET
SAN DIEGO --
Stephen F. Austin
's
Jacob Parker
and his teammates were treated like royalty. Well, the Lumberjacks, a 12-seed in San Diego, felt like kings as they climbed onto a coach bus that was led by a police escort to their team's hotel following a 77-75 overtime NCAA tournament win against
VCU
at the Viejas Arena on Friday night.
"I think the police escort is pretty cool," Parker said Saturday. "Me and
Thomas [Walkup]
were talking in the room [about it] the other day. The Gatorade and the water in the locker room is nice."
[+] Enlarge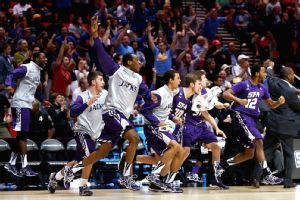 Jeff Gross/Getty ImagesStephen F. Austin players hope to repeat their celebration against UCLA on Sunday.
Stephen F. Austin has enjoyed blue-chip perks in San Diego that were rare in the Southland Conference. Like most mid-major programs, the Lumberjacks can't match the resources, finances, marketability, legacies or TV dollars enjoyed by their BCS-level peers.
The school's operating budget for athletics is $14 million, or nearly $70 million below Sunday opponent
UCLA
's athletics operating budget, according to the government's Equity in Athletics Disclosure Act database.
Sunday's matchups at Viejas Arena illustrate the line between the game's haves and have-nots. Top-seeded
Arizona
, a Pac-12 school with a rich basketball history, will face
Gonzaga
, an 8-seed. And Stephen F. Austin will attempt to upset UCLA, a 4-seed competing a few hours from Los Angeles.
If these games were drag races, they'd pit a pair of Porsches against a couple of Corollas, on the surface, at least. But this isn't college football.
A legit conversation about separating the top football programs from the rest of the Division I teams has reached new levels in recent years. It's a valid discussion.
But the line in college basketball is murkier. Sunday's games in San Diego prove as much.
There's talent everywhere. The top programs might have the inside track to the nation's best preps, but the one-and-done culture is not prevalent at the mid-major level, so, often, players stay and develop. That's how a Stephen F. Austin, a team led by upperclassmen, wins 29 games in a row and earns a slot in the round of 32.
Gonzaga's
Sam Dower
,
Kevin Pangos
,
Gary Bell Jr
. and
Przemek Karnowski
didn't enter school with the same prep accolades as Arizona's top players, and they don't have the same NBA hopes, either. But
Aaron Gordon
& Co. will have a tough time against an experienced Gonzaga team that hurts opponents inside and outside.
There are obvious differences between the programs, though.
[+] Enlarge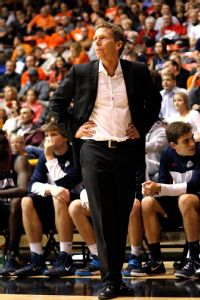 Cary Edmondson/USA TODAY SportsMark Few finds common ground between his Gonzaga program and Arizona.
When Arizona desired a new practice facility, NBA standout
Richard Jefferson
donated $3.5 million to the school. The Richard Jefferson Gymnasium gives Arizona's players 24-hour access to a gym that they use for skill development and strength training.
Freshman
Rondae Hollis-Jefferson
said the practice facility factored into his decision to attend Arizona.
"It was pretty great to see that practice facility, to know 24 hours you can go in there and work out whenever you want," he said. "I thought that was a big step for me, and I knew if I wanted to be great, I knew I had to spend countless hours in there, so I thought that was pretty big."
Coach Sean Miller said the practice facility -- once considered a trinket for select programs -- is an essential component for a Division I squad today. But the former
Xavier
coach also suggested that the chasm between schools from the top and middle tiers of college basketball is shrinking.
"I think, sometimes, you almost categorize college football and college basketball as if it's the same when we all know it's different," Miller said. "Places like Xavier and Gonzaga, they're not mid-major. Dayton is not. The way they travel, the talent level they have on their team, their coaches. Those universities put all their eggs in that basketball [basket] to be as good as they possibly can be."
Although there's a $46 million gap between the operating budgets for athletics at Arizona and Gonzaga, according to the EADA website, the West Coast Conference's perennial champ has access to a practice facility inside the McCarthy Athletic Center, which was completed in 2004.
Gonzaga might not have Arizona's brand, but the Bulldogs, who've made more NCAA tournament appearances than the Wildcats in the past 10 seasons, possess a product with a strong track record.
"I don't know that there is any difference in the resources, especially when it comes to recruiting," coach Mark Few said about Arizona. "I think they're able to draw, you know, off the traditions maybe of the national championship and Final Fours and the pro players they've had. They've done a nice job with that. And, obviously, sometimes league affiliation comes into play, but we fight like crazy to dispel that and try to get guys to look at the program as a whole. Resource wise, more seats in their building but not a big deal. Everything is probably pretty close."
Stephen F. Austin coach Brad Underwood subscribes to a similar philosophy as his program prepares to face a UCLA team that features multiple NBA prospects.
On Saturday, UCLA coach Steve Alford told reporters that NBA scouts have attended 88 of his team's 100 practices this season. The Bruins have 11 national titles. Stephen F. Austin just won the first NCAA tournament game in the program's history.
The Lumberjacks thrive in Nacogdoches, Texas, a city of 35,000, and UCLA exists in Los Angles, the West Coast's metropolis.
"The brand and who UCLA is about, it's obviously a very special brand," Alford said.
Yet, the Lumberjacks are still alive.
They don't have the resources that the other programs in this pod have utilized to build their programs, but they've advanced in the NCAA tournament while power players like
Duke
and
Syracuse
have already been sent home.
Buildings and budgets don't tell the full story about the hierarchy within college basketball.
"I can do everything at Stephen F. Austin that I need to do to be successful," Underwood said. "And whether I get on a commercial airline or whether I get on a [Learjet], I don't need to do that. … We're fine going to an Outback [Steakhouse]."
If the Lumberjacks win Sunday, they'll need a police escort to get there.
March, 22, 2014
Mar 22
8:24
PM ET
By
Ryan Feldman, ESPN Stats & Information
| ESPN.com
Sunday's NCAA Tournament slate features eight compelling Round of 32 games, and we've got you covered with a look at the key matchups in each contest.
KANSAS vs STANFORD
Stanford
is the third-most efficient team in the country on pick-and-roll, ball handler plays, averaging more than a point per play on those plays.


Kansas
ranks 221st in points per play allowed while defending pick-and-roll, ball handler plays.
That could be a big factor with
Joel Embiid
not there to protect the rim on pick-and-roll plays.
WICHITA STATE vs KENTUCKY
Kentucky
ranks second in offensive rebound percentage (42.1%) and scores 9.4 points per game on offensive rebound putbacks, fifth-most in the country.
Wichita State
ranks fifth in the country in defensive rebound percentage (74.2%) and only allows 4.3 points per game on offensive rebound putbacks, 17th-fewest in the country.
IOWA STATE vs NORTH CAROLINA
Iowa State
relies heavily on 3-point shooting. The Cyclones rank in the top 25 in 3-point attempts and 3-pointers made per game.
North Carolina
is holding teams to 30 percent 3-point shooting in its last 14 games. The Tar Heels have held 13 of their last 14 opponents below 40 percent on 3-point shooting. They're only allowing 5.4 3-pointers per game in their last 14 games.
TENNESSEE vs MERCER


Mercer
's opponents are attempting 23.1 3-pointers per game in its last 10 games. Mercer is 9-0 when its opponents attempt at least 24 3-pointers (12-1 when they attempt at least 23), including a win over Duke (37 attempts).
Tennessee
hasn't had more than 24 3-point attempts all season. They average 17.1 3-point attempts per game.
UCLA vs STEPHEN F. AUSTIN
UCLA
ranks in the bottom 20 of the country in turnover percentage. The Bruins only turn it over on 14.9 percent of their possessions.
Stephen F. Austin
forces 16.2 turnovers per game, eighth-most in the country. However, SFA is only forcing 11.6 turnovers per game in its last five games.
CREIGHTON vs BAYLOR
Creighton
is 23-1 this season when shooting at least 35 percent on 3-pointers (4-6 when shooting less than 35 percent). Creighton is 15-1 when making at least 11 3-pointers (12-6 when making 10 or fewer).
Baylor
's opponents are shooting 38.5 percent on 3-pointers in its last 10 games. Baylor has allowed higher than 40 percent 3-point shooting in five of its last 10 games and at least eight 3-pointers in six of its last 10 games.
VIRGINIA vs MEMPHIS
Memphis
ranks second in the country in transition offense with 21.2 points per game. The Tigers rank 21st in transition field goal percentage (59.3%).


Virginia
excels in transition defense. The Cavaliers allow seven transition points per game, second-fewest in the country. Virginia also ranks in the top 25 in field goal percentage defense in transition.
Pace will be a factor, as well. Virginia has the third-slowest pace (60.7 possessions per game), while Memphis ranks 34th in pace (71.2 possessions per game).
ARIZONA vs GONZAGA
Gonzaga
is very efficient on offense, ranking in the top 10 in field goal percentage and 3-point percentage.
Arizona
ranks third in defensive efficiency, allowing 89.5 points per 100 possessions. The Wildcats are 15-0 this season when allowing fewer than 90 points per 100 possessions.
Gonzaga hasn't faced a single team all season that ranks in the top 30 in offensive efficiency.
March, 22, 2014
Mar 22
1:08
AM ET
SAN DIEGO -- The most compelling element of the NCAA tournament -- the thing that other sports, amateur or professional, can't duplicate with the same authenticity -- is its capacity to create stars.
Instantly.
In the final five minutes of the most thrilling game of the day,
Desmond Haymon
was just another dude from a small program in Texas. And then he recorded a four-point play -- a 3-pointer with five seconds to play in regulation, a foul by VCU freshman
JeQuan Lewis
and the subsequent free throw -- during
Stephen F. Austin's 77-75 overtime victory against VCU
on Friday.
"Well, miracles truly do happen," Stephen F. Austin coach Brad Underwood said after the game.
By the time Haymon returned to his team's locker room after the game, national radio outlets were calling and journalists were huddling nearby. Sportswriters were scrambling for media guides and rosters. Spectators, on both sides, were trying to shut their mouths. Coaches, on both sides, were wrestling with their emotions.
If we're honest about it, how many of us knew that Stephen F. Austin sits in Nacogdoches, Texas? Wherever that is. How many Southland Conference games have we seen this season? Why are they even called the Lumberjacks?
The seemingly meaningless had become meaningful as a result of Haymon's heroics.
Just. Like. That. Stephen F. Austin had exploded.
[+] Enlarge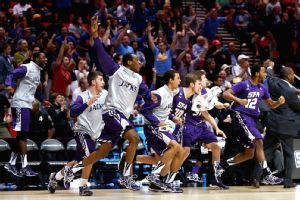 Jeff Gross/Getty ImagesStephen F. Austin players celebrate the overtime upset.
But Haymon had no time for the budding frenzy he'd induced. A postgame interview attended by a horde of reporters -- only a handful participated in Stephen F. Austin's pregame presser on Thursday -- awaited the Pickens, Miss., (population 1,128) native, who tried to explain everything that unfolded in the final seconds of regulation.
The shot. The foul on Lewis. The free throw.
The cold blood.
"
Thomas [Walkup]
was driving down the court and made a great move, and the defense came in and I called his name and [I was] shot-ready, and with God's grace, the shot went up and I shot it with confidence," Haymon said. "I shot it with confidence. [Lewis] closed on me kind of hard, and I stayed there with my follow-through and he knocked me down."
That shot threw Viejas Arena into chaos. People who'd purchased tickets to support other teams had suddenly become Stephen F. Austin fans.
And the Lumberjacks, who entered the game riding a 28-game winning streak, were reborn. After they secured a 40-30 lead early in the second half, Shaka Smart freed his Rams, and a 26-5 run turned the game in VCU's favor.
Haymon, the team's top scorer all season, didn't have a great outing. He was 1-for-3 in the first half. He missed most of his shots in the second half, too. But the one that sent the game into overtime, when Stephen F. Austin outscored VCU 10-8 and got its first NCAA tourney win in the program's history (the Lumberjacks lost to Syracuse in the opening round of the 2009 NCAA tournament), changed everything and extended Stephen F. Austin's West Coast trip.
And now, the Lumberjacks will advance to the next round on Sunday.
Haymon helped the Lumberjacks do that. And his family was in town to see it.
His father, Joe Haymon, flew for the first time just to see his son play in the NCAA tournament. His mother, Debra Haymon, hadn't been on a plane in 20 years.
But they came, and they brought his sister, too.
Only one, though.
During his freshman season, Haymon's other sister, Portia, died after a bout with cancer. It was a devastating blow for the young man, who also broke his wrist that same year. But he relied on his faith and his team as he ultimately became a veteran on a team that broke a few brackets Friday but also made many smile.
"Coach told us to dream big, and that's been our motto," said Lumberjacks forward
Jacob Parker
, who scored a game-high 22 points.
If Haymon had missed that shot at the end of regulation, however, he'd just be another guy for a mid-major program. The NCAA tourney loves its heroes but dismisses its losers without much sympathy. Players are forgotten. Quickly. The freight train that leads to the Final Four is too robust to stop and reflect.
This game can be superficial like that.
But we know Haymon now. He matters. His team matters.
One shot made us care about the young man from a small town in Mississippi.
That's the power of the Big Dance.
January, 16, 2014
Jan 16
4:00
PM ET
On Saturday,
we brought you the strange case
of
Google Chrome software version
NCAA bylaw 20.9.8.1, which reads as follows:
"An institution may schedule and play not more than four basketball games, including any contest (e.g., scrimmage, exhibition), in an academic year against institutions that are not members of Division I."
Simple, right? Straightforward. A rule that doesn't come up much, if at all, because really: How hard is it?
Kind of hard, as it turns out. This summer, the NCAA welcomed four new schools into transitioning Division I status, and each got its own fancy conference membership to boot. Abilene Christian and Incarnate Word joined the Southland, Grand Canyon joined the WAC, and UMass-Lowell became a member of the America East. Here's the catch: Because those schools are
transitioning
to full Division I status, and are not actually full Division I members until that long and cautious process is completed, they actually counted toward opponents' schedules as non-Division I schools.
The problem? A handful of schools in those teams' respective conferences -- Oral Roberts and Stephen F. Austin in the Southland, and Maine and Vermont in the America East -- didn't remove their usual diet of non-Div. I opponents from their nonconference schedules. That
had ORU
,
Stephen F. Austin
and
Maine stuck figuring out
whether they would have to forfeit upcoming games. And it left Vermont, which had already played UMass-Lowell, its fifth non-Div. I opponent, once (with another conference matchup to go) fretting that it had violated an NCAA rule.
Good news, everyone: The NCAA nipped it in the bud.
"Today, the NCAA's Subcommittee for Legislative Relief formally approved a waiver that we submitted on the membership's behalf absolving all Division I basketball programs, including Maine's and Vermont's men's teams, from penalty for having more than four non-Division I opponents on their schedules," America East Commissioner Amy Huchthausen said in a statement Thursday. "We very much appreciate the NCAA staff's efforts to expedite a review of this case and are extremely pleased with the decision, which we believe is fair and appropriate given the circumstances."
It's hard to get too laudatory about a timely, common-sense decision, but the NCAA Subcommittee of Legislative Relief hasn't always had a reputation for the former or the latter. In this case, they did, and the four schools affected won't have to worry about the impact forfeits and NCAA violations might have on their seasons or the perceptions therein. So it was that the strange case of NCAA bylaw 20.9.8.1 came to its end. And everyone lived happily ever after.
October, 17, 2013
10/17/13
10:00
AM ET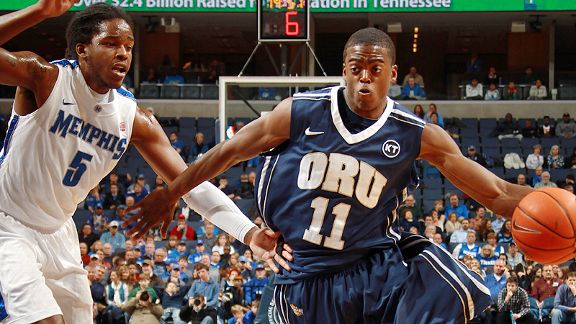 Joe Murphy/Getty ImagesShawn Glover is a big reason Oral Roberts is expected to challenge for the Southland conference crown.
It's college basketball preview season, and you know what that means: tons of preseason info to get you primed for 2013-14. But what do you really need to know? Each day for the next month, we'll highlight the most important, interesting or just plain amusing thing each conference has to offer this season -- from great teams to thrilling players to wild fans and anything in between. Up next: The top-heavy Southland.
Our ongoing theme of conference realignment doing weird things to small leagues continues today with the Southland, which is now a 14-team league (would-be super conferences of the world, eat your heart out) that scrapped together the likes of Houston Baptist, New Orleans, Abilene Christian and Incarnate Word (OK, maybe not). The latter two in that that group were actually Division II teams last season, and, as an aside, it is this writer's humble opinion that Incarnate Word is an awesome name for a school. So there's that.
In truth, the really interesting realignment shake-up in the Southland happened last summer, when Oral Roberts completed its move from the Summit League. The Golden Eagles had been among the Summit League's most consistent competitors before their move; it was generally assumed the same would be true in their new digs. Not so. Oral Roberts finished third behind Stephen F. Austin and Northwestern State last season. The former was one of the country's best defensive teams at any level; the latter finished 15-3 in league play and won the Southland automatic bid with a 68-66 win over SFA at the conference tournament in March.
Scott Sutton's team is even younger this season, but it is still talented: Former Utah transfer Shawn Glover is back for his senior season, Western Illinois transfer Obi Emegano has been earning Sutton's raves, and freshman forward Corbin Byford (who had a stellar prep career but took a medical redshirt last season) is ready to jump in, too. Stephen F. Austin lost three seniors -- including star forward Taylor Smith, who shot 69.4 percent from the field last season -- that could be most difficult to replace on the defensive end.
Only Northwestern State seems to have the combination of returning personnel and previous success to edge ahead in the search for a new Southland favorite. The Southland may not be the toughest pound-for-pound mid-major league in the country; it may have needed to add something called Incarnate Word to boost its membership this offseason. But at its highest levels, among conference contenders, the basketball is better than ever -- and more than good enough to challenge your favorite high-major team come March.
March, 17, 2013
3/17/13
12:08
AM ET
By
ESPN.com staff
| ESPN.com
Shamir Davis
scored 19 points as Northwestern State grabbed the Southland Conference's NCAA bid with a
68-66 victory
over Stephen F. Austin
January, 15, 2013
1/15/13
5:00
AM ET
1. Wyoming had no choice but to suspend
Luke Martinez
after charges were filed in a bar room fight on Dec. 30 that resulted in a broken hand. The coaching staff played coy with the nature of Martinez' injury initially. The staff, and according to the report Monday the police as well, weren't expecting charges in the case. Martinez was instrumental in the Pokes' 12-0 start. The Cowboys are 2-1 since Martinez got hurt, beating SMU and Nevada on the road, but losing to Boise State. Martinez is still three weeks away from being cleared to play. Still, with the pending charges and the Cowboys playing well, they have time to make a decision. Ultimately, the Pokes likely would need Martinez to finish higher in the MWC and make a run at an NCAA berth. But nothing may be done until he's healthy and the case has some sort of resolution.
2. Teams in some of the lower-level conferences don't have the luxury of home nonconference games or even neutral-site affairs. That's why it's always impressive to see which teams have won true road games at this point in the season. The list won't have a single power-six type school on it since they hardly play any real road games. Our ESPN research crew has produced the current list: Stony Brook has seven. Albany, Bryant, Bucknell, Louisiana Tech, Murray State, Stephen F. Austin and Texas-Arlington have six. If you're looking for a few predictions on who on this list will make the NCAA tournament, I'll go with Stony Brook out of the America East, Bucknell from the Patriot, Murray State from the OVC and Stephen F. Austin out of the Southland. Bucknell is the one school on this list that I will blindly predict wins at least one game.
3. Ole Miss coach Andy Kennedy is no fool when it comes to making the NCAA tournament. He knows the deal. The Rebels just won one game at home against Missouri and one on the road against Tennessee. That doesn't equate to an NCAA tourney berth. So Kennedy knows, "we've got to win games.'' The Rebels have been on too many bubbles and in NITs (five of six years under Kennedy) for Kennedy to be too confident. It's hard not to be a little optimistic, though, with the play of JC transfer (originally at Utah)
Marshall Henderson
. He's averaging 18.6 points a game and is one of the toughest matchups in the SEC. "He's a good shooter, a scorer and a competitor,'' said Kennedy. He's all of the above, for sure.
October, 28, 2012
10/28/12
9:15
AM ET
By
ESPN.com staff
| ESPN.com
Before getting to the Blue Ribbon team-by-team previews for the Southland Conference, here is Eamonn Brennan's quick Wind Sprint preview of the league:
Blue Ribbon's in-depth previews of all 10 Southland teams:

Central Arkansas
Lamar
McNeese State
Nicholls State
Northwestern State
Oral Roberts

Sam Houston State
Southeastern Louisiana
Stephen F. Austin
Texas A&M-Corpus Christi