College Basketball Nation:

Stephen Holt
March, 16, 2012
3/16/12
10:02
PM ET
OMAHA, Neb. -- Quick thoughts from Purdue's
72-69
victory over Saint Mary's Friday at the CenturyLink Center.


Overview:
Purdue made four free throws in the final 23 seconds to beat No. 7 seed Saint Mary's in the second round of the NCAA tournament. The victory propels the No. 10 seed Boilermakers into a third round game against either Kansas or Detroit on Sunday.
Purdue trailed 69-68 after Saint Mary's guard
Jorden Page
swished a 3-pointer from the left wing with 45 seconds remaining. But 22 seconds later, the Gaels'
Stephen Holt
fouled Purdue's
Lewis Jackson
as Jackson was driving to the basket. He made both free throws to put the Boilermakers ahead 70-69.
Saint Mary's had a chance to tie it on the ensuing possession, but this time Page air-balled a wide-open 3-pointer. Purdue's
Robbie Hummel
snared the rebound and was fouled with 8 seconds left. His free throws extended Purdue's lead to three, 72-69. The Gaels had one more chance, but
Rob Jones
misfired on a 3-pointer from the top of the key as time expired.
Turning point:
Purdue controlled most of the game and led by 10 points with 7:17 remaining before a valiant comeback attempt by Saint Mary's made the game interesting. The Gaels' went on an 18-7 run that was capped by Page's 3-pointer at the 45 second mark that put Saint Mary's up by a point. The foul call on Holt, which was a bit questionable for that late in the game, put Jackson on the line for what would ultimately be the game-deciding free throws.
Key player:
Guard
Terone Johnson
had 21 points and five assists for Purdue. Jones led Saint Mary's with 23 points and 14 rebounds.
Key stat:
Saint Mary's shot just 4-of-25 (16 percent) from beyond the arc. Jones was just 2-of-10. Cousy Award finalist
Matthew Dellavedova
had just 12 points on 3-of-10 shooting overall. He had eight assists.
Miscellaneous:
Purdue has now won 14 straight Round of 64 games in the NCAA tournament.
What's next:
Purdue advances to play either No. 2 seed Kansas or No. 15 seed Detroit on Sunday. Saint Mary's, which won the outright West Coast Conference title, ends its season 27-6.
February, 18, 2012
2/18/12
8:21
PM ET
MURRAY, Ky. -- A few quick thoughts from No. 14 Murray State's
65-51 victory
over No. 16 Saint Mary's at a rocking CFSB Center:


Overview:
In the marquee matchup of BracketBusters -- just the fourth ever involving two ranked teams -- Murray State cruised past Saint Mary's, as the Racers led by nine at the half and kept the lead in double digits for most of the second half. The Racers improved to 26-1 on the season and certainly solidified -- if not all-out clinched -- their at-large chances in case they don't win the Ohio Valley tournament.
Saint Mary's, meanwhile, was once considered a tourney lock at 22-2 but has now lost three of its past four and has not looked good doing so, losing all three games by double figures. Not having
Stephen Holt
for this one and
Matthew Dellavedova
at less than 100 percent didn't help today, but clearly the Gaels are faltering at the wrong time of the season.
Star of the night:
No surprise here.
Isaiah Canaan
has been a star all season and he was again Saturday, delivering 23 points (17 in the second half) on 9-of-13 shooting and hitting 5 of 8 from long range. He also dished out 4 assists.
Key stats:
The Racers shot 53 percent from 3 (9-of-17), while the Gaels countered at just 14 percent (2-of-14). That 21-point difference in a 14-point game was certainly huge. So was Murray's plus-8 advantage on the boards and its 20 points off turnovers. Another key: holding SMC star
Rob Jones
to 4 points (2-of-8 FG) and 3 rebounds. He came in averaging 15.3 points and 10.8 boards.
What's next:
Murray State will look to avenge its only loss of the season when it travels to Tennessee State on Thursday, while Saint Mary's seeks to get back on track on that same night with a road game at struggling Portland.
February, 17, 2012
2/17/12
9:00
AM ET
When and where:
Saturday (ESPN, 6 p.m. ET), CFSB Center (Murray, Ky.)


Saint Mary's breakdown:
The Gaels are coming off their first home loss of the season, to Loyola Marymount, perhaps the most athletic team in the West Coast Conference and finally healthy. Randy Bennett's team has had a terrific season, but has lost two of its past three games (at Gonzaga and at home to LMU).
Saint Mary's is a very skilled team that lacks size but has players who can spread the floor and a "big guy" in
Rob Jones
who plays inside and out, and plays much bigger than he is listed. Bennett has several very efficient players, including Jones,
Matthew Dellavedova
and the ultra-efficient
Clint Steindl
. But this team will definitely miss defensive ace
Stephen Holt
, who was injured against LMU and did not make the trip to Kentucky after a partial tear to his MCL. Holt is one of the most complete players in the WCC and the West Coast, and is a terrific player. That's a big loss.
But Dellavedova is dynamic off the bounce and in transition and is in attack mode all the time. Steindl is an excellent perimeter shooter who does not make mistakes. The Gaels play a bend-but-don't-break style of defense, and do not force a lot of turnovers.
[+] Enlarge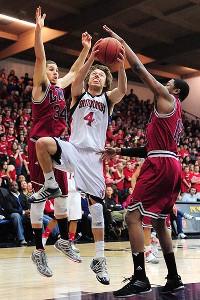 Kyle Terada/US PresswireMatthew Dellavedova scores 15.5 points per game for a 23-4 Saint Mary's team that has lost two of its past three games.
But they do not give up extra possessions via turnovers or offensive rebounds, either. It is unusual to play ahead of the Saint Mary's defense. This is not a super-athletic team or a big team, and it is not a team that shoots a ton of 3s. But it is a team that moves the ball, cuts hard, drives it, and plays with tremendous heart and a great understanding of how to play. I love watching Saint Mary's play, and it would be a great bunch of guys to play ball with.
Murray State breakdown:
The Racers are very well-coached, and have really good guards and solid interior players who play really hard and well together. Murray State ripped off 23 straight wins, and although this team did not play a Big Ten schedule, it did not have a letdown or slip and fall, either. Wins against Southern Miss, Dayton and Memphis prove this team is legit and should be taken seriously.
The backcourt with
Isaiah Canaan
and
Donte Poole
can compete with any backcourt in the country. Both can give you 30 points in a game, and both are hard to contain in transition and off ball screens.
Canaan is the best player, but Poole (a product of Las Vegas) often steps forward and has big games when Canaan is not dominating. Inside,
Ed Daniel
and
Ivan Aska
do a good job, and
Jewuan Long
is the heart and soul of the team.
Murray State has a lot of positives, but the weaknesses are pretty glaring at times. The Racers can be, and often are, loose with the ball. They cough it up far too often. Murray State turns the ball over almost 21 percent of the time, and that is in the bottom half of Division I.
In addition, Murray State has solid "first-shot defense," but allows far too many second shots, and those high-percentage second opportunities put the Racers at a disadvantage.
Gaels' game-breakers:
Dellavedova and Jones. Dellavedova does not look like a point guard, but he knows how to play, and plays like a man. He averages 15.5 points and 6.4 assists, and with his attack mentality, leads the team in free throw attempts.
Once he gets to the line, Dellavedova is automatic. He will be a tough matchup because he is strong and knows how to use his body. Jones started his career at San Diego in the West Coast Conference, and is one of the most versatile big men in the country. Jones has hit 31 3-point field goals, and is an outstanding rebounder.
He averages 15 points and more than 10 rebounds per game, including more than three offensive rebounds per game. Jones will be a difficult cover for Murray State.
[+] Enlarge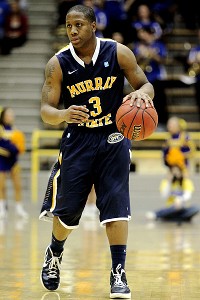 Andy Lyons/Getty ImagesMurray State's Isaiah Canaan averages 19.2 point per game and has four games of 30 or more points this season.
Racers' game-breakers:
Canaan and Poole. Canaan is dynamic enough to take over a game, and has scored more than 25 points in a half. He can hit from deep, use ball screens and can pull up and hit from mid-range as well.
Canaan has hit 79 3-point shots, but has also shot 152 free throws, which makes him very dangerous and hard to guard. He averages 19 points and almost 4 assists per game, leading the team in both categories. Poole is also an excellent 3-point shooter, hitting 53 of 135, while also getting to the free throw line 119 times.
Poole leads the Racers in steals with just more than two per game. To beat Murray State, Saint Mary's has to keep Canaan and Poole from going off.
Gaels' X factor:
Steindl. The long-armed shooter has hit 45 3-point field goals, which accounts for more than 85 percent of his field goals. Murray State cannot leave Steindl, and must find him in transition and force him to put the ball on the deck. If Steindl is allowed to shoot from the same spot where he catches it, he will knock down shots left and right.
Racers' X factor:
Aska. He has all the skills to be a major factor, including the ability to score around the rim. Most importantly, Aska is tough. He averages 12 points and 6 rebounds per game, and he makes his free throws.
Key stat:
Rebounding and turnovers. Murray State is turnover-prone and Saint Mary's does a really good job of taking care of the ball. The Racers surrender too many offensive rebounds and Jones is an outstanding offensive rebounder. Murray State has to take good care of the ball and must finish defensive possessions with big defensive rebounds.
Did you know?
Mark Gottfried and Mick Cronin both coached at Murray State. And Saint Mary's played in the 1939 Cotton Bowl, beating Texas Tech. I'll take obscure BracketBusters trivia for $200, Alex.
Can't account for this:
It may seem odd to name a broadcaster as a "key to the game," but Dick Vitale is doing this game. Murray State is already publicizing Vitale's appearance as an event, and the atmosphere will be different than any Murray State has ever had. Add in that it is Senior Day and you could have an emotional overload. Will the hoopla and distractions work in Murray State's favor? Or will they wear out the Racers, who are not used to having this kind of circus in town? No matter what, it will be fun and memorable for everyone involved. But it is always more fun when you play well and win.
Who wins:
I think Murray State will pull this one out at home 72-70. And it will seal the deal for an at-large bid.
February, 9, 2012
2/09/12
3:26
PM ET
By
Brett Perrotta, ESPN Stats & Info
| ESPN.com
With the Pac-12 in a major rebuilding year, the title of "Best Team in the West" is as up for grabs as it will ever be for mid-majors.
Saint Mary's
is currently 22-2 and ranked 13th in the ESPN/USA Today Coaches Poll. They head to Spokane on Thursday night for a huge WCC matchup with
Gonzaga
(ESPN2, 11 ET).
What gives Saint Mary's a claim as the best college basketball team out west?
REBOUND PERCENTAGE
Saint Mary's is among the country's elite in rebound percentage, the percentage of both teams' missed shots that a team rebounds. Unlike the other teams on top of the list, Saint Mary's has turned this advantage into success on the scoreboard. North Carolina, often mentioned as the best rebounding team in the country, is tied for ninth in rebound percentage.
IMPROVING PLAYERS
Sophomore guard
Stephen Holt
shot just 19 percent (6-32) from 3-point range in non-conference play, but has bumped that to 56 percent (20-36) since WCC play began. That's tied for the seventh-best 3-point field goal percentage in the country in conference games.
He's increased both his points per game (+6.3) and his field goal percentage (+16.3) significantly across that same split.

QUALITY WINS
There are currently nine teams that are undefeated in conference play, and five of those teams are in the RPI top 50. Though teams can do little about the level of competition in conference play, it's pretty clear that Saint Mary's has not just been mopping up weak WCC teams, but also handling its business against formidable opponents.
Those five teams have combined for just six conference wins against RPI top-100 teams and Saint Mary's has three of them -- all three against teams in the RPI top 50. The only other team on that list to defeat a top-50 RPI team in conference play is No. 1 Kentucky.
CONSISTENCY
To top it off, Saint Mary's has the fourth-longest active win streak in the country. What makes this particularly interesting is that the Gaels will face
Murray State
on Feb. 18 in BracketBusters, and if both teams continue winning up until then, each team will be riding a win streak of at least 15 games when they face off.
January, 10, 2012
1/10/12
1:18
PM ET
Andre Drummond's big night

Andre Drummond
lived up the hype of being the second-ranked incoming freshman in the nation. In
Connecticut's
64-57 win
over
West Virginia
, Drummond went off for 20 points on 9-for-11 shooting, and added 11 rebounds.
It's the first 20-10 game of his career. That's something even Emeka Okafor never pulled off as a freshman. Drummond is the first UConn freshman with a 20-10 game since Caron Butler in 2000-01.
Dellavedova leads hot-shooting Gaels

In an
87-72 win
over
San Francisco
,
St. Mary's
shot 67.3 percent from the field. That was the Gaels' highest field goal percentage in the past 15 years. They fell just short of the school-record 68.4 field goal percentage set in 1983 against
San Diego
.
Matthew Dellavedova
netted a career-high 27 points, while
Stephen Holt
fell one rebound shy of a triple-double.
Hoyas hardly miss, but lose

Sean Kilpatrick
went off for a career-high 27 points, as
Cincinnati
came away from Washington, DC with a
68-64 win
over
Georgetown
. The Hoyas lost despite a 59.1 field goal percentage. That's Georgetown's best shooting game in a loss since a 63.4 mark in a 2008 NCAA Tournament loss to Stephen Curry and
Davidson
. Meanwhile, it's the highest opponent field goal percentage in a Cincinnati win in at least the past 15 years.
Nash stepping up in Big 12 play

Le'Bryan Nash
stepped up his game for the Bedlam Series, matching a career-high with 21 points, as
Oklahoma State
came away with a
72-65 win
over
Oklahoma
.
After averaging 11.7 points per game in non-conference play, Nash is putting up 18.0 in three Big 12 games. That places him third in the Big 12 in scoring during conference play, behind only
Travis Releford
and
Marcus Denmon
.
Grambling State wins another

For awhile it didn't seem as through
Grambling State
would win a game this season. Now, the Tigers have two victories.
Quincy Roberts
, a transfer from
St. John's
, netted 26 points in a
72-71 win
over
Alcorn State
. Grambling State won despite recording only four assists. That tied the second-fewest assists in a win this season in Division I.
December, 22, 2011
12/22/11
10:30
AM ET
Most of the nonconference tournaments that have taken place during the past six weeks have been underwhelming. Just look at the list of winners from various events: Dayton (Old Spice Classic), Saint Louis (76 Classic), Harvard (Battle 4 Atlantis) and Northwestern (Charleston Classic).
Yikes.
Even though it will be played in a round-robin format, the Las Vegas Classic has the potential to buck the trend and be one of the more entertaining non-league events of the season. Seventh-ranked Baylor is the most talented team in the field by far, but Scott Drew knows good and well that his squad will be challenged.
Baylor and St. Mary's -- whom the Bears defeated in the Sweet 16 in 2010 -- will face off tonight, as will West Virginia and Missouri State. Friday's games feature Baylor versus West Virginia and St. Mary's versus Missouri State.
Here's a closer look at each of the four teams:
Baylor

Where they stand:
The Bears are one of the country's seven remaining unbeaten teams. They have a pair of future NBA lottery picks in forwards
Perry Jones III
and
Quincy Miller
. Although they traditionally play poorly away from home, Baylor has two huge road victories this season, against Northwestern and BYU. Not many teams in the country are as athletic, long and deep as the Bears.
Key player:
Jones shocked the college basketball world by returning to school for his sophomore year instead of turning pro. The 6-foot-11 phenom had 28 points in Saturday's victory at BYU.
Key stat:
For all of their size and length, the Bears have been terrible on the boards. They were outrebounded 41-26 by BYU, a sign that they need to get tougher in the paint.
Best-case scenario:
Baylor does what it should and dominates St. Mary's and West Virginia, which would give the Bears loads of momentum heading into Wednesday's game against a strong Mississippi State squad in Dallas.
Worst-case scenario:
A tough, physical West Virginia squad bullies the Bears on the boards en route to a Friday upset in Sin City.
St. Mary's

Where they stand:
The Gaels are 10-1 and have won eight consecutive games since a Nov. 23 loss to Denver. St. Mary's, whose best victory is against Northern Iowa, should contend for the West Coast Conference title once again.
Key player:
Point guard
Matthew Dellavedova
is one of the best players in the country at his position. The seasoned junior from Australia averages 14.1 points and 6.2 assists per game.
Key stat:
Not many squads in the country play "team basketball" quite like the Gaels. St. Mary's averages 18 assists per game -- a mark that ranks ninth nationally. Three players (Dellavedova,
Rob Jones
and
Stephen Holt
) average 2.8 assists or more.
Best-case scenario:
St. Mary's catches an overconfident Baylor off-guard and avenges its blowout 2010 NCAA tournament loss to the Bears. One night later, the Gaels defeat Missouri State to finish 2-0 in the Las Vegas Classic.
Worst-case scenario:
Randy Bennett's squad gets embarrassed by the Bears on Thursday, and the loss carries over into Friday's game against Missouri State. A pair of defeats could damage the Gaels' confidence just before the start of WCC play.
Missouri State

Where they stand:
The Bears, 7-3, are expected to contend for the Missouri Valley Conference title along with Wichita State, Creighton and Indiana State. Their losses are to Oral Roberts, New Mexico and Oklahoma State.
Key player
:
Kyle Weems
is a 6-6 senior forward who averages team highs in both points (14.6) and rebounds (7.5). But he's shooting just 40 percent from the field and only 29 percent from 3-point range.
Key stat:
Senior guard
Michael Bizoukas
, who played his first three seasons at DePaul, is averaging 6.2 assists for a team that takes pride in sharing the ball.
Best-case scenario:
Missouri State adds a victory over a BCS conference school to its résumé by upsetting West Virginia tonight. Such a win could pay huge dividends on Selection Sunday.
Worst-case scenario:
The Bears lose to St. Mary's by double digits Friday. They need to show that they can hang with the country's top mid-majors.
West Virginia

Overview:
Bob Huggins' squad is 8-2, with the setbacks coming against Kent State (on Nov. 15) and Mississippi State (Dec. 3). The Mountaineers lost two of their top four scorers (Casey Mitchell and John Flowers) from last year's squad, but they're still a team that could finish in the top half of the Big East.
Key player:
Kevin Jones
is having the best season of an already successful career. The senior forward is averaging 20.8 points and 11.3 rebounds while shooting 56 percent from the field.
Key stat:
West Virginia has been atrocious from long range. The Mountaineers are connecting on just 31 percent of their 3-point attempts.
Best-case scenario:
The Mountaineers jump back into the national spotlight by handing Baylor its first loss of the season Friday. The victory would give West Virginia loads of momentum entering its Big East opener against Villanova on Dec. 28.
Worst-case scenario:
Jones gets into foul trouble and the Mountaineers lose to Missouri State on Thursday. Such a defeat could keep West Virginia out of the NCAA tournament.
November, 15, 2011
11/15/11
5:45
AM ET
By
Diamond Leung
| ESPN.com
MORAGA, Calif. -- Tradition has it that Saint Mary's sweats it out on Selection Sunday. Two seasons ago, it took the drama out of it by winning the West Coast Conference tournament, and the Gaels made it all the way to the Sweet 16. Last season, despite racking up 25 wins and a share of the WCC regular-season title with Gonzaga, the Gaels got snubbed.
So before Saint Mary's faced its first difficult test of the season, against Northern Iowa, and came through with a convincing 57-41 win at McKeon Pavilion, Gaels coach Randy Bennett reminded his squad that games in early November can have significant meaning.
"It's one of those résumé-building wins come March," Saint Mary's guard
Stephen Holt
said, noting that the sting from being bypassed remains on the Gaels' minds. "Coach hit on it in the locker room. It's important to use that as motivation."
Saint Mary's responded by holding Northern Iowa to 13 first-half points and a 27 percent field goal percentage for the game. Top Panthers scorer
Anthony James
was limited to two points on 1-for-15 shooting.
The offensive woes Northern Iowa faced stunned a team that was coming off a 17-point road win against Old Dominion but didn't necessarily surprise coach Ben Jacobson, given the quality of opponent the Panthers were facing.
"Saint Mary's is very good defensively," Jacobson said. "They're physical and had a good plan. They made things harder for us."
At one point, the Gaels led by 28 points after hitting five 3-pointers during a game-deciding 17-2 run in the second half.
Matthew Dellavedova
, who has taken over ball-handling duties after the team lost WCC player of the year Mickey McConnell, appeared very comfortable while scoring 11 points and dishing out seven assists. Holt, a sophomore who joins Dellavedova in the backcourt, came away with 10 points, eight rebounds and four steals. Forward
Rob Jones
added 10 points and 10 rebounds while providing a strong defensive presence.
"We were ready because we knew this was a good team -- one of the best mid-major programs in the country," Bennett said. "You need to get these. We only get so many cracks at teams like that."
Saint Mary's has a possible home game against Big Sky preseason favorite Weber State, a trip to Las Vegas to take on Baylor and Missouri State, and a BracketBusters game in February as its opportunities to state its case for an at-large bid come March.
So while the limited offensive production might have put television viewers to sleep in the wee hours of the morning, Bennett could only smile at the sight of the scoreboard at halftime and go to bed satisfied that the Gaels managed to take down a team expected to contend for the Missouri Valley Conference title.
Even at this stage of the season, they weren't shy about recognizing the win's importance.
"It's pretty big," Holt said.
July, 29, 2011
7/29/11
4:13
PM ET
By
Diamond Leung
| ESPN.com
Saint Mary's faltered down the stretch last season, and for that was snubbed by the selection committee despite capturing 25 wins and a share of the West Coast Conference regular-season title.
This coming season, the Gaels won't have WCC player of the year Mickey McConnell to lead the way.
But forward Rob Jones, Saint Mary's leading returning scorer, believes that the team will make it back to the NCAA tournament.
"We have high expectations," Jones told the
team's website
. "We know what we could have accomplished last year, but we kind of underachieved a little bit I think. But I think this coming year ... definitely tournament-bound, hopefully win a couple of games. I can't give you too many details because I don't want to act like I'm talking mess, but we have high expectations for the postseason."
Jones has emerged as more of a scorer since transferring from San Diego to Saint Mary's, and he'll have plenty of experience around him in the frontcourt.
But what do the Gaels do without McConnell, who helped carry them two years ago to the Sweet 16 and served as their unquestioned leader since then? While Saint Mary's can expect a big year from Matthew Dellavedova, coach Randy Bennett will have to sort out the point guard position between Stephen Holt and SMU transfer Paul McCoy.
"Every year I feel like Saint Mary's, they lose this great player, and they think that we're not going to be as good a team, but we always seem to rise to the occasion," Jones said. "After the Sweet 16 they lost Omar [Samhan], and we had Mickey step up. So this year is just an another opportunity for another player to step up."
February, 25, 2011
2/25/11
3:15
AM ET
By
Diamond Leung
| ESPN.com
MORAGA, Calif. -- It was a close call, but Gonzaga's streak lives to see another day.
The Zags prevented Saint Mary's from stopping their dynastic stretch of 10 straight WCC regular-season titles, and in the process, they prevented their rival from capturing its first in 22 years after an
89-85 overtime win
at McKeon Pavilion on Thursday night.
They survived two potential go-ahead shot attempts by Saint Mary's guard
Mickey McConnell
as well as an off night from their leading scorer
Steven Gray
.
Gonzaga pulled itself into a first-place tie in the league with one game left and then talked about how meaningful it was to win this one.
"We pride ourselves on winning league championships," Gonzaga coach Mark Few said. "That's our motivation. We win league championships and go to the NCAA tournament."
Gonzaga freshman
Sam Dower
scored 21 points off the bench, including four clutch free throws in overtime to seal the win, and
Elias Harris
added 18 points and six rebounds. The Zags blew a 10-point second-half lead, but said they prevailed because of their defense.
[+] Enlarge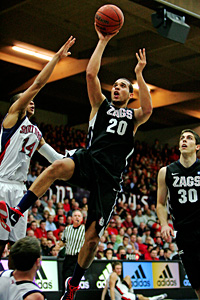 Phil Carter/US PresswireElias Harris and Gonzaga kept St. Mary's from clinching the outright WCC title on its home floor.
McConnell, who had burned the Zags with the game-winning leaner in Spokane on Jan. 27, saw a 3-pointer at the buzzer of regulation rim out and then the potential go-ahead layup draw back iron with 11.9 seconds left.
"Nine times out of 10, you're probably going to make it," McConnell said of his driving attempt.
Afterward, the Zags had no problem talking about how they had circled this date on the calendar following the home loss to the Gaels, which left them three games behind Saint Mary's -- a deficit that is no more.
"We're going to beat 'em down there," Sacre said of the team's thinking. "We wanted to redeem ourselves."
Just how close was the game on Thursday? The two teams were tied at halftime, after the end of regulation, and went back and forth into the final minute of overtime.
A foul called on McConnell going for the strip, and Dower's resulting two free throws with 19.9 seconds left, gave Gonzaga the lead. After McConnell missed at the other end, Sacre came through with two free throws of his own.
The Zags fouled
Stephen Holt
to prevent the Gaels from attempting a potential game-tying 3-pointer since they shot 43.5 percent from beyond the arc for the game. Holt made one of two, and Dower was able to close it out by sinking two more.
Not only did Saint Mary's not get to celebrate a league title at home, but now the Gaels are in serious jeopardy of not making the NCAA tournament if they don't win the WCC tournament. McConnell said the team would take on that mindset, and it's not just because Saint Mary's traditionally takes that approach as a mid-major.
"Losing three in a row doesn't help at this point in the season," said McConnell, who finished with 15 points and nine assists.
The Gaels were set to clinch at least a share of the title at San Diego on Feb. 16, but that bad loss has snowballed into three losses in the past nine days, wrecking what had been a fine résumé for the NCAA selection committee to review.
Still, each team will receive byes into the WCC semifinals and will need to win just once to meet for the rubber match in Las Vegas on March 7. No one who witnessed this classic on Thursday would wish for anything else.
"We might see them in the tournament," Sacre said.
But after the Gonzaga win, it's the Zags' own NCAA tourney credentials that got a major boost, and they're very much alive for at-large consideration after winning seven of their past eight games.
The Zags are 20-9 after playing a difficult nonconference schedule, and a win against Saint Mary's will be looked upon favorably.
"We just persevered," Sacre said. "It was just a dogfight."
February, 13, 2011
2/13/11
2:38
AM ET
By
Diamond Leung
| ESPN.com
SAN FRANCISCO -- It's supposed to be smooth sailing all the way to the West Coast Conference title for Saint Mary's, right?
After easily beating second-place San Francisco
86-68
on Saturday, the Gaels are now only one win away from capturing at least a share of the title. To cut down the nets and grab the championship outright would be a first for Saint Mary's since it won the league back in 1989. And with a 2 ˝ game lead, the Gaels don't even have to beat Gonzaga for a second time this season to do it.
Yet, despite last year's Sweet 16 trip, this is a program that knows an at-large bid is no absolute certainty. So SMC simply looks to the next game.
"We know nothing's guaranteed," Saint Mary's point guard
Mickey McConnell
said. "In our position, we can't take anything for granted."
The 22-4 Gaels learned that lesson two weeks ago when two days after McConnell hit the game-winning leaner to beat Gonzaga on the road, they suffered a buzzkill, 15-point loss at Portland.
Saint Mary's has won four in a row since then, but was reminded of how fragile its season could be.
"You have to keep improving in February, and I feel in the past week and a half we did that," coach Randy Bennett said.
Against San Francisco, the Gaels came out in the second half and didn't mess around. After leading by two points at halftime, defensive adjustments led to a 14-2 run to start the second half. McConnell finished with 19 points and eight assists,
Matthew Dellavedova
had 14 points and seven rebounds, and
Rob Jones
added 18 points. They shot 54.9 percent from the field and stifled the Dons' attack.
Rex Walters, who has led a resurgence in San Francisco during his third season as coach, knew full well what handing the Gaels a loss would do. The Dons might have been second in the conference having beaten Gonzaga at home, but they're now only 13-12 overall.
"If we win this game, we can hurt our league," Walters said. "There are no guarantees for a mid-major. If someone gets them, they'll be right back on the bubble."
So forgive the Gaels if after game-sealing dunks from Jones and
Stephen Holt
, they weren't quite ready to declare themselves the champs.
There's a BracketBusters game against Utah State next Saturday that could earn Saint Mary's another win on its tournament résumé. And after that comes opportunities to take the title at home against a revenge-minded Gonzaga team and a rematch with Portland.
"We have a lot of work to do," Bennett said. "They're all hard to get."
Walters gave much of the credit to McConnell, who he called "an absolute coach on the floor." But off of it, the senior wouldn't stray from the team's talking point.
"We try not to think about it," McConnell said of the WCC title. "If we do it, we do it."
The Gaels would rather focus their energies on the bigger picture and peaking for the NCAA tournament. That requires taking care of business with the rest of their conference games.
But a title along the way would be nice, too.
November, 16, 2010
11/16/10
4:30
AM ET
By
Diamond Leung
| ESPN.com
Some quick impressions after Saint Mary's 76-71 win against St. John's:
Not that we didn't know this before, but Dwayne Polee II is really athletic. He showed off his great leaping ability with a breakaway dunk in the first half, revealing why it was really a coup when Steve Lavin got him to come to St. John's in his first recruiting class.
Saint Mary's doesn't have Omar Samhan anymore, but appears to have enough frontcourt depth to get by. The Gaels started transfers Rob Jones and Kenton Walker II, rotating in Mitchell Young and Tim Williams when Jones got into foul trouble. Williams came up big down the stretch.
Clint Steindl brought Saint Mary's back with huge 3-pointers in the second half. At 6-foot-7, he likes to camp out beyond the arc to set himself up for the shot. The Australian is as fundamentally sound as they come and one of the reasons the Gaels will be fine going forward.
Lavin coached his first regular-season game in seven years, and what happens? He picked up a technical foul for complaining a little too hard to the referee. Give him credit though for taking on the challenge and playing in a tough road environment.
Stephen Holt is an impressive freshman for St. Mary's. He started, and you can see that he has a good feel for the game even as a young player. Look for the Gaels to use plenty of three-guard sets with Holt, Mickey McConnell and Matthew Dellavedova.
November, 15, 2010
11/15/10
2:52
PM ET
By
Diamond Leung
| ESPN.com
These guys really know how to fill up a stat sheet, and here are the stories behind their numbers: