College Basketball Nation:

Stephen Rogers
December, 17, 2011
12/17/11
6:59
PM ET
For one scary moment,
Perry Jones III
feared he was done for a long time.
Baylor's big man was writhing on the court in pain and wasn't sure he could come back into the game, let alone how much of the season might be missed.
Jones had knocked knees with BYU's
Brandon Davies
atop the perimeter on a drive with 1:26 left and his seventh-ranked Bears up 84-83. Without its star forward, Baylor looked like it might lose not only the game, but its shot at a glorious season.
"I was scared,'' Jones told ESPN.com by phone Saturday. "I couldn't move my leg on my own. I thought I tore something.''
But Jones quickly made a decision while on the bench.
He wanted back in.
"I didn't want to let my team down,'' Jones said. "I just wanted to ignore the pain, get to the weak side and get the rebound. I was there at the right time.''
Jones' tip-in follow with 21 seconds left gave Baylor an 86-83 lead.
"That was huge,'' BU coach Scott Drew said. "What was really special is that normally a player gets injured, limps around and doesn't make the big play. He got the big play.''
Brigham Young had one more chance to tie the game when Davies had a 3-pointer at the buzzer. But
Pierre Jackson
, a 5-foot-10 guard, came from the side and blocked the 6-9 forward's shot.
"I was closest to him,'' Jackson said after the Bears'
86-83 victory
. "I know I can jump pretty high. I wanted to contest it but I happened to block it. It was a big block, and it saved the game for us.''
Drew said Jackson is as athletic a player as Baylor has and that he wasn't surprised Jackson found a way to block Davies' shot.
Jones, a clear contender for All-America status and Big 12 player of the year, finished with a career-high 28 points and eight rebounds, while Jackson added 13 off the bench.
Brady Heslip
made six of 10 shots from beyond the arc and finished with 18 for the Bears.
Baylor hadn't been tested yet this season, blowing out all its competition, even in the one previous road game at Northwestern.
[+] Enlarge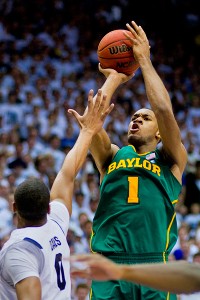 Douglas C. Pizac/US PresswireBaylor's Perry Jones III led all scorers with 28 points, adding eight rebounds and four assists.
So Drew wasn't sure how his team would handle going into the Marriott Center, a notorious graveyard for BYU opponents.
"You're not going to find a tougher atmosphere in college,'' Drew said. "They were 48-2 in their last 50 games. This definitely gets us ready for Big 12 play and tells us a lot about our team. It showed we know how to execute at the end of games. Toughness is required to win on the road. We weren't ready early on, and we got dominated on the glass.''
The Cougars added UCLA transfer
Matt Carlino
for this game, and he tied Davies for the team lead with 18 points. But Baylor did have length, size and depth advantage in the frontcourt with BYU missing sixth man
Stephen Rogers
.
However, it was Cal transfer guard
Gary Franklin
who played a key role Saturday. He made two 3s in 12 minutes, but Drew said Franklin's defense was just as crucial.
"Normally you like to bring in a player that you add midseason for a home game,'' Drew said. "But he was tremendous. He guarded very well.''
It's pretty clear the Bears are more than capable of competing for the Big 12 title and a deep run in March, possibly long enough to get to New Orleans.
But there still are some potholes ahead. Baylor plays Saint Mary's and West Virginia in Las Vegas next week, and then squares off with Mississippi State on Dec. 28 in Dallas.
The length of
Arnett Moultrie
and size of
Renardo Sidney
will certainly test Jones,
Quincy Miller
and
Quincy Acy
, while Heslip, Franklin, Jackson and
A.J. Walton
will have their hands full with
Dee Bost
and
Rodney Hood
.
So plenty of tests remain for the unbeaten Bears. But one of the biggest of all was passed in Provo.
"We got through the adversity together,'' Jones said. "We just have to play smarter and play better together.''
December, 16, 2011
12/16/11
3:00
PM ET
By
Diamond Leung
| ESPN.com
BYU forward
Stephen Rogers
will miss Saturday's
big game against Baylor
and between two to four weeks while recovering from surgery to repair a torn meniscus in his right knee, according to the
Salt Lake Tribune
.
Rogers, a versatile 6-foot-8 player off the bench for the Cougars, averages 9.9 points and is a top outside shooter. His loss could mean more time for freshman
Damarcus Harrison
, who previously averaged 11.1 minutes per game.
BYU is 8-2 and presents a formidable challenge at home against undefeated Baylor, with the Marriott Center sold out for the first time this season.
The Cougars do have UCLA transfer guard
Matt Carlino
eligible for the first time while Baylor adds another player as well with Cal transfer guard
Gary Franklin
now eligible as well.
BYU forward
Noah Hartsock
, one of the players to watch along with
Brandon Davies
against the Bears' strong frontcourt, told the
Deseret News
that Carlino's addition should help.
"That's pretty awesome for us. He's really excited," Hartsock said. "He's a great player. He can really get up and down the court. It's going to take some time for him to get into the system.

"It's a tough game, especially against the sixth-ranked team in the nation as his first game. But he's a good player and he's going to make some good contributions for us this year. He's been really patient and he's worked hard. He's done a great job preparing and keeping himself in shape for this season."
October, 26, 2011
10/26/11
5:00
AM ET
1. Pitt coach Jamie Dixon said senior forward
Nasir Robinson
should be back at practice sometime next week after missing the past few weeks following a torn meniscus in his right knee. Robinson is one of two key seniors for the Panthers. The other is lead guard
Ashton Gibbs
. Dixon said Gibbs has been playing at a high level, making shots, and proving to be the necessary leader for the Panthers. "He'll play in the NBA some day,'' Dixon said of Gibbs.
2. BYU coach Dave Rose said that so far the two players on the Cougars who appear to be ready to take over for Jimmer Fredette's production are wing
Charles Abouo
and big man
Stephen Rogers
. Rose said both have been highly productive so far in practice. But the one player who has the most NBA potential and is starting to be even more assertive is forward
Brandon Davies
. Davies was reinstated to the team in the fall after being dismissed for an honor code violation last February. The Cougars will need the inside-out combination to have a chance to catch Gonzaga in the WCC.
3. Gonzaga coach Mark Few said he might have his best set of big men in his tenure with
Robert Sacre
,
Elias Harris
,
Kelly Olynyk
,
Sam Dower
and
Ryan Spangler
. If
Gary Bell
and
Kevin Pangos
can have as much of an impact as projected and
David Stockton
proves to be a calming presence at the point then the Zags have a shot to be a deep March team. Gonzaga needed to be deeper inside and with more options. It appears they have that this season.
April, 14, 2011
4/14/11
2:06
AM ET
By
Diamond Leung
| ESPN.com
BYU junior
James Anderson
will not return to the program next season, he announced Wednesday night at the team's awards banquet.
The Cougars lose the 6-foot-10 post presence after Anderson, who is expected to graduate in the summer, decided to pursue job opportunities rather than play on a team coming off a Sweet 16 appearance.
"I know it's a little unexpected," Anderson said, according to the
Deseret News
. "I'm grateful for my time here."
Anderson averaged 7.6 minutes and 1.1 points, making key contributions to this year's team. He came up with five blocks in the win against San Diego State at home in January. And when leading rebounder Brandon Davies was suspended due to an honor code violation, Anderson started the following game and played important minutes afterward.
Anderson, who was honored along with the team's seniors, served a two-year mission and also redshirted as a freshman before three seasons of action.
BYU loses its tallest player at a time when the status of Davies for next season remains unclear. The Cougars are expected to return forwards
Noah Hartsock
,
Stephen Rogers
and Chris Collinsworth, who underwent season-ending knee surgery.
According to the
Salt Lake Tribune
, BYU could also gain depth from returning missionaries.
Lone Peak High's 6-10 Nate Austin and Orem High's 6-10 Ian Harward will return from missions in Texas and will help the team inside, provided they are not asked to redshirt.
Every bit of depth will help while Davies does not appear on the team's official roster. The program hopes that the school will ultimately reinstate him after the honor code violation prevented him from playing in the postseason.
There was one sign that Davies remains highly regarded in the program. At the banquet, it was announced he would receive the award for "Best Conditioned Post Player."
March, 24, 2011
3/24/11
8:10
AM ET
NEW ORLEANS -- A quick glance at the Florida-BYU game:
No. 3 seed BYU (32-4) vs. No. 2 seed Florida (28-7), 7:27 p.m. ET (TBS)


Storyline:
Rematch of a thrilling double-overtime win for BYU in last season's NCAA tournament first round.
Headline name:
BYU's
Jimmer Fredette
. The national player of the year favorite scored 34 points in the win over Gonzaga in the Round of 32 and 32 points in the opening win over Wofford.
How to stop him:
Florida coach Billy Donovan said no one talks about how good a passer Fredette is in setting up players like
Jackson Emery
and
Noah Hartsock
and
Charles Abouo
. If the rest of the Gators are committed to stopping Fredette, they have to make sure the other BYU players are not that effective.
"Let's see what they'll do with Jimmer's ball screens,'' BYU coach Dave Rose said. "The rest of our team will react to that. If they're going to come off that ball screen and just trap him and make him get the ball out of his hands, then we're going to be playing with an advantage the whole night because we'll have four offensive players attacking three defensive players.
"If they're going to go underneath that thing, then Jimmer is probably going to get a couple of shots off,'' Rose said. "So we all know, the whole team understands, what the first few minutes are.''
Injury update:
Florida's
Kenny Boynton
injured his ankle in the win over UCLA. He was held out of practice but is good to go against the Cougars.
"We expect him to be fine,'' Donovan said. "We just held him out to make sure he could move, cut, shoot and see if there was any lasting effect from the injury. There didn't seem to be.''
Glue guys:
The Cougars may need some quality play from
Logan Magnusson
off the backboard or
Stephen Rogers
. But the Gators could do wonders against BYU if
Patric Young
(eight points, four rebounds) or or
Erik Murphy
(key 3-pointer) have games like they did against UCLA.
Who should win:
Florida. The Gators have more overall depth and the potential for more production at various positions.
But...:
Never underestimate Jimmer. BYU is playing with its most confidence since the Brandon Davies suspension for an honor code violation three weeks ago. BYU has now played seven games without Davies.
What should we be looking for:
If Florida's
Vernon Macklin
and
Alex Tyus
control the boards, the Cougars are in trouble.
If Emery and Abouo are making 3s and
Erving Walker
and Boynton are not, the Cougars should be in good shape since we all know Jimmer is going to get his points.
March, 20, 2011
3/20/11
1:57
AM ET
By
Diamond Leung
| ESPN.com
DENVER -- BYU fans were chanting long after the team had left the court at the Pepsi Center. Their cries could be heard inside the Cougars locker room, where a player asked
Jimmer Fredette
if he could understand the chants.
"3:16?" he asked Fredette, a reference to the famed verse of Biblical scripture.
The BYU faithful were actually chanting "Sweet 16!" The team's hearing problem was one of the few struggles the Cougars experienced as they trounced 11th-seeded Gonzaga 89-67 on Saturday. Behind Fredette's 34, BYU advanced to the regional semifinal round for the first time in 30 years.
"It's been a long time for our fans, and I'm happy, really happy for them," said BYU coach Dave Rose, pausing as his voice cracked with emotion. "I'm happy for our players, happy for our coaches, our administration. I mean, everybody is in this. We're in this together. This is a special team."
Fredette, the nation's leading scorer, delivered one of his most memorable performances, hitting seven 3-pointers and burying the Zags.
The Cougars faced many uncertainties heading into the tournament.
Leading rebounder Brandon Davies had been suspended for the rest of the season in early March after violating the school's honor code. He was relegated to the bench wearing a sweater rather than a jersey. In its first game following Davies' suspension, BYU lost to New Mexico at home. Rose told the team it needed to adjust or this magical season would soon end.
He also implemented associate head coach Dave Rice's new game plan -- a strategy that called for spreading the floor and creating chances based on driving and kicking the ball out to the perimeter.
Against an imposing Gonzaga frontline that included 7-foot center
Robert Sacre
and ultra-athletic 6-foot-7 forward
Elias Harris
, BYU did just that. Fredette scored his first five field goals on 3-pointers. He ran off screens and pulled up in transition to get looks at the basket. While Fredette was 2-for-9 from beyond the arc two days earlier against Wofford, he was 7-for-12 facing a mixture of man-to-man and zone defenses from the Zags.
"You have off nights, then you come back and have good nights," Fredette said. "Kind of the law of percentages throughout the year."
Said guard
Jackson Emery
: "Jimmer's Jimmer. He's going to score from outside, inside, you never know."
The Cougars made half of their 3-point attempts, with Emery and
Noah Hartsock
each notching three. Emery scored 11 of his 16 points in the first half while Hartsock scored 13 on 5-for-5 shooting.
Hartsock got in early foul trouble, but
Stephen Rogers
came off the bench to score 10 first-half points and
James Anderson
blocked two shots to further show that BYU isn't just about Fredette.
The Bulldogs (25-10) saw their 10-game winning streak snapped despite 17 points from Sacre and 18 points apiece from Harris and senior
Steven Gray
. Harris grabbed eight rebounds, and Sacre had seven to help outrebound the Cougars 36-27.
But after a Gray 3-pointer cut the lead to eight with 12:19 left, BYU responded with a 12-0 run capped off by back-to-back 3-pointers from Fredette and Hartsock, and eventually extended the lead to 24. Rose called this the best game BYU has played all season.
"They got points, they were physical, but we tried to be physical back with them even though we don't have the size," Hartsock said.
Not since Danny Ainge led BYU to a run to the Elite Eight in 1981 has the program experienced this level of success. The Fredette worship has become a national phenomenon. In each corner of the Pepsi Center, fans held up homemade posters and marked Fredette's points as he scored them. They left plenty of space available just in case the star senior exploded for more.
The Cougars hope to make more history during a dream season in which Emery has already broken Ainge's all-time steals record and Fredette has broken the school record for points. They'll now face Florida in New Orleans for a chance to go to the Elite Eight.
"It's stuff you've always dreamed of," Emery said. "We know we're not done yet."
February, 26, 2011
2/26/11
8:18
PM ET
SAN DIEGO -- BYU has had a history of being hated on the road in the Mountain West, and before that in the WAC, throughout the past 30 years.
Previous Cougar teams have relished playing the role of the villain. But BYU hasn't had a player so talented, so respected -- and at the same time so targeted -- since Danny Ainge.
BYU senior guard
Jimmer Fredette
embraces that role, scoring 47 at Utah, 42 at Colorado State and 39 at UNLV. But if the Cougars are going to be something special in March, he must produce like he did in Saturday's
80-67
victory at San Diego State.
Fredette had to take 23 shots to score 25 points, but it was his nine assists that set the tone for the Cougars and sent a message to the rest of the country that this team is much more than Fredette.
San Diego State rushed at Fredette plenty, frustrating him at times on the defensive end (he committed four personal fouls), and getting the ball out of his hands. But in focusing on Fredette, the Aztecs neglected to close out on the team's other shooters. BYU's
Charles Abouo
made four 3-pointers,
Jackson Emery
converted two,
Noah Hartsock
three and even seldom-used
Stephen Rogers
had one.
"I know they can make shots,'' said Fredette, who is likely one of two players who will end the season as an AP All-American after starting the season as a preseason first-team selection (the other is Purdue's
JaJuan Johnson
).
[+] Enlarge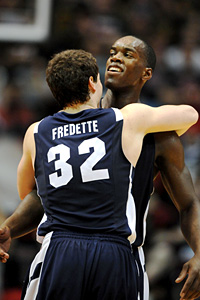 Christopher Hanewinckel/US PresswireCharles Abouo knocked down four 3s and finished the afternoon with 18 points and nine rebounds.
"They were double-teaming me to open up shots for my teammates and they are good enough to hit those shots,'' Fredette said.
San Diego State has two losses this season -- both to BYU. Brigham Young has now beaten San Diego State four times in a row, and has won six of the past seven matchups.
When Fredette lit up SDSU for 43 in January, the rest of the Cougars scored 28 points. But Saturday, Fredette scored just 25 of the Cougars' 80 points. BYU shot 14-of-24 on 3s.
"You saw that BYU is more than a one-man show,'' SDSU coach Steve Fisher said. "Fredette creates so many problems that if you give a little extra help that he can help turn a three- or four-point lead into 11 in a heartbeat.''
Fredette must have the confidence in his teammates to make shots. And he does.
"He makes the majority of our big plays, but all the attention he gets means we can be wide open,'' Abouo said. "We have to be ready to hit them. Me, Jackson, Noah and Steve have to get those shots in.''
Emery said he has such a strong relationship with Fredette that he has told him he can kick it out to others. And he has listened.
"It's overlooked how much he can find guys,'' Emery said. "If we don't make shots, it's going to make Jimmer's job a lot harder.''
The Cougars lost to UCLA in Anaheim at the Wooden Classic in December. And they did get tagged by New Mexico at The Pit after beating SDSU in late January. But those are the Cougars' only blemishes. This team has shown it can handle adverse situations.
"I don't know if we thrive on the publicity Jimmer gets, but the rest of the guys do respond well,'' Emery said.
The Cougars handled everything well Saturday, especially in trapping and wreaking havoc on the Aztecs' post players.
Malcolm Thomas
missed seven shots.
Kawhi Leonard
missed eight. Both of those guys are bigs. They did miss a combined three 3s, but it wasn't like they had easy looks in the halfcourt. SDSU got out on the break, and
James Rahon
,
D.J. Gay
and
Chase Tapley
hit 3s to keep SDSU in the game.
But San Diego State must find more consistency in the halfcourt to win in March, as well as close out better on 3-point shooting.
While the loss may have cost the Aztecs the MWC title and a possible No. 1 seed in NCAA tournament, they are still in line for a No. 2 seed and will likely open in Tucson.
But the road will get bumpier before the Dance, as SDSU will most likely play third-place UNLV in the MWC semifinals in Las Vegas.
Still, the Aztecs look to be a major factor in March.
"We've got to find a way to deal when struggles happen,'' Fisher said. "We can't succumb to fatigue. We have to tip our hat to BYU and hopefully get another chance to win.
"I think they've got a great chance to be a No. 1 seed if they continue to win,'' Fisher said. "They're a terrific basketball team.''
Fisher believes the Aztecs still have a chance to do something special.
But BYU has the momentum heading into the final week of the regular season. The Cougars finish with New Mexico and Wyoming at home.
The Aztecs put on a show this weekend, and the student section was loud, passionate and created a classic college atmosphere previously unheard of here in San Diego.
But Fredette and BYU prevailed, showing just how much this team has matured. The Cougars appear poised to handle anything March may toss their way.
"This team has a huge heart,'' BYU coach Dave Rose said. "We were the underdog and that doesn't happen too often. They enjoyed that role. You would think we deserve something really good in this [NCAA] tournament. This is a special group. We've won the East Coast, the West Coast and we've got a real special player.''
BYU has conditions for retiring numbers and being an All-American is one of them. Fredette will have his day at the Marriott Center. He will go down as one of the greatest scorers in BYU history. But he can leave an even larger imprint if he continues to distribute the ball the way he did Saturday.