College Basketball Nation:

Steve Moore
February, 5, 2012
2/05/12
1:10
AM ET
Now that's a Saturday of basketball. Take a deep breath, count to 10 and check out yours truly's observations from the evening's games, including the insane Kansas-Missouri finale.
For a recap of this afternoon's games,
click here
.


No. 4 Missouri 74, No. 8 Kansas 71
: This game was easy to scout. Missouri is small and quick and offensively oriented, with four guards and one big man. Kansas is big and strong and built around forward
Thomas Robinson
, the national front-runner for player of the year. How would KU stop Mizzou's spread attack? How would Mizzou keep KU out of the lane? These countervailing dynamics seemed destined to determine the outcome of this game. And to some extent, they did.
But if we learned anything from this one, we learned this: Stylistic assessments tend to fly out the window when it's the final minute in a packed house and things are crazy and it's just a player, the ball, the game on the line and a single-possession deficit. It's hard to overthink this: You either execute or you don't. The Jayhawks didn't execute. That simple. And that's why they lost.
Of course, it's not quite
that
simple. Kansas was not helped by an iffy late charge call on
Tyshawn Taylor
that just as easily could have been a blocking foul on
Michael Dixon
. It resulted in two Missouri free throws and a three-point lead for KU to overcome. Even worse, that call wasn't nearly as egregious as the one against Robinson with 1:43 remaining; that easily could have been a block on Mizzou forward
Steve Moore
, an and-1 bucket for Robinson and a potential six-point swing, given
Marcus Denmon
's huge go-ahead 3 a few seconds later. Kansas fans are not at all happy about this turn of events, and they have every right to their anger.
That said, the Jayhawks would have been in better shape had Taylor made either of his two free throws with 42 seconds remaining. Despite all the late blunders and questionable calls, Kansas had a chance to take the game to overtime on the final possession. Had
Elijah Johnson
decided to shoot the ball when he got his first wide-open look as the clock ticked down, he might have gotten a clean shot. Instead, Johnson hesitated. He missed his chance. The clock expired. Game over.
As always, it's about execution, and in big-time rivalry games in heated buildings, the game is so often about execution in the final minutes. As Kansas was suffering shaky whistles, missed free throws, so-so shots and four turnovers in the final three minutes, Denmon was coolly canning two straight 3s, which turned a 71-65 Kansas lead into a 72-71 Mizzou lead in a matter of 30 seconds. Denmon was brilliant all game. He shot 10-of-16 from the field and was 6-of-9 from 3 en route to a 29-point outing. And that's the difference: Denmon was brilliant
all 40 minutes
. Taylor, Robinson and the Jayhawks were brilliant for about 37 minutes. When the game tightened and crunch time came around, one team consistently executed. The other did not.
For as much as we analyze (and overanalyze) these games, for as much as we talk about styles and matchups and X's and O's, for as much as we'll debate the Robinson charge calls for the next week, when you get to crunch time, that stuff fades away. The game shrinks. It simplifies. Be smart. Get good shots. Play defense. Take care of the ball. Rebound. Make your free throws.
Missouri scored the game's final 11 points. After leading 71-63, Kansas didn't score once.
In the end, the difference between those two sentences wasn't a matter of deep analysis. It wasn't stylistic or strategic. It was so much simpler than that.


Northern Iowa 65, No. 12 Creighton 62
: It's not about what we learned in this game. We didn't learn all that much, save for the fact that Northern Iowa might be a bit better than its paltry Missouri Valley record (6-7) would indicate. But forget the new knowledge; this game was all about a reminder of the old.
That reminder: College hoops is an imperfect, frustrating enterprise. But when college hoops is good, it's better than anything else in the world.
Maybe that's hyperbole. Maybe I am the wrong person to levy such judgments, because I happen to love college basketball more than most. (I admit it.) Still, I defy you to find 60 more purely entertaining seconds than the final minute of Northern Iowa's win over 12th-ranked Creighton. College basketball seems to produce exchanges like this more frequently than other games; every week, it feels like something insane happens. But this ending -- which featured two 3s in the final 15 seconds, both of which came in open play, with no timeouts to stop the insanity -- registered an 11 on the 1-to-10 excitement scale.
I won't recap the entire closing exchange.
You can see the highlights here
, if you haven't seen them already. I've watched five or six times. The moment the shot goes in, well, it's almost perfect, you know? The rush up the floor, the crazy step-back, the swish, the crowd eruption -- this is the fabric of college basketball. Forget provincial rooting interests, alumni loyalty, wonky enthusiasm. The final 15 seconds of Creighton-UNI are why we love this damn game, imperfections and all.


No. 20 Indiana 78, Purdue 61
: With 2:23 left and Indiana leading rival Purdue 65-61, IU point guard
Jordan Hulls
found himself trapped near half-court. Purdue was swarming -- it had been swarming and slapping and clawing at the Hoosiers all evening -- and, rather than risk a turnover, Hulls decided to play it safe. He and his teammates ran to the sideline, with their tenuous, shrinking lead still intact, and regrouped for what was sure to be an arduous finish in front of the Boilermakers' rabid crowd.
Then something strange happened: IU didn't fade away. It didn't suffer its typical frustrating late-game collapse on the road. It didn't bend under Purdue's relentless pressure. Instead, it blew the Mackey Arena doors right off.
Two minutes, 23 seconds later, the Hoosiers' 13-0 run had capped the first non-Penn State Big Ten road win of coach Tom Crean's 3 1/2-year tenure. In 143 seconds, the Hoosiers had gone from "well, here we go again" to their first win over the Boilermakers in their past six tries. For the first Big Ten road fixture this season, or in any of the Crean-era years that preceded it, Indiana looked self-assured and confident, not shaky and timid. The Hoosiers looked eager to go get the win, not anxious to avoid a loss. And so they did.
The game wasn't nearly as one-sided as that scoreline suggests, of course, and for most of the afternoon, even as Indiana built a 33-22 halftime lead, this thing was ugly on both sides. The Boilermakers were unusually scrappy, doing everything they could to make life difficult for
Cody Zeller
,
Christian Watford
and the rest, trapping and slapping and angling for jump ball calls from the official. (These attempts were often fouls, and when they were called as such, Purdue fans frequently flipped out. It was exactly what a home crowd should do. Even better, it often seemed to work.)
For most of the game, the Boilers' staunch defense held strong. The only problem: Purdue couldn't keep up with even a marginal offensive pace. The team committed just three turnovers all game, and its first didn't come until the 5:10 mark of the second half. With possession protection like that, you would have assumed the Boilermakers could have posted better than .90 points per trip. But Matt Painter's team couldn't break down Indiana's man or zone defenses with much regularity, and without a true post presence (an ongoing, irreconcilable issue for this team), Purdue was forced to hoist its typical diet of long 2s and 3s.
Robbie Hummel
& Co. made just five of their 21 3-point field goal attempts. They finished 21-of-71 -- or 29.6 percent -- from the field overall.
So what does it all mean -- that is, beyond the first batch of message-board/water-cooler bragging rights Indiana fans have had in years? It might mean this IU team is making progress in its understanding of how to win on the road. That's a difficult, indefinable quality, something even good teams struggle with each and every season. But if you're the Hoosiers, and you have your sights set on the heights reached in November and December, you have to beat inferior teams on the road in conference play. You have to hold on to those leads. Actually, forget holding on to your lead. Extend it. Sweep the leg. Finish.
The Hoosiers -- for the first time on the road in four Big Ten seasons (against a team not named Penn State, that is), for the first time in six tries against their hated rival -- unleashed their inner Cobra Kai. It wasn't a flawless victory, but it was a victory. For a team that lost so many of these games in 2010 and 2011 and even in 2012, that's a legitimate sign of progress.
One more IU-Purdue note: Guard
Verdell Jones
missed this game, but most of his minutes went to
Victor Oladipo
, and Oladipo responded with 23 points, 8 rebounds, 4 assists and 2 blocks. When Indiana needed buckets, Oladipo always seemed to step in, ready and willing to attack the rim. Impressive performance.
Some other observations from Saturday night's games
:
[+] Enlarge

AP Photo/Mary Ann ChastainTerrence Jones delivers one of Kentucky's eight first-half dunks against South Carolina on Saturday.
January, 11, 2012
1/11/12
10:09
PM ET
AMES, Iowa – Here are my quick thoughts on Wednesday's
Iowa State-Missouri matchup
.


How it happened
: Iowa State lost its leading scorer, rebounder and passer five minutes into the first half when
Royce White
went to the bench with two fouls. But
Ricardo Ratliffe
went out for Missouri soon after with the same problem.
The undersized squads played small ball for most of the first half. But Iowa State had the momentum.
The Cyclones missed two key opportunities, however, to extend a lead against a top-10 opponent. The No. 9 Tigers went scoreless for a five-minute stretch midway through the first half, but a turnover, a misguided alley-oop and bad shots prevented the Cyclones from seizing the opportunity.
And after
Scott Christopherson
, who led all scorers with 19 points, nailed a 50-foot 3-pointer at the halftime buzzer – Iowa State was then 8-for-12 from behind the 3-point line and shooting 48 percent from the field – the Cyclones came out of the locker room with mojo. But they started the second half with four missed free throws and a turnover, squandering another chance to build a lead against Missouri.
The Tigers, seeking a victory after a 16-point loss to Kansas State over the weekend, turned it up a notch in the second half. Their perimeter speed was clearly a problem for the Cyclones. After taking a two-point lead two minutes into the second half, ISU never led again.
Mizzou was led by
Matt Pressey
(14 points), Ratliffe (12 points) and
Phil Pressey
(12 points). The Tigers shot 59 percent from the field in the second half.
After
Chris Allen
(17 points) hit a 3-pointer with 22 seconds on the clock, however, Iowa State was down just 72-69. But Mizzou sank four free throws in the final seconds to seal the victory.
Iowa State's greatest challenge came at the free throw line. White scored 16 points, but he was also 2-for-8 from the charity stripe. His team was 13-for-25.
Star of the game
: Matt Pressey led six Tigers in double figures. He was 5-for-8 from the field and made all four of his free throws.
Most awkward moment
: Iowa State fans yelled "Sit down!" as
Steve Moore
went to the bench with his fifth foul late in the second half. One problem … White was at the line shooting a free throw. He missed it.
Turning point
: Allen threw an ill-advised alley-oop to White near the seven-minute mark with Iowa State down 57-55. Missouri scored off the turnover, kicking off a crucial 9-3 run that gave the Tigers breathing room late with a 66-58 edge.
What the win means for Missouri:
The victory will help the Tigers forget about the disaster at Kansas State and quickly rebuild their confidence.
What the loss means for Iowa State:
It means that the Cyclones aren't good enough to squander key opportunities to pull away from talented squads. But they lost this game due to some fixable flaws. The Cyclones should still be a factor in the Big 12.
Up next:
Missouri will host Texas on Saturday; Iowa State will travel to Kansas the same day.
January, 7, 2012
1/07/12
7:18
PM ET
MANHATTAN, Kan. -- Three days ago, before he ever boarded the bus to leave Allen Fieldhouse, Kansas State coach Frank Martin probably uttered the word "embarrassed" 431 times.
Embarrassed by his team's 18-point loss to rival Kansas.
Embarrassed by the way the Wildcats defended.
Embarrassed by the way Kansas State wilted in the nation's toughest road environment.
"I took the DVD of that game, broke it apart and flushed it down the toilet," Martin said Saturday, and as he talked, a cleaning crew was busy sweeping confetti off the court at Bramlage Coliseum while the Wildcats signed autographs and posed for pictures with fans.
Yes, 36 hours after its worst performance of the season, No. 22 Kansas State came through with its best in a
75-59
win over sixth-ranked Missouri, which at 14-0 was off to its best start in 30 years.
Rodney McGruder
scored 20 points and
Will Spradling
added 14 for a Wildcats squad that held the Tigers -- the national leader in field goal efficiency -- to 32.7 percent shooting. Kansas State outrebounded Missouri 39-25.
"When you get embarrassed," Martin said, "one of two things happens to your team. Either you come apart at the seams, or those seams get a little tighter."
The latter obviously happened to K-State, which was so impressive Saturday that it seemed worthy of a reward. A day off, perhaps? Maybe a trip to Valentino's pizza buffet? Forget about it.
On Tuesday the Wildcats will face another unbeaten team -- and this one has two future NBA lottery picks on its roster -- in No. 5 Baylor. The preparation must start now.
Martin couldn't help but chuckle at the absurdity of playing three top-15 teams in seven days.
"You gotta love the Big 12," Martin said.
One week into the season, and absolutely nothing about this league is clear. There are four very good teams in Kansas State, Missouri, Kansas and Baylor. But predictions about who will win the conference title likely will change from game to game.
[+] Enlarge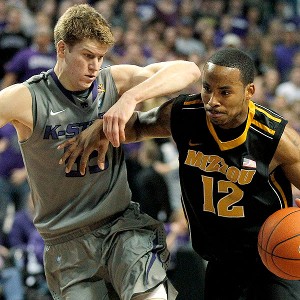 AP Photo/Charlie RiedelWill Spradling and Kansas State made executing difficult for Marcus Denmon and Missouri on Saturday.
Kansas has a pair of convincing wins over Kansas State and Oklahoma, but the Jayhawks have no depth and are turnover-prone on the perimeter. Baylor has the most talent but has been underwhelming in wins against two of the Big 12's worst teams (Texas A&M and Texas Tech).
Kansas State followed a dreadful performance with a great one Saturday, and Missouri did just the opposite. The Tigers looked like the best team in the country during Tuesday's 38-point thumping of Oklahoma. But they were completely out of sorts against the bigger, longer Wildcats.
"As a coach, you don't ever want to feel like you got your butt kicked," first-year Missouri coach Frank Haith said. "They kicked our butts. They were tougher."
In some ways, it was easy to see Mizzou's loss coming. The Tigers had played just one true road game before Saturday, and they almost choked that one away against a mediocre Old Dominion squad. They beat a Villanova team that's as bad as it's been in years, and trounced Cal and Notre Dame, who are well-coached but not nearly fast and athletic enough to keep up with up-tempo MU, which uses a four-guard lineup.
"I feel like Missouri hadn't seen a team that really got up and pressured like we did today," Spradling said.
This marked the first time an opponent had both the speed and the size to bother Haith's squad, which was outscored 46-18 in the paint. Missouri made just five baskets in the opening half, and the game was 15 minutes old before the Tigers scored their first 2-point field goal.
"I'm sure there are a lot of teams that will try to hurt us with their size," Haith said. "They played a physical brand of basketball. We don't have a lot of physicality in the post.
"I didn't think we were going to go 41- or 42-0. I figured [a loss] would happen sometime."
After Saturday, it's hard not to wonder how many more defeats are in store for the Tigers -- or, at the very least, whether this squad is built to win a Big 12 title. Missouri wasn't even competitive for most of the game because it couldn't do anything inside, both offensively and defensively.
Kansas State forwards
Jamar Samuels
and
Jordan Henriquez
combined for seven blocks against Missouri, which has just two players taller than 6-foot-6. Those two Tigers (
Steve Moore
and
Ricardo Ratliffe
) combined for four points and six rebounds. KSU also scored a slew of easy baskets on the offensive end.
Teams such as Baylor and Kansas will provide a similar if not more potent challenge for Missouri.
"They physically kicked us," Haith said. "But we understand that we're still a pretty good basketball club. We'll learn from this. You've got to have a little moxie about you. In order to win on the road, we've got to play with a little more toughness."
It's a valid point.
Kansas has won seven straight Big 12 titles mainly because of its ability to win away from Allen Fieldhouse. In the past five years, the Jayhawks are 33-7 in conference road games. Martin, though, said teams must come out with an equal amount of toughness at home.
"You better not dwell on the emotion of the day before," Martin said. "You'd better focus on the task at hand and get excited for every challenge. Because if you're not, you're going to get embarrassed like we did the other day. It's a heck of a league.
"If you can't protect your home court in this league or any league, you're not a very good team. You can bring the Lakers in here; I don't care. You've got to be willing to protect your home court."
Martin knows that's exactly the state of mind Missouri will have when the Wildcats visit Mizzou Arena on Feb. 21. By then, everything that occurred Saturday will be long forgotten. Just ask Tigers guard
Marcus Denmon
, who passed by Martin on his way to the team bus Saturday.
"See you in Columbia," Denmon told the coach.
Martin smiled as he recounted the exchange.
"That's the Big 12 for you," he said. "Conference play is crazy. You never know what's going to happen."
January, 3, 2012
1/03/12
3:48
PM ET
The
Missouri Tigers
are one of the smallest high-major teams in the country. Frankly, they're one of the smallest teams in the country, period. Their average height of 75.6 inches ranks them No. 300 in the country, per Pomeroy; this is a guard-oriented team with a 6-foot-6 shooting guard (
Kim English
) playing the majority of the minutes at power forward.

Of course, that lack of height hasn't been an issue. Missouri is 13-0 with the second-most efficient offense in the country to date. In fact, that lack of height is almost an advantage. Few teams can match up with the Tigers' lightning-quick guards; most opponents don't have a player to match up wtih
Marcus Denmon
's speed and shooting, let alone the personnel to check Denmon and fellow guards Phil Pressey and
Michael Dixon
at the same time. When coach Frank Haith runs those three alongside English and (actual) forward
Ricardo Ratliffe
, Missouri forces more mismatch problems for its opponent than it creates for itself. Hence that offensive efficiency. Hence the 13-0 record.
In other words,
the news that little-used Tigers freshman
Kadeem Green
is transferring -- well, it's hardly devastating. Green has played sparingly in his first season in Columbia, averaging 3.0 points and 3.1 rebounds in 10.5 minutes per game. What's more, Green's minutes have steadily dropped; he didn't play at all in recent wins against Villanova and Illinois, and he played a solitary minute in Missouri's tough road win at Old Dominion on Friday. He wasn't playing, so he decided to transfer. For his part, Haith seems to understand:
"We obviously wish Kadeem nothing but the best as he moves forward with this decision," Coach Frank Haith said in a statement. "Kadeem made great strides during his time at Mizzou, and we are sad to see him leave the program. This is a decision that did not come easily for Kadeem -- he has made a lot of friends and he has really enjoyed his time here at Mizzou. Decisions like this are never easy, but we certainly thank Kadeem for the time that he dedicated to our program and want nothing but the best for him moving forward."
No harm, no foul. Haith's response doesn't even register on the Memorial Phil Martelli Unwise Transfer Response Scale. (Take notes, St. Joe's.) So why am I even writing this blog post? What's the big deal?
The big deal is this: Thanks to Green's departure, Haith now has just seven -- yes, seven -- scholarship players available on his roster. What's more, Green was a 6-foot-8, 210 pound big man. As
The Dagger's Jeff Eisenberg noted today
, he was one of only three players on Missouri's current roster standing taller than 6-foot-6. Now, that number is two.
Of course, as you read above, size isn't really the issue. Haith doesn't need to play a conventional power forward/center combo in his frontcourt; why do that when English and his top-15 effective field goal and true shooting percentages are stretching defenses past their breaking points?
The issue, of course, is depth. Seven scholarship players is one thing; Missouri's rotation doesn't go much deeper than that anyway. But Ratliffe and reserve forward
Steve Moore
are Haith's only options in the frontcourt going forward. If either suffers an injury (remember, Mizzou has already lost putative power forward Lawrence Bowers to a season-ending ACL tear), the other will be the only big man on the roster, let alone in the starting lineup. Even if both remain healthy, foul trouble could create serious problems on a game-to-game basis. And even then -- in a magical world where Ratliffe never fouls opposing big men -- he'll almost certainly have to play more than 24.0 minutes per game, his average to date. Moore will have to play more (ahem) minutes, too.
Missouri's rotation was already shallow, its lineup already small. Neither characteristic has presented a problem thus far. But if any of the above dire scenarios come to fruition -- injury, foul trouble, fatigue, you name it -- Haith won't have an insurance policy in place.
Can this team stay healthy? If yes, great. But can just seven players win the Big 12? Can a team with two players taller than 6-foot-6 reach the Final Four? We're about to find out.
November, 23, 2011
11/23/11
2:38
AM ET
KANSAS CITY, Mo. -- A few months before the start of the season, a poll in the Kansas City Star indicated that 78 percent of Missouri fans wanted first-year coach Frank Haith to be fired.
It might be time to take another vote.
Because if what happened at this week's CBE Classic is any indication, the Tigers could be poised for one of their most successful seasons in recent memory. A lofty perch in the national rankings, a Big 12 championship and a deep run in the NCAA tournament ... all of it seemed possible as the final horn sounded in Missouri's
92-53
title-game victory over 18th-ranked Cal at the Sprint Center.
"I'm surprised by that score," Haith said.
And he certainly wasn't alone.
Even with a veteran team that won 23 games last season, no one expected Haith's imprint to be this visible this fast. Most programs that endure coaching changes take a step back before they take a step forward. In Columbia, though, the Tigers have pressed a button and taken off like the Millennium Falcon -- at light speed.
After this week it may be time to catapult the No. 21 Tigers into the top 10. They were that good.
[+] Enlarge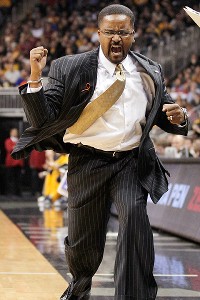 AP Photo/Charlie RiedelIt seems Frank Haith has gained a few fans in Missouri this week.
"This is the best I've felt in my four years here, because this is the most selfless team I've played on," said senior guard
Kim English
, who led Mizzou with 19 points. "We're all buying into the process."
That's a credit to Haith, who wasn't exactly greeted with flowers and candy by Missouri fans when he was hired in March to replace Mike Anderson. Haith led Miami to just one NCAA tournament berth in seven seasons. And in August, his name was linked to former Miami booster Nevin Shapiro, who allegedly provided impermissible benefits to a number of Hurricanes athletes, including at least one basketball player.
But none of those things -- or the loss of standout forward
Laurence Bowers
to an ACL injury -- has had an effect on Haith, whose Tigers appear to be in midseason form after just five games, which included an
87-58
beatdown of Notre Dame on Monday night.
"Things just clicked," said Haith, whose team improved to 5-0. "We've got a veteran team with older guys, but it can go either way with older guys. They can be stubborn because they've been used to doing things a certain way for a long period of time. Or they can have the poise and understanding to buy in.
"Our guys have really bought in and shown great leadership."
Indeed.
On offense, especially in the half-court, Missouri is operating with a plan and structure that seemed missing at times in past seasons. The Tigers are getting outstanding shots because they're taking pride in making the extra pass, even if it means passing up a wide-open, 10-foot jumper for an assist to a teammate streaking toward the paint for an easy layup. Missouri shot 58.8 percent from the field Tuesday.
The Tigers are also using a menacing defense to generate points, which was a trademark under Anderson. Only now, instead of employing a full-court press for large chunks of the game, MU has stepped up its half-court defense. Any time an opponent coughs up the ball -- the Tigers scored 23 points off turnovers against Cal -- or misses a shot, the Tigers capitalize thanks to a four-guard lineup that beats everyone down the court for an easy bucket.
Not many teams in the country will boast as much speed and athleticism as Missouri, and there might not be any school that will have as many high-level ball-handlers on the court at the same time. The situation completely overwhelmed Notre Dame in the CBE semifinal. And against Cal ... well, at times it didn't even seem fair.
And remember, this wasn't just some run-of-the-mill Golden Bears squad. Mike Montgomery's team entered Tuesday's game with a national ranking and a reputation as the best team in the Pac-12.
"I'd be naive to think that's going to happen every night," Haith said of the lopsided score. "We just played really, really well."
As good as things went this week in Kansas City, the Tigers are far from satisfied. They know one of their main weaknesses is a lack of size, with
Ricardo Ratliffe
and
Steve Moore
, who scored a career-high 10 points Tuesday, being the only true post players. Long, athletic teams could give Missouri more trouble than Notre Dame and Cal, who were physically overmatched.
Still, none of that seemed to matter as the Tigers paraded off the Sprint Center court carrying the CBE Classic championship trophy. Haith pumped his fist, fans dangled their hands over the railing for high-fives and players whooped and hollered as they trotted toward the tunnel to the locker room.
After a tumultuous offseason, things are looking good for Frank Haith and Mizzou.
Perhaps better than anyone -- even the Tigers themselves -- could've expected.
November, 23, 2011
11/23/11
12:29
AM ET
KANSAS CITY, Mo. -- Here's a quick recap of Missouri's
92-53 victory over Cal
in the championship game of the CBE Classic at the Sprint Center.
How it happened
: For the second straight night, Missouri was glaringly quicker, faster and more athletic than its opponent. Pestered by the Tigers' menacing defense, Cal committed 19 turnovers and shot just 30 percent from the field. A slew of those missed shots led to easy baskets by Mizzou, which beat the Golden Bears down the court time and time again. Frank Haith's squad led 45-26 at intermission, and the Tigers didn't let up in the second half. Cal defensive stopper
Jorge Gutierrez
fouled out with 10 minutes remaining after trying unsuccessfully to slow down the MU guards.


Star of the game
: Some of his teammates had gaudier stat lines, but reserve forward
Steve Moore
drew the loudest applause at the Sprint Center. Moore scored a season-high 10 points off the bench and provided a huge boost down low for a Tigers' squad that is undersized. Moore also blocked three shots. Still, as good as Moore was Tuesday, the best player on the court was Missouri guard
Kim English
, who finished with a team-high 19 points on 7-of-12 shooting.
What this means
: Missouri is legit, as in top-10 legit. No team in the Big 12, and not many teams in the country, have looked so crisp and cohesive this early in the season. Mizzou's first three wins -- actually, the first four if you count Notre Dame -- were against low-level opponents. But Tuesday's win came against an 18th-ranked Cal squad led by brilliant coach Mike Montgomery -- a team that many believe is the best in the Pac-12. Granted, Missouri has an advantage in that it returns a number of veterans (English,
Marcus Denmon
,
Ricardo Ratliffe
,
Michael Dixon
) from last year's 23-win team. But this is also a squad that went through a coaching change during the offseason. Teams in those situations usually take a step back before they take a step forward. That's clearly not the case in Columbia.
Even after Tuesday's tail-whipping, it's still probably safe to tag California as the top team in the Pac-12, although that certainly doesn't say much for the league. Even Montgomery admitted Cal won't face a conference team as talented as the Tigers. These Bears still have a chance to be very, very good. Just not as good as Missouri.
What's next
: Mizzou has what should be two easy home wins against Binghamton and Northwestern State before taking on Villanova Dec. 6 as part of the Jimmy V Classic at Madison Square Garden. Cal won't face another school from a BCS conference until it opens league play Dec. 29 against USC.
September, 1, 2010
9/01/10
5:52
PM ET
We're still waiting on confirmation from Missouri to make it official, but it appears top Tigers recruit Tony Mitchell will indeed be academically ineligible for the coming fall semester. Sorry, Tigers fans. That's, like, a bummer, man.
The report comes from Rivals.com recruiting maven Jerry Meyer,
who posted to that effect on Twitter this afternoon
: "Just found out that tony mitchell has been ruled ineligible to play at missouri. Talked w his former aau coach."
Fox's Jeff Goodman has a source telling him the same thing
. Mitchell's deadline to enroll in fall classes was Monday, and it appears Mitchell wasn't able to get cleared in time to do so. (And just for fun, imagine how rough
that
class schedule would have been. Registering for college classes as a freshman is never fun, but it's even worse when you have to do it after everyone else has already picked over the classes that don't require you to wake up at 6 a.m. Ouch.)
Anyway, Mitchell's likely absence casts an immediate pall over what was supposed to be an ascendant Missouri program in 2010-11. Mitchell was the gem of Mike Anderson's impressive recruiting haul (the
No. 8-ranked power forward in the Tigers' No. 14-ranked 2010 class
). Mitchell is a versatile, athletic forward capable of pushing the pace, dribbling in transition, defending the length of the court, and finishing with authority on offense. In other words, he was perfect for Missouri. Now he won't be playing.
What happens next? For Mitchell,
it's likely a semester of junior college
, followed by an attempt to rejoin his new team in the spring semester. For Missouri, it means an increased reliance on Justin Safford, Lawrence Bowers and Steve Moore, all contributors to last year's team, all of whom lack Mitchell's immediate star power.
The Tigers should still be awfully good this season -- though they will be a young team dealing with the losses of J.T. Tiller, Zaire Taylor, and Keith Ramsey -- and if Mitchell can indeed come back for the second semester, the damage will be minimal. But academic ineligibility and a semester at junior college is no way to start a career, and no way for the Tigers to assert themselves at the top of a tough Big 12.