College Basketball Nation:

Steven Adams
February, 10, 2013
2/10/13
1:13
AM ET
Don't change the channel. Ever.
In this sport, one last-minute switch could cost you. You might miss something epic, monumental. A classic.
I nearly did. Notre Dame had lost after all. Or so I thought. We all thought.
[+] Enlarge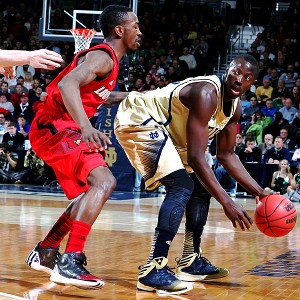 Brian Spurlock/USA TODAY SportsA 12-point flurry in the final minute by Jerian Grant, right, got Notre Dame into OT with Louisville.
Right as I grabbed the remote, though, Fighting Irish wing
Jerian Grant
grabbed his cape.
After going 0-for-6 from the field up to that point, he scored 12 points in the final 47 seconds of regulation. Beast mode.
So a first overtime. And then another. And another. And another. And another.
The first five-overtime game in college basketball in four years. Notre Dame was down by eight points with 50 seconds to play and yet the Irish won
104-101
in five overtimes.
My observation? Wow. That's my observation. Should be yours, too.
Two teams battled and battled and battled. They fouled out. Eight of them in fact. Notre Dame lost
Jack Cooley
and Grant.
Peyton Siva
and
Gorgui Dieng
eventually fouled out for Louisville.
Reserves who hadn't played had to play. Grab the media guide. "Who's that guy?" Garrick Sherman isn't a complete unknown, but he had scored just six combined points in ND's last five games. He didn't play a second in regulation tonight, but still finished with 17 points and 6 rebounds. That's about all you need to know about this one.
But just in case you want some more fun facts:
Louisville and Notre Dame combined to shoot 97 free throws (48 for UL and 49 for ND).
The teams had the same amount of 3-point attempts (25) and offensive boards (19).

The two teams took a total of 158 shots and 10 players scored in double figures.

It was the longest game in Big East regular-season history.
Eight players fouled out, but six players played 50-plus minutes.
I'm excited, thrilled and exhausted. I can't imagine how the combatants in both locker rooms feel right now.
Both groups deserve kudos because we all won.
Some other observations from Saturday night's games:
September, 18, 2012
9/18/12
5:00
AM ET
1. Pitt coach Jamie Dixon said upperclassmen
Lamar Patterson
and
Talib Zanna
have proven to be leaders early in the first few weeks of workouts. The freshmen --
Steven Adams
,
James Robinson
and
Chris Jones
-- have stood out as being physically and mentally mature to contribute at the beginning of the season. Pitt has had a history of developing its players and not getting the maximum from the freshmen. But this program will need, and now it looks like it will get, immediate production from the freshmen class. This is a must that will likely lead to quite a turnaround from a 22-17 CBI champ (5-13 Big East) season.
2. Our ESPN.com recruiting analyst Dave Telep made a terrific point in his
Chris Jones to Louisville column
Monday that the last Tennessee recruiting class under Bruce Pearl has ended up at Louisville. Jones, who played for former Pearl assistant Steve Forbes at NW Florida JC, joins
Kevin Ware
from the 2011 Vols' class. But the Vols shouldn't fret. Cuonzo Martin is doing a tremendous job of increasing the talent and perception of Tennessee basketball. Martin secured another commitment Monday for 2013 in landing 6-5 shooting guard
Robert Hubbs
. The Vols will be just fine going forward in the SEC under Martin.
3. While Kevin Ollie has to defend his hire -- even in the short term -- it made me wonder why is there no issue that Mike Hopkins is already the coach-in-waiting at Syracuse for whenever Jim Boeheim retires? Why doesn't Syracuse have to do a national search whenever Boeheim retires? The answer is the Orange don't. Last time I checked Jamie Dixon was an assistant at Pitt and Tom Izzo was an assistant at Michigan State before being bumped up to head coach. Izzo is a future Hall of Fame coach. Dixon is having a stellar career. Oh, Brad Stevens was an assistant too at Butler. I could go on (Frank Martin took over for Bob Huggins at Kansas State and was originally ripped for getting the gig and now look at him). Ollie doesn't have as much experience as the assistants mentioned. But he deserves a real chance -- not seven months -- just like the previous coaches and Hopkins will get when it's his time at Syracuse.
July, 23, 2012
7/23/12
2:00
PM ET
Editor's note: ESPN.com's Summer Shootaround series catches up on the offseason storylines for each conference. For more on the Big East, click here.
Steven Adams, Pittsburgh: The highest-ranked incoming Big East freshman, the New Zealand big man has been hailed for his shooting toughness, passing skills and rebounding acumen. At Pitt, he'll just be a breath of fresh air after a forgettable season.
Ryan Arcidiacono, Villanova: The true point guard will be even more critical for the Wildcats now that Maalik Wayns bolted college early. Savvy and skilled on both ends of the floor, Arcidiacono has only question -- his health. He missed much of his senior high school season after undergoing back surgery.
Omar Calhoun, Connecticut: The shooting guard is a top-notch scorer (had a tournament-record 26 points at the All-American Classic in April) who should help a depleted UConn roster rebuild and serve as a nice complement to Ryan Boatright and Shabazz Napier. Extra kudos for honoring his commitment, even after UConn's APR woes and penalties.
Jerami Grant, Syracuse: There is no shortage of room for Grant to fit in, what with the departures of Kris Joseph, Scoop Jardine, Dion Waiters and Fab Melo. The son of former NBA star Harvey Grant, he's a versatile forward who can score from just about anywhere -- which is good, since there will be plenty of open real estate on the Orange roster.
Ricardo Ledo, Providence: The shooting guard is supposed to be part of a one-two punch for Ed Cooley, but his counterpart, Kris Dunn, is recuperating from a shoulder injury. On his own, though, Ledo is a pretty impressive get as Cooley retools the Friars. He's ranked sixth at his position and should make Providence more than the Vincent Council show.
July, 23, 2012
7/23/12
10:00
AM ET
Editor's note: ESPN.com's Summer Shootaround series catches up on the offseason storylines for each conference. For more on the Big East, click here:
1.
Unsteady rudder:
The Big East is prepping to lose two of its most iconic members, has no commissioner and needs to negotiate a new television contract to continue to prosper.
Other than those developments this offseason, Mrs. Lincoln liked the play very much, thanks for asking.
Unrest and unease has been a near-universal theme in college athletics lately, but nowhere is the footing quite so slippery as in the Big East. After making football-centric decisions, the league did finally manage to make some sound basketball decisions, adding Temple and Memphis to the ever-swelling conference, but that doesn't mean everything is stable.
The Big East is in the market for both a new commissioner and a new television contract. Making the right choice in both instances will be critical.
John Marinatto was a good man who cared deeply for the Big East, but lacked the CEO chops needed to succeed and flourish in today's world of college athletics. The new commissioner will have to be equal parts visionary and diplomat, able to predict the future and placate the membership, both existing and new.
And the league bravely -- or foolishly -- turned down a deal a year ago, prompting the unease that led to the departures of Syracuse, West Virginia and Pittsburgh. The bidding starts again in the fall and while that will be centered mainly around football, basketball's livelihood will be tied to the deal as well.
Neither a new commissioner nor a new TV deal will settle the unsteady league for good but the right choices will go a long way.
2.
The Syracuse and Pittsburgh farewell tour:
This will be the end of the line for one of the founding members in the Big East, with
Syracuse announcing it negotiated its way out of the league a year earlier than the bylaws allowed
;
Pittsburgh soon followed suit
. With a $7.5 million buyout paving the way for each school, they'll both jump to the ACC in 2013.
Fortunately -- and probably not coincidentally -- the Big East scheduled two Georgetown-Syracuse games this season, guaranteeing us at least two more versions of one of the sport's best rivalries.
[+] Enlarge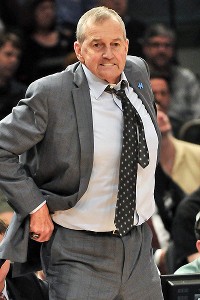 Cal Sport Media/AP ImagesJim Calhoun's Huskies are among the 15 teams banned from postseason play because of poor classroom performance.
Unfortunately, with Connecticut's APR troubles (see below) and postseason ban, the Huskies and Orange -- the leads in 2009's six-overtime play -- will never meet in the Big East tournament again.
Chances are this won't be a nostalgic last run through the conference. Folks aren't happy with Syracuse and Pitt's decisions to bolt and it will probably be an awkward tango to the finish line.
3.
UConn's postseason ban:
Despite appeals and arguing from UConn, the NCAA has decided to stick with its APR standards, rendering the Huskies ineligible for postseason play. And since the league doesn't want its automatic bid to go to a team that can't participate in the NCAA tournament, UConn won't be in New York for the Big East tournament, either.
That's a hefty blow to the Huskies, of course, but a big one to the conference as well. Sitting just a quick car ride away from Madison Square Garden, UConn is a big draw for the tournament in March (though no one travels quite like the Orange-loving Syracuse fans).
4.
Return engagement?
A year ago, Louisville served as the beggars at the feast, the surprise member at the Final Four party. They survived as much as they won, overcoming a laundry list of injuries to key players, to make their way to lifting the Big East tournament trophy and followed that up with a trip to New Orleans.
This year people expect the Cardinals to thrive as well as survive, all the way to Atlanta and a Final Four return engagement.
The rationale is simple: Louisville returns everyone to the lineup save Preston Knowles and inserts George Mason transfer Luke Hancock to fill that role. (That is, after Hancock recovers from shoulder surgery. Not everything has changed in Louisville).
But Rick Pitino knows a thing or two about trying to get back to the Final Four, having walked down Expectation Highway with Kentucky in 1996 and 1997, and realizes what he's up against.
"This past year at Louisville, we didn't expect to go but now we have high expectations to go and do it," Pitino told ESPN.com's Andy Katz. "I think this time will be tougher than it was at Kentucky. At Kentucky, it was totally unexpected, but this time it will be expected. It's hard to have a Final Four that will be expected."
5.
Will order be restored?
Even now, a good three months after the season ended, the final Big East standings don't look right. There, near the bottom of the barrel are Pittsburgh and Villanova, tied with identical 5-13 records of misery in the conference.
So the important question: Were those failures a blip on the screen or the beginning of something a little more long-term?
All signs point to some quick healing for Pitt, which welcomes touted freshman
Steven Adams
and Central Michigan transfer
Trey Zeigler
to go with returning players
Tray Woodall
,
Talib Zanna
and
Dante Taylor
. Last year's troubles were hard to decipher, so it's tough to imagine a repeat.
Villanova's situation isn't quite so crystal clear. The Wildcats were a debacle all year and from that mess,
Maalik Wayns
and
Dominic Cheek
, the team's two leading scorers, left early. That could be addition by subtraction if the two didn't want to be around anymore but those are still mighty shoes to fill.
Jay Wright has two top-100 recruits in
Ryan Arcidiacono
and
Daniel Ochefu
, plus Wake Forest transfer
Tony Chennault
,
JayVaughn Pinkston
and
Mouphtaou Yarou
. That's a good foundation to build on but whether Rome can be rebuilt in a season remains to be seen.
May, 23, 2012
5/23/12
12:50
PM ET
To go along with
today's feature story
on the return of the dominant shot-blockers, here's my list of the nation's best. If your favorite guy is missing from the list, let me know (@
MedcalfByESPN
or
mmedcalf3030@gmail.com
). But this is not just based on raw numbers. Efficiency is certainly a factor.
Could Nerlens Noel end up being the best swatter in college next season? Yes. In fact, probably. But it's hard to put him No. 1 five months before Midnight Madness.
[+] Enlarge

John Sleezer/Kansas City Star/MCT/Getty ImagesKansas' Jeff Withey had 31 blocks in last season's NCAA tournament, a new record.

Jeff Withey (Kansas): He finished the year No. 1 on Ken Pomeroy's block-percentage chart (a rate determined by an opponent's two-point attempts) and is the top returning shot-blocker entering the 2012-13 season, after a phenomenal Final Four that concluded with a record for blocks in a single NCAA tournament (31). With Withey inside, Kansas should remain on its Big 12 perch next season.

Gorgui Dieng (Louisville): Withey and Anthony Davis dominated the headlines in March. But Dieng (3.2 blocks per game), a 6-foot-11 sophomore from Senegal, was a very talented shot-blocker, too. He offered a sneak preview in New Orleans by blocking four shots in the national semifinals against Kentucky. Next season, however, he'll be a star for a top-5 program.

Nerlens Noel (Kentucky): I've never seen a high school player dominate his peers the way Noel did during the Peach Jam AAU tournament last year. He's a special talent. Anthony Davis claims Noel is the better shot-blocker between the two of them, and that's not a crazy concept. It's just scary for every team that's scheduled to face Kentucky next season.

C.J. Aiken (St. Joseph's): In a 10-point victory over No. 22 Temple in February, Aiken scored five points. But his five blocks were vital in that upset. You have to appreciate the fact that Aiken is still raw in many ways. I saw him live in Philly a few years ago and watched a bunch of St. Joe's games this season. And I think he's on the cusp of emerging on the national radar with his high-octane defense (3.5 blocks per game). Growing every year.

Isaiah Austin (Baylor): Another special talent. He's so athletic and versatile that he played some point guard on the AAU circuit. Austin, a McDonald's All-America center, averaged 5.0 blocks per game as a senior in high school. He'll have a similar impact in the Big 12 next season, probably his only year as a collegiate player. His 7-foot-1 frame hasn't filled out yet but his length and shot-blocking will be a problem for the rest of the conference.

Zeke Marshall (Akron): He's an under-the-radar defensive force. But the MAC knows all about his shot-blocking skills. Mississippi State's Arnett Moultrie had one of his worst games of the season against the Zips due to Marshall's defense. The 7-footer blocked 2.9 shots per game. And he altered even more.

Rhamel Brown (Manhattan): Here's why you have to love advanced statistics: Brown, a sophomore at Manhattan last season, averaged 2.4 blocks per game for the Jaspers. But he finished second behind Withey on Pomeroy's block percentage rankings. He's only 6-foot-6, but Brown disrupts offenses at a high level.

Steven Adams (Pittsburgh): Yes, another freshman on the list. Another guy who hasn't competed in a collegiate game yet. But I think Davis' success last season means these youngsters earn early credit on potential alone. This 7-footer has been a beast on the AAU and prep circuits. The standout from New Zealand also has international experience. So he'll be a young veteran for a Pitt team that needs his physical presence inside. Adams has the athleticism to be a great shot-blocker at this level.

Hunter Mickelson (Arkansas): As a 6-foot-10 freshman on a lackluster Razorbacks squad, Mickelson averaged 2.3 blocks in 17.1 minutes per game. He's an efficient defender who was fourth in the SEC in blocks per contest. And he finished fifth on Pomeroy's block percentage chart. He's still raw but the future seems bright for Mickelson.

Damian Eargle (Youngstown State): First, he has the best name on this board. But he's an equally talented defender who squeezed 3.7 blocks out of his 6-foot-7 frame. Youngstown State struggled in most Horizon League stat categories but the squad led the conference in blocked shots thanks to Eargle, who was a junior last season.