College Basketball Nation:

Steven Gray
March, 20, 2011
3/20/11
1:57
AM ET
By
Diamond Leung
| ESPN.com
DENVER -- BYU fans were chanting long after the team had left the court at the Pepsi Center. Their cries could be heard inside the Cougars locker room, where a player asked
Jimmer Fredette
if he could understand the chants.
"3:16?" he asked Fredette, a reference to the famed verse of Biblical scripture.
The BYU faithful were actually chanting "Sweet 16!" The team's hearing problem was one of the few struggles the Cougars experienced as they trounced 11th-seeded Gonzaga 89-67 on Saturday. Behind Fredette's 34, BYU advanced to the regional semifinal round for the first time in 30 years.
"It's been a long time for our fans, and I'm happy, really happy for them," said BYU coach Dave Rose, pausing as his voice cracked with emotion. "I'm happy for our players, happy for our coaches, our administration. I mean, everybody is in this. We're in this together. This is a special team."
Fredette, the nation's leading scorer, delivered one of his most memorable performances, hitting seven 3-pointers and burying the Zags.
The Cougars faced many uncertainties heading into the tournament.
Leading rebounder Brandon Davies had been suspended for the rest of the season in early March after violating the school's honor code. He was relegated to the bench wearing a sweater rather than a jersey. In its first game following Davies' suspension, BYU lost to New Mexico at home. Rose told the team it needed to adjust or this magical season would soon end.
He also implemented associate head coach Dave Rice's new game plan -- a strategy that called for spreading the floor and creating chances based on driving and kicking the ball out to the perimeter.
Against an imposing Gonzaga frontline that included 7-foot center
Robert Sacre
and ultra-athletic 6-foot-7 forward
Elias Harris
, BYU did just that. Fredette scored his first five field goals on 3-pointers. He ran off screens and pulled up in transition to get looks at the basket. While Fredette was 2-for-9 from beyond the arc two days earlier against Wofford, he was 7-for-12 facing a mixture of man-to-man and zone defenses from the Zags.
"You have off nights, then you come back and have good nights," Fredette said. "Kind of the law of percentages throughout the year."
Said guard
Jackson Emery
: "Jimmer's Jimmer. He's going to score from outside, inside, you never know."
The Cougars made half of their 3-point attempts, with Emery and
Noah Hartsock
each notching three. Emery scored 11 of his 16 points in the first half while Hartsock scored 13 on 5-for-5 shooting.
Hartsock got in early foul trouble, but
Stephen Rogers
came off the bench to score 10 first-half points and
James Anderson
blocked two shots to further show that BYU isn't just about Fredette.
The Bulldogs (25-10) saw their 10-game winning streak snapped despite 17 points from Sacre and 18 points apiece from Harris and senior
Steven Gray
. Harris grabbed eight rebounds, and Sacre had seven to help outrebound the Cougars 36-27.
But after a Gray 3-pointer cut the lead to eight with 12:19 left, BYU responded with a 12-0 run capped off by back-to-back 3-pointers from Fredette and Hartsock, and eventually extended the lead to 24. Rose called this the best game BYU has played all season.
"They got points, they were physical, but we tried to be physical back with them even though we don't have the size," Hartsock said.
Not since Danny Ainge led BYU to a run to the Elite Eight in 1981 has the program experienced this level of success. The Fredette worship has become a national phenomenon. In each corner of the Pepsi Center, fans held up homemade posters and marked Fredette's points as he scored them. They left plenty of space available just in case the star senior exploded for more.
The Cougars hope to make more history during a dream season in which Emery has already broken Ainge's all-time steals record and Fredette has broken the school record for points. They'll now face Florida in New Orleans for a chance to go to the Elite Eight.
"It's stuff you've always dreamed of," Emery said. "We know we're not done yet."
March, 19, 2011
3/19/11
10:09
PM ET
By
Diamond Leung
| ESPN.com
DENVER -- BYU beat Gonzaga
89-64
to earn a spot in the Sweet 16 -- the first time the Cougars have gotten this far since 1981. They did it behind
Jimmer Fredette
's 34 points and six assists.
Jackson Emery
scored 16 points, and
Noah Hartsock
added 13. The Zags were led by
Steven Gray
and
Elias Harris
, who scored 18 points apiece. But with BYU making 14 of their 28 3-point attempts, there was no stopping the Cougars.


Turning point:
Gonzaga briefly got the lead down to single digits, but Fredette's seventh 3-pointer made it 72-55. Hartsock then hit another to push the lead to 20 with 8:17 left, leaving Fredette emotional headed into the timeout.
Key player:
Fredette was held without a field goal for nearly the first nine minutes of the game, but he soon began to heat up. He finished 11-for-23 from the field, was perfect at the line and finished with seven 3-pointers.
Key stat:
Fredette was 7-of-12 from beyond the arc, taking advantage of whatever defense the Zags were throwing at him, man-to-man or zone. The Zags ran different defenders at Fredette, and it was no use.
Miscellaneous:
The Cougars were out-rebounded 36-27 by a bigger Zags team, but still managed to do enough to slow Gonzaga's frontline.
Kyle Collinsworth
played well and had six points and seven rebounds, and Hartsock was a perfect 5-for-5 from the field.
What's next:
BYU moves on to the Sweet 16 in New Orleans to face Florida, a team the Cougars beat last season in the first round of the NCAA tournament.
March, 19, 2011
3/19/11
2:38
AM ET
By
Diamond Leung
| ESPN.com
No. 13 seed Morehead State (25-9) vs. No. 12 seed Richmond (28-7), 5:15 p.m. ET


How they got here:
Both 12th-seeded Richmond and 13th-seeded Morehead State staged comebacks against power-conference teams on Thursday. The Spiders beat Vanderbilt 69-66, with guard
Kevin Anderson
making big shot after big shot and finishing with 25 points. The Eagles defeated Louisville 62-61, with
Demonte Harper
making the game-winning 3-pointer and
Terrance Hill
getting hot from beyond the arc as well, scoring 23 points.
Storyline:
One of these two double-digit seeds will get to go to the Sweet 16. Richmond, which has a history of big upsets, now takes on the role of the favorite. The Spiders lost to Saint Mary's in that position last season and now have a chance to reach the Sweet 16 for the first time since 1988. For Morehead State, it's a chance to make history again with its first trip to a regional semifinal. "This game is really important because Coach [Donnie Tyndall] told us we have a chance to make it to the Sweet 16 before the season even started," Harper said.
Players to watch:
Think Tyndall likes his chances with Harper and star forward
Kenneth Faried
? He called Faried his Gordon Hayward and compared Harper, who has shown his ability to take the last shot, to
Shelvin Mack
of Butler. For Richmond, Anderson proved himself to be a shot-maker against Vanderbilt. Leading scorer
Justin Harper
struggled with his shot, and the Spiders could use a big day from their senior.
What to look for:
Faried is one of the stars of the tournament so far, and he didn't even have a great offensive game against Louisville. But Faried is so dominant a rebounder and such an athletic presence in the middle that he impacts the game in so many ways.
"We know he doesn't give a lot of second shots on the offensive end," Anderson said of the nation's leading rebounder. "It's going to be tough to stop him."
Richmond could try containing Faried with the 6-foot-10 Harper, relying on his ability to shoot from long range. But lest we forget: Anderson will be a tough matchup for Morehead State, as well.
No. 11 seed Gonzaga (25-9) vs. No. 3 seed BYU (31-4), approx. 7:45 p.m. ET


How they got here:
BYU was the only favorite in Denver that did not get upset in the first day of action, as the Cougars dispatched of Wofford with a 74-66 win.
Jimmer Fredette
scored 32 points, and he also got help with
Charles Abouo
,
Noah Hartsock
and
Logan Magnusson
scoring 10 points apiece. Gonzaga dominated St. John's with an 86-71 win in which
Marquise Carter
scored a career-high 24 points and
Steven Gray
and
Elias Harris
also had big nights.
Storyline:
Not since Danny Ainge was leading Brigham Young have the Cougars been in the Sweet 16, and now it's Fredette who will try to take them there 30 years later. BYU has won its first tourney game in each of the past two years, but now wants to make a deeper run. For Gonzaga, the perennial dangerous underdog, the Zags want to continue proving themselves as a team and program to be reckoned with. A win against BYU and the national scoring leader Fredette would be yet another milestone victory.
Players to watch:
Again, look for Fredette to carry the scoring load despite the opponent's best efforts to contain him. And in a game with huge ramifications, expect a big dose of him. But Gonzaga does have the advantage of having 7-foot center
Robert Sacre
to try to exploit a BYU frontcourt missing the post presence of Brandon Davies. Sacre, after helping the Zags dominate St. John's on the glass, indicated he was looking forward to the matchup against BYU. "A little bit, but they still have Jimmer," he said.
What to look for:
While limiting the damage Fredette does is a must, this game could come down to how well Gonzaga can exploit its height advantage with Sacre, along with the 6-5 guard Gray and 6-7 forward Harris, who are both dynamic players.
"They're a very big team," Fredette said. "They got to the offensive glass very well. They get a lot of second-chance opportunities, which gives them a lot of energy."
Gonzaga will have to continue to get good guard play as well from Carter and point guard
Demetri Goodson
in order to slow down Fredette and
Jackson Emery
.
March, 18, 2011
3/18/11
2:27
AM ET
By
Diamond Leung
| ESPN.com
DENVER -- Steve Lavin momentarily put on his analyst's cap and gave a glowing review of Gonzaga's chances in the NCAA tournament after the Zags dominated his St. John's team throughout an
86-71
second-round win.
"They're definitely a Final Four-capable team, national championship-potential team," Lavin said.
Those were the words the former ESPN analyst used to describe a No. 11 seed, one that began the season 4-5 and slogged through the tough part of its difficult nonconference schedule. Gonzaga was even three games out of first place in the WCC at one point.
But expectations are high again now for the Zags, who have won 10 games in a row and are feeling good enough about themselves to say that in their minds, taking down the 6th-seeded Red Storm wasn't much of an upset.
"If you look at the bracket, yes," forward
Elias Harris
said. "If you know us, this was a fair fight. For them, it was not cool to play us."
[+] Enlarge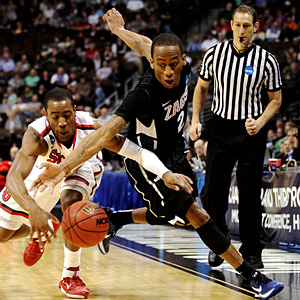 Justin Edmonds/Getty ImagesGonzaga's Marquise Carter had an impressive performance in his NCAA tournament debut, scoring 24 points.
Said center
Robert Sacre
: "I don't see why it was an upset. I don't think we get enough credit."
Yes, the Zags have heard all the talk about them not having played anyone in the one-bid WCC. They simply don't believe it and try to make their case on the court.
So rather than look at St. John's as a favorite that needed to be slayed, Gonzaga just went out and thrashed its Big East opponent. With leading rebounder
D.J. Kennedy
lost for the season, the Red Storm saw the Zags out-rebound them 43-20. In fact, after going up by 11 with 18:59 left, Gonzaga never saw its lead slip under double-digits again.
Marquise Carter
was fantastic in his first NCAA tournament game, as the junior college transfer had 24 points, six rebounds and six assists.
Point guard
Demetri Goodson
played what coach Mark Few called his best game, handling St. John's press, traps and zone defense.
Steven Gray
scored 16 points, and Harris added 15.
"I'm tickled pink for these guys," Few said. "They took the game plan and executed it. "
The Zags might consider itself a young team, but Gray, Harris and Sacre make up a big lineup that is battle-tested from its previous tournament experience, and Few said it helped the Bulldogs against a senior-laden St. John's team dancing for the first time in nine years.
Dwight Hardy
scored 26 points, and
Justin Brownlee
had 14 for St. John's, but Gonzaga's rebounding edge was difficult to overcome. The Zags also shot 9-for-15 from beyond the arc, with Gray and Carter doing the most damage. For the game, they shot 53.8 percent from the field.
So while Harris has heard the criticism that the Zags don't play anyone in the WCC, he said that the team doesn't really listen to it. Playing with blinders is how Sacre described it.
The Bulldogs have fingers in their ears while the rest of the nation either continues to doubt them or adores their underdog status.
After convincingly beating St. John's, does the slipper actually still fit for Gonzaga?
February, 25, 2011
2/25/11
3:15
AM ET
By
Diamond Leung
| ESPN.com
MORAGA, Calif. -- It was a close call, but Gonzaga's streak lives to see another day.
The Zags prevented Saint Mary's from stopping their dynastic stretch of 10 straight WCC regular-season titles, and in the process, they prevented their rival from capturing its first in 22 years after an
89-85 overtime win
at McKeon Pavilion on Thursday night.
They survived two potential go-ahead shot attempts by Saint Mary's guard
Mickey McConnell
as well as an off night from their leading scorer
Steven Gray
.
Gonzaga pulled itself into a first-place tie in the league with one game left and then talked about how meaningful it was to win this one.
"We pride ourselves on winning league championships," Gonzaga coach Mark Few said. "That's our motivation. We win league championships and go to the NCAA tournament."
Gonzaga freshman
Sam Dower
scored 21 points off the bench, including four clutch free throws in overtime to seal the win, and
Elias Harris
added 18 points and six rebounds. The Zags blew a 10-point second-half lead, but said they prevailed because of their defense.
[+] Enlarge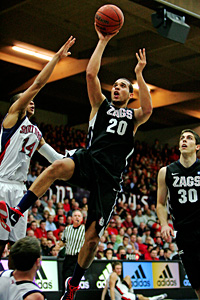 Phil Carter/US PresswireElias Harris and Gonzaga kept St. Mary's from clinching the outright WCC title on its home floor.
McConnell, who had burned the Zags with the game-winning leaner in Spokane on Jan. 27, saw a 3-pointer at the buzzer of regulation rim out and then the potential go-ahead layup draw back iron with 11.9 seconds left.
"Nine times out of 10, you're probably going to make it," McConnell said of his driving attempt.
Afterward, the Zags had no problem talking about how they had circled this date on the calendar following the home loss to the Gaels, which left them three games behind Saint Mary's -- a deficit that is no more.
"We're going to beat 'em down there," Sacre said of the team's thinking. "We wanted to redeem ourselves."
Just how close was the game on Thursday? The two teams were tied at halftime, after the end of regulation, and went back and forth into the final minute of overtime.
A foul called on McConnell going for the strip, and Dower's resulting two free throws with 19.9 seconds left, gave Gonzaga the lead. After McConnell missed at the other end, Sacre came through with two free throws of his own.
The Zags fouled
Stephen Holt
to prevent the Gaels from attempting a potential game-tying 3-pointer since they shot 43.5 percent from beyond the arc for the game. Holt made one of two, and Dower was able to close it out by sinking two more.
Not only did Saint Mary's not get to celebrate a league title at home, but now the Gaels are in serious jeopardy of not making the NCAA tournament if they don't win the WCC tournament. McConnell said the team would take on that mindset, and it's not just because Saint Mary's traditionally takes that approach as a mid-major.
"Losing three in a row doesn't help at this point in the season," said McConnell, who finished with 15 points and nine assists.
The Gaels were set to clinch at least a share of the title at San Diego on Feb. 16, but that bad loss has snowballed into three losses in the past nine days, wrecking what had been a fine résumé for the NCAA selection committee to review.
Still, each team will receive byes into the WCC semifinals and will need to win just once to meet for the rubber match in Las Vegas on March 7. No one who witnessed this classic on Thursday would wish for anything else.
"We might see them in the tournament," Sacre said.
But after the Gonzaga win, it's the Zags' own NCAA tourney credentials that got a major boost, and they're very much alive for at-large consideration after winning seven of their past eight games.
The Zags are 20-9 after playing a difficult nonconference schedule, and a win against Saint Mary's will be looked upon favorably.
"We just persevered," Sacre said. "It was just a dogfight."
January, 21, 2011
1/21/11
1:44
AM ET
By
Diamond Leung
| ESPN.com
SANTA CLARA, Calif. -- Santa Clara coach Kerry Keating acted as if he'd been there, calmly walking back toward his bench coming out of the handshake line as hundreds of students engulfed his players on the court.
That's when assistant coach James Ware grabbed Keating from behind and messed up his hair a little bit, just to let it be known this wasn't any other win. The Broncos'
85-71 triumph
against Gonzaga on Thursday was, in fact, the biggest win of Keating's young head coaching career and the Broncos' first at home against the Zags in 10 years.
"If you want to establish yourself, Gonzaga's proven you have to do it through them," said Keating, who is in his fourth year at Santa Clara and is in search of his first winning season. "They set the bar, and that bar's pretty high."
Kevin Foster
hit 3-point daggers from all over the court to score a career-high 36 points and freshman point guard
Evan Roquemore
added 13, forming a winning backcourt that has Keating's fingerprints all over it.
It was Keating who demanded that Foster lose weight this offseason to minimize his chances of suffering another foot injury like the fracture and subsequent surgery that ended his 2009-10 season. It was Keating who signed the under-the-radar recruit Roquemore in July and saw him develop into a floor general after
Robert Smith
transferred last month.
After recently suffering losses to Delaware and San Francisco at home before getting trounced by 25 at rival Saint Mary's, the Broncos (11-9) came out and aggressively hounded Gonzaga into 19 turnovers while Foster was unstoppable from long range, hitting six 3-pointers.
[+] Enlarge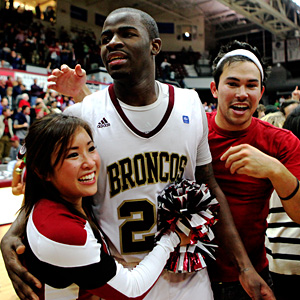 Phil Carter/US PRESSWIRESanta Clara's Kevin Foster scored 36 points in a win over Gonzaga, giving the Broncos and their fans reason to celebrate.
"To be able to rebound from getting your butts handed to you, and now play the team that's been the best team, that says a lot about our team," Keating said. "Maybe this is a chance for us to grow."
In the final minutes, Foster dominated. At one point, he scored 11 straight points for the Broncos to give them an eight-point lead with 2:35 to play, draining three 3-pointers during the stretch.
With 45 seconds left, the Leavey Center shook as Gonzaga coach Mark Few told his Bulldogs to stop fouling. For good measure, Foster hit another 3-pointer with 18.7 seconds left and some Broncos soon took to the top of the radio broadcast table as students rushed the court.
"He just carried us on his shoulders tonight," forward
Marc Trasolini
said of Foster.
Gonzaga (13-6, 3-1 WCC), which saw its nine-game winning streak snapped, couldn't stop Foster nor find any sort of rhythm with its Big 3 --
Steven Gray
(17 points),
Robert Sacre
(16 points) and
Elias Harris
(six points) -- saddled with foul trouble. Foster put an end to any thoughts of Gonzaga getting back into the national rankings after struggling in the early part of the season.
"He hurt us on the drive, and we just couldn't get stops at all the entire second half," Few said. "We had a bunch of silly turnovers. They beat us to the ball over and over and over again.
"Hey, it's life on the road. I'm disappointed. We went back to turning the ball over. We did not defend well. And we didn't rebound well. Those are pretty good recipes for a loss."
Gonzaga entered the game having won 23 of its past 25 meetings against Santa Clara, which had no players on its roster that had experienced beating the 10-time defending regular-season WCC champs. All five starters ended up scoring in double figures, and Keating said he was especially happy for the seniors.
The freshman Roquemore was also able to get a feel for what it's like to score a big win -- one that he felt confident in getting even earlier in the day while talking with fellow students.
"They asked, 'Are you guys going to win?'" Roquemore said. "Of course I said yes."
September, 30, 2010
9/30/10
10:55
AM ET
By
Diamond Leung
| ESPN.com
Gonzaga guard Steven Gray is primed for a big season on the court, but before the first game is played, he'll be counted on to deliver command performances on the theater stage.
Gray is a member of the school theater arts program's production of William Shakespeare's "Romeo and Juliet" and has been
cast as Romeo's rival, Tybalt
. Opening night is Oct. 22 -- one week after basketball practice kicks off with a Midnight Madness event.
It's not only role-playing, but getting the part involves
some swordplay
as well. Fortunately for Gray, taking center stage isn't an unfamiliar place. Making his theater debut last November, he
played the lead role
of a gay baseball player in "Take Me Out."
This year, he'll even apparently have some company with a teammate getting in on the act. According to The Spokesman-Review, sophomore forward Kelly Olynyk is also in the production.
Not that Gray, who has played in the same backcourt as Matt Bouldin in recent years, hasn't been used to sharing the spotlight. But with Bouldin gone, Gray is now the Zags' lone senior and second-leading returning scorer, averaging 13.6 points per game.
So for coach Mark Few's sake, and just in case, go easy on those calls for Gray to break a leg.
June, 2, 2010
6/02/10
2:16
PM ET
By
Diamond Leung
| ESPN.com
Six Gonzaga players last week made a surprise appearance to greet special needs kids learning about basketball, and it was an event the players on both sides won't soon forget.
Serving as guest coaches, the Zags exchanged high-fives, posed for pictures and seemed to especially take pleasure in lifting up the kids so they could feel what it's like to dunk.
Check out the
KXLY-TV video
.
"Steven Gray and I talk about it all the time," said Zags center Robert Sacre. Like, 'how could we be a huge impact on someone's life?' And we are and you just have to take that in and be grateful for what we got. So we have to give back to the community."

The Zags could have shown up and waved and left. People would have been happy they even came. But in typical Zag fashion, they went above and beyond.
March, 20, 2010
3/20/10
6:07
PM ET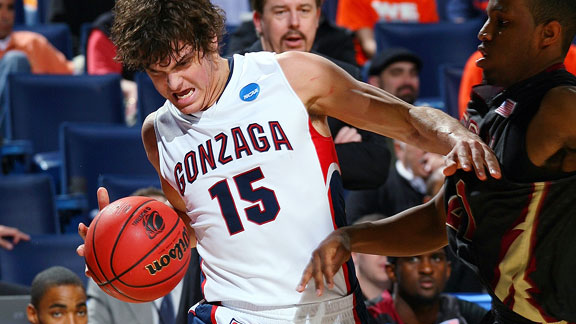 Rick Stewart/Getty ImagesWhile Matt Bouldin's off-court demeanor is laid-back, his game-time persona is anything but relaxed.
BUFFALO, N.Y. -- The first time she saw her son's Gonzaga team take the court, Matt Bouldin's mother, Dana, tagged the Bulldogs the Bad News Bears.
"We were scrimmaging Texas and they're there, all business, dunking and running and we're just this group of guys, most of us foreigners, just running around doing our thing,'' Bouldin said.
Robert Sacre
prefers "pack of goofballs," for his merry band of misfits, a roster made up of one German, four Canadians, the "single most laid-back guy in the world" in
Steven Gray
and the mop-topped Bouldin.
"Oh my God, I have no idea how the coaches recruited this team,'' Sacre said. "What were they thinking? We must be the most random team in America.''
The most random team in American may also be the most relaxed. Fitting their West Coast granola-crunching, Earth-loving zip code, the Bulldogs' vibe is decidedly chill.
They spent their time on the interview dais cracking jokes and busting each other up, acting like they were readying for a CYO scrimmage rather than an NCAA Tournament second-round game against top-seeded Syracuse.
"I don't see a reason to get all worked up about things,'' said Gray, of whom Mark Few said he needs to check for a pulse sometimes. "I don't really get too worried or too excited about things. That just takes a lot of energy. I think we're all kind of like that.''
It's an attitude that will serve them well in Buffalo where the laid-back Zags will find a charged-up atmosphere. With just 120 miles separating campus and the HSBC Arena, Syracuse might as well be stepping onto the Carrier Dome floor. Save for the tiny pocket of Gonzaga fans that trekked 3,000 miles to see their team, the arena will be practically painted in orange.
It would be enough to frazzle most teams but Gonzaga's goofy crew has been well tested.
The Zags played a schedule only John Chaney would love -- at Michigan State and in Hawaii in November; in New York against Duke, home against Oklahoma and then at Illinois two days later in December, and hey just for fun, a February date at Memphis.
Nothing is close to Spokane but the Bulldogs go out of their way to rack up frequent-flyer miles.
"Whether it's flying to Maui or flying to Memphis or flying to Madison Square Garden, we try to play in a lot of these games,'' Few said. "The reason I do it is to help us prepare for the NCAA Tournament.''
It has, as most people know, worked pretty well. Gonzaga has gone from Cinderella to program to be reckoned with thanks to a four Sweet 16 berths in the past 10 years.
For this team the brutal schedule has been particularly helpful. Gonzaga has just two seniors and one junior on its roster, the rest made up of freshmen and sophomores getting their first real playing experience.
Mix in the United Nations representation -- Sacre is from Vancouver by way of Louisiana,
Mangisto Arop
from Ontario,
Bol Kong
and
Kelly Olynyk
from British Columbia and star rookie
Elias Harris
from Germany -- and the trips are even more critical.
"This is the most fun I've ever had,'' said Bouldin, one of the two seniors. "We just really like each other. I mean, you're sort of forced to get along when you're on the road as much as we are, but this is a really good group of guys.''
Don't let the fun fool you, though. The Zags might like to play loose and free-spirited on offense and push the tempo, but they are all business when the whistle blows.
Gray scored a very unlaid-back 15 points against Florida State and Sacre withstood the bumping and pushing of the Seminoles big man to come up with 13 points and nine boards.
"We definitely know how to flip the switch,'' Gray said. "We like to play with a sense of relaxed calm on offense, but high energy on defense. We know when to be serious.''
March, 19, 2010
3/19/10
10:10
PM ET
BUFFALO --
Robert Sacre
, Canadian native, knew exactly what to expect when Gonzaga took the floor against the big bodies of Florida State.
[+] Enlarge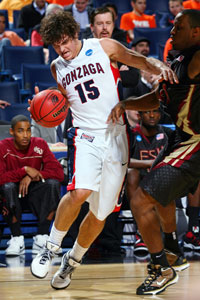 Rick Stewart/Getty ImagesBouldin led Gonzaga with 17 points in a close win over Florida State.
"I knew coming to Buffalo it was going to be a Sabres game, basically,'' Sacre said.
The Zags almost let one slip through the five hole.
Gonzaga surrendered all but the last bits of an 18-point lead before finally staving off Florida State,
67-60
.
Gonzaga won by doing what no one else has been able to do against the Seminoles –- shoot the ball. The Bulldgos sliced and diced the Seminoles for 50 percent shooting for the game, ending a run of 67 consecutive opponents held under 50 by FSU.
And they did it by making the easy buckets. Sacre and
Elias Harris
combined for 26 points (13 apiece) as the Zags scored 24 of their points in the paint and just nine from the arc.
"Anytime you get easy buckets and shoot high-percentage shots, it's a lot easier,''
Matt Bouldin
.
Still the comeback or near choke (depending on your team colors) was slightly alarming. Sharpshooting
Deividas Dulkys
nearly single-handedly brought the Seminoles back, scoring 11 in the final five minutes, including a 3-pointer that kissed off the glass.
"I thought, 'He didn't. … he didn't just bank that in?'''
Steven Gray
said.
The Seminoles inability to hit free throws in an endgame clank fest and the late rally ended up being their undoing but not before the Zags were forced to get their act back together.
Gonzaga travels the country in the regular season just to prepare for the rigors of March and while Mark Few praised his team's poise, the end game should raise a few red flags considering what could be next -– No. 1 seed Syracuse in essentially a home game.
"It was a little combination of things," said Gray, who finished with 15 points. "We had a little drought there and I think we also got a little panicked and rushed. We forced some things that we shouldn't have."
March, 1, 2010
3/01/10
4:30
PM ET
By
Diamond Leung
| ESPN.com
January, 15, 2010
1/15/10
2:47
AM ET
By
Diamond Leung
| ESPN.com
MORAGA, Calif. -- The
Gonzaga Bulldogs
beamed as they filed out of the locker room, and coming out the door with them was old friend Ronny Turiaf.
[+] Enlarge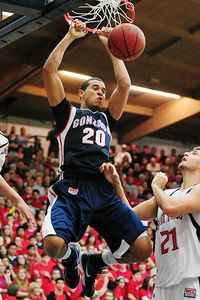 Kyle Terada/US PresswireFreshman Elias Harris scored a career-high 31 points.
There's a legacy with this program after 11 straight NCAA tournament appearances, and with that comes not only celebrity guest appearances for big games, but also one large target on your back.
Saint Mary's took its best shot at home on national television on Thursday night and still fell short, with the Zags
winning 89-82
to extend their conference winning streak to 18, including 25 of their last 26.
Gonzaga drew the short stick this year, starting out WCC play facing their two top challengers, Portland and Saint Mary's, on the road.
No matter. The Bulldogs survived against Portland when a shot at the buzzer rimmed out. They never trailed against Saint Mary's. Long live the king.
Elias Harris
scored a career-high 31 points and had 13 rebounds, with coach Mark Few calling the freshman sensation's performance that included numerous highlight-reel dunks "unbelievable."
Matt Bouldin
had 22 points of his own, and
Steven Gray
added 14 points and six assists.
Their efforts helped the Bulldogs survive a 25-point second half from Saint Mary's center
Omar Samhan
, who finished with 31.
"We didn't guard him good in the second half," Few said. "All we did was out-score 'em."
But a win is a win is a win, and Gonzaga knows that.
The Bulldogs could have easily claimed they were rebuilding had things gone less than stellar thus far, but sure enough, they're 13-3, ranked again, and will be dancing again for the 12th straight year.