College Basketball Nation:

Steven Pledger
November, 21, 2012
11/21/12
9:45
AM ET
Gonzaga and Davidson are the most experienced teams in this field. Might we see a mid-major finale? Stay tuned....
The basics:
Nov. 22-23, 25 at HP Fieldhouse in Orlando, Fla.
The set matchups:
Thursday – West Virginia vs. Marist, Noon ET; Vanderbilt vs. Davidson, 2 p.m.; UTEP vs. Oklahoma, 7 p.m.; Clemson vs. Gonzaga, 9 p.m. Friday – semifinals and consolation games. Sunday – consolation games and championship game.
The favorite:
Gonzaga, ranked 17th
in the AP poll
this week, is clearly the team to beat. The Zags feature a versatile roster that lost only one key contributor from last season, and coach Mark Few will be looking to hone his team early in hopes of a 14th straight trip to the NCAA tournament.
FIVE PLAYERS TO WATCH:
Jake Cohen, Davidson –
The Wildcats return all five starters from the squad that won the Southern Conference championship, including Cohen, the league's reigning player of the year. He is averaging 10 points and 6.3 rebounds but is shooting only 32.3 percent. Davidson has a surprising 1-2 record.
[+] Enlarge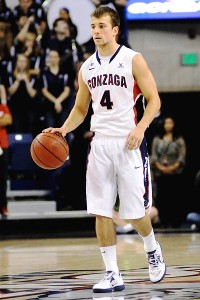 James Snook/US PresswireKevin Pangos and the Gonzaga Bulldogs are one of the favorites entering the Old Spice Classic.
Milton Jennings, Clemson –
As one of only two scholarship seniors on this year's team (along with forward
Devin Booker
), the former McDonald's All-American has a chance to live up to his billing this season. He is averaging 10.5 points (second behind Booker) and 6.5 rebounds, and he needs to continue to be a major player for the Tigers to be a factor in this tournament.
Adam Kemp, Marist –
The 6-foot-10 junior has averaged a double-double over his first three games (11 ppg, 10 rpg) and has developed as a reliable inside weapon. But he'll have his hands full with some big foes during this tournament.
Kevin Pangos, Gonzaga –
The guard led his team in scoring (13.6 ppg) as a freshman and is averaging 11 points and five assists thus far. He's also made 6 of 13 3-point attempts, picking up where he left off last season, when he converted 40.1 percent from long distance.
Steven Pledger, Oklahoma –
The senior has said that three straight losing seasons has fueled his fire. As a result, he is averaging 12 points and 42.1 percent shooting in the Sooners' first two games. Those are stats he'll want to keep building upon to keep his team winning.
FOUR BIG QUESTIONS:
How big of a difference will Kelly Olynyk make?
After being suspended for the first three games of the season for violating the school's code of conduct, the 7-foot Zags forward should make his season debut against Clemson on Thursday. He redshirted last year but averaged 5.8 points and 3.8 rebounds as a sophomore in 2010-11. He should add even more depth to an already deep squad.
Will the Mountaineers bounce back?
After getting blown out 84-50 at Gonzaga on Nov. 12, West Virginia would probably love a rematch in the championship game, but the Mountaineers have to get there first. That means improving from the outside (they missed their first 10 3-pointers), taking better care of the ball (they turned it over 18 times) and, according to coach Bob Huggins, competing harder.
Who are these Vanderbilt guys?
You might recognize sophomore guard
Kedren Johnson
, who converted the three-point play that gave the Commodores the lead for good when they upset Kentucky in the SEC tournament. But otherwise, it's not a very familiar group. All five starters from last season are gone, and Johnson (who averaged only 3.1 ppg last season) is the leading returning scorer. He is averaging 19.5 points so far this season, followed by junior
Kyle Fuller
(16.0) and freshman
Kevin Bright
(10.0).
Will the brothers keep leading?
It's always fun to watch brothers who are teammates, especially when those brother-teammates are leading their team in scoring. UTEP's
Chris Washburn
, a 6-foot-8 freshman, is averaging 12.5 points and 3.5 rebounds off the bench, while 6-7 sophomore
Julian Washburn
is a starter averaging 11 points and 2.5 rebounds.
THE PICKS
Opening games:
West Virginia over Marist; Davidson over Vanderbilt; Oklahoma over UTEP; Gonzaga over Clemson
Semifinals:
Davidson over West Virginia; Gonzaga over Oklahoma
Championship:
Gonzaga over Davidson
February, 7, 2012
2/07/12
10:50
AM ET
The Morning After is our semi-daily recap of the night's best basketball action.


No. 23 Louisville 80, UConn 59
: Over the weekend, an inspired Huskies squad destroyed Seton Hall following a series of inspirational developments. Last week, Jim Calhoun commenced an indefinite medical leave. Shortly after that news broke, interim coach George Blaney called on his team's leaders to, well, lead.
Alex Oriakhi
called a pregame meeting with players and stressed unity and selflessness. The result: a 69-46 win over the Pirates. And finally, a reason to cling to the slight possibility that the Huskies might finally reverse their problematic patterns after they'd snapped a four-game losing streak.
And then, Monday happened. It was a weak effort for the Huskies. Yeah, teams lose sometimes. The best teams have bad nights. But that same motivated crew that whipped Seton Hall didn't come to play on the road against a surging Louisville team.
Ryan Boatright
scored 18 points. The other four starters? A combined 7-for-29 from the field. The Huskies shot 3-for-14 from the 3-point line.
In the second half, the Cardinals took the fight out of the Huskies as they pulled away and feasted on their vulnerable foe. To UConn's credit, the struggling assembly fell to one of the hottest teams in the Big East. But that's no excuse for that lackluster effort.
Rick Pitino is clearly cooking something poisonous in that league. The Cardinals, ranked ninth in Ken Pomeroy's adjusted defensive efficiency ratings, have won five straight. And although they've never entered a game at 100 percent due to injuries, their speed and relentless defense (they've held Big East opponents to a 38 percent clip from the field, second in the conference) continues to carry a program that could do damage in March.
Three Cardinals reached double figures and the team shot 11-for-25 from the 3-point-line. But they were monsters on defense.
Gorgui Dieng
shook off a weekend ankle injury to score 15 points and grab six rebounds. He was crucial to Louisville's ability to hold future lottery pick
Andre Drummond
to an 0-for-6 outing. The Cardinals forced 15 turnovers and just ran the floor all evening, allowing their defense to spur their offensive production.
So here's what you should take away from this game. The Huskies haven't figured it out yet, and based on their troubling body language against the Cardinals, this thing could continue to spiral downward. The Cardinals, however, appear to be headed in the opposite direction. They're like a sprinter reaching his peak just in time for the championship races. Louisville is definitely a team to watch closely in the coming weeks.


No. 4 Missouri 71, Oklahoma 68
: Two days after an emotionally taxing victory – Saturday's 74-71 home win over then-No. 8 Kansas – the Tigers found themselves in a surprising battle with the same Oklahoma squad that they'd defeated by nearly 40 points last month.
But the fourth-ranked Tigers held on and claimed first place in the Big 12 after shooting 56 percent from the field and forcing 16 turnovers.
Ricardo Ratliffe
's double-double (15 points, 10 rebounds) and
Marcus Denmon
's 25 points were vital for the Tigers.
It wasn't easy for Frank Haith's squad.
Steven Pledger
missed a game-tying 3-pointer that rattled in and out of the rim at the buzzer. He'd knocked down a critical trey minutes earlier to pull the Sooners within two points of the Tigers, who were outrebounded 31-18 in Norman, Okla.
The Tigers, however, handled the quick turnaround from Saturday's victory over the Jayhawks like professionals. This team is not very deep or big, but the Tigers are one of the most mature squads in America.
After the Kansas victory, Haith made players report to a local hotel by 2 a.m., a smart move to contain the postgame celebration for a team that had to travel the next day. Every player met the curfew.
But that wasn't the only moment related to this game that showcased Missouri's class. After Pledger missed the 3 at the buzzer, two Tigers walked over to the heartbroken junior and helped him up. Classy.
Haith has something special in Columbia with this disciplined group.
February, 6, 2012
2/06/12
9:30
AM ET
Here are this week's Big 12 power rankings:
1. Missouri:
The Tigers have played the two toughest teams in the league (Kansas and Baylor) and defeated them both. Guard
Marcus Denmon
had made just five of his previous 31 attempts from 3-point range before going 6-for-9 from beyond the arc in Saturday's win against Kansas.

2. Kansas:
The Jayhawks blew an eight-point lead with just more than 2 minutes remaining in Saturday's loss at Missouri, but with Baylor up next on Wednesday, there's no time to mope about the loss. Kansas is 16-2 all-time against the Bears, who it defeated by 18 points last month at Allen Fieldhouse.
3. Baylor:
The Bears' Big 12 title hopes depend largely on what happens this week. Baylor hosts Kansas on Wednesday and travels to Missouri Saturday. Baylor's only two losses are against those two teams. The Bears' offense looked sloppy and disorganized in last week's victories over Texas A&M (63-60) and Oklahoma State (64-60).
4. Iowa State:
The Cyclones won at Oklahoma Saturday despite getting just three points from leading scorer
Royce White
. Fred Hoiberg's squad has won five of its past six games overall and could continue that streak this week against Texas A&M and Oklahoma State.
5. Kansas State:
The Wildcats got back on the winning track by defeating Texas A&M Saturday at home. And the good times should continue when Kansas State hosts Texas Tech on Tuesday. Leading scorer
Rodney McGruder
has made just four of his previous 20 3-point attempts.
6. Texas:
Rick Barnes' squad hasn't caught many breaks in conference play. Texas' six league losses have come by an average of five points. The Longhorns had lost five of their previous six games before defeating Texas Tech on Saturday. Monday's road game against a beat up Texas A&M squad is winnable.
7. Texas A&M:
The Aggies almost defeated Baylor without
Khris Middleton
and
Dash Harris
on Wednesday, and they led Kansas State at halftime before falling 64-53 Saturday in Manhattan. Considering all of the injuries, Texas A&M deserves credit for competing as well as it has.
8. Oklahoma:
The Sooners have dropped four of their previous five games heading into Monday's contest against Missouri. All of a sudden the team that got off to a 9-1 start is 3-7 in league play.
Steven Pledger
and
Andrew Fitzgerald
are averaging a combined 31.1 points.
9. Oklahoma State:
Three weeks after losing to them by 41 points, Oklahoma State nearly upset the Baylor Bears before falling 64-60 Saturday in Stillwater. Freshman
Brian Williams
had 23 points in the loss. On Tuesday, Oklahoma State hosts the same Iowa State squad that it lost to on a buzzer-beater Jan. 18 in Ames.
10. Texas Tech:
Last week's home game against Oklahoma State appeared to be the Red Raiders' best chance of picking up a Big 12 win. Instead, Billy Gillispie's team was throttled 80-63.
Jordan Tolbert
leads Texas Tech in scoring with 11.9 points per contest. But he's averaging just 6.3 points in his past three games.
January, 29, 2012
1/29/12
12:45
AM ET
Editor's Note: For Myron's recap of Saturday's afternoon action, click here.
More Saturday games. More drama. A weekend slate that wasn't supposed to offer much ultimately produced an impressive collection of games. Saturday night only added to the excitement.
Washington 69, Arizona 67


This game might have been a preview of the vibe we'll see in the Pac-12 tournament. Not one team in this league can feel secure about its NCAA tournament hopes, but the conference's collective downfall does make for plenty of must-win drama.
Consider this: Between the 14:16 and 2:28 marks of the second half, Arizona recorded exactly one field goal. And yet, with two minutes to play, this was just a six-point game.
Solomon Hill
's 3-pointer with 9 seconds to play tied the game at 67. He was awesome, scoring 28 points and grabbing 11 rebounds. But while he made nine of his 10 shots, the rest of team went 12-of-40 (30 percent) from the field.
And after Hill's big bucket,
Josiah Turner
committed a huge foul on
C.J. Wilcox
, who hit a pair of free throws before freshman
Tony Wroten
blocked Turner's layup at the buzzer. The Pac-12 is certainly down. But it's also a very scrappy league right now because of the uncertainty. Arizona was bad for a chunk of this game, but the Wildcats kept coming -- because, well, it's UA-UW and these matchups are always dramatic.
The Huskies, who lead the Pac-12 at 7-2, scored a crucial road win, while Zona's at-large hopes took another major blow with its third home loss of the season. Fun game.
No. 21 Virginia 61, North Carolina State 60


The Cavaliers led 55-45 with 6:37 on the clock, but barely held on here. The Wolfpack was sloppy for the bulk of this game and finished just 2-of-15 from beyond the arc. Near the five-minute mark,
Alex Johnson
missed three shots on one possession. He botched a layup on a fast break, then missed a contested follow-up and a 3-pointer. It was that kind of evening for the Pack.
But they bounced back and chipped away at Virginia's lead. They outscored UVa 15-5 in the final six minutes of the game and
Scott Wood
hit a late 3 to close the gap to 1. The Cavs missed a jumper in the final seconds so NC State had a chance to tie on the last possession, but Virginia's defense clamped down on
Lorenzo Brown
, whose 3-point attempt at the buzzer was way off.
The Cavs continue to find ways to win and force teams to play their grind-it-out style of basketball.
Mike Scott
(18 points) certainly helped, but Virginia was outrebounded 42-25 -- it gave up more offensive boards (18) than it had defensive boards (17)! -- and still pulled out the win. The Cavaliers' 17th victory gives them one more than all of last season.
That's certainly something to be proud of, but I'm not sold on the Cavs as a team that will do damage in the NCAA tournament. Not with struggles against Towson, a bad home loss against Virginia Tech and other so-so efforts this season. Their finish against NC State on Saturday showcased some of this team's flaws.
No. 20 Saint Mary's 80, BYU 66


Wait, wasn't this supposed to be the weekend that the Gaels fell in West Coast Conference play? As impressive as SMC's 8-0 start in the WCC was, there was a palpable buzz that suggested the Gaels' success was directly linked to the fact that they played five of their first eight conference games at home, including routs of BYU and Gonzaga.
A rematch with Brigham Young on the road -- the Marriott Center is one of the most challenging venues in the country -- spelled doom. Right? But Saint Mary's truly separated itself from the rest of the league with a 14-point victory that really wasn't even that close, despite SMC's heavy turnover total (24). It was a scrappy game both on the floor and off it -- fans threw things onto the court at one point as the Cougars lost back-to-back home games for the first time ever under Dave Rose. Four Gaels recorded double-figure point totals, led by
Brad Waldow
(19 points, 8 rebounds). I already can't wait for that Saint Mary's-Gonzaga game in Spokane.
Some more observations from Saturday night ...