College Basketball Nation:

Stew Morrill
October, 2, 2013
10/02/13
9:15
AM ET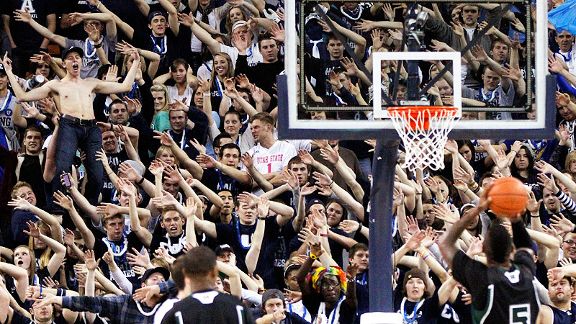 AP Photo/Jim UrquhartUtah State fans bring their version of home-court advantage to the Mountain West.
It's college basketball preview season, and you know what that means: tons of preseason info to get you primed for 2013-14. But what do you really need to know? Each day for the next month, we'll highlight the most important, interesting or just plain amusing thing each conference has to offer this season -- from great teams to thrilling players to wild fans and anything in between. Up next: Who believes that they will win?
There are no shortage of interesting storylines in the Mountain West this season. Boise State's breakout. The post-Steve Alford era at New Mexico. The intriguing talent at UNLV. Wyoming's emergence under Larry Shyatt. Another Larry, Larry Eustachy, and his first real rebuilding year at Colorado State. When a league has been this good, pound for pound, in recent years, it is bound to offer plenty to talk about.
And yet, despite the bevy of options at hand, Utah State's arrival is my favorite -- for all the reasons you expect, and one you might not.
First, the basics: This season marks the Aggies' first in the MWC, the product of a realignment move away from the decimated WAC. The Mountain West spent a solid portion of the past few years sweating out realignment in the Pac-12, Big 12 and Big East; there were some scary moments here and there. But it emerged relatively intact, and with a couple of traditionally strong hoops newcomers to boot. The first, Nevada, joined the league last season. The second, and by far the most exciting, was Utah State. (San Jose State arrives this season too, but that's a slightly different discussion.)
Why? Because Utah State has, in 15 seasons under Stew Morrill, become one of the country's most reliable, least heralded mid-major attractions. The past two seasons have been tough, pockmarked by personnel transitions and injuries, but before that the Aggies rattled off four straight WAC regular season crowns (in 2008, 2009, 2010 and 2011). Utah State went to the NCAA tournament six times in the past 10 years, and that number would probably be higher if Morrill's teams (and the WAC's RPI) didn't scare away so many putative high-major scheduling partners. That's a big part of why Utah State's move is so exciting: The Mountain West will give Morrill a full slate of quality opponents for the final two months of each season, sunsetting his scheduling woes once and for all. It's a major development.
It also sets up what might become the best pure student-section rivalry in all of college basketball. Let me explain. At Utah State, fans chant "I … I believe … I believe that we will win." It's genuinely rousing. For a minute there, it was sort of the Aggies' thing. But then The Show, San Diego State's famously raucous student section, appropriated it. Or maybe they had it first. Either way, the Aztecs' higher profile has made the chant synonymous with SDSU, and I've had both fan bases email me claiming to own the thing.
Never mind that the chant actually began at Navy. (Womp womp.) At some point this season, San Diego State fans and Utah State fans are going to be in the same building. At some point, whether it's in Logan, Utah, or Viejas Arena, one fan will start with "I … I believe … " I have no idea what will happen after that. I just know there's going to be a showdown, and I bet it will be really funny when it happens.
So, yes: Utah State's move is exciting on pure basketball terms. But it is also exciting because two shouting groups of people supporting different sports teams will now be forced to confront their shared use of a really cool chant. Chaos is bound to ensue.
January, 21, 2013
1/21/13
3:55
PM ET
Through 15 games this season, Utah State has been, well, Utah State. Stew Morrill's program has been one of the more consistently successful and consistently under-the-radar programs in the country in the past five seasons. And with a 14-1 start (the only loss coming to Saint Mary's in November), Utah State had been largely reading from the same old script.

Until last Thursday, anyway.
That game, a crucial away game against WAC rival New Mexico State, was a 64-51 loss. But it was more than that.
As Utah State announced Monday
, it was also the second half in which junior guard
Preston Medlin
fractured his wrist and senior forward
Kyisean Reed
suffered a torn ACL. Medlin will miss 6-to-8 weeks, according to the school. Reed's injury is season-ending.
Both injuries are devastating. Medlin was averaging 16.3 points, 3.5 rebounds, 3.2 assists and 1.0 steals per game, with an offensive rating of 121.0, a 39.3 percent mark from beyond the arc, and one of the 10 lowest defensive foul rates (just 1.0 per 40 minutes) in the country. Reed was nearly as efficient (his offensive rating was 118.7), but he was an even greater contributor on the defensive end, where he posted a 6.9 percent block rate and 3.5 steals per 100 possessions. Morrill will have to replace both players, who averaged about 22 percent usage of available possessions, with a group of reserves and freshmen that may or may not be ready for the roles.
"First and foremost is our concern for Kyisean and Preston. This is as tough as it gets and we hurt for them first and our team second," USU coach Stew Morrill said in a statement released by Utah State. "We expect our players to step up and compete, as we have a lot of season left."
Utah State lost its second game over the weekend, a really tough road trip to Denver (which remains much better than you think, and the clear WAC favorite). Whether Morrill can right the ship in the face of such sudden injury headwinds remains to be seen.
July, 3, 2012
7/03/12
11:50
AM ET
For most of the past two years, conference realignment has been about two things: football and football money. But as we've seen in this year's major Big East, Atlantic–10, and Colonial shuffles, the trickle-down effects of football-oriented realignment have begun to directly affect the positioning of basketball-dominant schools.
The loudest kvetching of the spring centered on Butler's move to the Atlantic–10, where some believed the Bulldogs would need to change to compete. As we've detailed before,
that seems unlikely
. Butler is good enough to play in the Atlantic–10 already. The Bulldogs will be fine.
[+] Enlarge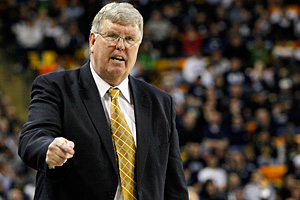 AP Photo/Colin E BraleyStew Morrill shouldn't have to worry about schedule strength when Utah State moves to the Mountain West Conference.
But what about Utah State? Arguably the most underrated mid-major program west of the Mississippi, Stew Morrill's Aggies have toiled in relative obscurity for much of the past decade, routinely fielding top teams (beloved by efficiency geeks everywhere) that have just as routinely been held back by affiliation with the WAC. Utah State has never been able to convince top programs to come to Logan for true road games, so it has often ended its seasons with lots of wins and little respect from the NCAA tournament selection committee.
That's about to change. In 2013, Utah State will move to the Mountain West, which has for the past two seasons been the best conference on the West Coast, Pac-(10)12 included.
Morrill spoke with Salt Lake Tribune writer Tony Jones about next year's move
, and the benefits are obvious: Utah State gets to play UNLV and New Mexico every season, not to mention fellow realigners Nevada and an emerging program in Colorado State, which just hired an experienced head coach in Larry Eustachy.
UNLV athletic director Jim Livengood is thrilled with the addition, and understandably so:
"Having Utah State in the conference greatly lessons the blow of losing San Diego State," UNLV Athletics Director Jim Livengood said. "I believe that they can come in and compete right away with anyone. The staff is great, and anyone who has played against Stew Morrill knows that it won't be an easy time of it. Utah State is going to help the Mountain West and the Mountain West is going to help Utah State. This is the perfect marriage."
But as Jones writes, there are also potential drawbacks. Utah State won't have to worry about scheduling anymore, because it will always have the likes of Mountain West play to fall back on, and high-major teams should be more willing to schedule the Aggies with the essential guarantee that Utah State's (read: the WAC's) RPI effects won't come back to bite them. But Utah State also won't be a big fish in a very small pond. To compete with the likes of New Mexico and especially UNLV -- where Dave Rice is recruiting top–25 players like the good old days -- Morrill will have to change his longtime routine, perhaps significantly.
If Morrill can do that, the Aggies should be able to hang tough in the Mountain West. If he can't -- if Utah State essentially remains the same program, dropped into a much tougher league -- it's possible the Aggies could lose much of their frequent NCAA tournament luster. Rather than mid-major darlings of the West, Utah State could be just another Mountain West team. Ho hum.
In many ways, Utah State might be the best distillation of conference realignment's double-edged sword. Bigger conference, tougher opponents, more tournament bids, better seeding, more money? Great! Fewer trips to the NCAA tournament? Entirely possible.
Forget Butler. Over the next five years, the real costs and benefits of conference realignment will play out in Logan, Utah, where an excellent but underrated program is set to step into the big leagues. Where Morrill and Co. go from here remains to be seen, but the effects of that evolution -- or lack thereof -- will be fascinating to observe.
December, 5, 2011
12/05/11
8:04
PM ET
By
Diamond Leung
| ESPN.com
Utah State starting forward
Brady Jardine
, the team's top rebounder, could miss the rest of the season with a foot injury, coach Stew Morrill said Monday. Jardine has missed four games since suffering the injury Nov. 19 against Southern Utah.
Losing Jardine for an extended period of time would provide yet another obstacle for the perennial WAC champions to overcome. The senior was one of only four returning players and averaged 7.7 points and 7.7 rebounds after moving into the starting lineup this season. Without him, the Aggies have lost three of their last four games, losing to Texas A&M-CC before dropping consecutive games to Denver and Pacific.
"The injury is certainly worse than we thought, once it was retested and everything," Morrill told reporters. "He's out for an extended period and possibly the season."
"Brady was certainly a big blow, but we're not going to have him and that is just the way it is, we lost a good player. We are not going to have him at least for the foreseeable future, so how are we going to respond?"
To make things worse for the Aggies (3-4), another starting senior forward,
Morgan Grim
, might not be able to play against Utah Valley on Tuesday while dealing with a
flu bug and sprained ankle
. Grim is averaging 11.4 points and 6 rebounds. It's not exactly the kind of momentum Morrill was looking for after starting the season in promising fashion with a win against rival BYU.
"Throw our inexperienced guys into it and it is just the nature of it," Morrill said. "When you get your opportunity you've got to respond and when you are not very confident, it makes it harder. You've got to show what you are made of. Inexperience, that is why everybody talks about it so much, it's a tough thing to deal with and that is what we are dealing with right now."
September, 22, 2011
9/22/11
8:25
PM ET
By
Diamond Leung
| ESPN.com
Utah State forward
Brady Jardine
earned his way onto SportsCenter last season with a ferocious dunk that helped the Aggies beat Saint Mary's on national television and provided a signature moment for their NCAA tournament team. The Aggies have dominated the WAC by winning four straight conference championships.
And if anyone thinks Utah State is in rebuilding mode this season after losing four starters including WAC player of the year
Tai Wesley
, Jardine is providing a reminder that the Aggies aren't going anywhere by
blogging about it
.
It's been kind of funny to talk to people over the summer about the team because many act as if the Utah State Basketball program ended with last year's seniors -- like there isn't even going to be a game played in the Spectrum this year. Well ladies and gentleman, there will be a team this year, and to be honest, I think we will surprise some people.

The coaching staff has done an awesome job over the summer in bringing in some great recruits. I dare say that I believe we will be one of the most athletic teams in Utah State's recent past. We are taller, quicker and more explosive than we've been since I've been an Aggie. The question still to be answered is will we have as much mental toughness and heart as the past years team.
Jardine, a senior who averaged 7.5 points and 7 rebounds last season, is only one of four returning players. The Aggies have eight new scholarship players who are eligible for action, including junior college transfer forwards Mitch Bruneel and Kyisean Reed. Bruneel was formerly Idaho's state player of the year coming out of high school.
Despite only having started seven games in three seasons, Jardine is expected to see his role expand with he and point guard
Brockeith Pane
being the top returning players. In Utah State's summer prospectus, Morrill said it's Jardine who has to be the team's go-to guy and that "his senior season should be really special."
While the preseason favorite might be Nevada or New Mexico State, those teams will still have to go through Jardine and a Utah State team that is unaccustomed to finishing anything but first place in the WAC.
"I want this group to believe they can be successful, I just want them to go about it the right way which is day-by-day," Morrill said in a statement. "You can't win a WAC championship by talking about it, you've got to go to work. We won't be favored to win the WAC and that will be the first time in a while. I don't know if I would call us an underdog, but you have a chance to prove that maybe you're better than where you're picked. I suspect we'll be picked somewhere in the middle of the pack. Whatever motivates you to go to work and do what it takes day-by-day to get better, I'm
OK with that."
July, 13, 2011
7/13/11
1:42
PM ET
By
Diamond Leung
| ESPN.com
Utah State, which has won four straight conference titles in the WAC, will not be favored to continue its domination of the league if coach Stew Morrill is correct about what he sees as an Aggies team filled with question marks.
"For the first time in several years, we will not be the favorite in the WAC," Morrill said in a statement. "We hope the challenges of the preseason will help us improve enough to be a competitive WAC team. Nevada, New Mexico State and Hawaii appear to be very strong and we look forward to seeing how it all shakes out."
Perhaps that's an overstatement, and don't mistake Morrill's preseason prediction for a prediction on where Utah State will finish in the standings. The Aggies might be losing six seniors off their NCAA tournament team, including WAC player of the year
Tai Wesley
, but Morrill has managed to plug holes before after the departures of top players like Jaycee Carroll and Gary Wilkinson. Point guard
Brockeith Pane
is the only member of the all-conference first team to return.
Morrill is correct in noting that the rest of the league appears to be improving. Nevada had the league's freshman of the year in
Deonte Burton
. New Mexico State saw
Troy Gillenwater
turn pro, but will get top rebounder
Wendell McKines
back from surgery. Hawaii continues to recruit well under coach Gib Arnold, though two of his signees won't be joining the program
due to academics
.
Utah State still should be very much in the conversation to repeat as champion, and if it does get to the NCAA tournament again, Morrill has put together a schedule that might get the Aggies a better seed than the No. 12 seed they were assigned after a 30-win season. They host BYU in the season opener, play at Wichita State and play in the World Vision Challenge against Kent State before an important
road game against Mississippi State
on New Year's eve.
Then comes the WAC schedule, which Utah State can only hope won't be the RPI killer it was a year ago. A better conference would help the Aggies achieve their goal of a higher seed in the NCAA tournament, even if they think it makes it more difficult to get the nod as the favorite in the preseason.
July, 8, 2011
7/08/11
3:45
PM ET
By
Diamond Leung
| ESPN.com
Utah State coach Stew Morrill has traditionally stuck to his guns when it comes to scheduling. And because the Aggies generally want to play teams that agree to make a return trip to Logan, where they are dominant, there are few takers.
The defending WAC champions have learned that it's not an easy road to take, since they won 30 regular-season games this past season and only managed to sneak in the NCAA tournament with a No. 12 seed.
So when it was announced Thursday that Utah State had entered into a three-game scheduling agreement with Mississippi State, the Aggies seemed as thrilled as if they had just inked a top recruit, according to the
Salt Lake Tribune
.
"There is no doubt that we sought to strengthen our schedule in the non-conference," [Utah State athletic director Scott] Barnes said. "Coach [Stew] Morrill made this happen, I just signed the contract. We feel like this has the potential to be a very challenging schedule for us. We're very excited to go out and play it."
Utah State will play twice in Starkville, including a game this New Years' Eve, and what the Aggies get in exchange is that coveted home game against a power conference school in 2013. It's a stark contrast to a year ago when Morrill had so much trouble finding a top opponent that he felt it was too good of an opportunity to pass up and play at Georgetown with no promise of a return trip to Logan.
The Mississippi State-Utah State series should be intriguing as well. In December, fans will get to see Dee Bost and Renardo Sidney take on an Aggies squad that loses a lot but probably not enough to expect a long rebuilding process. The game will have postseason implications for both teams.
It's a matchup worth scheduling and one Utah State was especially happy to get done.
April, 26, 2011
4/26/11
3:23
PM ET
By
Diamond Leung
| ESPN.com
Utah State coach Stew Morrill was named the Jim Phelan National Coach of the Year at the Final Four as presented by CollegeInsider.com, and the list of finalists that finished behind him in the voting included a number of prominent coaches.
A group of coaches, media members and athletic administrators collectively voted Morrill over Mike Brey, Rick Byrd, Jamie Dixon, Billy Donovan, Steve Fisher, Greg Kampe, Mike Krzyzewski, Steve Lavin, Thad Matta, Sean Miller, Matt Painter, Rick Pitino, Dave Rose, Bill Self and Roy Williams.
Morrill was so surprised to win the award that according to
The Herald Journal
, he hadn't planned on attending the banquet at the Final Four in Houston and instead went to Colorado to celebrate his grandson's birthday.
"They called to see if I was going to be there; I felt really bad that I wasn't going to be there, but there was a 6-year-old with a birthday party on that day and grandpa was coming, and he was counting on it," Morrill explained. "I couldn't just drop that and grab a flight."

So what did the winningest coach in Aggie basketball history do? He called and told them he was fine with the award being given to someone else who was going to be there.

"They laughed at that, and said, 'No, we are not doing that,'" Morrill said. "Once in a while something happens that you got to feel good about. It was very nice. Somebody on that committee must have liked me."
Morrill led Utah State to a 30-4 season that tied the school record for wins, and the Aggies were dominant once again in the WAC in winning the league by a five-game margin.
The challenge now for Morrill is to see if he can coach the Aggies to a fifth straight WAC regular-season title next season and get back to the NCAA tournament. They lose six seniors, including WAC player of the year Tai Wesley and five of their top seven scorers.
But one of the trademarks of Morrill's program is the ability to somehow plug in the pieces and keep on winning. Would anyone really bet against the Aggies to take the league title again?
"My assistants are, 'Coach, we're still going to be picked high.' Are you crazy? I can't imagine that, but we may be," Morrill told The Herald Journal. "I don't think we will be picked to win the league. ... I think it will be fun. A challenge, but lots of fun."
April, 19, 2011
4/19/11
1:52
PM ET
By
Diamond Leung
| ESPN.com
Utah and Utah State have played 223 games in a long-running rivalry that dates back to the 1908-09 season, but it might be over with Utah moving to the Pac-12 and no longer willing to play at Utah State.
However, if Utah state senator and USU fan Lyle Hillyard has his way, the rivalry will be forcibly revived as he wants the legislature to mandate state-funded schools play at least three games every year against in-state schools or face fines, according to the
Salt Lake Tribune
.
"If they're not willing to help the other schools with economic development and getting big crowds out, maybe they ought to contribute some of the money so it could be spread among the other schools and make up some of that loss," said Hillyard, R-Logan.

Hillyard had asked legislative attorneys to draft a bill to enact the mandate but dropped it because time was running out in the 2011 session.

His proposal would essentially guarantee that the rivalry between Utah State and the University of Utah continues, despite much-publicized comments earlier this year from U. coach Jim Boylen that he didn't want the Utes to play the Aggies.

Boylen has since been fired, but Hillyard still wants to explore the potential arrangement and has asked the Legislature's Education Interim Committee to study the issue, and he may bring it back when the Legislature convenes next year.
Utah State of course would support the idea given coach Stew Morrill's general unwillingness to schedule teams that don't make the return trip to the Logan, where the Aggies have one of the best home-court advantages in America.
"We were scheduled to go [to Utah] next year, but we are not going to schedule them unless it is home-and-home," Morrill said in November. "Would you? It is the in-state school and the university of the state. Most often times, those two schools play in most states. They have got a right to do what they want to with scheduling, but from a tradition standpoint it is really too bad."
Utah athletic director Chris Hill sounded lukewarm to Hillyard's idea.
"I think that we're a little uncertain," he told the Salt Lake Tribune. "The issue for us is mandating some away game.
"Without knowing exactly what he's proposing, I don't know how much it will affect us. I would want us to have a thorough discussion before it's implemented."
March, 2, 2011
3/02/11
4:31
PM ET
By
Diamond Leung
| ESPN.com
In a nod to tonight's 11 p.m. ET start time on ESPN2, New Mexico State is asking fans attending the Utah State game to get in the spirit and show up at the Pan American Center wearing pajamas. The school is calling it the ESPN2 Pajama Party at the Pan Am.
"Students, this is your chance to make a big splash on national tv and we need to see you in your PJ's," reads the
Facebook event page
.
So while New Mexico State gears up to defend its WAC tournament title with a game against regular-season champion Utah State and tries to pull into a second-place tie in the standings, fans will be in their nighties.
Forward
Wendell McKines
, who is redshirting the season with a broken foot, has also
agreed to wear pajamas
to the game upon receiving the requisite number of "likes" on his Facebook page. And the mascot Pistol Pete? Well, he's been
out shopping
for just the right pajamas for the occasion.
But pay attention to the action on the court as well. New Mexico State certainly has something to play for, as earning the second seed in the conference tournament would mean a bye into the semifinal round.
"New Mexico State is undefeated at home this season in conference play, and they get really juiced up when they play us," Utah State coach Stew Morrill said. "The fact that we have won the regular season, some of the past history we have with them, and the fact that they beat us in the tournament last season, I am sure they will be ready to go.
"They get geared up to play us, there is just no question about that."
February, 20, 2011
2/20/11
1:43
AM ET
By
Diamond Leung
| ESPN.com
MORAGA, Calif. -- Utah State forward
Tai Wesley
heard the boos that rained down on him at McKeon Pavilion and loved every second of it.
The senior dominated the second half of a BracketBusters game at Saint Mary's on Saturday night, scoring 17 of his 22 points after halftime and finishing with 11 rebounds to lead the Aggies to a
75-65
win -- a desperately needed victory to silence critics who claimed they hadn't beaten a proven opponent.
After Utah State (25-3) stopped Saint Mary's 19-game home winning streak, Wesley indicated he thought beating the Gaels would lock up an at-large berth into the NCAA tournament should one be needed.
"Hope so," Wesley said. "You'd think so, but we don't need to get caught up in that."
The Aggies trailed by as many as 12 points and were down by nine at halftime, but during the break, coach Stew Morrill told the team it would be feeling great by the final buzzer after they had won. He reminded Wesley that Saint Mary's wasn't doubling him in the post and that the preseason WAC player of the year had been waiting his entire career for a night like this one.
Despite making only one field goal in the first half and playing with a broken nose he broke a few weeks ago, Wesley ignored the previous 20 minutes and went to work. He saw his shots start falling, helped three Saint Mary's post players foul out, and relished the bad guy role in a hostile environment.
On one play, he set a vicious screen that sent Gaels guard
Matthew Dellavedova
sprawling to the floor, and the two exchanged some words after a break in the action.
"He literally said he wanted to kick my a--," Wesley said. "I said, 'Let's go.'"
Dellavedova, who continued his struggles and went 3-for-10 from the field, said he didn't remember what was said. The two were quickly separated, but the Saint Mary's crowd jeered Wesley for the rest of the game. It only stopped when he'd silence the fans with buckets.
"Love it," Wesley said. "If you're getting booed, you're doing something right. You're getting under their skin. You're making them hate you."
Saint Mary's, which needed the win just as much coming off an RPI-killing loss to San Diego on Wednesday, saw
Mickey McConnell
get hot in the first half and finish with 16 points, but was limited to 28.6 percent shooting in the second half.
When
Clint Steindl
drained back-to-back 3-pointers to cut the lead to six, the Aggies responded with
Brady Jardine
's back-breaking contested dunk for a 3-point play with 2:26 left.
"We don't care that we showed the nation we can beat people," Jardine said. "But for our team to know we can beat a top-25 team on the road, that's something we'll remember."
The Gaels might have to win the West Coast conference tournament to get off the bubble and to guarantee a spot in the Big Dance. Meanwhile, the Aggies have brushed off their critics who say they haven't beaten a notable opponent.
"Weak schedule, strength of schedule, we hear that every year," Wesley said. "Honestly, we don't care."
Morrill went on to list the reasons why this was the signature win the Aggies needed: the Gaels are leading the WCC, had been unbeaten this season at home, and the event is called BracketBusters.
"It must mean something," Morrill said.
February, 14, 2011
2/14/11
12:20
AM ET
Five observations from the past week:
1. Officials had an interesting week. The out-of-bounds call on Alabama's
JaMychal Green
by official Tim Higgins was more than questionable in the Crimson Tide's 81-77 loss at Vanderbilt on Thursday. Green thought he got fouled but the more egregious call was when he was ruled to have stepped out of bounds on a drive along the baseline with Higgins looking down at the line. Alabama coach Anthony Grant was as upset as he has ever been as a head coach. After all, Green was on his way to possibly tying a crucial game for Bama.
The call on
Corey Fisher
of Villanova against Rutgers'
Jonathan Mitchell
was a good call as Fisher bumped Mitchell on a game-ending 3-point shot. Mitchell got to the line, converted the free throw and the Scarlet Knights won on a rare four-point play at the RAC. Fisher had no business being up on Mitchell with the Wildcats up three points. So he put himself in a position for the officials to make a call.
[+] Enlarge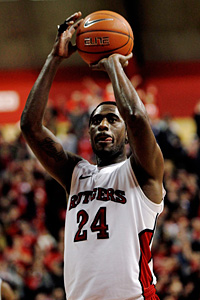 AP Photo/Mel EvansJonathan Mitchell sank this free throw to complete a four-point play with 0.8 seconds left, giving Rutgers a 77-76 win against Nova.
And then late Saturday night in Boulder, Kansas State's
Rodney McGruder
hit an apparent game-winning 3-pointer for the Wildcats. But the officials looked at multiple camera angles and the ESPNU shot from the other basket clearly showed the ball was in McGruder's hands when the clock hit all zeroes. That allowed Colorado to escape with a 58-56 win, leading the Wildcats to go from celebrating to hanging their heads in a matter of minutes. The win for CU came just a few days after Texas A&M won in Boulder by three points after
B.J. Holmes
hit a 3-pointer with 1.9 seconds remaining in regulation to tie the game and send it into overtime.
2. Utah State's margin of error is always incredibly thin. The Aggies are probably under the most pressure of any mid-major power to win every conference game. Well, Utah State was on national TV Wednesday night and lost at Idaho, a team that turned around and lost to Boise State over the weekend. Utah State is 23-3 overall, 12-1 in the WAC and has a strong chance of going 15-1 in the league with three remaining games. Utah State got an at-large berth last season after finishing 14-2 in the WAC. So there is a precedent for the Aggies to get an at-large berth without running the table in the conference. Yet there is a perception that they almost have to do so. To expect a conference team to win every road game is asking quite a bit. Utah State is a target every time it goes on the road. Losing one or two road games a season is quite an accomplishment and if there are no egregious losses, it's hard not to include a team in the field that has such an outstanding record.
The NCAA is charged with putting the best 37 at-large teams in the field. But the NCAA also looks to reward conference champs that win convincingly. If the Aggies do so again, it will be interesting to see how the committee handles them. The two key nonconference games the Aggies played they lost -- at BYU and at Georgetown. USU coach Stew Morrill has always said that he doesn't need to change his scheduling philosophy since the Aggies have earned at-large berths with the current plan. He did tweak it a bit this season by going to Georgetown. He still needs to do more and get into a key neutral-site tournament in the coming years. But he might sneak into the tournament again, doing it his way if Utah State finishes with a 15-1 WAC mark. Beating Saint Mary's on the road in the BracketBusters on Saturday would certainly help.
3. Some coaches have resurfaced quite well this season and are proving that they can check their egos at the door and be successful at a lower level. Cliff Ellis, who had his share of success at Clemson and Auburn, is leading quite a run at Coastal Carolina with the Chanticleers atop the Big South (15-0) and holding the longest win streak in the country at 22 games. Dan Monson was pushed out of Minnesota after seven games of the 2006-07 season and resurfaced the next season at Long Beach State. He now has the 49ers at the top of the Big West with a 10-2 record and looking at a No. 1 seed in the conference tournament. Bobby Cremins, who left Georgia Tech -- where they named the court after him -- in 2000, has led a resurgence at the College of Charleston. The Cougars have a 12-2 mark and stand atop the South Division in the Southern Conference and are in a position to get to the NCAA tournament. And in the Sun Belt, the home of so many second and third chances, the two division leaders are led by former big-time coaches in Mike Jarvis (St. John's) at Florida Atlantic in the East and John Brady (LSU) with Arkansas State in the West.
[+] Enlarge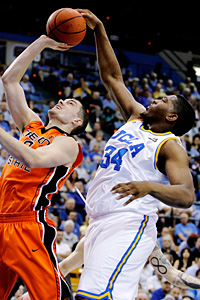 AP Photo/Danny MoloshokDespite an early-season loss to Montana, Joshua Smith and the Bruins are still in the hunt for the Pac-10 title.
4. I'm guilty every season of overreacting to early-season losses. UCLA and Florida are the two latest examples. The Bruins lost at home to Montana and didn't look good in New York in November. Now the Bruins are in position to possibly win the Pac-10 with a 9-3 league record and nonconference wins over BYU and St. John's that may make the Bruins an at-large lock fairly soon. Meanwhile, Florida has assumed its place atop the SEC East with a two-game lead, finishing off close games at home and on the road because of its experienced perimeter and inspired play from
Chandler Parsons
, who played 37 minutes with a bruised hip/thigh that will likely keep him out of practice all week (Florida doesn't play again until Sunday at LSU). How Florida lost at home to Jacksonville and South Carolina is still hard to fathom. But it happened and the Gators are hardly worse off for it now that they're 20-5 overall and 9-2 in the SEC. When will I and others learn to chill over odd losses in November and December? (Remember St. John's losing to Fordham and St. Bonaventure in back-to- back games?) Well, probably never.
5. Long Island University hasn't been to the NCAA tournament since 1997. But the Blackbirds are atop the Northeast Conference with a 12-2 record and are 20-5 overall. The main reason is the return of
Julian Boyd
. The 6-7 sophomore sat out last season with a heart condition that was being reviewed and examined. Well, he has come back, and has been the leader of the LIU revival with 12.2 points and 8.7 rebounds a game. Boyd's return to the Blackbirds has transformed the team and the NEC race. Boyd had a monster effort earlier in the season when he scored 34 points and grabbed 16 rebounds, one of his seven double-doubles on the season. The turnaround of Boyd and LIU is one of the hidden gems of this season.