College Basketball Nation:

Stony Brook Seawolves
November, 23, 2013
11/23/13
10:35
PM ET
On a slow Saturday for college basketball, there just weren't many gems. North Carolina struggled with Richmond but eventually pulled away to win 82-72. Louisville dismissed Fairfield 71-57, which set up a marquee Sunday matchup against the Tar Heels.
Winless Tulsa gave Creighton a scare. But overall, it certainly wasn't the game's sexiest Saturday. But there were a variety of under-the-radar and mid-major programs that offered some impressive individual efforts.
These are some of the players who usually go unnoticed for the majority of the year until March approaches and we're all scrambling to find the next Butler or VCU. Well, remember these names. These athletes might be more relevant in the coming months.
[+] Enlarge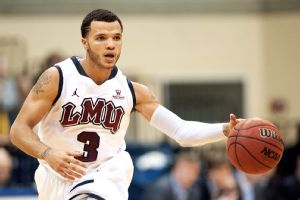 Orlando Ramirez/Icon SMILoyola Marymount G Anthony Ireland turned in a huge effort on Saturday.
1.
Keon Lewis (UTSA)
-- The UTSA junior guard had a monster game in his team's 87-76 win over Texas A&M-Corpus Christi. He recorded 30 points, 4 assists, 2 rebounds and 2 steals. He also went 13-for-13 from the charity stripe and 3-for-5 from the 3-point line.
2.
Anthony Ireland (Loyola Marymount)
-- The 2012-13 All-WCC first-teamer scored 25 points in a 76-70 win over Marist in the Paradise Jam. The senior also recorded 6 assists and 3 steals. And he made 10 of 11 free throws.
3.
Jameel Warney (Stony Brook)
-- The 6-foot-8 sophomore forward was in Beast Mode during Stony Brook's 67-61 win over Florida Atlantic. He finished with 23 points and 19 rebounds in that game. He was crucial for the Seawolves, who were locked in a tied game early in the second half.
4.
Langston Hall (Mercer)
-- The 6-4 senior led Mercer to an 81-54 win over Yale. He connected on four of his seven 3-point attempts. He also registered 18 points, 10 assists, 2 rebounds and 1 steal.
5.
Anthony Stitt (Charleston)
-- The junior finished the Cougars' lopsided 89-55 win over Furman with 4 steals. He also made 4 of 8 3-point attempts on his way to 21 points.
6.
Chris Horton (Austin Peay)
-- The sophomore big man is averaging 3.8 BPG. And he maintained that pace when he finished with four blocks in a 78-72 victory over Montana State. He also finished with 23 points and 9 rebounds.
7.
Sean Armand (Iona)
-- The 6-5 guard powered the Gaels in their 89-73 victory over Paul Hewitt's program. Armand was 10-for-16 from the field in a 30-point performance. It was his season high in George Mason's first blemish of the season.
8.
Ray Lee (Eastern Michigan)
-- What a performance by the freshman in his team's fifth consecutive win. He scored 38 points, went 12-for-15 from the field and made all five 3-point attempts in Eastern Michigan's 74-69 victory over Texas-Arlington. Another interesting note? His real name is Raven.
9.
Shawn Long (Louisiana-Lafayette)
-- Check out this stat line by the 6-9, 245-pounder: He finished with 24 points, 17 rebounds and 5 blocks in the Ragin' Cajuns' 84-75 victory over Oakland. He also hit a 3-pointer.
10.
Mark Henniger (Kent State)
-- The 6-9 senior led the Golden Flashes to a 102-97 win over Niagara. He was perfect. He went 6-for-6 from the field (20 points) and 8-for-8 from the free throw line. Kent State should bronze his shoes.
October, 2, 2013
10/02/13
9:05
AM ET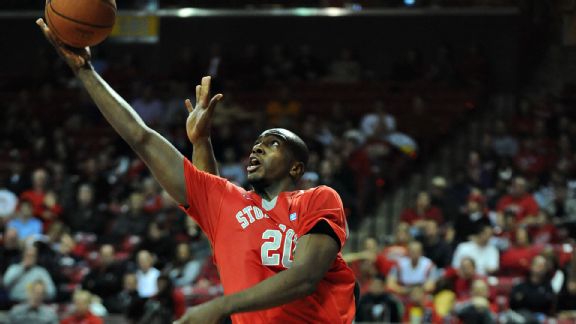 Mitchell Layton/Getty ImagesJameel Warney leads a solid returning cast this season for Stony Brook.
It's college basketball preview season, and you know what that means: tons of preseason info to get you primed for 2013-14. But what do you really need to know? Each day for the next month, we'll highlight the most important, interesting or just plain amusing thing each conference has to offer this season -- from great teams to thrilling players to wild fans and anything in between. Up next: The sneaky-good Stony Brook Seawolves.
I'll always remember the first time I watched Stony Brook play basketball.
My memory isn't vivid because of Stony Brook itself. It was mid-November, 2010, roughly seven hours into my first-ever College Hoops Tip-Off marathon chat. The 6 a.m. ET start slot went to Stony Brook and Monmouth, which is precisely the kind of game that gets scheduled at 6 a.m. ET -- both schools small enough to be willing. I remember being impressed by the sold-out Monmouth crowd. I remember being floored that a few hundred people were a) awake and b) spending their time chatting with me. I remember being horrified by a shrieking woman, or at least chatting about a shrieking woman; she could have been in a different game. Things were already starting to blur together. But I do remember two things: The game was thrillingly close, and the basketball was pretty bad.
Stony Brook would go on to win 15 games in 2010-11. They ended the season ranked No. 216 in the Pomeroy adjusted efficiency rankings. They were never particularly noteworthy.
All of which comes in service of this point: There was very little reason to expect Stony Brook would vault into the nation's top 60 just a few seasons later. I would venture to guess even most die-hard college hoops fans had no idea. But it really happened: In 2012-13, the Seawolves went 25-8, finished No. 55 in the Pomeroy rankings, suffered a couple of ugly losses (Sacred Heart, Hartford) along the way, went 14-2 in their league, and lost to Albany 61-59 in the America East tournament.
The 2013-14 season holds nearly as much promise. There is the small matter of replacing senior guard Marcus Rouse, who shot 41 percent from 3, turned the ball over on fewer than 10 percent of his possessions and was a major factor on the defensive end, where Steve Pikiell's team shined. Waving farewell to senior forward Tommy Brenton won't be easy, either; those are two big defensive losses. But Stony Brook has three starters returning, and a host of promising young players. The best of them last season was 6-foot-8 freshman forward Jameel Warney, who shot nearly 62 percent from the field, cleared double-digit rebounding rate tallies on both ends of the floor, blocked 6.6 percent of opponents' available shots, and gradually began to fit the archetype of the dominant mid-major star.
Warney's going to be really good in 2013-14, and it appears Stony Brook could be, too. Had you told me that back in November of 2010, I would have -- well, I would have asked you to bring me a cup of coffee. Then I would have told you that you were crazy. But here we are, and here Stony Brook is, on the verge of a mid-major breakout, no caffeine required.
January, 15, 2013
1/15/13
5:00
AM ET
1. Wyoming had no choice but to suspend
Luke Martinez
after charges were filed in a bar room fight on Dec. 30 that resulted in a broken hand. The coaching staff played coy with the nature of Martinez' injury initially. The staff, and according to the report Monday the police as well, weren't expecting charges in the case. Martinez was instrumental in the Pokes' 12-0 start. The Cowboys are 2-1 since Martinez got hurt, beating SMU and Nevada on the road, but losing to Boise State. Martinez is still three weeks away from being cleared to play. Still, with the pending charges and the Cowboys playing well, they have time to make a decision. Ultimately, the Pokes likely would need Martinez to finish higher in the MWC and make a run at an NCAA berth. But nothing may be done until he's healthy and the case has some sort of resolution.
2. Teams in some of the lower-level conferences don't have the luxury of home nonconference games or even neutral-site affairs. That's why it's always impressive to see which teams have won true road games at this point in the season. The list won't have a single power-six type school on it since they hardly play any real road games. Our ESPN research crew has produced the current list: Stony Brook has seven. Albany, Bryant, Bucknell, Louisiana Tech, Murray State, Stephen F. Austin and Texas-Arlington have six. If you're looking for a few predictions on who on this list will make the NCAA tournament, I'll go with Stony Brook out of the America East, Bucknell from the Patriot, Murray State from the OVC and Stephen F. Austin out of the Southland. Bucknell is the one school on this list that I will blindly predict wins at least one game.
3. Ole Miss coach Andy Kennedy is no fool when it comes to making the NCAA tournament. He knows the deal. The Rebels just won one game at home against Missouri and one on the road against Tennessee. That doesn't equate to an NCAA tourney berth. So Kennedy knows, "we've got to win games.'' The Rebels have been on too many bubbles and in NITs (five of six years under Kennedy) for Kennedy to be too confident. It's hard not to be a little optimistic, though, with the play of JC transfer (originally at Utah)
Marshall Henderson
. He's averaging 18.6 points a game and is one of the toughest matchups in the SEC. "He's a good shooter, a scorer and a competitor,'' said Kennedy. He's all of the above, for sure.
October, 15, 2012
10/15/12
6:25
PM ET
By
ESPN.com staff
| ESPN.com
Before we get to the Blue Ribbon team-by-team previews for the America East, here is Eamonn Brennan's wind sprint through the league:
Blue Ribbon's in-depth previews of all nine America East teams:

Albany
Boston U.
Binghamton
Hartford
Maine
New Hampshire
Stony Brook
UMBC
Vermont
October, 4, 2012
10/04/12
5:00
AM ET
1. Maryland coach Mark Turgeon made his final plea to the Harrison twins --
Andrew
and
Aaron
-- on Wednesday with a visit in Texas, hoping they would commit to the Terps on Thursday at 5 p.m. on ESPNU. Turgeon has poured quite a bit of time since his arrival in College Park to try to lure the potentially game-changing brothers. If he loses, it will be to Kentucky, so he can't really complain. But it will be hard for Maryland to come up with a plan B. The drop-off from the Harrison twins is quite steep. They have the potential to be ACC championship-caliber players -- much more than just recruits who will be solid players that keep Maryland in the mix. To add to the drama, Maryland plays Kentucky in the season opener for both schools at Barclays Center in Brooklyn, N.Y., on Nov. 9. If Maryland lands the players, Kentucky will move on to the next big thing. If Kentucky gets the pair, it will be even more difficult for Turgeon and staff to go against UK, knowing that they couldn't beat Big Blue off the court and possibly on it, as well.
2. Practice is a week away and Ole Miss coach Andy Kennedy says he has the most quality depth in his six years in Oxford. The Rebels have been a perennial early bubble team, only to find itself more to the NIT's liking under Kennedy -- Ole Miss has been in the NIT in five of Kennedy's six seasons. He returns three senior starters and adds six players, three to four of whom Kennedy expects will play significant minutes. The gem returnee, though, isn't a senior. It's
Jarvis Summers
, a sophomore guard who led SEC freshmen with a 43.6 percent 3-point percentage last season. The problem for the Rebels is that the non-conference schedule which is once again light. Ole Miss plays only one team that is projected to be in the NCAA tournament -- San Diego State at the Diamond Head Classic in December. Ole Miss will have to earn the bid in the SEC.
3. The alignment saga is quiet -- for now. But there are still spots to fill in the Metro Atlantic Athletic Conference, Colonial Athletic Association and America East. One school that is quietly hoping its phone rings is Monmouth. The New Jersey university would take a ticket out of the Northeast Conference if it came from the CAA or the MAAC. Facilities and location are a plus. The CAA, though, still needs Davidson and Charleston if it's going to get a significant bump out of expansion after losing Virginia Commonwealth, Old Dominion and Georgia State. Quinnipiac would listen to the MAAC and America East (and of course the CAA, too, but that's doubtful). The America East loses any of its leverage to lure if it sees Stony Brook depart -- and the Seawolves' football program is on its way to the CAA in 2013.
May, 22, 2012
5/22/12
3:20
PM ET
October, 15, 2010
10/15/10
2:52
PM ET
By
ESPN.com staff
| ESPN.com
Eamonn Brennan takes a quick look at the America East:
For in-depth previews of all nine America East teams, check out Blue Ribbon's breakdowns:

Albany
Binghamton
Boston University
Hartford
Maine

New Hampshire
Stony Brook
UMBC
Vermont