College Basketball Nation:

Stu Douglass
September, 20, 2012
9/20/12
10:45
AM ET
Editor's Note: In the buildup to Midnight Madness, we are taking an in-depth look at Joe Lunardi's top five seeds in a series called Countdown To Madness. In addition to the Insider stories, Eamonn Brennan will offer Three Big Things about each team and we'll have Five Questions with a player or coach from each squad.
For
Tim Hardaway Jr.
, the scenario is becoming routine. Every single day on the Michigan campus -- whether he's eating lunch with a teammate, sitting in class or walking to practice -- someone stops him to talk about Wolverines basketball.
"We could be out and about, and a group of fans will just walk up to us," Hardaway said. "They'll wish us luck and say, 'Oh, we're so excited for the season.'"
The buzz in Ann Arbor is certainly understandable.
One season after claiming a share of the Big Ten title, the Wolverines are expected to contend to reach the Final Four thanks to a mix of talented returnees, such as Hardaway and
Trey Burke
and highly touted newcomers
Mitch McGary
and
Glenn Robinson III
.
"There's a lot of hype," Hardaway said, "but I think we're doing a good job of just making sure that everyone settles down. The season hasn't even started yet. We're all just preparing to play anyone in the country. Everyone is excited about the season. Everyone is trying to make it seem like we're back. But we have a long way to go."
Hardaway, who averaged 14.6 points as a sophomore last season, spoke with ESPN.com earlier this week.
[+] Enlarge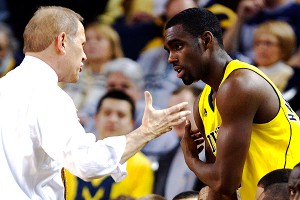 Rick Osentoski/US PresswireTim Hardaway Jr. said Michigan coach John Beilein, left, puts great trust in his guards.
What's the most encouraging thing you've seen from your teammates thus far?
Tim Hardaway Jr.:
Just the mindset of everyone coming in, with everyone having the same intensity and passion about playing Michigan basketball. Everyone sees that and we're all trying to fulfill our dreams and get back to where we were last year and win a Big Ten championship.
Who will be the "surprise player" on this year's squad?
TH:
Everyone has been making a lot of improvement.
Jon Horford
is coming off an injury and has been playing really well in the summer.
Matt Vogrich
has been shooting the ball really well.
Blake McLimans
is getting better.
Jordan Morgan
-- just everyone in general. Everyone has added little pieces to their game to make them more successful and help the team out any way they can.
Even though you had a great season overall, you went into a major shooting slump and made just 35 percent of your shots in February. How were you able to snap out of it and finish so strong?
TH:
It was a team effort. We had a lot of guys coming into the locker room with me and having conversations about what I needed to work on. During the Nebraska game,
Zack Novak
talked to me at halftime before we walked onto the court. He said, "Hey, you can help the team out in different ways than scoring." Once I heard that, I think I just snapped out of it from then on. That's what helped me out the most.
What did you do in the offseason to better prepare yourself for your junior year?
TH:
I feel like I'll be playing a lot more at my normal position [combo guard] instead of being at the 3-spot. We lost two of our main guards, Zack Novak and
Stu Douglass
, from last year. So I'm working on my ball-handling, guarding the point guard and guarding the shooting guard. I'm just trying to have fun and play Michigan basketball. Wherever Coach Beilein wants me to play, I'll play. I'm not a picky guy. I just want to be out there on the floor and have fun and help my team in whatever way I can.
What's the best part about part about playing for John Beilein, and what goals has this team set for itself?
TH:
[Beilein] is an excellent coach. He lets us play. He lets the quarterback, the point guard, call out the plays. He has the utmost confidence in his guards to make the right decisions out there.
As far as goals, the first thing is to get better every day. We've been saying that since the first day of the fall semester. We're not focused on national championships or Big Ten championships. We'll worry about those later in the season. Right now we just want to do everything we can to get better as a team, build our chemistry up with these new freshmen and get better every single day.
July, 20, 2012
7/20/12
1:33
PM ET
As part of our Summer Shootaround series, here are the best- and worst-case scenarios for the Big Ten:
Illinois
Best-case
: No one's expecting much from Illinois in 2012-13, and the reasons are obvious: With zero in the way of fresh blood entering the program this season, this is essentially the same team that lost 12 of its final 14 games last season (necessitating the firing of coach Bruce Weber) only without its best player, center
Meyers Leonard
. I get it. But there hasn't been a mass exodus at the program.
Brandon Paul
and
D.J. Richardson
will be senior guards capable of blowing up at any time (Paul especially). The supporting cast has its holes, but harnessed correctly that's a backcourt that could give plenty of Big Ten teams trouble -- at the very least.
Worst-case
: What happens when you add a dearth of young talent, experienced players who pretty much gave up on their last leader and a new coach asked to bring it all together? There is no one answer. Frankly, anything is possible, and while that includes the aforementioned revival from Paul and Richardson, it could just as easily lead to Paul looking around, deciding he's the best player on his team by a lot (not that he would be wrong) and posting yet another incredibly inefficient, borderline-greedy offensive season. I don't think Illinois will totally bottom out this season, but that's only if coach John Groce can convince everyone, Paul included, that's no way to spend a year on the hardwood. If he doesn't, this could get ugly in a hurry.
Indiana
Best-case
: Don't look now, Indiana fans, but I'm going to do it: IU's best-case scenario is the NCAA collegiate men's basketball national championship. I know. Crazy, right? What's even crazier is that it doesn't require a huge stretch of the imagination. After all, Indiana will feature the best returning player in college basketball in
Cody Zeller
, who was dominant as a freshman and (according to every dispatch out of Bloomington this summer) is only beginning to showcase his newfound core strength, defense and versatility. The Hoosiers have a coterie of scorers around Zeller: stretchy wing
Christian Watford
, rim-attacking guard
Victor Oladipo
, sharpshooting floor general
Jordan Hulls
and do-everything
Will Sheehey
, not to mention a recruiting class that features at least one sure-fire immediate rotation player in point guard
Yogi Ferrell
. This team is deep and well-rounded and scores like crazy, and it's going to be a lot of fun to see where Zeller & Co. can go.
Worst-case
: To go where they really want to be, the Hoosiers are going to have to play better defense. It's just that simple. Indiana improved some last season, but where it really excelled was offense: Tom Crean's team ranked fourth in the country in adjusted offensive efficiency but just 64th on the defensive end (IU's 102-90 tournament loss to Kentucky was thrilling evidence of this disparity). Hulls' size disadvantage makes him unreliable at the point of attack; Zeller and Watford must become better rim protectors; and in general Indiana must find some trait to sustain itself on that end of the floor. At some point in the tournament, everybody goes cold. Eventually, your D has to carry you through.
Iowa
Best-case
: It's Year 3 of coach Fran McCaffery's rebuilding cycle, and everything seems to be going according to plan. Iowa has made strides in each of his first two seasons. Now with two talented freshmen from the Iowa-Nebraska border (center
Adam Woodbury
and point guard
Mike Gesell
), this could be the year the Hawkeyes officially emerge from their post-Todd Lickliter morass. Other than the freshmen, the keys are rising sophomores
Aaron White
and
Josh Oglesby
and junior
Melsahn Basabe
, who took the Big Ten by storm as a freshmen but fell off a bit last season. If there is a collective step forward and the freshmen prove productive in a hurry, this is an NCAA tournament team waiting to happen. Right on schedule.
Worst-case
: Let's not forget, of course, that senior guard
Matt Gatens
was by far this team's most efficient scorer, not to mention its senior leader -- the guy who almost
single-handedly shot Iowa into the tournament last season
. His loss is a crucial one. Just as crucial is defensive improvement. In 2011-12, the Hawkeyes were a top-35 offensive team but ranked No. 180 in defensive efficiency and No. 278 in opponents' effective field-goal percentage (eFG%). There is plenty of reason for optimism here, but if Iowa doesn't guard someone, it won't be dancing yet.
Michigan
Best-case
: Just last week, Big Ten Co-Freshman of the Year
Trey Burke
told the media he saw his team as a national title contender. That's a very optimistic best-case scenario, sure, but in such a wide-open hoops landscape, I'm inclined to agree. Burke is one of the nation's best lead guards, and he's complemented well by
Tim Hardaway Jr.
's outside-in game. The Wolverines also have a pair of top 25-ranked freshman to fawn over. Like Hardaway,
Glenn Robinson III
comes equipped with NBA genes, while just last summer forward
Mitch McGary
was once considered one of the best five prospects in the class of 2012. This is unquestionably the most talented Michigan team in a decade, and if the freshmen excel early, Burke's opinion won't seem farfetched.
Worst-case
: It's hard to see this team, which is indisputably more talented and almost certain to be more dynamic, somehow
not
being in Big Ten title contention by the end of next February. But if somehow the Wolverines are merely above average in 2012-13, it could be because they carry over last season's just-OK defensive effort (No. 60 in adjusted defensive efficiency). Or because they lack the breadth of reliable 3-point shooters (
Evan Smotrycz
transferred, while
Zack Novak
and
Stu Douglass
graduated) who have come to define coach John Beilein's two-guard front offense, which relies on 3-point shooting to stretch the floor. I think Beilein will make it work, and I think Michigan will be very tough to beat. But increased success is far from guaranteed.
Michigan State
Best-case
: As good as Michigan's backcourt is, could Michigan State's actually be better? If
Gary Harris
, the No. 2-ranked shooting guard (and No. 11-ranked player overall) in the Class of 2012 lives up to his considerable hype, it's a distinct possibility. But for seniors
Draymond Green
and
Austin Thornton
(and one-year graduate rental
Brandon Wood
), the Spartans return everybody from last year's 29-8 redeem team, including big-bodied forward
Derrick Nix
, still-blossoming athletic freak
Adreian Payne
and impressive freshman
Branden Dawson
, who should recovery from an ACL tear in time to join the team for the Big Ten season. But the key to it all is point guard
Keith Appling
. If Appling is a star -- and I would bet he will be -- the Spartans will be right back near the top of the Big Ten, same as usual.
Worst-case
: I brushed over Green's departure casually in the above paragraph, but there's really no way to overstate just how important Green was to Michigan State in 2011-12. Not only was he the team's tireless vocal leader, he was its best scorer, rebounder
and
passer. Without Green to solidify everything the team did, it's not unfathomable to see Michigan State take a step back into respectable but not great territory.
Editor's note: ESPN.com's Summer Shootaround series is catching up on the offseason storylines for each conference. For the rest of the best- and worst-case scenarios for the Big Ten, click here.
March, 16, 2012
3/16/12
9:56
PM ET
NASHVILLE, Tenn. – Breaking down No. 13 seed Ohio University's
65-60 victory
over No. 4 seed Michigan in the second round of the Midwest Regional at Bridgestone Arena:


Overview:
Other than the early minutes of the game, Ohio led the whole way in pulling off its second upset of a top-4 seed in the past three NCAA tournaments. The Bobcats knocked off No. 3 Georgetown in 2010.
There wasn't a lot of mystery to this one. Ohio shot 51.2 percent from the field and held Michigan scoreless in the game's final four minutes. The Bobcats were able to get good looks at the basket most of the game, and Michigan didn't have anybody who could stay in front of Ohio junior guard
D.J. Cooper
.
Ohio led by nine points with eight minutes to play, but Michigan made a run and cut the deficit to 63-60 with a little more than four minutes to play on Trey Burke's 3-pointer. The Wolverines had several chances to tie the game, but couldn't make shots down the stretch.
Turning point:
After Michigan had pulled within 63-60 on Burke's 3-pointer, Cooper missed from 3-point range on the other end. But Ohio's
Reggie Keely
chased down the long rebound. It was that kind of game. Ohio made the plays when it counted, and Michigan didn't.
Key player:
Cooper was unstoppable for the Bobcats. The Wolverines tried several different defenders on him and did their best to shadow him with two players at times. But when Cooper wanted to penetrate, he usually did. He was also 3-of-6 from 3-point land and finished with a game-high 21 points and five assists.
Key stat:
Cooper was 7-of-11 from the field. The Bobcats improved to 7-0 when he shoots at least 50 percent from the field.
Miscellaneous:
It was the second consecutive shaky outing for Michigan point guard Burke, the Big Ten's Freshman of the Year. He was 5-of-15 from the field and 2-of-9 from 3-point range. In the Wolverines' Big Ten tournament loss to Ohio State, he was 1-of-11 from the field and 0-of-7 from behind the arc. …
Evan Smotrycz
came off the bench to score 15 points for Michigan. It was only his fourth double-digit outing since Jan. 1. … Smotrycz's turnover when he lost the ball off the dribble with 6.8 seconds left was the final blow for the Wolverines (24-10). ... Michigan's two senior guards,
Zack Novak
and
Stu Douglass
, were a combined 1-of-7 from the field.
What's next:
Ohio (28-7) will move into the third round on Sunday and face the winner of the Temple-South Florida game. Those two teams play the late game Friday in Nashville.
January, 17, 2012
1/17/12
9:49
PM ET
By
ESPN.com staff
| ESPN.com
Stu Douglass
' late jumper leads Michigan to their third straight win over Michigan State, 60-59.
Click here
for the WolverineNation instant analysis.
January, 5, 2012
1/05/12
4:48
PM ET
Saddle Up is our semi-daily preview of that night's best basketball action.
No. 13 Michigan at No. 12 Indiana, 9 p.m. ET, ESPN2
: According to ESPN Research, "This will be the first time these schools have faced off as top 15 opponents since Feb. 8, 1994, and the first time they've faced each other when both are ranked since 1997."
That's a great stat, especially if you need a reminder of just how much both programs have struggled in various ways since the mid- and late-1990s. Having said that, and at the risk of turning this space into
Poll Thoughts, Part Deux
, let's get a couple of things out of the way:


1. Michigan is not the 13th-best team in the country.
2. Indiana is not the 12th-best team in the country.
In Michigan's case, the Wolverines are almost certainly overranked. This is why polls are so unreliable -- slowly but surely, teams often move up by default. I don't think the Wolverines deserve to be unranked, necessarily; I still
had them at No. 19 in my power rankings Thursday
. But even that may be a bit high. On an efficiency basis (per, as usual,
Ken Pomeroy
), the Wolverines are currently ranked No. 46 in the country. Their offense has been solid. Their defense has been mediocre. In other words, don't let that "No. 13" disorient you. To date, for as solid as John Beilein's team has been, it hasn't been that.
Indiana, on the other hand, can make a legitimate argument that it is underranked. (It is, of course, no surprise to see Indiana fans making this argument, and rather forcefully, in the direction of our Doug Gottlieb,
who is far less bullish on the Hoosiers than most
.)
The Hoosiers are 13-1 and own not one but
two
of the best wins of the season to date, in the form of home victories over then-No. 1 Kentucky and then-No. 2 Ohio State in the span of three weeks. Only UNLV, which beat North Carolina in Las Vegas on Nov. 26, has even one win that good on its ledger thus far.
Indiana's adjusted efficiency numbers back this up: The Hoosiers are currently No. 8 in Pomeroy's rankings; their offense has been the fifth-most efficient in the country to date, and their defense has ranked among the top 20 or 25 units in the country, thanks in large part to the Hoosiers' sudden ability to force their opponents into turnovers. They've won all the games they were supposed to win, and usually by impressive margins, and they've knocked off two national title contenders at home. When compared with some of the other resumes in the top 10, well, yeah: No. 12 doesn't quite tell the story.
In other words, the numbers in front of teams' names can be deceptive. (
Duh, Eamonn. Any other trenchant insights?
) If No. 12 versus No. 13 was the only piece of information you had before settling in to watch this game, you could find yourself popping over to ESPN2 in full expectation of a very close, very hard-fought game. Chances are, this won't be that.
It's up to Michigan to prove otherwise. The Wolverines entered this season with a fair level of expectation -- they were seen as a potential Big Ten contender, or at least in the high-second tier directly below Ohio State -- and their wins and losses to date align with that fact. But the efficiency margins at work here suggest Indiana is light-years ahead of the Wolverines at this point in the season. This is a great opportunity for Beilein's team to put something solid behind the expectations, to prove that they're more than a few decent wins over so-so competition and to reassert themselves in the country's best and most dynamic conference title chase.
To that end, the Wolverines have plenty going for them. The first is Beilein's two-guard front system, and these players' familiarity with it. This group doesn't have much of an interior presence, but on offense
that's by design
. Now five years into his Michigan tenure, Beilein has had the chance to inoculate all of his players into this tricky but effective style, and this particular team runs it very well.
There's also the heady point guard play of freshman
Trey Burke
,
a low-top-100 recruit
who has exceeded all expectations in his first two months at the helm in Ann Arbor. The best way to encapsulate Burke's performance is to imagine these Wolverines without him. The point guard position would be an amalgam including players such as
Stu Douglass
, a combo guard and spot shooter who would have been out of place on the ball this season. Instead, Burke has been dynamic, effective and savvy beyond his seasoning.
That offensive system is sure to pose challenges to Indiana, which is still, all things considered, a relatively young group. Freshman
Cody Zeller
hasn't played against this system yet; will it take him out of the game on the defensive end? (With all the rotations and long rebounds, can Zeller still be effective defensively?) This is the benefit of running a "junk" system in college hoops: Even when you're seemingly overmatched, you can give more talented teams a lot of trouble.
Offense is just one part of the equation. To get this win, Michigan will not only have to score on one of the best 25 or so defenses in the country, it'll also have to stop one of the nation's best offenses. On that team's home floor.
That's something neither Kentucky nor Ohio State could accomplish. If the Wolverines can, they will notch the definition of a statement win. A victory Thursday would sound an alarm to the rest of the Big Ten: Look out for Michigan. That's what's at stake here.
But disappointing though it may be, there's no shame in a loss, either -- no matter what the numbers next to these two teams' names say.
Everywhere else
: Immediately preceding the aforementioned game on ESPN2 is
Pittsburgh at DePaul
. It will be interesting to watch the defensively bereft Panthers try to avoid a loss -- and the resulting freak-out cascade -- on the road against Oliver Purnell's noticeably improved DePaul squad. ...
George Mason travels to Old Dominion in a quality CAA matchup
. ... Villanova will attempt to avoid further disaster
at home versus South Florida
. ... In other Big Ten action,
Purdue travels to Penn State
. ... And for the West Coast folks, night owls and college basketball writers assigned to rank the Pac-12 on a weekly basis, the Pac-12 has a spate of interesting matchups, including
California at Oregon State
,
Stanford at Oregon
,
Arizona at UCLA
(a game that should be much bigger than it is, but oh well) and
even Washington at Colorado
. Happy hoops Thursday, everyone.
November, 11, 2011
11/11/11
3:29
PM ET
It's not hard to name the biggest hole in Michigan's lineup this season: point guard. Darius Morris's decision to leave for the NBA in the spring cost Michigan its primary ballhandler and assist man, and few guards in the nation were better than Morris at setting up teammates. Morris dropped a dime on -- get this --
44.3 percent of his possessions
, the third-highest mark in all of college hoops. Point guards like that are hard to find.
[+] Enlarge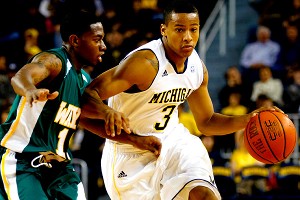 Rick Osentoski/US PRESSWIREMichigan coach John Beilein has named freshman Trey Burke his starting point guard.
Initially, it looked like
Stu Douglass
would take over the majority of the point guard responsibilities for Michigan. But then freshman
Trey Burke
came along. Burke is the reigning Mr. Basketball in Ohio, a former teammate of
Jared Sullinger
's at Columbus Northland High School, and, as of tonight, a first-year starter for the
Michigan Wolverines
. Why? Michigan coach John Beilein loves what he sees from Burke, and he's decided there's no reason to wait to give Burke a shot at running his team. From
WolverinesNation's Chantel Jennings
:
"He really feels good out there," Beilein said of Burke. "He's a point guard who's really done a great job, his whole life, of running the team."

[...] "He wouldn't be in that lineup if I didn't see every day that he's ready to do the best he can do," Beilein said. "Then we continue to nurture him through it."
Beilein said he plans to use Douglass as a sixth man, allowing him to "hunt shots" without having to worry as much about getting his teammates involved in the flow of the game.
This is an intriguing move. The point guard is always an important role --
duh, Eamonn
-- but the position is especially important in Beilein's stretchy 3-point-reliant offense. With Morris gone, it seemed Michigan was bound to struggle with that spot for portions of the season. But if Burke is as good as Beilein seems to think -- if he's already ready to take the reins -- then Morris's departure will be minimized at the same time Michigan's chances of a season befitting their No. 18 preseason ranking are maximized.
Can Burke be the new
Aaron Craft
? If he's even marginally as good as Ohio State's freshman point guard was last season the Wolverines are in much better place than previously anticipated.
October, 31, 2011
10/31/11
5:00
AM ET
1. Michigan coach John Beilein said Sunday night that freshman guard
Trey Burke
continues to improve quickly in his quest to be the starting point guard. Beilein hasn't made up his mind yet but the other choice is senior
Stu Douglass
, whom Beilein said has been doing a good job setting an example. Both are trying to replace Darius Morris, who split for the NBA draft in the spring. Beilein said sophomore
Tim Hardaway Jr.
, has embraced his role as being a lead actor. He said Hardaway Jr., is playing like someone who wants to be a player. The Wolverines scrimmaged Toledo on Sunday (but we're not supposed to know that since the scrimmages are NCAA secrets).
2. Syracuse coach Jim Boeheim said there have been discussions with the Maui Invitational about the 2013 field to ensure the Orange and Maryland were in opposite brackets in case both schools are in the ACC at the time. The Orange still don't know when it will be released by the Big East to go to the ACC (Big East is holding firm on the 27 month exit timeline. Syracuse would like to go as early as possible). Boeheim said two teams from a conference can be in the same tournament. The larger conferences get, the harder it will be to keep tournaments from taking two schools.
3. Oklahoma athletic director Joe Castiglione is expecting to be nominated by the Big 12 to replace former commissioner Dan Beebe on the NCAA men's basketball selection committee. Beebe, who was forced out of his job, can't serve his final two years on the committee because he is no longer employed. Castiglione has to decide if he wants to finish Beebe's term or wait for a four or five-year term of his own. Beebe's spot could go to someone from the Big 12, Big Ten, Sun Belt or MAC since it has to be someone from a football bowl subdivision team or conference.
March, 12, 2010
3/12/10
2:03
PM ET
INDIANAPOLIS -- If there were any doubts left about who should win National Player of the Year in college basketball, Evan Turner just extinguished them. He's the best. Case closed.

Turner's leaning 3-pointer from 37 feet away a flicker before the final buzzer lifted top-seeded Ohio State to a 69-68 win over No. 8 Michigan in the Big Ten tournament quarterfinals. Officials reviewed whether the shot got off in time before ruling it good.

Ohio State remains alive for a No. 1 seed in the NCAA tournament after a true escape job today against its archrival. The Buckeyes will face Wisconsin or Illinois on Saturday.

Michigan guard Manny Harris, who was brilliant in the second half with 22 of his 26 points, appeared to secure the upset on a fallaway jumper with 2.2 seconds left. The Wolverines spent the entire half clawing out of a hole they had created with a poor end to the first.

Watching Turner dribble up the floor, you have to question Michigan's defensive strategy on the last play. Everyone in the arena knew Turner was getting the ball, and he faced surprisingly little push-back as he crossed the half court stripe and launched the game-winner. After a strong first half, Turner struggled a bit in the final minutes, but once again, he came up big when Ohio State needed him most. David Lighty and William Buford also stepped up nicely for the Buckeyes.

You have to feel for Michigan, which ended an extremely disappointing season with one of its better efforts. Harris and guard Stu Douglass were brilliant in the second half as Michigan took its first lead since midway through the first half with 29.4 seconds to go. The Wolverines were a preseason top 15 team hoping to build on an NCAA tournament appearance, but they finish 15-17.