Men's College Basketball Nation:

Talib Zanna
December, 7, 2012
12/07/12
8:30
AM ET
The top of the league is rock-solid strong, with six nationally relevant programs in Syracuse, Louisville, Cincinnati, Georgetown, Notre Dame and, yes, I'm buying -- Pittsburgh.
After that, things already are muddy. Connecticut is better than anyone expected but irrelevant in the national picture, and Marquette remains a work in progress.

Everyone else has some major work to do.
1. Syracuse.
With
James Southerland
doing a good Dion Waiters impression, starring as the sixth man, the Orange keep steamrolling the competition, getting Jim Boeheim within single digits of his 900th win in the process. Arkansas is the only team that has gotten within single digits of Syracuse this season. And the Razorbacks lost by nine.
2. Louisville.
The Cards turned up their trademark withering defense against Charleston (the same team that beat Baylor, which beat Kentucky, if you're into transitive theory), holding the Cougars to 38 points and forcing 27 turnovers. The only caveat: Louisville still isn't great offensively. The Cards hit only four of 14 shots from behind the arc. Next up: UMKC.
3. Cincinnati.
The Bearcats are quietly sensational. With
Cashmere Wright
saving the day with a buzzer-beating jumper against Alabama, Cincinnati remains undefeated, relying on a three-guard lineup that is as potent as any in the country.
4. Georgetown.
Everyone wanted to talk about the Hoyas' awful offense in the 37-36 victory against Tennessee last week. Fair enough. It was brutal. But the defense was impressive, as it was Tuesday against Texas, limiting the Longhorns to only 41. Georgetown is already very good offensively. The D could make for a scary combo.
5. Notre Dame.
The scheduling gods were kind to the Irish -- offering them more than a week to savor the win against Kentucky. Notre Dame returns to action against Brown on Saturday.
6. Pittsburgh.
The Panthers keep rolling, and in the process, they are coming up with a pretty sweet inside-outside package in the form of
Tray Woodall
and
Talib Zanna
. The point guard and the forward have been solid all season for Pitt, which sits at 8-1.
7. Connecticut.
The Huskies' guards,
Shabazz Napier
and
Ryan Boatright
, are sensational. The question: Can they be enough for the long haul? That's the biggest issue for UConn and coach Kevin Ollie these days, evidenced in the loss to North Carolina State, in which the Huskies were simply outmuscled inside.
8. Marquette.
The Golden Eagles had the week off, welcome especially after the news that alum and former assistant Rick Majerus had died. Now Buzz Williams' team needs to regroup for Saturday's game against in-state rival Wisconsin. Marquette likes to score -- but can it against the Badgers?
9. Providence.
Freshman
Kris Dunn
is still out with a shoulder injury, but the Friars keep winning. With seven scholarship players -- including a hampered
Bryce Cotton
-- Providence beat Rhode Island easily Thursday. And every day is closer to Dunn returning.
10. DePaul.
The Blue Demons are on a three-game win streak, and while the quality of competition leaves much to be desired, building confidence is crucial right now if DePaul is going to make any strides come Big East time. The feasting should continue Sunday against two-win Milwaukee.
11. South Florida.
That the Bulls have no inside game isn't surprising -- Gus Gilchrist is gone -- but it's still an absolute killer for Stan Heath's squad. South Florida simply couldn't compete on the glass against Oklahoma State, and until USF can find at least some semblance of a paint presence, it will be tough sledding.
12. St. John's.
The Red Storm keep building themselves large holes to climb out of. The problem: Sometimes you can't finish that climb, especially if you're not that adept at scoring to begin with. That's why St. John's took a bad loss against San Francisco. The Red Storm can cure what ails them against one-win Fordham in the Holiday Festival on Saturday.
13. Seton Hall.
The Pirates needed a late 3-pointer to seal a victory Tuesday against New Jersey Institute of Technology. That's not going to instill fear in anyone.
Fuquan Edwin
can't do it alone, although he's trying.
14. Rutgers.
When
Eli Carter
can't score, the Scarlet Knights can't win. Plain and simple. Carter went 1-of-12, including 0-for-6 from 3-point range, and Rutgers lost Saturday at Ole Miss. That's too much pressure on Carter.
15. Villanova.
Things are not pretty on the Main Line, where the Wildcats are simply a mess. Yes, Villanova beat Vanderbilt, but that says as much about the Commodores' struggles as it does Villanova's strengths. This is a team without a rudder right now, ineffective defensively and confused offensively -- and rival Saint Joseph's is salivating at all of that ahead of their meeting Tuesday.
November, 30, 2012
11/30/12
8:30
AM ET
The early season is always hard to judge -- what with some teams playing tougher teams than others. So you have to rate not only the result but also the opponents teams played and how they played them.

Hence the first week hodgepodge of the Big East power rankings:
1. Syracuse.
Usually it's hard to know just how good the Orange are early in the season, since Jim Boeheim rarely crosses the New York border in November. But Syracuse's opening demolition of San Diego State was telling. As is
Michael Carter-Williams
. The point guard is averaging 9.3 assists per game.
2. Louisville.
Yes, the Cards lost to Duke, but they lost to Duke without
Gorgui Dieng
, so there has to be an asterisk attached here. Anyone who has watched Louisville play knows this is a formidable team, with maybe the best defense in the country.
3. Notre Dame.
The loss to a good Saint Joseph's team in Brooklyn hurts, but the ridiculously impressive win against Kentucky erases any of the bad. When the Irish can execute Mike Brey's thought-out game plans, their combo of talent and experience will be tough to beat.
4. Georgetown.
The surprise team to everyone but themselves, the Hoyas opened some eyes in Brooklyn, beating UCLA and taking Indiana to overtime.
Otto Porter
is probably the early clubhouse leader for league player of the year.
5. Cincinnati.
Sean Kilpatrick
is on fire and so are the Bearcats. Paced by Kilpatrick's 21 points per game, Cincinnati is seventh in the country in scoring, averaging 86.8 per game. The win against Oregon was good, but it would have been nice to see how the running Bearcats handled the Runnin' Rebels of UNLV as a good gauge (but UNLV lost to Oregon in the previous round of the Global Sports Classic).
6. Pittsburgh.
Tray Woodall
is healthy,
Talib Zanna
is inspired and the Panthers are back. The most telling evidence? Pitt's loss to Michigan. The Panthers were in the ballgame in the final minute, ultimately done in by free throws.
7. Connecticut.
Let's face it, the Huskies are playing with house money. No one expects much out of embattled UConn this year, yet Kevin Ollie's squad already has one big win -- against Michigan State -- and has rolled to a 6-1 record (struggles against Quinnipiac and New Hampshire notwithstanding). Another big test this week: the Huskies face NC State in the Jimmy V Classic.
8. Marquette.
Buzz Williams' squad had a lot of rebuilding to do, what with losing the Big East Player of the Year and league leading scorer, so this isn't terribly surprising. The Golden Eagles had been competitive until they faced their first real test in the form of a buzz saw Florida team, which exposed their weaknesses.
9. St. John's.
The young Red Storm have work to do, evidenced by losses to two tough teams in the early going (Murray State and Baylor), but this is a team with huge upside as the season progresses.
10. Seton Hall.
The Pirates had a chance to secure a decent win against LSU on Thursday night, leading in the SEC/Big East Challenge game by as many as 16. Instead, SHU came up empty after too many end-of-game turnovers, and still lacks even a moderate signature win.
11. South Florida.
The Bulls are still very good defensively and still woeful offensively. In their two losses -- to Central Florida and Western Michigan -- they scored 56 and 53 points, respectively. That eventually has to change.
12. Rutgers.
The Scarlet Knights are 4-1. Their opponents are a combined 9-20 in the MAAC, NEC, Ivy League, America East and Southern conferences. So take that record for what it's worth.
13. Providence.
Give Ed Cooley credit. With little to work with --
Vincent Council
is out four weeks with a hamstring injury -- the Friars are at least beating the teams they are supposed to beat.
14. DePaul.
Every year the Blue Demons think this is the year, and then it's not. Despite
Cleveland Melvin
and Brandon Young's best efforts, DePaul is 3-3.
15. Villanova.
The Wildcats lost to Columbia ... by 18. The Lions -- a team that lost by 20 to San Francisco -- were picked to finish third in the Ivy League. Need we say more?
November, 23, 2012
11/23/12
7:12
PM ET
NEW YORK -- Quick thoughts from No. 4 Michigan's
71-57 victory
over Kansas State in Friday's championship game of the NIT Season Tip-Off at Madison Square Garden.


Overview:
With its second-half crushing of Kansas State, Michigan won its first in-season championship since the 2006 John Thompson Classic and its first neutral-site tournament since the 1997 Puerto Rico Holiday Classic.
Tim Hardaway Jr.
carried the Wolverines with a 23-point, seven-rebound performance, even more important because Michigan (5-0) didn't receive much help from sophomore guard
Trey Burke
, who sat for seven minutes of the first half in foul trouble and scored his first basket 21 minutes into the game.
Kansas State (5-1) struggled with Michigan's pace and athleticism. The Wildcats, who used a methodical, plodding style to knock off Delaware in the semifinals, could not approximate that type of defense against Michigan. The Wolverines were able to run the break well and play strong in the post, even with starting forward
Jordan Morgan
in foul trouble the entire night.
Turning point:
Hardaway threw down a nasty crossover on Kansas State's
Will Spradling
before hitting a 15-foot jumper, and Burke followed with a layup on the next possession, giving Michigan a 35-24 lead less than two minutes into the second half and opening up the game for the Wolverines.
Key player:
Hardaway looked like every bit a guy who could play in the Garden on the next level as well. He had multiple pro-caliber moves, including a floating layup between three Kansas State defenders and the aforementioned crossover.
Key stat:
Forty rebounds. Under coach John Beilein, Michigan has never been a good rebounding team, usually sacrificing wins on the boards for 3-point shots and transition defense. Not this team. The Wolverines outrebounded a strong front line for the second consecutive game, outrebounding Kansas State 40-28 after outrebounding Pittsburgh, 31-21, on Wednesday.
Miscellaneous:
Michigan captain (and walk-on)
Josh Bartelstein
missed his second straight game with an ankle injury. … Michigan also went deep into its bench early, playing little-used reserves
Eso Akunne
and
Max Bielfeldt
in the first half. …
Rodney McGruder
had 16 points and seven rebounds for the Wildcats. … Hardaway left the game with 3:37 remaining with an injury and did not return. He was taken inside the tunnel before returning to the bench in the final minute. … The NIT Season Tip-Off All-Tournament team comprised Delaware guard
Devon Saddler
, Pittsburgh forward
Talib Zanna
, Kansas State guard
Angel Rodriguez
, Burke and the tournament's most outstanding player, Hardaway.
Next game:
Michigan heads home to face another BCS-conference team, No. 16 NC State, in an Big Ten/ACC Challenge game on Tuesday night. Kansas State is off until it faces South Carolina Upstate on Dec. 2.
July, 23, 2012
7/23/12
10:00
AM ET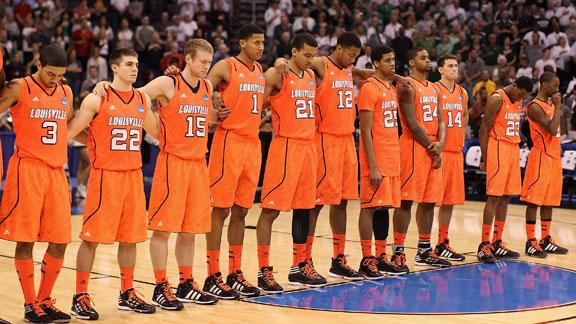 Editor's note: ESPN.com's Summer Shootaround series catches up on the offseason storylines for each conference. For more on the Big East, click here:
1.
Unsteady rudder:
The Big East is prepping to lose two of its most iconic members, has no commissioner and needs to negotiate a new television contract to continue to prosper.
Other than those developments this offseason, Mrs. Lincoln liked the play very much, thanks for asking.
Unrest and unease has been a near-universal theme in college athletics lately, but nowhere is the footing quite so slippery as in the Big East. After making football-centric decisions, the league did finally manage to make some sound basketball decisions, adding Temple and Memphis to the ever-swelling conference, but that doesn't mean everything is stable.
The Big East is in the market for both a new commissioner and a new television contract. Making the right choice in both instances will be critical.
John Marinatto was a good man who cared deeply for the Big East, but lacked the CEO chops needed to succeed and flourish in today's world of college athletics. The new commissioner will have to be equal parts visionary and diplomat, able to predict the future and placate the membership, both existing and new.
And the league bravely -- or foolishly -- turned down a deal a year ago, prompting the unease that led to the departures of Syracuse, West Virginia and Pittsburgh. The bidding starts again in the fall and while that will be centered mainly around football, basketball's livelihood will be tied to the deal as well.
Neither a new commissioner nor a new TV deal will settle the unsteady league for good but the right choices will go a long way.
2.
The Syracuse and Pittsburgh farewell tour:
This will be the end of the line for one of the founding members in the Big East, with
Syracuse announcing it negotiated its way out of the league a year earlier than the bylaws allowed
;
Pittsburgh soon followed suit
. With a $7.5 million buyout paving the way for each school, they'll both jump to the ACC in 2013.
Fortunately -- and probably not coincidentally -- the Big East scheduled two Georgetown-Syracuse games this season, guaranteeing us at least two more versions of one of the sport's best rivalries.
[+] Enlarge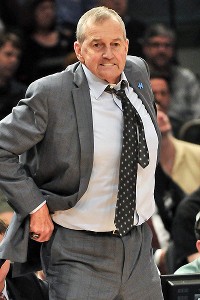 Cal Sport Media/AP ImagesJim Calhoun's Huskies are among the 15 teams banned from postseason play because of poor classroom performance.
Unfortunately, with Connecticut's APR troubles (see below) and postseason ban, the Huskies and Orange -- the leads in 2009's six-overtime play -- will never meet in the Big East tournament again.
Chances are this won't be a nostalgic last run through the conference. Folks aren't happy with Syracuse and Pitt's decisions to bolt and it will probably be an awkward tango to the finish line.
3.
UConn's postseason ban:
Despite appeals and arguing from UConn, the NCAA has decided to stick with its APR standards, rendering the Huskies ineligible for postseason play. And since the league doesn't want its automatic bid to go to a team that can't participate in the NCAA tournament, UConn won't be in New York for the Big East tournament, either.
That's a hefty blow to the Huskies, of course, but a big one to the conference as well. Sitting just a quick car ride away from Madison Square Garden, UConn is a big draw for the tournament in March (though no one travels quite like the Orange-loving Syracuse fans).
4.
Return engagement?
A year ago, Louisville served as the beggars at the feast, the surprise member at the Final Four party. They survived as much as they won, overcoming a laundry list of injuries to key players, to make their way to lifting the Big East tournament trophy and followed that up with a trip to New Orleans.
This year people expect the Cardinals to thrive as well as survive, all the way to Atlanta and a Final Four return engagement.
The rationale is simple: Louisville returns everyone to the lineup save Preston Knowles and inserts George Mason transfer Luke Hancock to fill that role. (That is, after Hancock recovers from shoulder surgery. Not everything has changed in Louisville).
But Rick Pitino knows a thing or two about trying to get back to the Final Four, having walked down Expectation Highway with Kentucky in 1996 and 1997, and realizes what he's up against.
"This past year at Louisville, we didn't expect to go but now we have high expectations to go and do it," Pitino told ESPN.com's Andy Katz. "I think this time will be tougher than it was at Kentucky. At Kentucky, it was totally unexpected, but this time it will be expected. It's hard to have a Final Four that will be expected."
5.
Will order be restored?
Even now, a good three months after the season ended, the final Big East standings don't look right. There, near the bottom of the barrel are Pittsburgh and Villanova, tied with identical 5-13 records of misery in the conference.
So the important question: Were those failures a blip on the screen or the beginning of something a little more long-term?
All signs point to some quick healing for Pitt, which welcomes touted freshman
Steven Adams
and Central Michigan transfer
Trey Zeigler
to go with returning players
Tray Woodall
,
Talib Zanna
and
Dante Taylor
. Last year's troubles were hard to decipher, so it's tough to imagine a repeat.
Villanova's situation isn't quite so crystal clear. The Wildcats were a debacle all year and from that mess,
Maalik Wayns
and
Dominic Cheek
, the team's two leading scorers, left early. That could be addition by subtraction if the two didn't want to be around anymore but those are still mighty shoes to fill.
Jay Wright has two top-100 recruits in
Ryan Arcidiacono
and
Daniel Ochefu
, plus Wake Forest transfer
Tony Chennault
,
JayVaughn Pinkston
and
Mouphtaou Yarou
. That's a good foundation to build on but whether Rome can be rebuilt in a season remains to be seen.
November, 8, 2010
11/08/10
11:33
PM ET
PITTSBURGH -- Pitt coach Jamie Dixon and his staff were analyzing the game tape, rewinding missed layups, failed 3-point closeouts, and looking for warts to clean up.
The Steelers were playing the Bengals on Monday Night Football and while the rest of the city's sports fans had probably moved on to the hometown football team, the coaching staff was stuck pausing the Panthers'
83-75
season-opening win over Rhode Island.
And there is a reason Dixon was in midseason postgame form. The Panthers are the Big East favorite, a Final Four contender and got pushed to its final few possessions against a fringe Atlantic 10 contender.
[+] Enlarge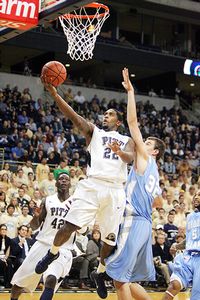 Charles LeClaire/US PresswireBrad Wanamaker led No. 4 Pitt with 24 points in a season-opening victory over Rhode Island.
Dixon did discuss how few teams would open with such a high-quality opponent and the reality is this game was just what he needed for his team on Nov. 8. Sure, there are other quality openers Friday like Syracuse hosting Northern Iowa, Georgetown going to Old Dominion and Seton Hall playing at Temple. But in tournaments like the 2K Sports Classic benefiting Coaches vs. Cancer, there are few first-round games as difficult as playing a pressing team like the Rams.
"There's a reason why teams don't want to play them, especially on Nov. 8, because of how well they play and how well they're coached,'' Dixon said. "It was a good win, a quality win.''
What Dixon discovered about his Panthers is that he has three quality closers in seniors
Gilbert Brown
and
Brad Wanamaker
and junior
Ashton Gibbs
. Gibbs and Wanamaker scored seven of the nine points in a 9-0 run that turned an eight-point deficit into a one-point lead heading into halftime.
Wanamaker got to the free throw line and converted on multiple trips in the final three minutes, as did Brown and Gibbs to close out the pesky Rams. Wanamaker finished with 24 points, Gibbs 22 and Brown 10, the only three players in double figures for the Panthers, something that will likely be common all season. The Final Four contender two seasons ago was interior-based with DeJuan Blair and Sam Young. This squad will be guard-oriented.
"We're always up for a challenge,'' Gibbs said. "That's what coach expects of us. Those are the type of players we recruit. We all need to keep taking on those challenges and playing hard and executing. It doesn't matter what we're ranked. We need to come out every game hungry.''
The Panthers were playing shorthanded with starting forward
Nasir Robinson
out with a right knee injury following a meniscus tear. Robinson said earlier Monday that he was hopeful he could return for the game against Maryland on Nov. 18 at Madison Square Garden. But that might be wishful thinking since he hasn't practiced yet.
In his place, Dixon discovered that he has a hidden gem in redshirt freshman
Talib Zanna
, who started for Robinson. Zanna was efficient in scoring nine points and grabbing 11 boards in 20 minutes.
"I came out and did what I do best, grabbed some rebounds for my team," Zanna said.
The more-heralded
Dante Taylor
was in foul trouble (three in 12 minutes) and
Gary McGhee
couldn't convert some putbacks and wasn't as much of a factor with four points and six boards. If the Panthers are going to be a serious player for a Final Four berth, then the post must develop prior to the Big East.
Dixon and the players agreed that this game felt more like February than November. The intensity and atmosphere at times rivaled a game from the middle of the season. As expected this early, the quality of play wasn't great and that's why Dixon and the staff were watching the game tape just minutes after the final buzzer. The Panthers don't have time to be idle, playing Illinois-Chicago in game No. 2 of the CVC on Wednesday before a game against North Florida on Saturday. Then it's off to New York for Maryland and either Texas or Illinois.
The heart of the Panthers' nonconference strength of schedule will include Rhode Island, the two games in New York and then Tennessee in the SEC/Big East Invitational in the new Consol Energy Center in downtown Pittsburgh. The Vols lost an exhibition game Monday night to Division II University of Indianapolis. Pitt better hope that Tennessee cures its preseason ills so that game will matter for power-rating purposes and a possible No. 1 seed come March, especially since the only nonconference road trip is to MSG.
But for now, Dixon and his group of players will breathe easy after avoiding an opening upset.
"We played a very good team, a team that presses two-and-a-half weeks into the season,'' Dixon said. "We took on the challenge and it'll be a quality win later on in the season.''