College Basketball Nation:

Tanner Smith
February, 20, 2012
2/20/12
8:00
AM ET
With two weeks remaining, it looks like it's going to be a down-to-the-wire race for the regular-season ACC title. This week's attempt at the power rankings:

1. Duke:
After needing a 20-point rally to beat NC State, Duke had it a lot easier at Boston College on Sunday. The Blue Devils won by a decisive 25 points to remain tied atop the ACC standings with UNC and Florida State. Next up: a trip to Tallahassee, Fla., on Thursday for a rematch with the Seminoles.
2. North Carolina:
Sophomore
Harrison Barnes
averaged 23.5 points in wins at Miami and over Clemson, and both he -- and his teammates -- appear to be revving up for a postseason run. Outside shooting is still a concern lately, but defense is making up for it.
3. Florida State:
The Seminoles' win at NC State on Saturday marked the first time the they have beaten all four ACC teams from North Carolina -- UNC, Duke, Wake Forest and the Wolfpack -- in the same season. "Being from North Carolina, it's a big thing,'' said guard
Ian Miller
, who hails from Charlotte.
4. Virginia:
The Cavaliers' upset loss at Clemson marked the first time they have dropped back-to-back games this season. But UVa followed up by beating Maryland to secure its first 20-win season since 2006-07.
5. Miami:
After his team lost to the Hurricanes, Wake Forest coach Jeff Bzdelik said he thinks Miami is an NCAA tournament team. But UM (which broke a two-game losing streak with the win) is taking a one-game-at-a-time approach: "It's a goal and a dream,'' guard
Durand Scott
said, according to The Miami Herald. "But you can't deal with the future unless you take care of the present. Today is the present. Today is what's important right now."
6. NC State:
With back-to-back losses at Duke and to FSU last week, it's going to be difficult to reach the 11 ACC victories coach Mark Gottfried predicted his team would need for an NCAA tournament at-large bid. The Wolfpack are now 7-5 in league play, with home games against UNC and Miami and road matchups at Clemson and Virginia Tech left on the docket.
7. Maryland:
The Terps suffered their largest margin of defeat this season when they lost by 27 points at Virginia, and coach Mark Turgeon grew so frustrated with his team's turnovers and shot selection that he pulled his starters with four minutes left. "I just had enough of selfishness, not boxing out, not defending,'' he said, according to The Baltimore Sun.
8. Clemson:
The Tigers followed an upset win over Virginia with yet another loss to the Tar Heels in Chapel Hill. "I don't think it has much to do with extra pressure or anything like that,"
Tanner Smith
said of the Tigers' 0-56 streak at UNC. "We just didn't make the plays down the stretch that we needed to make."
9. Virginia Tech:
Dorenzo Hudson
's desperation 3-pointer at the buzzer helped beat Georgia Tech in overtime. But it couldn't quite erase the sting of allowing FSU to come back from a nine-point deficit in the final 90 seconds to win, just two days before.
10. Wake Forest:
The Deacons ended a six-game slide with a win over Georgia Tech, only to possibly begin another one with a loss at Miami. They get a break before playing Boston College next weekend.
11. Boston College
: The Eagles were blown out at Maryland and then managed only 50 points against Duke. That's now three straight losses and a 1-9 stretch for BC, with the only victory coming against Florida State, strangely enough.
12. Georgia Tech:
The Jackets' last-second loss at Virginia Tech means they have now lost three straight, and nine of their past 10. They played that game without
Glen Rice Jr.
, who is suspended indefinitely.
Follow Robbi Pickeral on Twitter at @bylinerp.
January, 28, 2012
1/28/12
12:20
PM ET
By
ESPN.com staff
| ESPN.com
After watching his father suffer from stage 4 non-Hodgkin's lymphoma,
Tanner Smith
realized he wanted to make a difference. Since then, the Clemson guard has helped distribute more than 3,000 tote bags to hospitalized children. Visit Tanner's charity at www.tannerstotes.com and read Dana O'Neil 2009 story on Smith and his charity
here
.
March, 16, 2011
3/16/11
1:19
AM ET
DAYTON, Ohio -- Ohio State athletic director Gene Smith was spotted wearing headphones on press row during the second half of Tuesday's Clemson-UAB game.
Perhaps Smith wanted to shield his ears from further howling about the NCAA tournament selection committee that he chaired this year. Those who had already shouted that UAB didn't belong in this year's field -- which includes virtually everybody outside of the committee -- had all their talking points accurately documented in a
70-52 loss
to Clemson in the First Four.
Clemson players yelled "Let's get 'em from the jump!" as they huddled in the tunnel before the game. And it seemed just that easy as they rolled out to a 25-7 lead, then stayed ahead by double digits most of the game. Hopefully for his own well-being, Virginia Tech coach Seth Greenberg couldn't find truTV on his satellite or cable provider.
The first-round game clearly and quickly exposed UAB as an impostor better suited for the NIT. Let's not forget, though, that Clemson came here with some gaps in its résumé as well. The only NCAA tournament teams the Tigers beat all year were Wofford and Florida State, at home.
"We definitely had some doubters," senior forward
Jerai Grant
said.
[+] Enlarge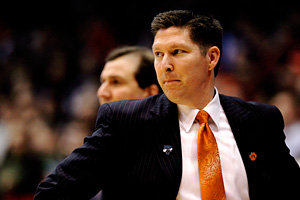 Gregory Shamus/Getty ImagesFirst-year Clemson coach Brad Brownell's Tigers appeared to have everything clicking against UAB.
First-round asterisk or not, the fact remains that Clemson just won its first tournament game since 1997. And maybe that's not all because of the opponent.
The Tigers ended their season strong, beating fellow bubble team Virginia Tech and then wiping out Boston College by 23 points in their first ACC tournament game. They led North Carolina by 10 at halftime before falling in overtime in the ACC semis.
This is a team that plays solid defense and knows where its strength lies -- inside the 3-point arc. Grant continued his senior renaissance with a career-high 22 points, while forwards
Devin Booker
and
Milton Jennings
combined for another 21 points. Clemson outscored UAB 40-12 in the paint.
"That was our game plan offensively," guard
Tanner Smith
said. "Our post guys did a great job of taking their time and controlling the paint."
This is also a team playing for a first-year head coach in Brad Brownell, who installed a new motion offense. It shouldn't be too surprising that things seem to be coming together at the end of the season.
"I think we're playing the best basketball we've played all season, and that's how it's supposed to be right here toward the end," guard
Andre Young
said.
The end might not have arrived yet. The Tigers have a favorable draw in Round 2 against East Regional No. 5 seed West Virginia. Like them, the Mountaineers are a defensive-minded team with versatile big guys that doesn't shoot well from the outside.
But as with all First Four winners, Clemson faces a difficult travel turnaround. Tuesday's game didn't end until after midnight, and the second-round game in Tampa loomed about 36 hours later Thursday afternoon. At least the Tigers should have worked any tournament nerves out of their system.
"We can't have the excuse of having to play [Tuesday]," Tanner Smith said. "We can ride momentum into a game like that. I'm sure West Virginia and teams that haven't played feel like the tournament hasn't really started yet. For us, we're in the tournament grind already."
It's a grind made easier by a questionable opponent in the first round. We can pile on UAB, but all the team did was get on the charter plane that the NCAA provided. Head coach Mike Davis described it as "heartbreaking" when his players heard all the criticism immediately following their selection. And with star senior guard
Aaron Johnson
breaking his leg in the final minutes and limping out of University of Dayton Arena on crutches, it was hard not to feel a little sorry for the Blazers.
As for the selection committee, that's another story. Gene Smith might want to have those headphones ready again for Wednesday night. That's when VCU plays.
January, 13, 2010
1/13/10
10:15
PM ET
CLEMSON, S.C. -- Any thought Clemson couldn't be a pressing, disruptive, turnover-producing team at Littlejohn Coliseum this season was dispelled in the first 20 minutes Wednesday night, as the Tigers have a 50-32 lead on No. 13 North Carolina.
Sure, the Tigers gave up a 23-point lead to Illinois early in the season and lost.
Yes, the Tigers beat Boston College here last Saturday and were able to dictate the pace. But the Eagles have traditionally been bothered by the Tigers' pressure here or in Chestnut Hill.
But for the Tigers to do to North Carolina what it did last season to Duke was a significant confidence boost in the first half. Clemson scored 50 points before halftime after racing out to a double-digit lead within the first few minutes. The Tigers forced Carolina into 16 turnovers and the Tar Heels couldn't make a 3-pointer.
Meanwhile, Clemson was scoring at a rapid pace, with
Trevor Booker
owning the paint early and then
Tanner Smith
,
Andre Young
and
Noel Johnson
all finding their stroke for two 3s a piece.
Clemson shot 57 percent, 46 on 3s and shared the ball well with 12 assists on 19 field goals.
It didn't help the Heels that they weren't full strength, either. For the second straight time UNC came limping into the state of South Carolina.
A week ago Monday, the Tar Heels lost to the College of Charleston without
Marcus Ginyard
and
Will Graves
(both out with ankle injuries). This time,
Tyler Zeller
is out and was wearing a boot on his right foot. An MRI proved negative but he will get a bone scan when he returns to Chapel Hill. The move is meant to be preventive with so much of the season still to go.
North Carolina coach Roy Williams said to me at the half: "Our big guys have to move more.''
Deon Thompson
made one field goal,
Ed Davis
made none and neither did Will Graves. Backup
Travis Wear
had more field goals than all three with two.
"(Clemson's) pressure was really good,'' Williams said. "Our team was scared to death. I've never seen anything like that (from one of his teams).''