College Basketball Nation:

TCU
February, 29, 2012
2/29/12
6:41
AM ET
By
ESPN Stats & Info
| ESPN.com
A scan of the college basketball box scores each night guarantees all kinds of statistical oddities and standout performances. Here are some we found from Tuesday.

Wisconsin 52, Minnesota 45
The two teams combined to make 23 baskets, matching the fewest in a game this season (SMU and UAB combined for 23 on Feb. 15). Wisconsin made 12 field goals in the win, one shy of the fewest made field goals in a win this season (Niagara made 11 in a win on Feb. 24). The Golden Gophers and Badgers shot a combined 27.1 percent from the field, the lowest in a game involving a major-conference team and the fifth-lowest overall.
Wyoming 71, TCU 59
The Cowboys committed just one turnover in the victory, the fewest by any team this season. The previous team to commit no more than one turnover in a game was Bucknell on Jan. 13, 2010, against American.

Ole Miss 77, Arkansas 75
Ole Miss'
Murphy Holloway
had 16 rebounds and teammate
Reginald Buckner
had 15 in the Rebels' win. They are the third pair of teammates with at least 15 rebounds each in the same game this season, joining
Deniz Kilicli
and
Kevin Jones
of West Virginia and
Brad Waldow
and
Rob Jones
of St. Mary's.
February, 2, 2012
2/02/12
7:12
AM ET
By
ESPN Stats & Information
| ESPN.com

Nebraska-Omaha 106, Peru State 71
Nebraska-Omaha attempted 95 shots, the most in Division I this season. Only two other teams have eclipsed 90 shot attempts this season: Troy (93) against LaGrange on Nov. 13, and Stanford (92) against Oregon State on Jan. 7. The Stanford-Oregon State game went four overtimes.
Hofstra 74, Towson 49
Towson went 14-33 (42.4 percent) from the free throw line in Wednesday's defeat. Only Florida A&M (11-31, 35.5 percent) on Dec. 5 had a worse percentage from the stripe (min. 30 FT attempts).
Albany 87, UMBC 76
Albany's
Gerardo Suero
became the sixth player this season to score 30 or more points and make 10 or more shots from the floor without missing a free throw (min. 10 FT attempts).
TCU 58, Wyoming 52
Luke Martinez
of Wyoming attempted 12 3-pointers and grabbed eight rebounds, just the seventh player to do so this season. However, with six points Martinez is the only one of those seven not to reach double-digit scoring.

New Hampshire 52, Hartford 51
Trillion of the Night:
Corban Wroe
of Hartford went 13 minutes without accumulating a single stat in the Hawks 52-51 loss to New Hampshire.
October, 25, 2011
10/25/11
5:49
PM ET
This post has been corrected. Updated post:
My colleague, Joe Schad,
is reporting
that the Big 12 has told West Virginia it will be accepted into the conference pending formal approval, which could happen very soon.
While Texas A&M and TCU, which recently announced conference moves, will join their new conferences for the 2012 season, Schad notes the Big East could try to keep WVU, along with Pitt and Syracuse, in the conference for up to 27 months, per conference guidelines.
Why would the Big East play hardball with its defectors? Because more than $20 million per year is at stake given the Big East's automatic-BCS-qualifying status.
For the 2011-12 school year, BCS conferences will receive $22.3 million for their qualifying team and can earn another $6.1 million if another member receives an at-large berth. A non-automatic-qualifying conference team selected for a BCS game receives $26.4 million but must divide that revenue with the other four non-automatic-qualifying conferences.
If the Big East were to lose Pitt, Syracuse and West Virginia at the end of this school year, it could jeopardize the Big East's future BCS status. Here's how it works:
Current BCS conferences were determined based on data from the 2004-07 football seasons. Data from the 2008-11 seasons will be reviewed following this season to determine if a seventh conference makes the cut to be an automatic-qualifier for the 2012 and 2013 BCS bowl seasons. BCS guidelines also provide for the following formulas to be used if the BCS format remains the same or similar following the 2013 season. At that point, results from the 2010-13 seasons would be used to determine which conferences without bowl contracts will be AQs for the 2014-2017 seasons. The Big East is the only of the current BCS conferences without a bowl contract.
This is where the situation could get dicey for the Big East under the next review.
Three sets of data are considered in the review: First, the average ranking of the highest-ranked team in the BCS standings over the four-year period; second, the average rank of all the conference's teams based on rankings from each of the six BCS computers over the four-year period; and third, something called a conference's Adjusted Top 25 Performance -- a calculation based on a conference's number of teams in the Top 25 of BCS standings over the four-year period as a percentage of the top conference in this calculation, which would have been rated 100 percent.
The threshold for qualification requires a conference to be in the top six in the first two sets of data and in the top 50 percent in the third set of data. However, a waiver can be obtained from the BCS' Presidential Oversight Committee if a conference is in the top six of the first two sets of data and top 33 percent of the third set, or top five of one of the first two sets and top seven in the other, along with top 33 percent of the third set.
When asked how conference realignment might affect these reviews, Maxey Parrish of the BCS said: "Since it's impossible to determine how a team would have played had they been a member of another conference, the rankings count for the conference schools [which] were members of [the conference] at that time. For example, TCU is not factored into the Big 12's status as an AQ until the 2012 season."
The Big East's 27-month waiting period for members exiting ensures the conference will have suitable time to find a replacement and that current members will be included in automatic-qualifying calculations following the 2013 season, which is when new BCS agreements would have to be put into place following the expiration of current ones.
An Oct. 25 blog post about the Big East and its BCS conference status contained incorrect information provided by the BCS about how conferences achieve and hold BCS status. Current BCS conferences do not have to undergo an annual review to retain status – that applies only to non-BCS conferences that are seeking BCS status. Updated story
February, 2, 2010
2/02/10
3:40
PM ET
Saddle Up is our nightly look at the hoops your TV wants you to watch. Here's Tuesday night's rundown:


No. 5 Michigan State at No. 16 Wisconsin, 9 p.m. ET, ESPN
: Michigan State is good on the road. Wisconsin is good at home. Immovable object, unstoppable force, you get the idea: Something's got to give in Madison tonight, and I have no idea what it will be.
Someone has to win, though, and
if the tempo-free numbers have anything to say about it
, that someone should be Wisconsin. The Badgers are No. 5 in the country in adjusted efficiency while the Spartans are No. 18, a difference that largely comes down to the Badgers' defense. Wisconsin doesn't force many turnovers, but they prevent teams from hot shooting nights and they rebound on the defensive end better than any team in the country. Michigan State has been getting better and better lately, so their numbers might not be a true reflection of their current state, but it's hard to look at Michigan State's strength -- offensive rebounding -- and think the Badgers don't have a serious advantage when it comes to the boards.
Of course, the numbers aren't the end-all. Still, this is Michigan State's biggest conference test of the season, and it comes as the Spartans just so happen to be playing their best basketball -- both at home and on the road -- of the year. This game is going to be slow, methodical, physical, defensive and awesome. Who else is excited?


Mississippi at No. 3 Kentucky, 7 p.m. ET, ESPN
: OK class, quiz time. Who knows what everyone is going to be talking about before, during, and after Kentucky's home matchup with Ole Miss tonight? Yes, that's right: CalWallGate 2010. (I just made up that name. Pretty terrible, right?)
Is
John Wall
still mad at John Calipari? Have the two reconciled their differences? Is this really a "teaching moment?" Expect this to be a topic of conversation, to say the least.
The more pertinent question is whether Wall can rebound from his string of merely human performances -- or whether he needs to. Kentucky is so talented, and so many of its possessions end up in
DeMarcus Cousins
' hands, that Wall doesn't have to take games over on the offensive end to get the Wildcats a win. He merely needs to control the game, keep his turnovers in check, find
Eric Bledsoe
for open looks on the perimeter, and get the ball inside to Cousins, and somewhat-overlooked forward
Patrick Patterson
, and the Cats should handle fringe top 25 opponents like Ole Miss with relative ease.
John Wall doesn't have do it all. He just has to do some of everything, and efficiently so. If he does, UK will be just fine.
Everywhere else
:
Villanova is on fire these days
.
Seton Hall will
try to do what so few Nova opponents have been able to -- put out the flames. (Or at least toss a little water on them. Anything to quell the burning. OK, I'll stop now.) ... Meanwhile, the second of two Big East games featuring marginal road teams at vicious home foes -- this one would be
Providence at Syracuse
-- will be tipping off. ...
Kansas State goes to Nebraska
, which got its first Big 12 win of the year
in Saturday's 17-point win over Oklahoma
. ... BYU will continue its roll through the Mountain West
when TCU comes to Provo
. ... Northwestern is still a potential tourney team! Repeat: Northwestern is still a potential tourney team. Games like tonight's -- a
possible home victory over Michigan
; nothing flashy, but necessary for the committee's ease of mind -- are key to that cause. At 3-6 in the Big Ten, the Wildcats can't afford another bad one.
January, 13, 2010
1/13/10
10:06
AM ET
The Morning After is our semi-daily recap post. Try not to make it awkward.
[+] Enlarge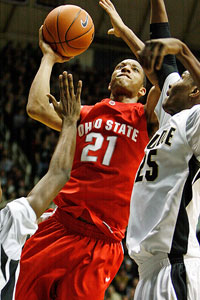 Andy Lyons/Getty ImagesEvan Turner scored 23 of his career-high 32 points in the second half Tuesday night.
Ohio State 70, No. 6 Purdue 66
:
Evan Turner
does bad things. You know this already. He did such things before the ugly back injury (which he suffered doing something awesome; players like Turner don't get injured in normal or unexciting ways, apparently), and he's done such things since returning from that injury. He's, um, really good. But the Buckeyes' accomplishment Tuesday night -- winning a road game over an efficient, brutal defensive team like Purdue -- is truly remarkable: Road wins like this simply don't happen all that often in basketball.
How did Ohio State do it? It was almost flawless where it counts most: The Buckeyes shot well, they rebounded their misses, and they didn't allow Purdue to get to the line, surrendering free throws on a mere 12 percent of the Boilermakers' possessions. Purdue will be disappointed with that number; the Boilermakers must find a way to balance their perimeter strengths with more touches for
JaJuan Johnson
, who shot only five times Tuesday night. Make no mistake, though: This win belongs to the Buckeyes, who got a legendary performance from their star and did more than enough around the margins to complement him. If the Buckeyes go on to stir things up at the top of college hoops this season, they will have learned their formula on Jan. 12.
No. 2 Kentucky 89, Florida 77
: It's almost unfair. After all, John Calipari already has the best point guard and arguably best player (I'm adding in the "possibly" because did you
see
Turner last night?) in the nation in
John Wall
. It's easy to forget that
Eric Bledsoe
was almost as highly touted as Wall as a high schooler;
Bledsoe was considered
the third-best point guard in that class and among the top 20 or 30 players entering the 2009 class. But for all the John Wall love, Bledsoe is showing Kentucky fans they have no reason to worry about 2010 and beyond -- while not as versatile and athletic, Bledsoe is nearly as quick as Wall and has a much better shooting touch, which he displayed last night in his 25-point, 10-of-13 performance at Florida.
In the meantime, the tandem of
Patrick Patterson
and
DeMarcus Cousins
(and even
Daniel Orton
) is proving impossible for teams to stop. The Wildcats scored 1.25 points per possession last night -- an insane rate for any team -- without shooting particularly well from beyond the arc. Kentucky was just that good (65.2 percent for the game) on their twos. If the Wildcats can score at this rate even when they don't shoot well from the perimeter (and when Wall bricks 3 after 3, which he's prone to do), then we were all wrong: The Cats aren't vulnerable. They're just scary.
Colorado 78-No. 24 Baylor 71; No. 12 Kansas State 88, Texas A&M 65

: Who else is trying -- and failing -- to figure out the middle portions of the Big 12? Eamonn confused: Baylor beats Oklahoma by 31 and goes to Colorado and loses to a frisky-but-let's-be-real-here-still-pretty-bad Buffs team. Meanwhile, Texas A&M looks like a tough matchup for a K-State team that lost its first Big 12 game to Missouri. Instead, the Aggies build themselves a tower of bricks (how tall? 38.2 percent FG% tall, is how tall) while K-State scores almost 1.2 points per possession. Road difficulties? Weird night? Who knows? The Pac-10 is this year's most wide-open conference -- which is a nice way of saying there are no good teams -- but the Big 12 might be the most fun to figure out in the next two months.
NC State 88, No. 25 Florida State 81
: Florida State will have some 'splaining to do. How do you lose to the hapless Wolfpack at home? Well, here's how: Freshman Scott Wood made 7-of-11 3-pointers and scored a career high (duh) 31 points on the way to a Wolfpack win. Add that to NC State's generally hot shooting and efficiency on offense -- it went to the line on 66 percent of its possessions and scored 1.2 points per trip -- and you have a recipe for a freaky loss at home to an inferior team. Not that this is the upset of the century, but still.
Everywhere else: Maryland-Wake Forest played a classic that few around the country saw, trading baskets in overtime on the way to a two-point Wake win; Al-Farouq Aminu had 24 and 13 and a key defensive play in the victory. ... Northern Iowa tied a school record with its 14th straight win, but a two-point win over Bradley at home was probably not the win the UNI folks had in mind. ... TCU edged Wyoming out West. ... Illinois needed some last-second drama to top Penn State at home, but escaped with 54-53 the win all the same. ... Iowa got its sixth win, a five-point home win over Tennessee State.