College Basketball Nation:

Tekele Cotton
March, 22, 2014
Mar 22
7:45
PM ET
ST. LOUIS --
Wichita State
backcourt mates
Ron Baker
and
Tekele Cotton
pondered the question together with forward
Darius Carter
.
As young fans of college basketball, what did you think of Kentucky?
Baker often watched the Wildcats, he said. His dad was a fan.
[+] Enlarge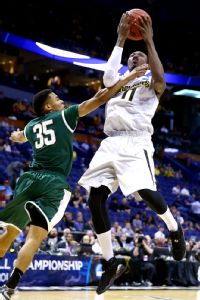 Andy Lyons/Getty ImagesCleanthony Early and the Shockers, who are 35-0, face a talented Kentucky squad on Sunday in St. Louis.
"When you hear Kentucky," said Baker, who hails from Scott City, Kan., "you think of basketball."
Cotton, from Marietta, Ga., recalls admiring
Jodie Meeks
, who attended high school in suburban Atlanta and then starred at Kentucky.
"As a fan of basketball," Cotton said, "you're going to watch Kentucky."
Carter, from Akron, Ohio, grew up an Ohio State fan, though he was "very aware" of the Wildcats.
So were any of you recruited by UK, even so much as receive a form letter?
"No."
"No, sir."
"No. I wasn't, either."
And there you have the first layer of irony in the delicious
NCAA tournament
matchup on Sunday at the Scottrade Center between Wichita State, seeded No. 1 in the Midwest Region and the first team ever to reach 35-0, and eighth-seeded Kentucky, the powerhouse program that began this season with more McDonald's All-Americans than starting positions and a vision to go 40-0.
The Wildcats are 25-10 and playing better of late, though their performance in shooting 38 percent on Friday in a 56-49 win over Kansas State looked disjointed at times. Additionally, freshman point guard
Andrew Harrison
is
questionable to play
against the Shockers because of an elbow injury suffered late in the round of 64 win.
"At this point," Kentucky coach John Calipari said, "I just don't want my team to make this game bigger than it is."
Imagine that, Calipari concerned that Kentucky -- which won its eighth national title in 2012 -- might make too much of a meeting with Wichita State, the Missouri Valley Conference champion.
Yes, the Shockers made an unexpected run to the Final Four as a No. 9 seed last season before losing to eventual champion Louisville, but shouldn't it be coach Gregg Marshall's players who peer across the court on Sunday with a desire to make a statement?
After all, Marshall, too, holds UK history in reverence. He watched Jack Givens score 41 points in the 1978 title-game win over
Duke
and recalls fondly his trips to Rupp Arena as a coach at Winthrop and Marshall.
Marshall joked that with the help of a constitutional amendment, he could schedule a game in Wichita against Kentucky.
The Wichita State coach said he didn't attempt to recruit any of Kentucky's five starting freshmen. Probably no one else on its roster, either.
"I haven't checked all the way down with the walk-ons," he said.
According to Marshall, Wichita State does not recruit even "the second level down from Kentucky."
A year ago, Marshall said, he couldn't have identified
Julius Randle
, the Wildcats' star power forward out of Dallas who signed with Kentucky over
Texas
,
Kansas
and
Florida
.
"It's just a whole different level of recruiting," Marshall said. "They do what works well for them, and we try to do what works well for us."
It's working.
To extend its success against an opponent bigger and likely more athletic at four positions, the margin for Wichita State error grows slimmer than normal. Marshall and his players mentioned in separate interviews the importance of rebounding well against Kentucky.
That's quite a task. The Wildcats ranked fifth in the nation in the regular season, averaging 41.3 rebounds against the nation's No. 2 schedule. Wichita State was 25th in rebounding with a schedule strength of 111th.
On Friday, UK dominated Kansas State on the glass 40-28. Randle grabbed 15 boards to go with a game-high 19 points.
"I've never seen a 19-year-old as big as [him] in my life," said Baker, the Wichita State sophomore of the 6-foot-9, 250-pound Randle.
Even Kansas' Bill Self, set to coach the second-seeded Jayhawks against No. 10 seed
Stanford
in the first game Sunday in St. Louis, which tips at 12:15 p.m. ET, recognizes the intrigue of Kentucky-Wichita State.
"It could be very cool," Self said.
"You have Wichita State, who has had
the
year. Nobody can deny that. They had as good a year [as] college basketball has seen in recent memory. And then you have one of the truest bluebloods. … It should be a fun game."
Just don't paint the Shockers as an underdog. They don't feel like the little guys, and the Wildcats know it.
"You know," Kentucky forward
Willie Cauley-Stein
said, "Wichita State has a bunch of swagger right now."
Cauley-Stein, raised in Spearville, Kan., 150 miles west of Wichita, moved for high school to Olathe, Kan., outside of Kansas City. He said he knew little about Wichita State until its recent run of success.
Quite the contrast to the Shockers and their awareness of big, bold Kentucky.
March, 9, 2014
Mar 9
7:43
PM ET
ST. LOUIS -- The commemorative T-shirts
Wichita State
received for winning the
Missouri Valley Conference tournament
Sunday were far from perfect. The back of the shirt contained the tournament bracket, and it had Indiana State listed as the winner.
"That's crazy, right?" Shockers senior forward
Cleanthony Early
said. "I guess they predicted that we were going to lose."
[+] Enlarge
Scott Kane/USA TODAY SportsFred VanVleet scored 20 points in the Shockers' win over Indiana State.
The mix-up was the result of an error by the T-shirt printer, one which conference officials didn't catch before handing out the shirts. Yet you didn't exactly need to be a true detective to recognize the yellow king of Arch Madness.
The Shockers
turned back Indiana State 83-69
at the Scottrade Center to keep their loss column a flat circle and capture their first conference tournament title in 27 years. By doing so, they joined the 1990-91 UNLV Runnin' Rebels as the only Division I teams ever to start a season 34-0. No other team has entered the NCAA tournament with 34 victories, as Wichita State will do next week, with a chance to set the record for perfection against a No. 16 seed.
So the Shockers weren't about to lose here this weekend, not even against a sturdy and determined
Indiana State
squad fighting for its own NCAA bid. The crowd that suggested Wichita State would have been better off losing before the real madness begins overlooked this program's hunger for an MVC tournament title after many disappointments in this city.
"Now that it's all said and done," guard
Ron Baker
said, "it's a big relief. There was quite a bit of pressure on us, because it hasn't happened in so many years."
Relatively speaking, Indiana State put as much pressure on Wichita State as anyone had in a few weeks. After winning their first two tournament games by a combined 47 points, the Shockers found themselves clinging to a four-point lead with a little more than 13 minutes left.
But as they've done so often, they answered every thrust with a rally.
Fred VanVleet
and
Tekele Cotton
sank back-to-back 3-pointers to push the advantage back to double digits. The Sycamores pulled back within five points a few minutes later, but then Wichita State ripped off a 13-0 spurt to go up 68-50, and that was pretty much that.
"I didn't have enough timeouts to stop their runs, but that's what they do," Indiana State coach Greg Lansing said. "If you turn it over, have any quick shot or lose it at one end, they put it in the basket at the other end. That's why they're undefeated. That's why they're hoisting the trophy."
Even with leading scorer Early disappearing offensively in the second half and Baker uncharacteristically struggling with his shot (3-for-11 from the field, 0-for-6 on 3s), the Shockers didn't need to sweat. Point guard VanVleet, who focused mostly on distributing the ball during his first two tournament games, scored 20 of his 22 points in the second half to tie a career high. Cotton, the Valley's defensive player of the year whom opponents used to sag off, had 20 points and went 4-for-6 behind the arc en route to tourney MVP honors.
"People kind of sleep on that part of my game," Cotton said of his improved jumper. "But my whole team and my coaches give me confidence to overcome that."
Nobody will ride into the NCAA tournament with more momentum than these Shockers. For the first time in a while, they actually had to execute down the stretch Sunday to secure a victory. But, as VanVleet noted, "It shows how far you've come when somebody being within four or five points is a heck of a test for you."
They will have nearly two weeks now to rest up, savor the accomplishment of going 34-0 and get ready for the next assignment. The odds are good that they will be back in St. Louis as the No. 1 seed in the Midwest Region. Good thing they exorcised some demons in this city.
"It would be something that we're comfortable with," coach Gregg Marshall said. "There would not be any 'Ooh, aah' moments. I think we'd actually be staying, if we get the right seed, in the same hotel, which we're very comfortable with. We know the routine there. The breakfasts are very good."
Going 34-0 brings certain expectations for the rest of the way, especially for a team whose schedule and conference have constantly been knocked. Wichita State got to the Final Four last season. Would anything less than 40-0 now qualify as a disappointment?
"I don't think we
have
to win it all," Early said. "But we want to win it all. We understand that a 34-0 season is just as rare as a Final Four, and what we've accomplished as a group is very special.
"Some people might say if we don't win it all now it's a failure. But those are people who can't get past their own simple minds."
Know this: Until the Shockers actually lose a game, it's probably wise to hold off on printing any more completed brackets without them.
March, 8, 2014
Mar 8
6:54
PM ET
ST. LOUIS -- The best and maybe only chance of someone knocking off
Wichita State
in the early rounds of the
Missouri Valley Conference tournament
would have involved the Shockers seizing up from the pressure of remaining undefeated.
So, yeah, about that ...
Wichita State hasn't shrunk from the moment one iota. In fact, it somehow appears to have grown even stronger. The Shockers blew the doors off Missouri State
67-42
in Saturday's semifinals at the Scottrade Center. In their first two tournament games here, they've won by a total of 47 points.
[+] Enlarge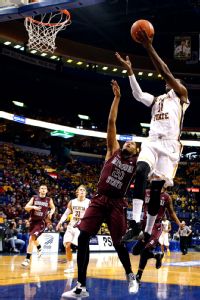 Scott Kane/USA TODAY SportsAt 33-0 on the season, Cleanthony Early and the Shockers will be a "very, very tough out" in the NCAA tournament, according to coach Gregg Marshall.
On Saturday, they led by as many as 38 in the second half before coach Gregg Marshall emptied his bench. For a team whose motto is "Play Angry," Wichita State sure had fun posing after dunks and chest-bumping one another.
"That was one of our better-played games of the year," sophomore guard
Ron Baker
said. "I'd say our excitement out on the court was the best it's been all year. We're just playing relaxed and trying to have fun."
Basketball is pretty fun when you never lose. Wichita State became just the third Division I team in history to win its first 33 games in a season, tying Larry Bird's 1978-79 Indiana State Sycamores for the second-best start of all time. Coincidentally, the Shockers will face Indiana State, the No. 2 seed in this event, on Sunday for the MVC tournament title and a chance to join 1990-91 UNLV as the only teams to start 34-0.
Some of their spurts against Missouri State would have made those old Runnin' Rebels proud. Wichita State went on a 17-0 run during the first half and then eclipsed that with a 24-0 blitzkrieg during a nine-minute second-half span.
"We've had a lot of good runs this year, but I feel like that was one of the best," senior forward
Chadrack Lufile
said. "It was special to see us really execute, really play defense and dive for the ball regardless how much we were up. We're still hungry. I feel like that's our mentality."
This was the same Missouri State team that gave the Shockers their biggest scare of the conference season, taking a 19-point lead on Jan. 11 in Springfield before eventually
falling in overtime
. But Wichita State beat the Bears by 23 points at home in the regular-season finale a week ago and delivered an even worse beating in the third meeting.
The Shockers are very nearly upset-proof because of their consistent defensive and rebounding effort. Or as Missouri State's
Christian Kirk
put it, "It's hard to catch them off their guard because they're always on their guard."
They also share the ball and work for good shots on offense, and on Saturday they made eight of 10 3-pointers in the first half, with the only two misses coming on desperate heaves to beat the shot clock.
Cleanthony Early
, the team's best post presence, and
Tekele Cotton
, known mostly as a defensive stopper, each hit three shots from behind the arc. Wichita State was shooting close to 70 percent in the second half before finishing on a cold spell with its subs on the floor.
"If we can shoot it like this for as long as we can continue playing, we'll be a very, very tough out," Marshall said.
Marshall calmly sipped from a water cup most of the second half, needing to offer his team little in the way of guidance. He never called a timeout.
"It's a fun team to watch," he said. "It's a fun team to coach. It's a fun team to be around. Who can find fault with 33-0?"
Marshall has instructed his team to view this tournament weekend as a three-game season and not to think about the undefeated streak. His team likely secured a No. 1 seed in the NCAA tournament simply by getting to Sunday at Arch Madness. But the Shockers really want to cut the nets down here; the program hasn't won the MVC tourney since 1987, despite being the first or second seed seven times since 2005.
"Our fans deserve it," Baker said. "They've waited a long time."
The pressure of that drought and the streak will be in play Sunday. But don't expect that to affect this bunch.
"We want to go out there and make history," Lufile said. "Every game is history right now, I feel like. And there's no stopping us now."
February, 6, 2014
Feb 6
12:38
AM ET
It continues.
The streak. The unblemished campaign. The possibility of perfection.
The idea that 24-0, still-playing-angry Wichita State will finish the 2013-14 regular season without a loss becomes less incredulous by the day.
A snowstorm created travel problems for the fourth-ranked Shockers, who didn't reach Terre Haute until Wednesday morning. But it didn't seem to impact the team during its 65-58 win at Indiana State.
It wasn't easy, though. Per ESPN Stats & Information data, Wichita State lost the rebounding battle for only the second time this season, and its nine forced turnovers was its second-lowest tally of the year.
Indiana State's
Manny Arop
hit a deep jumper at the buzzer before the break, when Wichita State had just a one-point lead despite maintaining a nine-point advantage earlier in the half.
In the second half,
Ron Baker
helped Wichita State quiet Arop, who had 13 points in the first half and just three points after halftime. With 10 minutes to play, the Shockers had a comfortable double-digit lead, but the Sycamores didn't break.
[+] Enlarge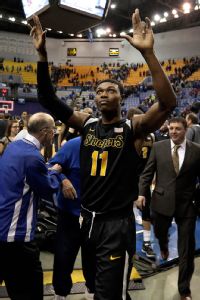 AP Photo/AJ MastCleanthony Early showed again Wednesday that he's Wichita State's rock and its ace in the hole as the Shockers prep for another tournament run.
The game wasn't sealed until
Cleanthony Early
(19 points, five rebounds) finished a three-point play with 1:03 to go. Early, a member of the Wooden Award Midseason Top 25, drove from the top of the arc, drawing a foul as he scored. The free throw gave Wichita State a five-point cushion.
Chadrack Lufile
made four of six free throws in the final 43 seconds. Game: over. Spotless record: preserved.
Ken Pomeroy gives Wichita State a 78 percent chance of defeating Northern Iowa on the road on Saturday. He gives the Shockers more than a 90 percent shot at defeating their final six Missouri Valley opponents after that. Even if that happens, the Shockers will still endure criticism.
Until its postseason journey begins, Wichita State will be scrutinized. If the Shockers lose in conference play, the naysayers will call them frauds. If the Shockers enter the postseason without a loss, those same people will put an asterisk next to their noteworthy accomplishment.
Not that the Shockers worry about negative opinions regarding their accomplishments thus far -- they weren't exactly favored to make the Final Four last season after finishing second to Creighton in the MVC -- but that's not something that they'll overcome until the NCAA tournament arrives.
But they have Early now. And if he's on the floor, Wichita State can play with anyone.
He scored 15 points in the second half Wednesday night. In a contentious game that included a quiet outing by the typically sound
Fred VanVleet
(2-for-5 shooting, two turnovers, six points) and foul trouble for Baker (eight points), Early gave the Shockers a much-needed boost.
The Shockers can finish the regular season with a perfect record. And they can make a return trip to the Final Four because Early can guide them there. But not by himself.
Baker, VanVleet,
Tekele Cotton
(14 points), Early and a fleet of capable reserves are all valuable to this program. But Early can be a closer when the Shockers need one, whether they're playing MVC competition in the coming weeks or high majors in the Big Dance.
Early had 24 points, 10 rebounds and a block against eventual national champion Louisville in the Final Four last season. He was an honorable mention on the Associated Press preseason All-American squad this year. He has the highest offensive rating in the MVC (114.9) among players who've participated in a minimum of 25 percent of their team's possessions, per Ken Pomeroy data.
Early is capable of doing what he did on Wednesday against top-25 teams. He has already proven that.
That's significant in this polarizing discussion about Wichita State, a team that's clearly equipped with individual playmakers who aren't simply products of Gregg Marshall's system. You don't tussle with Louisville and dismiss Pittsburgh, Gonzaga, La Salle and Ohio State because you're lucky or just abiding by a system.
You do it because you have the athletes to compete at that level.
Early and his teammates can play with anyone. He's more than a great tale -- he arrived in Wichita after a stint at a low-level junior college. He's the next-level competitor who will lift the Shockers in the tough matchups they'll encounter the rest of the way.
If you don't believe in Wichita State's defense (ninth in adjusted defensive efficiency, per Ken Pomeroy data) ...
If you don't believe the Shockers have faced adequate competition (won at Atlantic 10-leading Saint Louis) ...
If you don't believe VanVleet will maintain his poise against elite guards (he entered Wednesday's game ranked third nationally in assist-to-turnover ratio) ...
Then believe this: Early would be a star on any level, in any league, against any opponent. And the players around him anchor a squad that can clearly compete with the best.
Don't believe it?
Let's see how you feel when Early & Co. end up in your favorite team's region on Selection Sunday. Maybe you'll change your mind.
December, 15, 2013
12/15/13
1:00
AM ET
Well, we were certainly spoiled on Saturday.
College basketball offered up a variety of high-profile affairs. There were so many competitive, thrilling matchups. It all began with an exciting game between Arizona and Michigan in Ann Arbor and from there, beautiful chaos followed.
I have so many thoughts about this Saturday that I had to break it down into a bunch of random categories.
Best Game:
Arizona might be a step above everyone else in college basketball right now. Yeah, the No. 1 ranking suggests that. But we've witnessed so much movement at the top of the rankings that no team really had separated itself from the rest. Until Saturday. The Wildcats weathered adversity (down 11 early in the second half of a
72-70 win
at Michigan) in a true road environment. None of this neutral-site stuff. Sean Miller's squad was in Ann Arbor facing a Michigan team that was really hungry for a top-25 win (the Wolverines now have losses to Duke, Iowa State, Arizona and Charlotte).
[+] Enlarge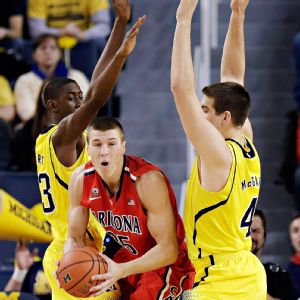 AP Photo/Carlos OsorioCenter Kaleb Tarczewski and the Arizona frontcourt keyed Saturday's win at Michigan.
And the young Wildcats showcased their maturity by overcoming both the environment and a good Michigan team. The Wolverines had the best team in America on the ropes. They fought until the end. There were five lead changes in the final 2 minutes, 32 seconds.
Nick Johnson
's free throws down the stretch sealed it for Arizona. But
Nik Stauskas
had a good look in the final seconds.
Spike Albrecht
hit a 3-pointer with 2 seconds to play.
You didn't want to blink in this one. So much drama. So much excitement. In the end, the Arizona frontcourt (
Kaleb Tarczewski
,
Brandon Ashley
and
Aaron Gordon
combined to score 46 points) was too much. But Michigan continues to improve. Plus,
Mitch McGary
is still not the player I know he'll be in the coming weeks and months.
There was a fight in Ann Arbor on Saturday. We were privileged to witness it.
Most Significant Loss:
Virginia Commonwealth is still wreaking havoc on college basketball (second in defensive turnover percentage, according to Ken Pomeroy). But that number alone doesn't define a defense with some obvious challenges. The Rams' opponents have shot 46 percent from the field this season. Duquesne is the only Atlantic 10 squad that has given up a higher mark.
Those numbers matter, because the Rams forced 16 turnovers at Northern Iowa. But they still suffered a
77-68 loss
to the Panthers after allowing UNI to shoot 53.1 percent in VCU's third loss of the season. Shaka Smart probably has his best VCU squad based on talent. But this group hasn't shown it yet. Saturday was a setback.
Most Significant Win:
Kansas finally can exhale for the first time in nearly a month. The Jayhawks had lost three of four entering Saturday's
80-63 win
over New Mexico in Kansas City, Mo. They were more than desperate for a win. And they played like it.
Kansas launched a 14-2 second-half run that changed everything.
Perry Ellis
(21 points) bounced back from a rare three-shot effort in Tuesday's loss to Florida. And the Jayhawks seemed revitalized.
With home matchups against Georgetown and San Diego State in the next three weeks, Bill Self's squad definitely needed that victory. More than that, the Jayhawks needed the confidence that could come from it.
[+] Enlarge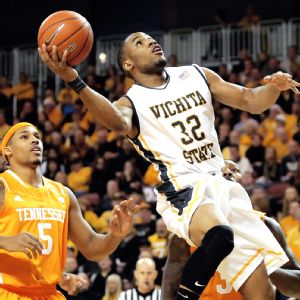 Travis Heying/Wichita Eagle/Getty ImagesJunior Tekele Cotton scored 19 points Saturday to lead unbeaten Wichita State past Tennessee.
MVP:
With
Ron Baker
nursing an ankle injury, Wichita State's
Tekele Cotton
(19 points, 5 rebounds, 4 assists, 2 steals and a block) stepped up and carried the Shockers on both ends in a
70-61 victory
over Tennessee.
The undefeated Shockers should be a top-10 squad. This team might be better than the one Gregg Marshall led to the Final Four last year. Why? Because the Shockers can turn to guys like Cotton when necessary. So much depth.
Most Important Performance:
Marcus Paige
was the difference in North Carolina's
82-77 win
over Kentucky. And not only because he scored 21 of his 23 points in the second half (two assists and three steals, too). But Paige was the rallying point and the leader for a Tar Heels squad that wouldn't have won that game without him.
The game was fiery and competitive for 40 minutes. But as Kentucky played tight and chose individualism over team ball, Paige just seemed to steady things on that North Carolina sideline.
That's the guy that Kentucky lacks. Perhaps
Andrew Harrison
and/or
Aaron Harrison
will mature into that player, that leader the Wildcats need.
But Paige continues to prove that he's willing to shoulder the load for the Tar Heels. And that goes beyond buckets. On Saturday, they just needed someone to keep everything and everyone calm. Paige did that in another crucial moment.
Most Interesting Battle:
Raise your hand if you had a two-win Oakland squad leading Michigan State 31-30 at halftime. Anyone? Oakland kept things close as
Duke Mondy
(24 points, seven steals) and
Travis Bader
(18 points, 5-for-20) tried to lead their squad to a major upset, though the Spartans ultimately
won 67-63
.
I think this game should be a warning to every high major. With players headed home for the holidays soon and enjoying some rare downtime after fall classes, teams can be vulnerable.
I don't think Michigan State realized it was in a game until the second half. And it nearly cost the Spartans. But
Gary Harris
missed the contest, and that clearly made a difference.
But the bigger point is that December can be dangerous. Not many easy games at this level. Saturday's battle between Michigan State and Oakland in Auburn Hills proved as much.
Most Redemptive Win:
On Wednesday, Notre Dame suffered a 73-69 loss to North Dakota State in South Bend, Ind. It was the team's third loss of the season. Not the start most had anticipated for a Fighting Irish team that hasn't missed the NCAA tournament since 2009.
But a
79-72 victory
over Indiana in Indianapolis on Saturday probably made that loss to NDSU somewhat easier to swallow. Had Notre Dame lost to the Hoosiers, things really could have gone from rough start to downward spiral for the Irish with matchups against Ohio State and Duke in the next three weeks.
Saturday's "What planet is he from?" Performance:
Did you see the move? In the second half of his team's win,
Joel Embiid
put together a spin move that had lottery pick written all over it. The Kansas freshman is gradually becoming more comfortable against the bigger bodies he's facing each time out. And he's also showing off his diverse offensive arsenal.
But the 7-footer has been playing the game for only a few years. If he continues to grow at this pace, he might be the best NBA prospect in college basketball soon. Seriously.
He finished Saturday's win over New Mexico with this ridiculous stat line: 18 points, 6 rebounds, 4 blocks and 3 steals in 25 minutes. If he can avoid foul trouble and continue to mature into a more assertive player, he might realize that he's unstoppable at this level.
Embiid, not
Andrew Wiggins
, might develop into the No. 1 pick in next summer's NBA draft.
Top Under-the-Radar Performance:
Jackson State senior
Brandon West
finished with 14 points, 22 rebounds and 4 blocks in a 57-51 win at Evansville.
July, 17, 2013
7/17/13
10:30
AM ET
Editor's note: Over two days, we're releasing the brackets/matchups for 11 of the top early-season events. A thread of previews and info for all 11 tourneys can be found here.
When and where:
Nov. 25-26 at the Sprint Center in Kansas City, Mo.
Semifinal schedule for the CBE Hall of Fame Classic:
Nov. 25: Texas vs. BYU (7:30 p.m., ESPNU); Wichita State vs. DePaul (10, ESPN3)
Nov. 26: Consolation game (7:30 p.m., ESPNU); Championship game (10, ESPN2)
Initial thoughts:
Wichita State couldn't have picked a better year to travel three hours northeast on Interstate 35 for a game in Kansas City. The Shockers, who have a large alumni base in the area, are riding high after last season's Final Four appearance. And no one would be surprised if Gregg Marshall's squad is even better this season. Wichita State returns three starters (
Ron Baker
,
Cleanthony Early
and
Tekele Cotton
) along with its top reserve (point guard
Fred VanVleet
) from its 30-win team. ... DePaul was a massive disappointment in 2012-13, when it won just 11 games. But the Blue Demons could be on the cusp of a breakthrough season thanks to the return of leading scorers
Cleveland Melvin
and
Brandon Young
. ... BYU has reason for optimism as well. Led by
Tyler Haws
, the Cougars return nearly every key piece from the squad that won 24 games and reached last year's NIT semifinals at Madison Square Garden. ... Texas went 16-18 last season and failed to reach the NCAA tournament for the first time in Rick Barnes' tenure. Things could get even worse in 2013-14. The Longhorns lost their top three scorers and signed a lackluster recruiting class compared to past seasons.
[+] Enlarge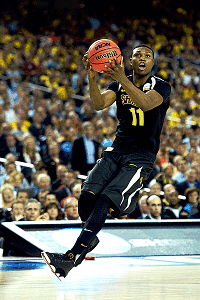 Robert Deutsch-USA TODAY SportsWichita State's Cleanthony Early gained national attention with his performance in the Final Four.
Matchup I can't wait to see:
DePaul is athletic and physical enough to upset Wichita State in the semifinals. Both teams feature veteran players, so chemistry won't be as big of an issue as it will be for other schools this early in the season. I won't be shocked if this is a competitive game, especially compared to the other semifinal.
Potential matchup I'd like to see:
Wichita State vs. BYU. These are clearly the best two teams in the field, so it'd be fitting for them to end up in the title game. The Cougars averaged 76.5 points per game last season, a mark that ranked 18th in the country, but it will be interesting to see how they fare against an aggressive Wichita State squad that is known for its toughness and intensity on defense.
Five players to watch
Cleanthony Early, Wichita State:
The top NBA prospect in this field averaged a team-high 13.9 points per game last season and ranked second on the squad in rebounds (5.4). The 6-foot-8 small forward is an incredibly difficult matchup because he spends most of his time outside the paint. Early scored 24 points against Louisville in the NCAA semifinals and was named to the All-Final Four team.
Tyler Haws, BYU
: The guard averaged 21.7 points a game last season -- dropping 42 on Virginia Tech -- and 28.8 points in the NIT. Haws is a volume shooter who hoisted 15.9 attempts per game in 2012-13. He connected on 48 percent of his attempts, so for the most part he's taking quality shots. He's the type of guy who can beat a team by himself.
Cleveland Melvin, DePaul:
The rising junior has hinted on Twitter that the 2013-14 season could be his last before entering the NBA draft. Melvin has certainly posted some head-turning numbers. He averaged 16.6 points a game as a sophomore last season along with a team-high 6.8 boards. Melvin, who is 6-foot-8, averaged 17.5 points and 7.4 rebounds a game as a freshman in 2011-12.
Ioannis Papapetrou, Texas:
The 6-8 small forward was one of the few bright spots for Texas last season, when he averaged 8.3 points per game, which makes him the Longhorns' leading returning scorer. He also snared 4.4 boards per contest. Along with producing on the court, Texas needs Papapetrou to assume more of a leadership role in 2013-14.
Fred VanVleet, Wichita State:
The sophomore point guard will be under a lot of scrutiny early in the season as he moves into the starting lineup to replace graduated senior
Malcolm Armstead
. VanVleet certainly shouldn't have any jitters. He averaged 16.2 minutes per game last season and logged 23 minutes in Wichita State's NCAA semifinal loss to Louisville. VanVleet's transition into a starting role needs to be seamless if the Shockers hope to avoid taking a step back.
Title game prediction:
Wichita State over BYU
Along with the confidence gained from last season's Final Four appearance, the Shockers will have something else going for them in the CBE Classic: home-court advantage. Wichita State already had a lot of supporters in the Kansas City area before last season. That number probably doubled following its magical postseason run. Still, even though the Shockers return four key players, they'll also be incorporating some new pieces. This is a game BYU can win, especially because of the Cougars' ability to score and the presence of a marquee player such as Haws. This should be a great game between two strong programs led by two of the country's most underrated coaches (Wichita State's Marshall and BYU's Dave Rose). The Shockers are the slight favorite.
Who others are picking:
Eamonn Brennan:
Wichita State over BYU
Jeff Goodman:
Texas over Wichita State
Andy Katz:
Wichita State over Texas
Myron Medcalf:
Wichita State over BYU
Dana O'Neil:
Wichita State over BYU
April, 2, 2013
4/02/13
11:30
AM ET
Four for Four is our quick look at a few things you need to know right here and now about the 2013 Final Four. We did it last April too, but I can't remember why the introduction was so long.
"Guards win in the tournament."
There are a lot of cliches in sports, and pretty much all of them drive me crazy -- grit, toughness, any and all war-related analogies, we're taking it one day at a time, we move on to the next play, etc. -- mostly because they often make it maddeningly difficult to get to the actual thing itself.
How
are you taking it one day at a time? What kind of discipline does that entail? How can you move on to the next play when failure is so fresh in your mind? What about high-level athletes fosters that mindset?
But if we're going to use a cliche, it better at least be true, rather than a nonsense series of words designed to prevent anyone from having to actually say anything. Many seemingly pedestrian cliches began as simple, obvious truths.
Here's one: Good guards win in the NCAA tournament.
[+] Enlarge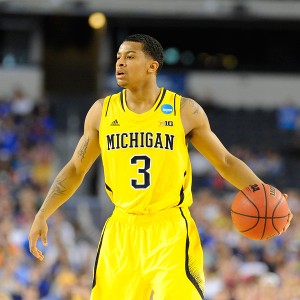 Cal Sport Media via AP ImagesMichigan's Trey Burke is proof that elite guard play can be a huge advantage in the NCAA tournament.
It is easy to bristle at this, because it feels like the basketball equivalent of some of baseball's silliest arguments. Actually, no, I don't want that gritty guy who bunts for a living and plays chill music in the clubhouse; just give me the best players, please.
Thing is? The best players in this year's Final Four most frequently happen to be guards.
Of course, none of these players got to the Final Four by sheer individual skill. Louisville might not get here without
Gorgui Dieng
. Michigan certainly doesn't without McGary. Syracuse's back line is nearly as imposing as its front, with
C.J. Fair
really blossoming into a dangerous all-around player. Wichita State's best players -- the aforementioned Early and
Carl Hall
-- are both 6-8.
But as we saw in Michigan's win against Kansas, it really does help to have a guard who (a) knows what he's doing, and (b) knows he knows what he's doing. Having Burke on their team is an incredible advantage for the Wolverines in a big game, because he can handle it all the time, facilitate offense, get scoring when he needs to. Smith and Siva have some of that too, but they're great for entirely different reasons -- their unique ability to speed the whole thing up, rather than slow it down or make it more manageable. Certainly, none of the four teams at the Final Four would be here without good guard play, which is also obvious. But the extent to which each team relies on that position is a clear theme -- and, if we're willing to admit it, some proof of a hoary old cliche.
March, 30, 2013
3/30/13
9:46
PM ET
LOS ANGELES -- Quick reaction to Wichita State's
70-66 victory
over Ohio State in the Elite Eight at Staples Center on Saturday night:


Overview:
Ohio State entered the game riding an 11-game winning streak. The second-seeded Buckeyes hadn't lost since mid-February. But they were tense early. And Wichita State exploited their struggles.
Midway through the first half, the ninth-seeded Shockers launched a 12-2 run that ended with
Demetric Williams
' 3-pointer with 6:28 remaining in the half. Wichita State, the underdog, expanded its lead the rest of the way. The Missouri Valley Conference standout entered halftime with a 35-22 advantage.
The Buckeyes shot 2-for-10 from the 3-point line in the first half after entering the game shooting 50 percent from beyond the arc.
Deshaun Thomas
shot 4-for-13 in the first half and missed all five 3-point attempts before the break.
With 12:28 to go, Wichita State led 51-31. That's no typo. But the Buckeyes kept fighting. With 8:22 on the game clock, they had cut the deficit to 13 points (56-43).
It didn't help that
Cleanthony Early
suffered an ankle injury midway through the second half. But Early returned a few minutes later, and the Shockers continued to battle.
Fred Van Vleet
's three-point play with 7:03 to go gave the Shockers a 60-46 lead.
The Buckeyes had opportunities to cut Wichita State's lead to single digits with the clock ticking down past the six-minute mark, but they couldn't do so until Thomas scored on a putback after a
Carl Hall
turnover. Wichita State 60, Ohio State 52.
Ron Baker
hit a pair of free throws that allowed Wichita State to regain a double-digit lead with just less than four minutes to play; a
LaQuinton Ross
3-pointer on OSU's next possession cut the Shockers' lead to seven. Ross forced a turnover that eventually led to a pair of free throws with 3:13 to play. He made both, and the Buckeyes were down just five.
A Van Vleet offensive foul call gave the Buckeyes another possession.
Shannon Scott
hit two free throws with 2:45 to play. Wichita State 62, Ohio State 59.
A huge
Tekele Cotton
3-pointer extended the lead; Thomas answered with a lay-in.
With 2:07 to go, the same Wichita State that had a 20-point lead early in the second half was up just 65-61.
Van Vleet's bucket with 59 seconds to go, a drive and a drop, was huge. Ohio State missed on the other end, and Baker went to the free throw line with 51.3 seconds to play and the Shockers nursing a 67-61 lead. He made both.
Wichita State 69, Ohio State 61.
The Buckeyes failed to convert on a series of chances until
Aaron Craft
's 3-pointer gave Ohio State one final slice of hope. Wichita State led 70-66 with 6.8 seconds to play. Cotton took the next inbounds and drew a foul but missed the free throw. Craft put up a 3-pointer on the other end that didn't fall.
Game over. Wow.
Turning point:
When the Buckeyes (29-8) finally started making shots in the second half. They were 8-for-33 in the first half. Couldn't get much worse. Midway through the second half -- as Thomas began to take smarter shots -- Ohio State began to play like the team that won the Big Ten tournament title in Chicago two weeks ago. But Wichita State was just too strong in the end.
Star of the game:
Malcolm Armstead
, a transfer from Oregon, finished the game with 14 points, 7 rebounds, 3 assists and 3 steals.
Stat of the game:
Ohio State went 5-for-25 from the 3-point line. The Buckeyes had shot 50 percent from beyond the arc in three previous tourney games.
Up next:
Wichita State (30-8) will face the winner of Sunday's meeting between Louisville and Duke next Saturday in Atlanta.
March, 27, 2013
3/27/13
10:00
AM ET
Call Wichita State shocking or surprising or an upstart for making its first NCAA Sweet Sixteen since 2006.
Just not "Cinderella."
For this team, at this time, the label doesn't quite stick.
"Maybe a lot of people will be surprised that we're here -- but we're not," Shockers guard
Tekele Cotton
said Saturday after his team upset top-ranked and top-seeded Gonzaga to advance. "We're confident that we can match up with any team from anywhere … that's why I don't feel like we are a Cinderella."
[+] Enlarge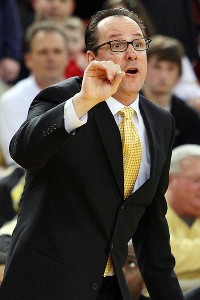 Jeremy Brevard/US PresswireGregg Marshall's Wichita State team has advanced to the Sweet 16 behind stellar defense.
Plus, the Shockers should be the favored team when they play 13th-seeded La Salle in Los Angeles on Thursday night. Part of that has to do with the bracket; even as a No. 9, they are the third-highest seed remaining (behind No. 2 Ohio State and No. 6 Arizona) in what has been a wild West Region. But part of that has to do with depth, stick-to-itiveness and the varying ways they can get under your skin.
WSU is known first and foremost for its defense. Forged from mentalities so competitive that freshman
Fred Van Vleet
once got mad at coach Gregg Marshall's daughter for not performing better as his shuffleboard partner, the Shockers believe in bruising and contesting and rebounding on every possession.
In the round of 64, for example, they out-defensed defense-minded Pitt, holding the Panthers to 35.2 percent shooting -- including 5.9 percent from 3-point range.
Then against usually sharpshooting Gonzaga, the Shockers frustrated the Zags into a 35.6 percent night from the field -- while also showing another dimension themselves: the ability to score. And score a lot.
"When you walk in the door in October, the first thing that comes out of our coach's mouth is defense and rebounding; that's definitely something we strive for," said redshirt freshman
Ron Baker
, who accounted for four of WSU's 14 3-pointers Saturday. "Defense comes first, offense comes later. … But what people may not know is that we can shoot it, too."
And people might not know it, because the makeup of this team is so relatively new.
Gone, at the beginning of the season, were five seniors from the squad that won the Missouri Valley Conference regular season in 2012, then lost in its first game of the NCAA tournament. But with replacements such as Oregon transfer point guard
Malcolm Armstead
, junior college transfer
Cleanthony Early
and experienced forward
Carl Hall
, WSU won its first nine games this season and picked up a Top-25 ranking.
Then came the setbacks: Hall broke his thumb and was out for a month; Baker was shelved for 21 games because of a stress fracture in his foot; starter
Evan Wessel
was lost for the season after breaking his pinkie. The Shockers had to persevere through a three-game losing streak in late January/early February, rally after back-to-back losses at the end of the regular season; and bounce back from a three-point defeat by Creighton in the MVC tournament final.
But in the long run, those tough breaks (and losses) might have helped the Shockers become tougher and more resilient, because they allowed more teammates to develop. And for the team to ultimately play 10 deep.
And now, perhaps, advance even deeper into the NCAA tournament.
"The stars are aligned for the Shockers right now," Marshall said this week during a conference call.
Not because they are a Cinderella. But because they are tough and focused and ready to prove it.
"All our guys believe they play with anyone, anywhere -- and we can," Cotton said. "We're confident. There may be [people] out there who think of us as underdogs, but we don't."
March, 22, 2013
3/22/13
9:20
PM ET
SALT LAKE CITY -- When
Siyani Chambers
chose Harvard, he hoped to be the Crimson's starting point guard ... someday.
He dreamed of leading his team on an NCAA tournament run ... someday.
The fact that someday is today?
"Amazing," the 6-foot Ivy League rookie of the year said Friday, less than 24 hours after 14th-seeded Harvard knocked off No. 3 New Mexico for the program's first NCAA tournament victory.
That word could describe his development, too.
[+] Enlarge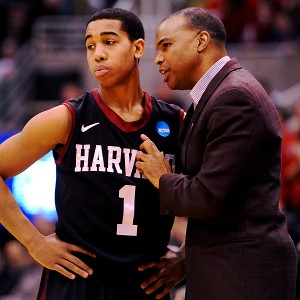 Steve Dykes/USA TODAY SportsThrown into Harvard coach Tommy Amaker's starting lineup as a freshman, Siyani Chambers has thrived.
"He's the leader on our team," said senior guard
Christian Webster
, whose team will face sixth-seeded Arizona on Saturday for the right to advance to the Sweet 16. "
Laurent [Rivard]
and I are the captains, but he's the leader. He drove this team."
It's a role the 19-year-old ball handler never expected, at least not this soon, when he arrived on Harvard's campus less than a year ago. First recruited by Crimson coach Tommy Amaker when he was in the eighth grade, Chambers decided pretty quickly that he wanted to play for the former Duke guard because of what he could learn.
But Chambers also thought he would have some time to be a pupil, while playing behind Brandyn Curry, a Cousy award candidate last season. That is, until September, when Curry and fellow senior Kyle Casey withdrew from Harvard following an academic scandal.
When the freshman heard the news, his head spun. "I was definitely nervous -- very, very nervous," Chambers said. "All of a sudden, it's your first year, you're coming in trying to learn the whole process about everything: playing, dealing with school and basketball."
To persevere, he said, he leaned on his teammates -- and they leaned back, looking for the vocal freshman to glue together a team whose chances of winning the Ivy League all of a sudden seemed precarious, at best.
But Minnesota's Mr. Basketball exceeded expectations probably because he had no other choice, gaining confidence (and his team's confidence in him) by becoming a steady assist man and scorer early; he even hit the game-winning basket with four seconds left against Boston University on Dec. 11.
"He's a special kid, and certainly he plays basketball in a special way, and I think you get excited when you watch him play," Amaker said. "I know when we recruited him, we wanted him to play in that manner; sometimes I thought he held himself back a little bit, and I told him if you ever come to play for us ... we want you to be dazzling because you're capable of it."
His season stats -- 12.6 points and 5.8 assists per game -- were dazzling enough to make him the first freshman named first-team All-Ivy League.
But the way he melded his team dazzled, too. Sophomore
Wesley Saunders
emerged as a go-to scorer (16.5 PPG). Rivard became a scary outside threat (five 3s against the Lobos on Thursday).
Kenyatta Smith
and
Steve Moundou-Missi
improved in the post. Harvard finished the regular season 19-9, winning the Ivy League.
So maybe it was fitting that as the seconds ticked down on Harvard's historic upset Thursday, Chambers was the one with the ball in his hands, grinning and carefully watching the clock. That moment is a feat the Crimson hope to repeat against another bigger, more heralded team Saturday.
And one Chambers never imagined when he thought about his goals a year ago.
"I just wanted to come in and learn as much as possible, so when it was my time I could step in and be able to contribute to the game," he said, remembering. "... When I first decided to come here, I did not think this is what I would be stepping into.
"But I'm glad I came here, and I'm glad this happened."
Now.
SALT LAKE CITY NEWS AND NOTES
SAFETY FIRST:
One teammate compared Wichita State sophomore
Tekele Cotton
to a strong safety. Shockers coach Gregg Marshall? He thinks the guard is more like a free safety.
Whatever the football analogy, you get the picture: The 6-2, 202-pound athlete is hard-nosed, hard-bodied and hard-focused on making stops. And if he can stymie a certain Gonzaga player like he did Pittsburgh guard
Tray Woodall
on Thursday (the senior was brought to tears after his 1-for-12, two-point performance), Cotton knows his team has a better chance to upset the No. 1 team in the country.
"I look forward to being that guy, to chase around their player like I did yesterday," said Cotton, who is also averaging 6.3 points and 3.9 rebounds per game this season. "So I look forward to chasing around
Kevin Pangos
. I have no problem with it; I enjoy it."
Pangos, the Zags' standout sophomore guard, is averaging 11.6 points per game this season and scored the final five points in top-seeded Gonzaga's six-point survival against 16th-seeded Southern on Thursday. He said the key to competing with a physical team such as the ninth-seeded Shockers is to be physical right back.
"We don't shy away from that; our team is tough," Pangos said. "We don't back down from that at all."
This should be an interesting matchup. The Shockers held Pitt to 35.2 percent shooting from the field -- and just 5.9 percent on 3-pointers. The Zags are third in the nation in field-goal percentage, making 50.4 percent of their shots.
NO ALARM HERE
: Zags coach Mark Few wasn't particularly rattled that the game against Southern went down to the wire; a win is a win is a win right now.
"At this point of the year, I don't think we need to worry about aesthetics or, you know, differences," he said. "I know it's cliché, 'survive and advance,' but there really is no other alternative. We're not getting style points and we're not getting graded -- you know, you either win or your season is over."
QUOTE-WORTHY:
"We know we're in for a fight, especially the confidence that they have. When you win a game like that, it doesn't just all of a sudden leave you; many times it carries through for the rest of the weekend. For us, it's not about being consumed with Harvard, as much as it is about being consumed with ourselves, making sure we're ready to go." -- Arizona coach Sean Miller