College Basketball Nation:

Tennessee's troubles
September, 13, 2010
9/13/10
1:19
PM ET
There will be a host of consequences from Tennessee's Friday revelations. The NCAA will weigh in. The Volunteers will, at some point, have to do even more damage control. There will be other news conferences.
In the meantime, the immediate consequence of Tennessee's self-imposed penalties will be Bruce Pearl's sudden inability to recruit away from Knoxville, Tenn., for 12 months. That ban, mixed with the sudden and overwhelming worry about phone call quantity, will make for a very difficult recruiting situation at a time when Pearl was establishing -- whether legally or not -- one of the most consistent talent-mining operations in all of college basketball.
There is also the worry about incoming recruits. Would they stick around? Or would they see any impending NCAA crackdown as a reason to re-open their recruitment and get out of dodge?
Here's where the good news part starts: It appears those recruits are going to stay. Two 2011 commits have, um, committed again.
Kevin Ware and Chris Jones told the Knoxville News-Sentinel
they're staying at Tennessee, and they did so in no uncertain terms:
"Of course I am [staying],'' said guard Kevin Ware of Rockdale County High in Conyers, Ga., who arrived in Knoxville for his official visit Friday, hours after UT announced multiple self-imposed penalties to the men's basketball program after receiving a letter of inquiry from the NCAA. "I know what kind of person Coach Pearl is, and Tennessee is a family to me -- it's not just basketball.''

"I'm still with Tennessee, and it doesn't affect me in any way,'' Jones said. "My relationship with the coaching staff is strong.''
Ware and Jones would be important to Pearl's 2011 class even if they weren't his only recruits, as both are ranked in the ESPNU 100. Their re-commitment, as it were, is a major win for Pearl, as he looks to assure other recruits that their potential UT decisions are going to come back to haunt them. See? These guys are already committed! Nothing to see here, fellas! Etc.
Pearl will have to do that without the ability to make house calls. He'll also have to hope the timing of his announcement doesn't scare away Adonis Thomas,
who was on campus for an official visit this weekend
. This is as good a start to that process as most Vol fans could probably have imagined. At least for now.
September, 13, 2010
9/13/10
9:47
AM ET
On Friday,
Dana discussed Bruce Pearl's past
. To review: Before Friday, the most notable interaction Pearl had ever had with seedy side of college recruiting was when he recorded an Illinois recruit saying he had received a car from an Illinois assistant. Pearl turned that tape over to the NCAA, which never agreed with Pearl's claim that the tape revealed wrongdoing but did punish Illinois eventually for lack of institutional control. Pearl's his peers reacted accordingly. Pearl was an outcast; it took him another nine years to receive a Division I coaching offer at Wisconsin-Milwaukee. The rest is history.
Needless to say, Illinois fans do not like Bruce Pearl. They have not forgiven him. Nor, apparently, has Jimmy Collins, the recently retired Illinois-Chicago coach who was the target of Pearl's homebrew investigation as an Illinois assistant in the late 1980s. Quite the contrary. Collins is
loving
this.
From the USA Today
:
"What goes around comes around," Collins, who retired this summer after a 14-year tenure as Illinois-Chicago's coach, said by phone Sunday. Throughout the NCAA's investigation of Illinois and afterward, "Bruce was holier than thou," Collins said. "I knew Bruce and had talked to people about Bruce. Everyone knew what he was about." [...]

"Now that Bruce got caught doing what he was probably doing all the time, he thinks it's OK to say, "I made a mistake.'

"If I sound a little angry, I'm not angry anymore. God has taken care of that for me. But for me to say, well, I'm going to take the high road and say I feel bad for Bruce, my nose would start growing like Pinocchio.

"It will be interesting to see what happens to him. I'm watching with a microscope."
Those are harsh sentiments, but if you ever talk to an Illinois fan, they're pretty much in line with how most fans feel about Pearl. An anecdotal example: My best friend from grade school was an Illinois fan, and so was his father. I've never seen him get so angry so quickly as when I naively asked why his family "hates Bruce Pearl as a matter of principle." (His words.) Even after the Kelvin Sampson-Eric Gordon-Bruce Pearl spat, Pearl remains the Illini's public enemy No. 1.
Now that Pearl has admitted to mistakes too -- to Illinois fans, he's no longer just a fraud; now he's a hypocrite -- the forecast should call for the schadenfreude to reach dangerously high levels in downstate Illinois in the coming weeks. Dress appropriately.
September, 10, 2010
9/10/10
7:57
PM ET
Tennessee's decision to severely discipline head coach Bruce Pearl for initially lying to NCAA investigators is expected to send a strong message to the rest of the coaching profession -- and just importantly, to the NCAA Committee on Infractions as it waits to hear this case.
The message? Don't lie.
If you do, the school and the NCAA will come down harshly. Misleading investigators ultimately cost Kelvin Sampson his job at Indiana and Dave Bliss his at Baylor. It's also why Connecticut assistant coaches Patrick Sellers and Beau Archibald are out of work as the Huskies wait for an Oct. 15 hearing in front of the Committee on Infractions.
Pearl, fresh off an Elite Eight appearance and regular-season wins over 1-seeds Kansas and Kentucky, is fortunate that he still has a job. His admission that he misled investigators comes after multiple off-court issues with players, including a high-profile New Year's Day arrest that involved four players, a gun and marijuana.
There have only been a handful of cases in which a coach, regardless of sport, kept his or her job after lying to investigators. What is not known at this time is whether there is a contractual issue that might have prevented Pearl from being terminated for cause prior to the conclusion of an investigation.
That decision was made at Ohio State when Jim O'Brien was fired for cause after he later admitted to making a payment to aid a recruit's family in a war-torn nation. But O'Brien's contract called for him to go through a completed NCAA investigation before he could be terminated. O'Brien ultimately won a lawsuit seeking financial damages, but still hasn't returned to coaching.
[+] Enlarge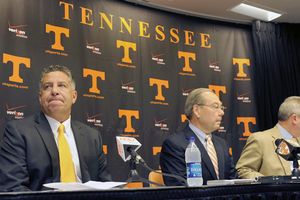 AP Photo/Michael PatrickFriday's presser was a sobering one for Pearl.
During his teary news conference Friday in Knoxville, Pearl said: "I should have been forthcoming and honest," and had he, "then the severity of penalties would have been considerably less." He added that the university has chosen to stand by him and his coaching staff after assistants Steve Forbes, Tony Jones and Jason Shay all got a 25 percent cut in their salaries, as well as an off-campus recruiting ban for each of them (Jones nine months; Forbes one year; Shay three months), which will be a serious hit for UT's recruiting over the next academic year.
CAA commissioner Tom Yeager, who once chaired the Committee on Infractions, said Tennessee's actions so soon into the process -- prior to a notice of allegations -- means "they must have found significant violations and want to get out before what they anticipate will be normal sanctions."
Yeager added that, "anytime you run into real ethical things, it increases the stakes. That's pretty serious. There are trust issues here. If you can't trust the guy, then you usually do part ways.''
After a 17-month investigation, the NCAA sent a notice of inquiry after looking into the way Tennessee was handling calls to recruits.
The NCAA hasn't finished the actual notice of allegations because the case, much like the recently concluded USC football and men's basketball case, will involve football and basketball. The notice will include the specific allegations levied against Pearl and his staff.
In Tennessee's self-imposed sanctions, the school only mentioned that it involved recruits, indicating it was more than one. Sources have said that UT was being investigated for its phone calls toward one-time committed player Josh Selby, who later signed with Kansas and is still waiting to be cleared to play this season.
Once the notice of allegations is sent to the university, expected to be sometime this fall, then Tennessee will have 90 days to respond. Once that occurs, a date is scheduled for the school to go in front of the Committee on Infractions, which meets six times a year in February, April, June, August, October and December.
Yeager said Tennessee will get credit for what it's doing at this stage in the process. Most of the time, the COI will accept the majority of the penalties. USC accepted the first of its two postseason bowl bans and is just appealing the second. The Trojans gave their men's basketball program a postseason ban and some recruiting restrictions last season and the COI didn't add on to that penalty.
Yeager said by keeping Pearl and his staff and disciplining them now, it should mitigate the criticism that the NCAA receives about players and staff suffering the effects of penalties that didn't occur under their watch.
According to Yeager, the COI could still decide to put a show-cause penalty on any of the coaches involved in this case, even with the sanctions Tennessee already handed down. Coaches can receive a show cause even if they are retained at the school.
"You can restrict activity at the school, even if the coach is still there,'' Yeager said. "There are a lot of situations where the school says they still believe in this coach, even though he made a horrible decision.''
The NCAA's enforcement staff has been charged to clean up the game as much as possible. The reason there appears to be more schools in power-six conferences under scrutiny of late is that the enforcement staff is looking closely at all elite recruits. The NCAA investigators have let it be known to college coaches that they are looking at everything and using all information they receive.
But the enforcement staff is also receiving more cooperation than it has in the past from coaches. The agent/runner issue has pushed more coaches to speak out and provide information, especially in the major conferences, where information is flowing freely in a more open media age.
Tennessee sent a strong message -- the right message -- that lying to investigators won't be tolerated and a severe punishment can follow. And if it's truly "all about money," then perhaps pay cuts will be another wake-up call to get coaches' attention.
If Friday's news out of Knoxville doesn't make coaches sweat, I'm not sure what will.
September, 10, 2010
9/10/10
7:55
PM ET
By
Diamond Leung
| ESPN.com
The voice of Bruce Pearl was cracking when it happened.
The Tennessee coach admitted giving the NCAA bad info during the course of an investigation into possible recruiting violations, and immediately after saying it, the
sound of a fire alarm cut him off
.
Awkward as that was, it wasn't the only bit of inadvertently bad timing for the program on a day when self-imposed sanctions both sullied Pearl's reputation and lightened his wallet.
It gets worse because of another big recruiting event. Blue-chipper Adonis Thomas, a small forward from Memphis that ESPNU ranks as the No. 9 overall recruit in the 2011 class, is making an official visit to Tennessee this weekend. The Knoxville News Sentinel talked to the Thomas camp earlier this week:
"One of the things we like about Tennessee is Coach [Bruce] Pearl relates well to his players,'' said Eric Thomas, Adonis' 6-foot-8 father and a former collegiate basketball player who led Central Missouri in rebounding in 1991-92.

"Each player comes into a program with different situations and abilities, and just by looking at the strategies (Pearl) has used with other players, I think he can get a lot more out of kids than just a straight Xs and Os coach,'' he said. "Bruce has a system, but he lets his players make plays.''
Assuming Thomas follows through on his visit, he'll now be walking into a messy situation. Pearl could and should face uncomfortable questions that should neither be answered with charm nor spin.
Can you be certain you'll be coaching the Volunteers four years from now, even in the face of quite possibly more sanctions to come? Can you maintain your credibility as a leader after today's admissions and when there might be more dirt to be revealed? Can you be trusted?
If the answers aren't what Thomas wants to hear, he has plenty of other suitors, including Florida, Arkansas, UCLA and Memphis, the hometown team and what most consider to be the favorite.
September, 10, 2010
9/10/10
6:46
PM ET
He did the right thing, that was Bruce Pearl's mantra. When his peers labeled him a rat and a snitch and ostracized him within his profession for nearly 15 years because he turned in Illinois, Pearl held fast to his strongest defense -- that he did the right thing.
And so to hear a teary-eyed Pearl admit that he did the wrong thing, that he misled NCAA investigators, it was both deliciously ironic and depressingly eye-opening.
This is what we've come to, apparently. Even the one who suffered for his principles has been sucked into the vortex of anything for survival.
I shouldn't be surprised.
From what I heard from
20 head coaches this summer
, no program is clean. It's just a matter of what you consider dirty. Rules are broken every day by every coach. Some do it intentionally and deliberately, others tripped up by the convoluted nature of the rulebook.
[+] Enlarge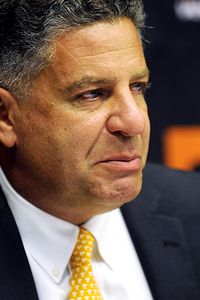 AP Photo/Knoxville News Sentinel, Michael PatrickVols coach Bruce Pearl admitted that he made "serious mistakes" in attempting to deceive the NCAA.
But no one is perfect.
I'm not naive enough to consider Bruce Pearl or any other coach a paragon of virtue, but I have to admit this one surprised me.
Twenty years ago, Pearl was an assistant at Iowa when the Hawkeyes and Illinois were recruiting top high school prospect Deon Thomas. Pearl recorded Thomas, who by then had committed to Illinois, admitting that he had received a car from an Illinois assistant and turned the tape over to the NCAA.
Though the NCAA never was able to back up Pearl's claim, the subsequent investigation revealed other violations and Illinois was handed a one-year postseason ban.
Pearl, in the meantime, learned that college coaches can be as strict as the Amish when it comes to shunning.
It took Pearl three years to get a job, and even then it was at Division II Southern Indiana. He took the dormant program to two national title games, and by 1995 he won the whole thing. That's about the time some bigger school usually swoops in to steal away the savvy coach, but not so for Pearl.
He was still the coach with cooties. No one would hire him, not as a head coach, not as an assistant.
In hoops, no good deed goes unpunished.
Finally, after nine years at Southern Indiana and a 231-46 record, he got a Division I offer -– from mid-major Wisconsin-Milwaukee.
Three successful seasons later, Tennessee lifted the de facto ban and hired Pearl .
It took him 14 years of hard labor to get back in and only six to learn how to play the game.
Once an example of seemingly moral righteousness, Pearl now merely jumps on the laundry heap of coaches whose reputations have been muddied. The Tennessee violations revolve around excessive phone calls to recruits and use of unauthorized phones, the same mistakes that cost Kelvin Sampson his job and reputation.
Pearl's salary has been slashed by $1.5 million and he cannot recruit on the road for a year, serious punishments that imply the violations were plentiful and that Pearl, rather than just being a victim of a staff gone amok, was complicit in the wrongdoing.
But it's more than the phone calls; it's the apparent misinformation Pearl supplied to the NCAA that is so galling.
The NCAA is like a parent. It gets mad at the misdeed, but downright irate at the lying to cover up the misdeed. In an NCAA investigation, a coach is supposed to do one thing -– fall on his sword and come clean.
And yet Pearl, a man who once was disgusted enough with purported wrongdoing in his profession that he made like a private investigator, not only did the wrong, he tried to cover his tracks.
If that's not a testimony to the state of the game, I'm not sure what is.
"It's serious what we did,'' Pearl said at Friday's news conference. "It's worse how we handled it.''
Just as he did 20 years ago, Bruce Pearl knew what was right.
He just chose to do wrong.
September, 10, 2010
9/10/10
5:28
PM ET
When
Bruce Pearl misled NCAA investigators about the nature of some recruiting transgressions
-- impermissible phone calls, the use of unauthorized phones, and improper contact with recruits -- he made what might have been a minor situation much worse. By self-imposing penalties and going public with the issue, Tennessee is now hoping to make a major situation a little bit less so.
That's the real question after today: How harsh will the NCAA's punishment be? What happens now?
You can say this much for the Volunteers and for Pearl himself: Today's damage control came straight from the public relations 101 handbook. Pearl was sincere and repentant in his performance, fully admitting that he made "serious mistakes" in attempting to deceive the NCAA. He took full responsibility for those mistakes. He didn't get defensive. He didn't lash out. He didn't apologize for "confusion" or "misunderstanding." He just apologized.
"I've made some serious mistakes, and for that I'm truly sorry," a Pearl said Friday. "I provided incorrect and misleading information to the NCAA. I've learned some invaluable lessons. After I provided the false and misleading information, subsequently I went back and corrected the record.
"I learned that it's not OK to tell the truth most of the time, but you've got to tell the truth all of the time," he said.
Going back and correcting the record is an important step toward a more lenient approach from the NCAA. So is the punishment Tennessee handed down. A ban on off-campus recruiting and a serious pay cut for Pearl and his staff are the sorts of this-hits-home things the NCAA committee on infractions will have to take into positive consideration.
That said, there's no going back. Pearl lied to investigators. Tennessee's neck now rests directly under the NCAA's impersonal, unfeeling scythe. And while the self-imposed penalties and contrition are nice, they only go so far. Judging by the NCAA's recent behavior -- specifically in the case of Oklahoma State football player Dez Bryant, who failed to fully disclose his relationship with former NFL player Deion Sanders and was suspended for an entire season as a result -- things could get much worse before they get better.
Which is not to say they couldn't already be worse. Pearl could have lost his job. Fans and boosters could have revolted. Fortunately for him, Pearl's presser performance seems to have impressed the locals, or
at least the discerning gents at Rocky Top Talk
:
This is truly awful, and I'm not even considering the sanctions at this point. I'm talking about watching Pearl fight back tears of embarrassment and shame, which he himself will tell you he deserves, as he took full responsibility for his actions and apologized, saying he let down himself, the University, the fans, and his players. [...]

All that said, I think Pearl deserves a great deal of credit for the way he's handling himself now, and I'm betting that's a huge reason why he's still the coach. No one but Pat Summitt has more good will in the bank at Tennessee than Pearl, and while he may have spent every last penny, he still has a job here, and I, for one, am glad. But if there had been any hint of defensiveness or arrogance about, well, that could very well have been a different story. He says he wants to coach the rest of his career at Tennessee and that he'll never let us down like this again. Call me naive if you like, but I believe him.
That, of course, is good news. But even if fans remain on board, a coach and his basketball program now have bigger issues at stake. Whether those issues will be minor or major is now officially out of Bruce Pearl's hands.
September, 10, 2010
9/10/10
3:35
PM ET
As of this writing,
Tennessee's surprising news conference announcing self-imposed penalties is nearly finished
. We'll have much more about the press conference, the investigation, and the causes therein -- excessive phone calls and providing misleading information to the NCAA among them -- in due time, but for now, here is Tennessee's list of self-imposed penalties for coach Bruce Pearl and his staff. You can read
the PDF of UT's press release here
. The digest version:
A $1.5 million reduction in pay for Bruce Pearl over the length of his contract, which expires in 2015. The reduction proceeds progressively; Pearl will give up almost $1.1 million over the next two years, and he will not receive a scheduled retention bonus of $500,000 in 2012.
A series of pay cuts for Pearl's staff, including assistant coaches Tony Jones, Steve Forbes, and Jason Shay.
And, in what could be the most important penalty for Tennessee's on-court performance, Pearl will be prohibited from any off campus recruiting activities from Sept. 24, 2010 to Sept. 24, 2011.
Those are in addition to handful of penalties -- lack of phone calls, a decrease in recruiting visits, and the like -- that Tennessee already imposed on Pearl and his staff when the school learned of "impermissible phone calls."
More to come, so stay tuned.
In the meantime, Pearl managed to coax a laugh from the assembled media Friday afternoon when, after a fire alarm randomly came on during his appearance -- right when he was admitted he provided "misleading" information to the NCAA --
Pearl said
: "I want to thank my players for pulling the fire alarm." Somehow, I doubt Tennessee fans will be amused.