College Basketball Nation:

Terrance Henry
March, 9, 2012
3/09/12
11:55
PM ET
NEW ORLEANS -- What a fitting mascot this Ole Miss basketball team possesses.
Ole Miss uses the moniker of the Rebels, and rebelling is exactly what they're doing this weekend at the New Orleans Arena. They just keep winning games, thumbing their noses at the notion that their NCAA tournament bubble has burst; that a 20-12 record isn't good enough for the Big Dance; that March Madness is no place for a program with just six all-time tournament appearances.
Thanks to some clutch free throw shooting from senior forward
Terrance Henry
, the Rebels outlasted Tennessee,
77-72
, in an exhausting overtime marathon Friday night. By doing so, they advanced to the SEC tournament semifinals for the first time since 2007.
"We haven't been to the semifinals since I've been here, and it's just great to still be playing," said Henry, who finished with 19 points.
It looked for all the world like the Rebels had blown the opportunity to keep playing. In an all-out slugfest, Ole Miss fought to a three-point lead against Tennessee with just nine seconds remaining. Against a team that was shooting below 30 percent on the night, coach Andy Kennedy opted not to foul, and the Volunteers made him pay.
Tennessee guard
Skylar McBee
tied the game on a 3-pointer -- a bank shot, no less -- with just two seconds remaining to force overtime in a game the Rebels seemed to have won.
[+] Enlarge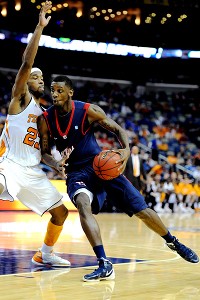 Chuck Cook/US PRESSWIRETerrance Henry of Ole Miss scored 19 points against Tennessee, including several clutch free throws.
"I thought it was over with, man," Henry said. "I was like 'Man, he banked this in? We've got to go to overtime?' But we fought through it."
Added Kennedy: "The banks stay open late in Knoxville, I suppose."
But the Rebels responded with the aplomb you'd expect from a team on a five-game winning streak. Ole Miss went 5-of-7 from the field in overtime, and when McBee forced the issue by draining two more treys, Henry held on from the charity stripe.
"All of a sudden, our backs were really against the wall," Kennedy said. "It's never easy with us, but as I said, I could not be more proud of our guys. They dealt with a lot of adversity in that game."
In the postgame press conference, a reporter asked Henry if he felt he was shooting free throws with an NCAA tournament bid on the line -- a question which clearly took him off guard.
"I don't even know how to answer that," he said. "I just wanted to step up and make free throws. I'm the senior leader on the team, and Coach wants the ball in my hands in the last two minutes of the game. I just did what I was supposed to do."
Perhaps the wording was a little dramatic, but the point remains. As long as the Rebels are still playing basketball, their season can't be over. As every bubble team in the country is aware, if Ole Miss wins two more games, no one can keep them from the NCAA tournament. And as unlikely as that seems, it's not that much crazier than the thought of the Rebels riding a five-game winning streak into the tournament semifinals. Nor would it be more surprising than Henry and Company recovering from a gut-wrenching, game-tying 3-pointer to win an overtime game.
As the conference tournament field continues to shrink, Ole Miss remains as the fly in the SEC ointment. But as Kennedy said following the win, being a feel-good story won't be good enough. The Rebs won't be happy until they're dancing, and for that, there's probably more work to do.
"Being happy is not in my job description -- I've got to get this team prepared," Kennedy said. "I came into the locker room after that win, and it was not a celebratory locker room. And that's a good thing. It was a locker room that said, 'Hey, we did what we were supposed to do. We took care of business.'"
March, 9, 2012
3/09/12
10:13
PM ET
NEW ORLEANS -- Some quick musings from Ole Miss' thrilling
77-72 overtime win against Tennessee
.
Overview:
Truth be told, this was probably the least-hyped of the four quarterfinals. But it turned out to be a lot of fun. It was a game both teams needed to have to keep their iffy bubble hopes alive. Both the Vols and the Rebels entered the night riding four-game winning streaks, and dodging No. 1 Kentucky in the semifinals would give the winner a decent shot at making the tournament championship game.


With all of that riding on the line, the pair played each other to a standstill. They went into the locker room tied at 28, and the lead never got larger than six in either squad's favor during regulation.
After trailing for most of the second half, Tennessee found themselves down, 61-58, with 26 seconds remaining.
Trae Golden
took Tennessee down the floor and dished off to
Skylar McBee
at the left side of the arc, and McBee banked in from distance to send the game to overtime.
The trey was only Tennessee's 15th field goal. The Volunteers had a horrendously bad shooting night (28 percent)
Turning point:
The Rebels weren't discouraged by McBee's heroics. They took control right off the bat in the extra period, showing an offensive consistency that eluded both teams for most of the night. Tennessee scored the first points of overtime, but Ole Miss responded by scoring on five straight trips down the floor to take a seven point lead.
McBee did his best to keep Tennessee in it with two more 3s in overtime. Thanks to a pair of missed free throws by
Ladarius White
, the Volunteers were able to cut it as close as 74-72 in the final minute.
Terrance Henry
saved the day for the Rebels by going 3-of-4 from the stripe in the final 14 seconds.
Key player:
Henry did more than just sink clutch free throws. He led the Rebs in scoring (19 points) and added seven boards in a healthy 38 of 45 minutes. He made 1o of his 12 free throws to lead Ole Miss from the line. And he managed all of that despite playing a big chunk of the game in foul trouble.
Key stat:
Much like Florida in the Gators' earlier quarterfinal, the Volunteers used the deep ball to offset their awful shooting. Tennessee went 11-of-34 from the 3-point line, highlighted obviously by McBee's last gasp bank shot. Ole Miss only managed 2-of-4 from long range. The Volunteers also took a ridiculous 33 free throws and hit on 25 of them.
Miscellaneous:
Nick Williams
couldn't follow up on his monstrous 22-point performance against Auburn. If his barrage of 3-pointers against the Tigers was a feast, Friday night was a famine. Williams shot 2-of-11 and scored just five points.
What's next:
Ole Miss goes back to its hotel and waits to see who it will face between Georgia and Vanderbilt. Tennessee goes back to Knoxville and waits to learn of its postseason fate.
October, 27, 2011
10/27/11
5:00
AM ET
1. Notre Dame coach Mike Brey said he will play suspended forward
Tim Abromaitis
in the two exhibition games Nov. 1 and Nov. 7. Brey wants Abromaitis to get a feel for the game before he has to sit four games due to a misinterpretation of the rules three years ago. Abromaitis played in exhibition games and then redshirted. Brey said he was aware of this penalty in the spring and, adding that's why he put three easier guarantee games in the front of the schedule with Mississippi Valley State, Sam Houston State and Delaware State. But the CBE Classic had to put Horizon title contender Detroit at Notre Dame among the first four games. Brey said he's legitimately worried about beating the Titans without Abromaitis. Brey said he will use a rotation of
Joey Brooks
,
Jerian Grant
and
Alex Dragicevich
in Abromaitis' place with the consistent starters
Eric Atkins
,
Scott Martin
and
Jack Cooley
.
2. Ole Miss coach Andy Kennedy was ecstatic that the SEC endorsed the NCAA's waiver for
Murphy Holloway
, allowing him to play immediately after he transferred back to Ole Miss from South Carolina for personal reasons. Kennedy said the addition of Holloway on the frontline, which already includes
Terrance Henry
and
Reginald Buckner
, gives the Rebels as deep and talented a frontcourt as Ole Miss has had. The three go from 6-7 (Holloway) to 6-9 (Buckner) to 6-10 (Henry). The backups of 6-9
Steadman Short
, 6-8
Aaron Jones
and 6-8
Demarco Cox
gives Ole Miss an extremely deep frontcourt in its quest to crack the top six in the SEC.
3. Louisville coach Rick Pitino was raving about freshman forward
Chane Behanan
earlier Wednesday. Pitino said he's a special player has a tremendous amount of passion for the game. Pitino went as far as to say he hasn't coached a player with as much talent since Jamal Mashburn at Kentucky. The 6-7 Behanan led the Cardinals with 16 points and four steals in a 74-55 exhibition win over Pikeville Wednesday night at the KFC Yum! Center.