College Basketball Nation:

Terrell Holloway
August, 24, 2010
8/24/10
2:36
PM ET
We've seen many a great name come and go in college basketball. It's a yearly tradition; for whatever reason, college basketball (along with college football) produces some of the
wackiest, strangest, awesomest names you'll ever see
. It never fails.
Very rarely, however, do we see a player change his name. Even rarer is a name change like this: Xavier point guard
Terrell Holloway
is now officially listed as "Tu Holloway," a Xavier spokesman told ESPN.com. (For the record, "Tu" is pronounced "two.") Apparently, Terrell was given the nickname "Tu-Tu" as a child. In high school, "Tu-Tu" was shortened to "Tu," and the moniker has stuck ever since.
So why wasn't Tu-Tu Tu in 2009-10? (Say that five times fast.) Because Xavier coach Chris Mack wanted incentive for the name change. From Xavier's press release:
"Coach Mack said I had to earn the right to make the change," Holloway said.

"Tu has earned the respect of his teammates and coaches," Xavier head coach Chris Mack said. "His name is as unique as his talent and potential."
Mack is as excited about Holloway's junior season as Holloway seems to be about the name change, and for good reason. Holloway is Xavier's leading returning scorer. That designation means even more given the NBA departure of shooting guard
Jordan Crawford
, who developed into a offensive star during Xavier's sprint to the Sweet 16 in 2009-10. Holloway will have to shoulder much of Crawford's bygone scoring load -- all the while handling point guard responsibilities -- if Xavier wants to continue its impressive streak of tournament runs. The man with a suddenly tiny name will have to play very big.
And as an added bonus, "Tu" provides all sorts of fun headline possibilities. "Sock It 'Tu' Me: Xavier Junior Scores 20 In Rout." "Get 'Tu' The Point: Holloway Takes Over Lead Role." "'Tu' You Really Want 'Tu' Hurt Me?: Imaginary Headline Writer Has No Idea Why He Chose A Boy George Reference But Let's Just Go With It."
This is going to be way Tu much fun.
March, 26, 2010
3/26/10
2:06
AM ET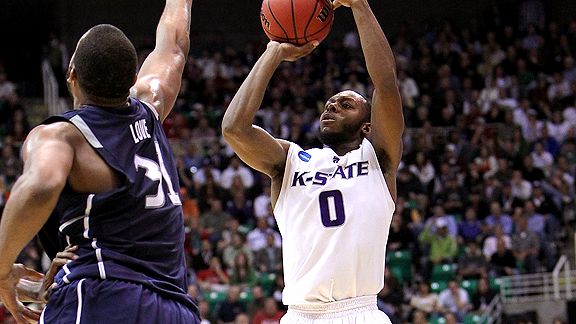 Jed Jacobsohn/Getty ImagesJacob Pullen's two 3-pointers late in the second overtime finally allowed Kansas State to separate itself from Xavier. Pullen finished with a team-high 28 points.
SALT LAKE CITY -- When Kansas State guard
Jacob Pullen
knocked down two foul shots with 10 seconds left in regulation against Xavier on Thursday night, he thought the Wildcats had finally put the Musketeers away for good.
"I'm thinking, 'That's game. That's the nail in the coffin,'" Pullen said.
Not quite.
When Pullen made a layup with 33 seconds left at the end of the first overtime, he thought the game was finally over and the Wildcats were headed to the Elite Eight.
Not quite.
Not until Pullen made two 3-pointers and two foul shots in the final 1 minute, 11 seconds of a second overtime did No. 2-seeded Kansas State finally pull away for a
101-96 victory
over Xavier in the West Regional semifinals at EnergySolutions Arena.
Kansas State will play No. 5-seeded Butler in Saturday's regional final, with the winner advancing to next week's Final Four in Indianapolis.
"That's March basketball at its finest right there," Kansas State coach Frank Martin said. "That's two teams refusing to give in and refusing for their seasons to end. I expected it to be a hard-fought game. I didn't expect it to be like this. They were phenomenal and our guys were pretty good, too."
In one of the more remarkable finishes in recent NCAA tournament -- and in a game that even upstaged Butler's 63-59 upset of No. 1-seeded Syracuse in the earlier semifinal -- the Wildcats traded blows with the Musketeers for 50 minutes.
It was the first double-overtime game in the Sweet 16 since Minnesota defeated Clemson 90-84 in 1997.
"It was a classic," said Pullen, who finished with 28 points in 40 minutes. "It was two teams who didn't want their seasons to end. Every time we thought the game was over, we would walk to the line and you could see it in their eyes that they didn't want the game to end, either."
From the final media timeout with 7:08 remaining in the second half until KSU's final two free throws with 12 seconds left in double OT, no team led by more than four points. In the OT periods alone, there were six lead changes and six more ties.
The Wildcats, who led by as many as 15 points in the first half, had a great chance to end the game in regulation. Pullen's 3-pointer with 26 seconds left put K-State ahead by a 70-67 score. He knocked down two foul shots to make it 72-69 with 10 seconds to go.
Martin told his team to foul the Musketeers' ball-handler once he crossed midcourt. Kansas State's
Denis Clemente
tried to foul
Terrell Holloway
as he brought the ball across midcourt, but officials didn't blow their whistles. Instead, they called a foul on senior
Chris Merriewether
as Holloway threw up a desperation 3-pointer.
"We did exactly what we've done every time we've been in that situation," Martin said. "We've done the same thing in that situation as long as I've been the coach here. Denis basically had the guy in a bear hug at halfcourt and they decided to let him play through that. The foul on the 3-point shot was the correct call and that was a breakdown on our part."
Holloway made the Wildcats pay for their mistake, as he made all three foul shots to tie the score at 72 with five seconds to play. Pullen missed a 3-pointer at the buzzer, sending the game into overtime.
Kansas State took a 78-74 lead with 2:46 left to play in overtime, but the Musketeers came right back. Over the next seven minutes, the teams traded blow after blow. There were five ties and neither team had a lead of more than three points until the Wildcats pulled away at the very end in double overtime.
"I felt like tonight was eerily similar to Ali-Foreman, and they landed the last punch, unfortunately," Xavier coach Chris Mack said. "It was as good of a game as I've coached, been a part of. Both teams battled, believed they were going to win. Unfortunately, only one team is allowed to."
Pullen's layup gave Kansas State an 86-84 lead with 33 seconds to go in the first overtime. Merriewether made one of two foul shots to make it 87-84 with 19 seconds to go. Then Xavier guard
Jordan Crawford
drilled a 3-pointer from 32 feet to tie the score at 87.
"I've been watching Crawford play for a long time," Martin said. "I don't care where he's at. When he's playing well, he'll shoot it from anywhere. Give him credit."
Crawford finished with 32 points on 13-for-29 shooting.
He was only upstaged by Pullen, whose 3-pointer gave the Wildcats a 97-94 lead with 32 seconds to go in the second overtime. Pullen made two foul shots to make it 99-96 with 24 seconds left, and then Xavier's Dante' Jackson missed a 3-pointer with 13 seconds to play.
Game over -- finally.
"I was just hoping Crawford didn't make one of those 3-pointers from halfcourt," Pullen said.
The Wildcats have less than 48 hours to recover before they play Butler for a trip to the Final Four, an event no KSU team has played in since 1964. Martin planned to stay up early Friday morning to scout the Bulldogs. The Wildcats will have a light practice Friday afternoon, but Martin is more worried about his players getting their legs back before Saturday.
Clemente played 48 minutes, scoring 25 points with five rebounds and five assists.
"We can't get after these guys tomorrow," Martin said. "We have to coach them through their minds."
At least Martin doesn't have to worry about his players' guts. They answered the bell every time Xavier tried to knock them down on Thursday night.
"It took a lot of courage for our guys to stay the course, especially after what happened at the end of regulation and overtime," Martin said.
It's what March Madness is all about.
"When it gets down to the last few games, nobody wants their season to end," Pullen said.
March, 26, 2010
3/26/10
1:34
AM ET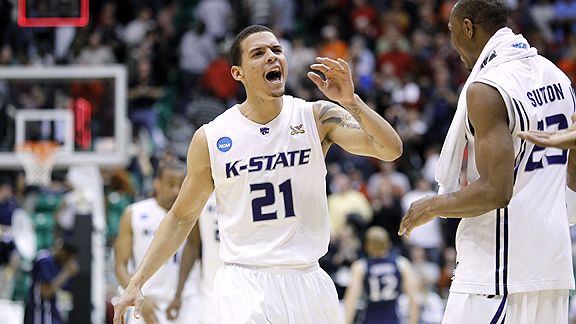 AP Photo/Paul Sakuma Denis Clemente (21) and Kansas State celebrated a double-overtime victory over Xavier on Thursday.
OK. Deep breaths.
The first night of the Sweet 16 is officially in the books, and it was officially awesome. Four games, one upset, one truly dominating performance by the tournament's new prohibitive favorite, and this year's best postseason game -- a Gus Johnson-narrated double-overtime thriller you can expect to see replayed more than once in the coming years. Let's see: Yep. That pretty much sums it up.
Alongside West Virginia's easy, ugly win over Washington,
Butler's unlikely victory over heavily favored No. 1-seed Syracuse led the night off
. That was a pretty fantastic start. But if you thought that was as good as the night was going to get -- this was not an unreasonable stance -- you were wrong. That's when Xavier-Kansas State happened.
Where to start? At the beginning, I suppose: Kansas State rushed out to an early lead, and for the first 12 minutes it looked like the Wildcats would handle X easily. But the Musketeers, led by
Jordan Crawford
, came storming back,
drawing the game even at the half
. Things didn't separate much after that, leading to a final sequence that would baffle even the most hardened of college basketball watchers. Up by three with a few seconds left, Kansas State tried to foul Xavier point guard
Terrell Holloway
. By the time the referees called the foul, Holloway was in the act of shooting, giving him -- yes, this was as unbelievable as it sounds -- three free throws to tie the game and send it into overtime. He made all three.
In overtime things got even crazier. Down three with 10 seconds left, Crawford made an absolutely nuts 35-foot 3-pointer to tie the game.
Denis Clemente
's speed drove him to a great look at the buzzer, which missed, sending the game to another overtime -- the first 2OT game in the Sweet 16 since 1997. XU guard
Dante Jackson
had a chance to tie the game late before Kansas State finally pulled away thanks to two clutch
Jacob Pullen
3s and a couple of key defensive stops. Just like that, the best game of the tournament was over.
The statistical wreckage: 83 possessions each. Offensive efficiency ratings of 119.1 and 118 for Xavier and K-State, respectively. Thirty-two points for Crawford; 26 for Holloway. Twenty-eight points for Pullen; 25 for Clemente; 21 for
Curtis Kelly
, whose low-post efficiency kept the Wildcats alive in the first overtime. All together, one very special win for Frank Martin and his team, who will advance to face the aforementioned
Butler Bulldogs
on Saturday night.
[+] Enlarge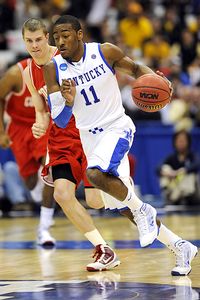 Richard Mackson/US PresswireJohn Wall had eight points and eight assists in Thursday's win.
OK. More deep breaths. Does that about cover it? Barely.
Then there was Kentucky-Cornell, which was,
despite the gulf in final score
, entertaining in its own way. The Big Red, buoyed by a rowdy crowd just 50 or so miles down the road from their home in Ithaca, N.Y., opened up a 10-2 lead in the first five minutes against the heavily favored Wildcats. For just a few minutes, it looked like Cornell could do to Kentucky what it did to Wisconsin and Temple before them.
Then reality set in. The reality was that Kentucky was ready for Cornell, ready for the Big Red's perimeter-reliant offensive attack. UK hedged every screen high, overplayed on every shooter, and was so much more athletic than Cornell that it could recover and prevent interior shots and drives even after playing the Big Red out to 30 feet. In 20 minutes of first-half basketball, Cornell scored 16 points, the victims of a 30-6 Kentucky run to close the half. Cornell finished with 45 points, the third-lowest total in the Sweet 16 since expansion in 1985. It was one of the best and most complete defensive performances you'll ever see, and it wasn't just thanks to athleticism and talent. The Cats were prepared. They executed a gameplan. They were much more than an amalgamation of talent. They were a team.
Tonight's late results mean a few things going forward. First among them: No. 1 Kentucky will play No. 2 West Virginia in the Carrier Dome Saturday night. Kentucky will have to finish much better against West Virginia, and it won't be able to get away with shooting 16-of-26 from the stripe. Likewise, WVU will have to clean up its turnovers. The Mountaineers are the first team since 1970 to win a game in the round of 16 or later despite committing at least 20 turnovers and shooting 40 percent or less from the field. It was a testament to Washington's own sloppy play that West Virginia wasn't challenged more Thursday night. That won't happen Saturday.
Of course, there's also the Kansas State-Butler matchup, which will be as great a contrast in styles as we've seen in the tournament so far. Butler prefers to slog it out; Kansas State loves to get up and down. It'll be a good one.
While we're here, a quick lament: Tonight's loss means we have to bid a fond tournament farewell to Crawford, who -- had his team won -- might have locked up tournament MVP honors after just three games. Crawford scored 28, 27, and 32 points, making big shot after big shot and beautiful play after beautiful play. What's more, Crawford's style is as freewheeling and fun to watch as any player's in the country. You never know what you're going to get -- a pretty pass, an icy old-school finger roll, or an double-onions-order 30-foot 3 to tie the game in overtime. Losing Crawford is a major blow for the sublime enjoyment of this tournament. It's a shame.
The good news? We get to keep Pullen. And
Gordon Hayward
. And
John Wall
. And
Da'Sean Butler
. And we have another night to do it all over again Friday.
Who needs deep breaths? Not me.
I don't know about you, but I'm ready for another lap.
March, 26, 2010
3/26/10
12:43
AM ET
SALT LAKE CITY -- No. 2-seeded Kansas State did everything it could to lose Thursday night's West Regional semifinal against No. 6-seeded Xavier at EnergySolutions Arena.


The Wildcats blew a 15-point lead. They fouled Xavier's 3-point shooter with a three-point lead with five seconds left, which sent the game into overtime.
But Kansas State guard
Jacob Pullen
refused to let his team lose in two overtimes, leading the Wildcats to a
101-96 victory
. Kansas State advanced to play No. 5-seeded Butler in Saturday's West Regional finals. The winner of that games goes to the Final Four in Indianapolis next week.
Pullen's 3-pointer put Kansas State ahead 94-93 with 1:09 left in the second overtime. He made another 3-pointer to give the Wildcats a 97-94 lead with 31.2 seconds to play. After the Musketeers pulled to within 97-96 with 25.1 seconds to go, Pullen made two foul shots to make it 99-96.
Pullen finished with 28 points on 9-for-20 shooting, and
Denis Clemente
had 25 points on 10-for-24 shooting.
Pullen and Xavier guard
Jordan Crawford
traded big shot after big shot down the stretch. With the Musketeers trailing 87-84 late in the first overtime, Crawford made a 30-foot 3-pointer to tie the score at 87.
Crawford finished with 32 points on 13-for-29 shooting, and Holloway added 26 points with six assists.
During an NCAA tournament filled with indelible moments, this game will surely be remembered as one of the best. Kansas State had a 72-69 lead with less than 10 seconds to play. But Wildcats senior
Chris Merriewether
, who went into the game for defensive purposes, fouled Xavier's
Terrell Holloway
on a 3-point shot with five seconds to go.
Holloway made three foul shots to tie the score at 72. The Wildcats had a chance to win the game at the end of regulation, but Pullen missed a 3-pointer in the final seconds.
March, 21, 2010
3/21/10
9:20
AM ET
MILWAUKEE -- We're down to the final two games of what has been a fairly well-played -- and certainly well-organized -- regional this weekend. Sure, it lacked the first-round insanity experienced in other parts of the country, but there's still plenty of time. Let's run it down:
Midwest Region: Ohio State (2) vs. Georgia Tech (10), 2:20 p.m. ET



Key to the game:
Can Ohio State stop Georgia Tech's size? In a way, Ohio State is a much better, more talented version of the
Oklahoma State Cowboys
, who Georgia Tech was able to outlast on Friday. The Jackets' strategy was never a mystery. Paul Hewitt wants his team to get the ball down low to forwards
Gani Lawal
and
Derrick Favors
-- preferably Lawal, if it's a back-to-the-basket situation -- where the Jackets hold a size-plus-talent advantage over just about anyone in the country. Oklahoma State was a guard-oriented team without the size to really stop Georgia Tech down low. The same goes for Ohio State, which, while much more talented on the perimeter, really only ever plays one center at a time and ignores its bench for huge stretches of most games. Does Ohio State change what it's done successfully thus far? Or do the Buckeyes counter the Jackets' size with their offensive versatility on the other end, daring the Jackets to keep up with the likes of
Evan Turner
,
David Lighty
,
William Buford
, and
Jon Diebler
all at once?
Player to watch:
Turner is the obvious choice here. He struggled in the Buckeyes' easy win over UCSB Friday night. Georgia Tech shut down a similarly talented guard in Oklahoma State's
James Anderson
Friday. Do the Jackets get the best of Turner? Or does the guard rebound with a Turner-esque performance?
Who has the edge:
It's a little easy to make too much of Georgia Tech's size, which does present matchup problems for the Buckeyes, but it's also important to remember why Georgia Tech struggled for so much of the season: Size doesn't equal cohesion. The Buckeyes should prove to be too complete for Hewitt's sporadic team.
West Region: Pittsburgh (3) vs. Xavier (6), 4:50 p.m.



Key to the game:
Team defense. Pittsburgh doesn't have any bonafide stars, but they do play a balanced style that forces their opponents to defend all five players at any given time; there are few opportunities to cheat in help-side against the Panthers. Xavier will have to submit a complete, comprehensive defensive performance to keep Pittsburgh from getting too many open, settled looks. The reverse of that is that Pittsburgh will likewise have to play good team defense against Xavier, whose efficient offense starts with
Jordan Crawford,
but can just as easily end with
Terrell Holloway
or
Jason Love
. Xavier wants to push the pace; Pittsburgh wants to slow it down. When Xavier does run, Pitt will have to pick up Crawford in the secondary break immediately, or they'll be on their heels trying to defend a player whose offensive creativity makes that very difficult to do.
Player to watch:
As with Turner above, Crawford is the obvious pick here. As he goes, so goes the Xavier offense. Also keep an eye on Pittsburgh leading scorer
Ashton Gibbs
. Pitt had six scorers in double figures against Oakland Friday; Gibbs was not one of them.
Who has the edge:
Pittsburgh, but only barely. The Panthers are a good enough defensive team to stall Crawford and prevent other players from beating them, and their willingness to control the pace of the game should be enough to slow down Chris Mack's team. But if Crawford gets hot, look out. This one could go either way.
March, 13, 2010
3/13/10
6:41
PM ET
By
David Albright
| ESPN.com
ATLANTIC CITY, N.J. -- Some final thoughts as No. 3 Richmond (26-7) beat No. 2 Xavier (24-8) in the second Atlantic-10 semifinal here at Boardwalk Hall. The Spiders advanced to face No. 1 Temple (28-5) in Sunday's conference title game at 1 p.m. ET.
No offense to Temple but I'd take a rematch of this game tomorrow afternoon. Great emotion. Great drama. Great theater.
Kevin Anderson's driving layup with 3.1 seconds left tied the game at 73 and sent it to overtime. Then the Spiders seized the momentum and advanced to Sunday's final. In the extra session Richmond was 4-of-5 from the floor -- including 2-of-2 from 3 -- and 6-of-6 from the free-throw line. Conversely Xavier went just 2-for-11 from the field in overtime.
Anderson, the A-10 player of the year, was money in OT. The junior scored eight of his game-high 27 points on 2-of-3 shooting -- including 4-for-4 from the line.
Richmond beat Temple 71-54 on Feb. 6 in Virginia. But the Owls didn't have Juan Fernandez in the lineup and there's no reason to believe Sunday's final won't be a wire job.
Xavier isn't the same team when sophomore guard Terrell Holloway isn't on the floor. When he was in foul trouble his absence was felt. Beyond his ability, it's his attitude and swagger that helps to define the Musketeers. Case in point: Richmond took a 56-55 lead with 8:46 left for the Spiders' first lead in the second half. Next possession Holloway buried a 3 to regain the lead for XU. And remember that Holloway is the one who went to knock the ball out of the hands of Dayton's Rob Lowery after a timeout on Friday night, producing the technical foul that effectively ended the Flyers' season.
March, 12, 2010
3/12/10
9:43
PM ET
By
David Albright
| ESPN.com
ATLANTIC CITY, N.J. -- Some final thoughts as
No. 2 Xavier beat No. 7 Dayton
in quarterfinal play in the A-10 tourney here at Boardwalk Hall. Up next for the Musketeers is a semifinal matchup on Saturday at 3:30 p.m. ET against the winner of the Richmond-UMass quarterfinal.
That perceptible thud you heard was Dayton's season crashing to earth. The Flyers blew a 15-point second-half lead to their in-state rivals and Xavier walked away with a five-point win and berth in Saturday's semifinals. Dayton heads back to Ohio and waits for a call from the NIT committee.
The Musketeers may have won the game on their own but the wild finish and result were due in part to an unfortunate incident in the final minute of the game. With Xavier leading 70-68, Dayton senior guard Rob Lowery brought the ball across halfcourt and the Flyers called timeout with 33.6 seconds remaining. On his way to the bench Lowery got tangled with Terrell Holloway and Lowery eventually pushed/punched Holloway. The result, after much discussion by the officiating crew and the two head coaches, was a technical foul on Lowery. Holloway buried the two free throws and the Musketeers found the finish line with relative ease.
What a brutal way for a team's NCAA hopes to go up in flames. And what a brutal way for a senior -- Lowery finished with 14 points, four assists and four steals -- to effectively end the meaningful part of his career. Finally, given the physical nature of the entire game (54 total fouls), it was a very questionable technical foul call -- especially given how long the officials discussed the play before making a final determination.
Dayton shot 54 percent from the floor in the first half en route to a 40-35 lead. In the second half that changed for the worse and a 10-for-28 performance from the floor helped seal their ultimate demise.
Xavier won the game in part because of its performance at the free-throw line. The Musketeers were 12-of-14 in the first half and 21-of-27 in the second for an 80 percent rate for the game. XU also dominated the glass with a 39-28 rebound advantage.
February, 28, 2010
2/28/10
4:59
PM ET
CINCINNATI -- As Sunday's game against Richmond stayed tight throughout the second half and into two extra periods, Xavier senior
Jason Love
reminded his teammates during timeouts that they'd been in this situation before.
Head coach Chris Mack just hoped no one remembered that they had also lost those kinds of games.
[+] Enlarge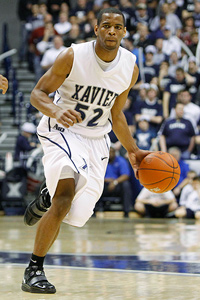 Frank Victores/US PresswirePoint guard Terrell Holloway led all scorers with 24 points Sunday.
Xavier suffered a couple of heartbreakers earlier this season, losing at Butler by one point and falling to Wake Forest in another double-overtime affair. But, hey, it's almost March, and that can only mean one thing: It's time for the Musketeers to hit their stride.
The program has won or shared the last three Atlantic 10 regular-season titles, while advancing to the NCAA tournament Sweet 16 last year and the Elite Eight the year before. A gritty
78-76 win
over No. 24 Richmond shows that Xavier is revving up at the right time again.
"In my years here, we always seem to get better toward the end," said Love, who tied a school record by playing in his 103rd victory Sunday. "It's just that time. It's winning time."
And extra time must mean it's Terrell time. Sophomore point guard
Terrell Holloway
scored a career-best 26 points earlier this season in a double-OT win over Cincinnati. On Sunday, he had 11 of his game-high 24 points after regulation ended, including the first seven points of the second bonus period.
"There's a saying in New York that when the lights are on, it's time to perform," said Holloway, who's from Hempstead, N.Y. "I think that's what happened."
Holloway couldn't even be stopped by a poke in the left eye, which turned him into a Cyclops for a pair of important free throws in the second overtime. He sank both.
Xavier needed Holloway, because leading scorer
Jordan Crawford
wore down while defending Richmond's array of back cuts and dribble handoffs. Crawford finished with 19 points, but none of them came in the final 24:29. Instead, Holloway's drives to the bucket against Richmond's switching defense became the best offensive option.
"It's sort of like that 'what' rule," Mack said. "'What, you're guarding me? You're 6-9, so I'll go around you.'"
Speedy freshman
Mark Lyons
combines with Holloway and Crawford to form a dangerous backcourt, but the Musketeers are strong up front as well. They outrebounded Richmond 47-35, with Love and forward
Jamel McLean
contributing 22 rebounds between them.
That versatility makes this team a threat once again in March. Xavier notched two solid road wins over Charlotte and Saint Louis before Sunday's game, and now it's tied with Temple for the conference lead with 12-2 league record. Temple owns the tiebreaker by virtue of a win at home in the teams' only meeting, but the Owls still must navigate a trip to Saint Louis this week. Xavier should have no problem in its final two contests against Fordham and St. Bonaventure.
So it looks like another co-championship, at worst, for the Musketeers. Boasting an RPI of 18 entering the day, they could be set up for a good NCAA tournament seed. And, perhaps, another run deep into March.
"We're doing a great job of guarding the ball now, and offensively we're getting a lot of production from everybody," Crawford said. "I think we're hitting our peak a little bit."
It is, after all, their time of year.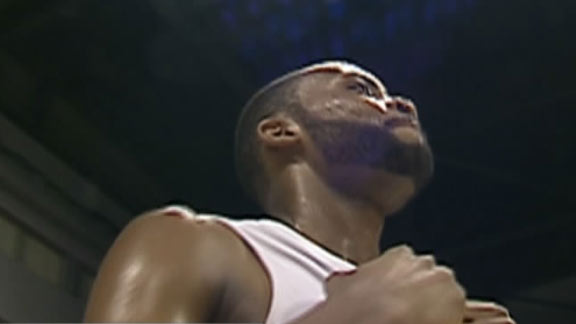 February, 28, 2010
2/28/10
3:33
PM ET
CINCINNATI -- The Atlantic 10 has had one of the most exciting seasons of any conference, and today's battle for first place fit right into that trend.
Terrell Holloway
scored 11 of his 24 points after regulation -- including Xavier's first seven points of the second overtime -- as the Musketeers
nipped No. 24 Richmond 78-76
.
The Spiders were hard to stomp out, and even though they trailed 77-72 in the second OT, they had a chance to tie on the final play. After inbounding with 3.1 seconds left,
Justin Harper
drove into the lane. But his difficult reverse layup attempt didn't draw iron and Xavier escaped.
The Musketeers now sit alone in first place in the A-10, at least until the end of Temple's game against LaSalle. Xavier won today because of Holloway's late heroics and its inside game, which helped the Musketeers win the rebounding battle by a 47-35 margin.
Richmond showed it's for real as well, hanging tough in perhaps the league's toughest road environment and continually fighting back from adversity.